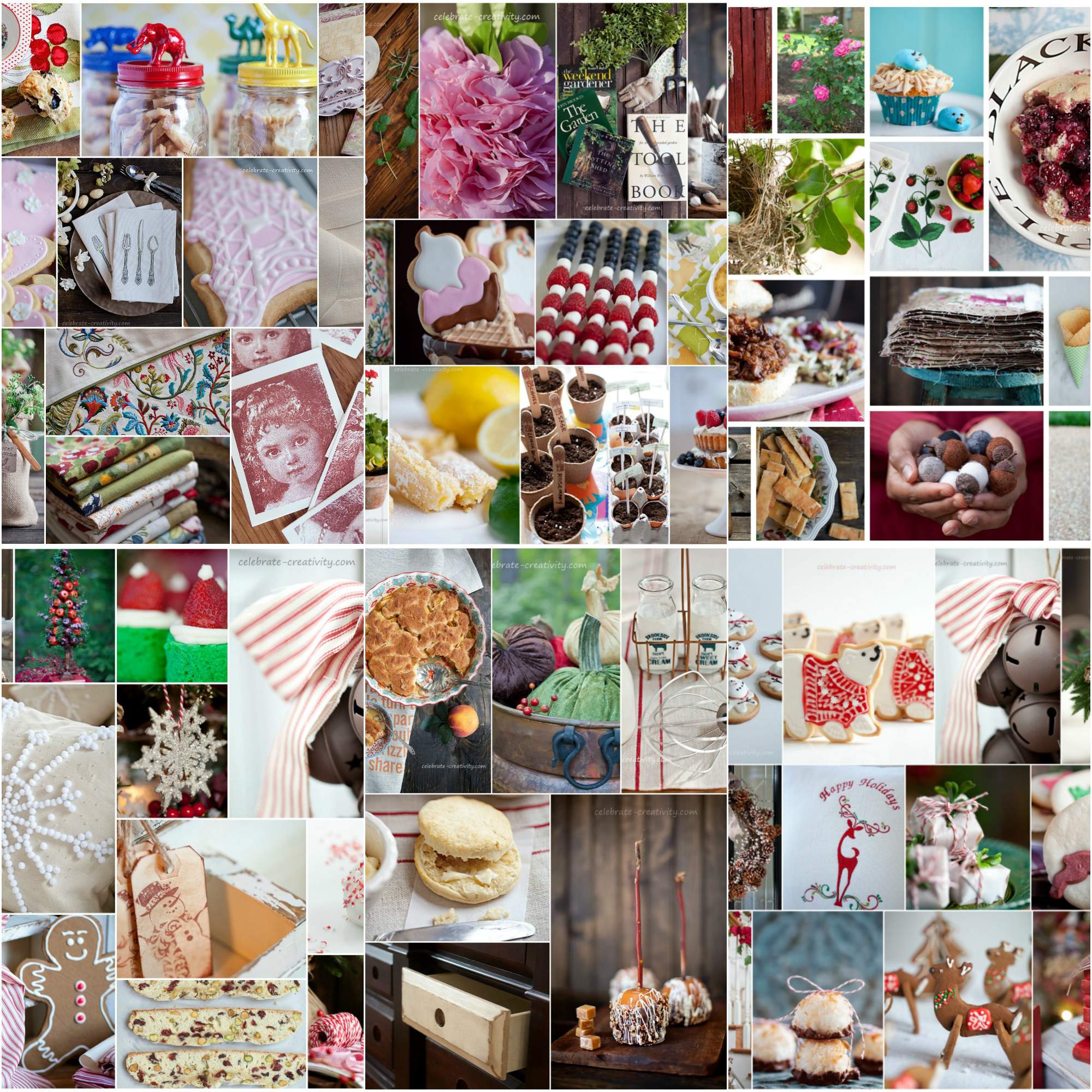 Another year has come and gone and last year was filled with a ton of projects, recipes and inspiration.  I always enjoy putting these retrospectives together because it's not only fun for me to look back on my creative offerings but I think it's a great chance for you to catch up on any of my projects and ideas you may have missed throughout 2014.
Throughout this post, I've put together the year in review featuring mosaics of all posts from last year along with corresponding links for your convenience.  
Enjoy the look back with The Year in Review 2014.  
 JANUARY|FEBRUARY|MARCH
The Year in Review 2013|Nana Banana's Cinnamon Rolls|Thanks Mom-Favorite Ad|From Fabric Scraps to Fabric Envelopes|Vintage-Inspired Handcrafted Fabric Note Cards|Eiffel Tower Sugar Cookies|Sweetheart Cookies|How to Miter Fabric Corners|Flatware-Inspired Embroidered Napkins|Linen Organization|The Embroidered Attic- Jacobean Embroidered Pillow|Spring-Inspired Cookie Gift Sack|Mason Jar-Inspired-Animal Cookie Gift Jar|Blueberry & White Chocolate Muffins 

APRIL|MAY|JUNE
Jacobean Embroidery Pillow Reveal|Cherry Blossom Ball|The Green Thumb Series-Gardening Tools|Herb Garden Markers|Melt in Your Mouth-Lemon Bars and Tarts|White Birch Bark Pencil Holders|Sowing Seeds|No Torch Creme Broulee|Front Porch Flower Pots|Ice Cream Cone-Shaped Sugar Cookies|Get the Shot-Ice Cream Cone Cookies|Edible Old Glory|Very Berry Pound Cake
JULY|AUGUST|SEPTEMBER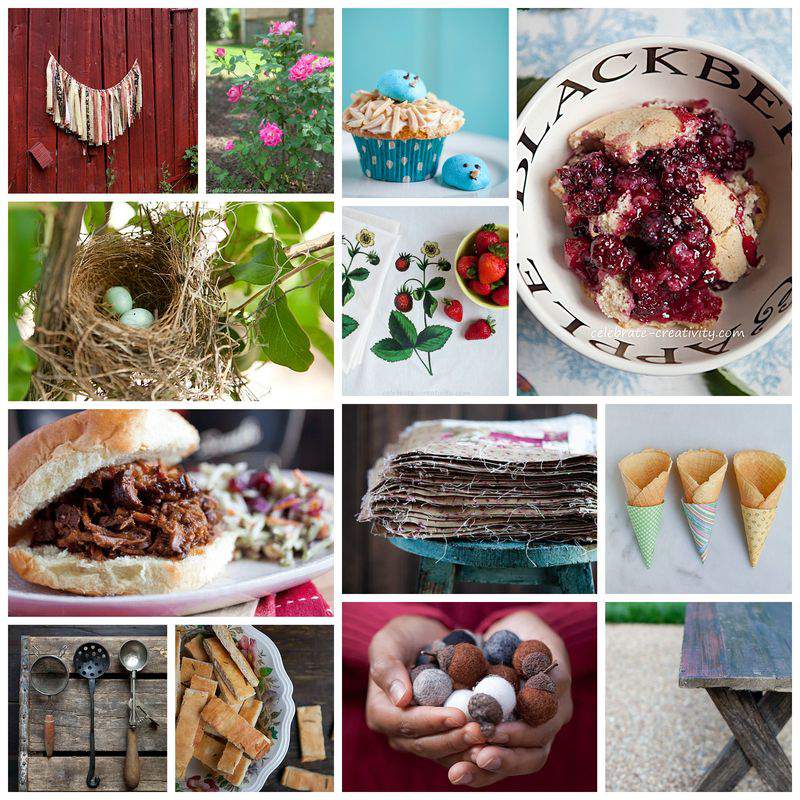 War of the Roses (and Deer)/Deer Fence|Tips for Birdwatching|Nesting Bluebird Cupcakes|Wild Blackberry Cobbler|Vintage-Inspired Strawberry Tea Towels|Oink-Oink Pulled Pork Barbecue|Homemade Waffle Cones and Cone Holder Template|Get the Shot-From Picnic Bench to Photo Prop Board|Foccacia Bread Sticks|The Log Cabin Quilt Block|Felted Wool Acorns|Fall Fabric Strip Garland|Rustic Finds and Props
OCTOBER|NOVEMBER
Peach Cobbler|Velvet Pumpkins with Real Stems |Furniture Makeover|Homemade Butter and Whipped Cream|Buttermilk Biscuits|Double-Dipped Chocolate-Decadentally Delicious Caramel Apples
DECEMBER
22 DAYS OF CHRISTMAS HOLIDAY SPECIAL (Day 1-11)
1-Pomegranate Topiary|2-Holiday Oreo Cookie Treats|3-Glitter Snowflake Ornament|4-Essential Textures for Holiday Gift Packaging|5-Paperwhites for the Holidays|6-Grinch Hat Mini Bites|7-Simple Front Door Holiday Decor|8-Pottery Barn-Inspired Snowflake Pillow|9-Pistashio and Cranberry Holiday Biscotti|10-Vintage-Inspired Gift Tags|11-Jumbo Gingerbread Cookie and Matching Gift Bag
22 DAYS OF CHRISTMAS HOLIDAY SPECIAL (Day 12-22)
12-Vintage-Inspired Door Hanger|13-Chocolate-Dipped Holiday Macaroons|14-Sherpa Wine Bottle Gift Bag|15-Melted Snowman Cookies|16-One Wreath-Two Ways|17-The Polar Bear March-Sugar Cookies|18-Reindeer Embroidered Pillow|19-Holiday Caramel Treats|20-Dimensional Reindeer Cookies|21-One Dozen Holiday Favorites|22-3-D Reindeer Cookies  
and Vintage Books for the Holidays  
I hope you enjoyed the look back.  
Stay tuned for an even more creative 2015.♥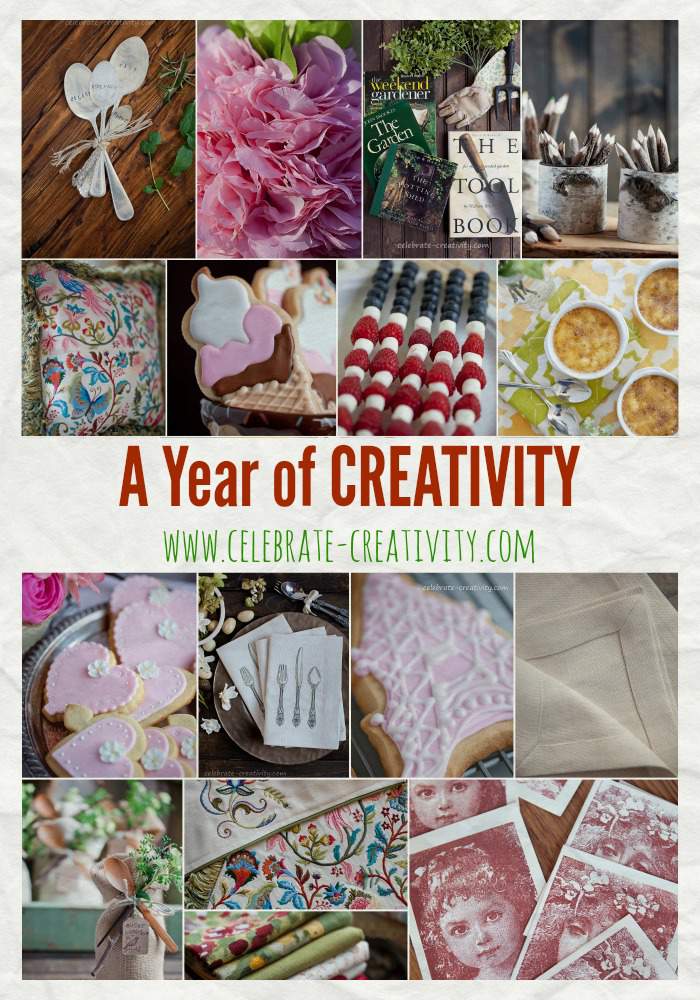 Thanks for stopping by.