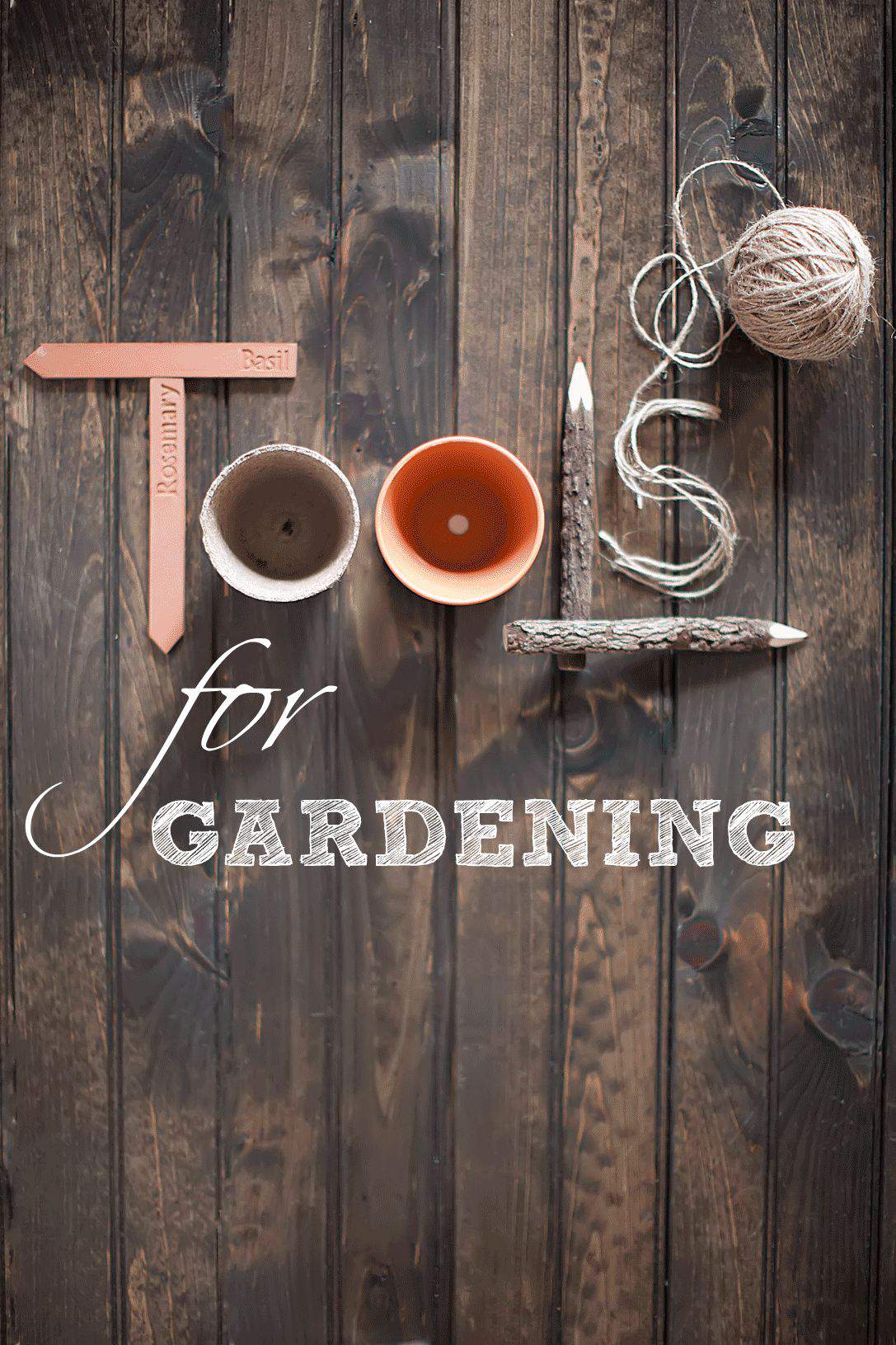 I'm so ready to get my hands dirty.  How about you?
It's the season to dive into dirt and with that in mind, I've been gathering up all my gardening tools to get my green-thumb efforts off the ground.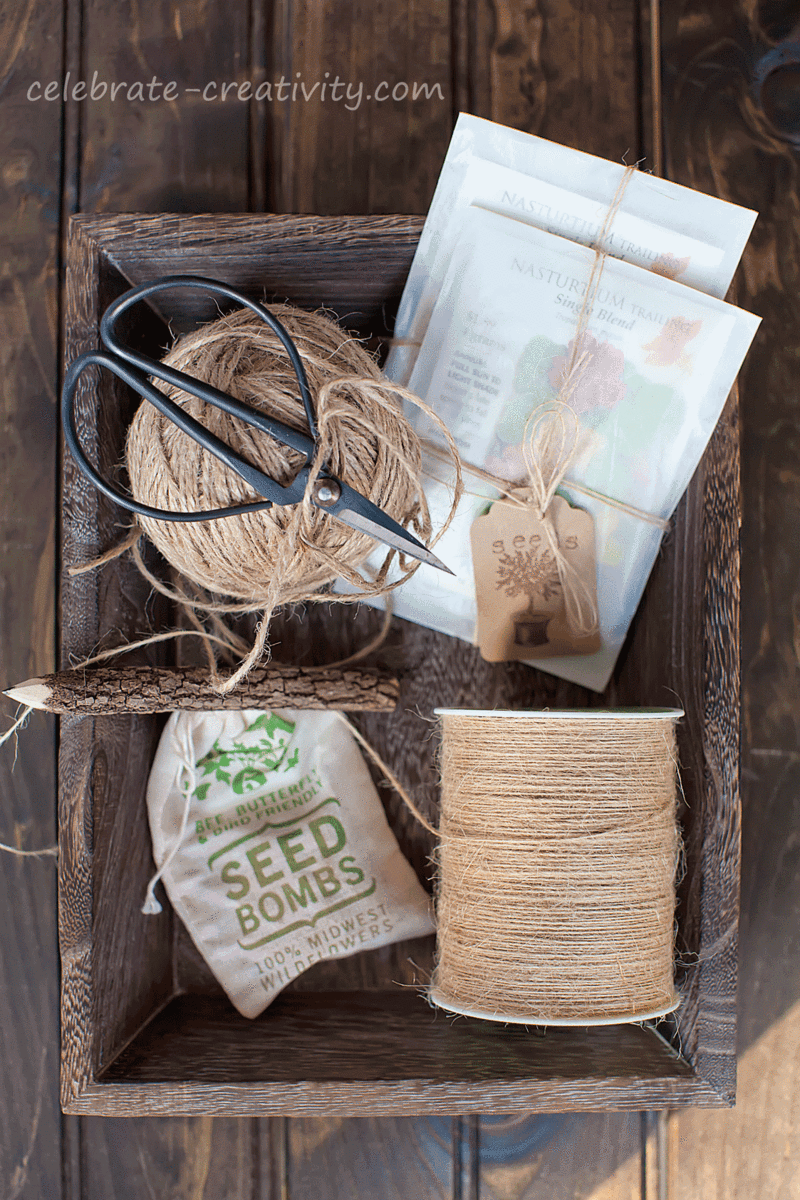 I just love my petite gardening sheers which are always good for cutting light string and twine.
Got seeds?  Of course, you'll need a variety.
Also, if you have extra seed packets, you can package them up in little bags like this, add a label and give them as a gift to the gardeners in your life.
You can see how I used this Nasturtium seed packaging gift pack at the lunch table in a previous post which you can see here.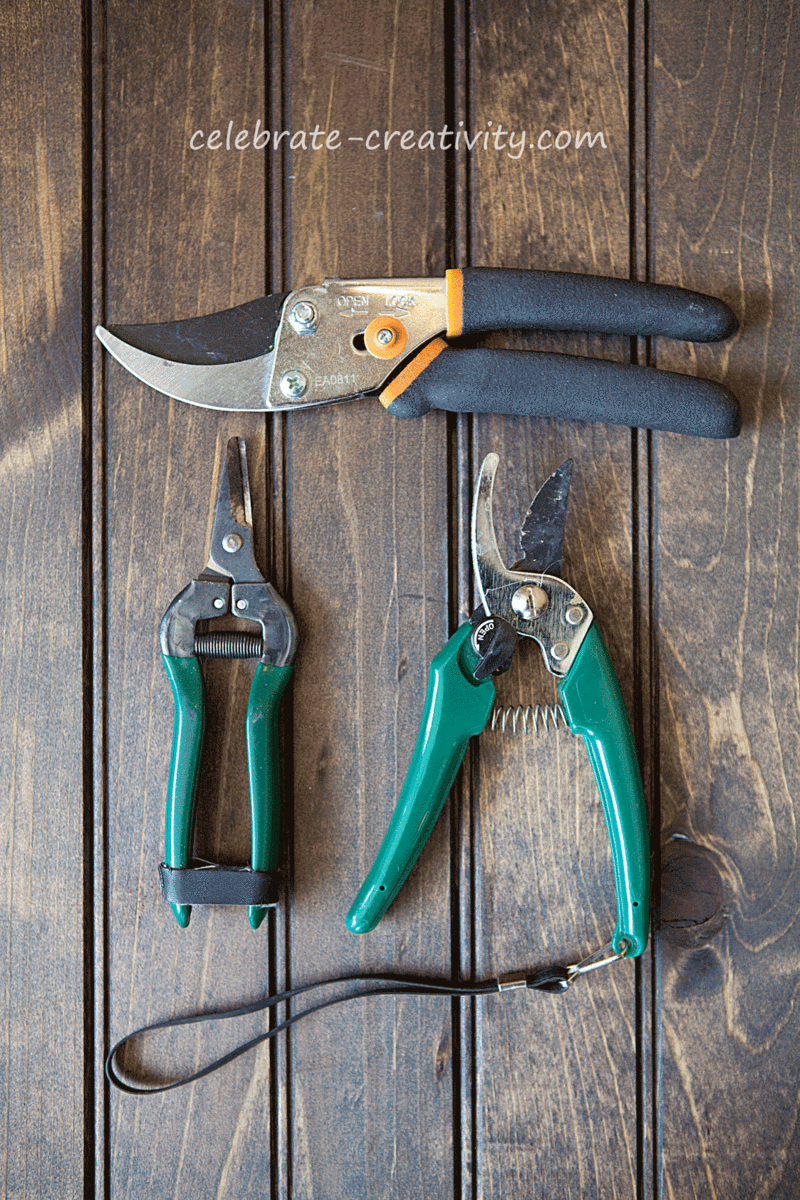 Got pruning shears?
Assorted shears will handle assorted stems.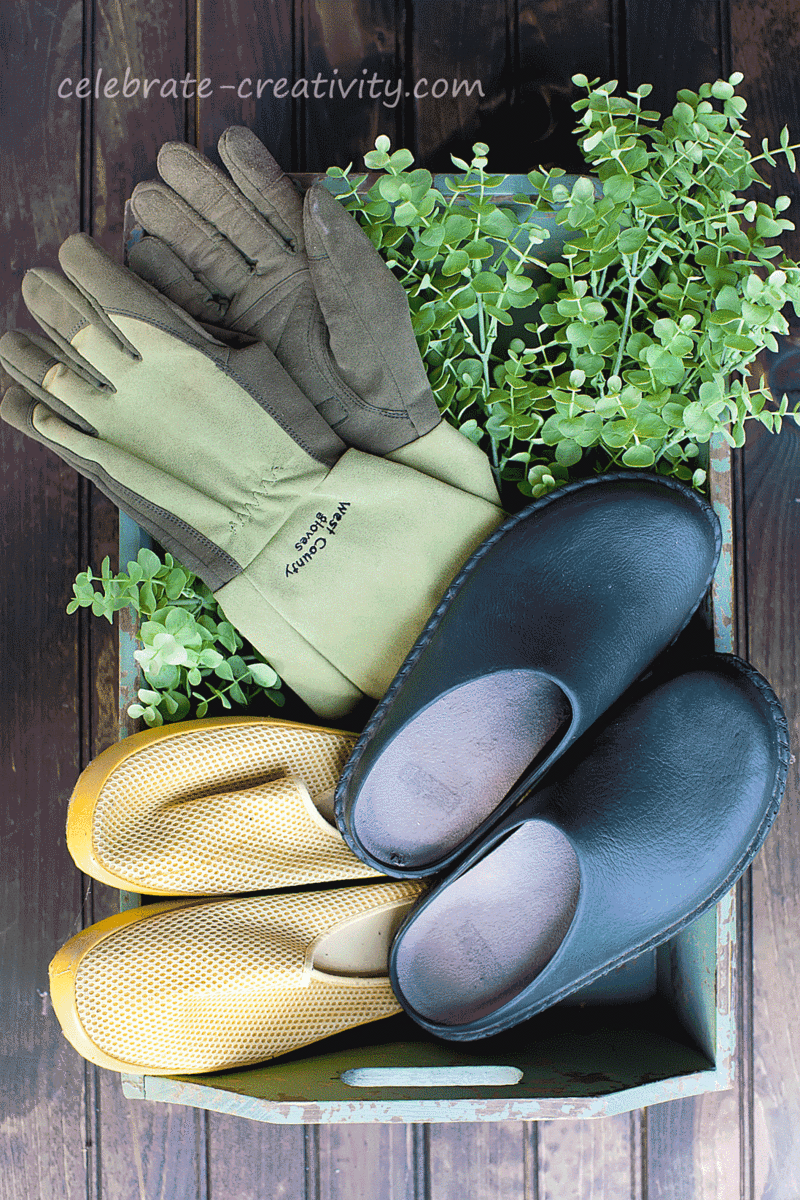 A good pair of gardening gloves are a must, especially if you plan to do any heavy planting or prickly pruning.
I use these thick, long gloves which almost cover my entire arm to prevent exposure to thorns and bushes with prickly brushes.
The rubber clogs are great too because when they get muddy or dusty, all I have to do is run a water hose over them a few times and they're perfectly clean.
When it comes to hand tools for small scale gardening, there are a ton of options to choose from and each one serves its own special purpose.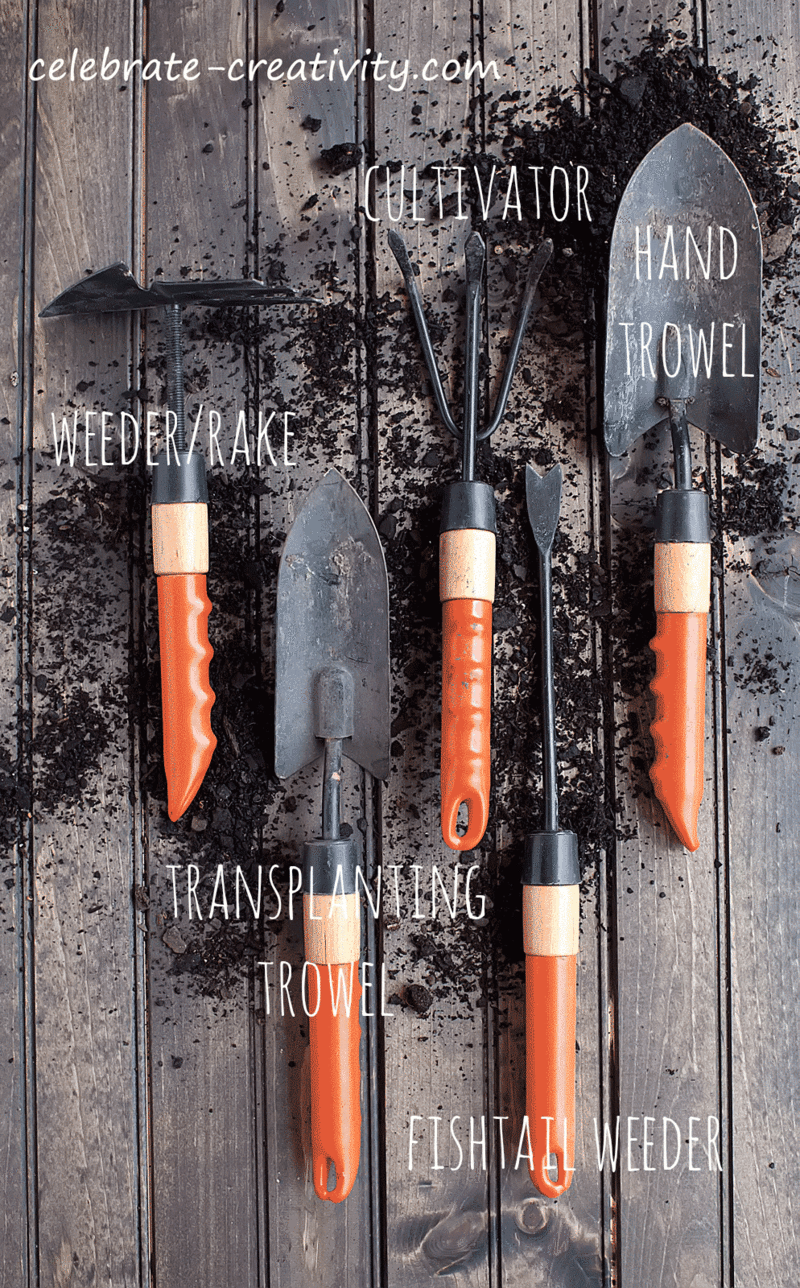 Cultivators are used to help dig and separate the soil.
Hand Trowels .make it oh-so easy to dig out just the right amount of soil for small plantings.  A
Weeder/Rake is a two-for-one tool with straight, rake like claws on one end which are good for grading and a sharp, triangular-edge on the other side which is good for digging up weeds and roots.
Fishtail Weeders gets down deep under the root system to help dig up even the most stubborn weeds.  It's also works well as a small-post hole digger.  I used it to clear the way for small stakes I used to make a mini-deer fence (which I'll share here later in an upcoming post).
Transplanting Trowels make it super easy to move plants already in the ground (roots and all) from one location to another with one big scoop.
I love garden markers and these two sets are among my favorites.
These terracotta markers are pretty, wonderfully durable and look great in my herb garden.  You can see how I used them a few years ago if you click here.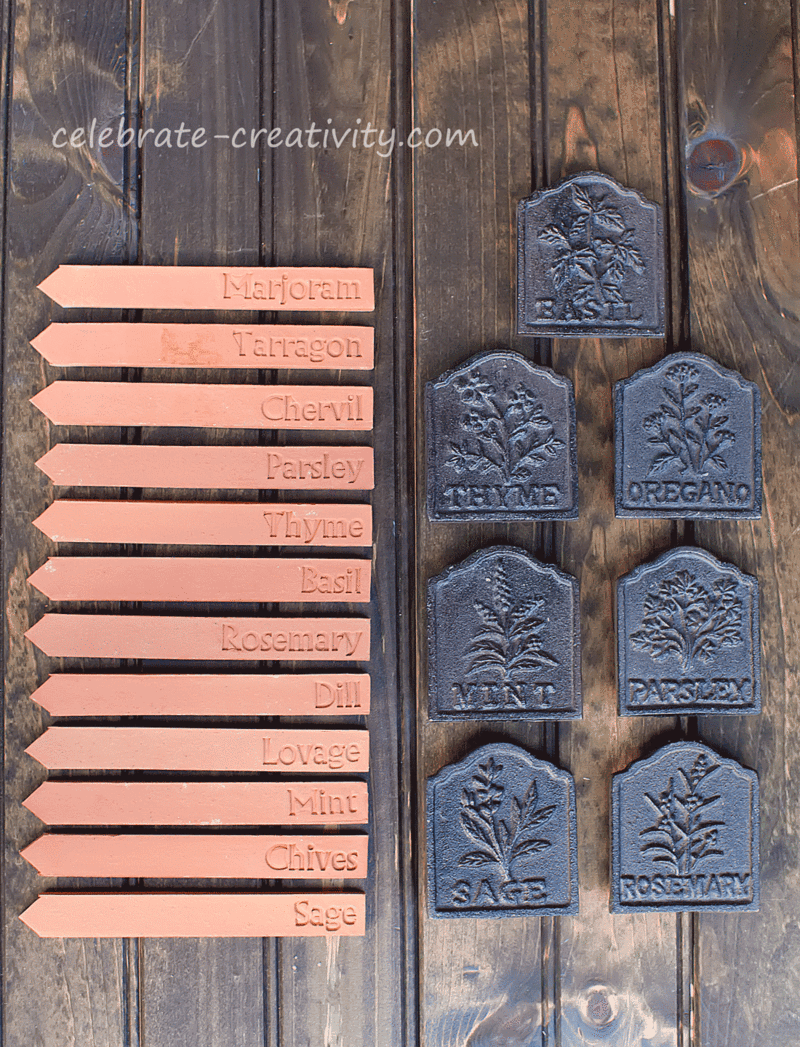 The iron herb garden markers are new for me this year and I can't wait to put them to good use soon.
NOTE: Coming up next week, I'll show you how to make some really cute garden markers out of old, junk spoons.  Stay tuned for that on 4/28.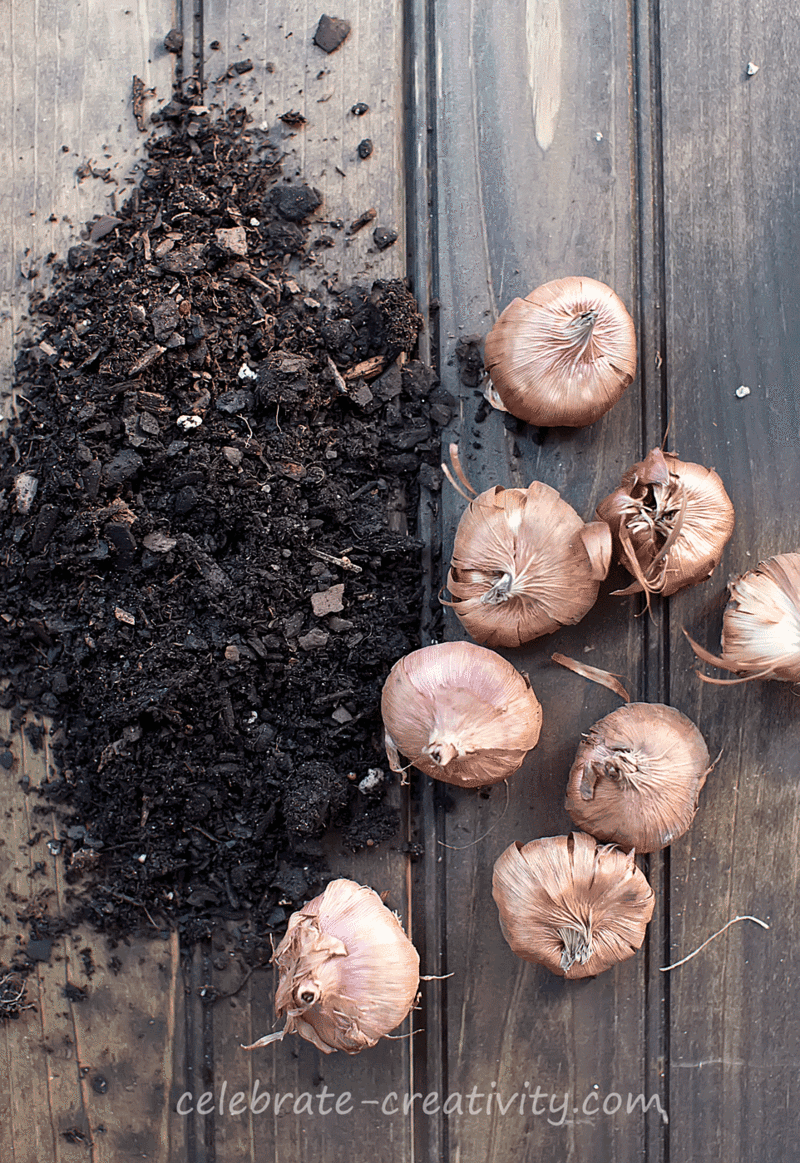 I'm going to take another stab at planting Gladiola bulbs this year.
I planted about 80-bulbs last year and was so proud to see them sprout and get tall.
However, just before they bloomed, the hungry deer that roam my neighborhood discovered them and helped themselves.
I'm not sure yet how I'm going to prevent that from happening again but I'm determined.
Whatever bulbs or seeds you plant, you'll hopefully enjoy a bountiful harvest this gardening season.
When your small produce is ready or your long-stemmed roses are budding, garden baskets will help collect your home-grown bounty.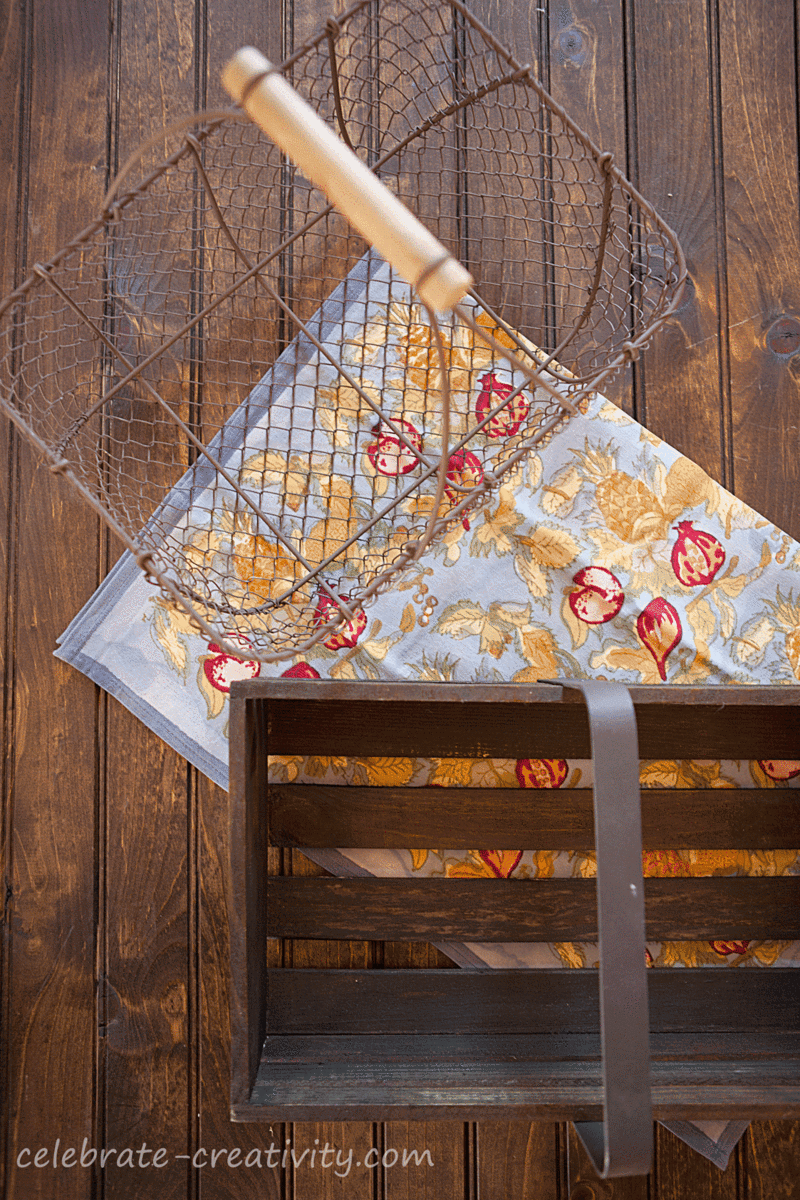 Years ago, I used to belong to a mail order gardening book club and as a result, I have tons of wonderful gardening resources in personal library.  Here are just a few of my favorites.
The Weekend Gardener will show you how to transform your garden by enhancing the things you already have.   Add a few new elements to bring your garden plans to life that create visual beauty and eye-catching displays. Tons of easy-to-follow, step-by-steps will guide you through your garden project every step of the way.
The Garden  will help guide you through planning, designing, constructing, planting and maintaining your garden no matter the size.  Hundreds of color photographs and detailed illustrations will help you visualize your garden dreams.
The Potting Shed is a delightful look inside the age-old gardener's workshop.  Beautiful, rustic photos are intertwined with practical advice on creating a haven for potting those beloved plants and flowers.
Hands down, I think The Tool Book is one of the most comprehensive books on garden tools, I've ever come across (even though it was published more than 20-years ago).  If you love pruners, shovels, weeders, hoes, spades trowels and more, you'll love the thirteen chapters in this book which represent all of those tools and so much more.  It's everything you'll ever need for the "well-tended" garden.
Technically speaking, I don't think that straw hats are really "tools" in the classic sense but if you plan to do any gardening in the summer heat, these shields are a must-have accessory.
Battle the blazing sun in style.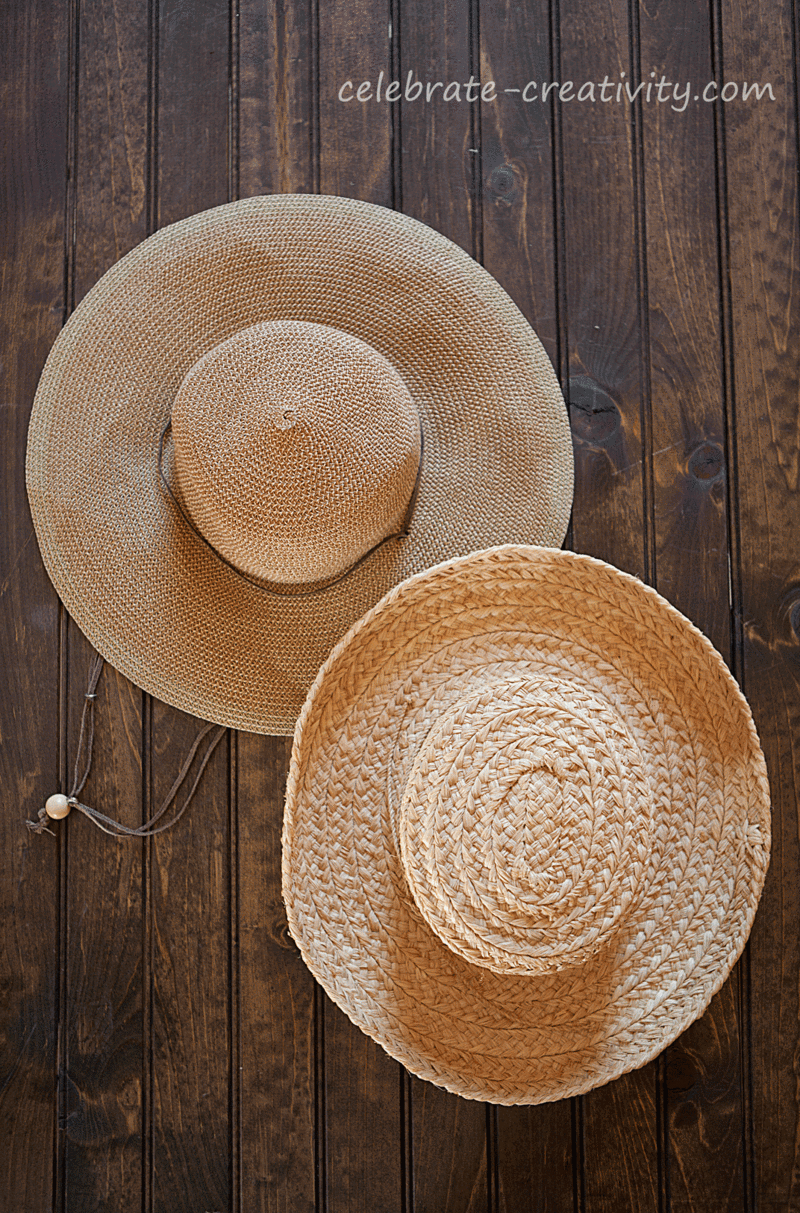 Meanwhile, here's a peek behind the scenes of this photo shoot.
Thanks to my trusty helper, Jordy who is always willing to help me "throw some light" on my subject.
Jordy has a genuine interest in photography and staging and I'm happy to help him develop those interests.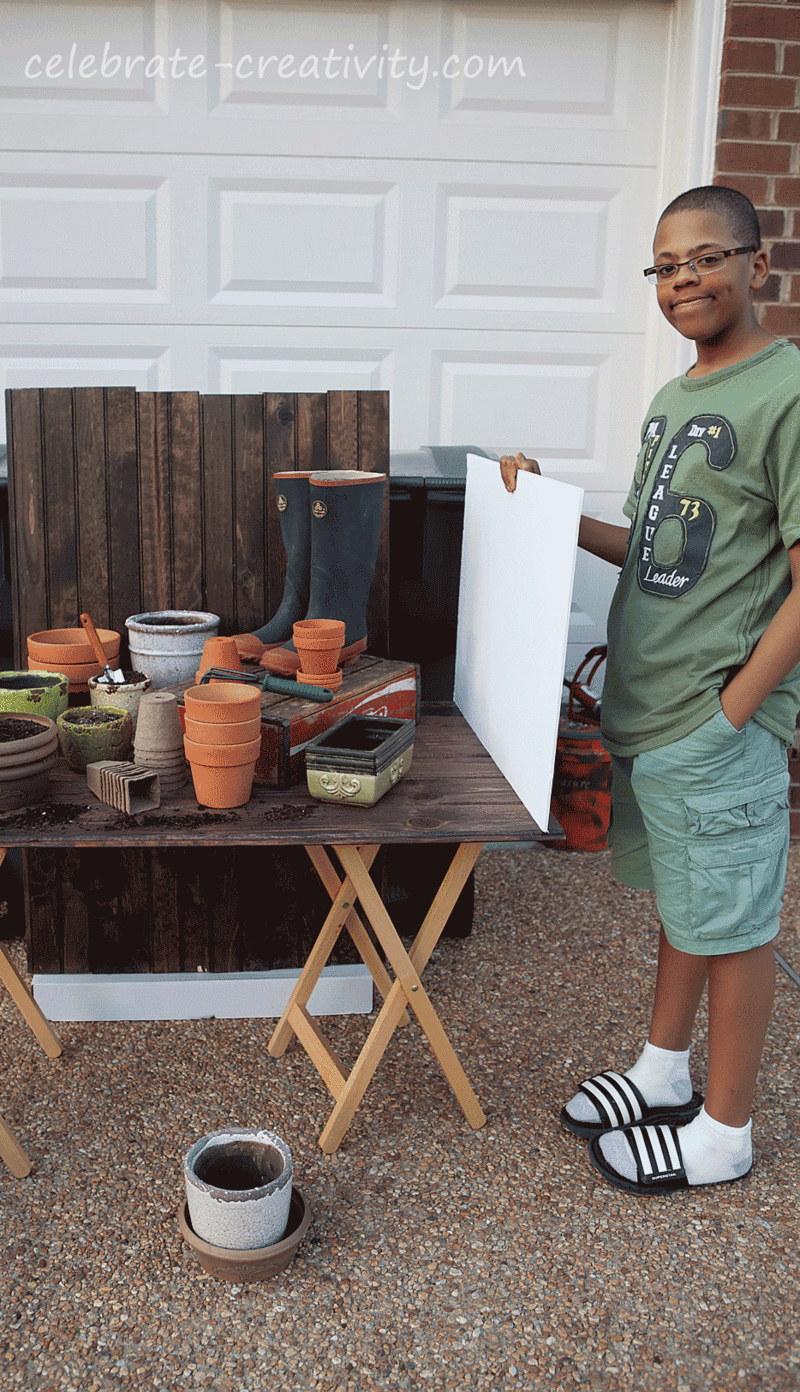 Ok, here's the shot that Jordy helped stage.
When it comes to gardening, I love mixing up my pots.
I can't wait to fill these with dirt and get my garden going for the season.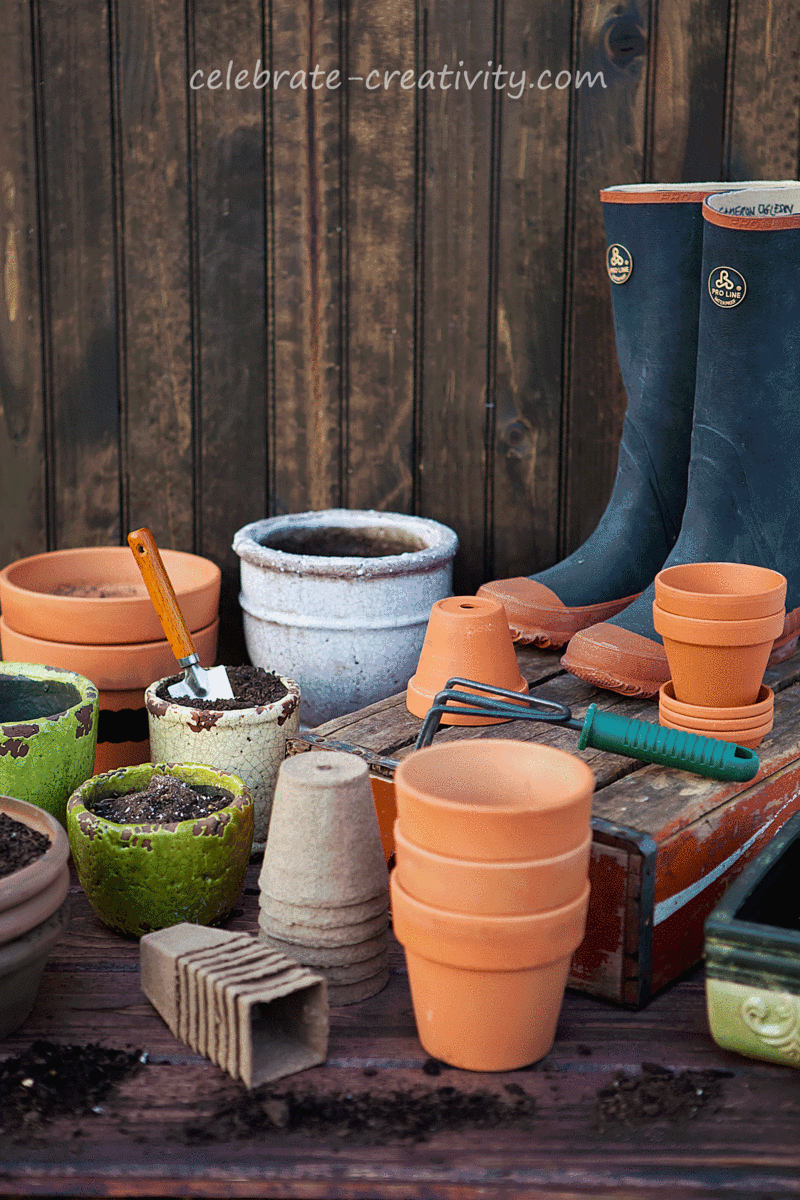 So that's a quick look at a few of the tools that will help me this gardening season along with another look at this fun graphic I put together using some of the goodies I'll be putting to good use.
What are some of your favorite gardening tools? ♥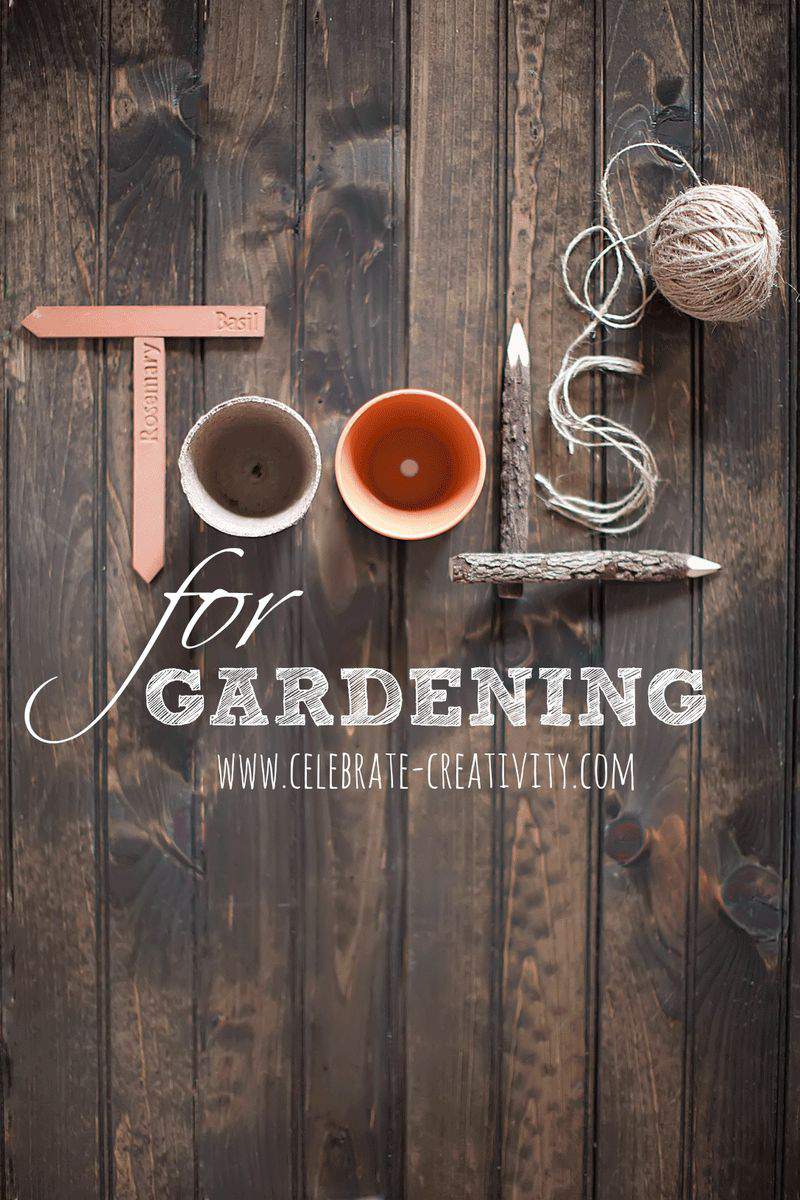 Thanks for stopping by.
See you back here next time.