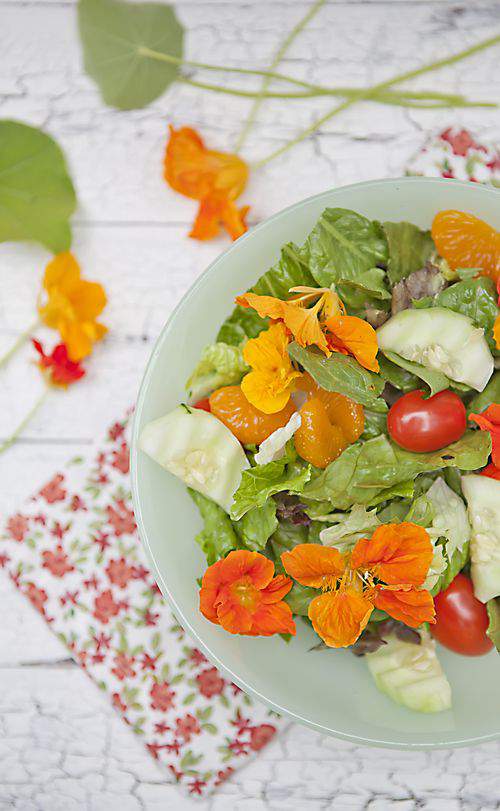 F lowers are often an integral part of any decor or event, used to enliven a space and at the same time add a splash of color.  Well, the same can be said when it comes to using edible flowers in the kitchen.
Today's FRIDAY FOODIE  is all about pretty Nasturtium and how the use of these colorful flowers can not only brighten the look of your next salad but boost the flavor too.

I've always known Nasturtium was one of those edible flowers but I had never tried it, until recently.
After tasting some Nasturtium from my mom's garden, I set out this Summer to grow my own in several containers including this terra cotta, chalkboard labeled pot.
I didn't stop there.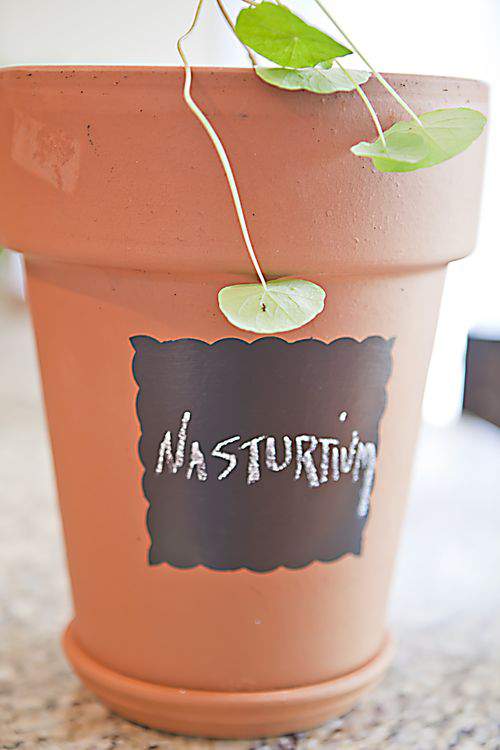 I also grew some in a large round, versatile plastic container (under $4.00 at Home Depot).
This is the same type of container I used to grow my original herb garden which continues to grow quite well.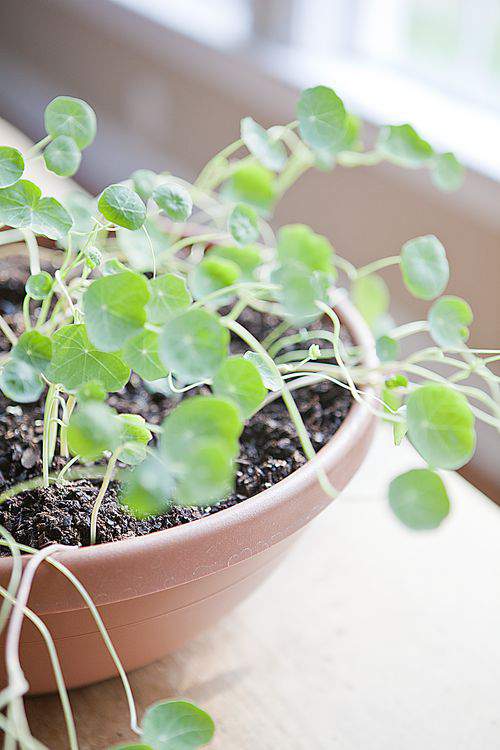 Here's a look at Nasturtium in a more natural environment.
This is my mom's Nasturtium patch.  "Nana Banana"  grows these beautiful flowers every year in her vegetable garden along side a variety of other bountiful produce.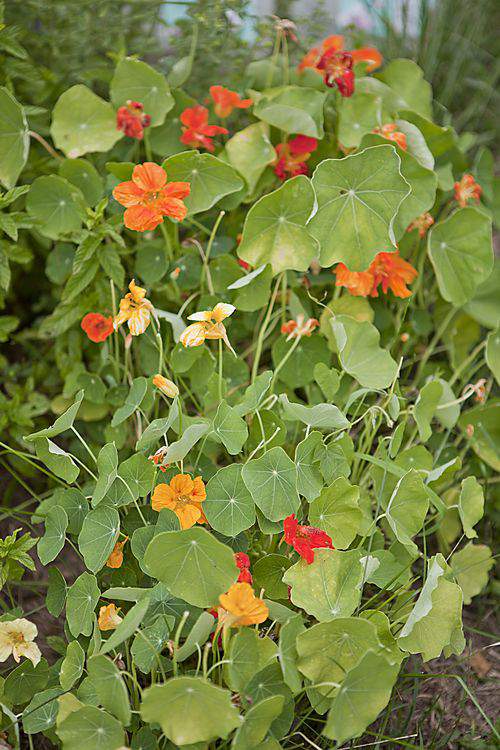 Nasturtium comes in a many different striking colors and once they are well-established in soil, they will grow like crazy.
The oranges, reds and golds in this photo are even prettier and vibrant in person.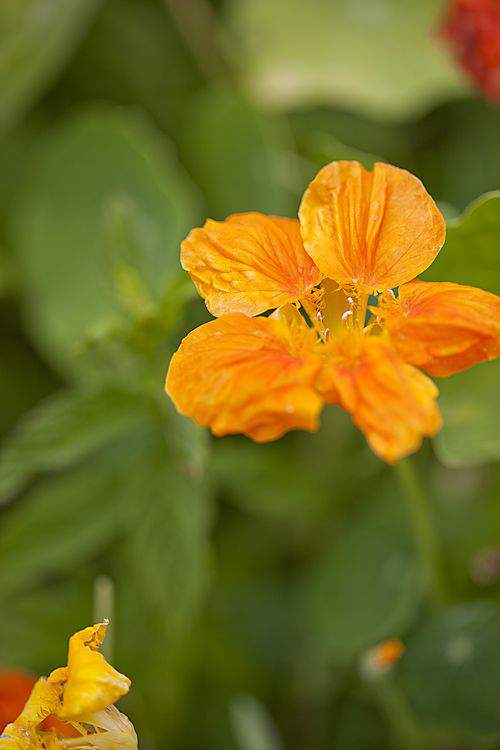 When it comes to Nasturtium the leaves are just as edible as the blooms.
I trimmed these flowers at the stem for the sake of these photos but you'll definitely want to snip yours at the leaf/bloom base if you plan to add them to a dish.
I personally, don't care for the texture or taste of the stems.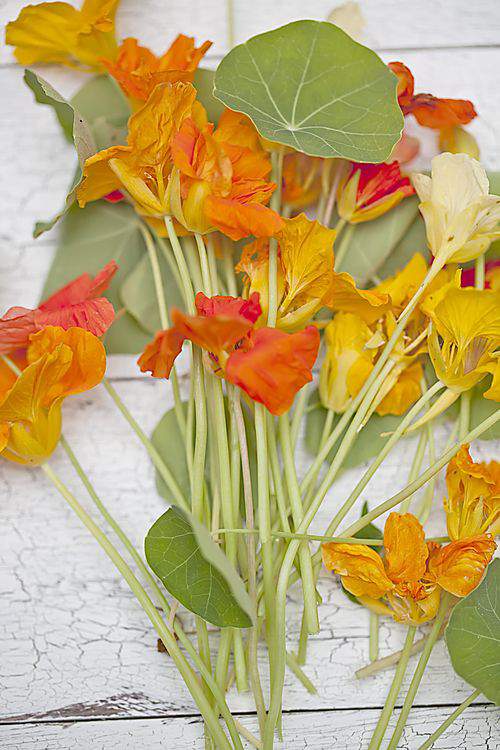 I wasn't quite sure what to expect when I first tried eating Nasturtium.  It has a peppery, almost spicy taste.
I think Nasturtium actually has a fairly a pleasant zing with not too much of a kick.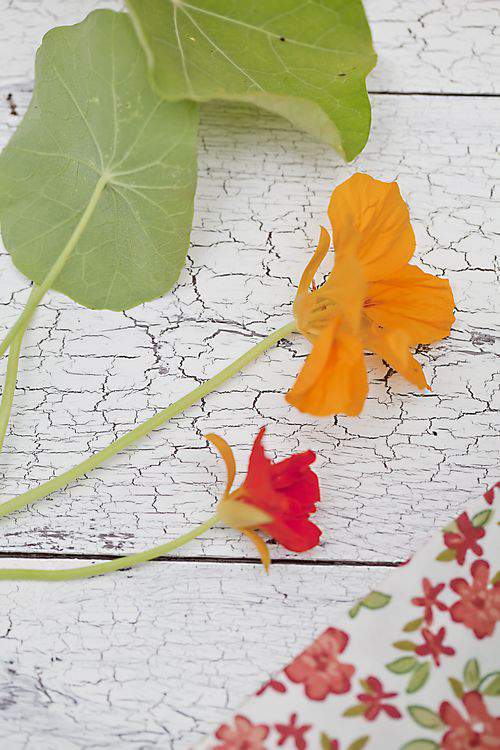 Nasturtium can be used any number of ways in the kitchen.  Chop it as an ingredient or use the petals whole as a garnish.
You can add Nasturtium to cream cheese for a zesty spread, or use it in soups or butters and sandwiches to name a few kitchen possibilities.
I love how it looks in a salad.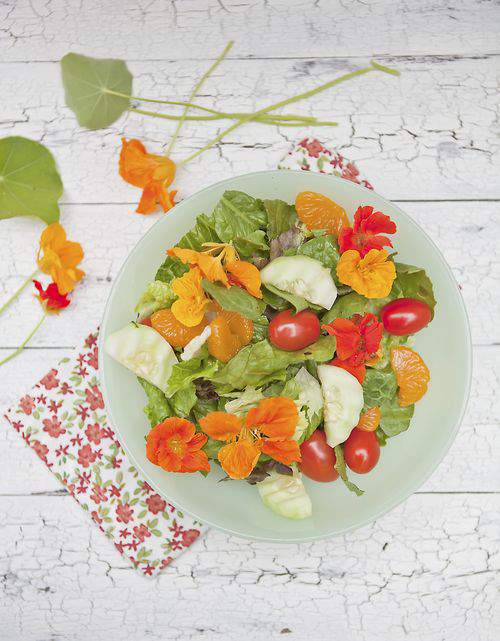 When prepping your salad, combine similarly colored ingredients along with your Nasturtium.
As you can see, cherry tomatos, cucumber slices and mandarin oranges are a lovely compliment to this Nasturtium.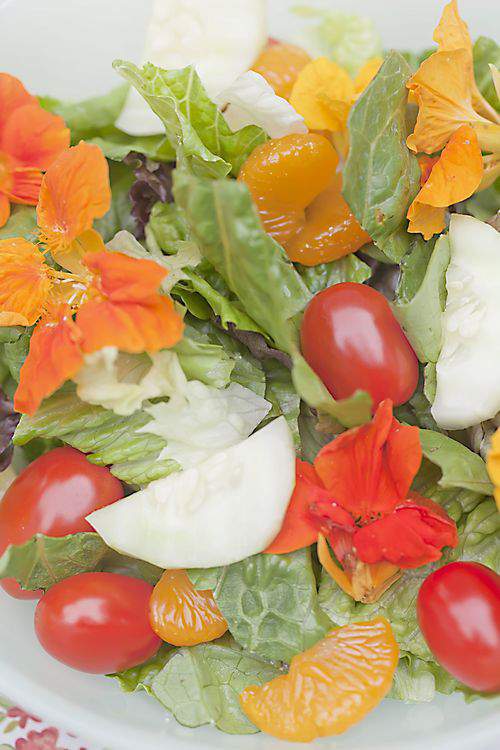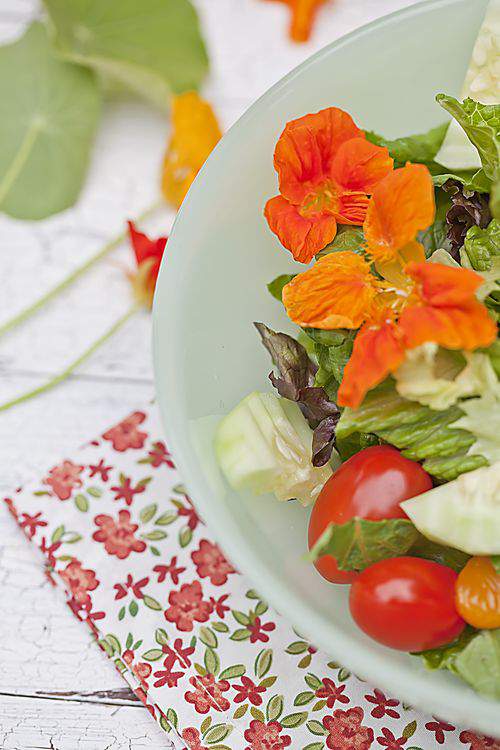 There's one more thing you can do to make this colorful salad even more special when serving to guests.
I spotted the idea for making seed gift packs while browsing photographer/stylist Heather Bullard's beautiful blog earlier this year.
First, match the number of Nasturtium seed packages to your number of guests.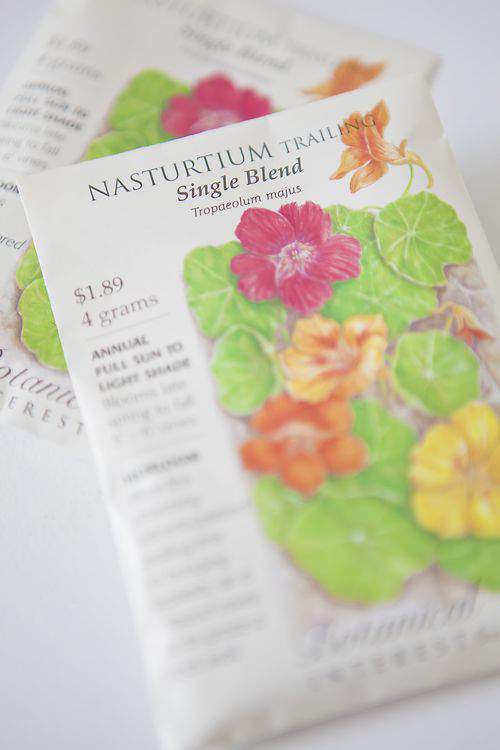 You'll need a handful of small bags, some twine, several tag shaped die cuts and rubber stamp alphabets and a rubber stamp image.
You may already have these supplies on hand.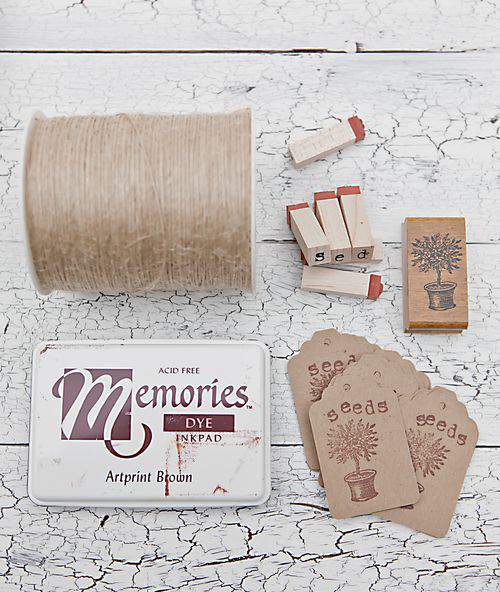 Stamp the die cuts with the image and alphabet stamps, insert the seed packages in the baggies and tie with string or thin twine.
Place a seed filled, gift pack next to each plate.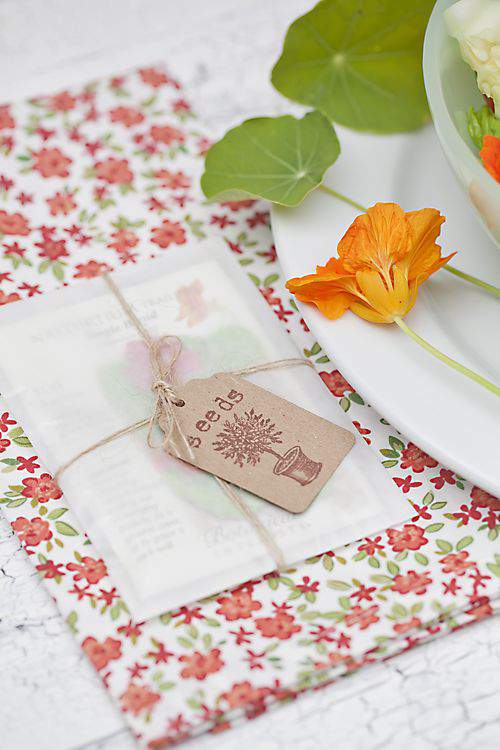 Your guests will not only delight in your tasty, colorful salad but they'll also love your unexpected gift of Nasturtium seeds.
When your guests return home, they can plant their own seeds and duplicate the gesture if they please.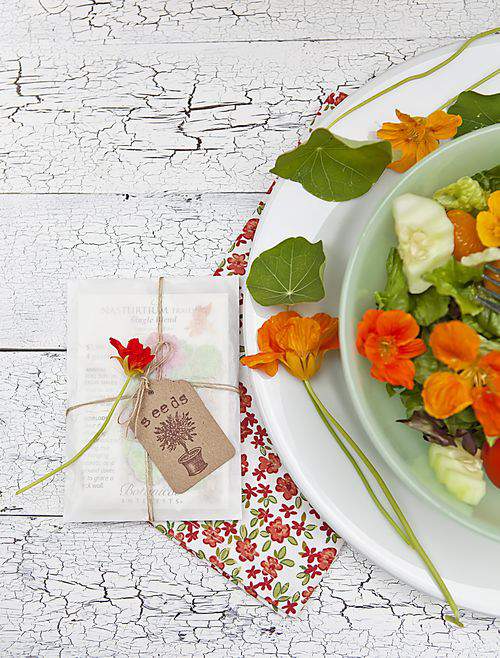 If you're looking for a way to make a dish really pop, Nasturtium could very well be the way to go.
So, have you ever used Nasturtium in a recipe?  What other edible flowers have you used?
COMING UP ON MONDAY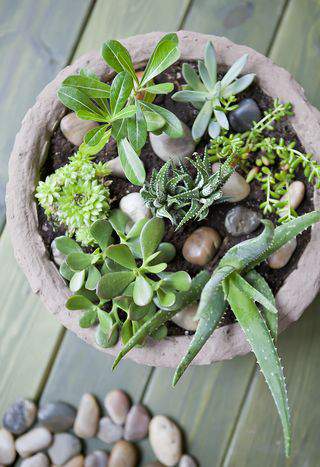 Coming up next week,  I'm going to stick with my end-of-Summer, small-scale gardening theme with a look at how to create a succulent garden.
With a new season not too far off, you may want to grow a little green inside your home and succulents are a wonderfully easy option.
I'll show you how to properly layer soil for succulents, pick the perfect plants and build a small garden you can be proud of all year long.
Hope you pop by this blog again next week for my tutorial on making a making a beautiful succulent garden.
See you then. ♥