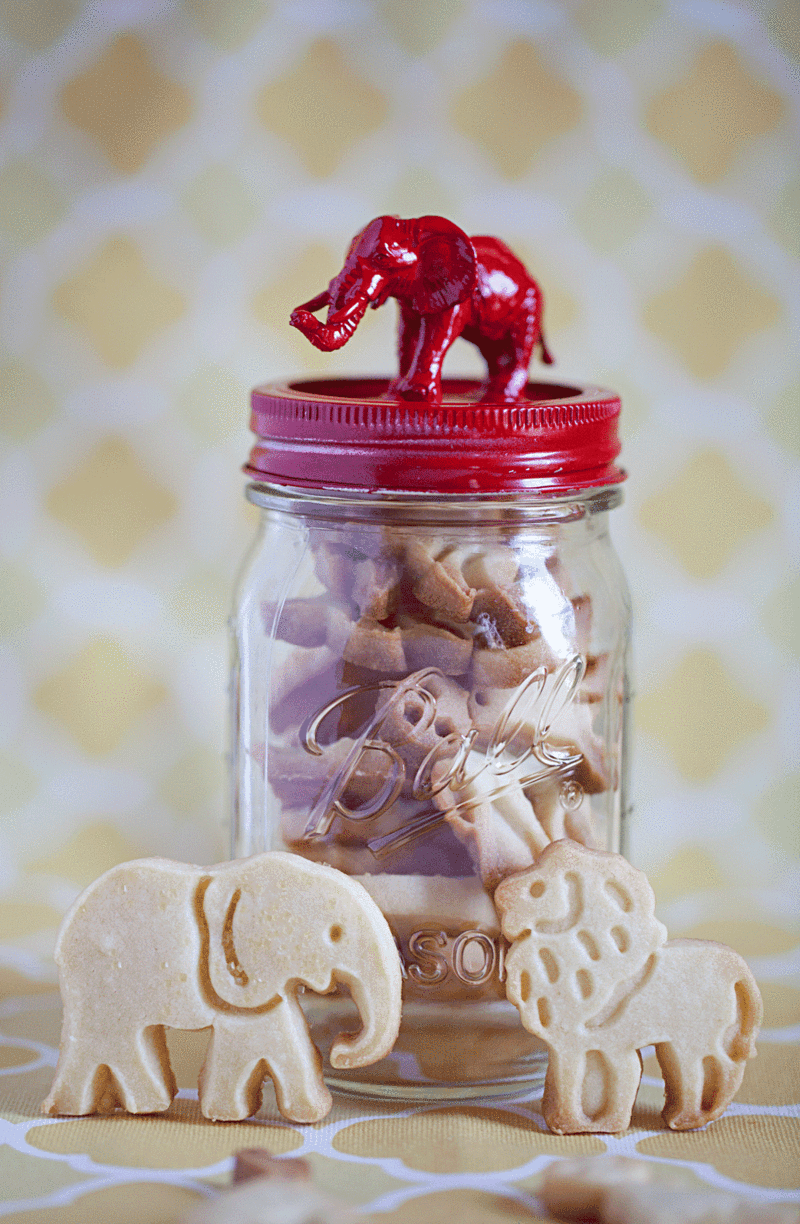 Is there anyone reading this who doesn't remember eating animal crackers as a kid?
Maybe you still eat them.  I certainly do.
I've never outgrown these cute, old-fashioned animal shaped goodies which makes this mason jar animal cracker cookie jar project all the more endearing.
I think these animal cracker cookies taste so much yummier when they're taken out of a cute container like this.
This is yet another use for the uber-versatile Mason jar.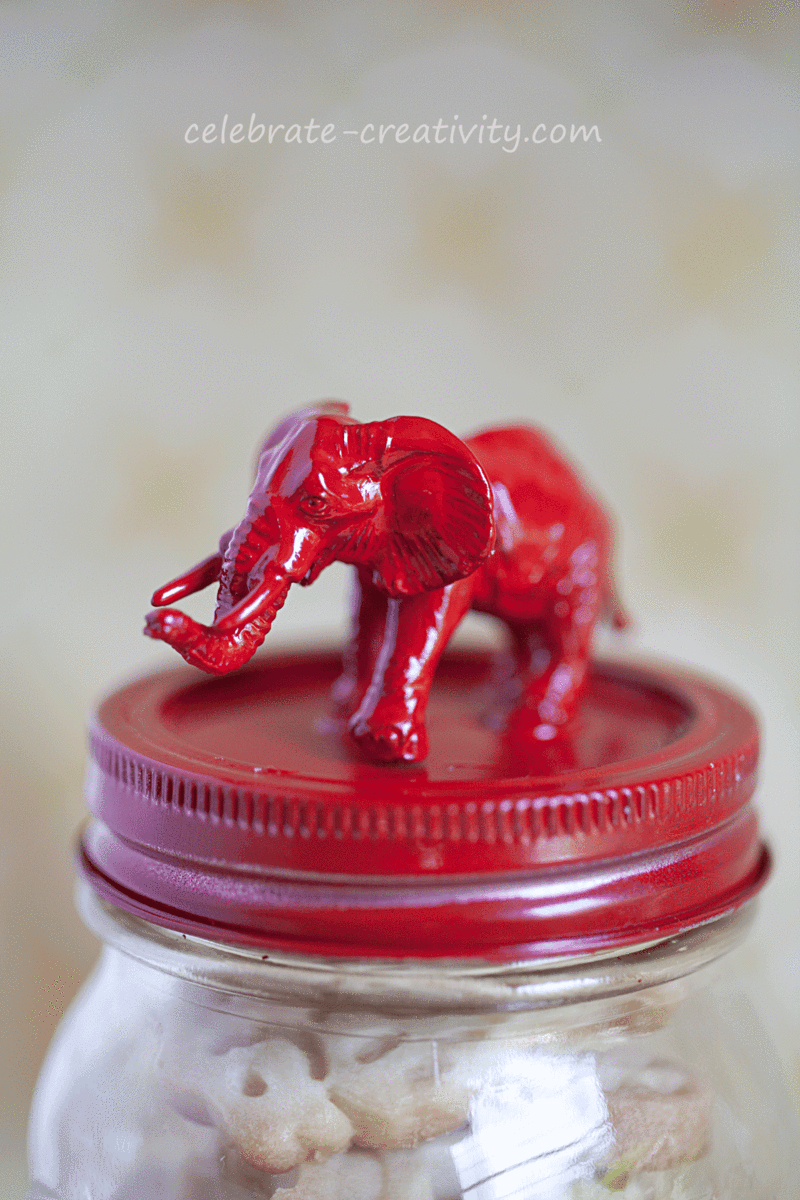 Of course the cookies are just as appealing as the animal-topped jar.
Don't you just want to bite the heads off these cookies?
They're delicious and I'll share a great recipe for these a bit further down in this post.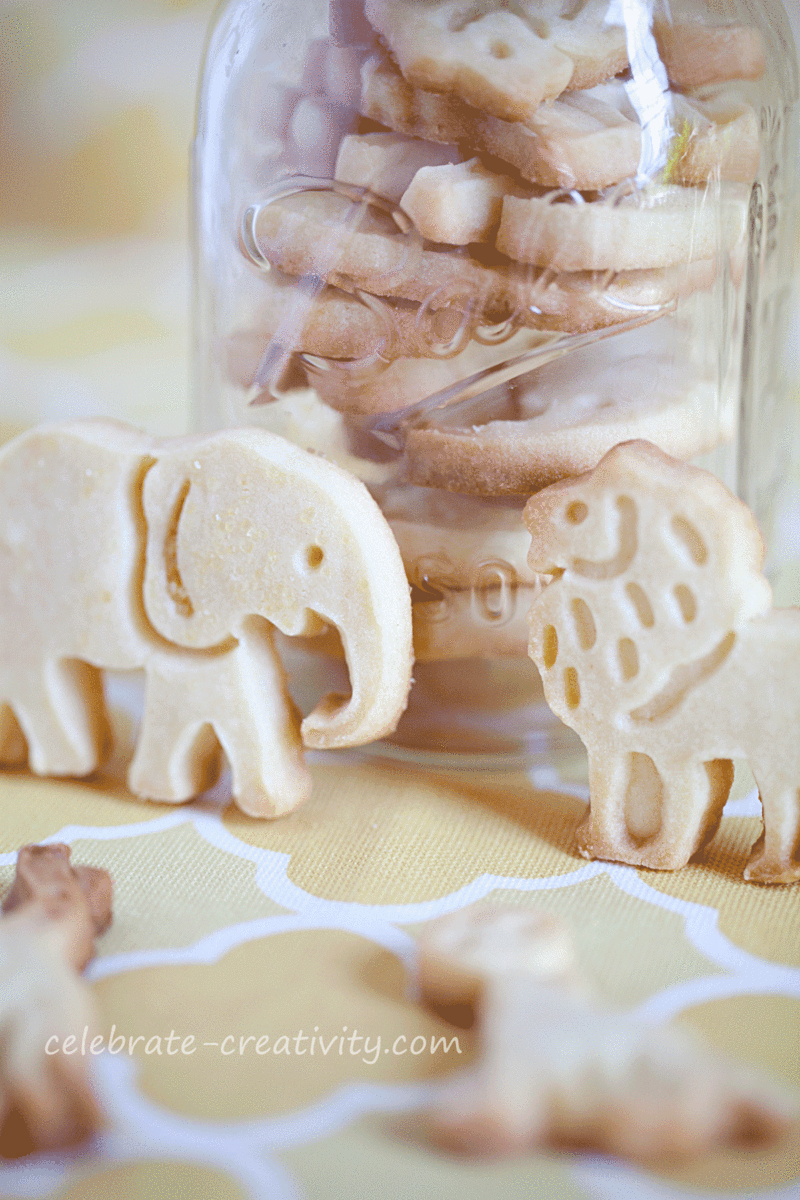 Let's get started making the cookie jars first.
You'll only need a handful of supplies for these containers including a few Mason jars, assorted acrylic spray paint and spray paint sealer and a hot glue gun.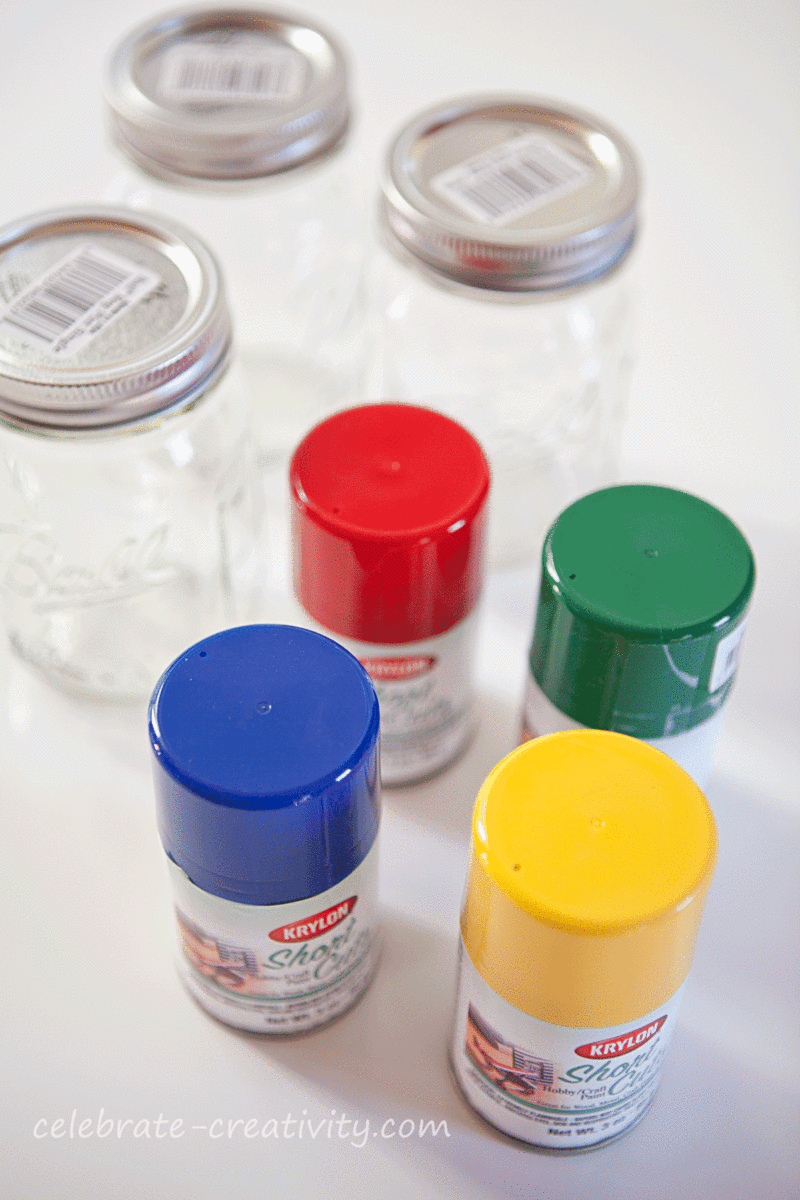 You'll also need some plastic zoo animals which you can find at most crafts stores (or tucked away in your child's toy chest).
If zoo animals aren't your fancy, these plastic figures are available in many different shapes including birds, marine life, barnyard livestock and more.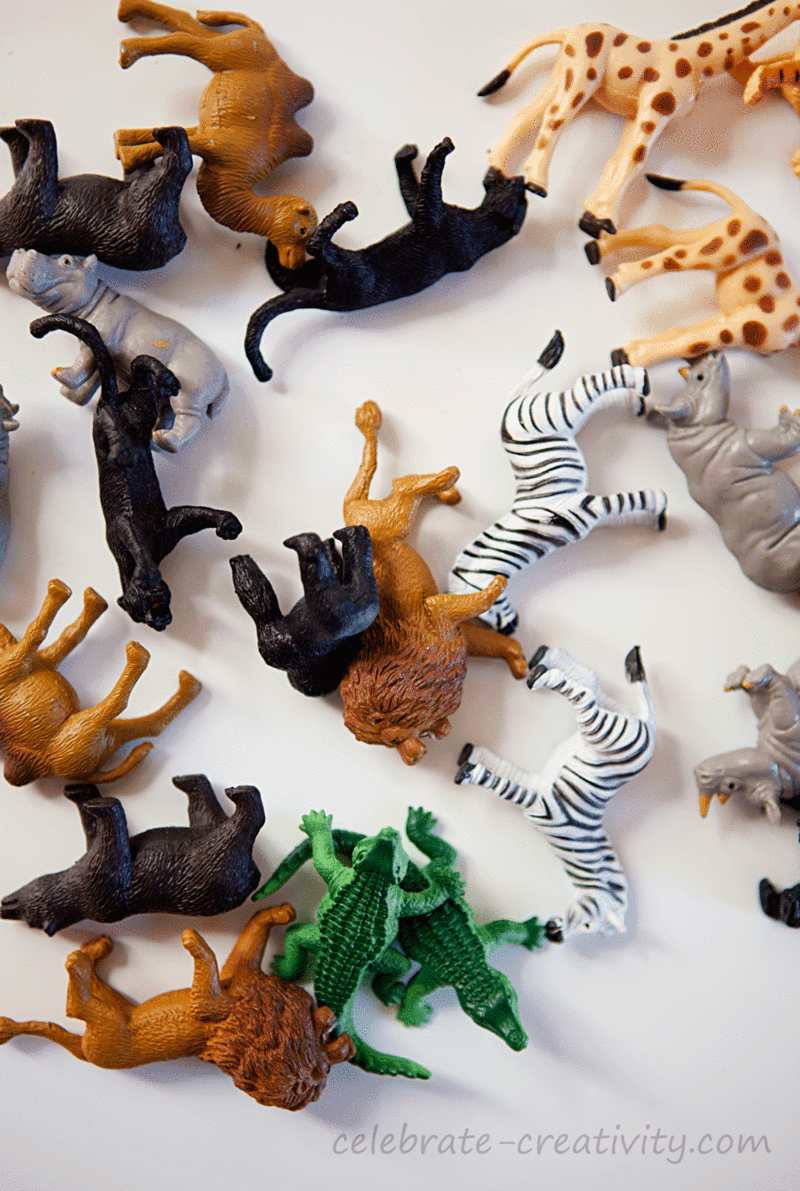 Settle on which zoo animals you want to use for the project and hot glue the animal feet to the Mason jar lid.
Set aside and allow to dry.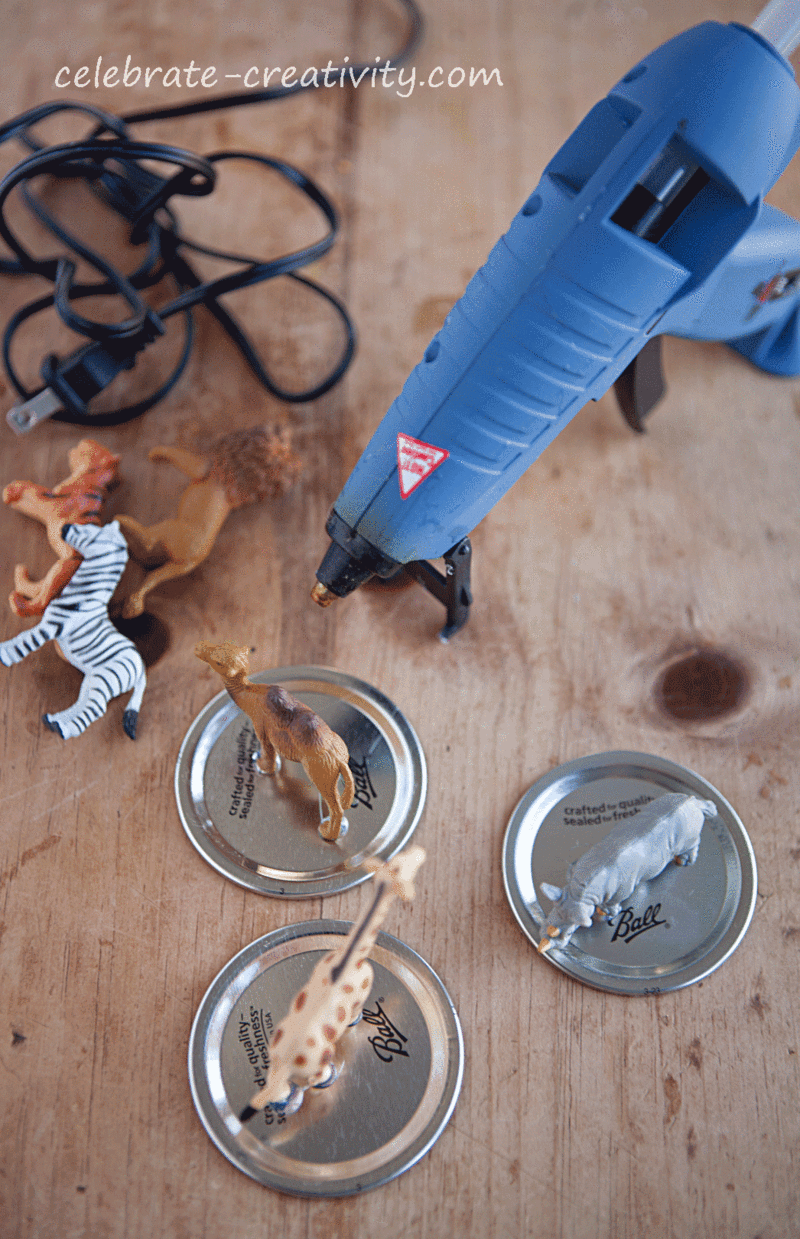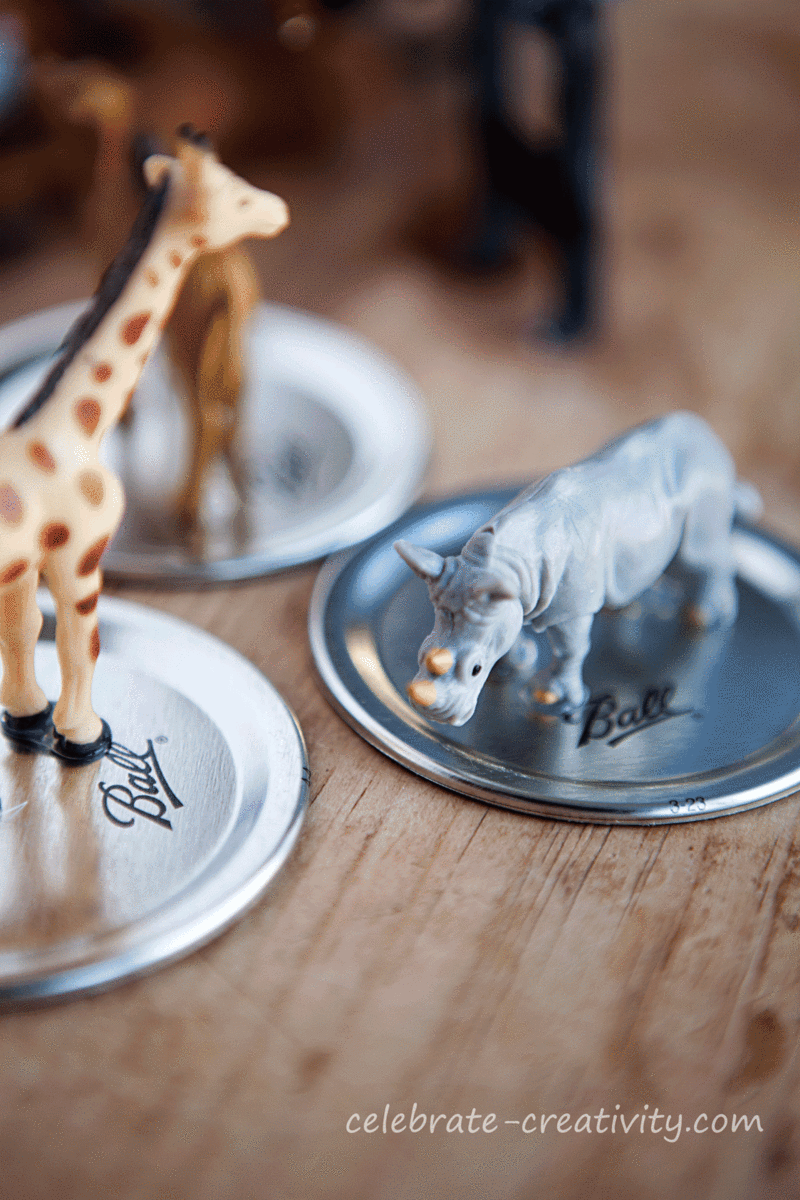 Set up a paint area in a well-vented area and spray the animals, lids and the Mason jar rings.
Allow to dry and add more coats as needed to achieve full coverage.
I ended up having to spray paint these three times to cover all the nooks, crannies and underside areas.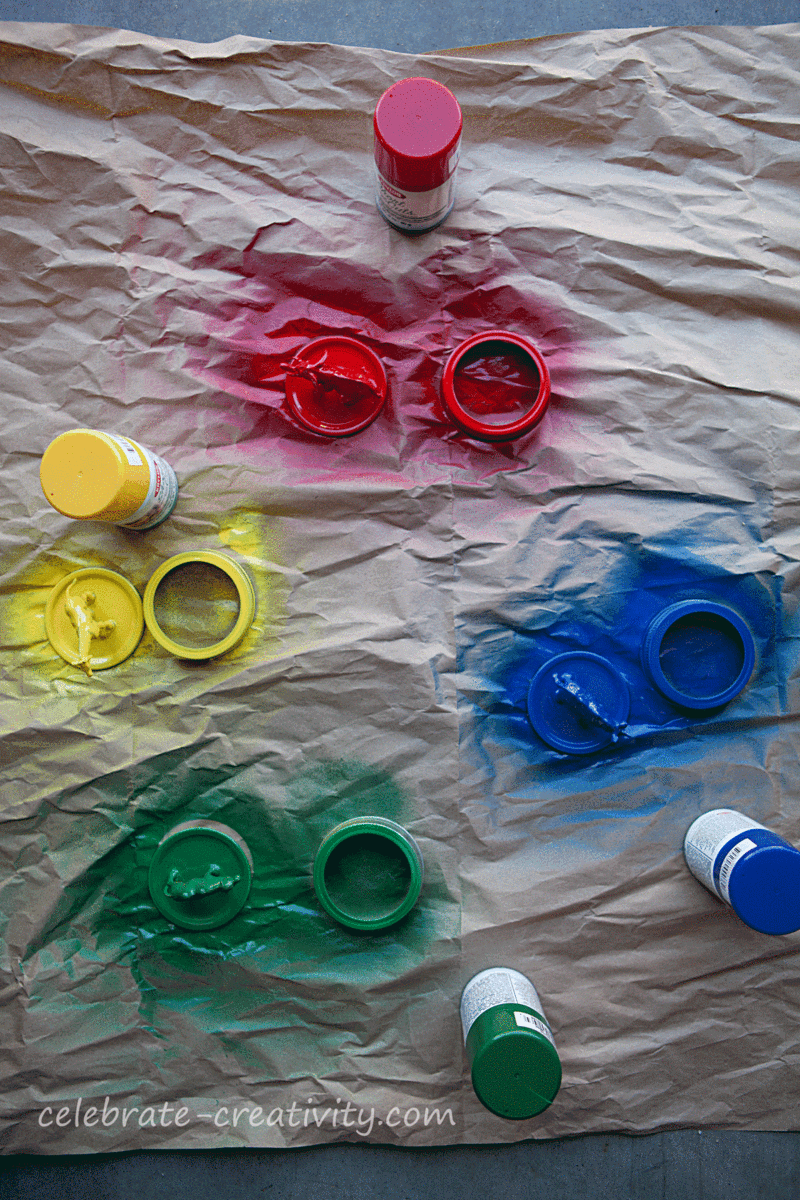 Once dry, apply a thin line of hot glue around the edge of the lid and add the ring.  Hold in place for a few seconds until the lid is adhered to the metal ring.
Apply another coat of paint.
Once dry, spray a layer of clear sealer over the animal-topped caps and metal rings. The sealant will help prevent the paint from chipping or flaking off.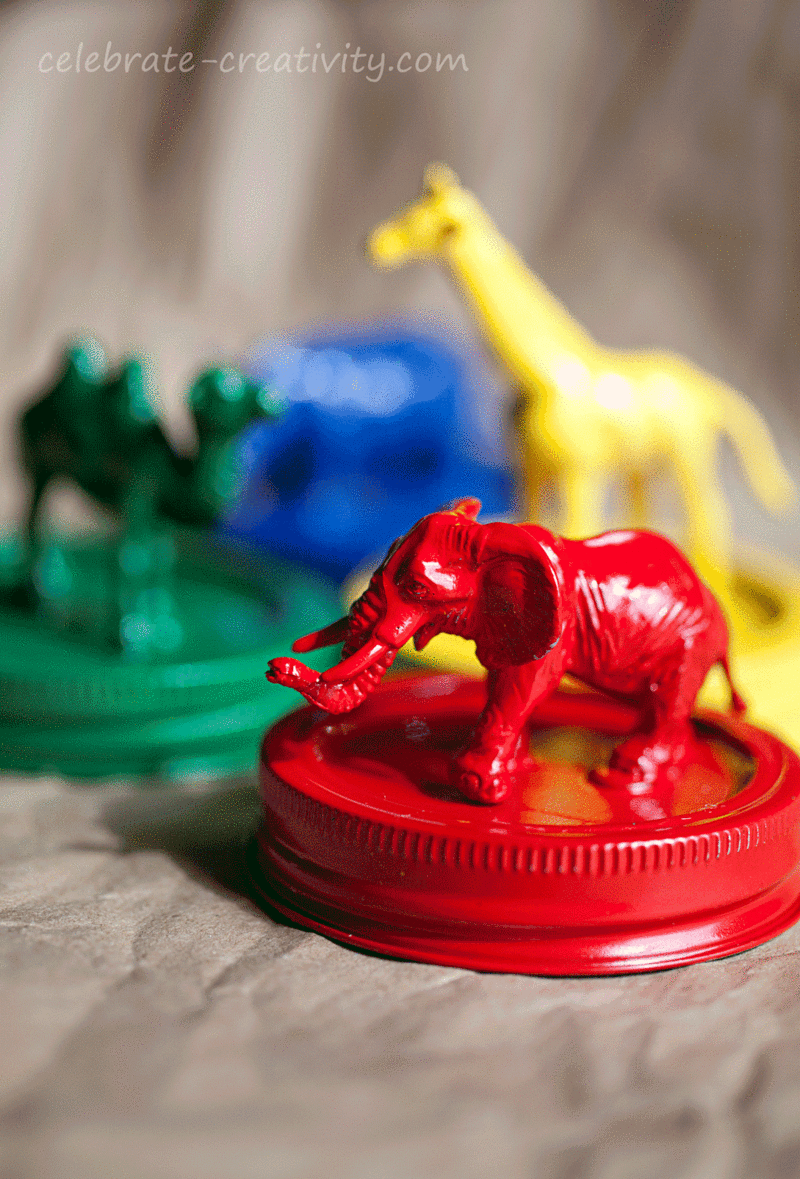 With animal-topped caps, it's only fitting that these Mason jars be filled will homemade animal cracker cookies.
You can use your favorite sugar cookie recipe or click this link for a PDF of a tasty  ANIMAL CRACKER COOKIE RECIPE.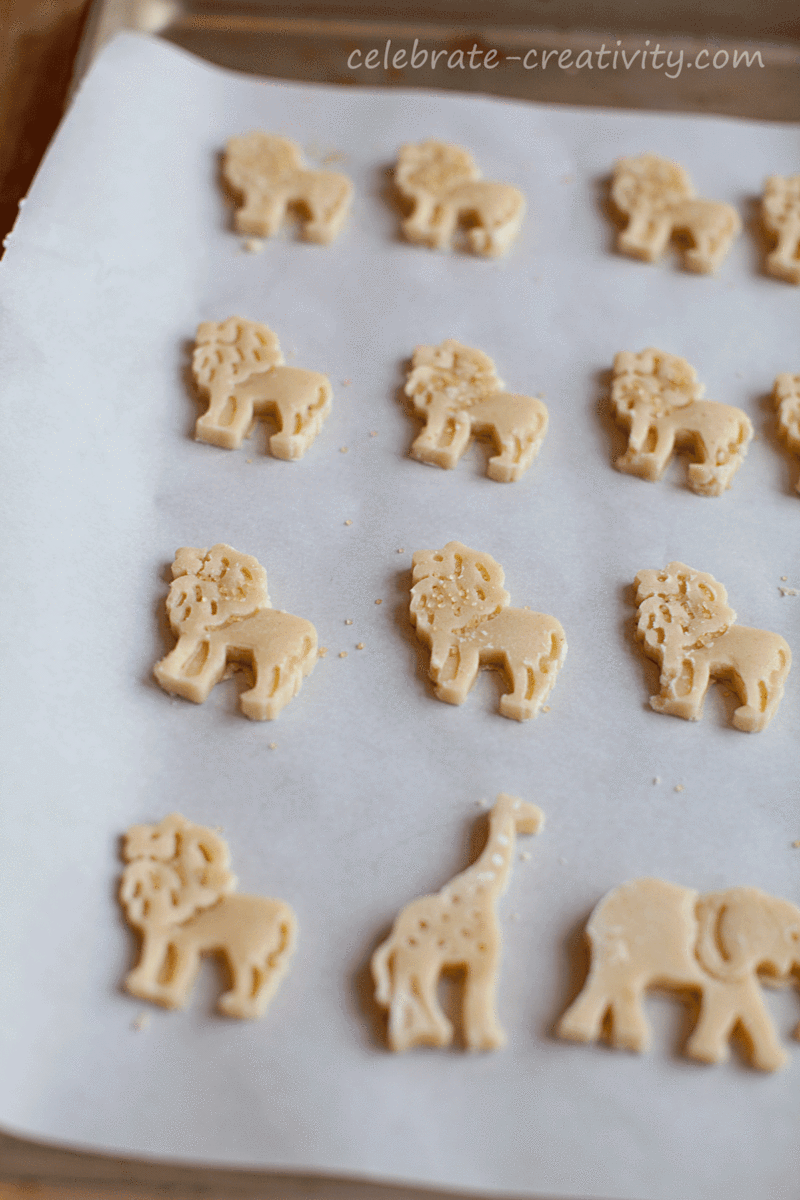 I found my animal cracker cookie cutters at Williams-Sonoma several years ago.
I don't think WS carries these anymore but I found another cute set on-line at King Arthur's Flour (another one of my favorite stores).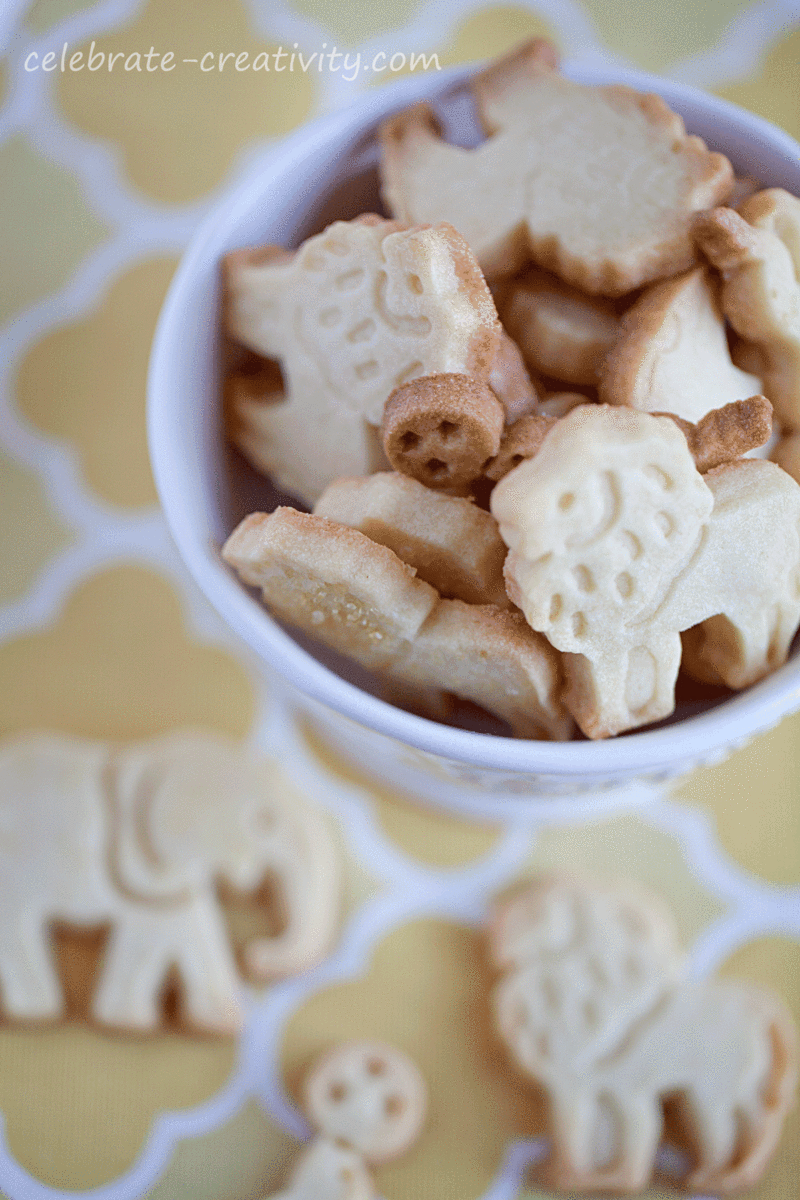 Meanwhile, before putting the cookie cut-outs in the oven, sprinkle a small amount of Turbinado sugar over each one.
The Turbinado sugar crystals will bake right into the cookies and give them wonderful sparkle and added sweetness.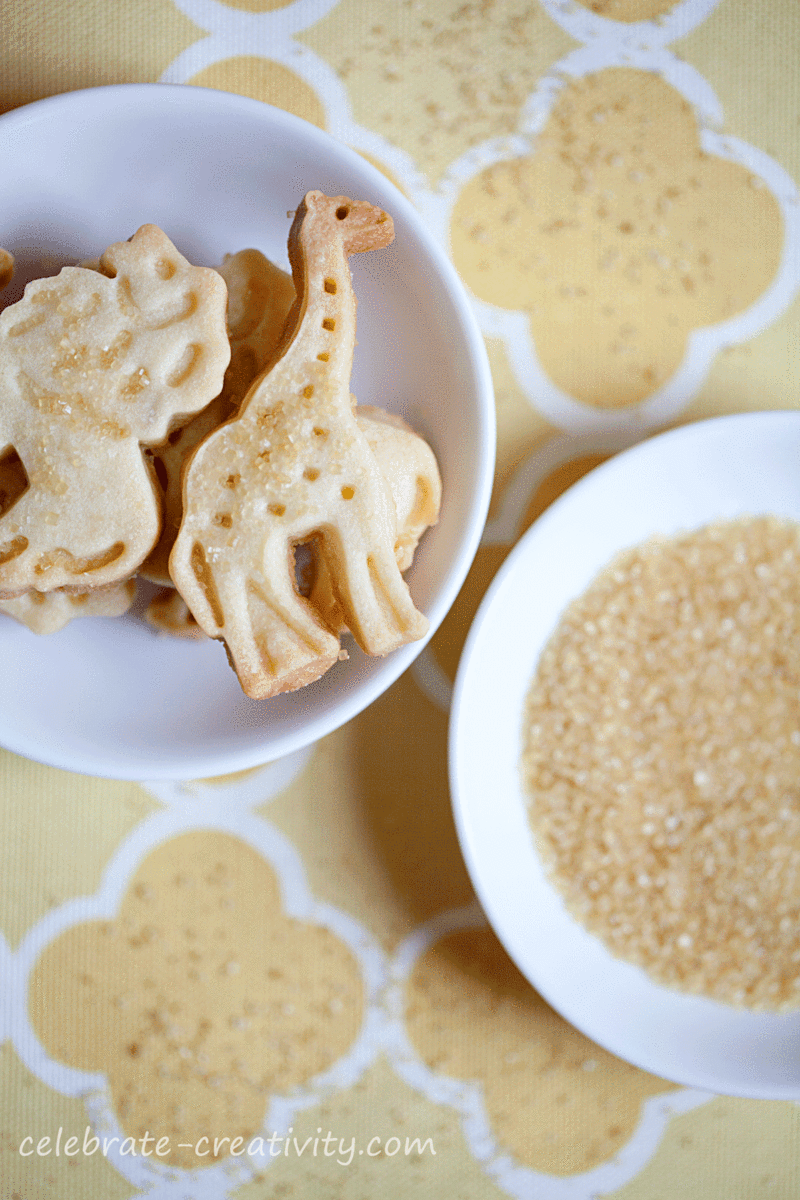 Even though the paint has been sealed, I think it's still a good idea to make sure cookies don't actually come in contact with the painted surface.
If gifting, you could pack the cookies in a clear goodie bag and insert that in the jar.  Or you could cover the cookies with plastic wrap, like I did here before securing the lid.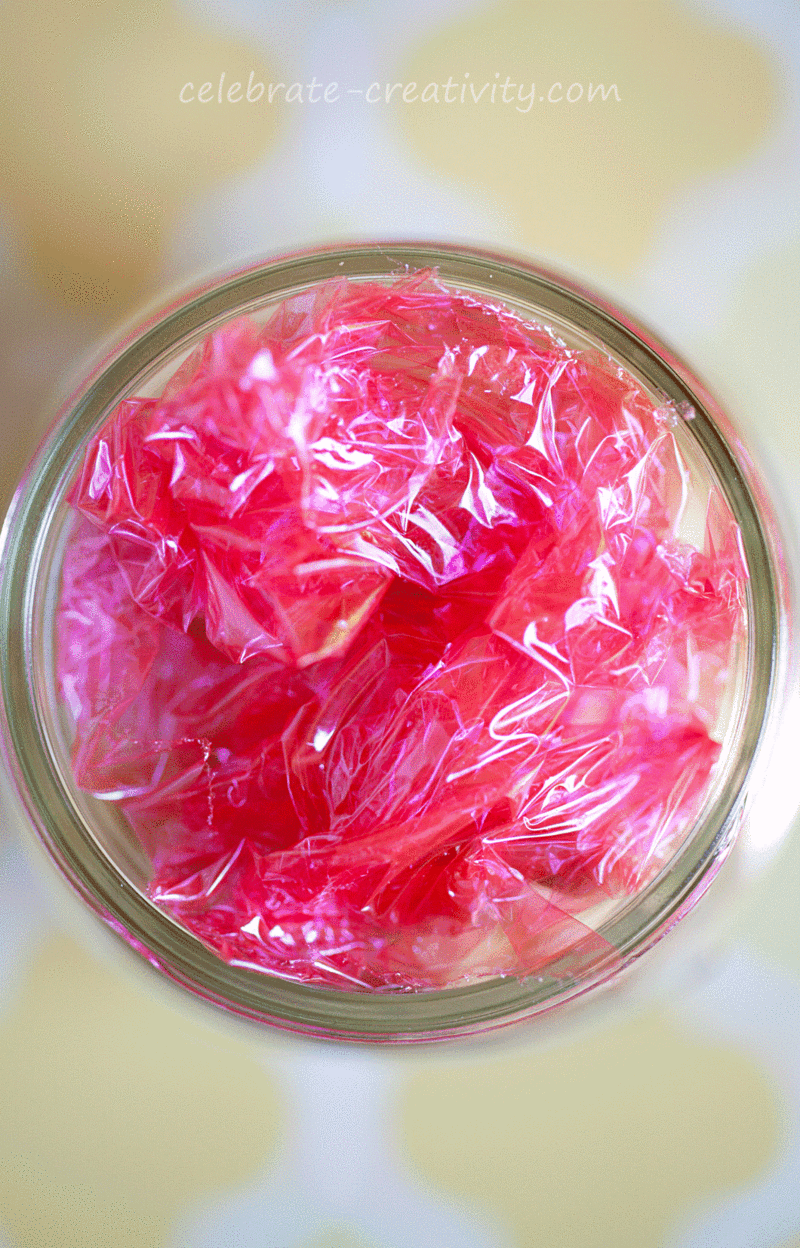 Imagine what a gift recipient will say when they say this unexpected offering.
They'll love it.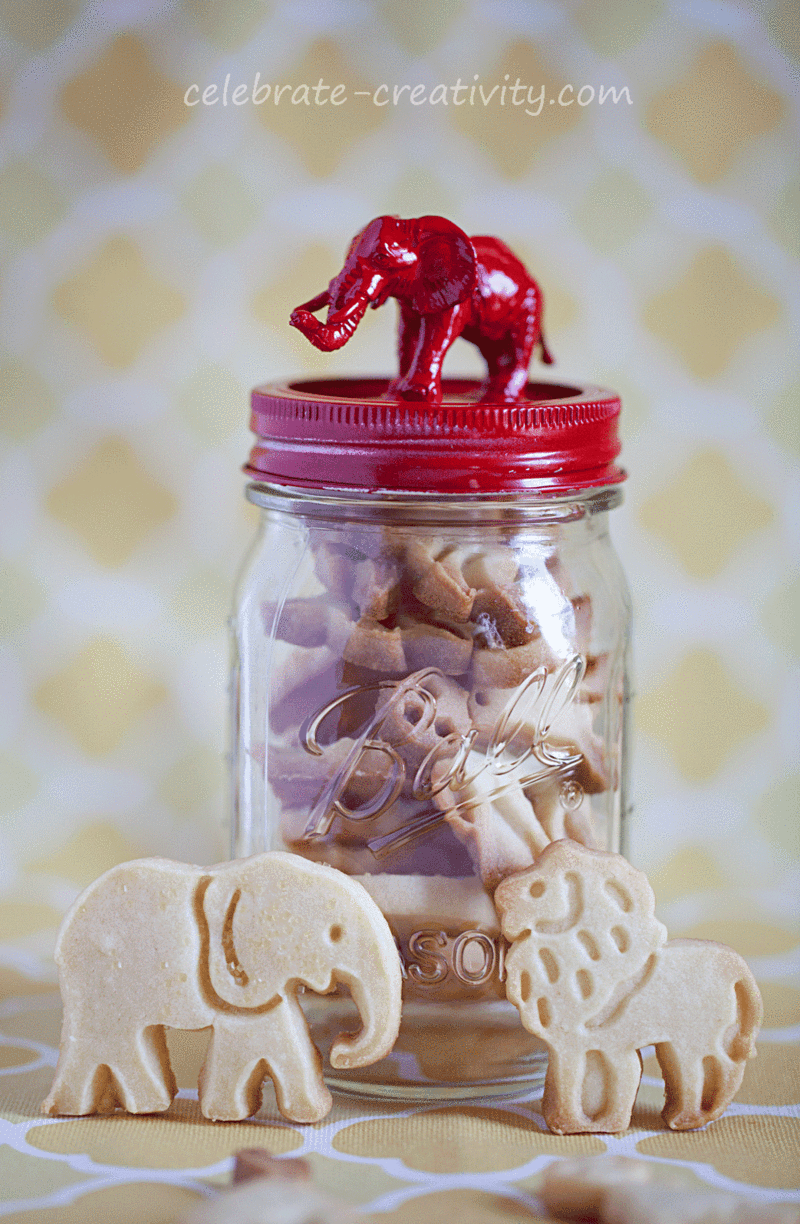 These are so adorable you may find it hard to part with them.  
NOTE: If gifting to children, keep in mind that these are GLASS jars.  As such, they are breakable and may not be suitable or safe for every age.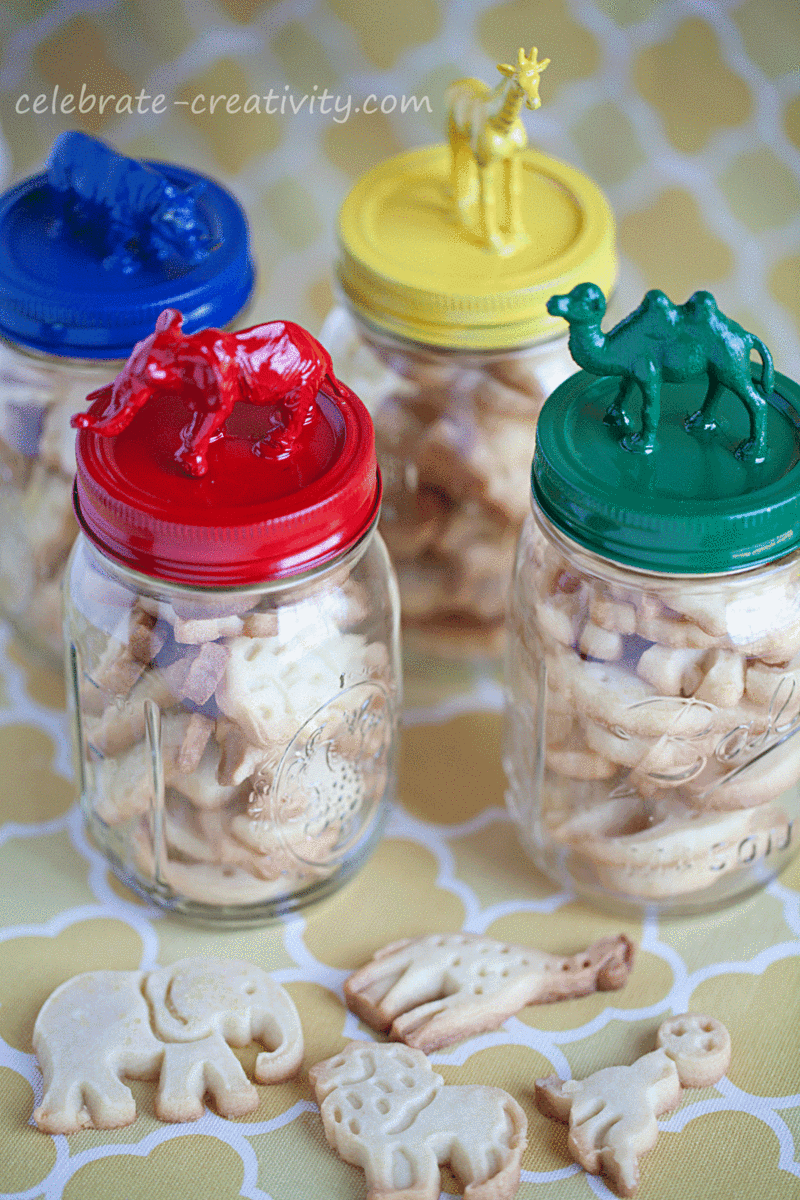 These fun jars can also be used for a variety of interesting storage solutions as you can see in the photo below.
Wouldn't these assorted jars look fantastic lined up on a craft room shelf or desk?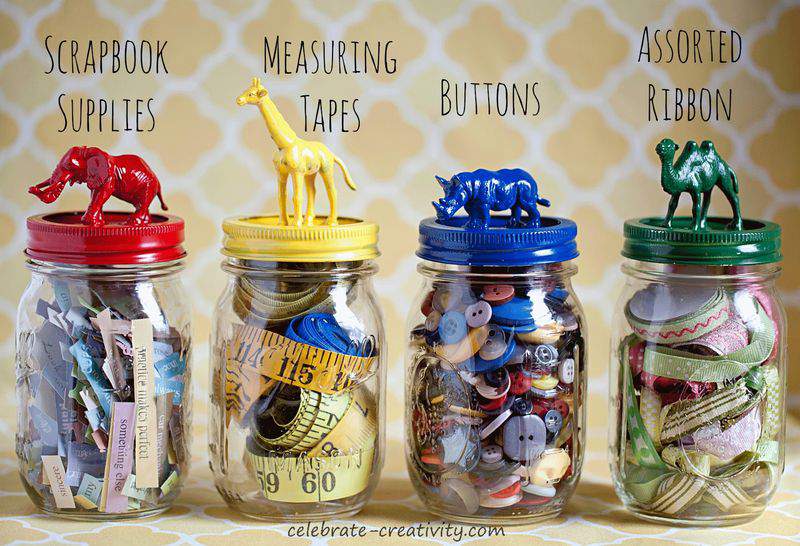 Consider making these animal-topped cookie jars to use as party favors or placed inside a gift basket, or even as a whimsical and unexpected house warming gift.
Imagine a jar like this topped with a pretty bird, painted Spring-green, sitting on a desk and filled with small office supplies like paper clips or rubber bands.
I think I'll make one like that for my desk.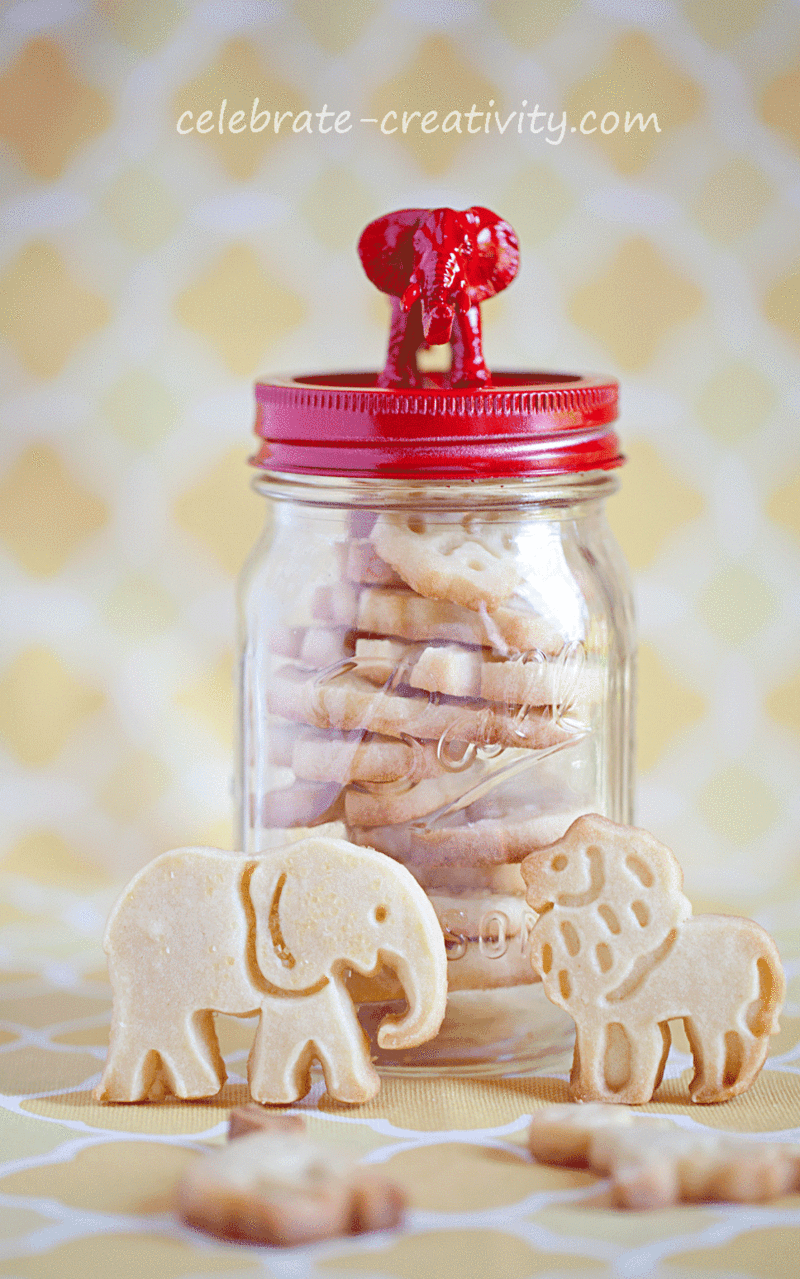 It doesn't get much cuter or easier than this.
You'll be able to whip up these Mason jar, animal cracker cookie jars up in no time at all to the delight of your zoo-loving friends and family.
Just don't forget to make a few for yourself. ♥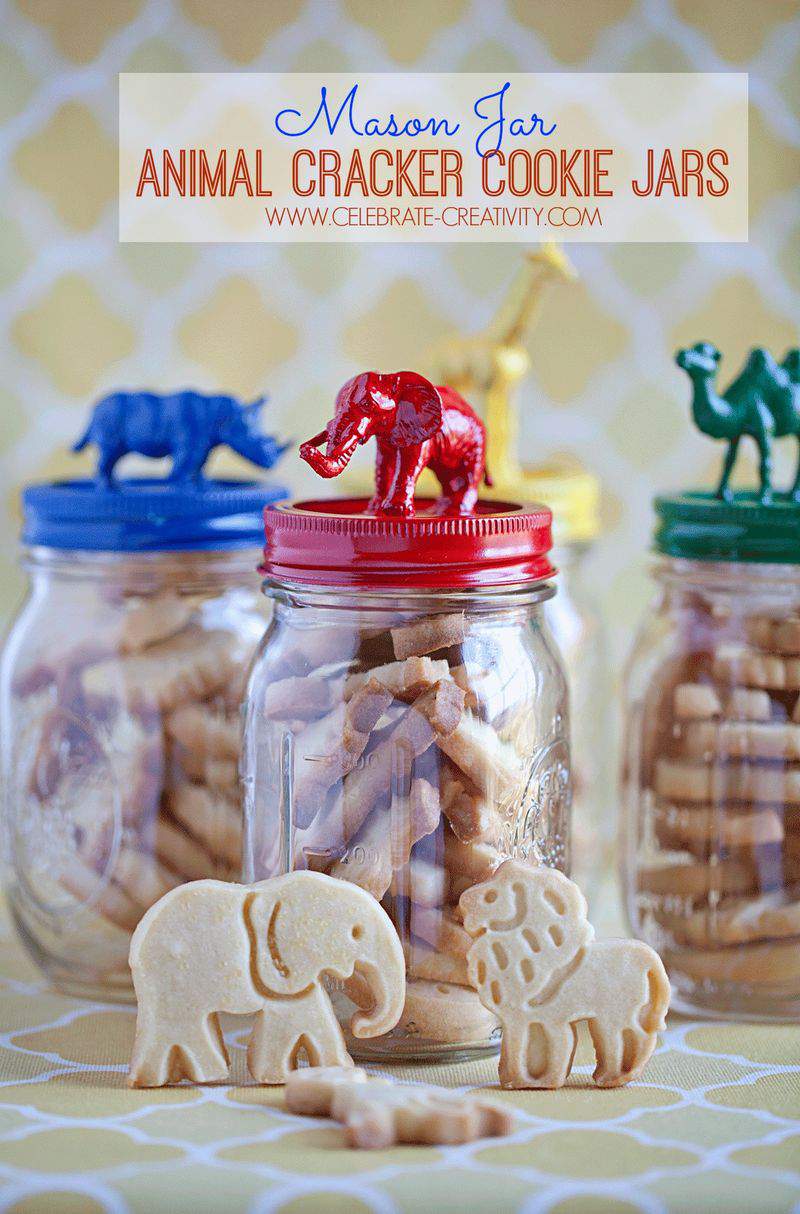 Thanks for stopping by.
See you back here next time.
I'm linking this fun mason jar animal cracker cookie jar project to the following:
 Trish and Bonnie at Uncommon Designs
Debbie at Confessions of a Plate Addict
Beth at Home Stories A to Z
 Kim at Savvy Southern Style
Heather at Whipperberry