Out of all the seasonal projects I've created over the years, I've gotta say, these soft pumpkins with real stems are among my favorite.
Maybe you've already seen similar versions around at upscale shoppes or boutiques.
What you may not realize is that you can make these yourself…. fast, simple and for a fraction of the cost compared to any store-bought soft pumpkin?
In this case, White is the new Orange.
How cool and creepy is this stem?
Aside from the the dried pumpkin stems which I'll talk a little more about further down in this post, you'll only need a few other supplies.
You'll only need a long doll making needle, thread and cotton stuffing and fabric to make the pumpkin forms.
While I really love the look of velvet, it is very pricey and can run as high as $25 a yard. Ouch.
If you don't want to spend a ton for velvet, the next best fabric is Crushed Panne (pronounced pa-nay). It looks very much like velvet without the hefty price tag attached.
I found this crushed panne at Joanne's Fabrics for about $6 a yard.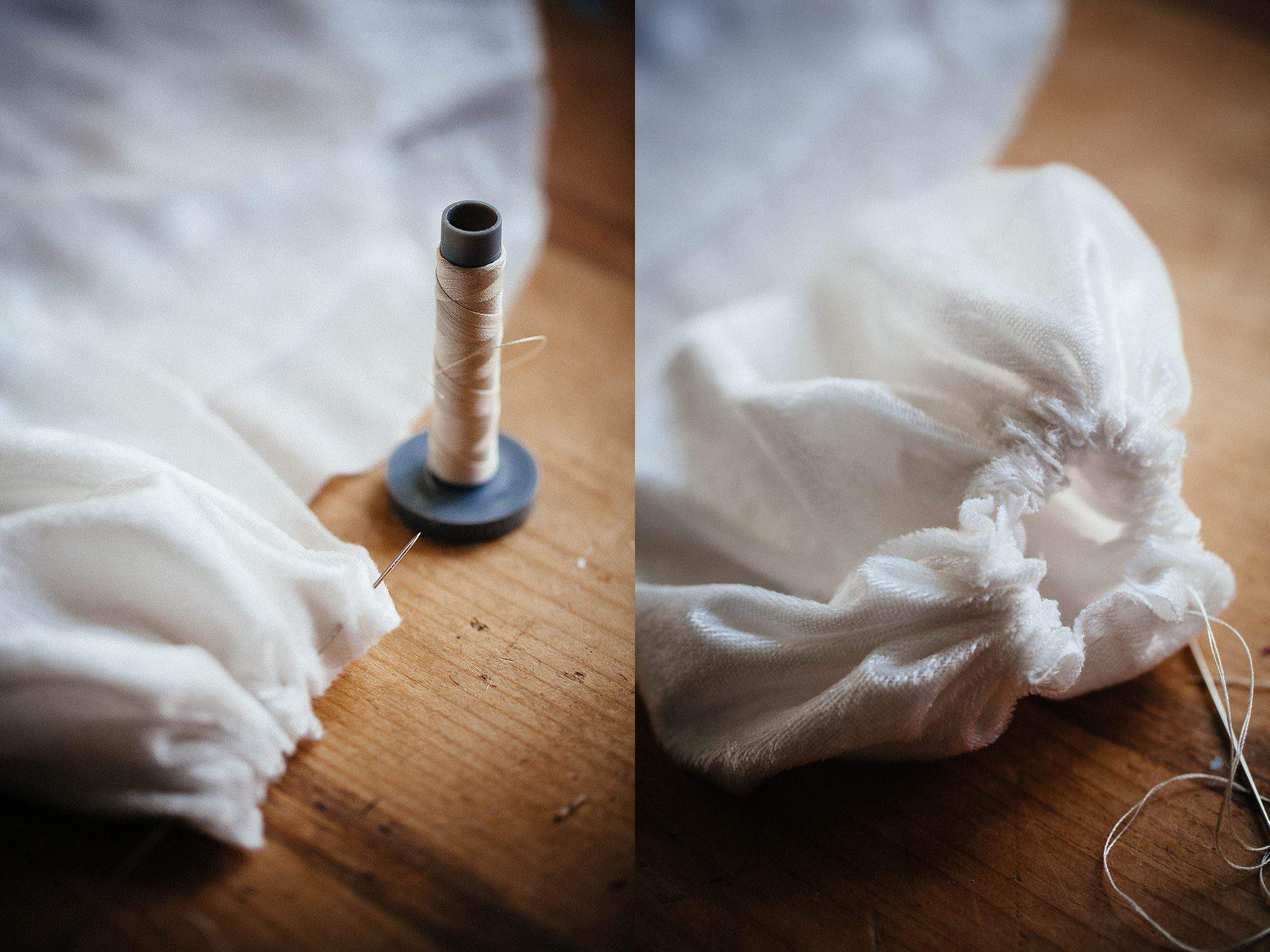 Cut the fabric into various circle sizes. The size of the soft pumpkin depends on how large a fabric circle you cut.
I like to mix up the sizes because that's what you would find in a real pumpkin patch.
Double thread the needle, knot one end and gather-stitch the edge of the the fabric circle about a 1/4-inch from the edge.
Gently pull the stitches to bring the edges closer together to create a pouch.
Don't pull the threads too hard or tight or they may break even though they've been doubled.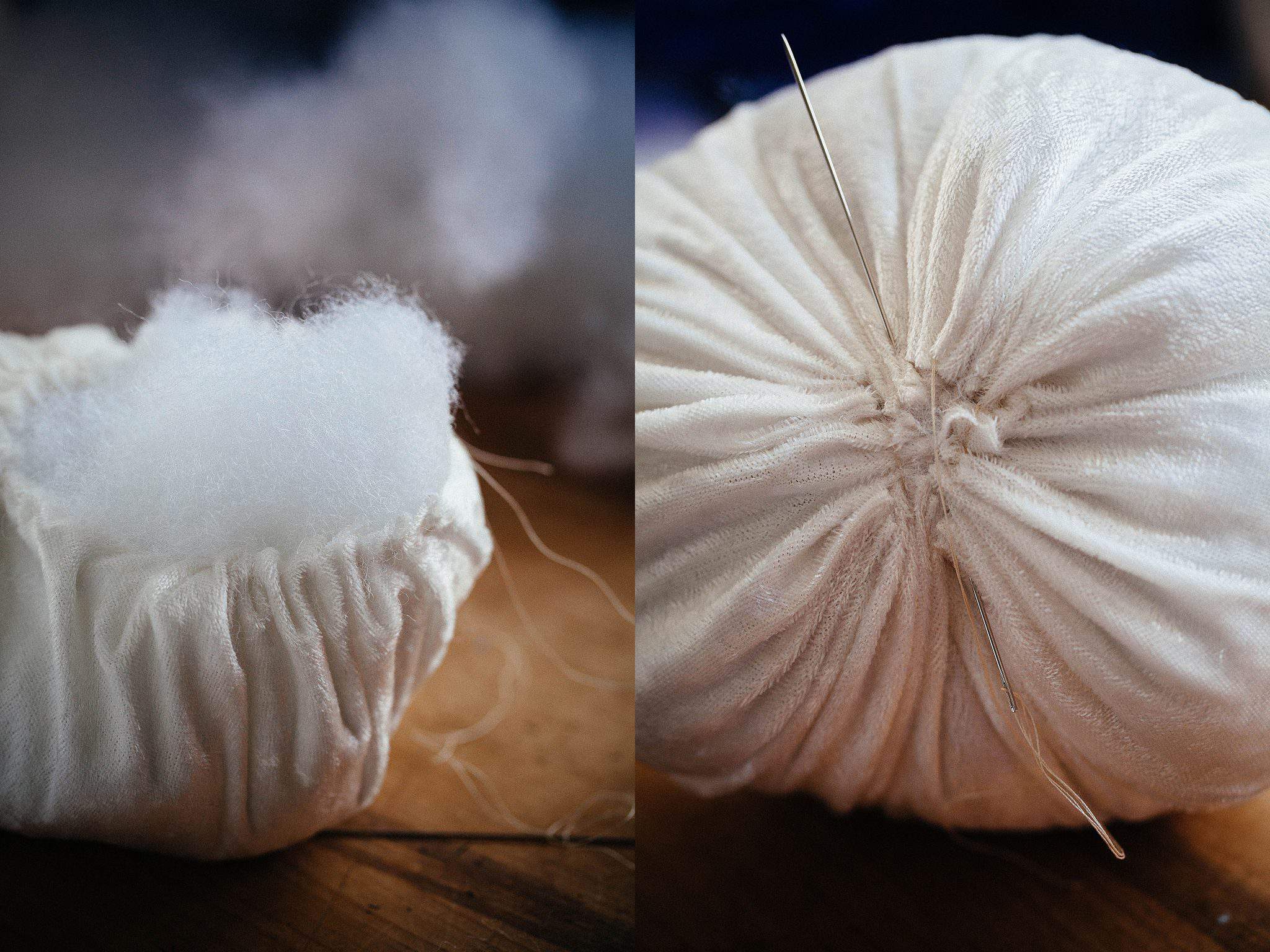 Fill the pouch with the cotton stuffing.
Once you've added the desired amount, gently pull the gathering threads again to close the opening.
Hold in place and stitch the opening several times to securely close.
Snip any long loose threads.
I was able to create 10 soft pumpkins with a yard and a half of fabric and a bag and a half of cotton stuffing.
You can whip these up in no time at all too.
It only took me about an hour to make all of these while I was sitting catching up on a favorite TV show.
It's going to be easier if you make as many forms as you like and then assembly-line the dried stem application.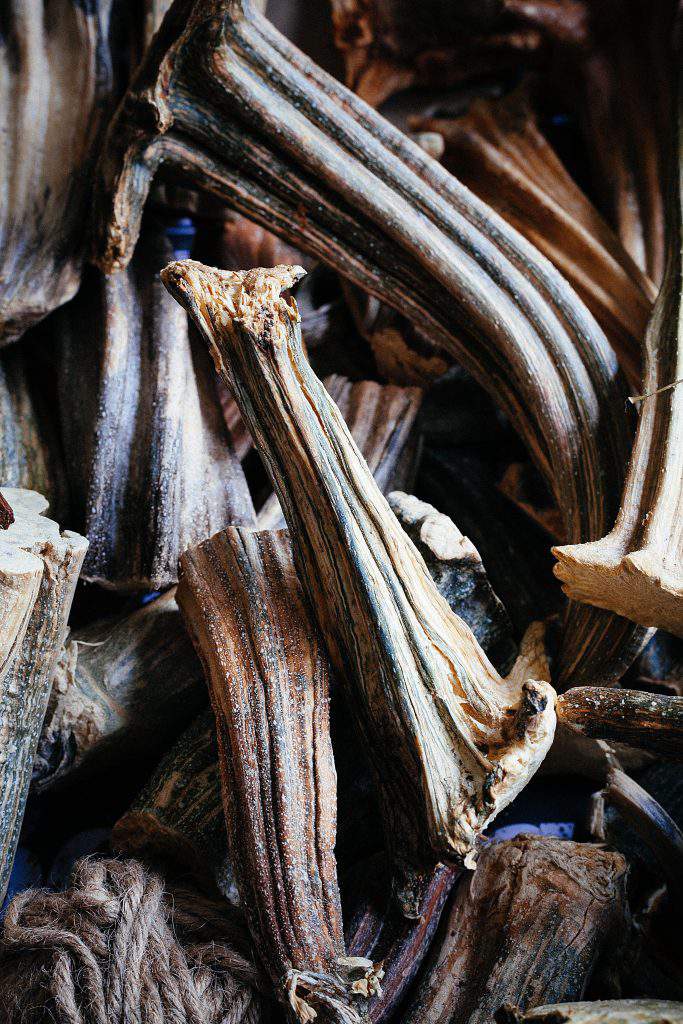 The real pumpkin stems are really the star of this project and the more twisted and viney the better.
I collect my stems right after Halloween and dry them out so I can use them for potential craft projects the following year.
Try to save various shapes and sizes because the variety will really make a big difference if you make and display multiples.
Please DO NOT use fresh, raw stems for this project because they will rot quickly and ruin the fabric.
Always use dried stems.
If you don't already have dried stems, you may be able to find them online. Before I started saving and drying my own stems, I bought them on Ebay.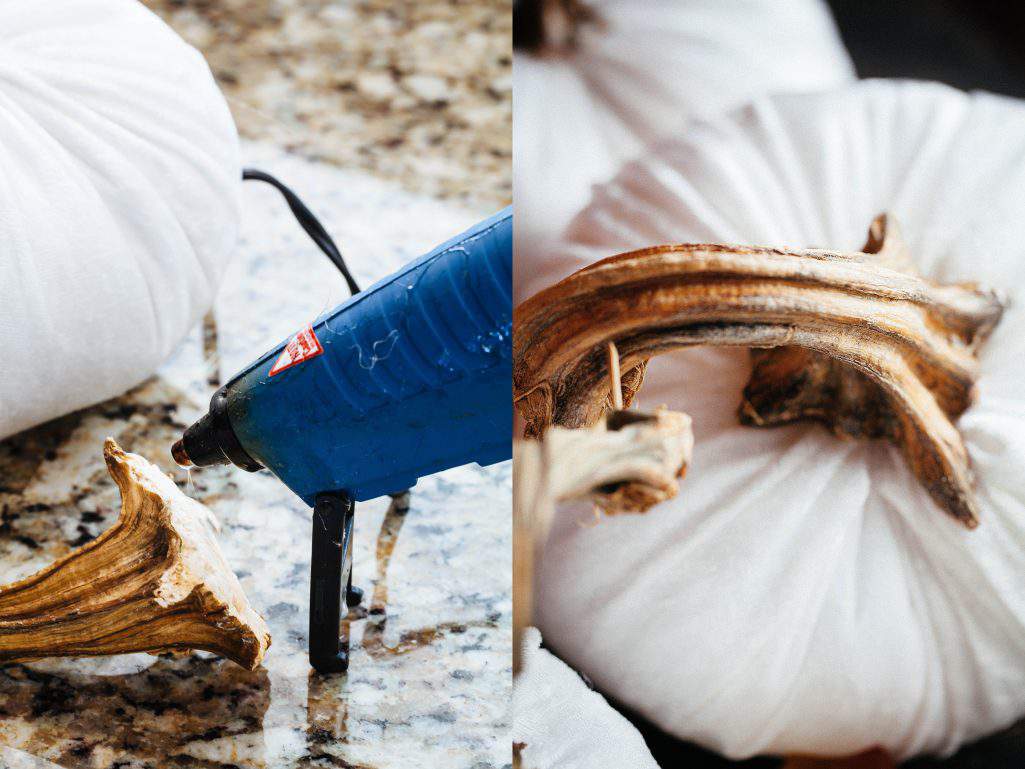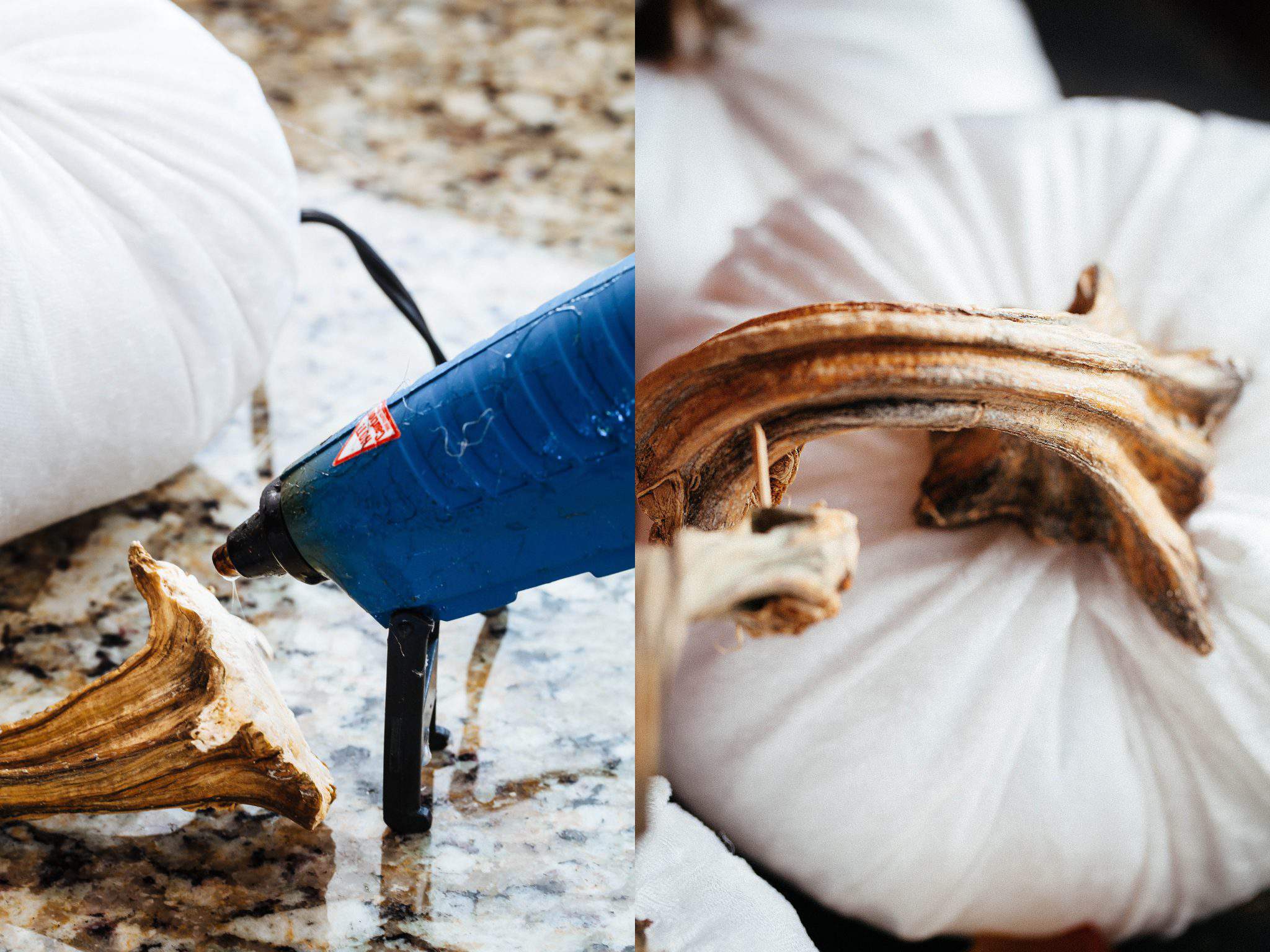 Use hot glue to adhere the pumpkin stem to the pumpkin form.
Make sure you add glue to the entire bottom of the stem including points.
Then, press the stem into the top of the pumpkin form and hold in place for a bit until the glue cools.
The points have a tendency to pop up away from the pumpkin form so, you may need to add a little more glue here and there to secure the stem completely.
I've been making these soft pumpkins for years and they're just as gorgeous in various vibrant colors and they are in monochromatic white.
You can see how my jewel-toned pumpkins turned out my previous post HERE.
Also check out my similar soft acorn projects HERE for FELTED WOOL acorns and HERE for VELVET acorns.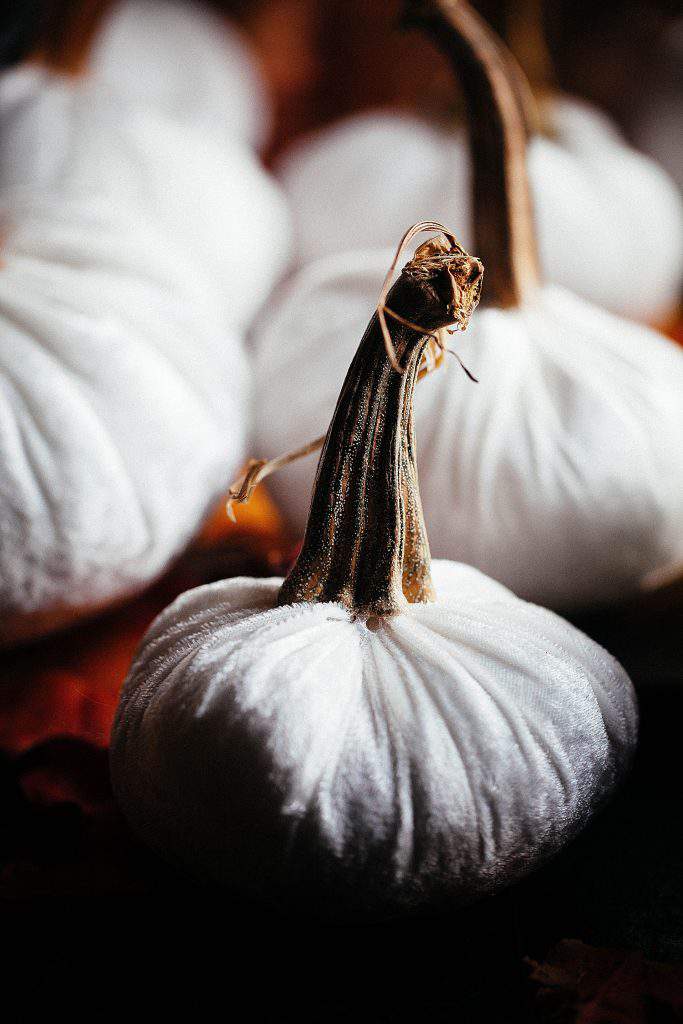 There are so many ways you can incorporate these soft pumpkins into your holiday decor.
Consider making a dozen or so soft pumpkins and piling them into a basket to display in your home.
You could also stretch several of them down a long table as a centerpiece.
Place a few on a fireplace mantel or just scatter them around your home for a touch of whimsy here and there.
I'm sure you can come up with even more ideas to put these to great home decorating use.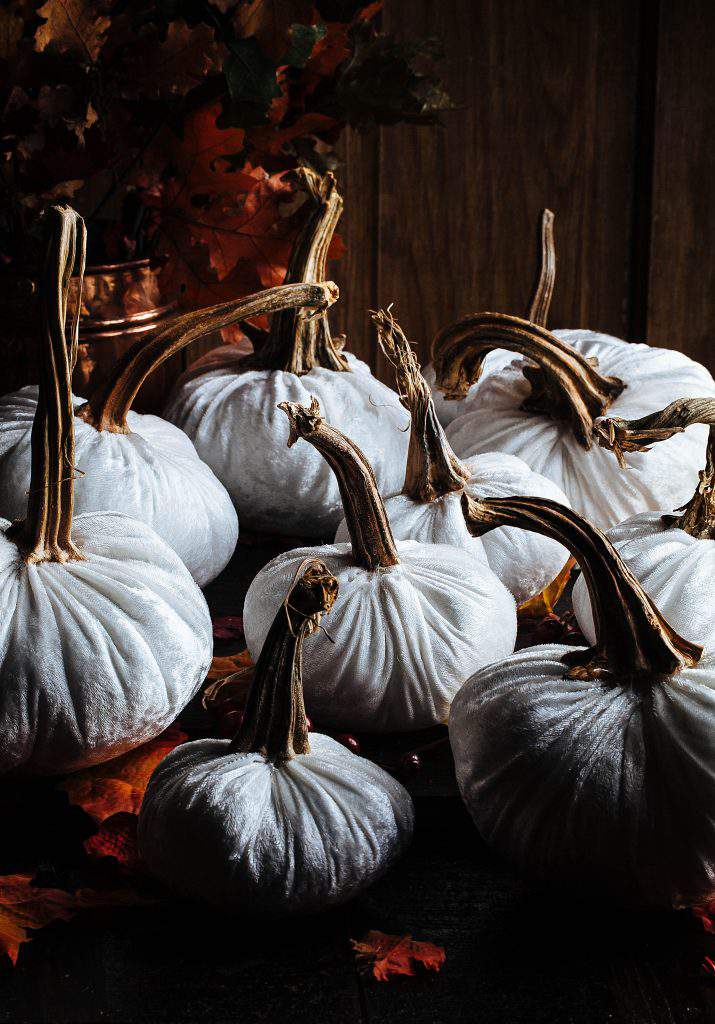 Don't forget to save your pumpkin stems this year and ask your friends and neighbors to save them for you too.
You can see how to dry stems for future use in my previous post HERE.
The holiday season is right around the corner and these pumpkins make for lovely seasonal decor.
Actually, the white pumpkins in this photo kinda remind me of a gaggle of turkeys.
Perfect for Thanksgiving table decor.
Gobble-gobble.
Thanks for stopping by.
See  you back here next time. ♥
I'm linking this Soft Pumpkins with Real Stems post to the following:
Botanic Bleu | Stone Gable | Home Stories A to Z
The Everyday Home | Our Southern Home | Dwellings, the Heart of the Home