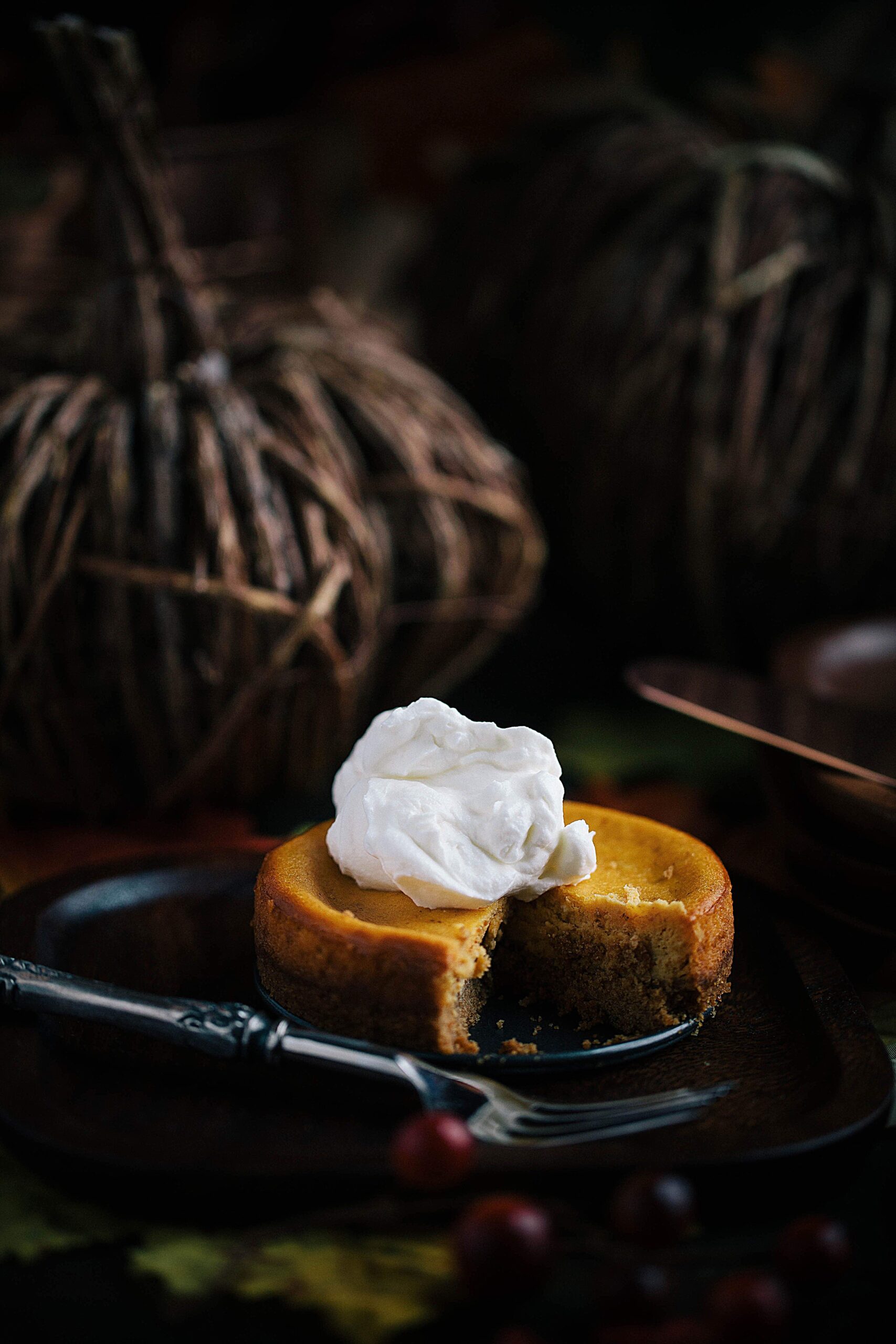 These tarts may be small but this post is going to be BIG.
My tiny twist on pumpkin pie is part of a super-duper link party called PUMPKINPALOOZA.
I'm participating in Pumpkinpalooza which is a virtual pumpkin party with more than one-hundred other bloggers who are sharing their favorite pumpkin recipes with the world today.
You can see the full list of blogs with links to the pumpkin recipes at the bottom of this post and it's a huge list too.
However, before you get to that humongous list… check out my Pumpkin Mini Cheesecake Tarts.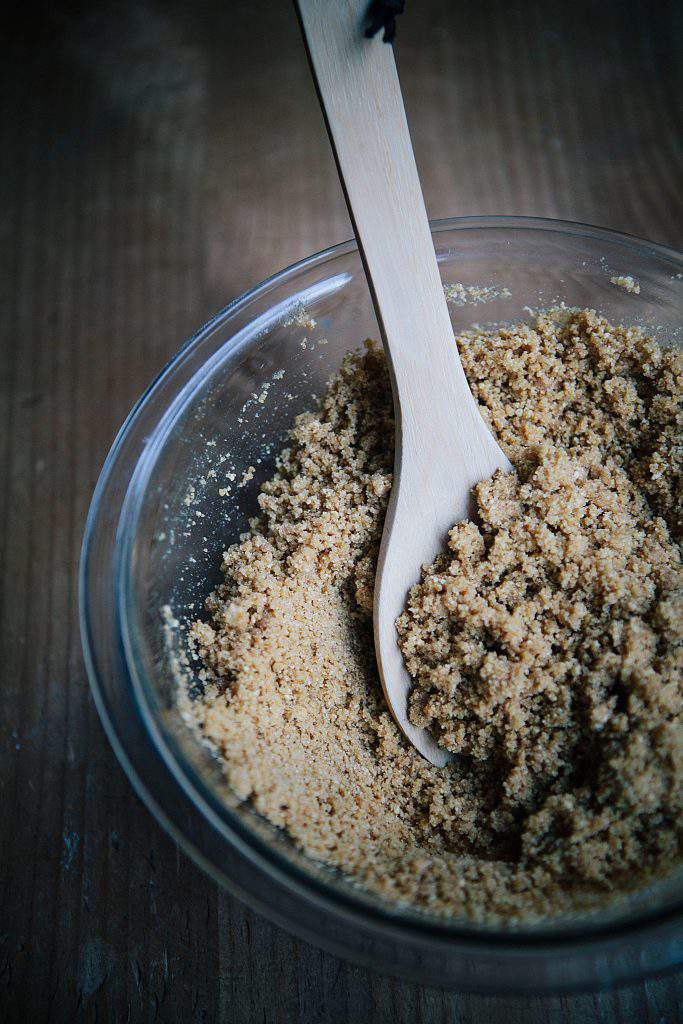 Of course any good cheesecake starts with a delicious graham cracker crust.
Actually when it comes to cheesecake, the crunchy crust is generally my favorite part of the dessert. Anyone else with me on that?
When I made these, I thought the cheesecake would rise in the oven like a cake so, I didn't fill the pans as high as I probably should have.
Turns out, these minis didn't rise very high.
I think next time I make these I'll fill the pans closer to about 1/4 from the rim for a thicker filling.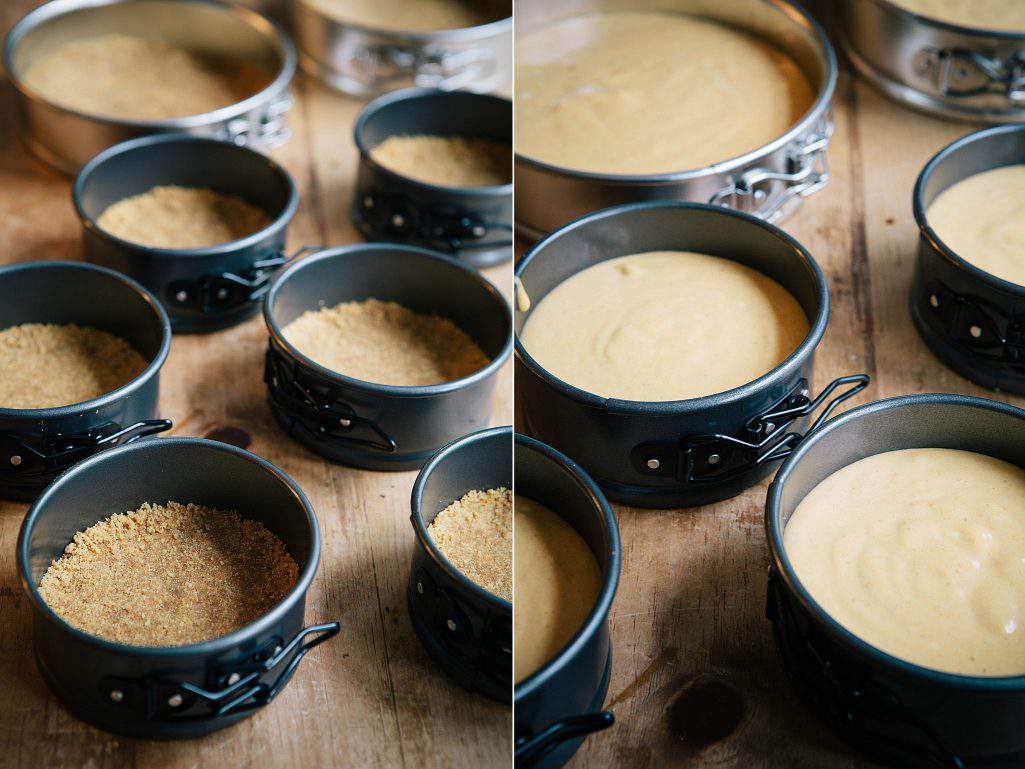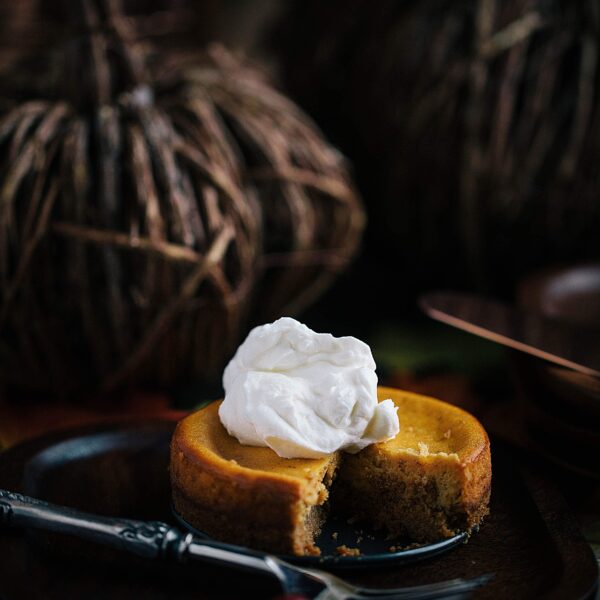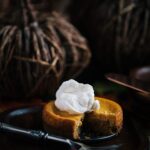 Pumpkin Mini Cheesecake Tarts
Ingredients
FOR THE TASTY CRUST
1-3/4 cups graham cracker crumbs
3 tablespoons light brown sugar
1/2 teaspoon ground cinnamon
1 stick melted butter
FOR THE YUMMY FILLING
3 8-oz packages cream cheese
1 15 oz can pureed pumpkin (NOT canned pumpkin filling)
3 eggs and 1 egg yolk
1/4 cup sour cream
1-1/2 cups granulated sugar
1/2 teaspoon ground cinnamon
1/8 teaspoon ground nutmeg
1/8 teaspoon ground cloves
2 tablespoons all-purpose flour
1 teaspoon vanilla extract
Instructions
Preheat oven to 350 degrees.

Combine graham cracker crumbs, sugar and cinnamon. Add butter. Mix well. Press down into mini spring-form pans.

To make the filling, beat the cream cheese, add the pumpkin, eggs, sour cream, sugar and all the spices. Mix well. Add flour and vanilla and beat until thoroughly mixed.

Pour the mixture into the spring-form pans. For a thicker tart, pour mixture to within a quarter inch of springform pan.

Bake for 1 hour. Remove from oven and allow to sit and cool.

Cover with plastic and refrigerate for 2-3 hours.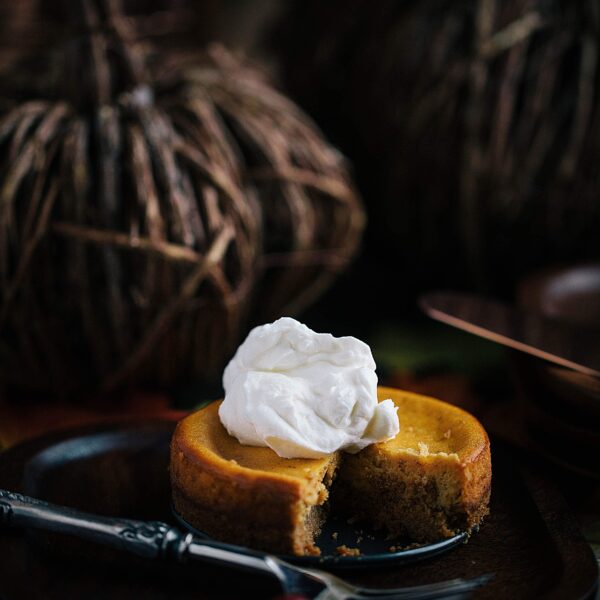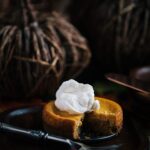 Homemade Whipped Cream
Ingredients
1 cup heavy whipped cream
1 cup confectioner's sugar
1 teaspoon vanilla
Instructions
Chill mixer bowl in refrigerator for at least an hour.

Whip cream in mixer using whisk attachment.

Add sugar and vanilla and whip on high speed until fluffy.

Serve to your heart's content.
Now this is definitely the kind of dessert that practically requires a dollup of whipped topping.
Please don't buy it. You've just gotta make your own.
Once you have tasted homemade whipped topping, I don't think you will go back to store-bought.
My only advice is that you make it cream very close to when you want to serve the dessert instead of making it way ahead of time and storing it in the refrigerator.
That way, the topping will be fresh looking and still super smooth.
Whenever I refrigerate homemade whipped topping, it's still tasty when I want to use it… but it's never as pretty.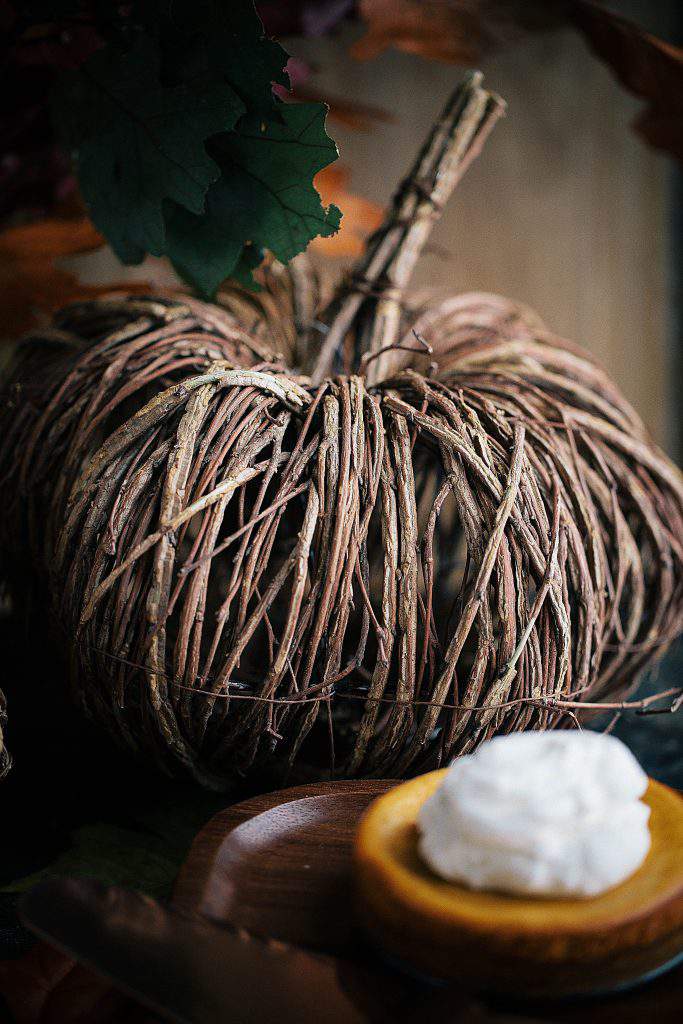 I'm including this gratuitous shot of my pumpkin made of vines… because I just love fun props (and I think you do too).
Meanwhile, these tarts may be tiny but they pack a big punch when it comes to flavor.
If you are planning to make a pumpkin pie this holiday, consider switching up the presentation with these bite-size, individual servings.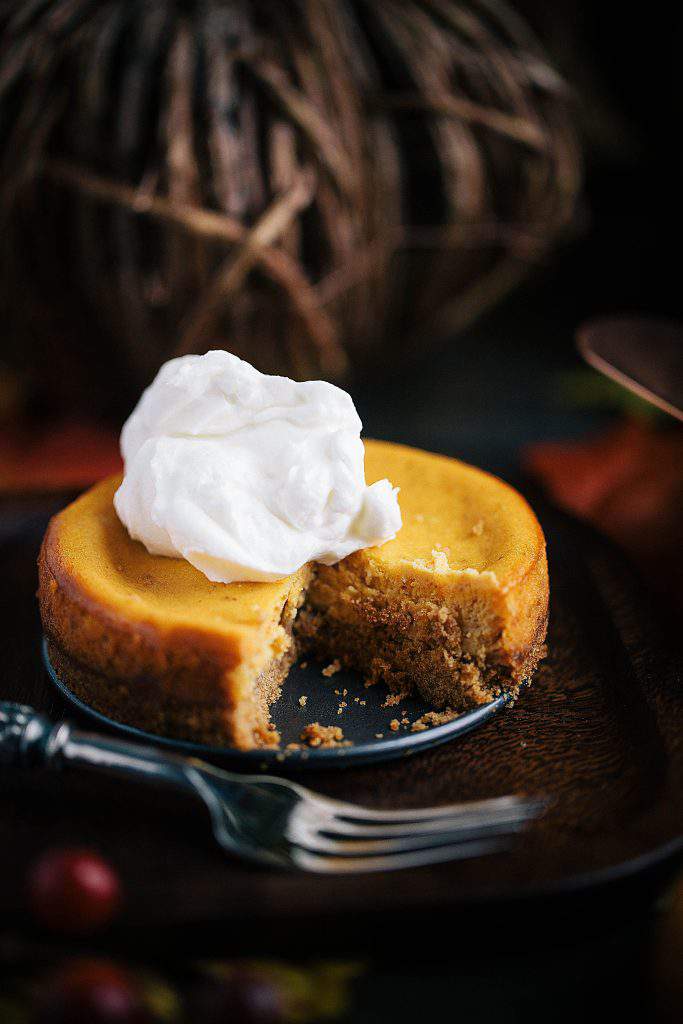 Hey, I've gotta give a big shout-out and thank you to Sara at Cake Over Steak and Aimee at Twigg Studios for inviting me to take part in this year's Pumpkinpalooza Party.
Don't forget to check out the delicious and beautiful pumpkin pie dishes at the very end of this post.
I think you'll enjoy the recipes and there are a ton of them.
When you sift through the list.. you'll definitely see why pumpkins rule.
Happy Pumpkinpalooza.
Thanks for stopping by.
See you back here next time. ♥
Pumpkinpalooza Party blogs and recipes below. Just hover over the recipe title for the link.
Cake Over Steak Quick Pumpkin and Kale Risotto + Arancini • Twigg Studios Sausage Stuffing Baked in a Pumpkin Donuts, Dresses and Dirt • Pumpkin Spice Latte Popsicles Cloudy Kitchen • Pumpkin Cake with Vanilla German Buttercream Vegetarian Ventures • Smoky Pumpkin & Black Sesame Hummus Eat Boutique • Pumpkin Scallion Dumplings A Little Saffron • Pumpkin Stuffed Shells Two Red Bowls • Pumpkin & Maple Caramel Baked French Toast Wallflower Kitchen • Mini Pumpkin & Cinnamon Sugar Donuts Wit & Vinegar • Pumpkin Butterscotch Banana Split Style Sweet CA • Pumpkin Creme Brulee Cake Nommable • Pumpkin Biscuits with Mushroom Thyme Gravy With Food + Love • Cinnamon Raisin Pumpkin Seed Bread Hortus • Creamy Roasted Squash Soup + Pumpkin Risotto Sevengrams • Vegan Pumpkin Pie Ice Cream Jojotastic • 1 Pumpkin, 2 Ways: Pumpkin Trail Mix & Dog Treats Grain Changer • Pumpkin Spice Baked Oatmeal Girl Versus Dough • Pumpkin Cranberry Flax Crisps Earthy Feast • Pumpkin Grits + Pumpkin Home Fries + a Fried Egg Harvest and Honey • Truffled Pumpkin Papardelle Alfredo Tasty Seasons • Pumpkin Chocolate Chip Cake Broma Bakery • Pumpkin Butter Pop Tarts Tending the Table • Roasted Pumpkin and Barley Salad The Sugar Hit • Super Soft Pumpkin Cinnamon Rolls Delicious Not Gorgeous • Waffles with Spiced Pumpkin Butter and Brown Sugar Walnut Crumble Taste Love and Nourish • Pumpkin Bread Pudding The Green Life • Pumpkin Spice Chocolate Chunk & Hazelnut Skillet Cookie (Vegan) Foolproof Living • Pumpkin Creme Fraiche Pasta with Sage The Monday Box • Pumpkin Mini Bundt Cakes Design Crush • Pumpkin Bourbon Hot Toddy The Road to Honey • Pumpkin Pie & Chocolate Layer Cake My Name is Yeh • Roasted Pumpkin with Yogurt and Hazelnut Dukkah Give Recipe • Orange Chocolate Pumpkin Bread Heartbeet Kitchen • Magic Vegan Pumpkin Pie Fudge Beard and Bonnet • Marbled Pumpkin Muffins Eat Within Your Means • Vegan Pumpkin Blender Muffins Snixy Kitchen • Pumpkin Tapioca Pudding with Candied Pumpkin Seeds Ruby Josephine • Moroccan Sweet Pumpkin + Beef Tagine Lab Noon • Pasta Bake with Roasted Pumpkin and Saffron Sauce, Pistachio and Goat Cheese Edible Mosaic • Pumpkin Spice Chia Seed Pudding Hey Modest Marce • Mascarpone Pumpkin Pie Inspired By the Seasons • Pumpkin Applesauce Smoothie CaliGirl Cooking • Pumpkin Praline Cinnamon Rolls with Spiked Cream Cheese Glaze Sally's Baking Addiction • Pumpkin Cream Cheese Bundt Cake Well and Full • Spicy Chipotle Pumpkin Hummus Appeasing a Food Geek • Cheese Fondue Stuffed Roasted Pumpkin SweetPhi • Pumpkin Chili Biscuit Bake Warm Vanilla Sugar • Buttermilk Pumpkin Doughnuts Mademoiselle Poirot • Cinnamon-Pumpkin Mousse on Honey Panna Cotta topped with Hazelnut Brittle Heart of a Baker • Pumpkin Sticky Buns with Vanilla Bean Frosting Flourishing Foodie • Massaman Curry with Pumpkin and Chickpeas Ginger & Toasted Sesame • Pumpkin Jeon Lindsay Jang • Best Ever DIY Pumpkin Spiced Latte Fix Feast Flair • Hokkaido Pumpkin + Sage Mac and Gouda Will Frolic for Food • Pumpkin Kale Patties with Coconut Cilantro Rice A Couple Cooks • Pumpkin Pecan Baked Steel Cut Oats Vermilion Red • Pumpkin Pie Souffle Britnell • Vegan Pumpkin Pie Displaced Housewife • Brown Butter Pumpkin Donuts Sweet Gula • Pumpkin Cake with Cream Cheese Frosting La Pêche Fraîche • Pumpkin and Condensed Milk Cakes Kitchen Konfidence • Pumpkin Ricotta Gnocchi with Rosemary Brown Butter Sauce Loves Food, Loves to Eat • Savory Pumpkin Bread Pudding Kale & Caramel • Goat Cheese & Sage-Stuffed Pumpkin Challah Okie Dokie Artichokie • Pumpkin Chorizo Chili with Sweet Potatoes + Pinto Beans Salted Plains • Easy Pumpkin Bread Liliahna • Chicken Legs with Pumpkin and Tortellini TermiNatetor Kitchen • Whole Wheat, Pumpkin & Brown Sugar Brioche Vermilion Roots • Sweet Rice Dumplings with Pumpkin Celebrate Creativity • Pumpkin Mini Cheesecake Tarts Serendipity Bakes • Pumpkin Chocolate Cheesecake So Much Yum • Vegan Maple-Glazed Pumpkin Spice Doughnuts The Brick Kitchen • Pumpkin, Pecan & White Chocolate Ice Cream Sandwiches Lisli • Pumpkin Pie Cake Cookie Dough and Oven Mitt • Pumpkin Pie Dip Fig+Bleu • Pumpkin Granola The Speckled Palate • Pumpkin Caramel Cream Cheese Swirl Blondies Cook Til Delicious • Fall Cliche Cake (Pumpkin Spice Cake / Maple Cream Cheese Frosting / Apple Cider Caramel Sauce) Floating Kitchen • Chicken and Pumpkin Chili The Wood and Spoon • Pumpkin Pecan Cake with Burnt Sugar Frosting Fork Vs Spoon • Pumpkin Streusel Muffins Lemon & Vanilla • Pumpkin and Coconut Caramel Flan Dunk & Crumble • Pumpkin Chocolate Icebox Cake Chicano Eats • Pumpkin Butter Pan de Muerto On the Plate • Pumpkin Pancakes, Salted Caramel & Pecans Rough Measures • Cosy Pumpkin Spice Latte (Caffeine and Dairy Free) Brewing Happiness • Pumpkin Ginger Breakfast Cookies A Butterful Mind • Pumpkin Cheesecake with Vanilla Whipped Cream The Little Loaf • Pumpkin Oatmeal Chocolate Chunk Cookies Fork to Belly • Pumpkin Gnocchi The Little Epicurean • Chocolate Hazelnut Pumpkin Pie Bourbon and Honey • Spicy Roasted Pumpkin with Honey and Feta What to Cook Today • Spicy Pumpkin Noodle Soup Food by Mars • Pumpkin Pie (Grain-Free, Diary-Free) The Bojon Gourmet • Pumpkin Butterscotch Pudding Oh Honey Bakes • Pumpkin Cake with Gingersnap Toffee Long Distance Baking • Layered Pumpkin Cheesecake The Jam Lab • Pumpkin Madeleines Dipped in White Chocolate The Lemon Apron • Pumpkin Gingerbread Loaf with an Olive Oil Glaze Sun Diego Eats • Thai Pumpkin & Sticky Rice Cakes A Cozy Kitchen • Pumpkin Chai Scones with Black Tea Glaze A Cookie Named Desire • Pumpkin Shrubs Eating Clean Recipes • Vegan Pumpkin Chia Pudding Kingfield Kitchen • Vegan Fresh Pumpkin Soup Drink and Cocktail Recipes • Pumpkin Dirty Chai The Pig & Quill • Pumpkin Sage Cannelloni (Dairy-Free) My Lavender Blues • Pumpkin, Banana & Olive Oil Bundt Cake Betty Liu • Pumpkin + Pear Butter Baked Melty Cheese Happy Hearted Kitchen • Cinnamon Roasted Pumpkin with Tahini Yogurt + Hazelnut Dukkah InHappenstance • Pumpkin Scones with Maple Butter Live Eat Learn • Pumpkin Gingerbread Hot Cocoa