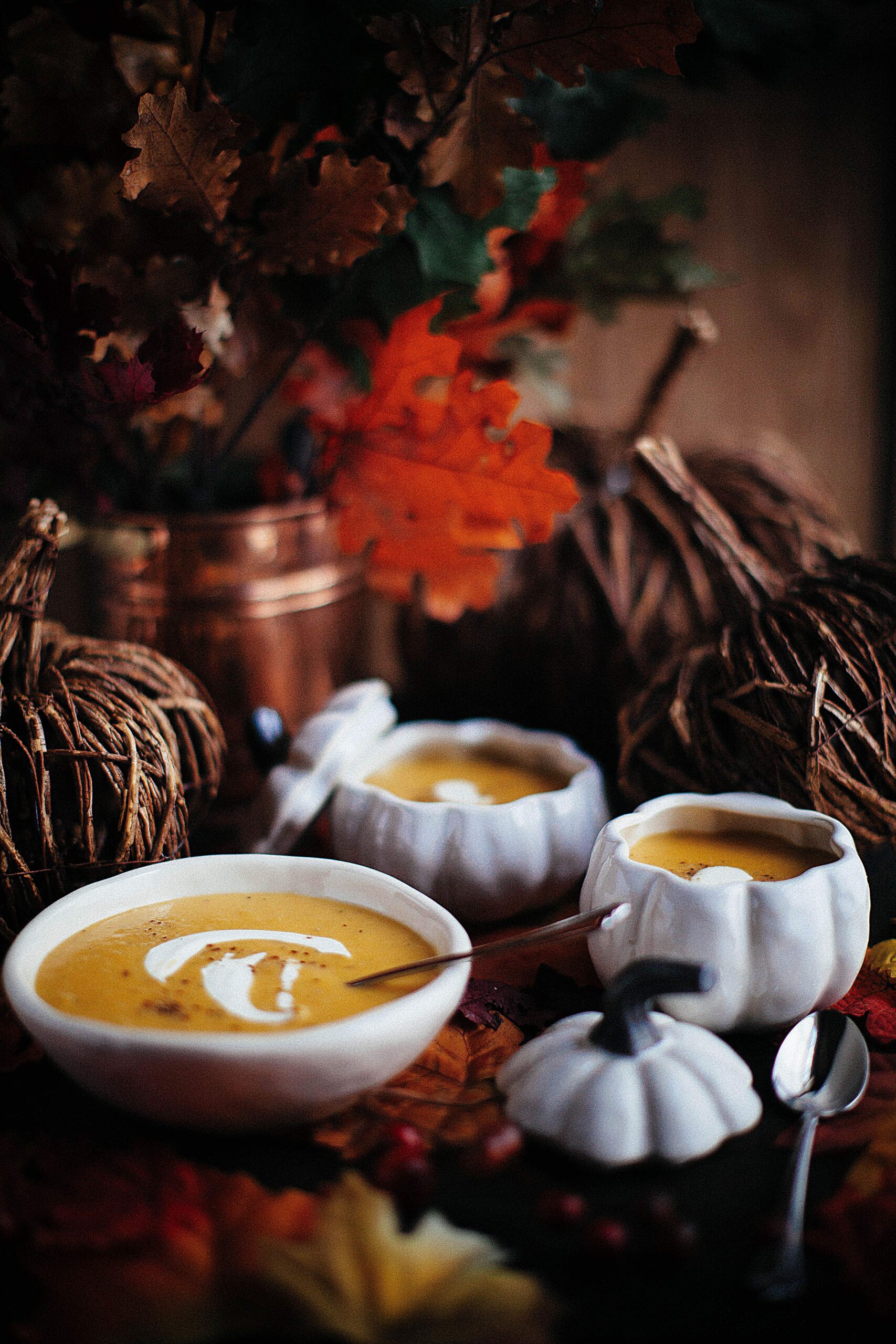 This soup is just begging to be eaten.
Don't you think?
When I look at the pictures of this soup, I think it just screams Autumn season.
Hey, it is starting to get a little cool out there and as we head into the chilly season, this roasted pumpkin soup is all you'll need to warm things up a bit.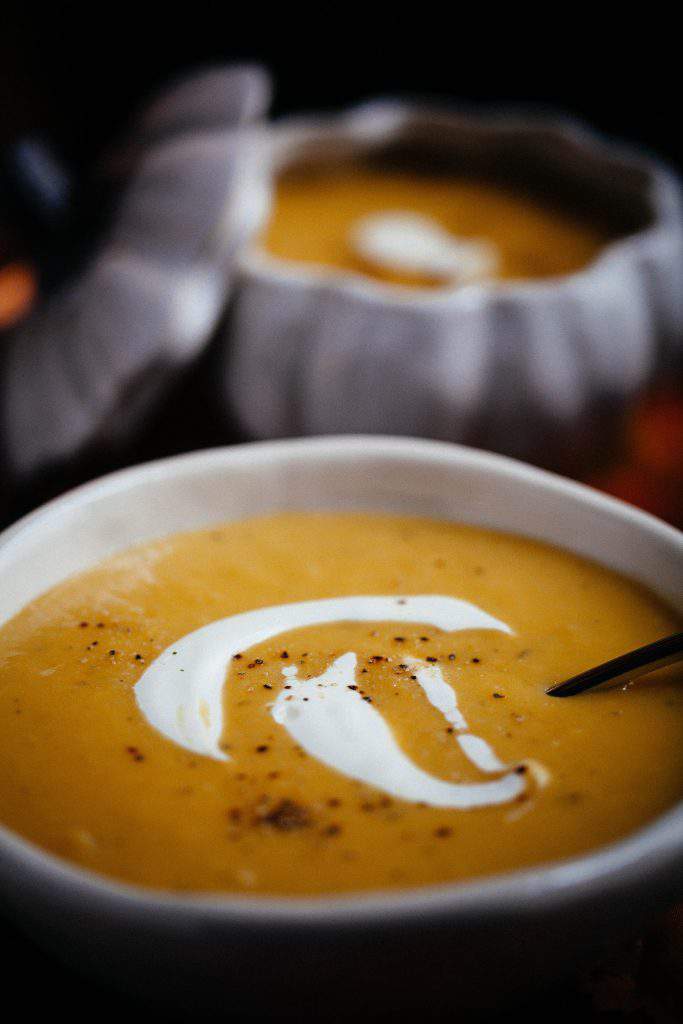 Now, as gorgeous as this soup looks… I must give you a totally honest review of how it went over in my household.
I loved it. My husband loved it. My kids?
Well, they refused to even taste it… but please don't rely on their finicky resistance towards trying new foods.
I think you'll like it.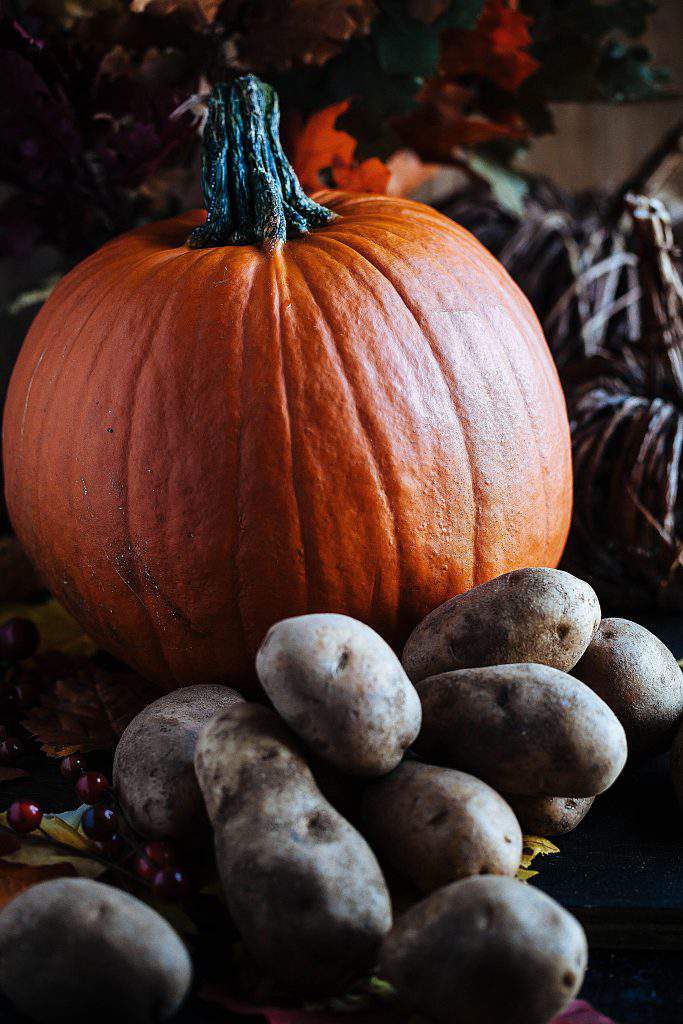 There are two main ingredients in this recipe.
Pumpkin… of course.
And potatoes which I think helps to flesh out this hearty soup.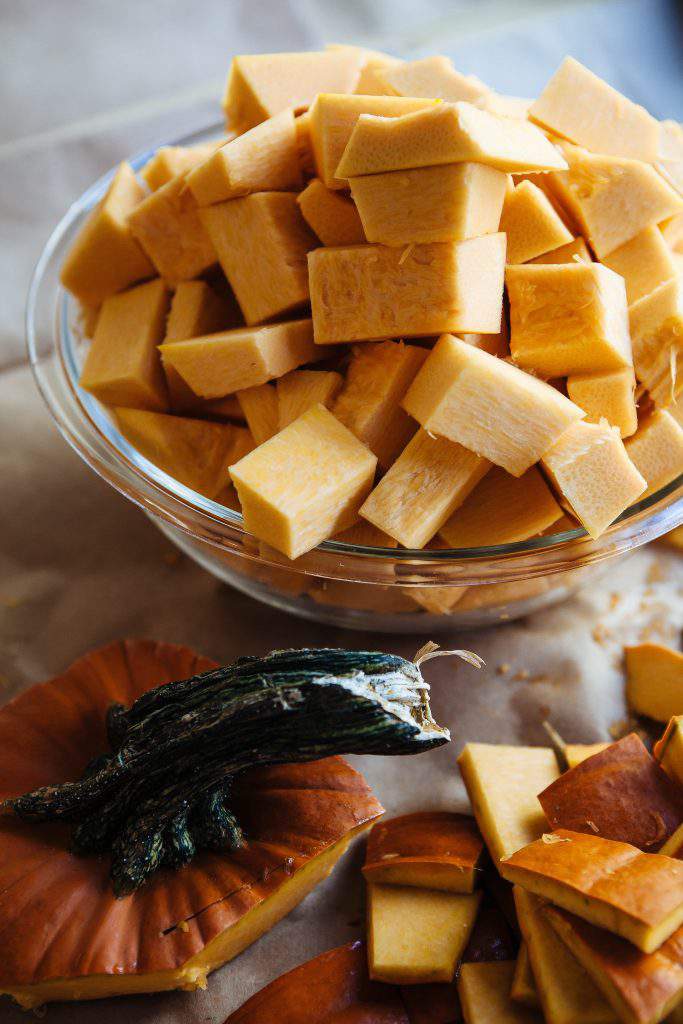 This is actually the first time I've ever made pumpkin soup and I wasn't quite sure how it was going to go over.
Even though there are multiple steps involved, it's actually a pretty simple soup to make.
Cut the pumpkin into slices like you would cut a watermelon or a melon.
Then, cut the pumpkin chunks out of each slice.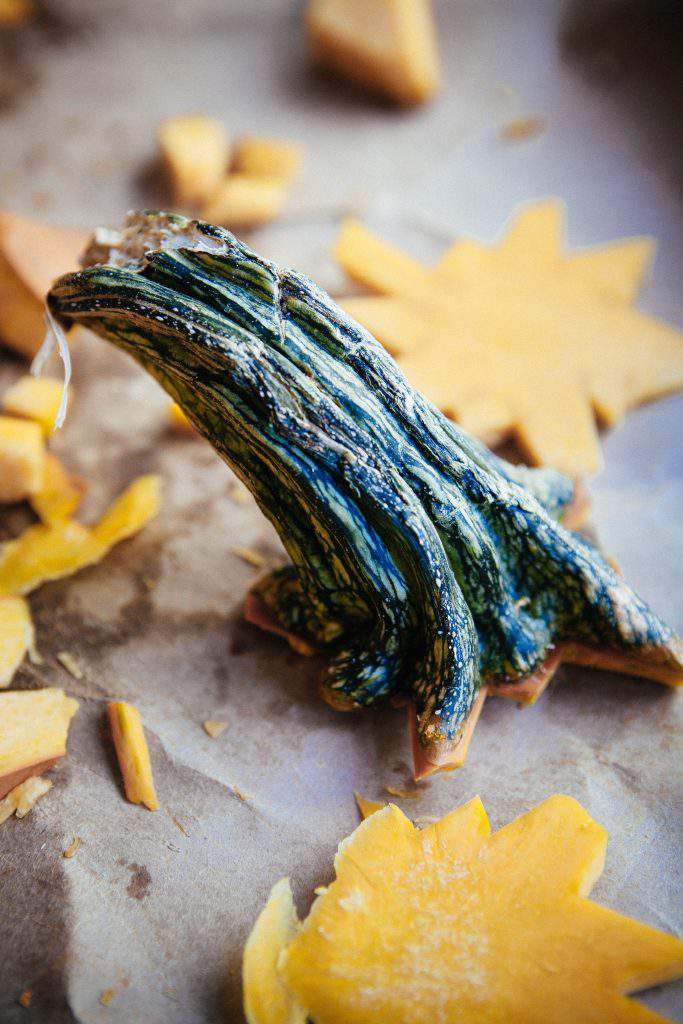 I've got to remind you to hang on to those pumpkin stems.
Cut all the pumpkin off of it that you can and set it in a cool place to dry out.
You can use dried pumpkin stems for crafting projects.
Check out my soft pumpkins with real stems project HERE and see my how to dry pumpkin stems post HERE.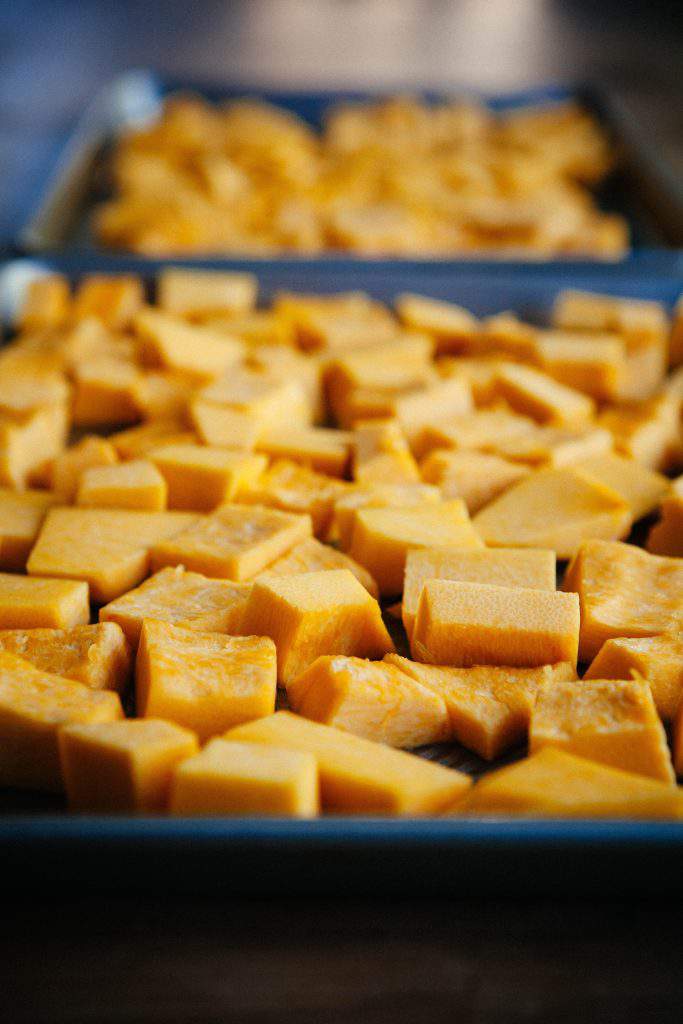 You don't have to roast the pumpkin chunks if you don't want to.
In fact, the original recipe did  not call for that.
However, I think you'll  help bring out the natural flavor of the pumpkin if you pop the chunks into the oven first.
The potatoes will ultimately be combined with the roasted pumpkin and cooked on the stove top.
Everything ends up in the food processor before it's all done too.
The complete recipe and instructions are just a  little further down in this post.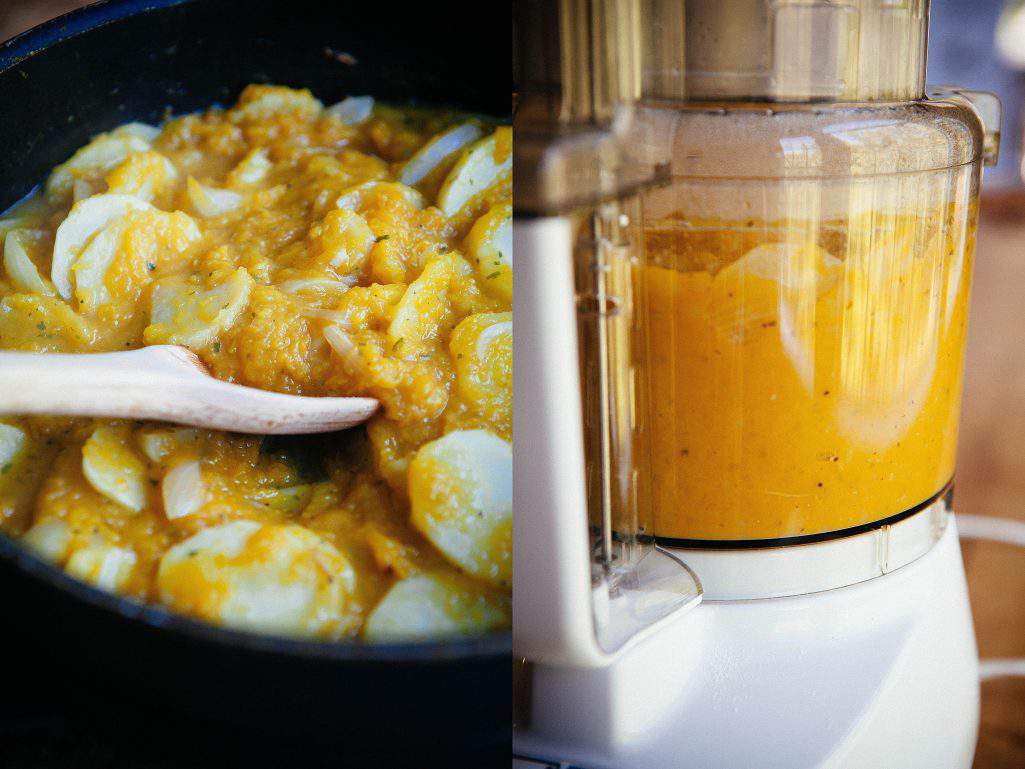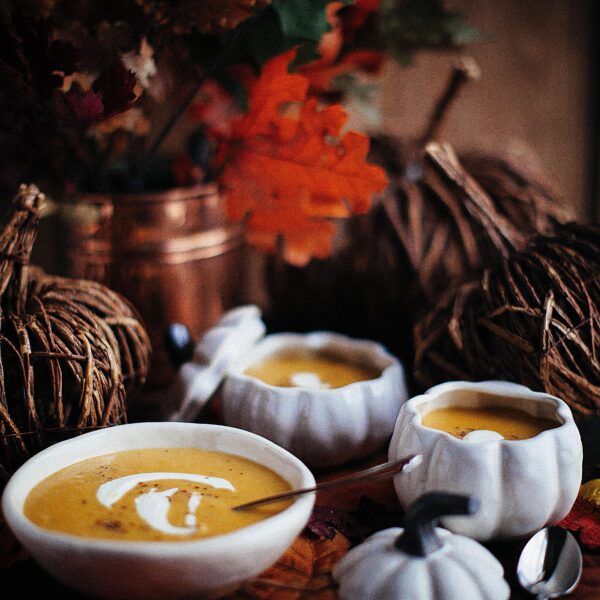 Roasted Pumpkin Soup
Ingredients
1 tablespoon sunflower oil
2 tablespoons butter
1 large onion sliced
6 cups pumpkin
3 cups sliced potatoes
2 1/2 cups vegetable stock
Pinch of nutmeg
1 teaspoon chopped tarragon
2 1/2 cups milk
2 teaspoons lemon juice
Pinch of salt and ground black pepper
Sour cream optional
Instructions
Peel potatoes and cut into chunks and set aside.

Cut the pumpkin into chunks spread out on a baking tray. Add a small amount of olive oil and a pinch of salt and pepper and roast in 300-degree oven for about 15 minutes.

Heat the oil and butter in a saucepan. add the onion and fry over low heat until soft.

Add the pumpkin and potatoes and stir on low heat until vegetables are almost tender.

Stir while they're cooking.

Add the vegetable stock, nutmeg, tarragon and any other seasonings.

Simmer for about 10-15 minutes until veggies are nice and tender.

Turn off the heat and allow soup to cool to the touch.

Pour the pumpkin mixture into a food process or blend and process until ingredients are smooth.

Pour the blended pumpkin mixture back into the saucepan and add the milk.

Heat slowly and add the lemon juice and any additional seasonings to taste.

Best when served piping hot.

Top with sour cream for additional taste and color contrast.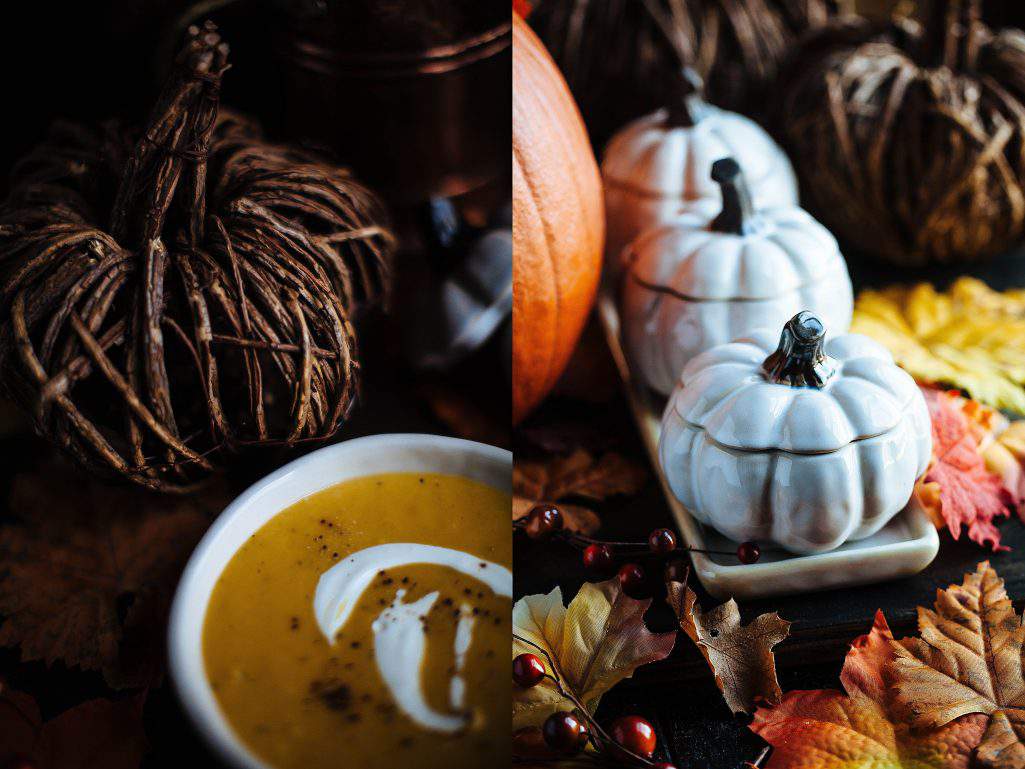 By the way, have you noticed the adorable pumpkin bowls that are popping up all over?
Well, I found the next best thing.
These aren't actually bowls, they're condiment containers but I think they'll serve my presentation purposes just fine.
I love it when I can use an item with a designated purpose in an entirely different one.
When I'm not using them for soup, I can always fill them with jams, chutneys or whatever.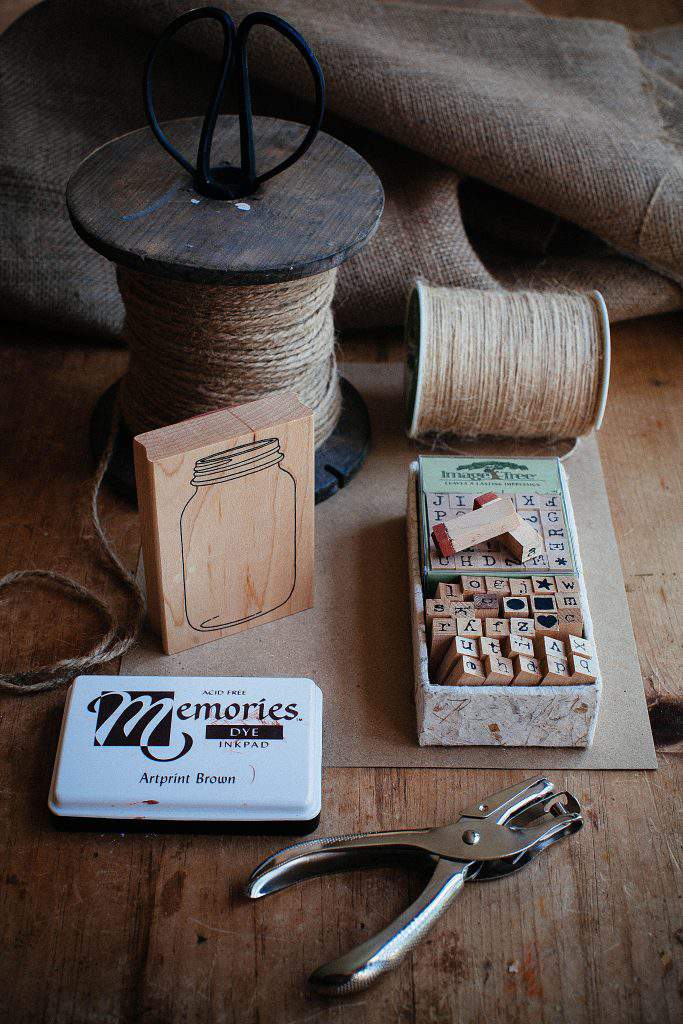 Regular readers of this blog already know that I love beautiful packaging.
I tell you that all the time, don't I
Anyway, soup can also be a lovely gift when you dress it up a bit and add a handcrafted tag.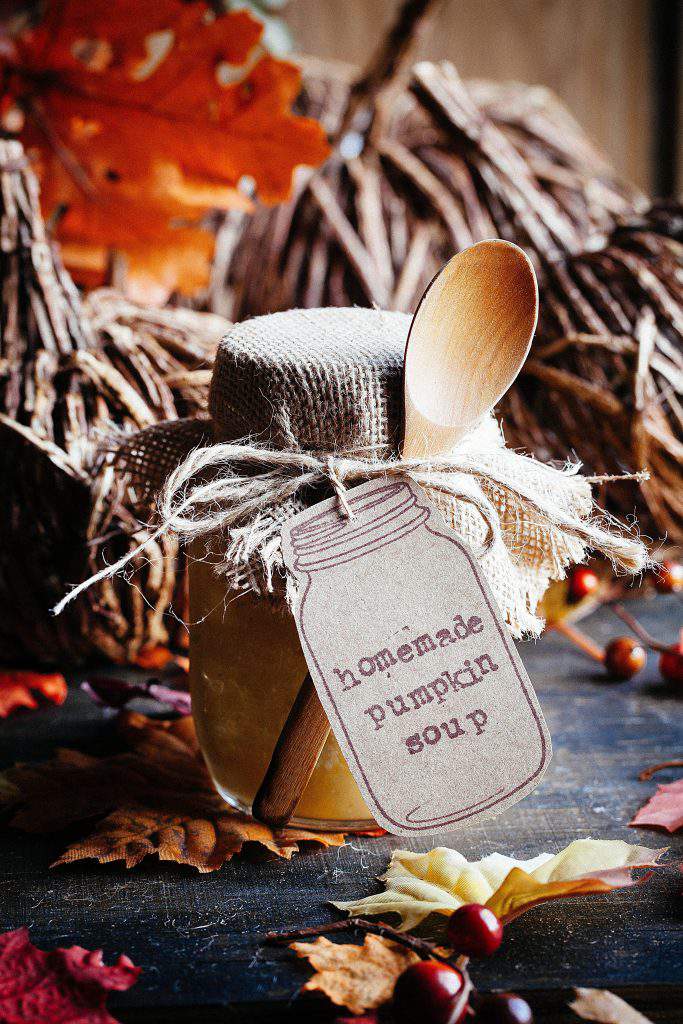 Fill a mason jar with the pumpkin soup.
Use a small plate as a guide to cut out a circle of burlap.
Put a rubber band around the burlap to hold it in place around the mason jar.
Tie a piece of jute around the rubber band and tie in a bow. Then remove the rubber band.
Add the handcrafted tag and a decorative wooden spoon and you'll have a lovely gift offering for soup loving friends and neighbors.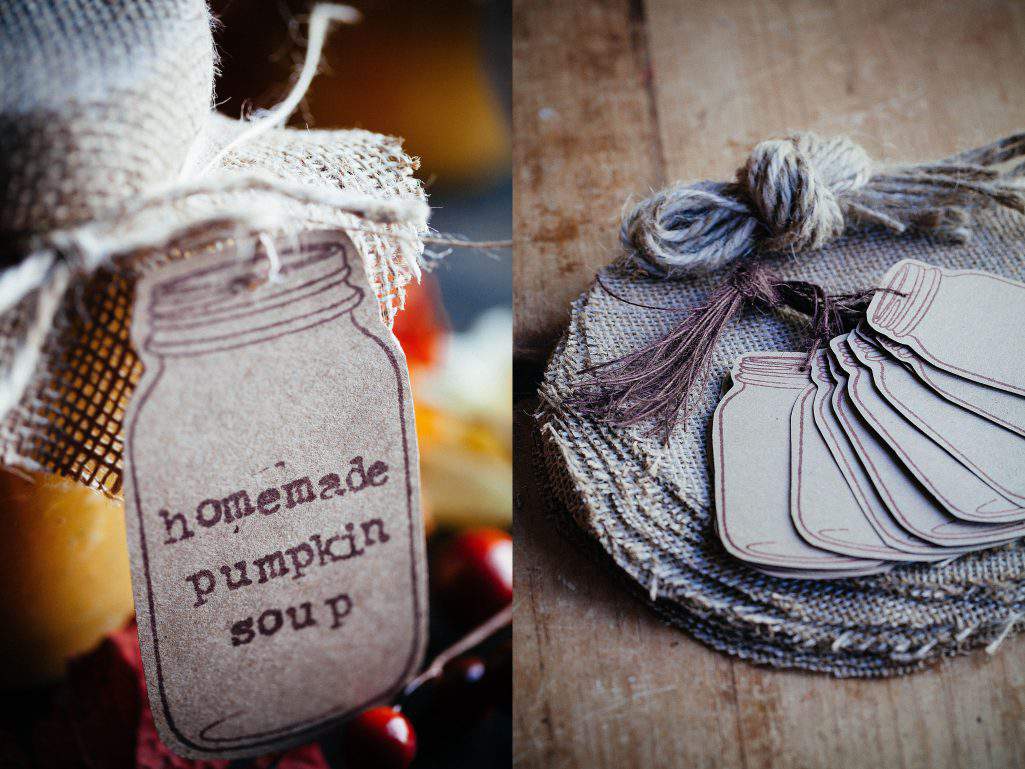 Come to think of it, the gift tags and accessories can make a great gift in themselves.
I cut out a dozen burlap circles and made up an equal number of tags and jute cuts to gift to a friend of mine.
She loved the set.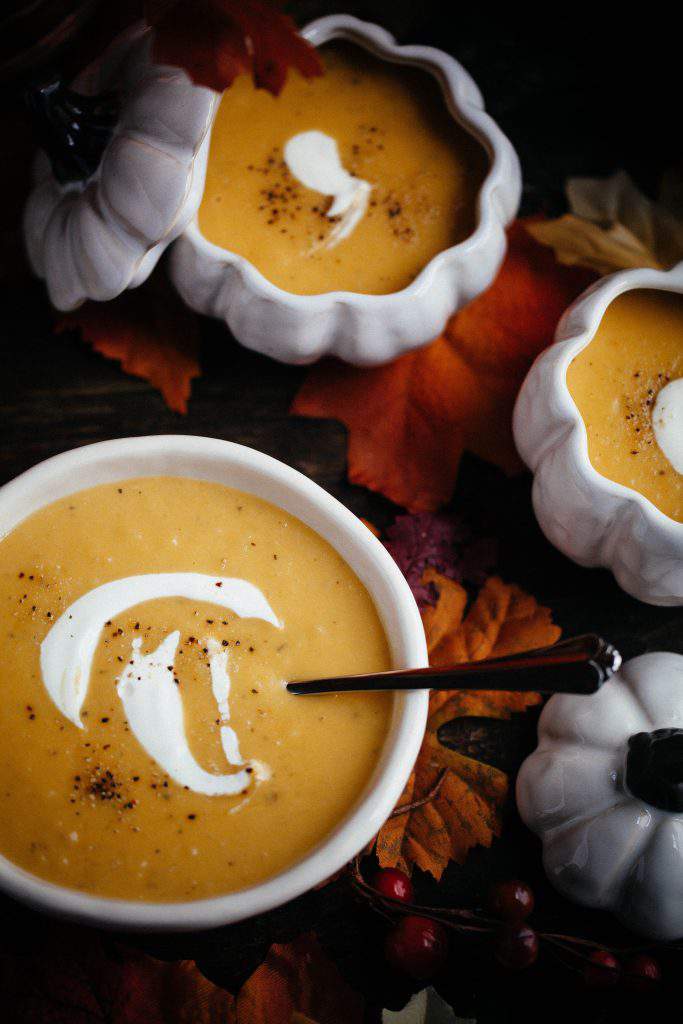 This soup is best when served piping hot with a little crusted bread on the side.
I also added a little sour cream swirls for some extra color and flavor.
Enjoy.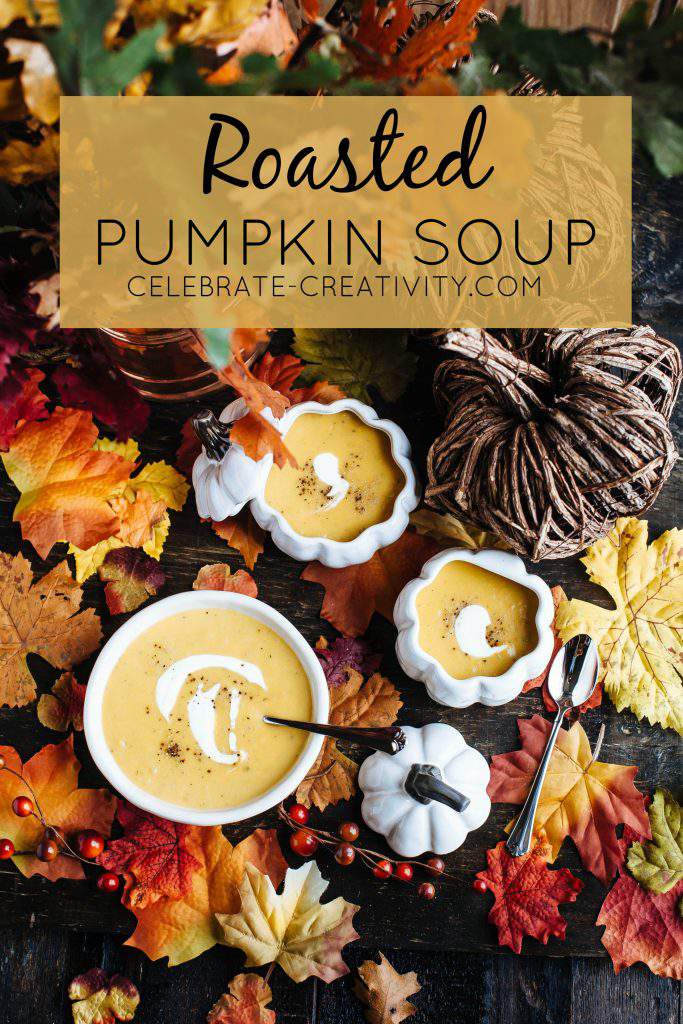 Thanks for stopping by.
See  you back here next time. ♥