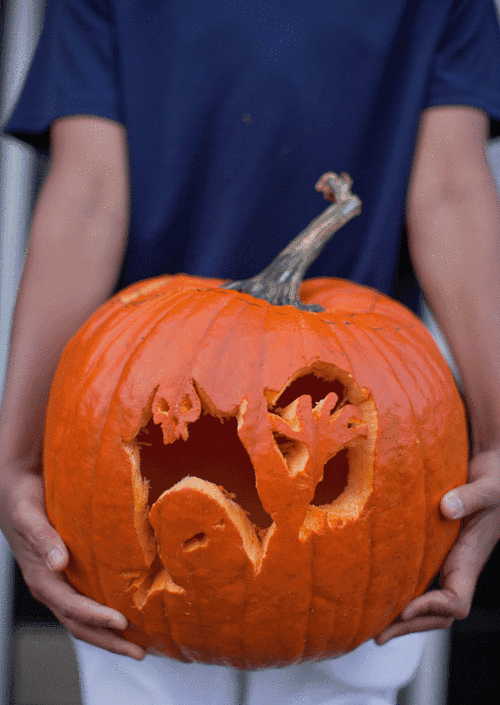 Don't you just love carved pumpkins?  I love to see what designs people come up with.  Every year, my kids have a small competition between them to see who can carve the most creative image.
Don't toss those pumpkin stems because they could be very valuable when it comes to crafting.
Throughout this post, I'll show you how to dry pumpkin stems which you can use for fun projects.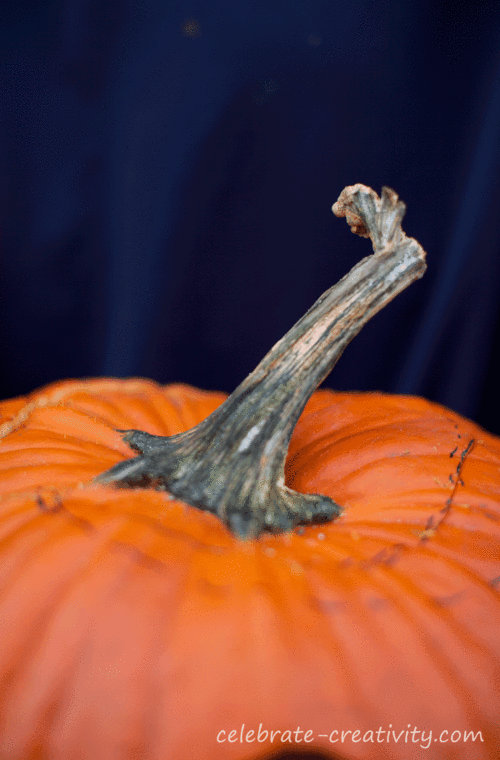 While the carved images are fun while they last, it isn't long before great pumpkin carvings turn to a mushy mess… but WAIT!
Before you toss your mushy pumpkins make sure you hang on to one valuable part of it… the STEM.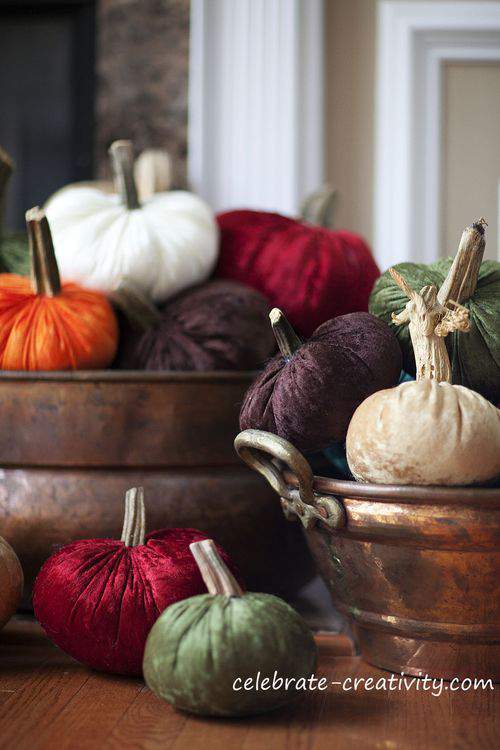 Regular readers of this blog may recall my easy-to-make velvet pumpkins that I've featured here several times.
Don't you just love these?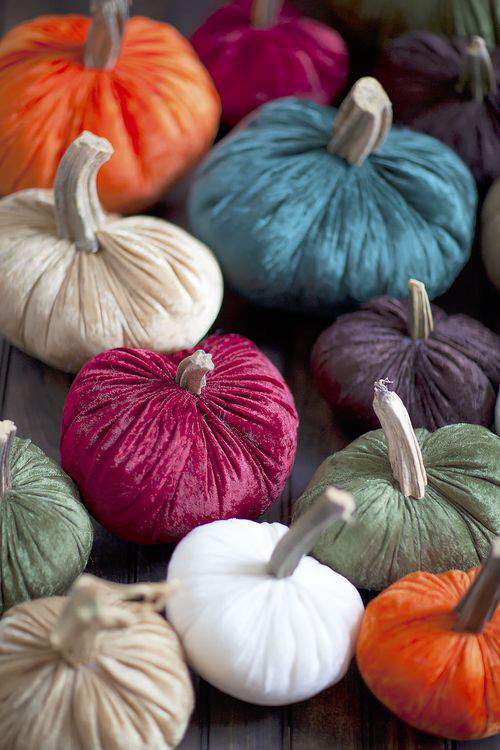 The whimsy of these soft pumpkins lies in the authentic stems which add a delightful realism to the harvest.
Real pumpkin stems are a must for this project.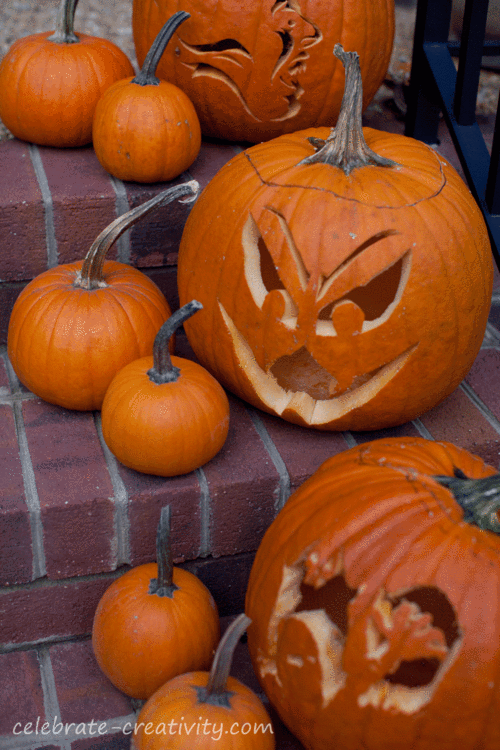 When making velvet pumpkins, it's important to use DRIED stems because freshly cut stems can decay and cause damage to the fabric.
Throughout this post, I'll show you how easy it is to dry your stems for use for upcoming projects.
I have to say, super-ripe pumpkins are mushy indeed and can be a bit gross to handle but it's worth dealing with the mush in order to harvest those great stems.
Keep your eyes peeled for unusually shaped stems like this curved one.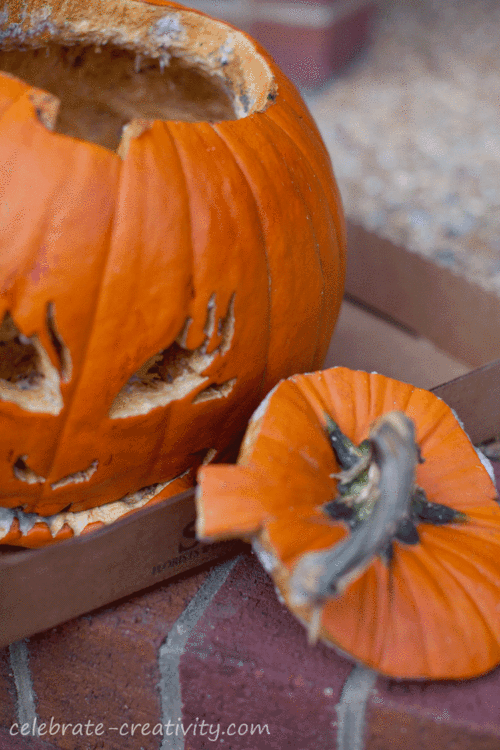 I not only harvest the stems from the pumpkins my kids carve but I also collect stems from my friends and neighbors.
Most people don't want their stems and they're more than happy to let you have them.
If you spot a good stem on your neighbor's step, don't let it get away from you.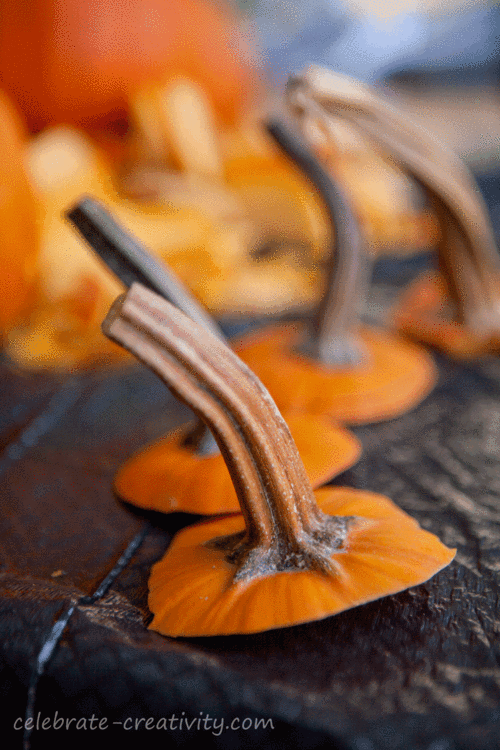 The stems are really easy to remove from the rest of the pumpkin top but handle gently because the tips can break quite easily.
If you're working on a whole pumpkin that has not been carved, simply cut the top portion of the rest of the pumpkin as close to the stem as possible.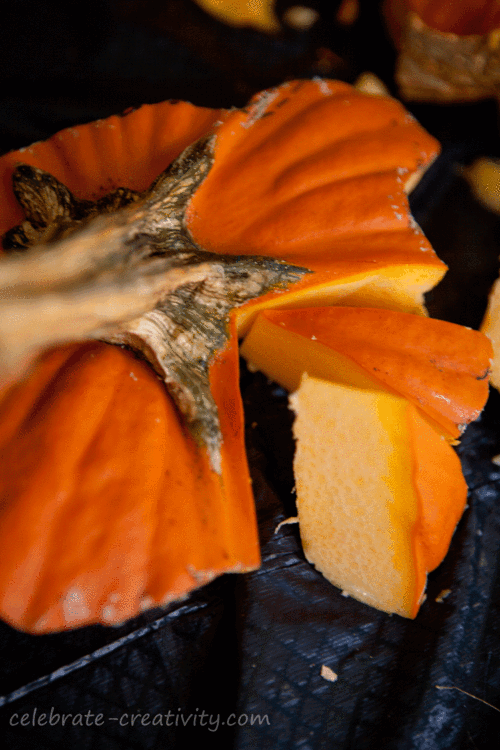 Use a sharp knife to carefully cut the around the outline of the pumpkin stem.
Make lots of little small cuts because the tips of the stems are fragile.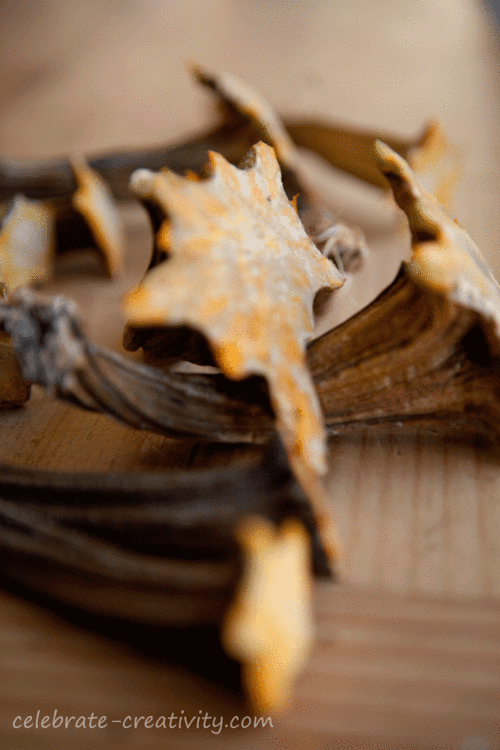 Once the large pumpkin chunks are separated from the stem, carefully scrape the bottom underside of the stem to remove all pumpkin meat.
When the pumpkin stems are completely dry, you can use a piece of fine-grade sandpaper and sand it smooth.
This will also get rid of any small, dried pumpkin pulp that may have been missed.
Once the pulp and pumpkin meat have been removed, the stems can be set aside to dry.
Keep the stems in a dry location for about 8 weeks to completely dry out. I keep mine in a cardboard box in the garage and they dry out just fine.
You'll know your stems are completely dry when they sound a little hollow when tapped.  They'll also be super light in weight since all the moisture within would have evaporated.
Here's a look at some stems I purchased on Ebay a while back (I collect stems wherever I can find them).
As you can see, the stems can also be cut straight across the bottom for a flat presentation as opposed to preserving the natural outline of the stem tips.
NOTE:  I think either type of stem cut (straight or natural tip outline) will work just fine for the velvet pumpkin project but I think the the outstretched-looking tips look better within the folds of the velvet fabric. 

Also, consider visiting your local pumpkin farm where you may be able to collect a bundle of end-of-the-season stems.
NOTE: For those readers who live in snowy regions, a dried pumpkin stem is as good as any carrot when it comes to a snowman's nose.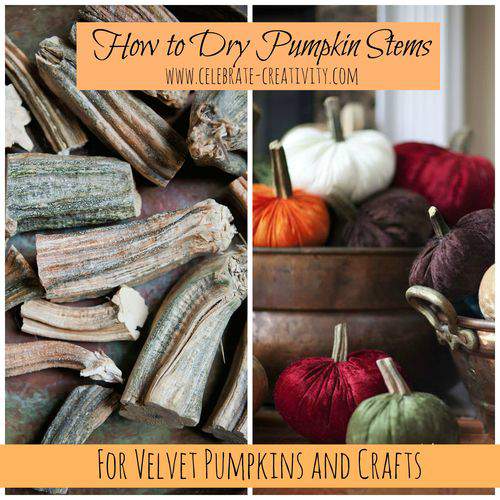 So, keep your eyes peeled for great looking and unusual stems, start collecting them and drying them now for next year's velvet harvest.
Don't forget to tap your friends and neighbors for their stems too before they toss their pumpkins for the season.♥