If you're a superstitious type you may believe that black cats are bad luck this time of year.  Frankly, I've never bought into that bit of feline-folklore but I won't dog you if you do.
However, even if you do hate black cats during Halloween, I think you'll be able to find a soft spot in your heart for these black cat pumpkin carvings.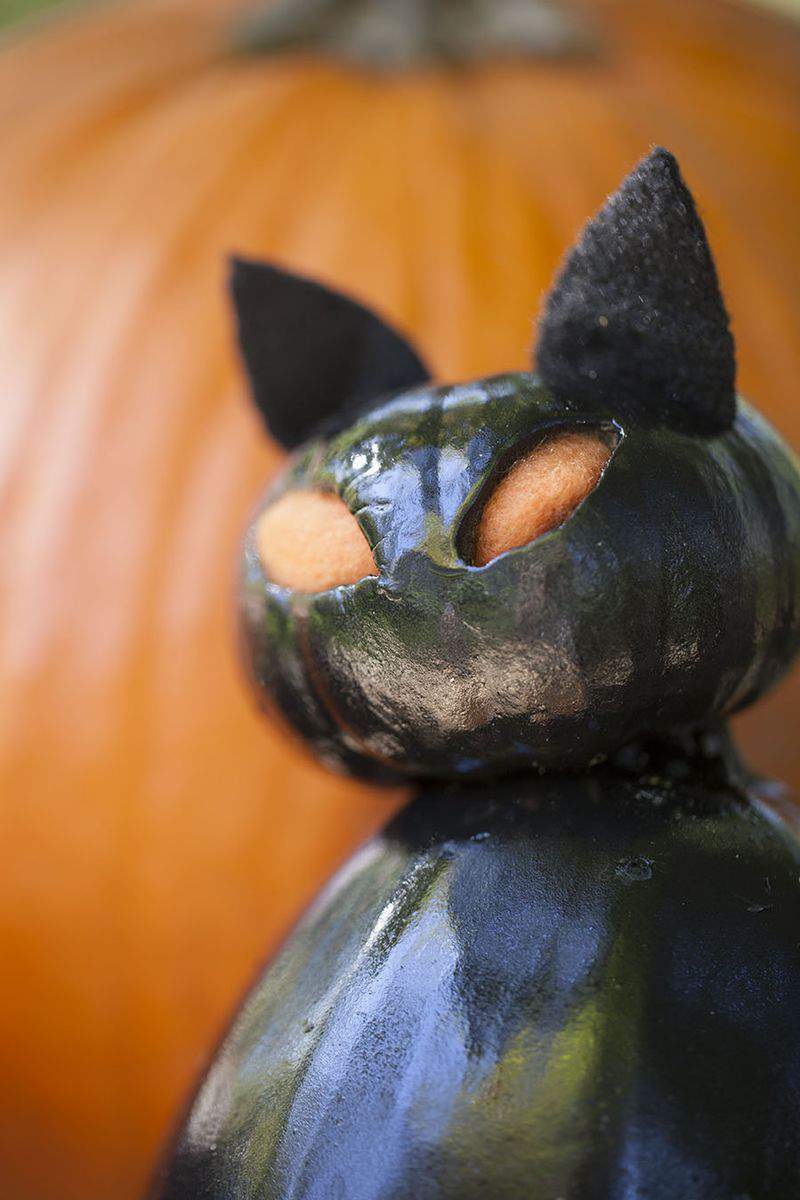 When it comes to Halloween pumpkin carving, I'm usually the one who watches.
My family members are the ones who have their own competition among them every year and I typically just take pictures.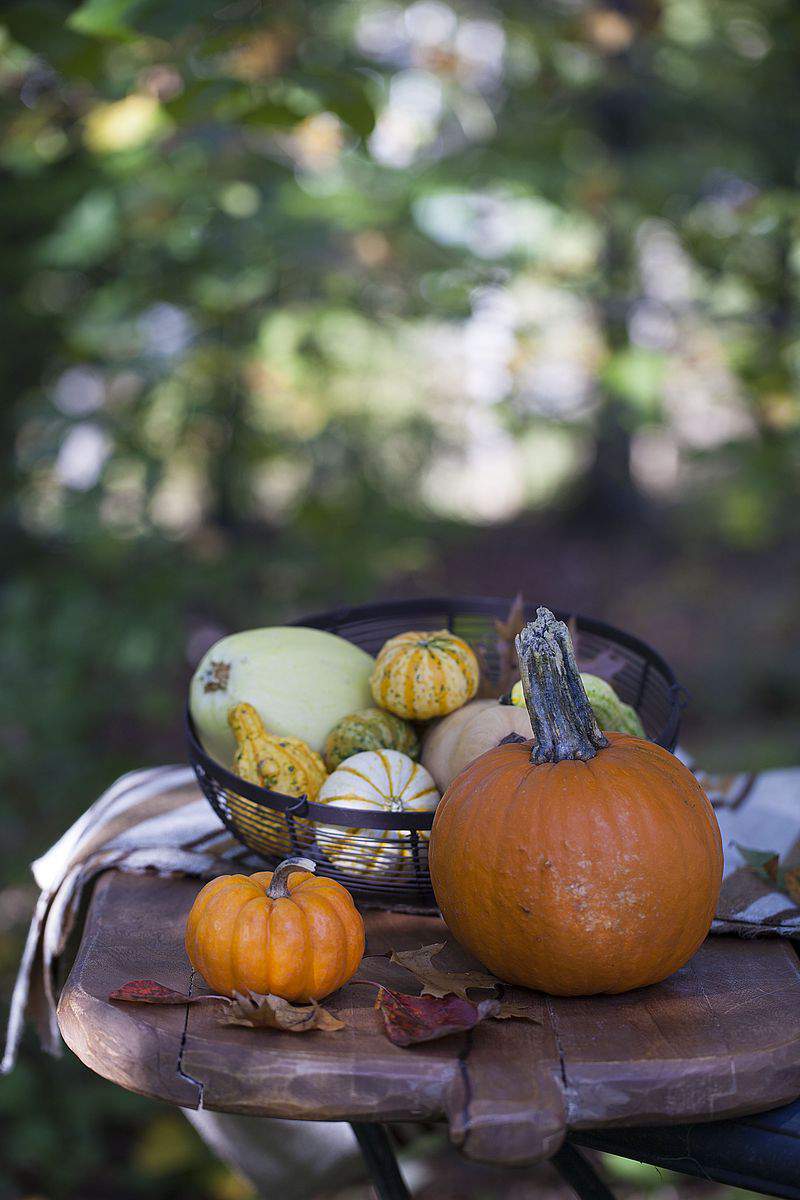 This year, I decided to get into the act with a small-scale carving of my own.
OK, I'll admit it.  Another reason, I didn't want to deal with a larger pumpkin is because I hate cleaning them out.
Pumpkin guts are so gross to me.
I also just didn't have the energy to tackle cleaning a super-size pumpkin like the ones my kids take on.
Start with a nice assortment of pumpkins.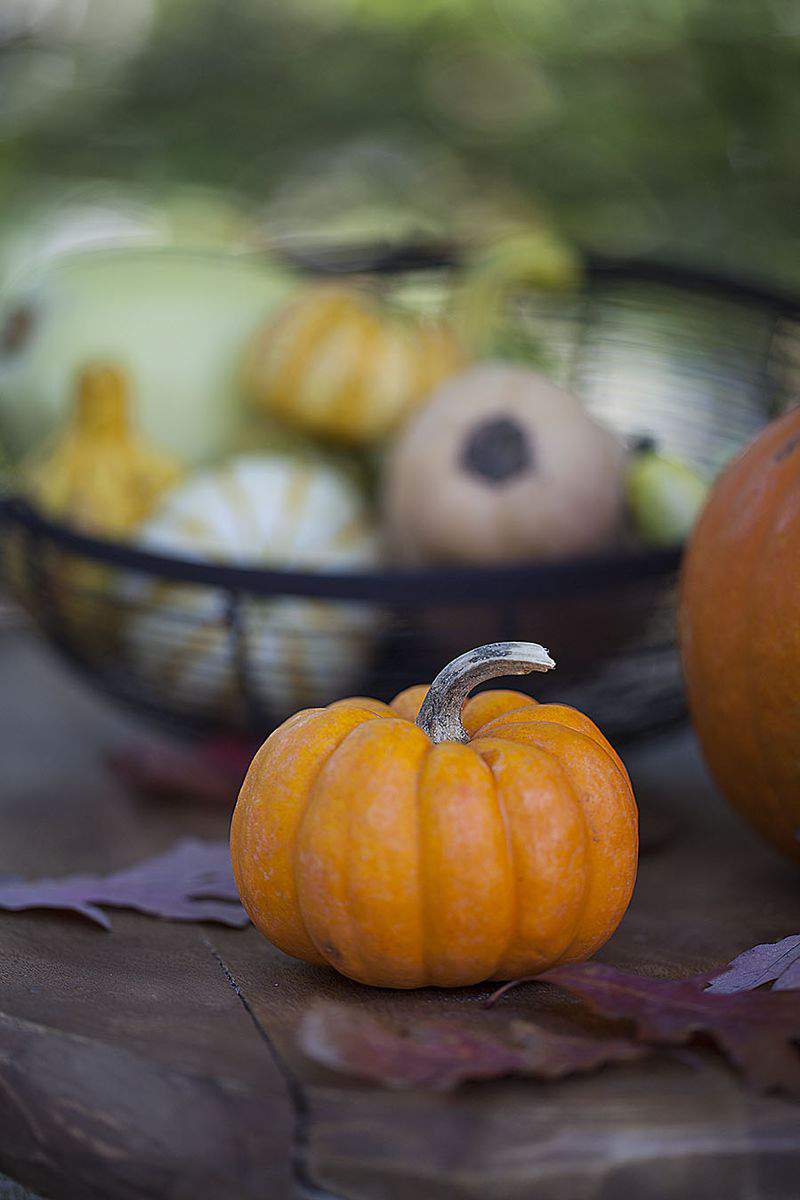 You could use really large pumpkins for this but I just wasn't sure I wanted to tackle something too large so I opted for the mini-size veggies.
You'll need two pumpkins for each kitty,  one pumpkin for the head and one for the body.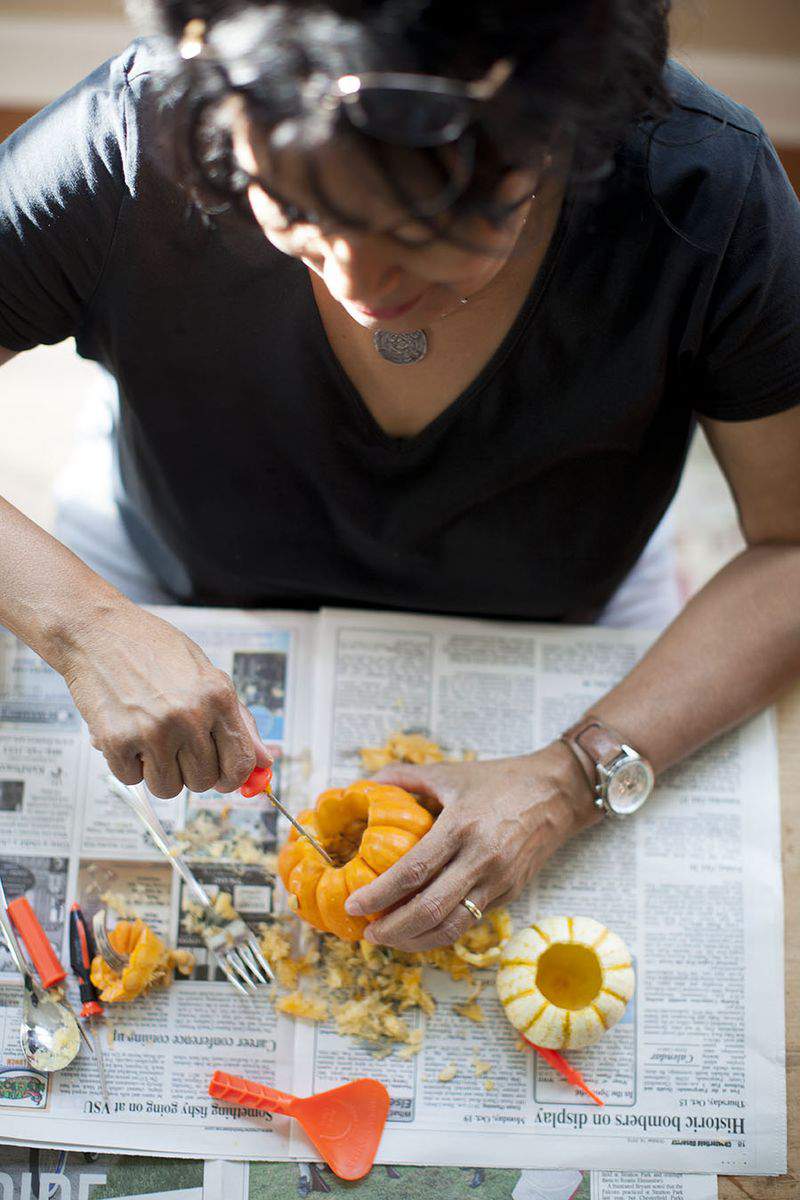 This little guy fits into the palm of my hand and he's perfect for a cat head.
Irregular shaped veggies will make for a nice body and grab a few small small gourds as well.
You'll also need black spray paint, a square of black felt, one square of orange felt and some pumpkin carving tools.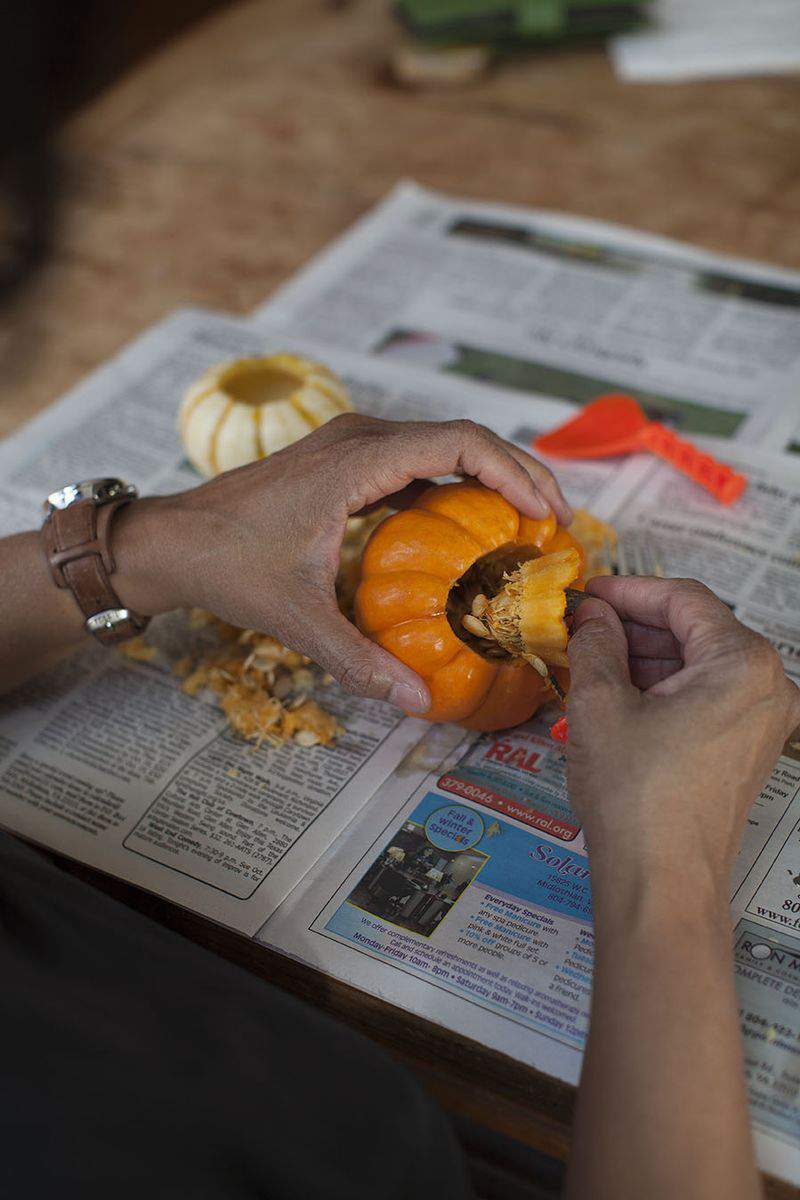 Carefully, cut the top of you mini-pumpkin off and get all those disgusting guts out.
Use a spoon or pumpkin scraping tool the clean everything out so the inside is nice and smooth.
Be careful, not to scrape too much of the inside meat off the walls because the little pumpkin will need to maintain some structure for the carving to come.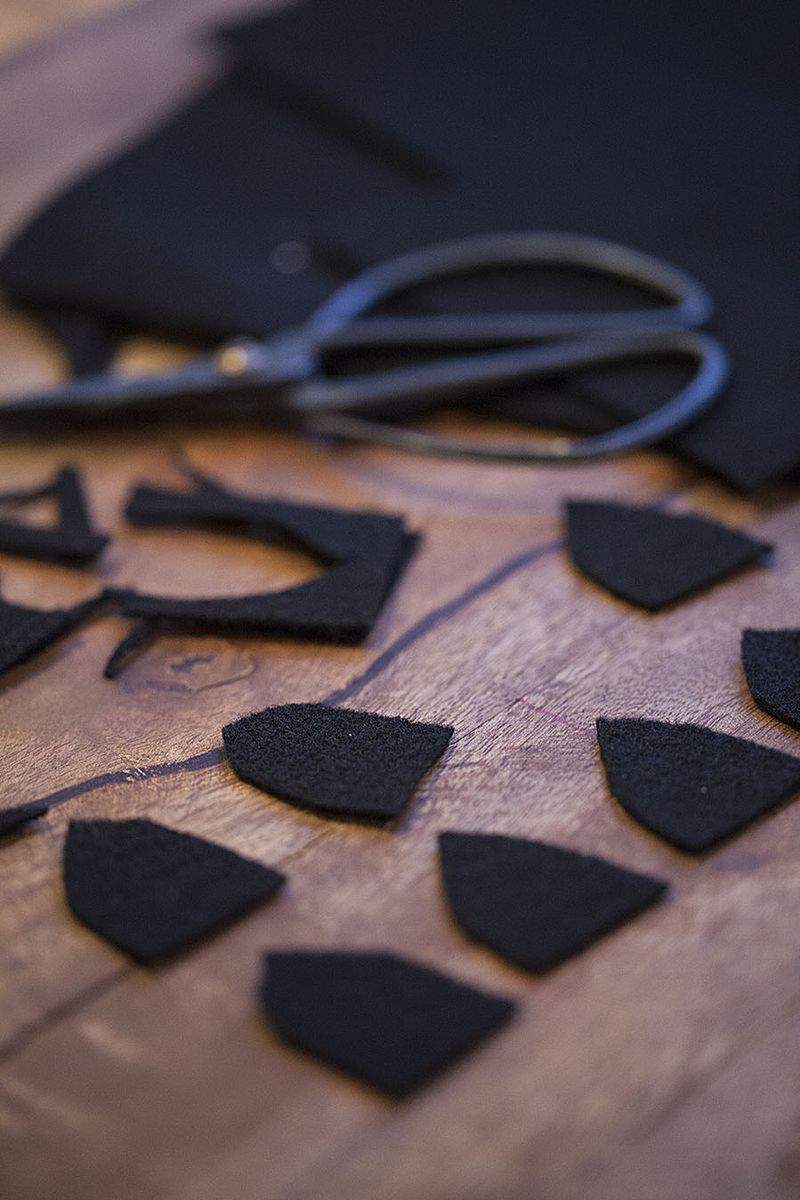 One square of felt will go a long way toward creating the ears you'll need.
Just cut out small triangular-shaped ears and set aside.
Make note of the width along the bottom edge because this area will need to be fitted inside a cut you'll make on top of the pumpkin.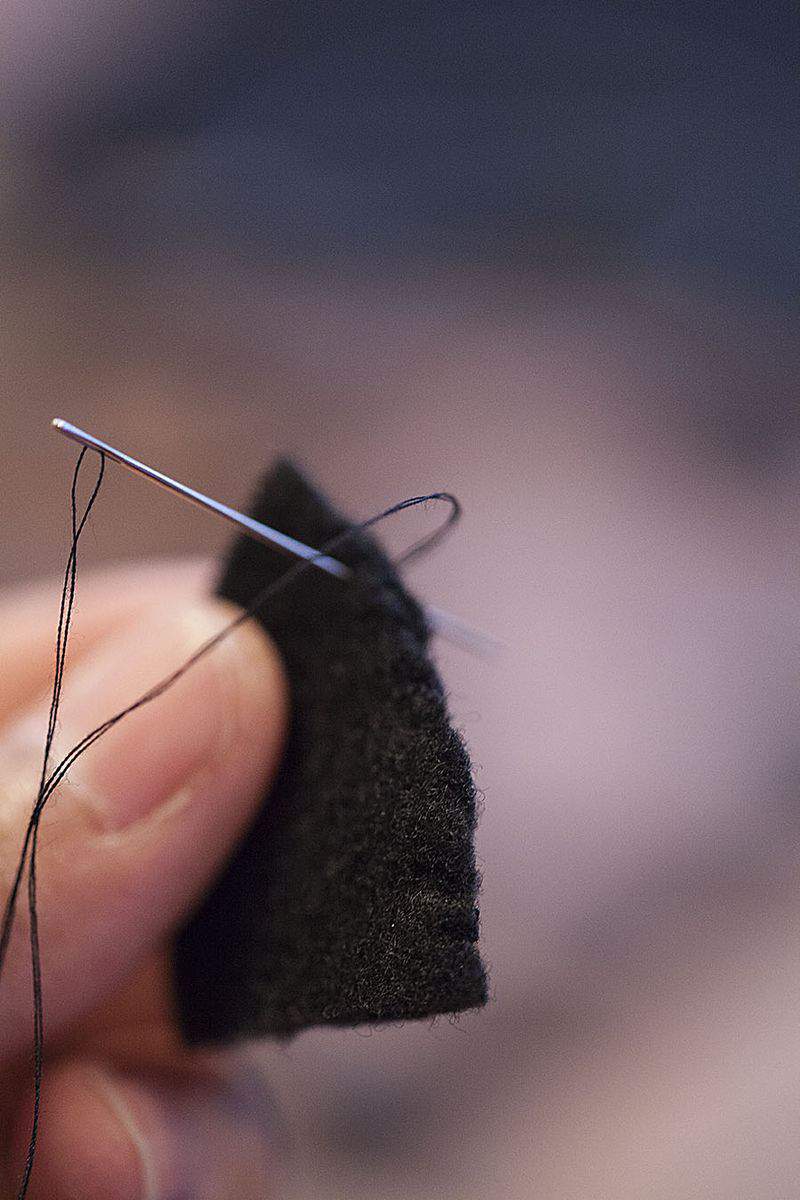 I wanted the ears to be a little sturdier so I hand-stitched two felt ear shapes together.
This will help the ears stand up and hold their shape better.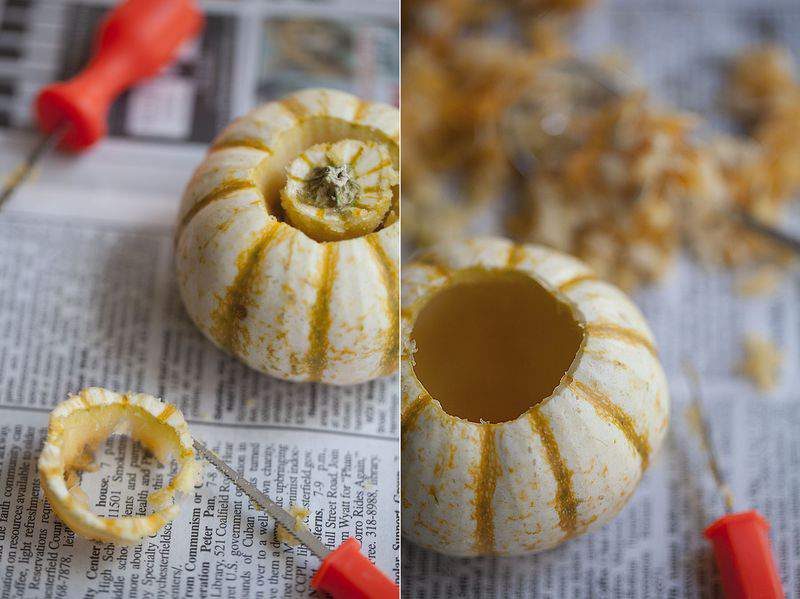 Finish scraping out the rest of your pumpkin heads.
Use a marker to draw on some almond-shaped cat eyes.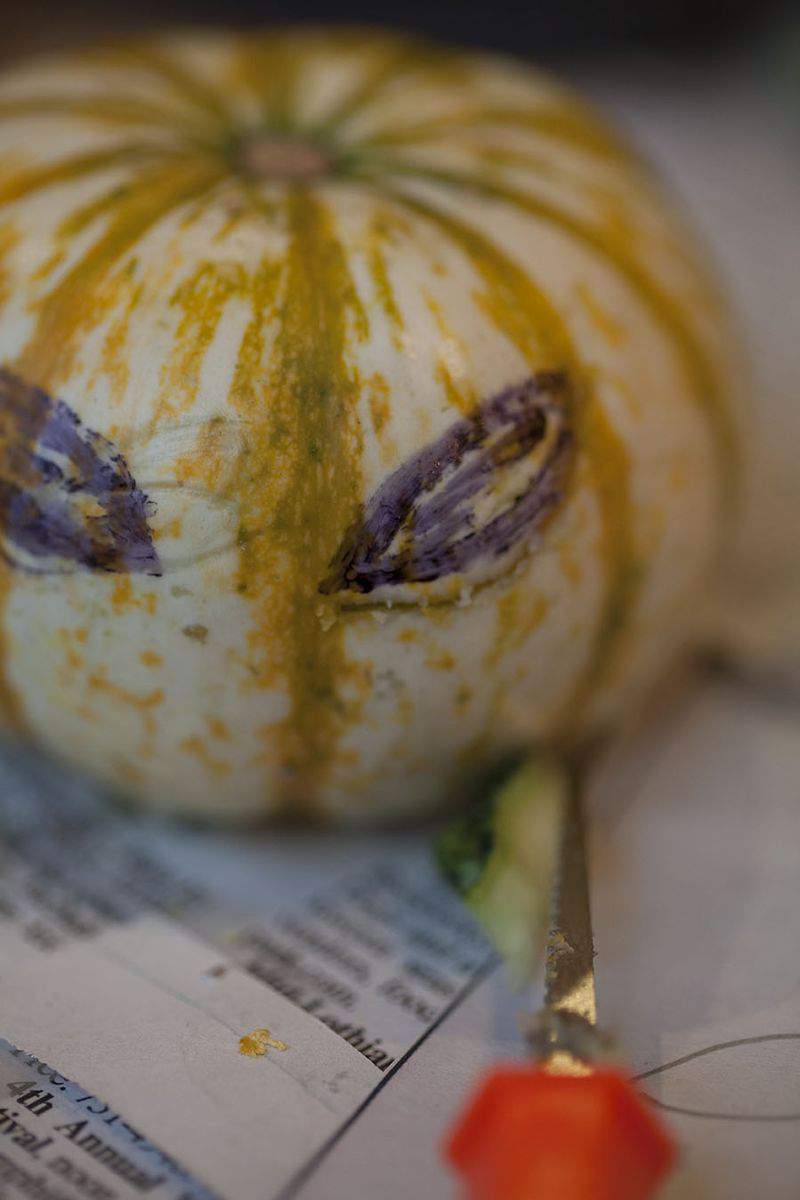 Carefully carve the eyes out.
Work slowly for this part so you don't overshoot your markings and end up carving one big eye instead of two.
Once you've cut out the almond-shaped eyes, cut a small sliver of an opening in the top of the pumpkin head just above each eye.
This sliver of an opening is where you'll insert your felt cat ears.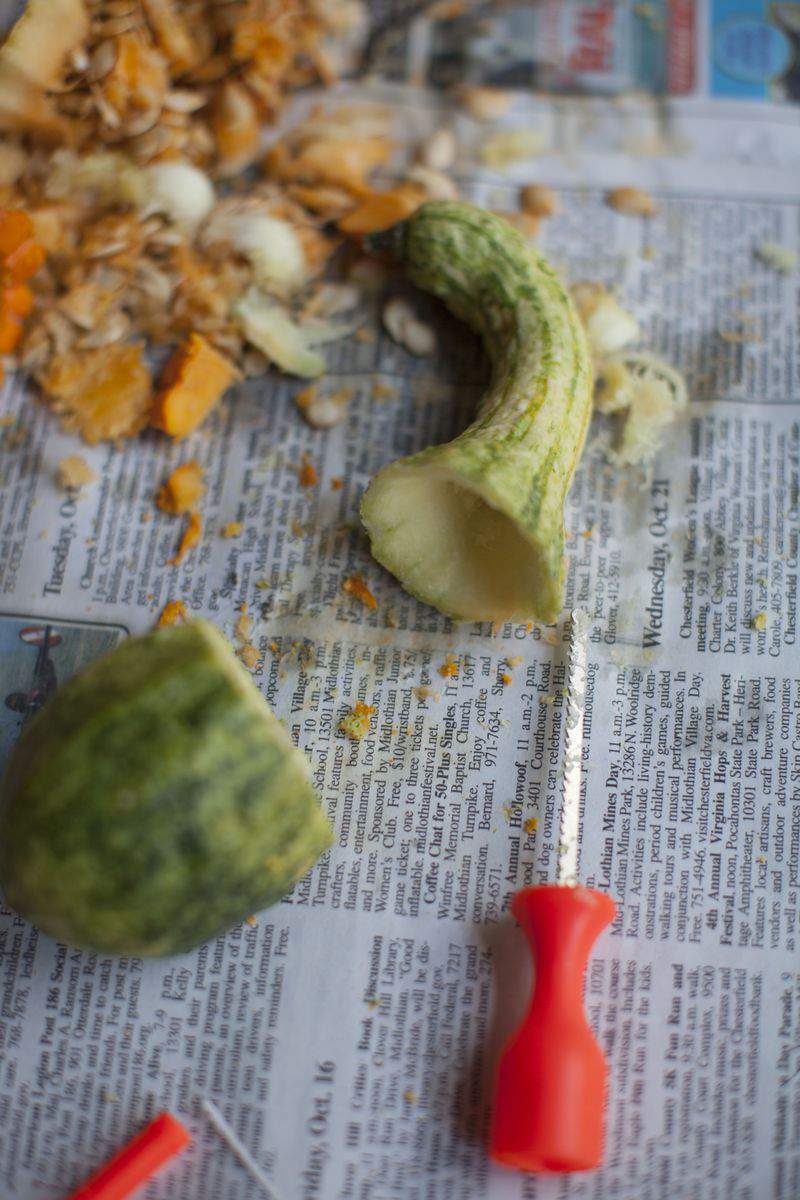 Cut the gourd in half just where it starts to narrow.
Use a small spoon to lightly scrape out the guts.
Unlike the pumpkin head piece, you'll only need to clean out the gourd about 1/2-inch into the joint.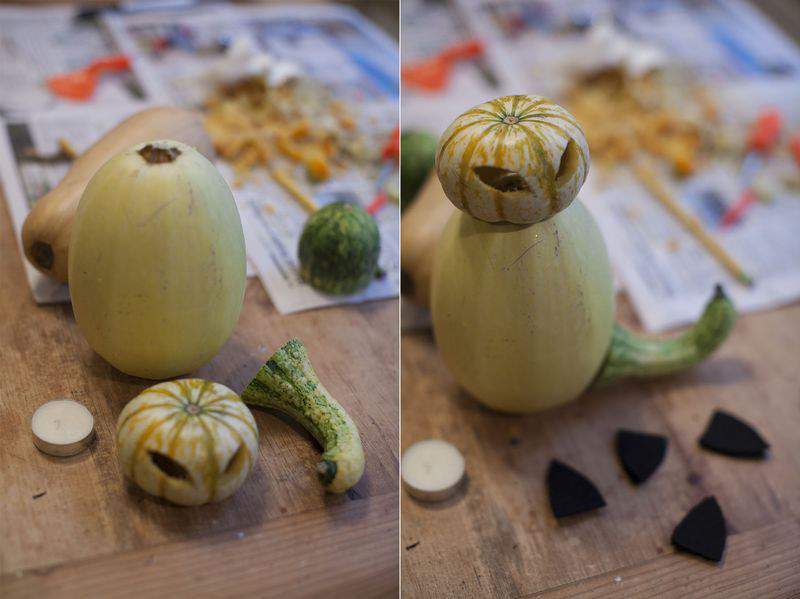 It's starting to take shape a bit now.
You can see from the photos below how the cat pumpkin takes shape.
Just place the smaller pumpkin on top of the larger pumpkin and you can see how the cat body takes shape.
Hot glue the gourd to the lower part of the pumpkin to create the tail.
NOTE: You can use wooden skewers to help keep the pumpkin head in place.  Just break off 3-4 pieces of wood and stick them into the top of the pumpkin body around the stem area.  Then, when you put the cat head on top, the skewers will keep them from falling off.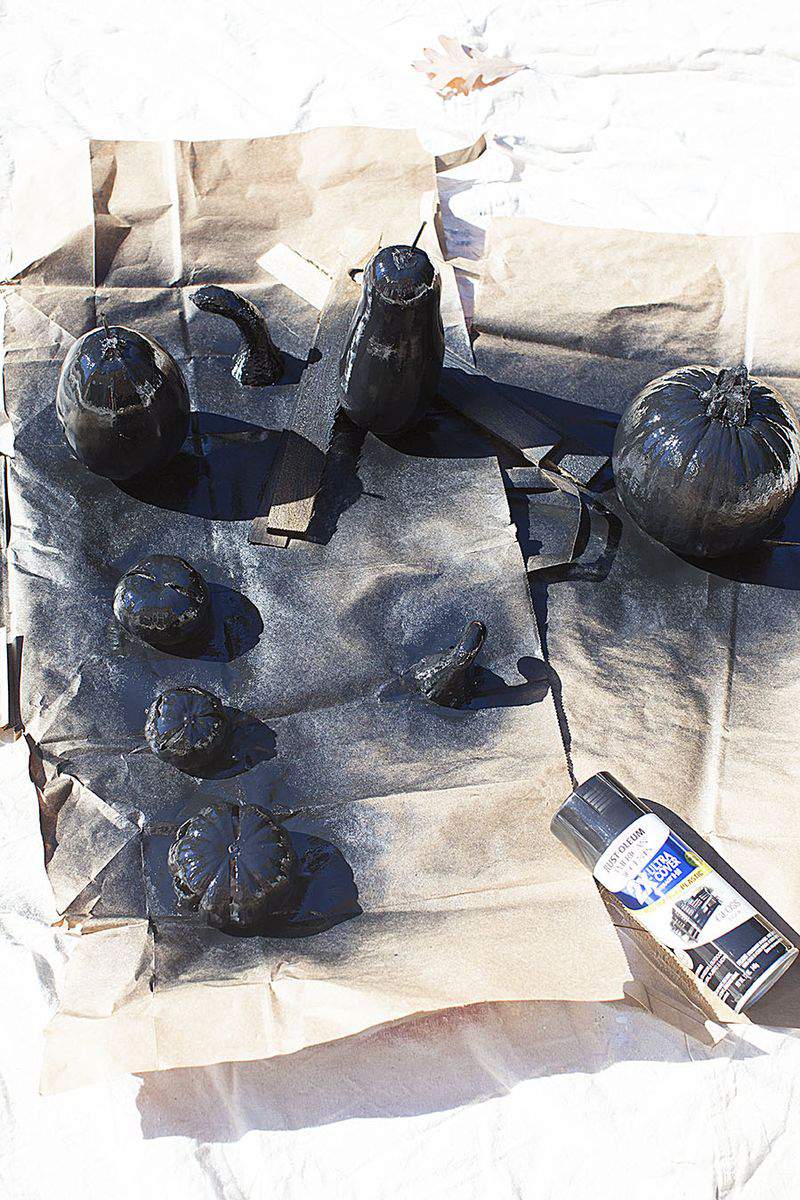 Spray paint all the pumpkin pieces.
You'll most likely have to apply several coats to make sure all areas of the pumpkin are covered.
Make sure you spray paint in a well-ventilated space… preferably outdoors.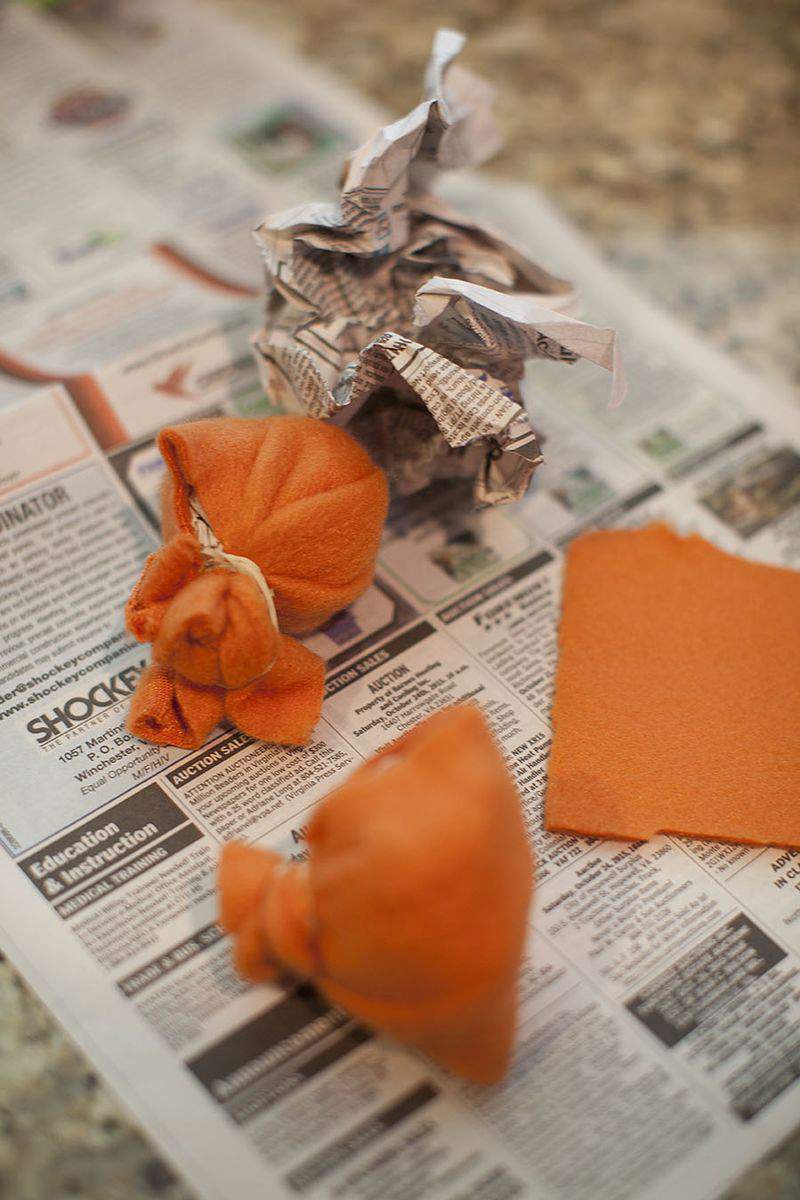 Because the pumpkin head is a cavity, you can give your kitties any color eyes you like.
Green, red or orange felt will do.
Just ball up some newspaper and wrap a small amount of felt around it.
Then, gently stuff the ball into the pumpkin head.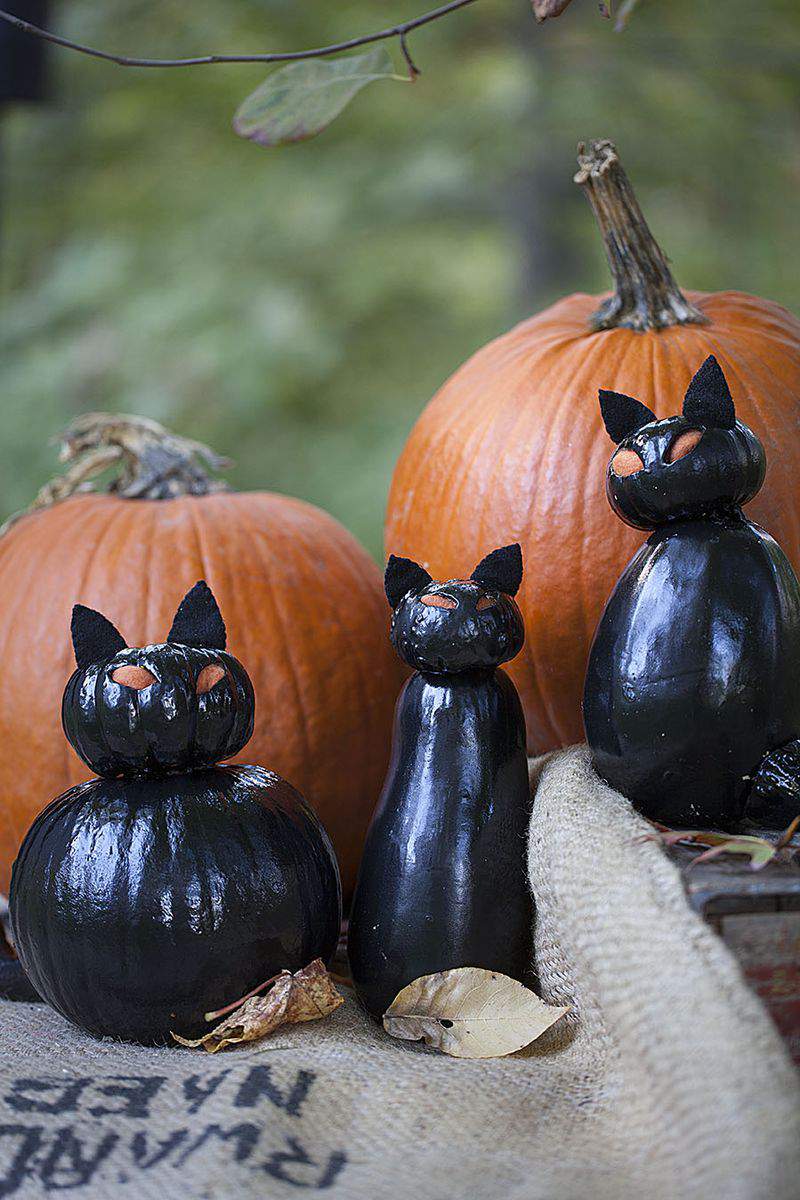 It may be easier to push the felt in first and make sure it peeks through the carved-out openings a bit.
Then stuff your newspaper inside the head after that to hold the felt in place.
Use whatever strategy works best for you to insure the felt pokes through the eye openings a bit and stay in place.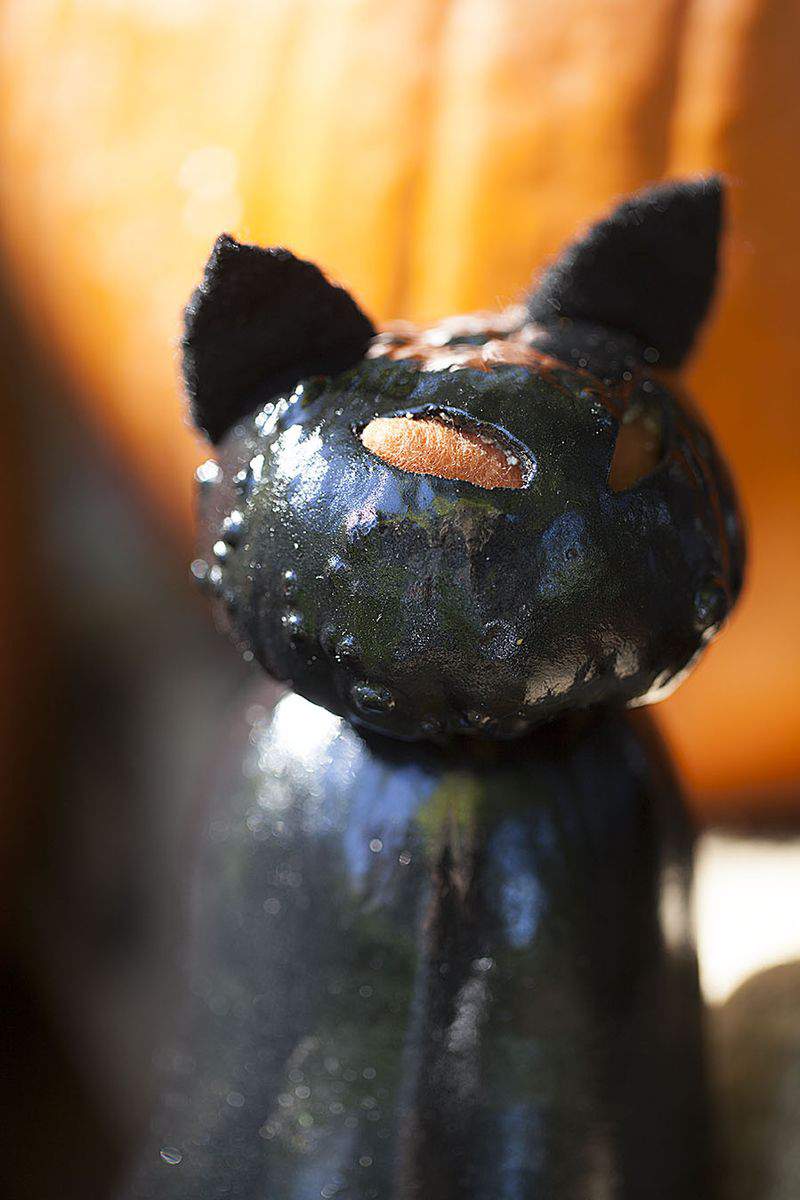 Every once in a while when I would look at these cats, they almost seemed to be looking right back at me.
Now, that's a little creepy… but these kitties are still really cute.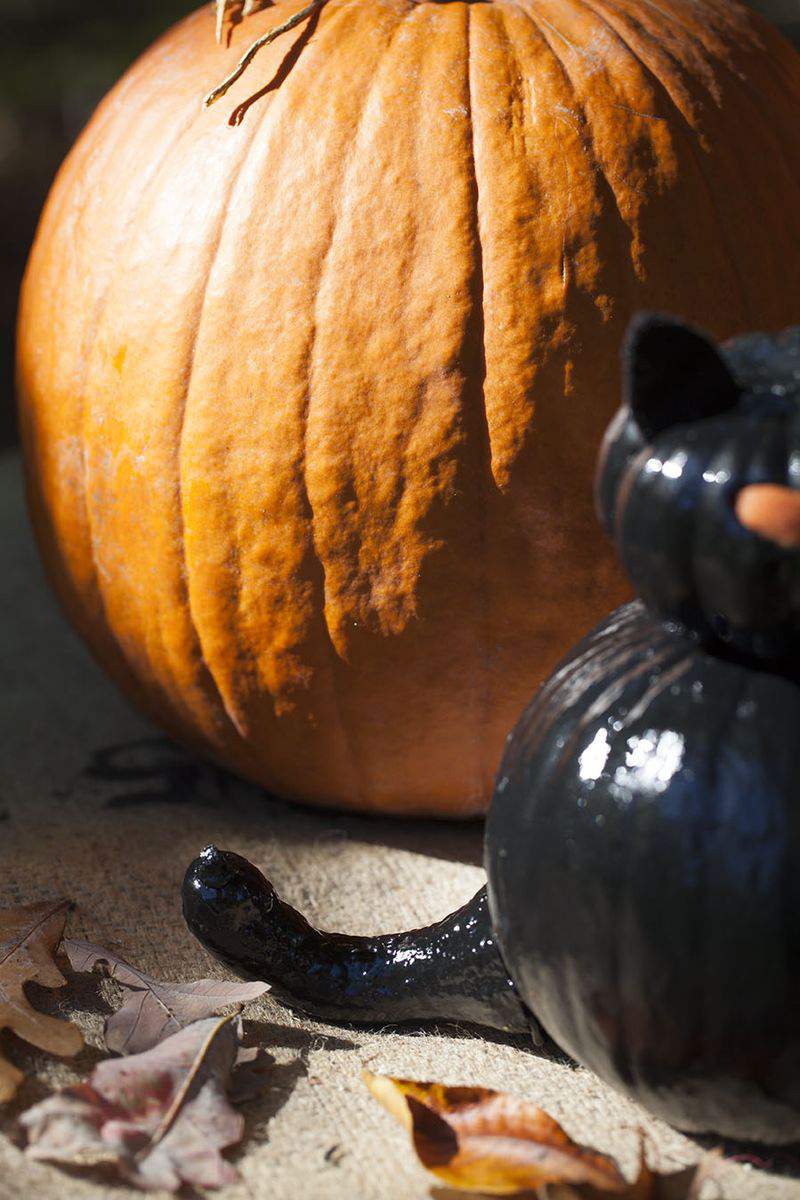 Remember the painted gourd?
Here's a closer look as a cat tail.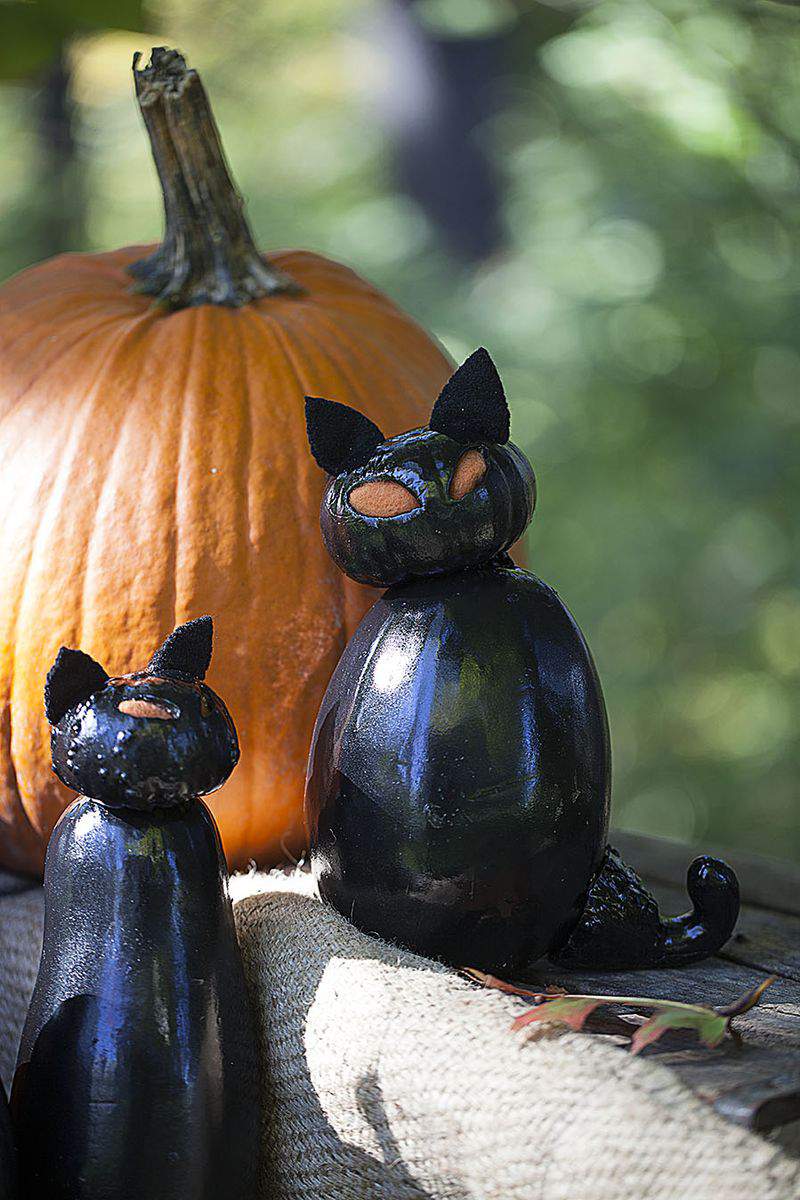 Remember, I used smaller pumpkins for my kitty cats.
Imagine, how awesome this feline family would look with large, full size pumpkins for the head and body.
If you have the energy for big-scale pumpkin cleaning, go for it.
Meow! ♥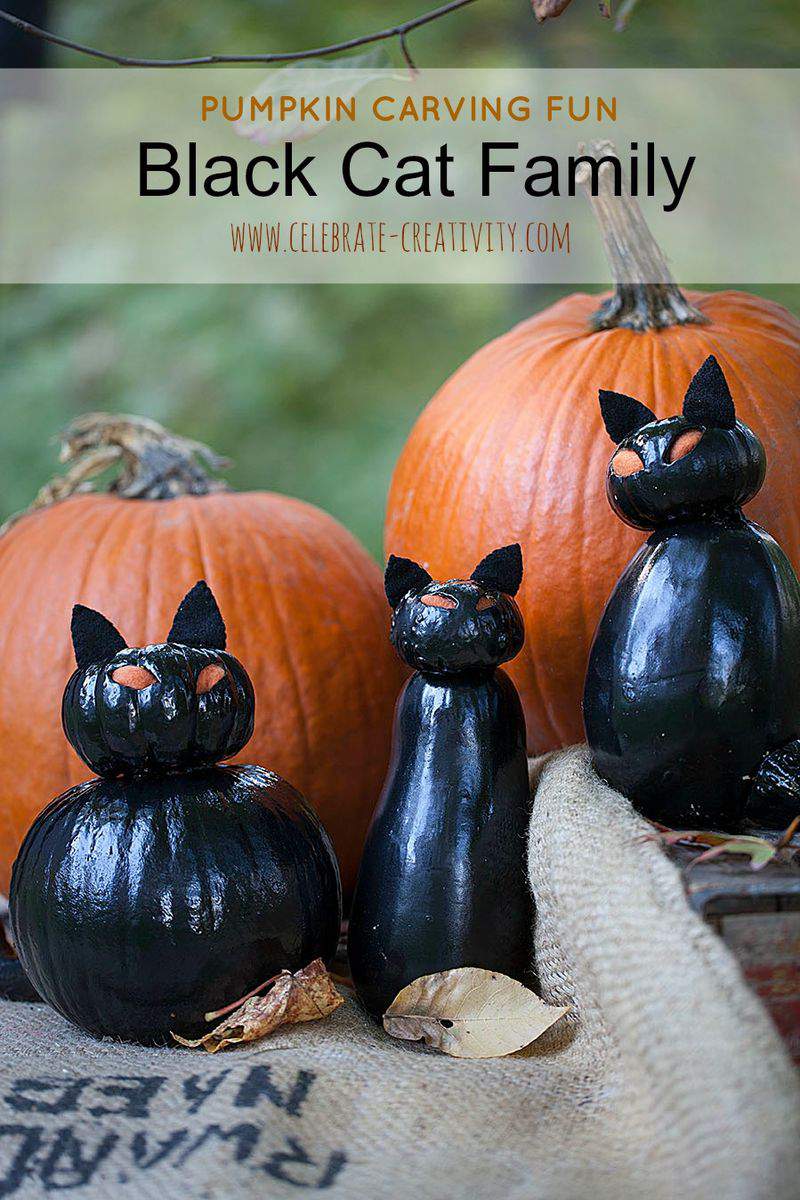 Thanks for stopping by.
See you back here next week.
I've been busy on a very special project and I think you're going to love it.
STAY TUNED
I'll share the exciting news here very soon.