Until now, the only other times I've eaten French onion soup has been while sitting in a restaurant with a spoon in one hand and a root beer at the ready in the other.
As many times as I've enjoyed this savory dish, this is the first time I've ever tried to make it myself.
While it did take me a few steps to get through it… in the end, it was worth it.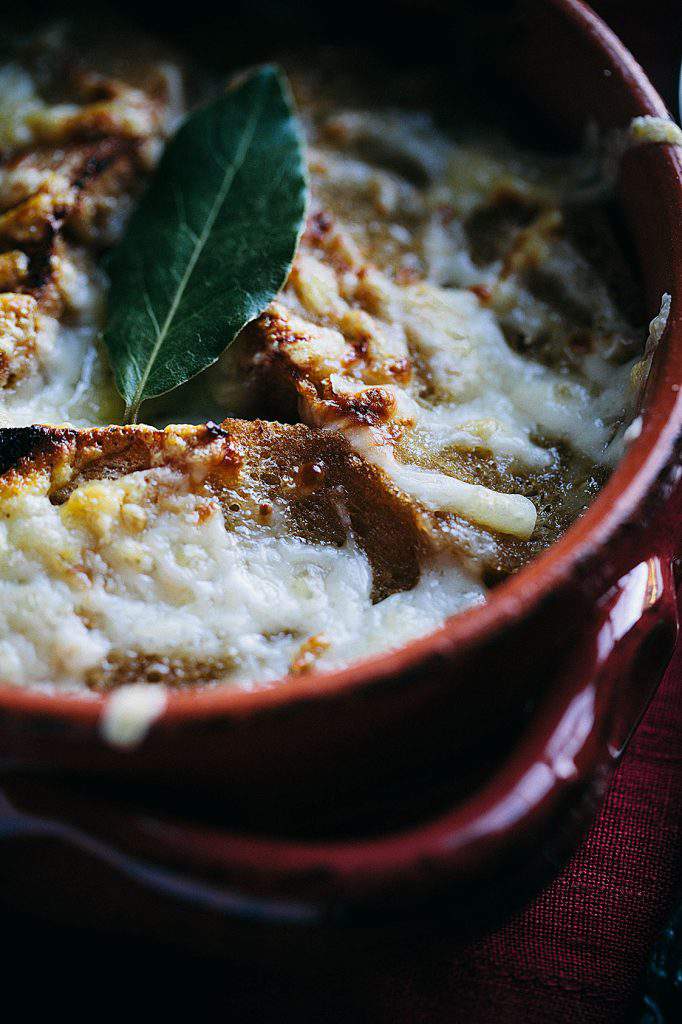 I think the best part of this soup is the delicious, melted Gruyere cheese is that is the traditional hallmark of this savory dish.
You know it when you see it, deliciously melted over croutons or in this case, french bread cut at an angle.
By the way, the full recipe for this French onion soup is just a few scrolls down below.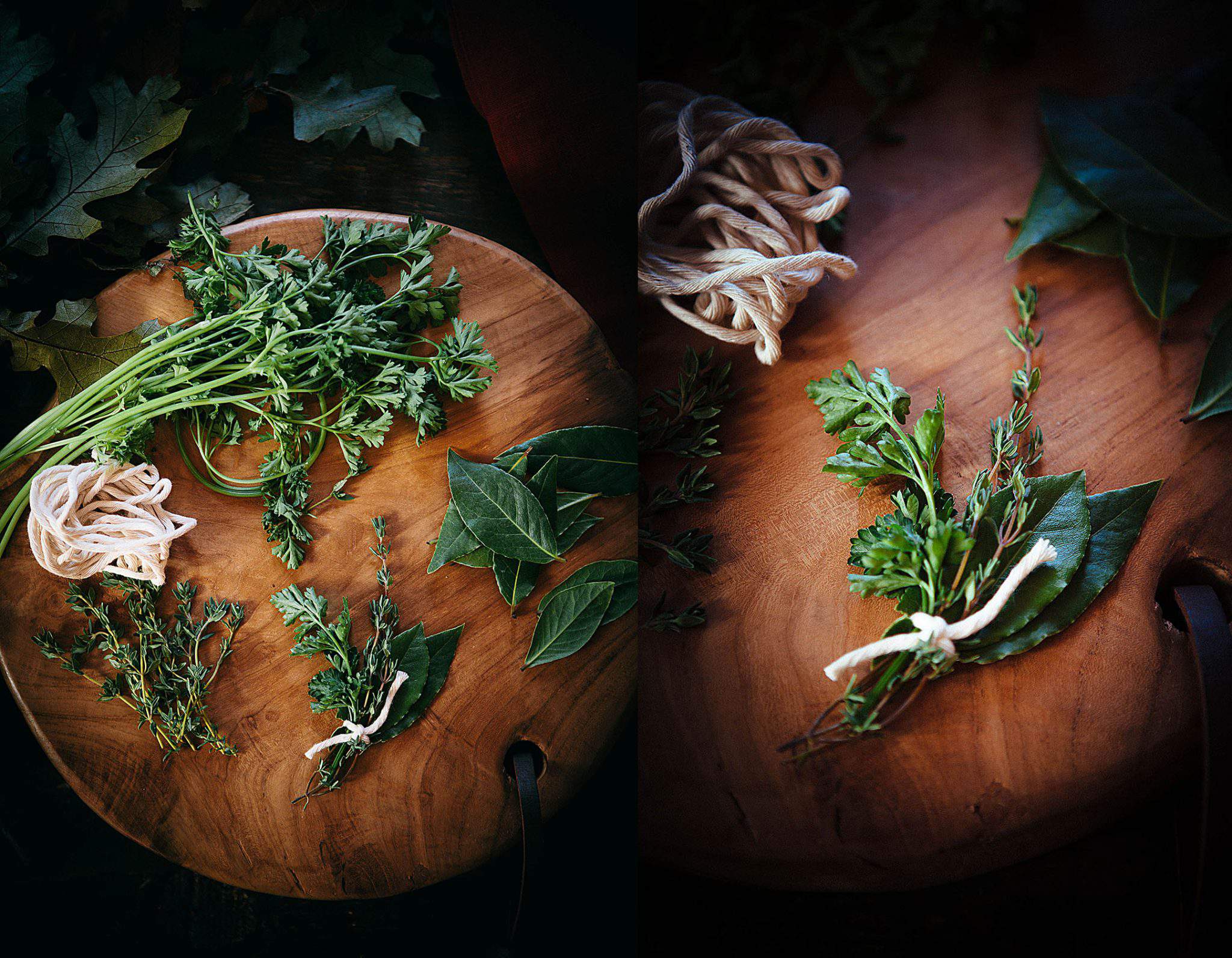 You'll need some assorted herbs for French onion soup including fresh parsley, thyme and a few bay leaves.
Have you ever heard of a bouquet-garni? I hadn't.
It's French for garnished bouquet and the herbs in a bouquet-garni are typically tied together and used to add flavor to stews and soups.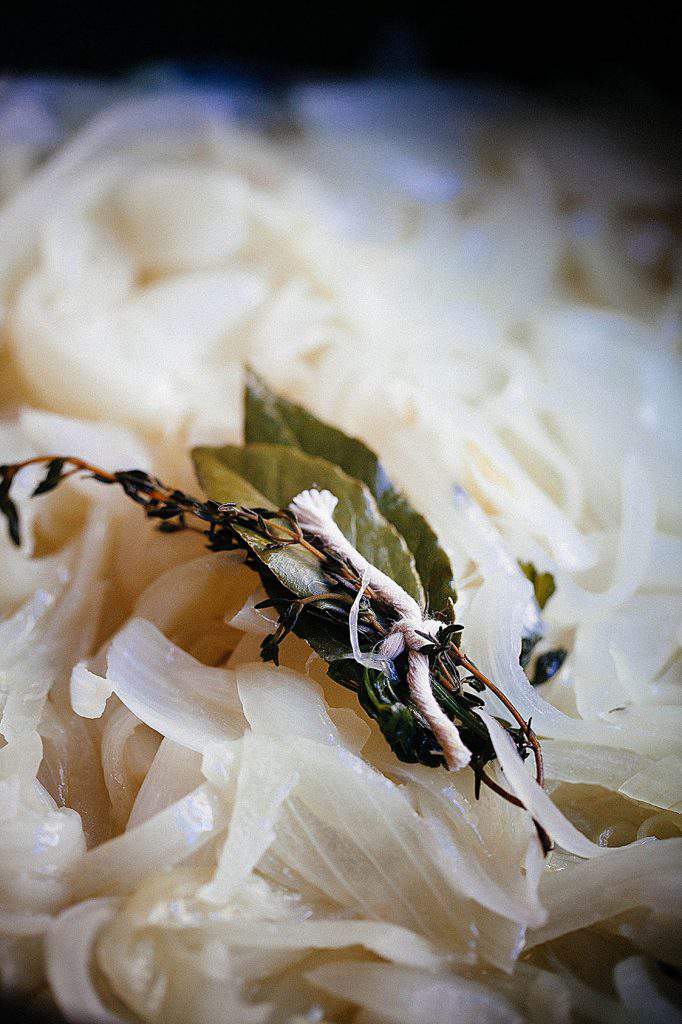 I gotta tell you, the hardest part of preparing this recipe was slicing the onions which kept me in tears the entire time.
You just may need to walk away from the slicing a few times to give your eyes a break.
Once the onions are cooked down, the bouquet-garni is removed and tossed.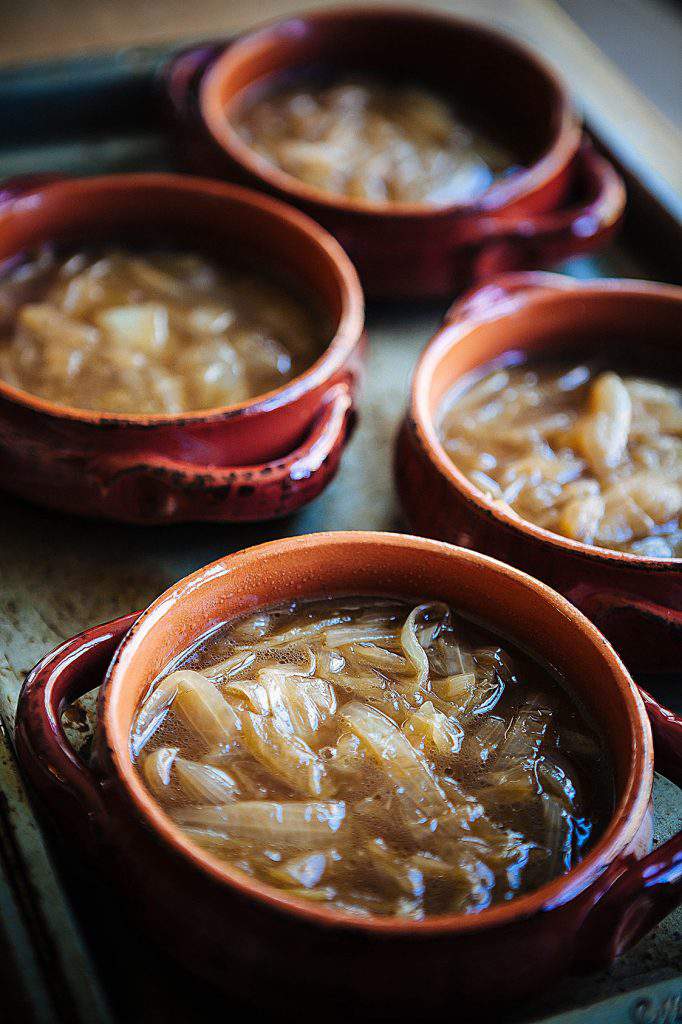 As I was filling these soup bowls, I was focused on how much (or how little) my family members might eat. With that in mind, I didn't fill the bowls.
Looking back, I really should have filled them to the brim because from a photo-styling standpoint, I think it would have looked better for the contents to be topped off.
It may seem like  a little thing but that's exactly the kind of food styling detail to keep in mind while setting up a shot.
I'll remember that next time I make any kind of soup or stew.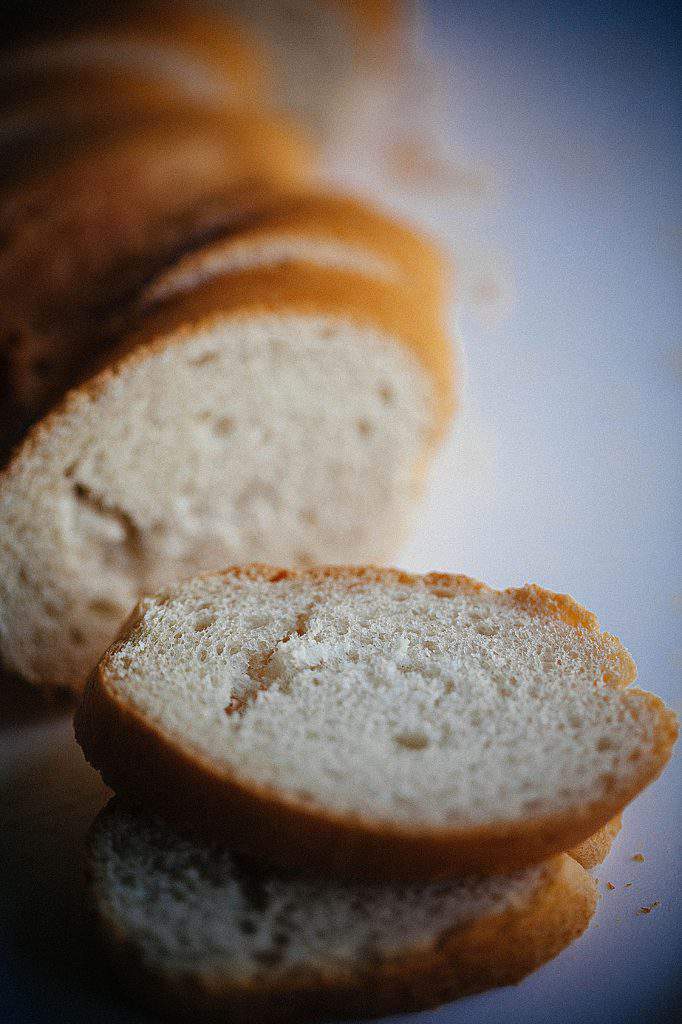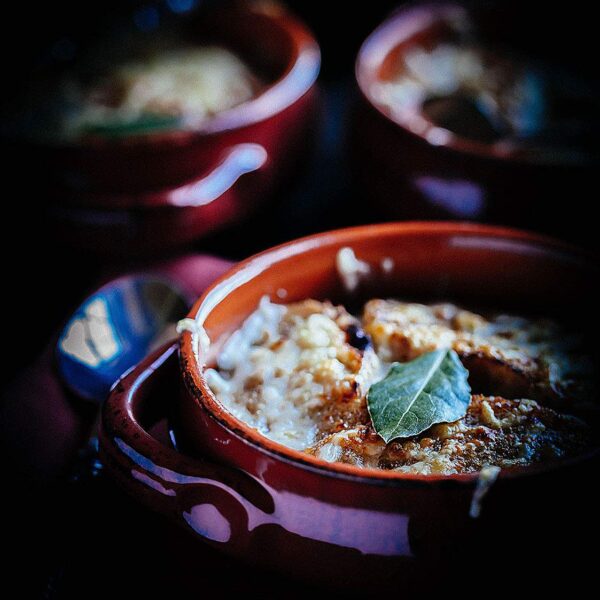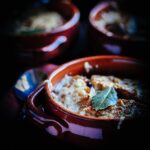 French Onion Soup
Ingredients
3/4 cup unsalted butter
6 large onions sliced
4 garlic cloves crushed
1-1/2 tablespoons of muscovado sugar
3/4 cup of dry white wine
2 ounces of cognac
7 cups of beef stock
1/2 pound Gruyere cheese grated
2-3 Bay leaves fresh parsley and fresh thyme
Salt optional, to taste.
Instructions
Tie 2 bay leaves and a few sprigs of fresh thyme and a couple of stalks of parsley together with kitchen string and set aside.

Melt butter in saucepan.

Add onions along with the tied herbs.

Stir and cook over medium heat for about 45 minutes.

Onions will cook down in volume.

Add sugar and cook another 10 minutes.

Add garlic and continue to cook until onions are well-browned.

Once onions are browned remove and discard herb bouquet.

Add white wine and cognac.

Simmer for another 10-15 minutes.

Sample and add salt or other seasonings to taste.

Slice french baguette and bake for 10 minutes until bread is crisp.

Remove bread and set aside.

Set oven to grill (or broil).

Ladle soup into heat-resistant soup bowls (as needed).

Add bread slices to top of soup bowls.

Sprinkle with grated Gruyere cheese.

Bake until cheese is slightly browned.

Serve right away.

Freeze leftover soup without cheese or bread.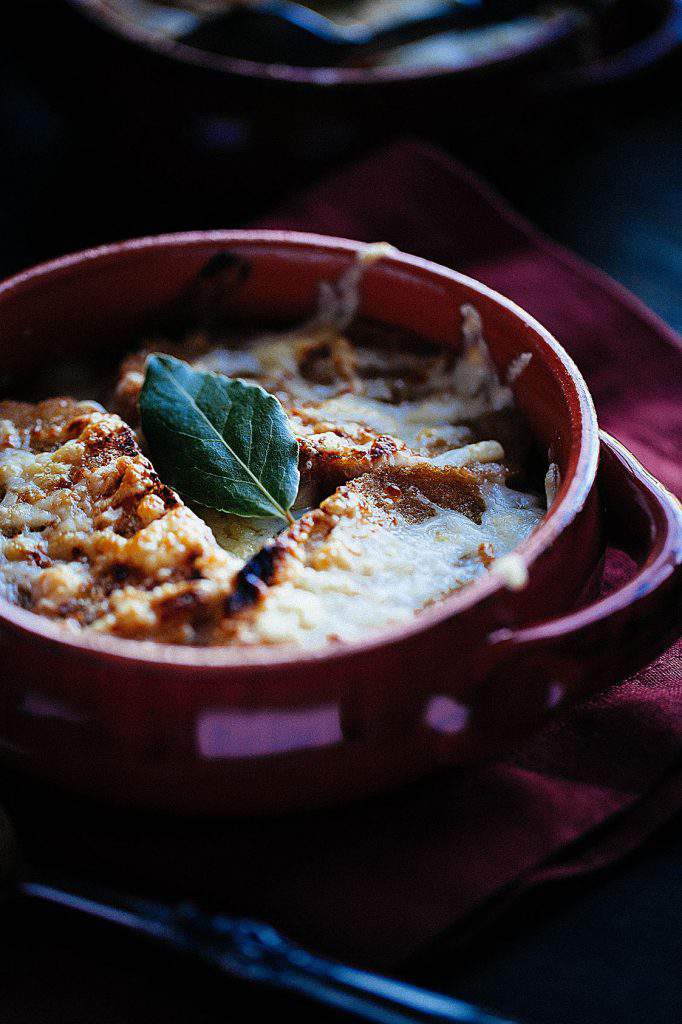 One of the things I love about trying new recipes is that it always gives me more opportunities to practice my photography.
Maybe you've already noticed but I am a little obsessed with food photography, props and styling.
I just started a 4-week Lightroom course last week at my local visual arts center and I'm excited about expanding my skills and learning new techniques to put to good use.
I'm also especially eager to learn how to better label, keyword and categorize my thousands of photos.
Right now, I can only find my pictures via the date and that's so inefficient and time-consuming.
By the way, if you like this kind of dark and moody food photography featured in these French onion soup pictures, be sure to check out my previous post on the subject HERE.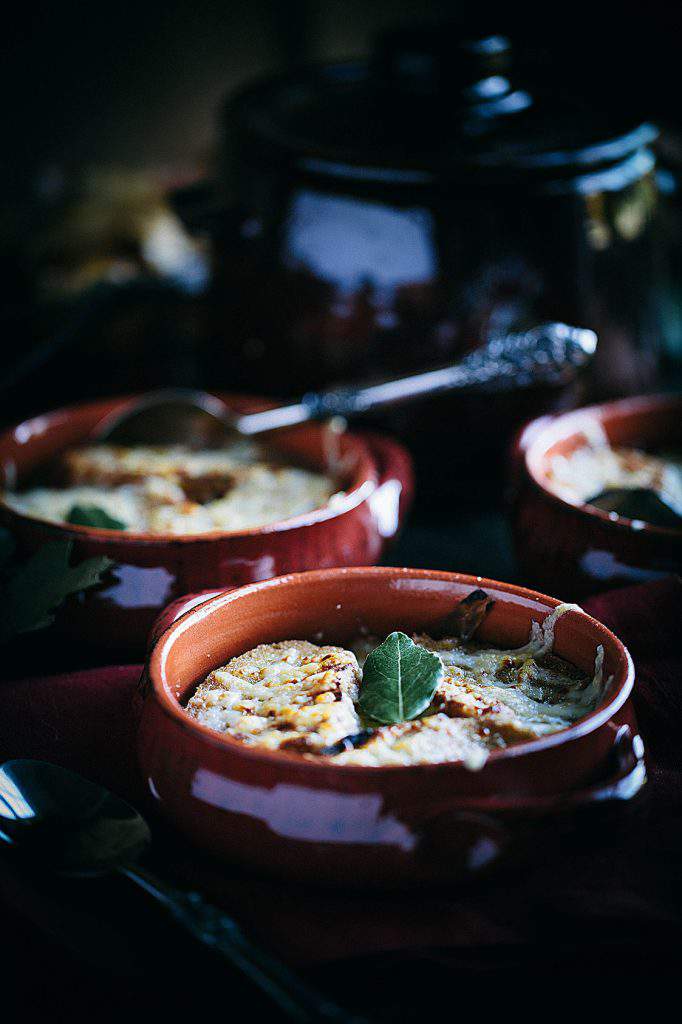 Every time my husband, Boris sees me making a new and unexpected dish, we always have a familiar conversation that goes something like this:
Boris: "That looks good, Lisa. Are you making it for us or are you making it for your blog?"
Me: "Of course, honey.  I'm making this for you and Cameron and Jordy… but before any of you can eat this, I'm taking pictures of it first."
Boris: "Hmmm, hmmm… yeah, that's what thought."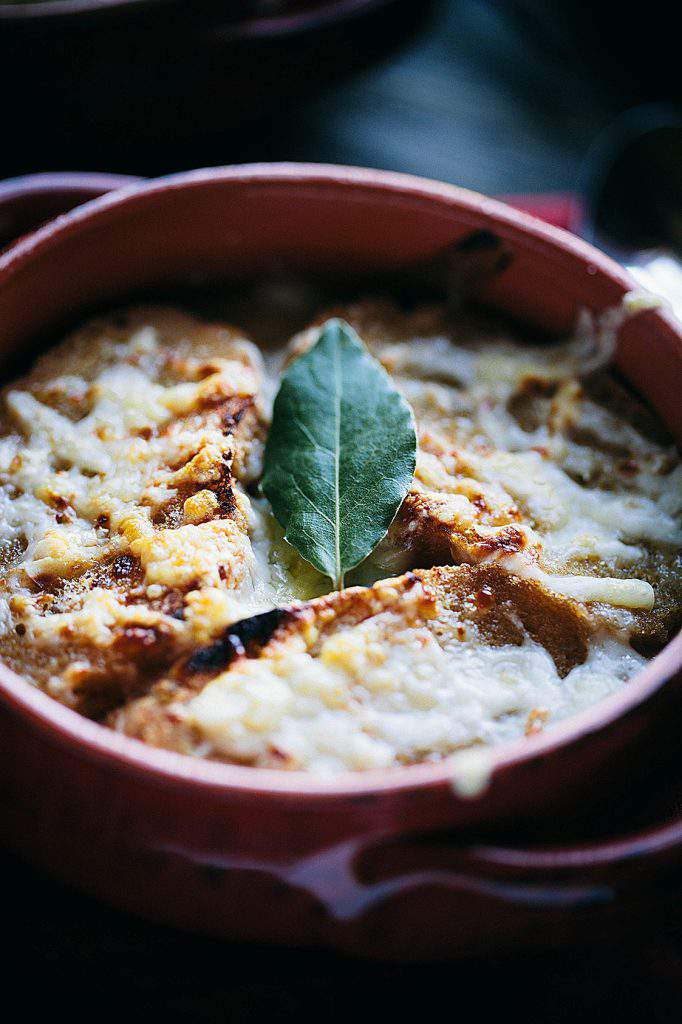 Click, click, click.
French onion soup photos all snapped.
OK, everybody… come and get it.
Bon Appetit.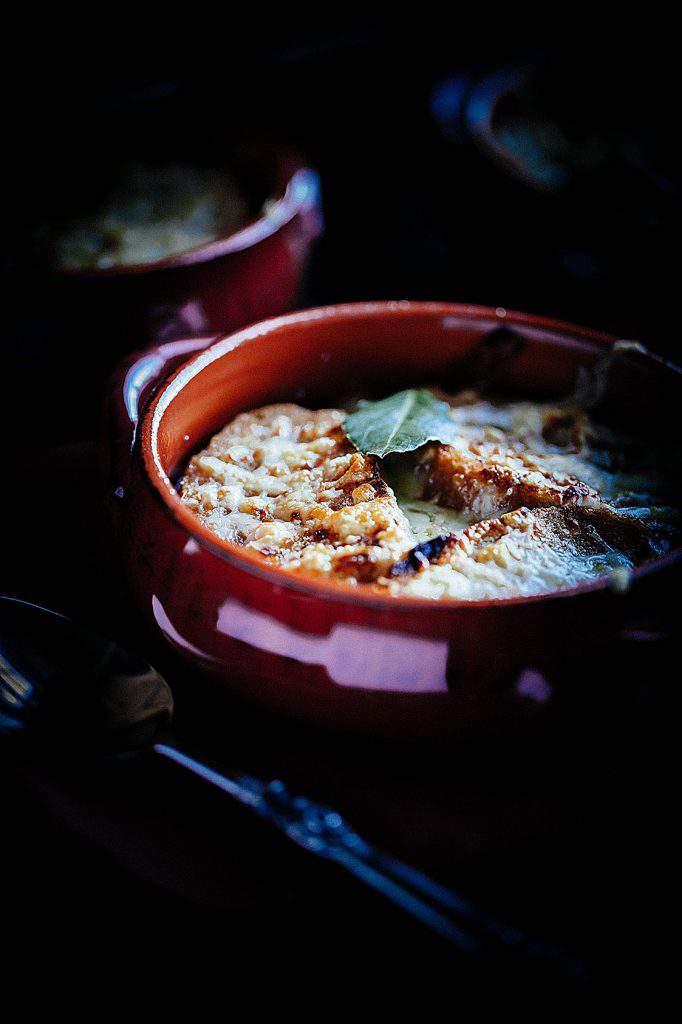 Thanks for stopping by.
See  you back here next time. ♥
I'm linking this French Onion Soup post to the following: