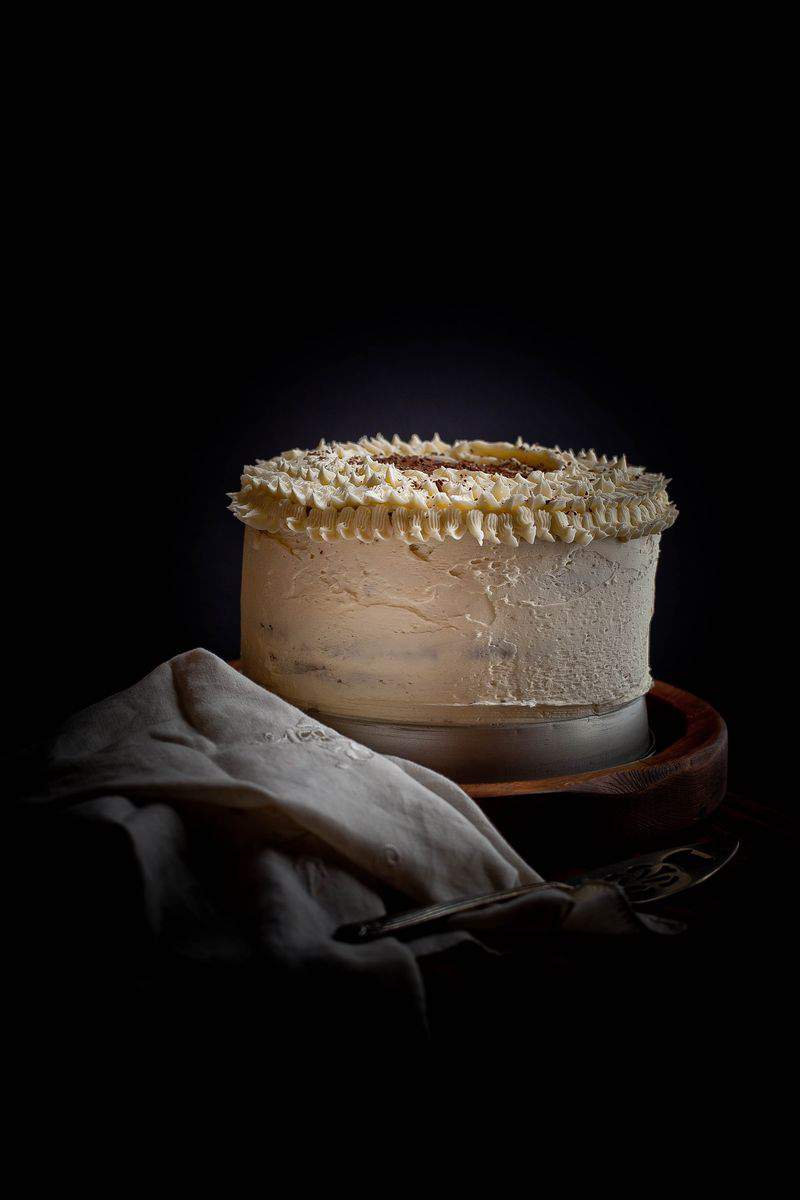 If you browse food photography as much as I do, you may have noticed the trend toward moody and dark dark food photography.
These photos may have been snapped mid-day but they look more like they were photographed in late evening, illuminated by only the tiniest amount of light.
I'm pretty obsessed with this particular food photography style right now.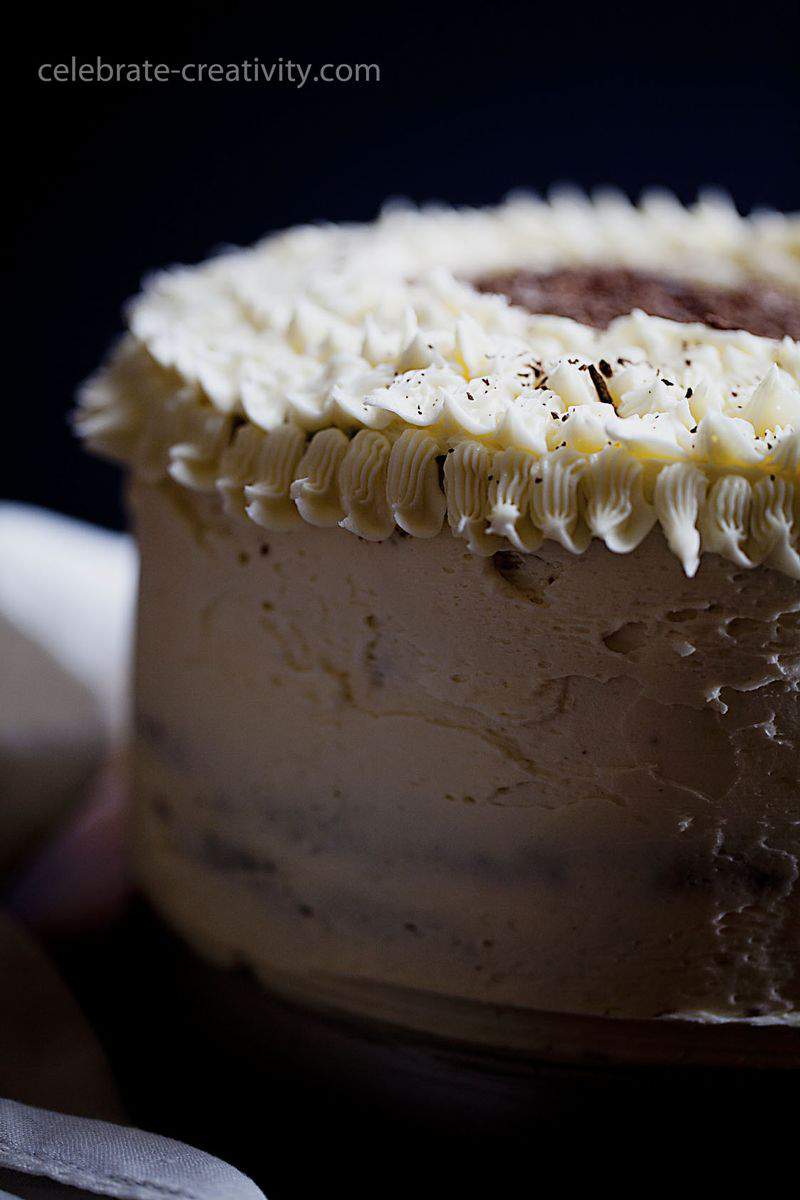 The sultry photos that I consider "dark and moody" have a rustic, rich texture and an appeal that can be chalked up in equal measure to styling and props which compliment the presentation.
Take a look at this link to Dark and Moody Food Photography on Pinterest to see stunning examples of this technique.
Oooops, looks like I left off a bit of icing.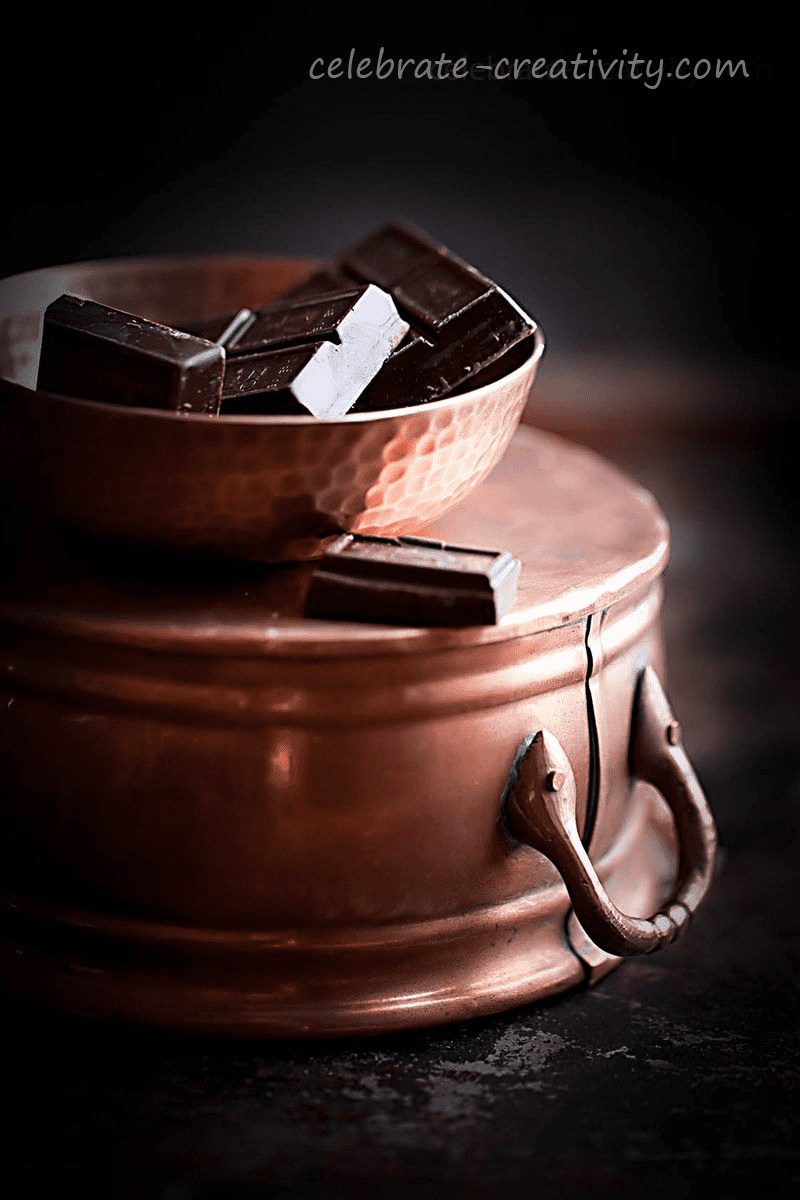 While I've admired the look for a long time, I've recently started experimenting with the dark and moody effect myself.
Throughout this post, I'll share a few of my first efforts with this technique starting with chocolate and other elements from my cake styling shoot.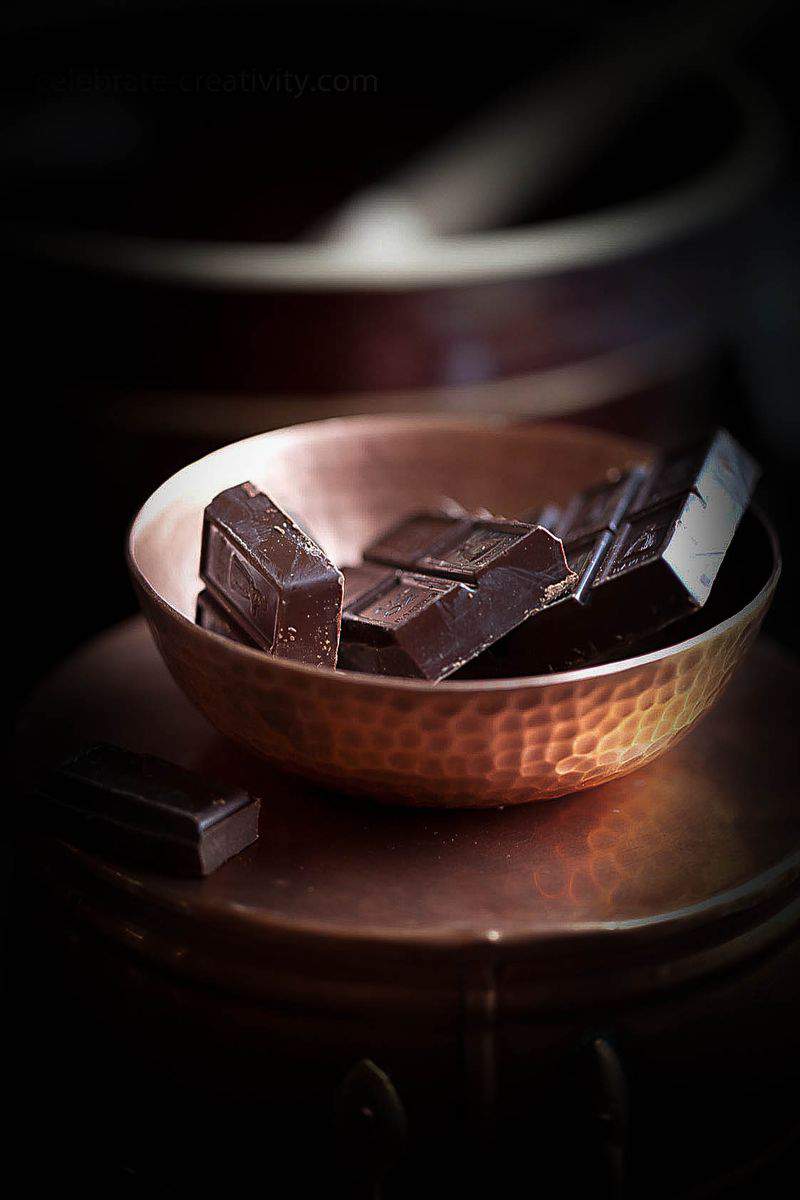 The manipulation of natural light on a subject is so important in creating the moody look but this is something I really struggle with.
I continue to practice and through trial and error, I'm slowly figuring out how to find the best light and how to make it work for me.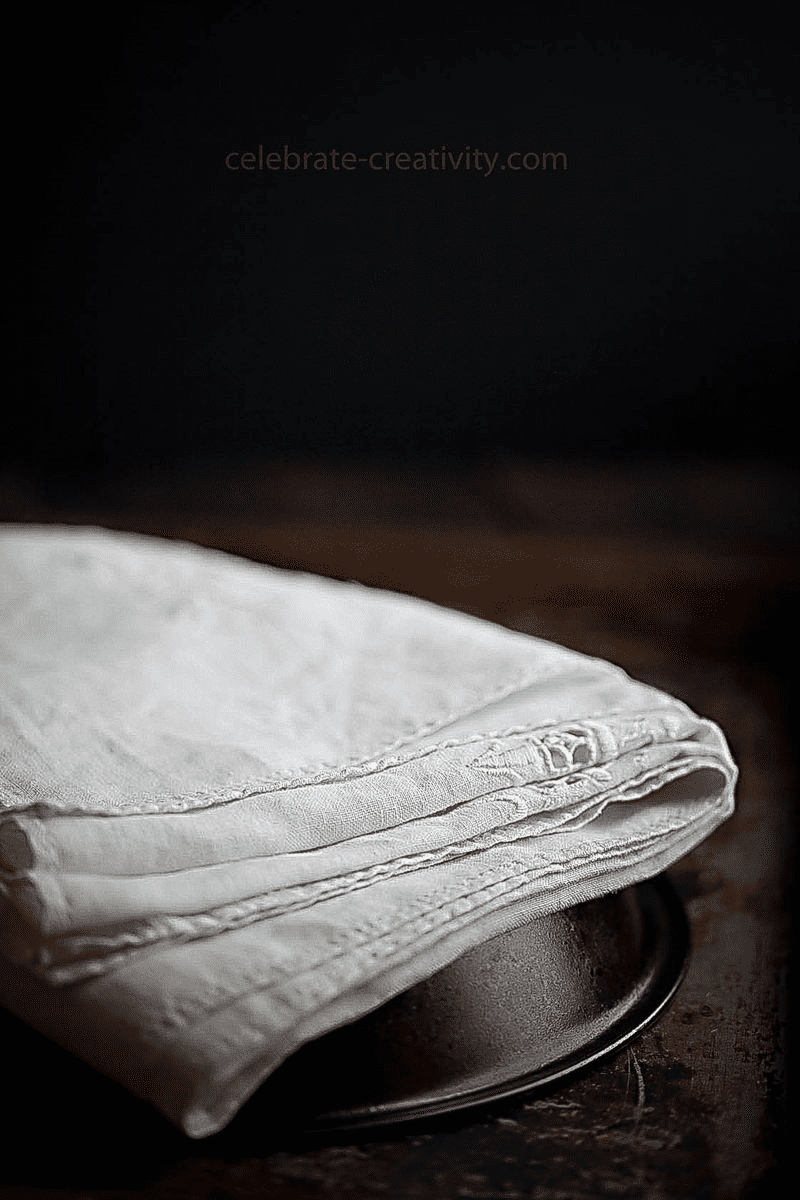 As I study the dark and moody technique and how to achieve it, I've discovered that some of the look is often achieved with the help photo-editing software and I don't see anything wrong with that.
I think it's safe to say that most bloggers punch up their photos In some way with software whether it's sharpening a photo or adding a punch of color.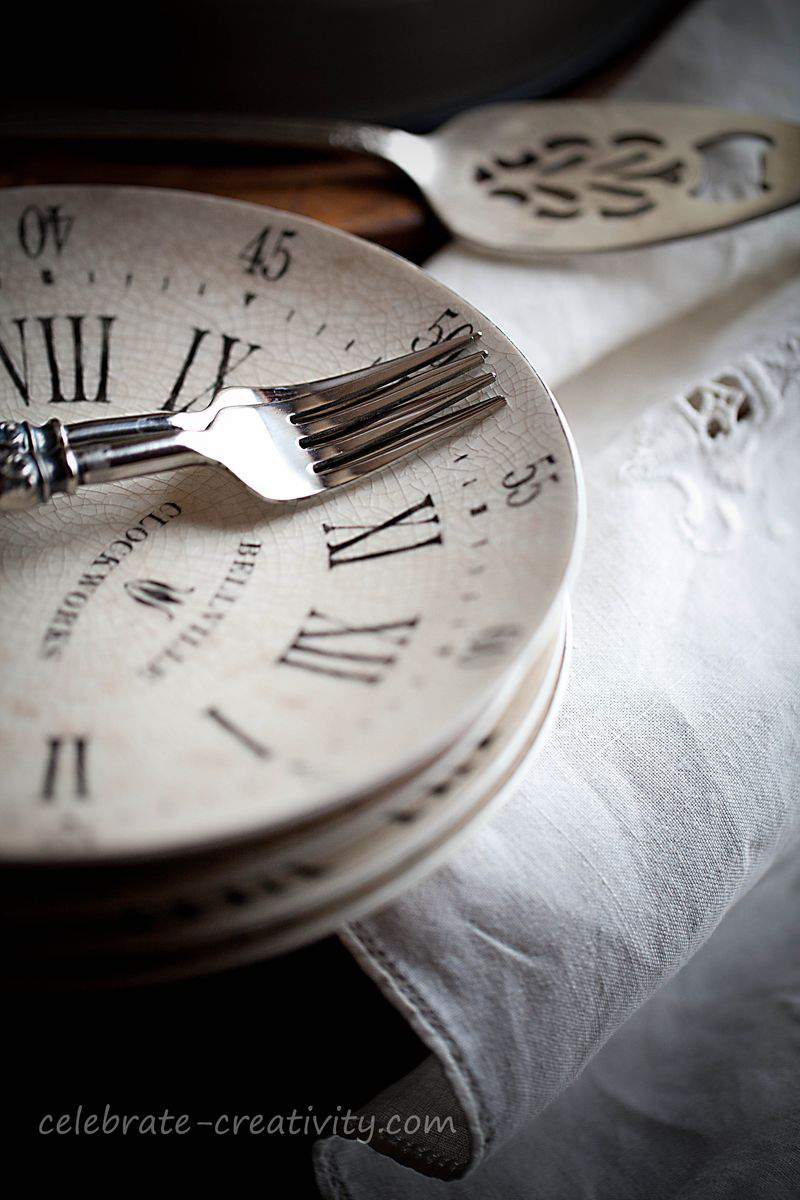 The trick is in learning how to balance the use of software without going overboard so the subject still looks natural.
It also helps to have a dependable light source which can also be manipulated with reflectors, diffusers, fabrics and various light/black boards among other things.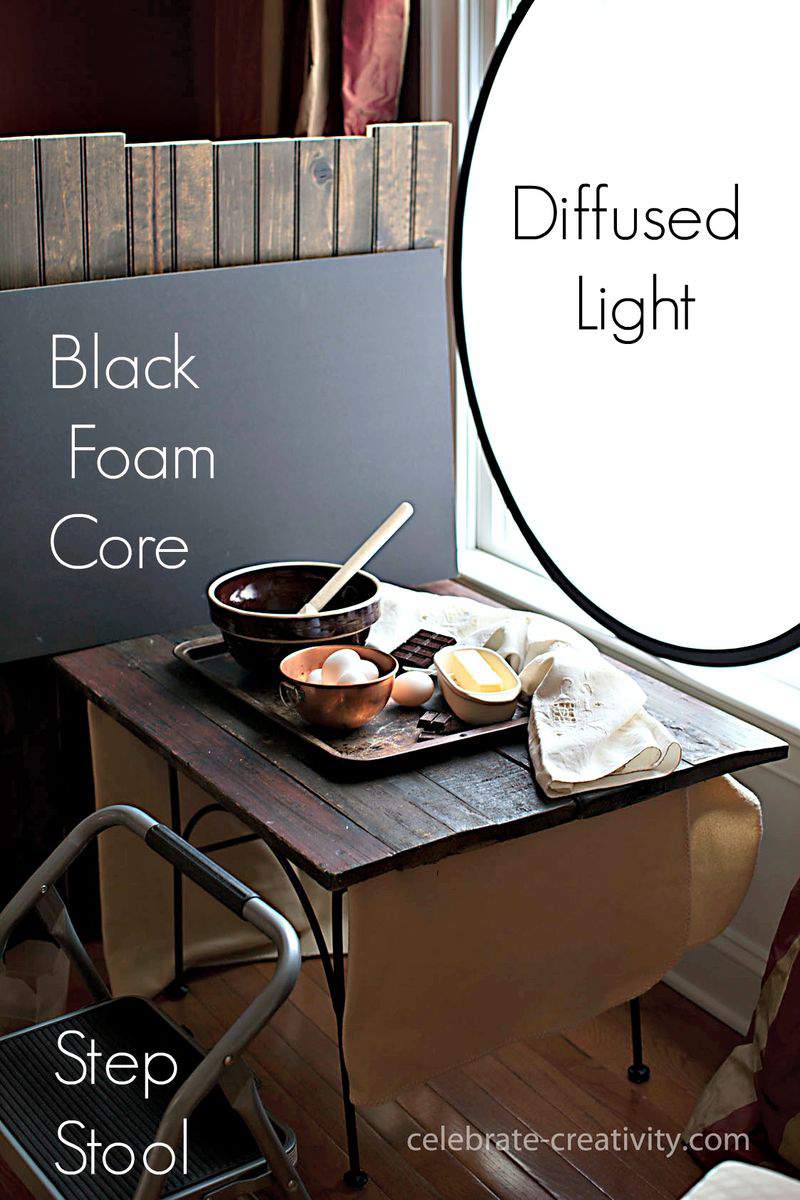 Here's a look at the setup for the ingredients portion of this shoot.
My support/backdrop board was originally an old picnic bench and you can see how I transformed it in a previous post HERE  and you can see my previous post on how to make generic backdrop boards HERE.
The diffuser (available online/camera shops)  helps soften the harsh light that pours through the window and the black foam core (available at office supply or crafts store) gives me the dark background that I'm aiming for.
Take another look at the first photo in this post.  That darkness behind the cake is just a piece of black foam core board.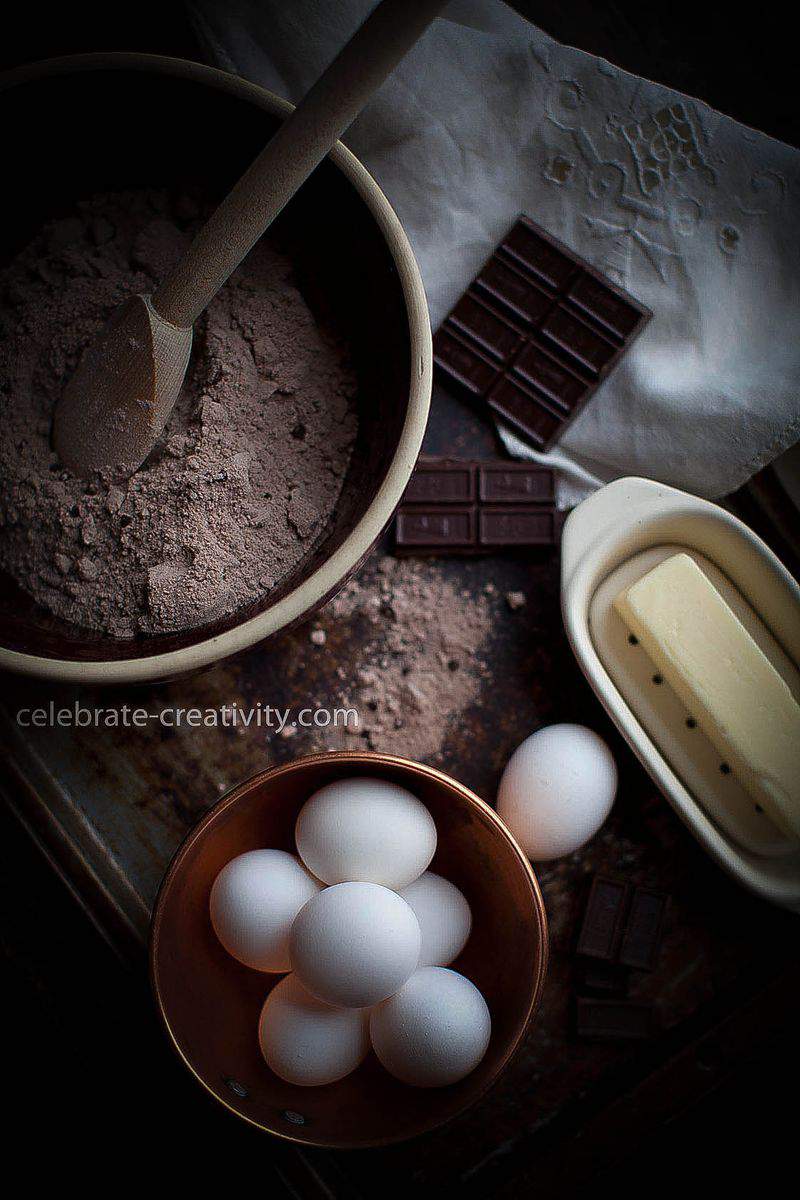 The angle of the photograph is another valuable consideration.
Now, I'd love to have one of those tripods with the overhead arm but until then, a step stool will have to do.
Until I spring for a new tripod, I just place the entire prop board flat on the floor and straddle the board and snap the subject overhead.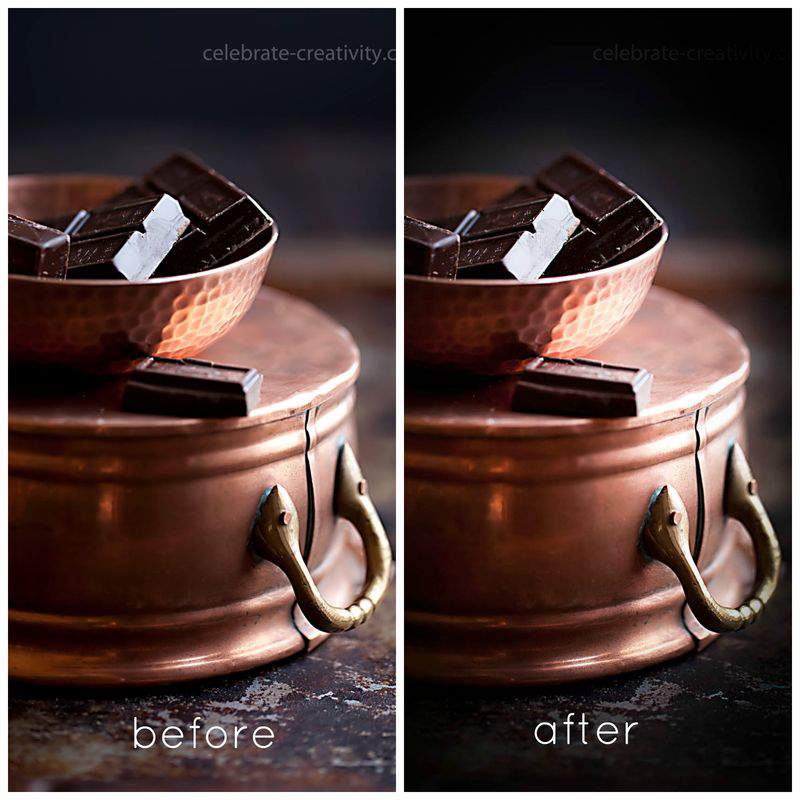 I'm still learning how to use Adobe Lightroom but these photos were edited using the program's sharpening, vignetting and exposure settings.
I can definitely see the difference in the Before and After shots.
Can you?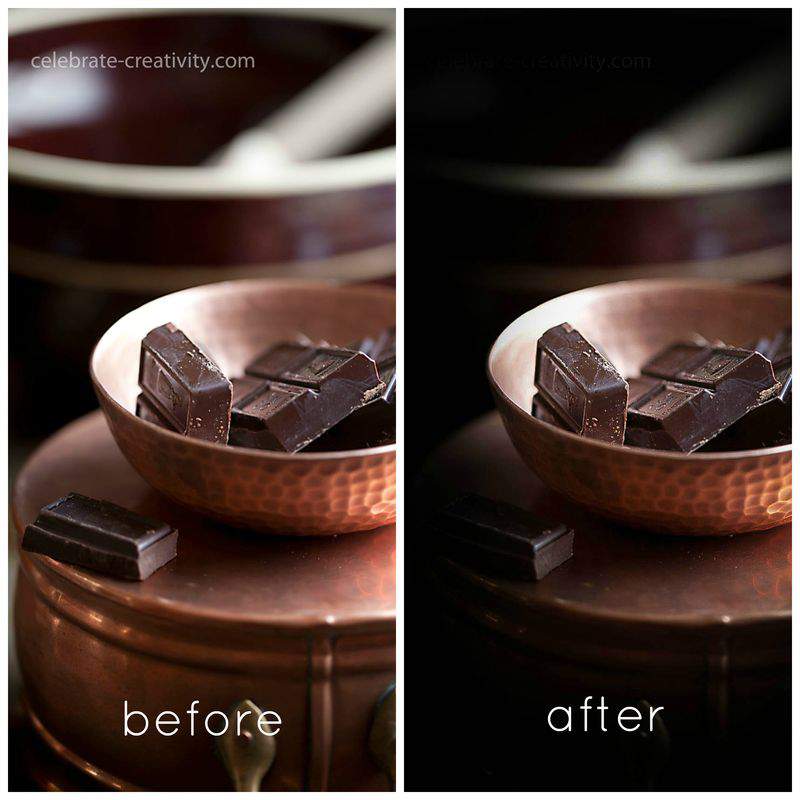 I think this next photo comparison is even more dramatic.
Look closely at the brown bowl in the background and the copper pot in the foreground in the BEFORE photo.  Quite visible, right?
However, both areas almost seem to fade away in the darkness in the AFTER photo and as a result the small bowl of chocolate is elevated as the central focus.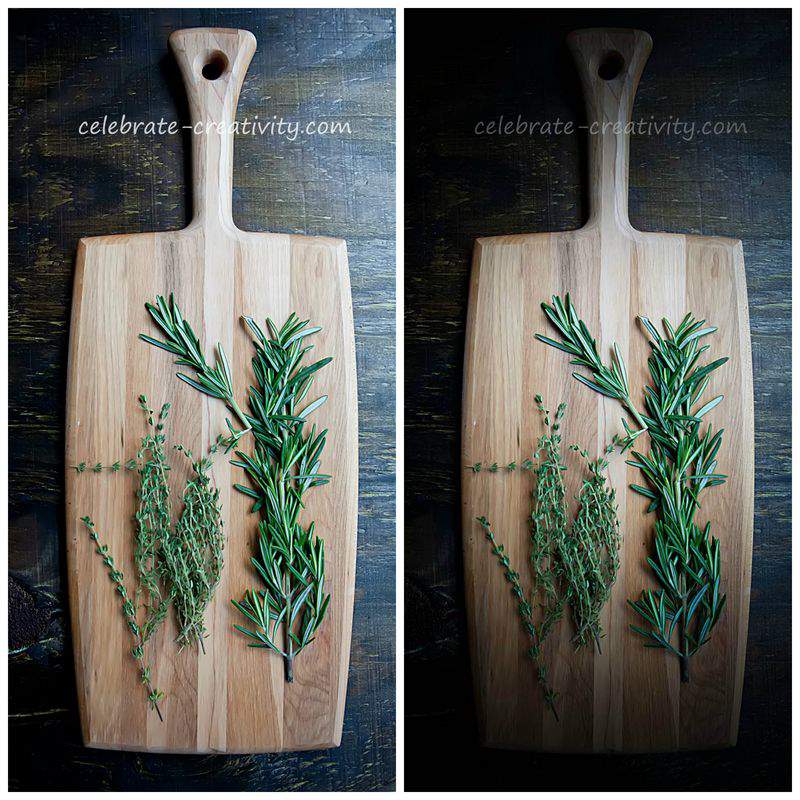 Here are a few more practice shots where I played around with the photo editing software to change an original photo into a more dark and moody one.
You may remember these pictures from my previous post on how to make Focaccia Breadsticks.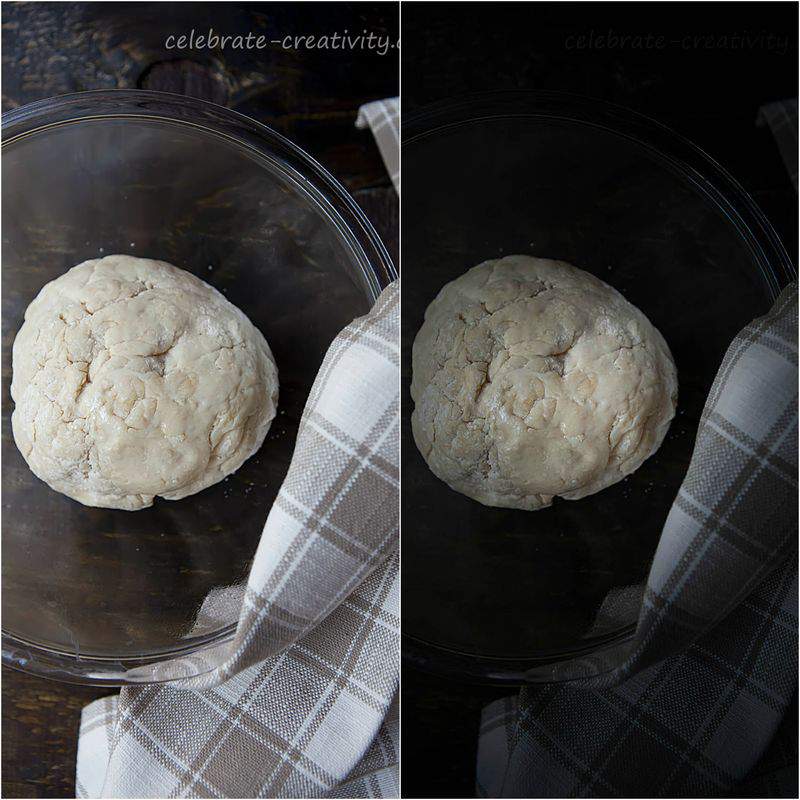 As I mentioned earlier in this post, the styling and props used also go a long way toward creating that dramatic, organic presentation.
I was thrilled to come across this stack of old baking trays in my mom's basement.
I'm so glad she didn't toss them.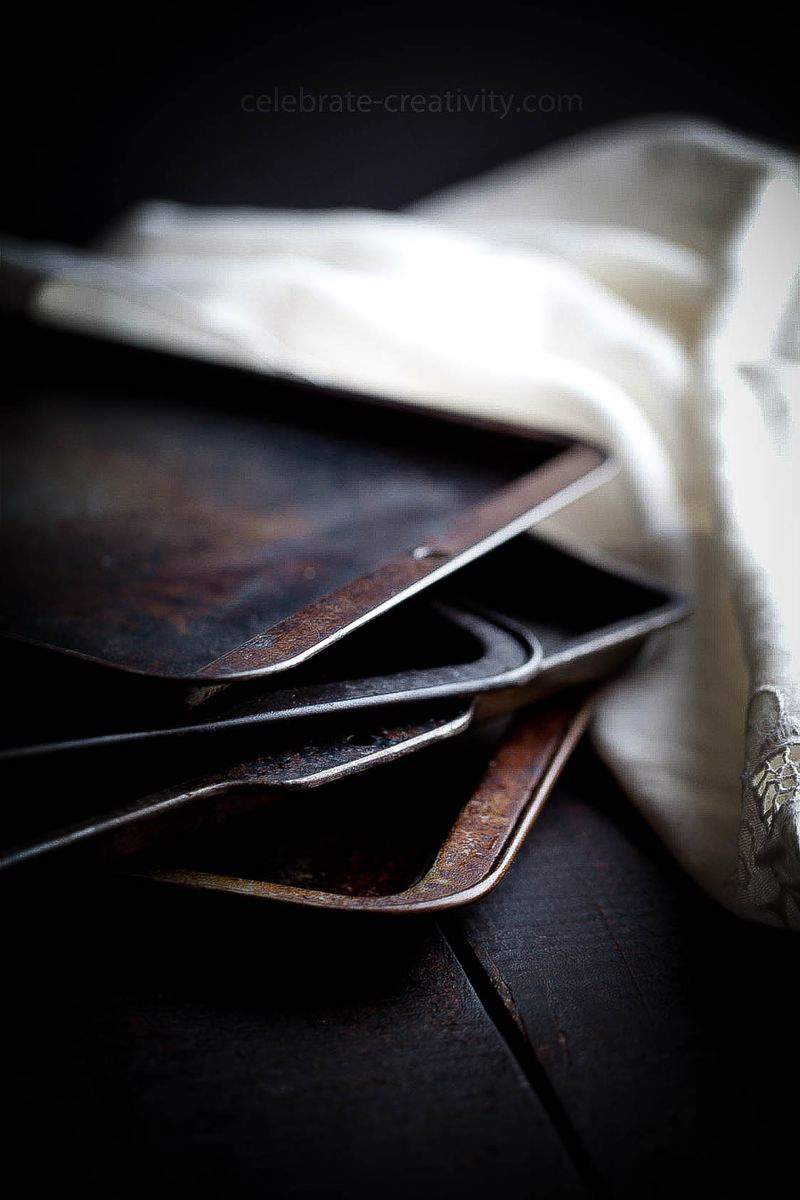 These are exactly the kind of well-seasoned (OK… burned) items that can add texture and interest to food photography especially dark and moody efforts.
If you have an interest in photo prop-hunting, you can check out a few of my previous posts on the subject HERE, HERE and HERE.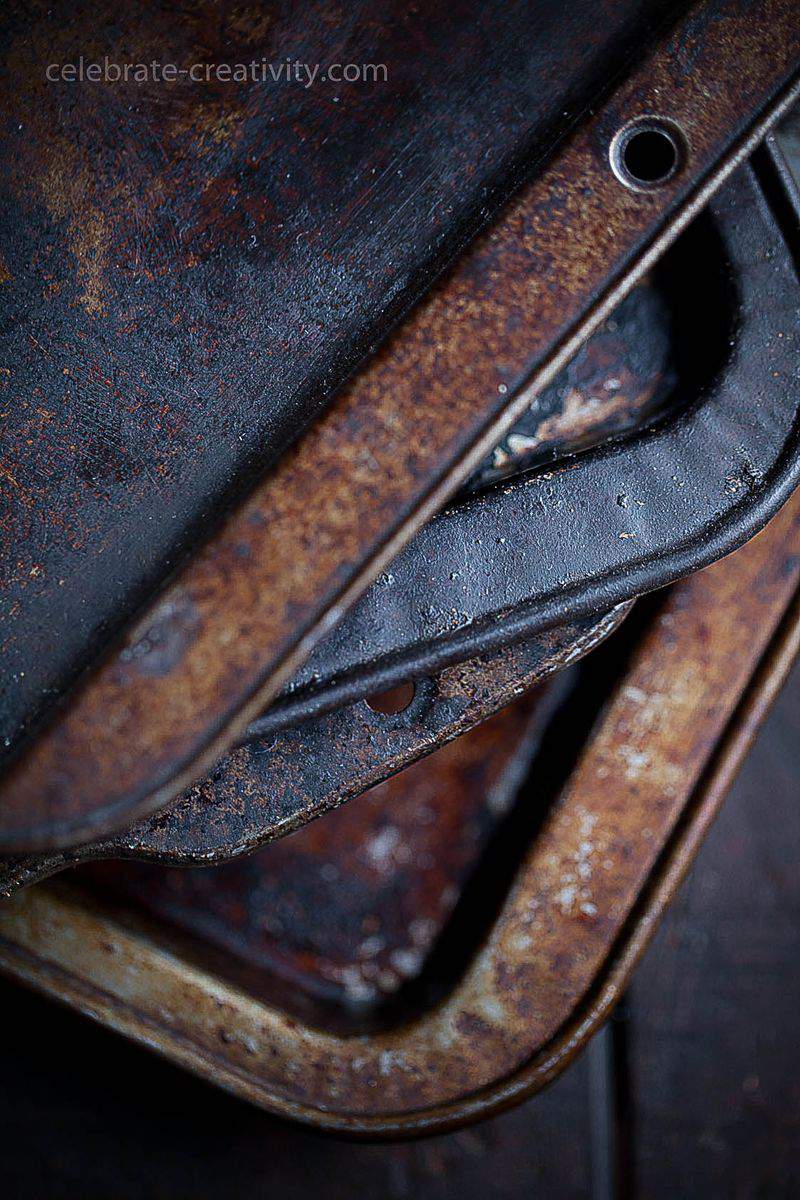 Here's a look at how I used one of these "well-seasoned" baking trays to shoot a Rotisserie chicken.
I was going after that same dark and moody effect here.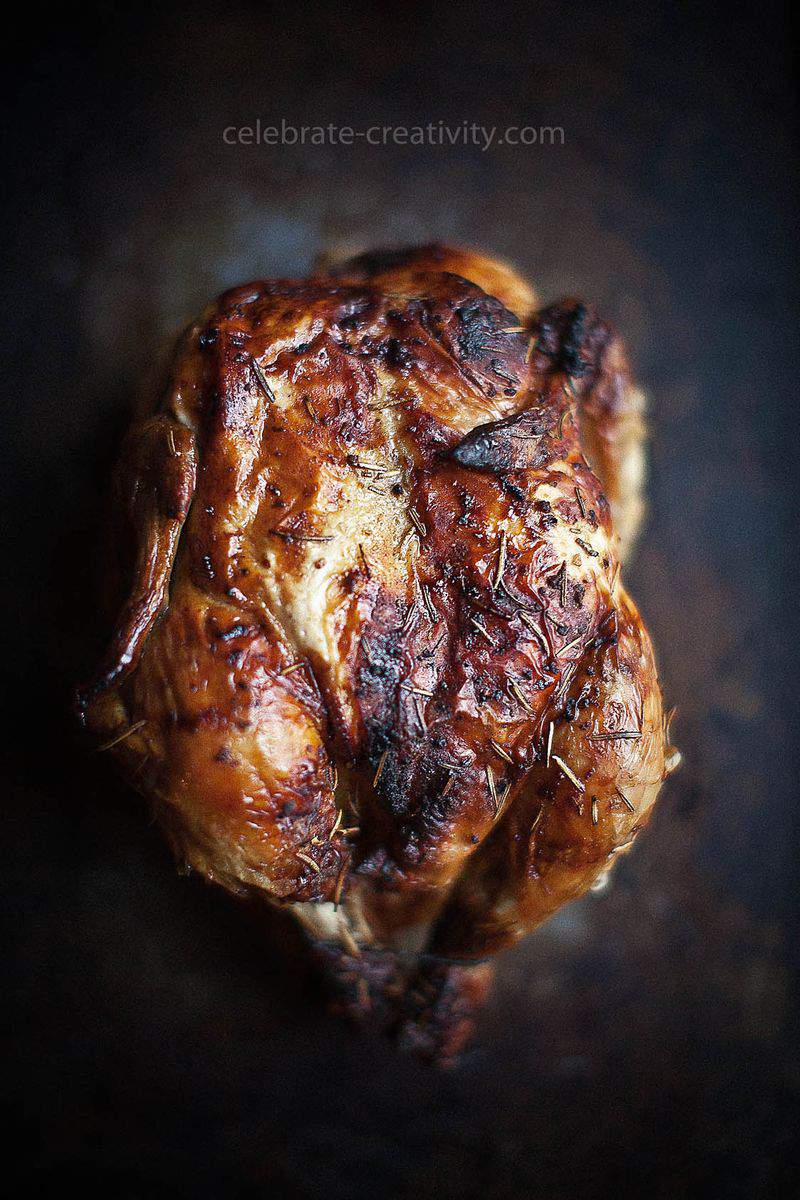 I'm  really happy with that dark, almost industrial-looking background created by the tray.
I suspect few people would ever guess that the chicken's textured background was just an old, seasoned baking tray.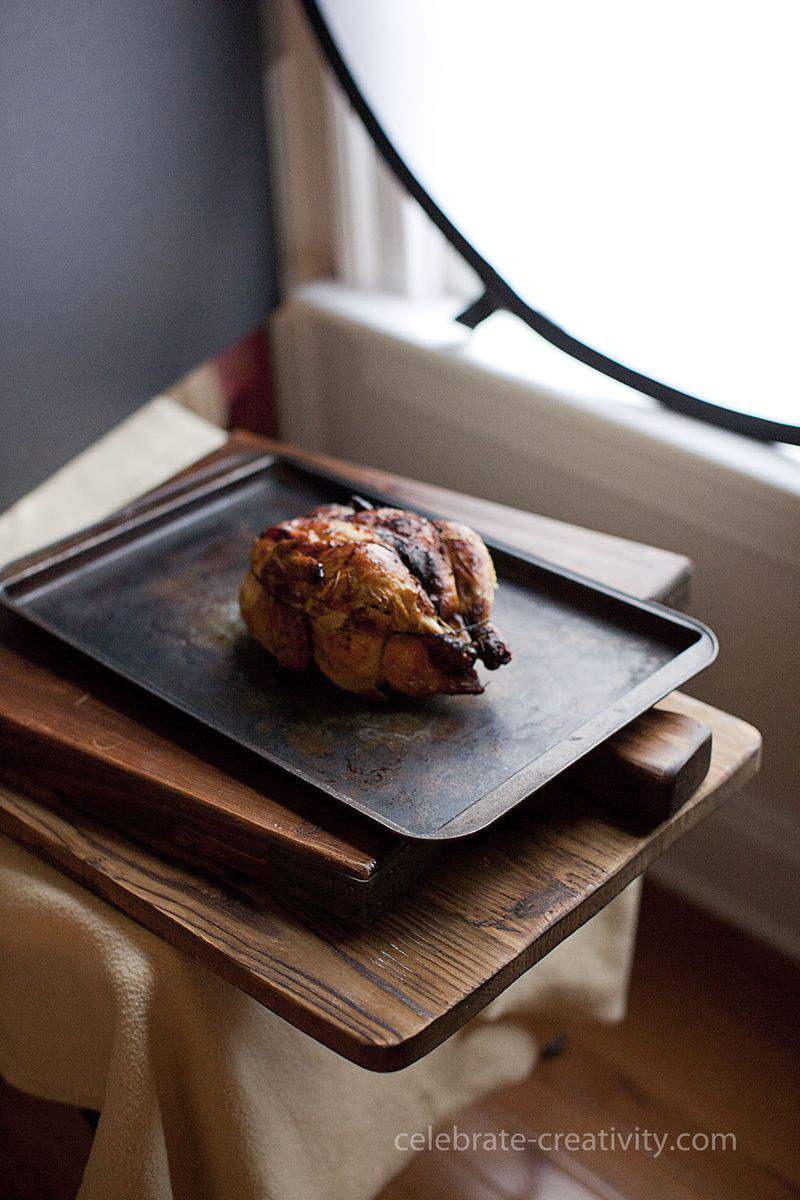 Meanwhile, wood carving boards and chunky cheese boards make for another beautiful element in food styling.
I actually collect wood cutting boards and bread and cheese boards and you can read more about that in a previous post HERE.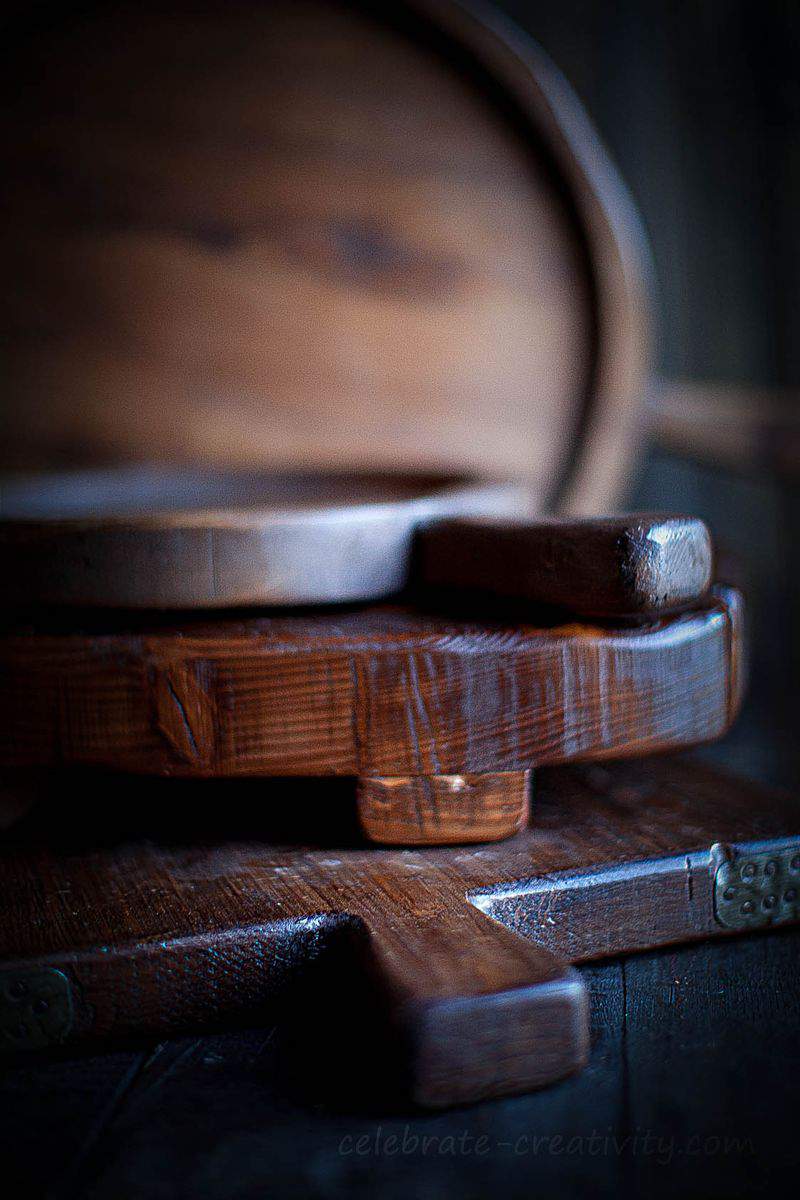 As I continue to practice this dark and moody food photography technique, you'll definitely start seeing more examples of my progress here on this blog.
In the meantime, I certainly can't end this post without taking a great big, decadent four-layer slice, right?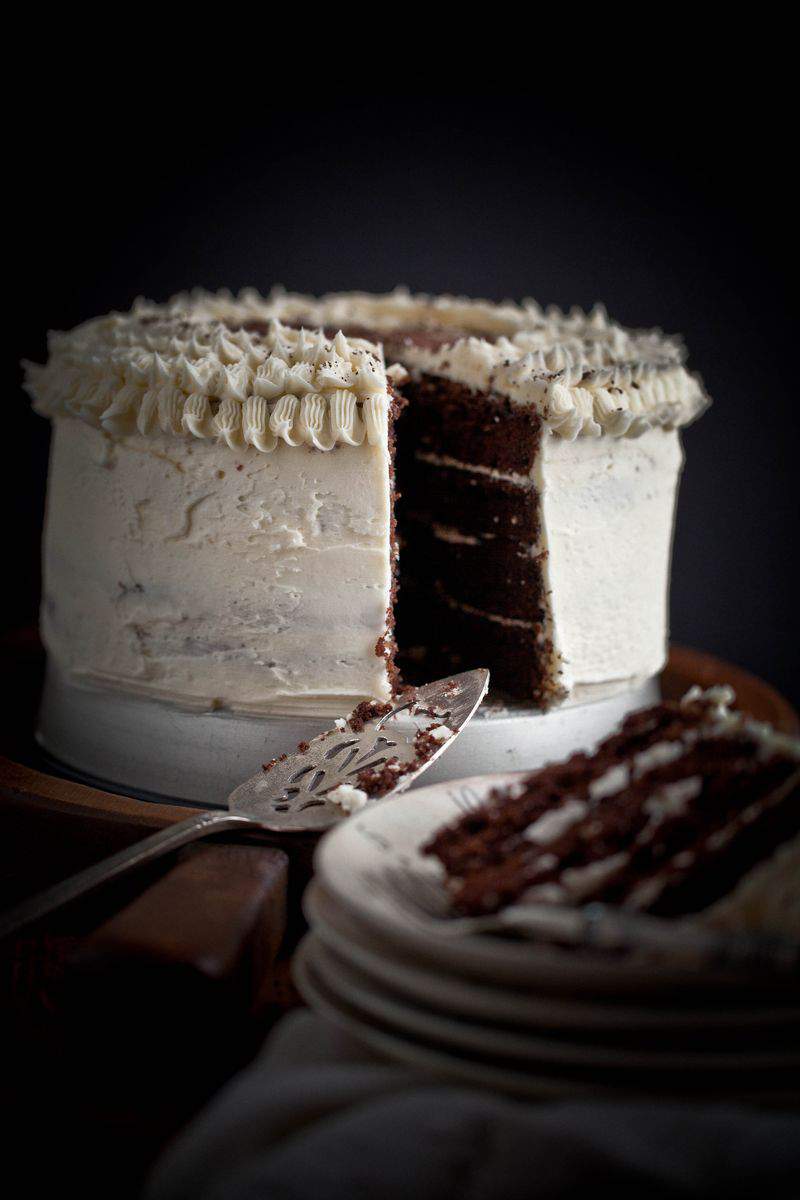 By the way, I used a regular chocolate box cake recipe for this cake but what really boosted the delicious factor was the butter cream frosting.
The butter cream recipe only takes a few ingredients and you can find the recipe in a previous post HERE.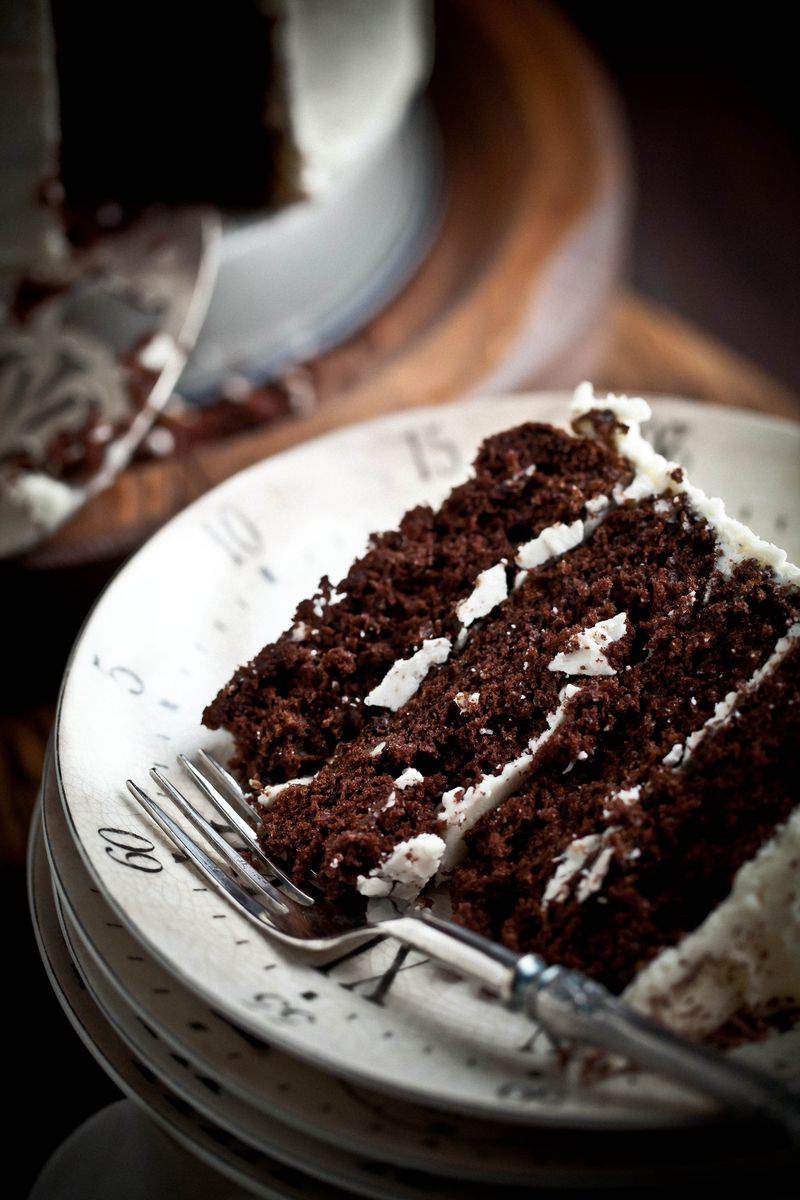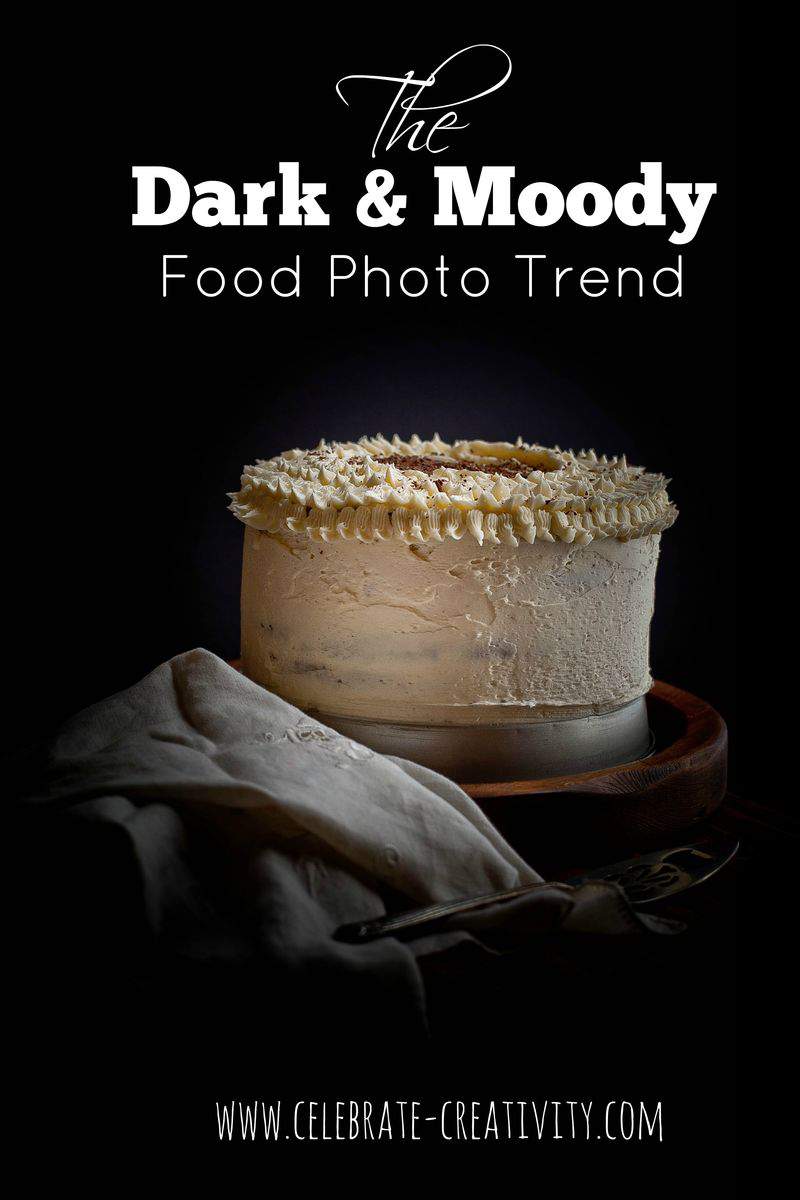 Thanks for stopping by.
See you back here next week. ♥