Who doesn't love a beautiful apple orchard?  A recent family orchard-excursion not only yielded a ton of apples for us but also sparked the inspiration for this fun-filled post for you.
Grab a cup of java or better yet, pour yourself some apple juice and relax for the read.
With 40 colorful photos featuring creative apple ideas, this is my biggest post ever.

Any visit to an apple orchard results in a huge haul as you can see from Jordy's bag.
By the way, apple picking will definitely bring out the competition in siblings as Jordy and Cameron attempted to out-pick each other.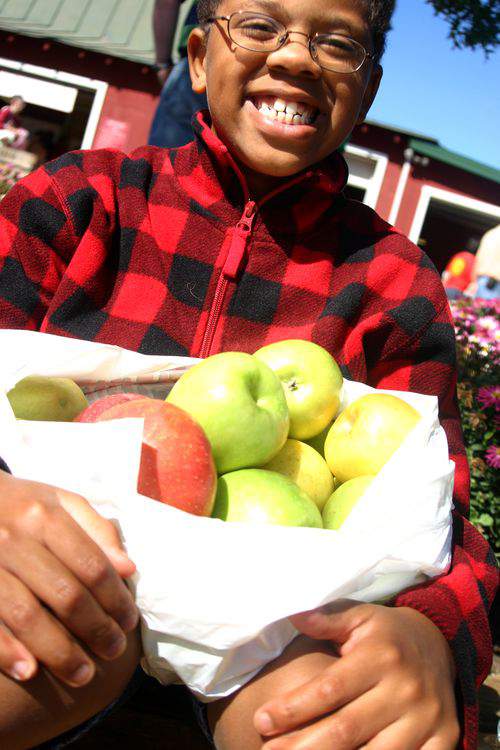 Carter Mountain in Charlottesville, Virginia was the destination spot for this outing.  We made the trip with three other families from our neighborhood and all the kids had a blast.
By the way, do you know how hard it is to get a group of kids to do what you want, all at the same time?
One second after I snapped this photo, everyone in this shot scattered in a different direction.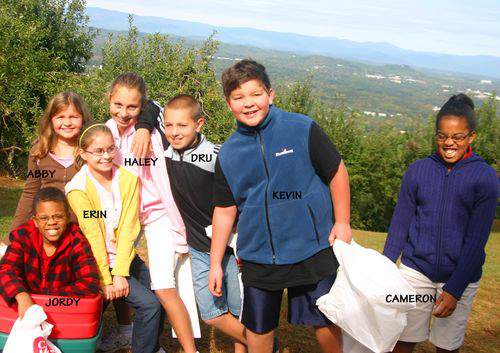 I'm sure we picked more apples than we'll ever be able to eat.  Of course, the treat is in the plucking.
As you're picking your apples, consider gathering a few apple branch twigs as you spot them on the orchard ground.
I'll show you how you can put these orchard twigs to good use further down in this post. 
Since we're on the subject of apples, I thought it would be fun to take a closer look at a variety of projects that feature this tasty and popular fruit.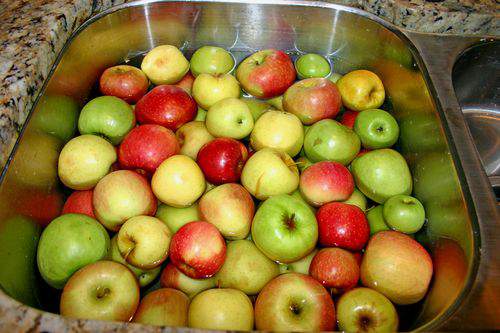 The apples in the sink look delicious but it doesn't get much sweeter than this cute, cloth doll in the photo below.
I made her more than a decade ago and it was nice to dig her up to include in this post.
Check out that apple apron.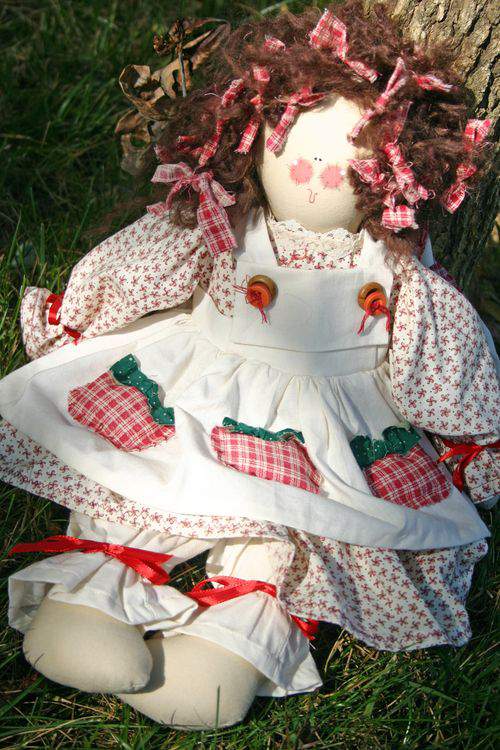 Before attaching the plaid apple-shaped fabric to the apron, lightly stuff the shapes with cotton fiberfill.
Fabric strips tied in a bow represent the apple leaves and they also add a nice fanciful twist to the project.
I checked and even after all these years this doll pattern is still available if you click here.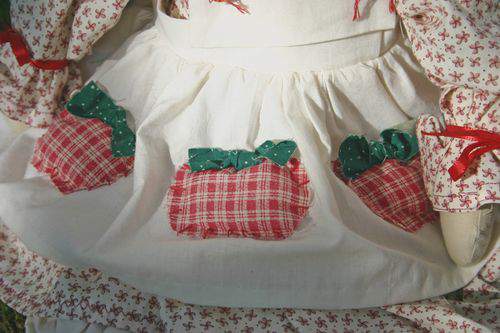 We're still talking apples and this 2-page scrapbook page captures Jordy's first visit to an orchard as well as his first-ever bite of an apple when he was about one year old.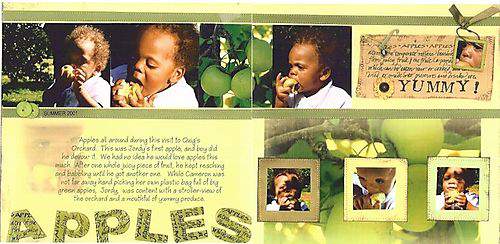 It's great to look back on these old photos, reflect on that fun afternoon and marvel at what a big boy Jordy is today in comparison.
Remember, that's what scrapbooking is all about.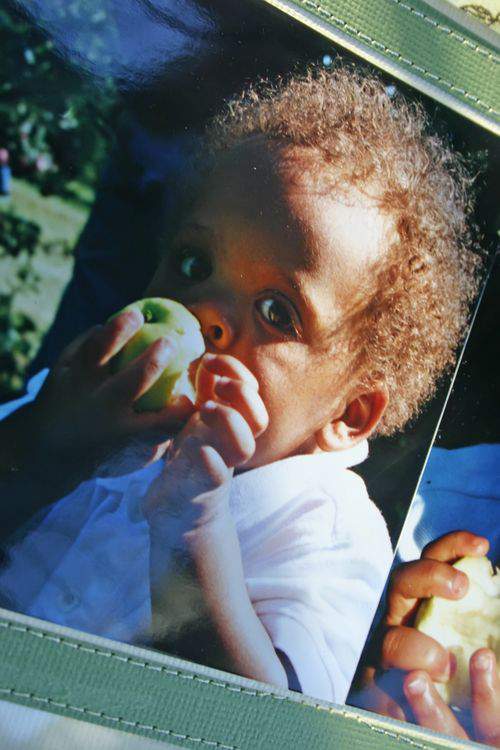 Here is a closer look at a few of the details on this layout you may want to try on your own scrapbook pages.
This embellished, khaki-colored fabric piece is an example of how layering a series of trinkets can add dimension and interest to a scrapbook page.
I also used a favorite apple-definition rubber stamp which you'll spot again throughout this post.
I repeated the apple-lettering element by using the same stamp to customize these chipboard letters which are positioned across the bottom of the scrapbook layout.
Customizing chipboard is super simple.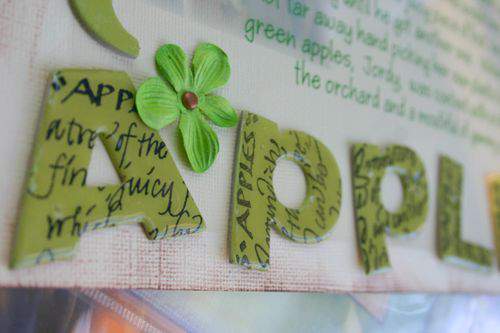 You'll need a rubber stamp, stamp ink, acrylic paint, clear sealer or decoupage glue and chipboard letters.
Chipboard is available in a variety of shapes, letters and patterns.  Paint the chipboard letters the desired color and set aside to dry completely.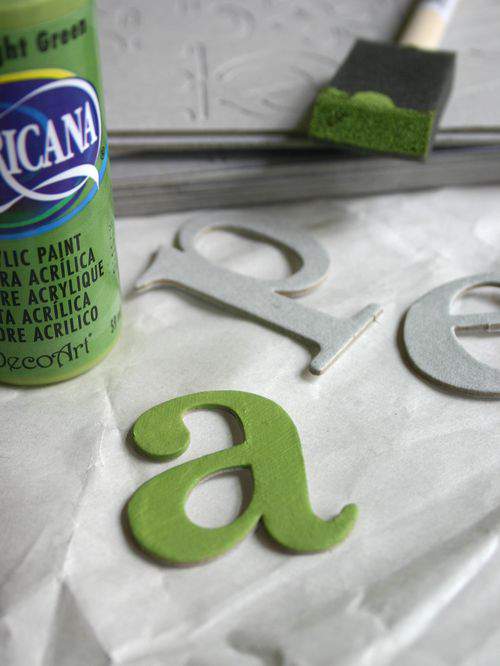 Once chipboard is dry, use the rubber stamp to add the lettering to the alphabet.
Let rubber stamp ink dry completely and then apply a layer of acrylic clear coat (or decoupage glue) to give the letter shine and durability.
Meanwhile, an apple a day, keeps the doctor away, right?  Do you think this kind of apple counts toward that healthy eating motto?
Eat these in moderation and you, your doctor and your dentist will be fine.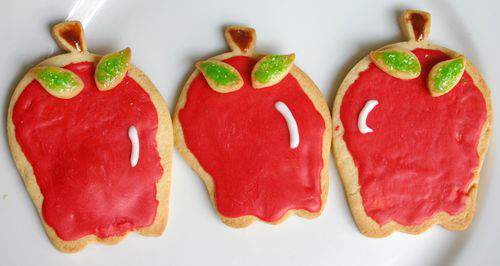 There a lots of sugar cookie and royal icing recipes to choose from but the ingredients below work best for me.
The cookies from this recipe are crisp and sweet and the frosting is perfectly smooth with a thick consistency for easy spreading.
Just click the photo below to print this recipe.
The above recipe will yield about a dozen cookies.
Be sure to set aside a small amount of dough to create some fun dimension to each cookie.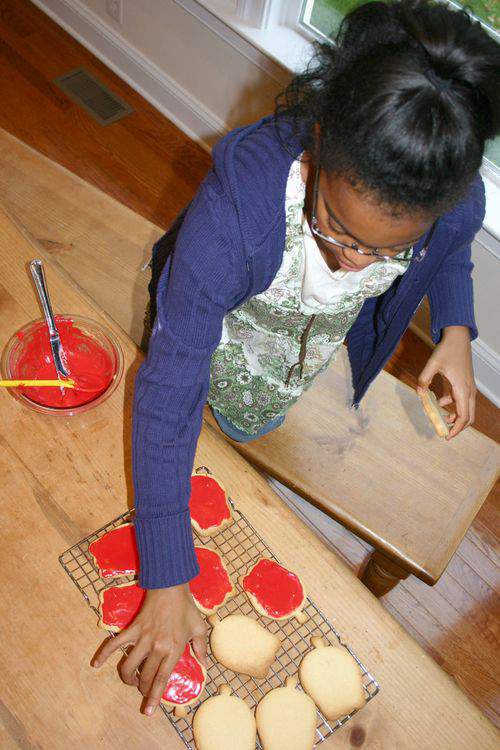 Utilizing that set-aside dough, use a leaf shaped fondant cookie cutter to make lots of little leaves to adorn the apple cookies.
These mini leaves are not only cute but also make great bite size treats too.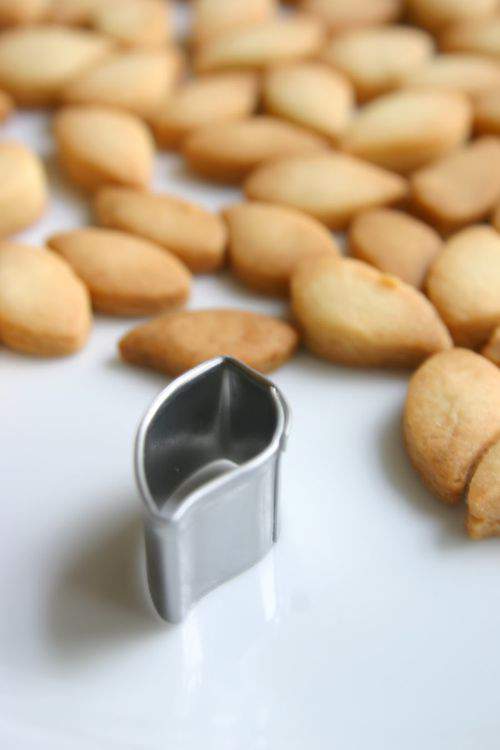 Add an apple green color to the mix by decorating the leaves with icing or decorating gel.
I also added a few sprinkles to each leaf for a bit more texture.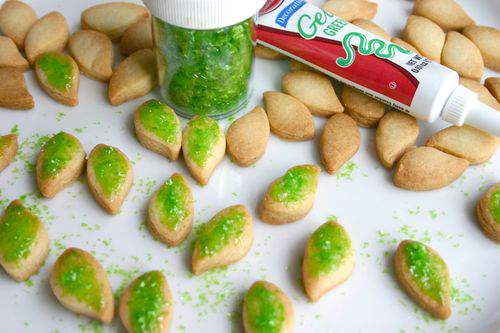 Apply a small amount of icing to the back of the leaves which will act as an adhesive when dry.  These little leaves are the perfect touch and I think they actually give the cookies more character.
My neighbor thought the white icing strip was a fake worm but I actually meant it to represent light reflecting off the shiny apple.
However, you could roll a tiny worm out of dough, bake it and apply it to the cookie like the leaves for some additional whimsy.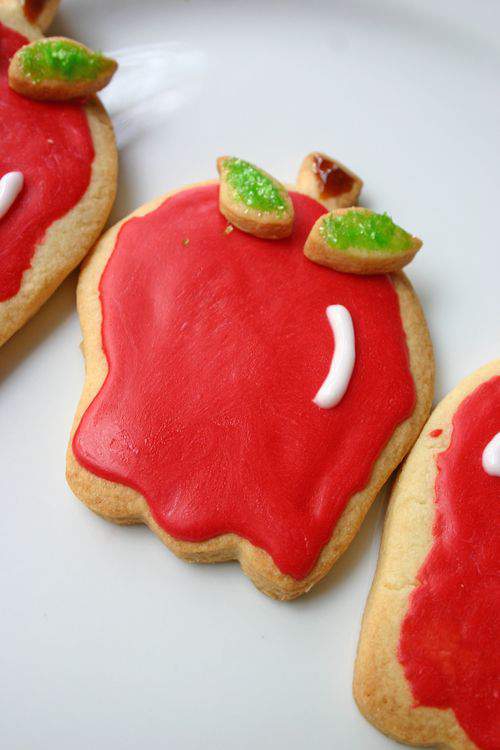 Here's a quick look at what the cookies look like in a shade of apple green.
To get this color I used regular green food coloring in the icing recipe and then continued to add drops of yellow food coloring until I got the desired color.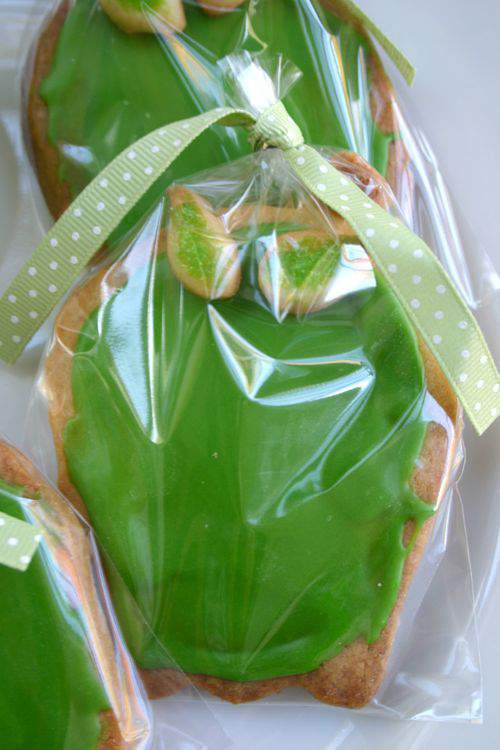 Meanwhile, if you're making your apple cookies to give as a gift, little tags are a really cute way to dress up the packaging.
You'll need assorted cardstock, a tag punch and an apple punch to create the shapes.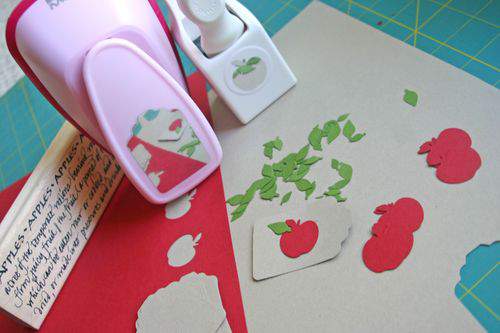 If you don't already have a tag punch in your crafts arsenal, I highly recommend it.
These tags are really handy and you'll find yourself using them on a variety of projects and homemade treat-packaging.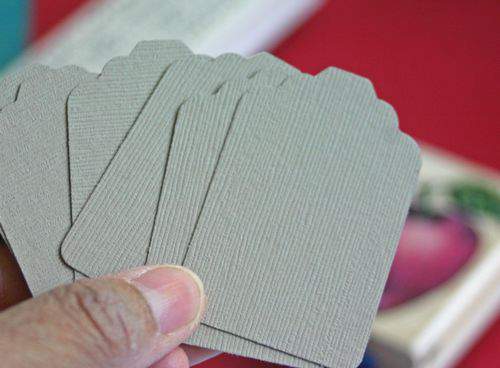 Enter my trusty apple definition stamp again.  I told you this stamp was versatile.
Of course you can use any stamp you like as a background but this one is really perfect for the look I'm after.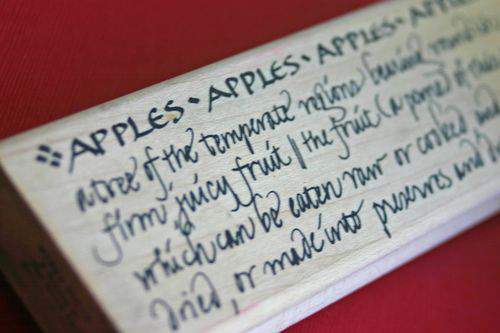 After punching out the tags, simply stamp the length of them with the apple stamp.
Create an opening for the ribbon using a small-size hole punch.
Insert the ribbon through each hole and your done.
You can see another way I used this versatile rubber stamp if you click here.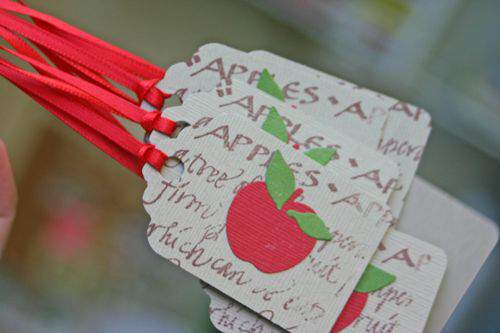 This is just one more way to enhance apple cookies to make them even more special to the recipient.
I think these individually wrapped cookies practically look like they came straight out of a gourmet bakery.
It's easy to see how a small touch of creativity can make an attractive product even prettier.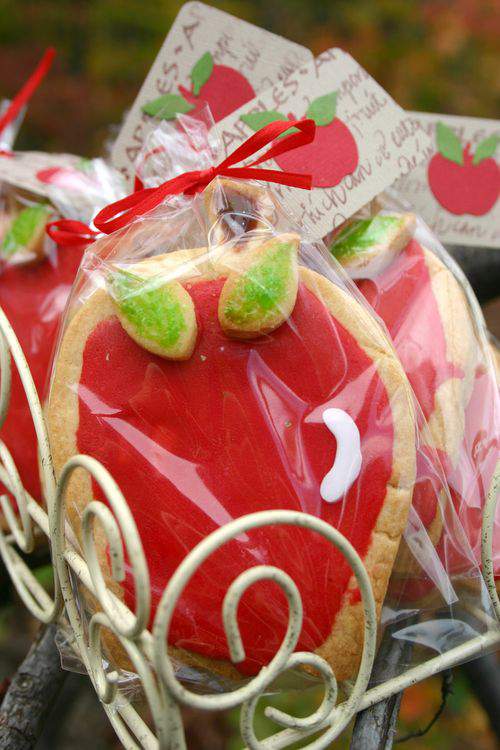 If your sweet tooth needs some additional satisfaction, you can't go wrong with caramel apples.
Caramel apples are my favorite treat of the season especially when covered with chopped pecans.
Hmm, probably not great for your teeth but oh-so good in your tummy.
Time to pull out those apple orchard twigs I mentioned earlier.  Make sure you give them a thorough scrubbing.
Have you already figured out what I have in mind for these twigs?

Skip those flat, wooden popsicle sticks and consider incorporating this un-common element into your caramel treats.
Stick an orchard twig into the center of the caramel apples to serve as a fun holder.
I love the natural, slightly rustic element that these apple tree twigs add to these handpicked apples.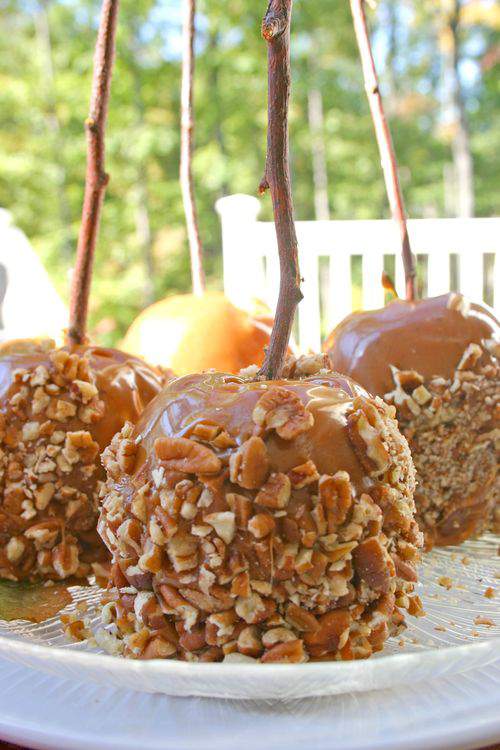 Of course, the handmade apple tags can also be used to add a finishing touch to your caramel apples.
This would make a great teacher gift and I suspect it would get gobbled up before the last school bell rings.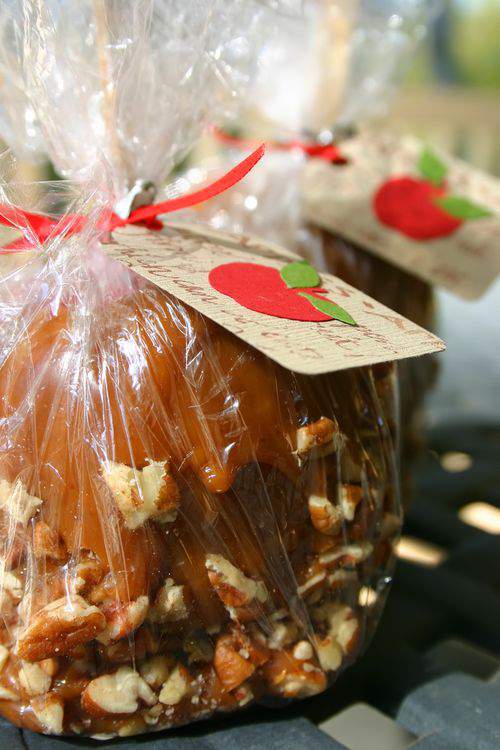 Now we all know that apples grow on trees.  But wouldn't it be great if an apple tree near you produced this kind of crop?
Say goodbye to wayward pins and needles.  With this jumbo apple pincushion you'll never step foot on a lost pin again.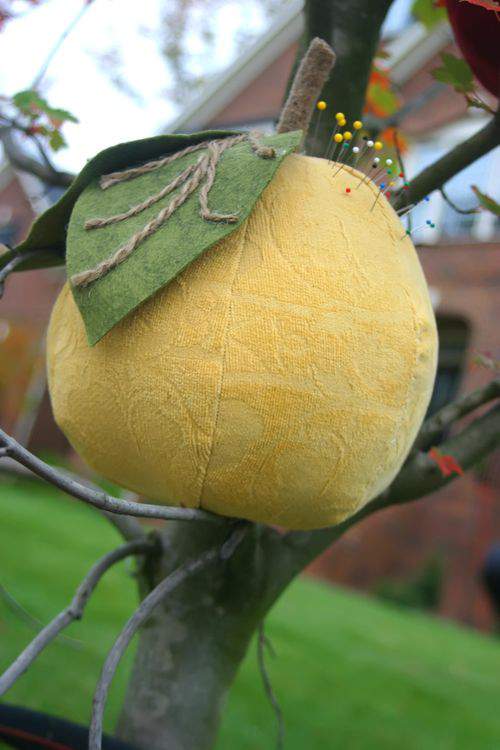 This project only requires a few fabric remnants, felt squares and some cotton stuffing.  Cut six elongated oval shapes with slightly tapered ends.
The ovals shown here about 13-inches long with an approximate center width of about 5-inches.
Pin right sides together and stitch using a standard 1/4-inch seam allowance.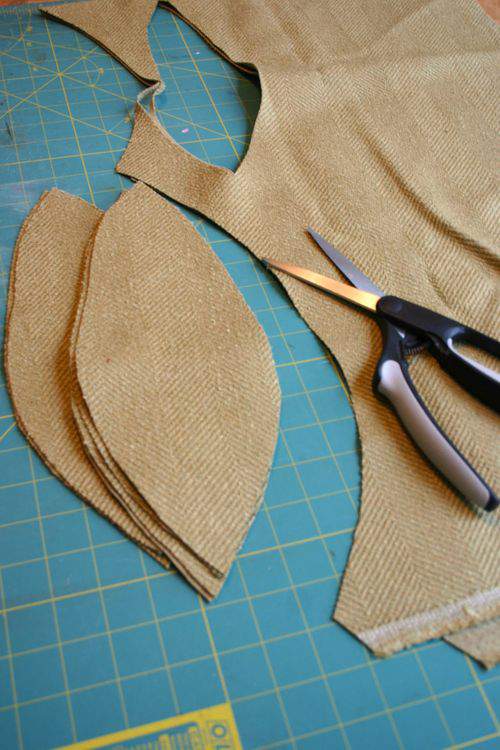 Pin right sides together and stitch using a standard 1/4-inch seam.
After stitching all six shapes, you'll end up with a ball-like result as in the photo below.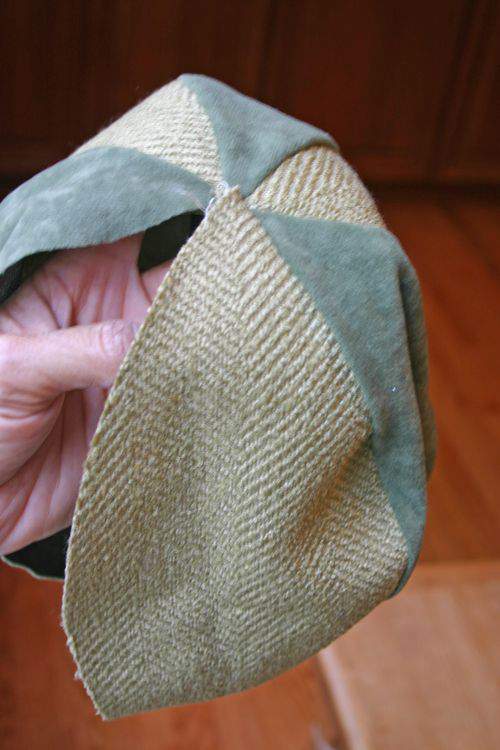 Stitch the final section together, making sure to leave 3-inch opening for stuffing.
Turn inside out to right side and stuff with cotton.  Close the opening by hand with a slipstitch.

For the stem, roll a small square of wool and hot glue the edge closed.
Cut apple leaves out of contrasting felt or wool.  There are any number of ways you can embellish the leaves.  In this case I simply added a zig-zag stitch around the edge of the felt.
Hot glue the leaves and stem to the top of the apple.  This apple pincushion is about 10-inches tall from stem to bottom.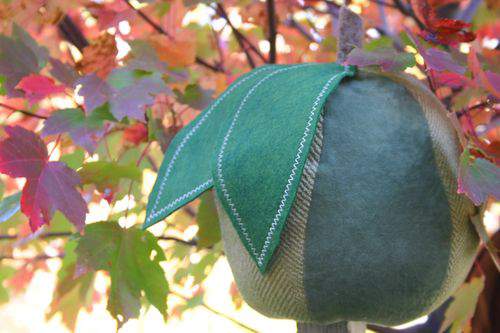 Here's another way to decorate the leaves.  Hot glue jute (a type of rope) to create the leaf veining in the yellow apple.
Jute is available at most hardware stores and can be used for a variety of other fun projects.
I'll share some fun jute projects later in an upcoming post.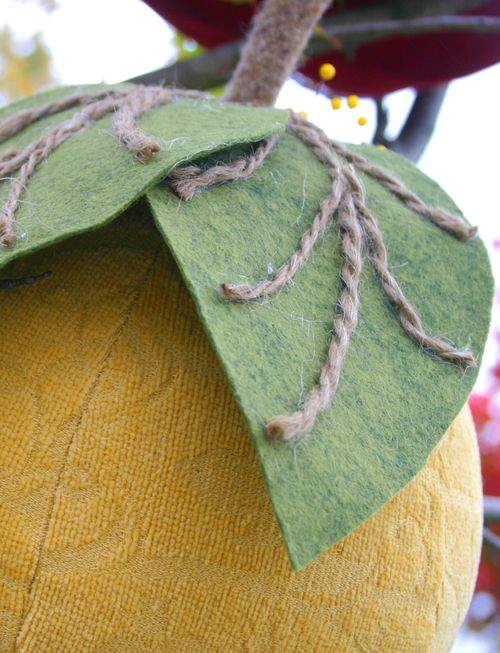 This red apple pincushion is even more jumbo and sits at about 12-inches tall from stem to bottom.  The larger the oval fabric shapes you cut, the larger the finished apple.
By the way, you could also fill these pincushions with aquarium pepples instead of cotton and use them as door stops, paperweights or even bookshelf decor.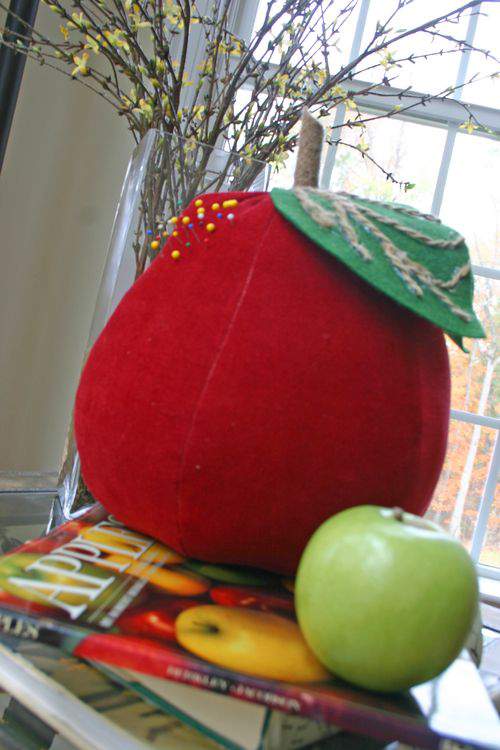 Talk about a great crop.  If only I could get my hands on a packet of seeds that would grow into trees filled with these.
With magic seeds like that, I'd plant a huge pincushion orchard and invite crafters from all over to visit and help themselves to the beautiful (and functional) produce.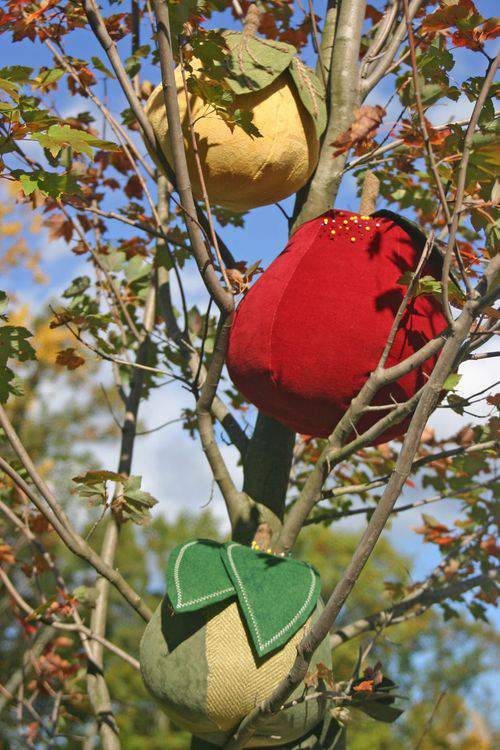 So many apples so little time.
The inspiration for creativity is always bountiful when you're working with a bushel of apples.