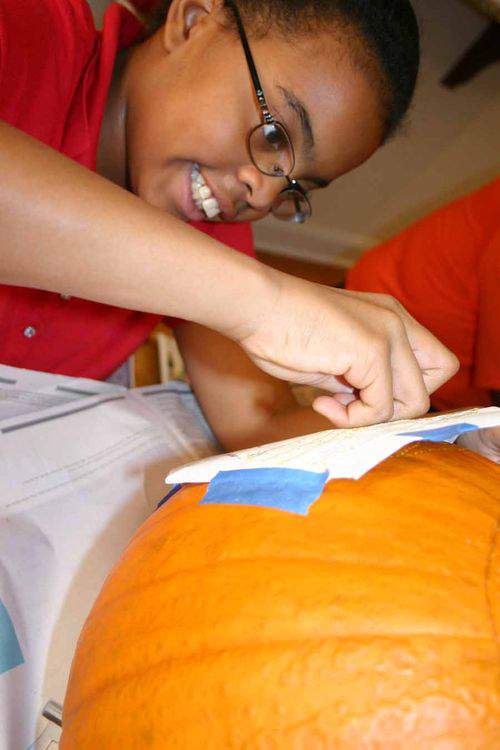 Have I ever mentioned that Fall is my favorite time of year?  Well, it is.  It's my absolute favorite season. 
I'm sure I'm not the only one who loves the beautiful colors, the crisp, breezy air and the whimsical  Halloween symbols that represent this delightful time of year. 

Meet a few of our newest family members of the seasonal variety.  Every year we use several trees in our yard to prop up these friendly, straw-filled characters.
It never fails that at least once, I'm momentarily fooled into thinking there is actually someone standing in the trees at night.  Now that's spooky, alright!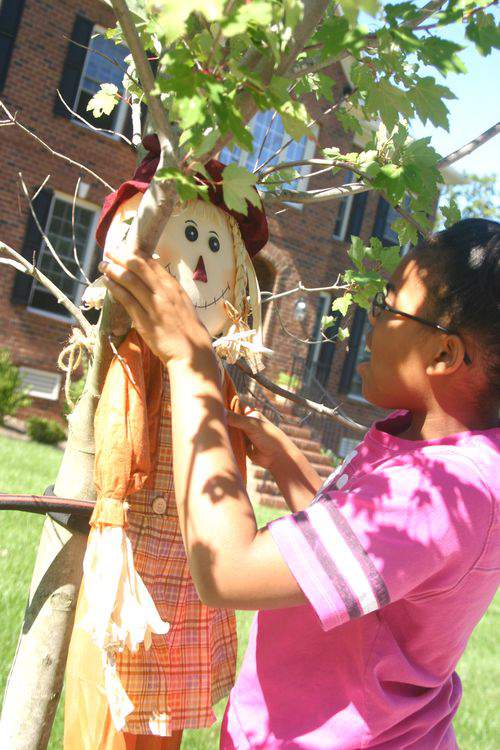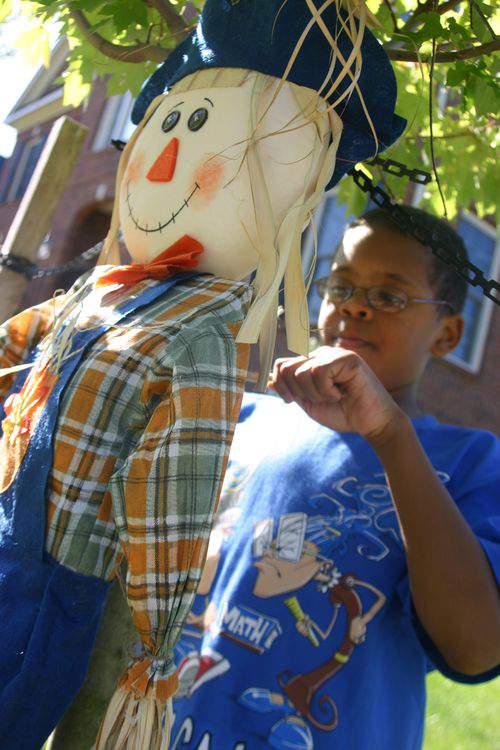 In addition to the scarecrows, we also blow up this big pumpkin figure in keeping with the Halloween spirit.
I've never been crazy about this humongous blow-up pumpkin head but I always get over-ruled by Boris and the kids and so every year… up it goes.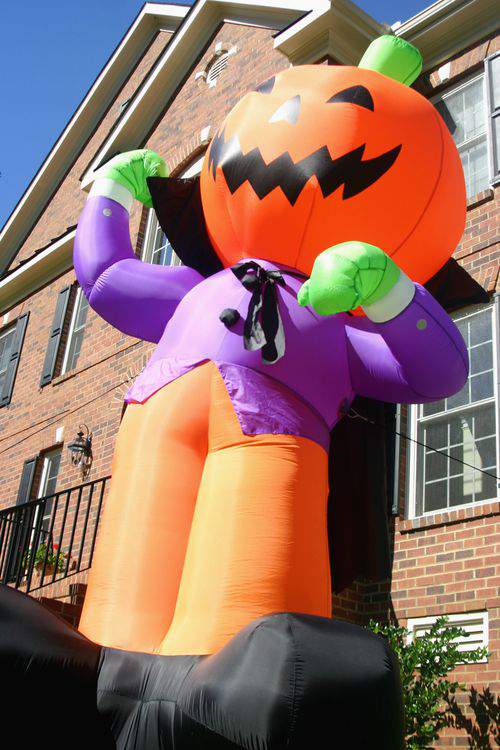 Speaking of pumpkins, another tradition in my household is our annual pumpkin carving event.  Boris typically supervises this event because I don't care for touching the sticky, stringy pumpkin innards. 
I know, that's picky but I'm just happy to stay behind the camera on this activity.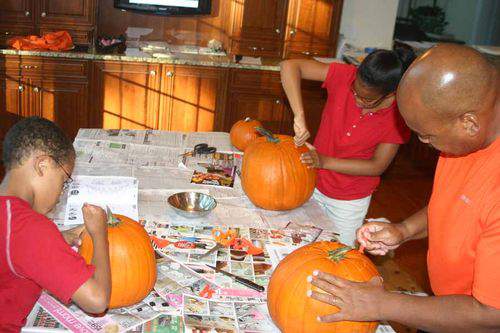 Pumpkin carving sure has come a long way over the years.
There are so many cool tools and patterns available to help make pumpkin projects easier with more professional looking results.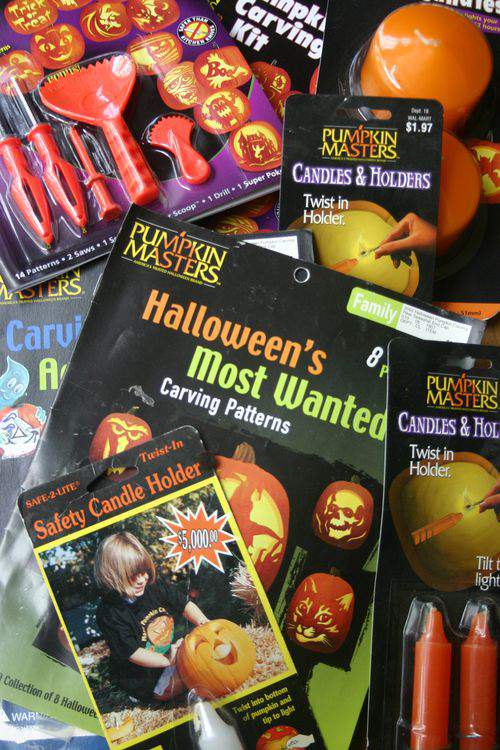 I can't wait to see the finished carvings produced by this determined crew.  I'll check back a little later in this post to see how they're coming along.
While we're still on the subject of pumpkins here's one of my favorite scrapbook pages featuring Jordy during one of our pumpkin patch visits a few years ago.
I love this photo of him and I think his cute, curly hair makes him even more adorable.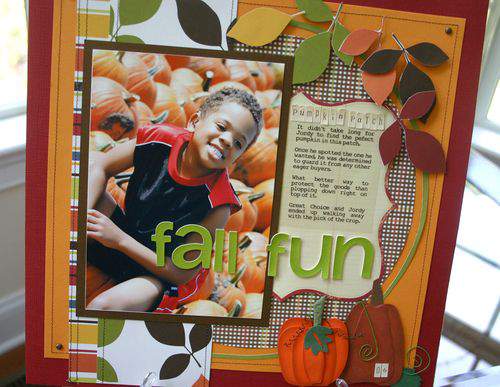 Here's a closer look at a few of the details I used to spice up this layout including letter stickers and a few pre-made pumpkin die cuts.
Layering embellishments like this can help add depth and dimension to a scrapbook page which creates a nice, polished effect.
Anyone have a taste for a ghost pop?  These are super simple to make and the entire project can be turned over to little hands to complete.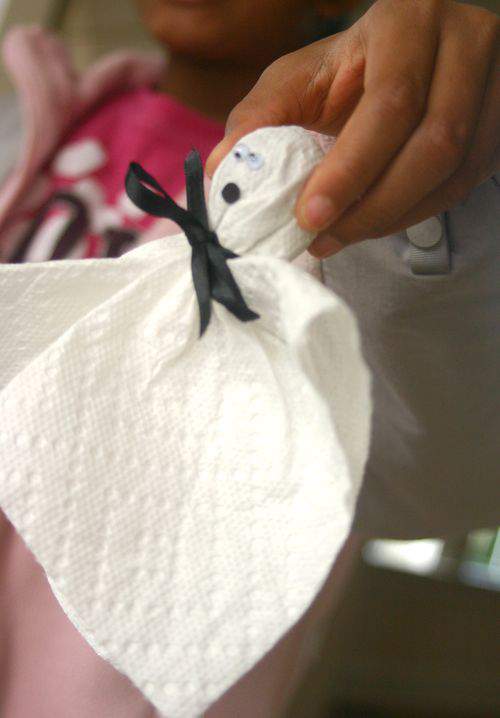 To make these, you'll need Tootsie Pops, white paper towels, thin ribbon, glue and some googly eyes which can be picked up at any crafts store.
Count on young crafters to insist on sampling a Tootsie Pop during the construction process.  It's OK and par for the course.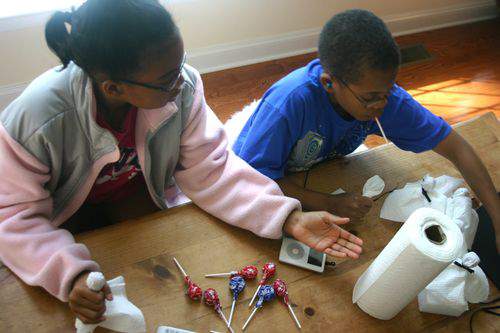 These treats look perfectly spooky all lined up like this.  The mouths were made using a hole punch and black construction paper, which I think works better than using a black marker (which tends to bleed into the paper towel).
These ghost pops also make nice treats to hand out to classmates.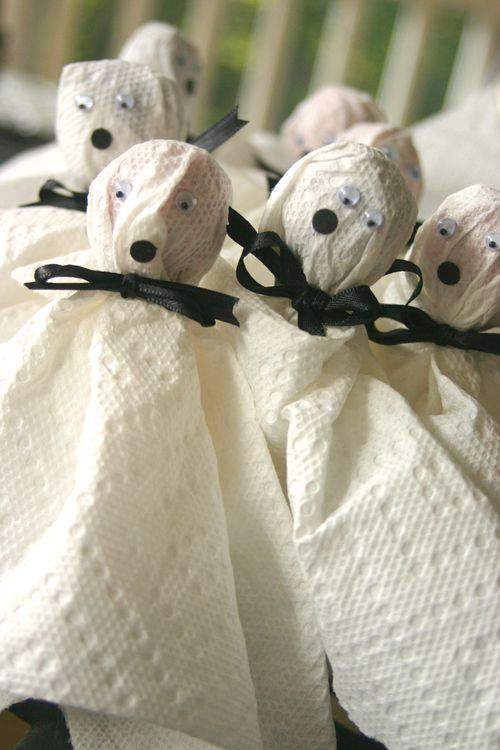 Let's check in to see how my pumpkin carvers are doing.  Looks like they're making pretty good progress but they're not done yet. 
Keep working guys, you're almost there.
The highlight in our household this time of year is the excitement surrounding Halloween costumes.  When Cameron and Jordy were really little, I always coordinated their dress-up as you can see in these cute photos from Halloween 2001.
It's a treat just to look back on how tiny they were back then.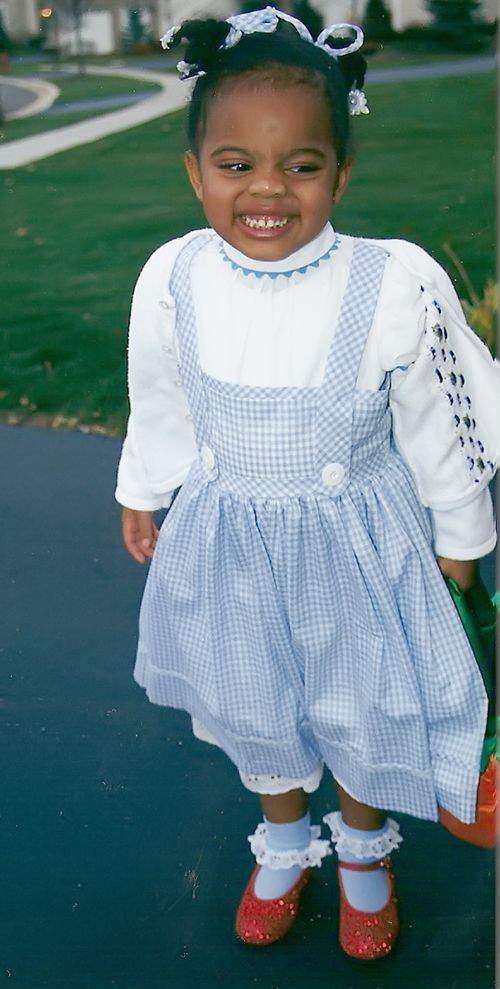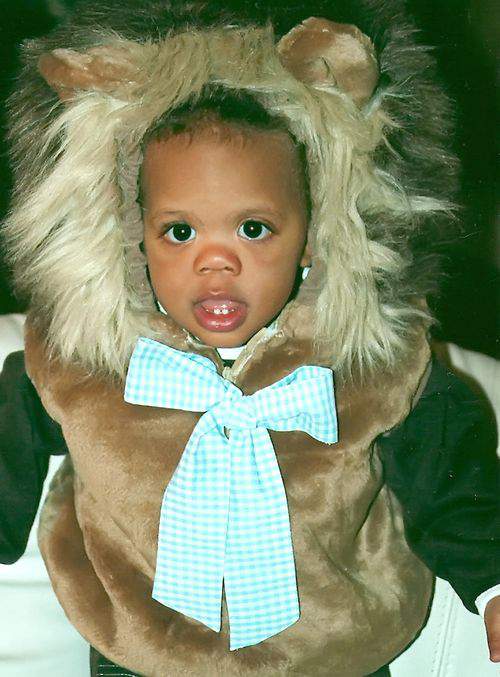 Of course, with every new trick-or-treat night there is another opportunity for me to scrapbook the event for fun and posterity. 
Here's an example of another of one of my coordinated costume efforts in this 101-Dalmatians themed layout below.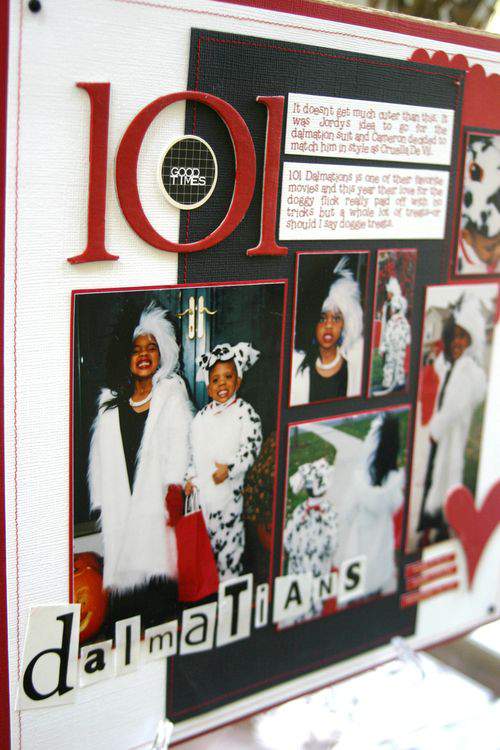 As my kids got older they started picking their own costumes and expressing their own individual costume style, tastes and in some cases, their ghoulish interests.
Two years ago Cameron and Jordy were both pretty scary looking as you can see in this scrapbook layout entitled Frightful X 2.
Here's one more Halloween scrapbook layout from a few years ago.  Cameron dressed as a sweet witch, Jordy channeled a favorite Power Ranger and Boris was a big hit as he strolled the neighborhood as a devil dad. 
This 2-page layout appeared in 601 Great Scrapbooking Ideas book, published a while back. 
Scroll down to the end of this post to see Cameron and Jordy's Halloween costumes this year.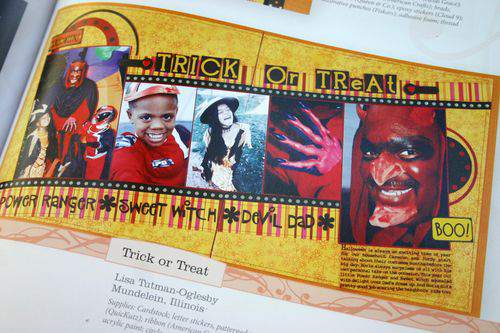 Newsstands and bookshelves are loaded with great material for Halloween ideas and projects. 
I really enjoy browsing these publications for great photos and projects and every year I find something new to try for the spooky season.
Now don't go losing your head over this next sweet treat. 
Hands down, this is one of the easiest treats to whip up.  I'm a big fan of simple projects and this fits the bill with practically no cleanup when finished.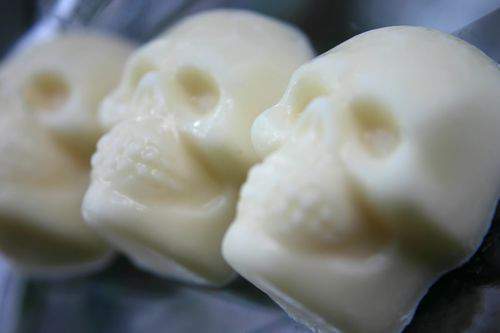 Just melt white chocolate wafers in the microwave.  Drop a teaspoon of the soft chocolate into these skull molds which can be picked up at any crafts store in the baking section.
Let cool for about 20 minutes until hard and then simply pop the skulls out of the molds.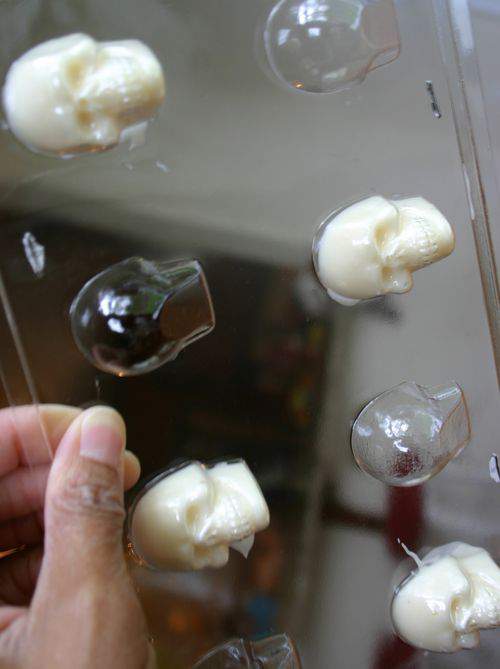 Stack a quartet of the skulls into plastic treat bags, tie the top with a ribbon and adhere a fun sticker.  They're creepy looking but oh-so sweet.
By the way, these packaged chocolate skulls would make great, unexpected goodies for school teachers.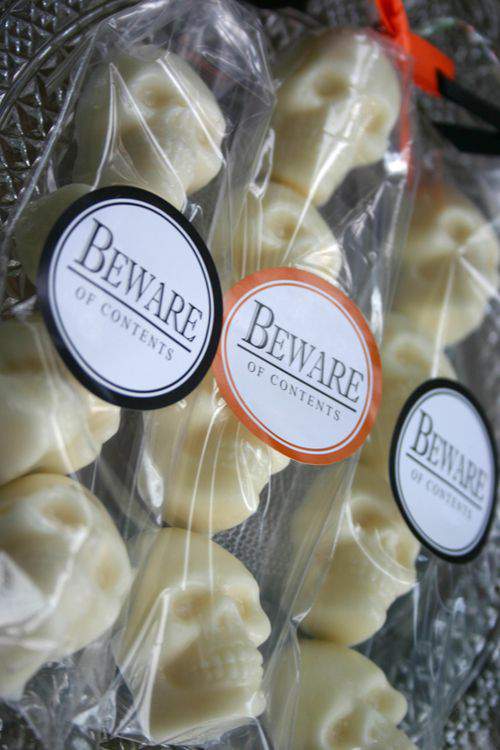 As promised here's the finished effort from my pumpkin carving trio. 
Jordy's scary-face, Cameron's mummy-face and Boris' fire-face all get a big orange thumbs-up in my book.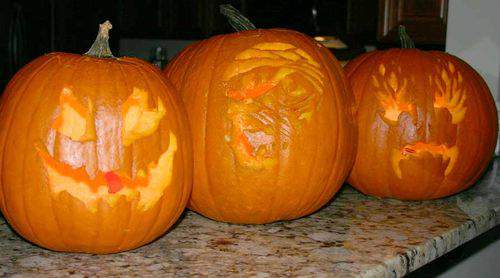 Lights out!  This pumpkin carving technique really shines when you flip the lights off because you can really see the intricate carvings more clearly in the dark.
These look great on the front porch at night.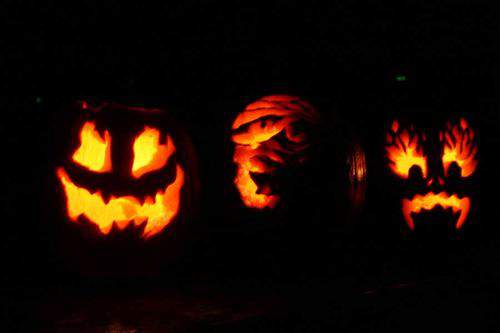 Meanwhile, my kids really enjoy the costume dress rehearsal almost as much as Halloween night itself. 
This year Cameron itched to be a witch, while Jordy drooled to be a grim ghoul. 
I think these costumes will definitely scare up some good trick-or-treat candy as long as Jordy is careful with that scythe.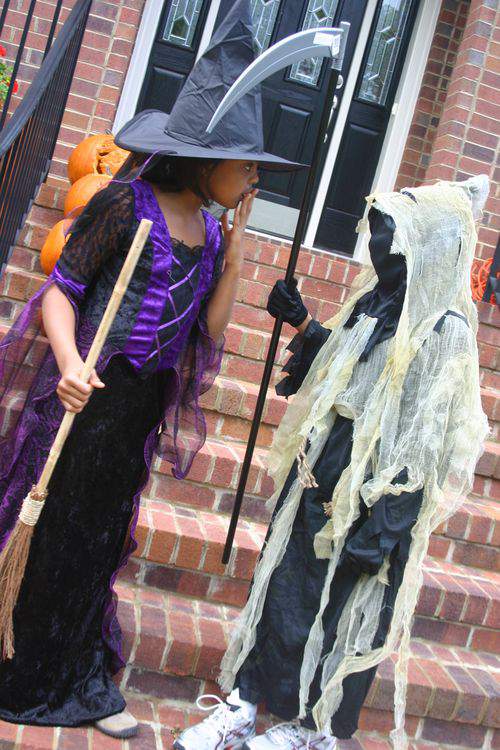 Here's hoping your Halloween season is safe, fun-filled and all around spooktacular! 
Boo to you.