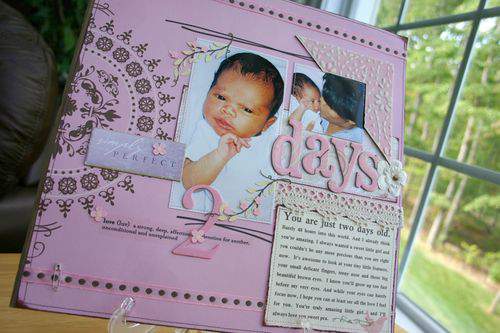 When I first started scrapbooking about 10 years ago, I had no idea what a huge hobby and major industry it would become.
In those earlier days "scrapping" was nothing like the rage it eventually became.  At that time there were only a handful of stores that offered scrapping products and even fewer magazines that focused exclusively on scrapbooking. 
Sadly, this year one of those pioneer scrapbooking magazines has called it quits after more than a decade of publication.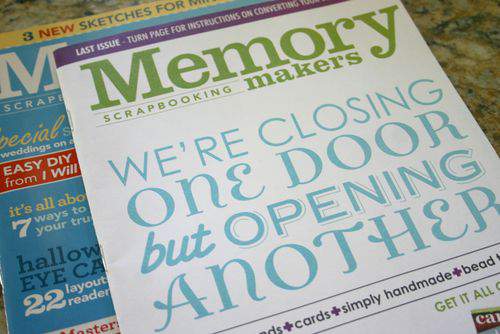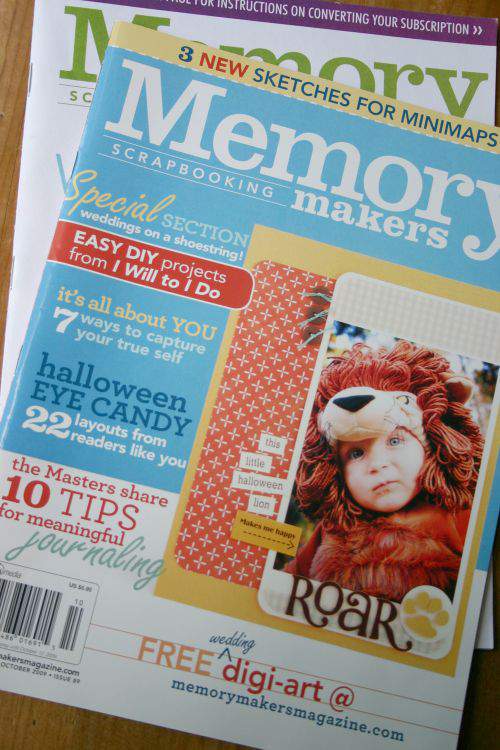 Memory Makers magazine (or MM) was an early original making its debut on newsstands in 1996.
The current October 2009 issue marks the last issue of this popular magazine.
I've been reading Memory Makers magazine almost from the very first issue.  In fact, I still have many of those "vintage" copies which I keep in special hard-bound binders that MM used to sell years ago.
Does anyone else remember buying any of these?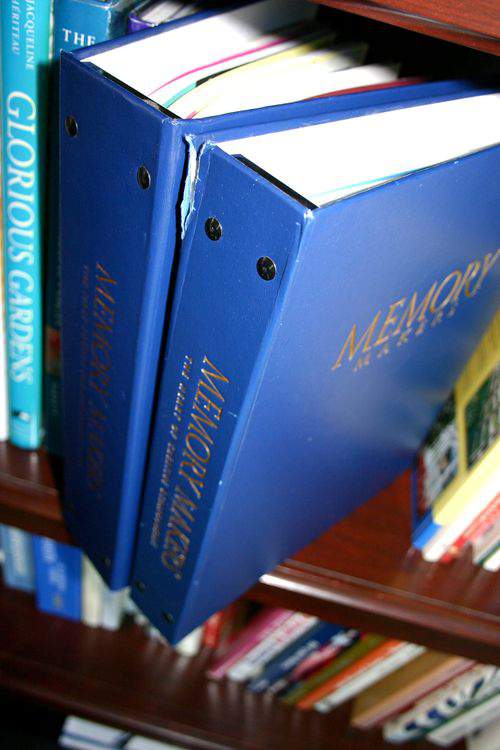 Scrapbooking styles have really evolved over the decade from a more simplistic, one dimensional approach in some cases to a more detailed and intricate use of multiple embellishments which can add texture and greater depth to a layout.
Here's a shot of the cover of Memory Makers'  September-October issue from 1999. 
Told you I had an old collection.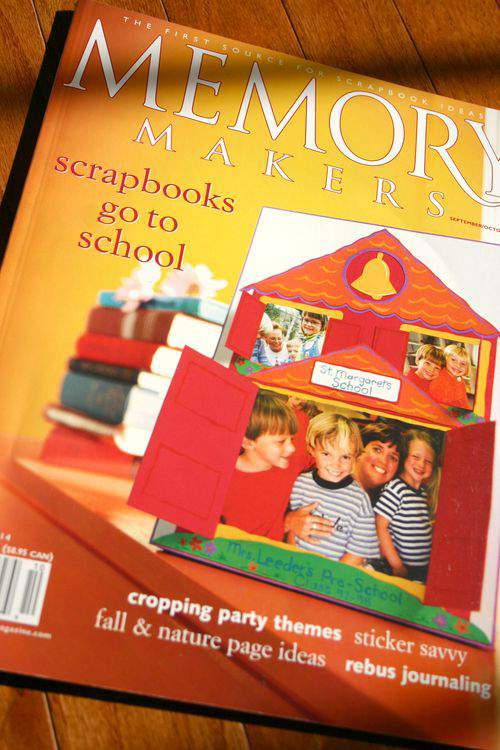 While Memory Makers magazine has offered up wonderful layouts, tips, and scrapbooking ideas over the years, one of the most anticipated events among scrapping enthusiasts was the magazine's annual Memory Makers Masters Contest, commonly called MMM.
Every year the magazine editors would hold the MMM contest to find what they considered the Top 10 scrapbookers in the country, culled from hundreds upon hundreds of eager entries.
I was thrilled to win an MMM spot in 2007 along with nine other fabulous scrappers. 
Now, how cool is that?
My pages from that winning entry are still among my favorite layouts and I thought it would be fun to share them here along with a few details that help make them shine in my eyes.
This first layout features my daughter when she was only two days old.  Wow, time is flying-Cameron is now nearly 11 years old. 
I love the subtle nature of the tiny safety pin in the bottom left corner of this layout.  I also painted a chipboard number 2 to match the patterned paper and add some extra dimension.
These are the kinds of soft, little details that can give any scrapbook layout that something special.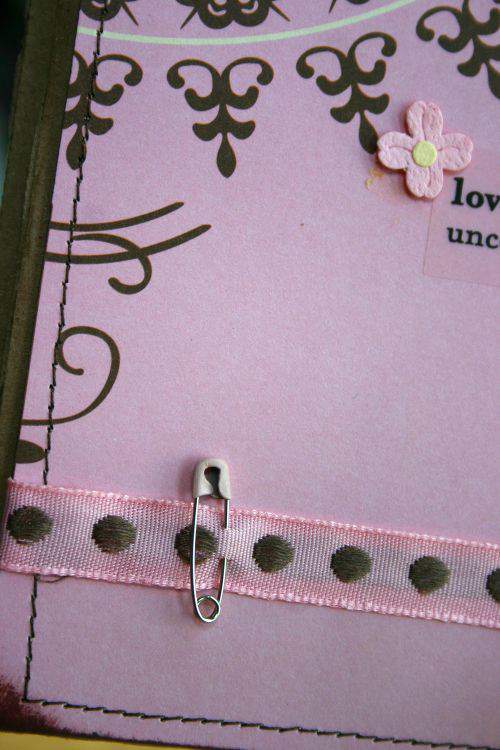 I've always loved the black, red and white contrast in this next page which features Cameron and Jordy as they were headed to a neighborhood candy store. 
I snapped this single, focal-point photo back in the day when these two used to hold hands while walking down the street together.  Ahem, they don't do that any more.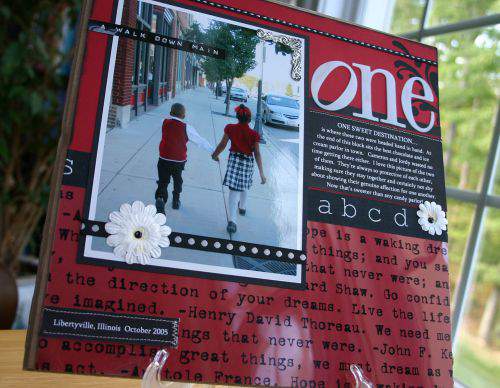 As you can see in the left photo below, a simple label maker can go a long way when it comes to creating unusual scrapbooking elements.
For a hint of elegance, consider brushing a metal frame with acrylic paint for another easy accent piece.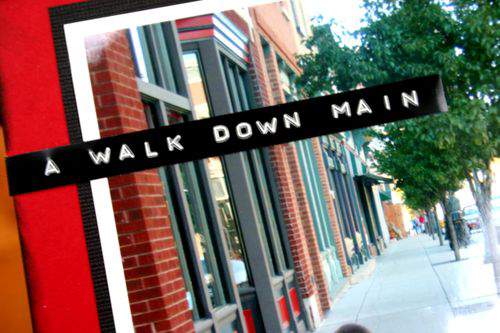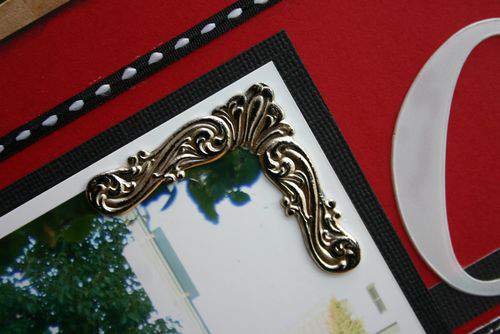 A dandelion patch was the locale for the series of photos in this entry layout in the photo below. 
I used quite a bit of rubber stamping on this one, including using a dandelion rubber stamp on a torn journaling sheet that I also edged with rubber stamp ink for a more rustic look.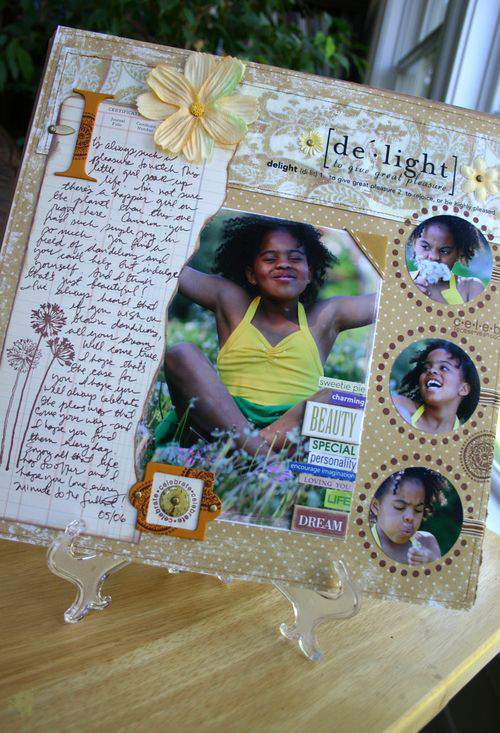 While I typically type my journaling on the computer, I think the use of my own handwriting here also adds a personal touch to the overall presentation. 
The use of word stickers are also another way to add information on the subject matter in a fun way.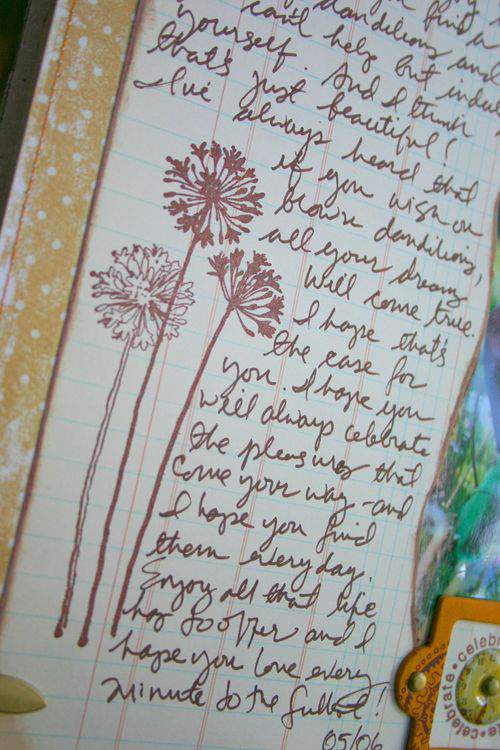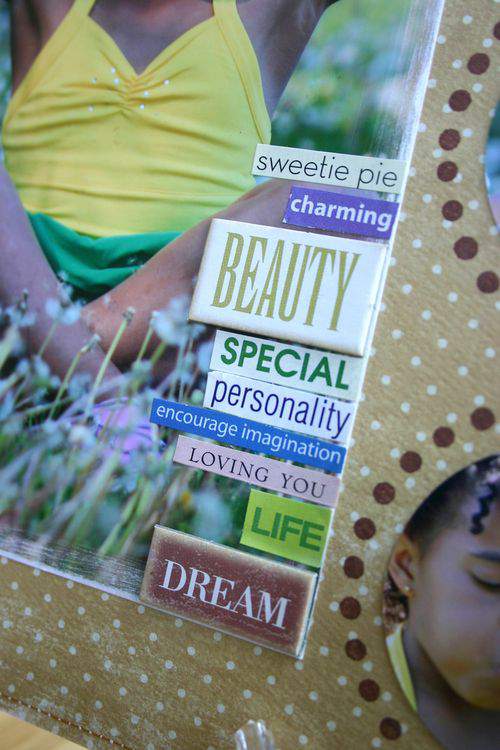 How can you not love a smile like this, in the layout below?  Jordy was grinning ear to ear here after losing his very first tooth.  However, right after I took this photo he dropped the tooth on our light-colored carpet.  We never did find it.
The journaling in this layout details that tooth loss and subsequent search but I think it's the cute photo (and Jordy's dimples) that makes this page really sing.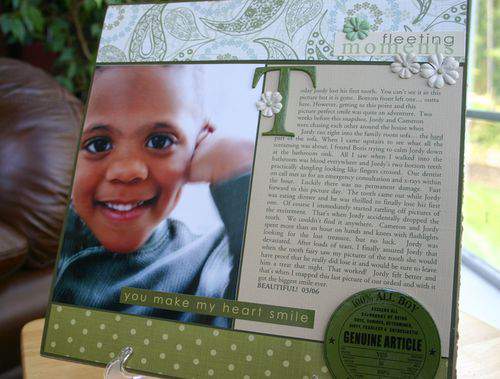 For a fun embellishment on the bottom corner, I painted a chipboard circle dark acrylic green and then applied a circular rubon to the chipboard to create this element.
After adding the rubon, it's a good idea to add a coat of clear acrylic to prevent the rubon from eroding over time.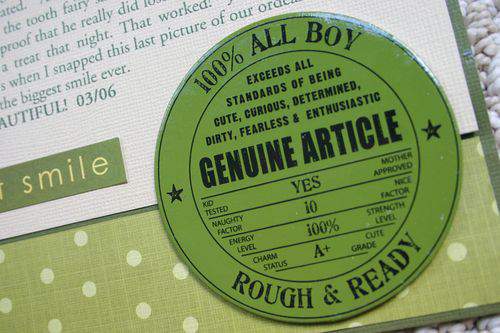 This last layout in my MMM entry features a blurry photo taken of Cameron from that same dandelion shoot that I mentioned earlier.
I decided to use the picture because I thought it suggested "unstoppable" motion in keeping with the title and it was also a great way to demonstrate how a less-than-perfect shot can still be used to create a nice layout.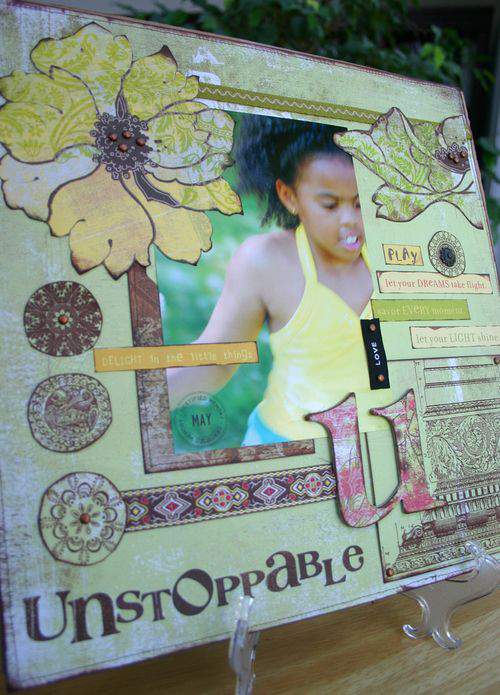 Look closely.  The journaling in this layout is hidden behind a matching square-shaped piece of stamped cardstock. 
Pull the tapestry ribbon tab and the journaling is revealed, adding a fun and unexpected feature to the page.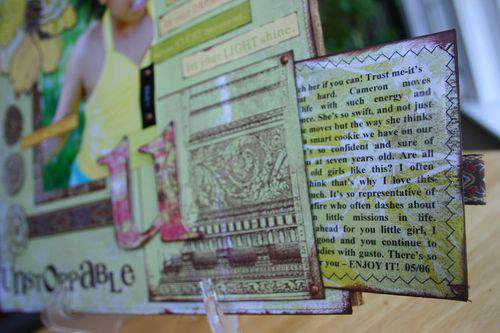 In addition to the chance to work with a great group of magazine editors, the Memory Makers Masters contest win also opened my eyes up to the concept of magazine submissions.
As a result I've pursued a number of other publication opportunities that have resulted in nearly one hundred of my creative projects and articles published in various scrapbooking, crafts and home decor magazines.
I've also had a chance to see two of my scrapbook pages grace the cover of MM.  That's Cameron on her 4th birthday in the cover layout below.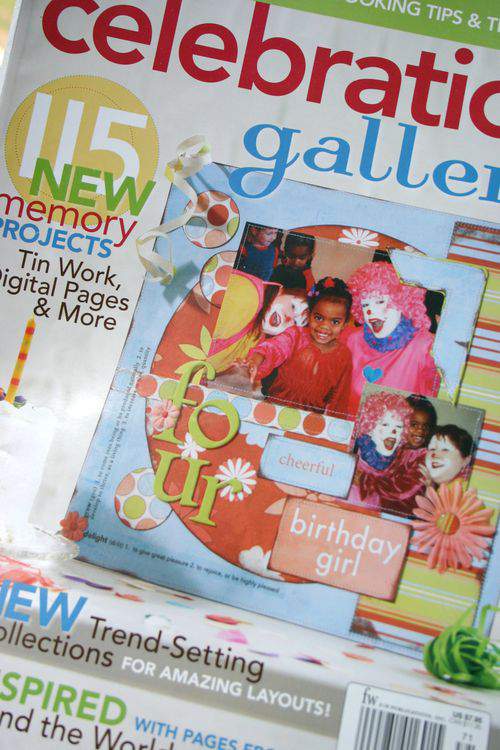 If you're interested, you can see my second cover layout if you click here and you can browse a small sample of some of my other published work if you click here.
Meanwhile, for anyone who has enjoyed MM over the years, you already understand the void that will be created by its absence on store shelves.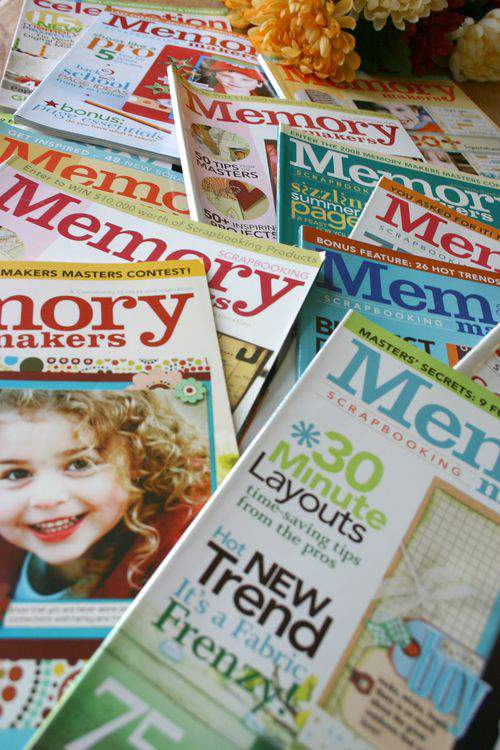 While an on-line presence will be continued at memorymakers.com and scrapbooking idea books will still be published under the Memory Makers books imprint, the original magazine is now gone for good.
For 13 years, Memory Makers magazine has led the way in helping scrappers capture, create, showcase, share and document their memories of loved ones, friends and life's many milestones.
The disappearance of this groundbreaking publication truly marks the end of an era. 
Thanks for everything MM.