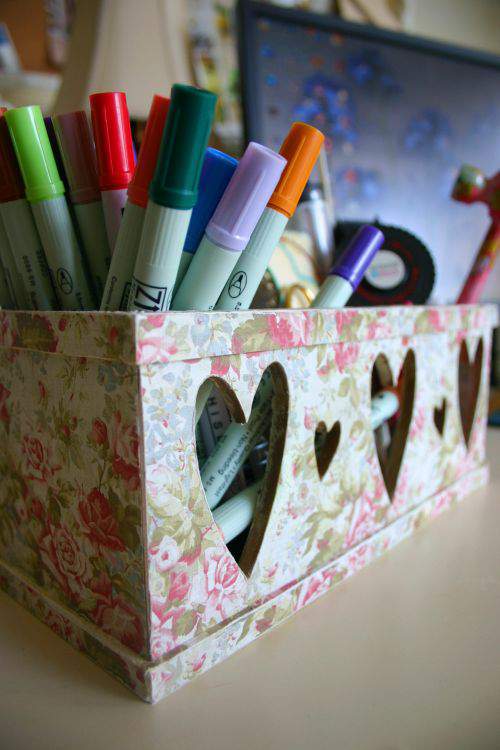 On just about any desk you'll likely find an assortment of loose supplies just waiting for a little bit of organization.
This project will not only get those loose scattered pens and pencils in one place, but at the same time create some pretty style as well.

I love great storage solutions and I'm always on the lookout for ways to dress up my workspace.  This is another low-labor project that will only take you a few hours to complete.
Trust me, your tools and supplies may actually get a lot more use when they're displayed in something attractive like this.
Start with a simple wooden box like the one in the photo below.  These boxes are available in a variety of styles at most local crafts/hobby shoppes.
You could paint the trim a desired color and only wallpaper select areas of the box.  However, I decided to wallpaper the entire box and raised trim for a more consistent, old-fashioned appearance.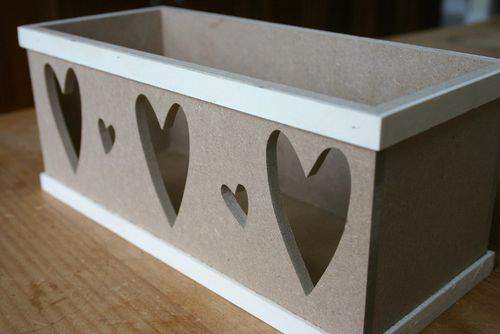 I settled on this soft, floral patterned paper because I wanted the box to look like a vintage find.
Consider who'll be using the box when selecting the paper.  For example, if the storage box is for a child, a bright polka-dot pattern or other fun design will make a totally different statement.
After making a patterned paper selection, measure the width of the box to determine what size paper strips you'll need.
Apply a decoupage medium or similar glue product to the box on the bottom and sides respectively.
Only glue one side at a time and then add the paper as you go.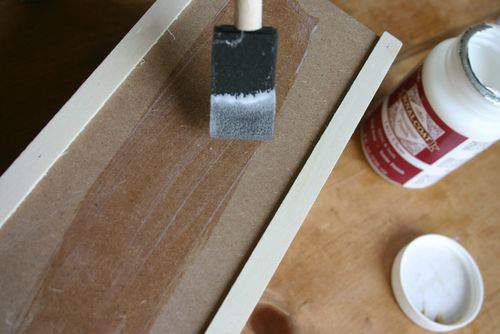 Attach the pre-cut patterned paper strips to the wooden sides.  If your box has a raised trim as this one does, I think it's easier to attach the paper to the larger areas first and then cut smaller strips to cover the trim.
Because this particular box has heart-shapes, there's an extra step to reveal these decorative openings.
Cover the hearts completely with the patterned paper and then use a thin craft (or nail) file to carefully etch away the paper from the shaped hole.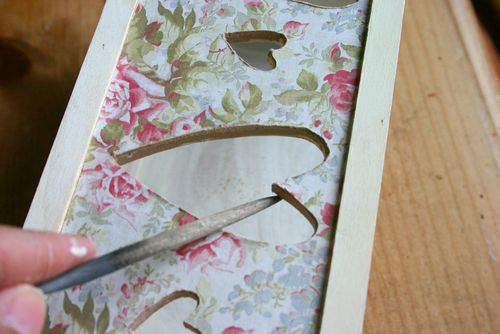 Once you finish exposing the heart shapes, add another application of glue to the inside the box.  Allow the paper to wrap over the top for a more seamless finish.  Then apply the smaller pre-cut strips of matching paper to the front trim.
Use the craft file to distress the corners and edges of the box to give it a more aged appearance.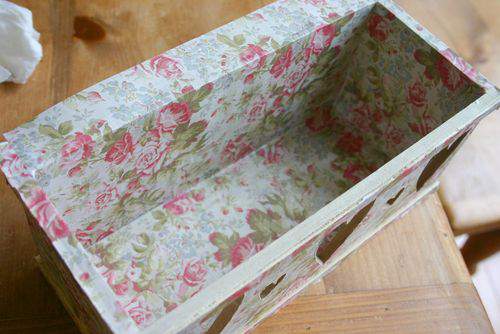 It's also easy enough to create matching desk items to go along with the storage container.
These mini composition books (3 1/2″ X 4 1/2″) are ideal for keeping daily notes and creative ideas.  They also a perfect desk-to-purse size.
To cover the mini book, apply the same glue to the front (and back) and then adhere the patterned paper.
After trimming excess paper from the sides, use book binding tape to cover the spine as you can see in the photo below.  You can also slightly edge the sides with rubber stamp ink for a nice effect.
Apply the same technique to the larger, school-size composition books to give that traditional black and white marble design a much fresher, personalized look.
Decorative clips are another way to add to the desk ensemble.
These are made of simple wooden clothes pins and patterned paper.  You may recall an earlier post on this blog on how to make these fun clips.
You can read that tutorial if you click here.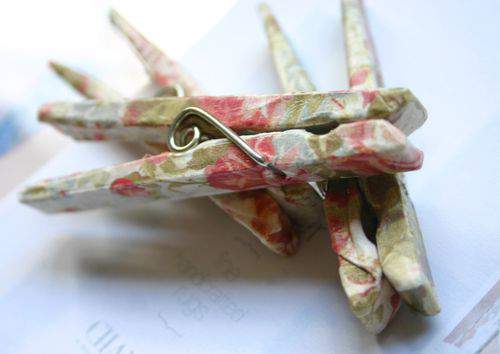 These clips can be used for a lot more than keeping those loose papers organized.  You can also use them to clip bags of chips and other goodies in the pantry.
Also, adhere a small magnetic strip to the back of these clips and they're transformed into a pretty refrigerator display-holders for all those wonderful school art projects.
As we head into the fall season, this is the time that many crafters start thinking of what handmade gifts they'll be making for the holiday season.
I think any gift recipient would love a collection like this.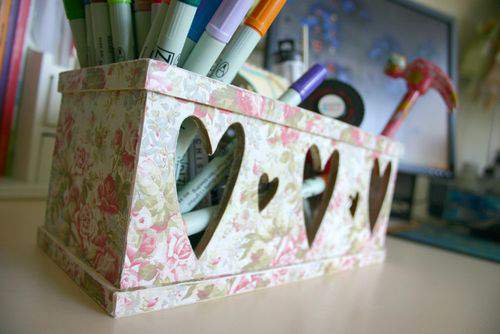 Whether you make a desk set like this as a gift or make a set for yourself, this is one project you'll definitely enjoy creating.
When it comes to handmade decorative desk decor, it's fun, fast, feminine and functional.  Now, you can't beat that.