When life gives you lemons?  Make napkins. If you never thought you could make your own napkins… think again. It's really quite simple and only takes a minimum of fabric. These napkins were made out of lightweight linen, which you can pick up from just about any fabric store.
The first thing you want to do is determine how large you want your napkin to be. A good standard dinner size is around 15 square inches finished size. I say "finished" size because you have to add about two inches to the cut square to give yourself enough fabric to turn over all the way around twice for the hem. So begin, by cutting a 17-inch square from your fabric. Then, iron the first side (raw edge) over by 1/4-inch, and repeat with other sides all the way around. Give it a good steam from the iron to help lay it down as flat as possible. Then turn each edge over again by 1/4-inch and iron flat. You may need to pin as you go to hold in the hem in place. Gently stitch along the inside edge of the hem all the way around and you've got a napkin. You can also ad top-stitching along the outside finished edge if you'd prefer. 1-yard of fabric is more than enough to complete four "dinner size" napkins with plenty of fabric left over to practice on.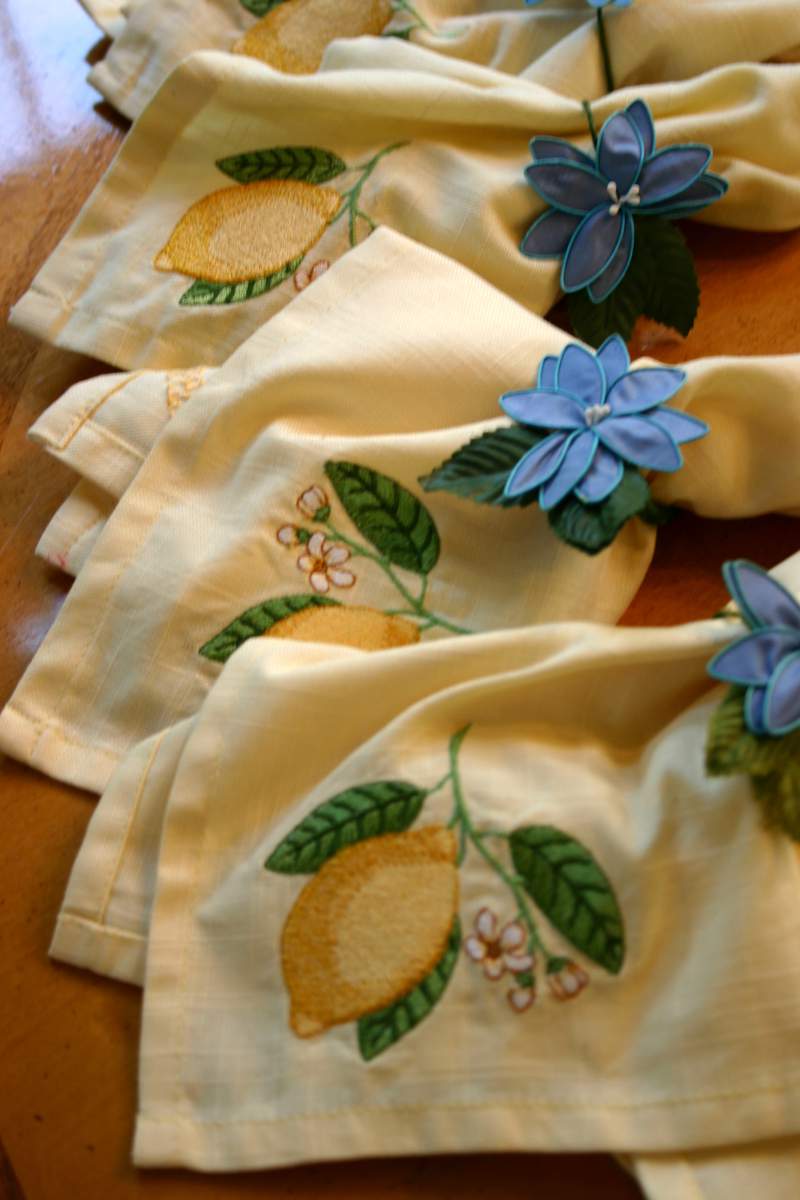 Now to add a little more color, how about a little embroidery? I know many of you have thought about getting a sewing machine to enhance your scrapbooking. I'd like to suggest you consider an embroidery/sewing machine to enhance your overall gift giving at the same time. The embroidery machines are sewing machines that come with an embroidery attachment that allows you to add embroidered images and/or text to your project. In this case the little lemon adds pizazz to what would have been a pretty, but plain yellow napkin.
This lemon pattern is from Debbie Mumm's The Good Life embroidery collection available through OESD. If you take a look below you'll see some of the other beautiful patterns that come with this collection.
These napkins were a gift to my mom so I also embroidered her initials (EBT) in the opposite corner of each napkin. I think you can see how adding a little embroidery to ordinary items can really enhance any gift and give it that personal monogrammed touch to make it all the more special.
I'll talk more about machine embroidery, share some step by step pictures of the process along with more fun and easy embroidery projects later in a different post.
Until then… Bon Appetit!