When I was growing up, my mom always encouraged us make gifts for loved ones.  I'm grateful for that early influence because these days, I not only make many of my own gifts, I'm encouraging my own children to do the same.
In this post, I'll walk you through a great scented sachet project that would make a perfect gift for any occasion.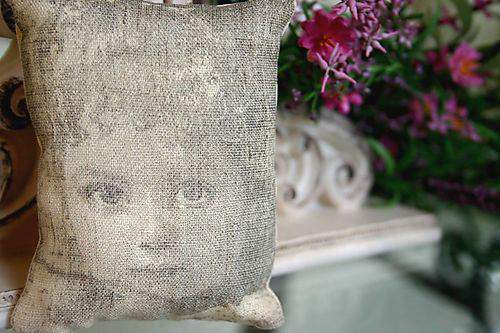 You may have already seen my easy sachet project in the July 2008 issue of Romantic Homes magazine, which featured a few photos of these sachets along with super simple instructions.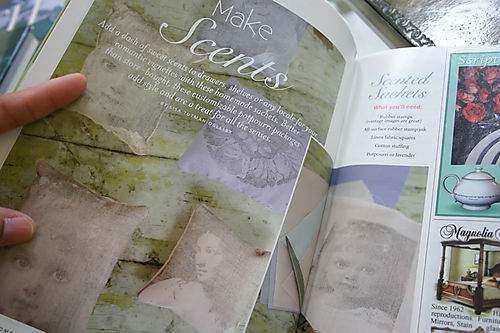 I'm thrilled to have my project appear in this fantastic magazine and I think Romantic Homes' photographers did a wonderful job with the spread. 
In this post, I'll walk you through a more detailed step-by-step of the sachet construction process.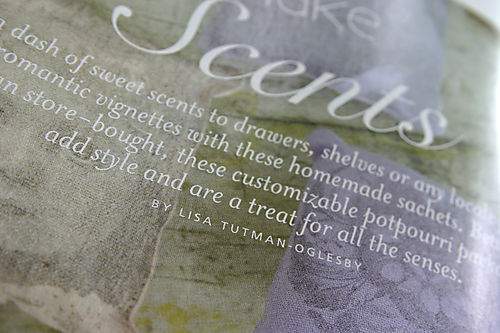 You don't need many supplies or even advanced sewing skills to make these.  If you can sew a straight line, trust me-you can make these pretty little sachets.
First, collect a variety of colored linen fabric, some all-surface permanent rubber stamp ink, cotton fiberfill and some nicely scented potpourri.
You'll also need a few rubber stamps.  These are just a few of my favorite stamps from years of rubber stamp collecting. 
I think these old fashioned stamp images give the project a wonderful vintage feel.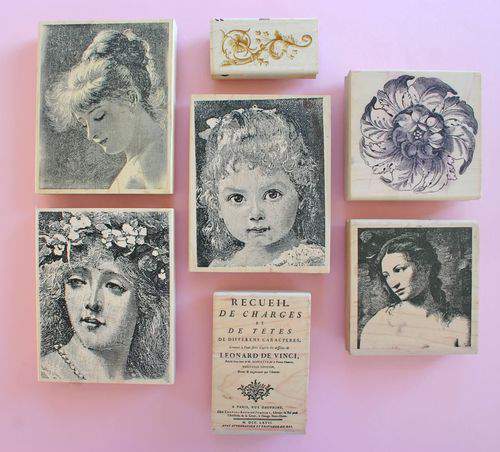 You'll need two linen squares cut about 1/2 inch larger than the stamp you use. Make sure the linen has been thoroughly ironed before you do any stamping. If the image is stamped onto wrinkles in the fabric, it may prevent a clean and complete image transfer. The size of the sachet depends on the size of the rubber stamp.
Give your selected stamp a generous covering of ink. I used Stazon ink in this case because it's a permanent ink that adheres nicely to the linen fabric which does not bleed through the fabric or smudge easily.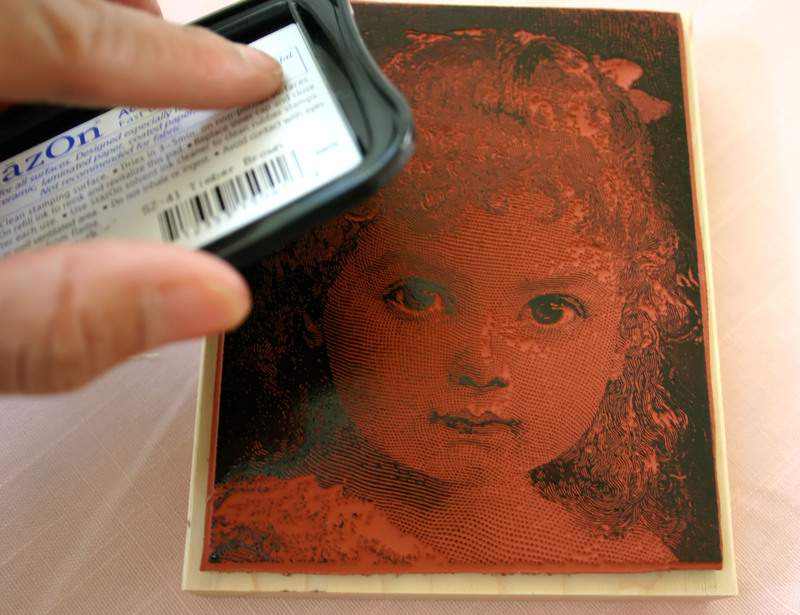 Stamp your image directly onto your first linen square.  Apply a good amount of equal pressure to the stamp, making sure you're careful not to shift the block.  
If the block shifts, it could smear the image and you may have to start all over.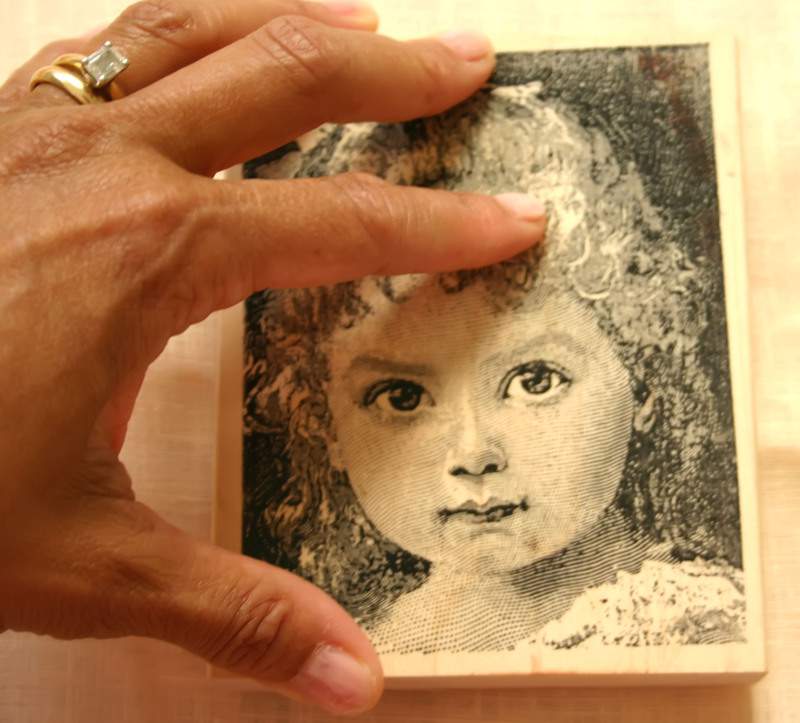 Carefully lift the stamp from the linen and take a look at your beautiful fabric image.  I love this stamp.  I think the little girl looks so sweet.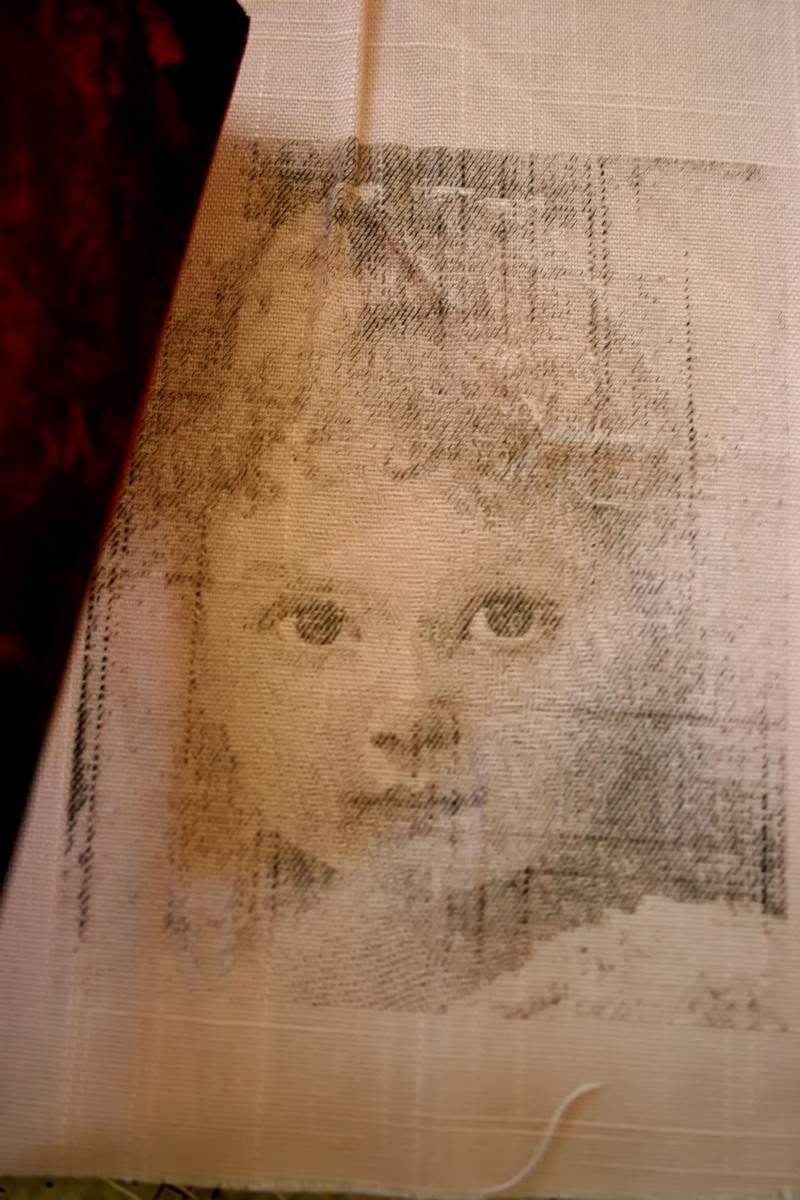 Give your inked fabric square about 15-minutes to dry. Place your second linen square on top of the transfered image and sew 1/4 all the way around leaving a small opening to insert your potpourri.
If the rubber stamp image has a natural border, trim the fabric 1/4 inch beyond the image border.  Then slowly stitch the two pieces of linen together with a 1/4 inch seam.
By doing this you'll make sure the entire stamped image will fill the front of the sachet with no fabric border like the picture below.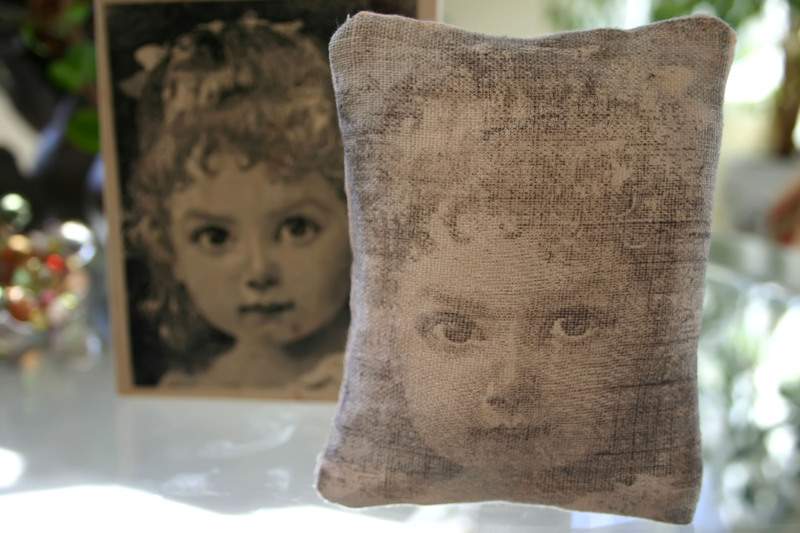 After sewing the seams, turn the project inside out and loosely stuff the sachet with a small amount of potpourri and cotton fiberfill. The cotton stuffing will help fill out the shape while the potpourri will add a nice scent.  Don't over-stuff the project. Hand stitch the small opening.
The sachet below was created with two stamps.  If you decide to use more than one rubber stamp for your project, make sure the images do not have a natural border.  This way the image transfers will simply "float" in the center of the fabric with no defined boundary. 
I'm a stickler for cleaning my rubber stamps thoroughly after every use.  Remember when cleaning your stamps never use a hard brush, especially if the stamps have very fine, intricate images like the ones you see here.  
With love and care, even old and heavily used stamps can continue to look brand new for many years.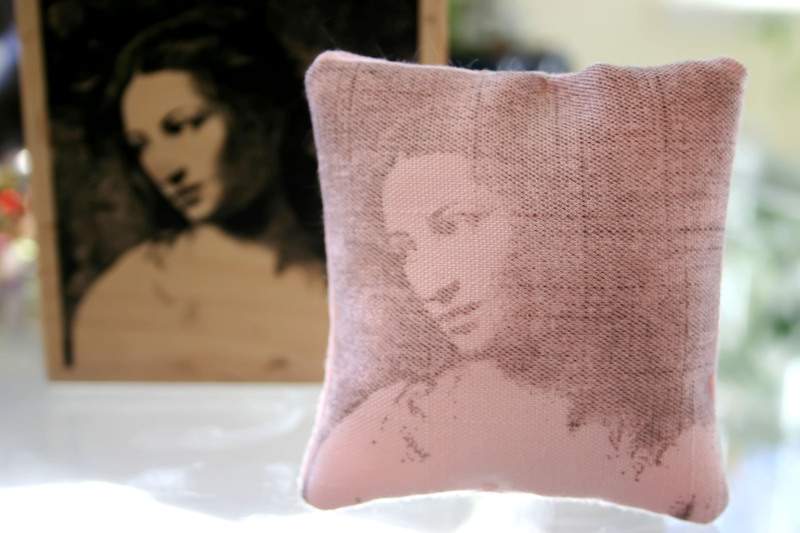 Meanwhile, when it comes to adding scents, you can also do some customizing.
Gather a handful of the cotton stuffing and spray it with your favorite cologne or perfume.  Seal the cotton overnight in a ziplock bag to dry completely and then lightly stuff the sachet. 
Tie a pretty ribbon around a stack of sachets for an extra special gift.
TIP: Even though an all-purpose, permanent stamp ink is used, you may still want to lightly spray the finished project with a little quilt sealer, to help preserve the image and prevent the ink from rubbing off or fading over time and exposure to light. 
Be sure to conduct a test spray first.  Quilt sealer is available at most quilt shoppes.  
These sachets make a great all-around offering.  They're perfect as a shower gift, bridesmaid gift or even fragrant stocking stuffers-it's not too early to think about handmades items for the holidays. 
Now, that not only makes scents-but makes sense too.