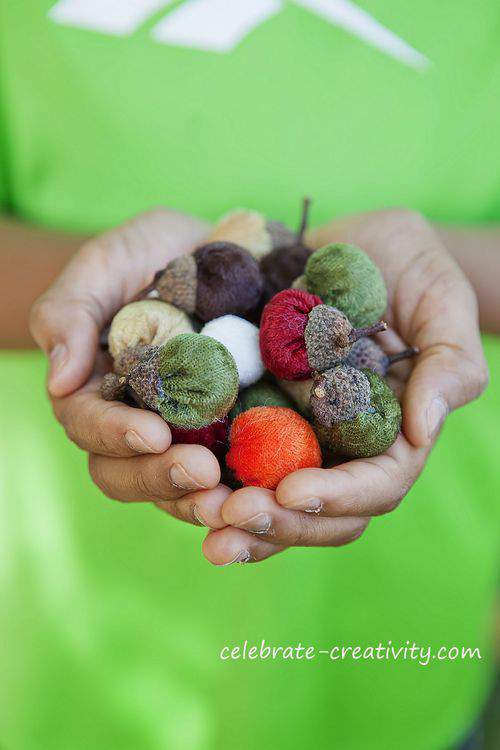 C an you believe it's October?  This is actually my favorite time of year thanks to much cooler, crisp temps and all the Fall color that pops up in nature, home decorating and elsewhere.
If you're looking for a new Autumn project that you can whip up in no time, consider these soft acorns which will add a touch of color and whimsy to any seasonal decor.
They almost look like the real thing, don't they?

Throughout this post I'll show you how to make these adorable acorns in Part 1 of my two-part series on creating a velvet harvest.
These acorns are primarily made of fabric but each one also has a real acorn cap giving this soft version the added look of realism.
You may be surprised to see just how easy these acorns are to make.
First thing you have to do is get your hands on plenty of acorn caps, which is not hard this time of year.
We have a beautiful park and playground area in my neighborhood that is surrounded by tall, mature Oak trees which produce all the caps needed for this project.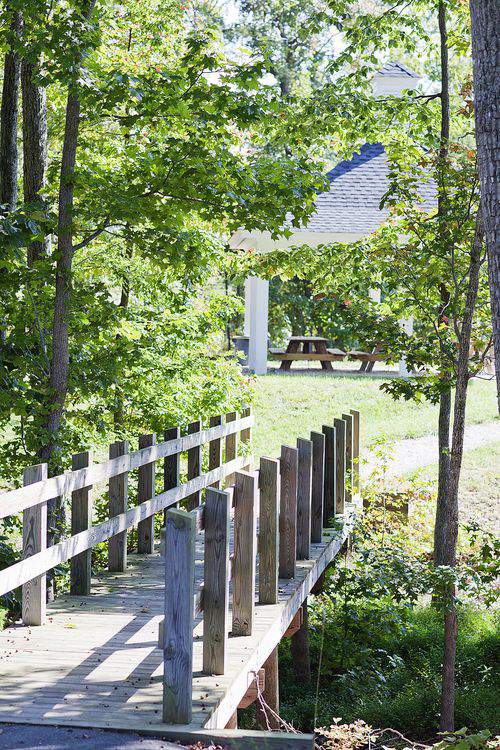 I'm not sure if it's Mother Nature or squirrels that push hundreds of acorns off their branches sending them crashing to the ground.  It's probably a little of both.
Once the acorns hit the ground, the caps generally pop off with little or no damage.
IMPORTANT NOTE:  Collect far more caps than you think you'll need for this project.  These acorn caps can also be used for really pretty Christmas decor as well.  I'll share more on that later in an upcoming post.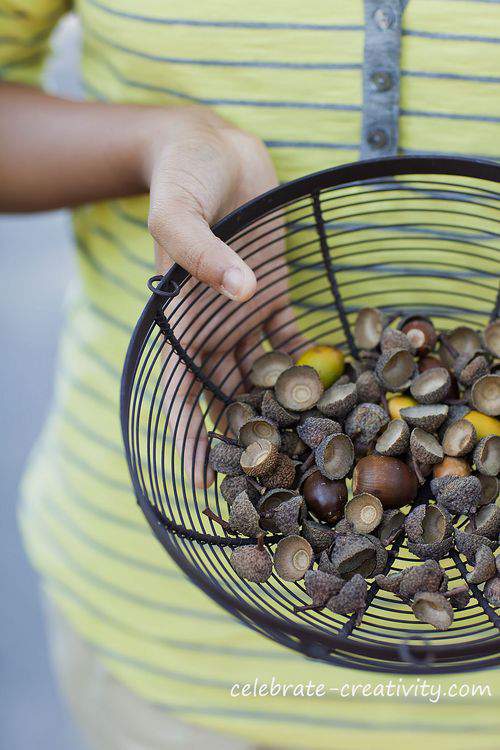 You can always enlist a little help with your acorn cap collection efforts.
My two favorite "live-in volunteers" don't mind pitching in by scouring the grounds for assorted caps for me.    
Keep an eye out for acorn cap twins or even the ocassional triplet.
Also, try to find caps that still have their stems. 
NOTE: Acorns may be able to survive a 60-100 foot fall from an Oak but the stems are still quite fragile when handling, so collect them with care. 
You'll only need a few supplies for this project including a hot glue gun, strong thread, needle and multiple circles of assorted soft fabric cut in circles about 2-3 inches in diamter.
You'll also need cotton stuffing or polyester fiberfil.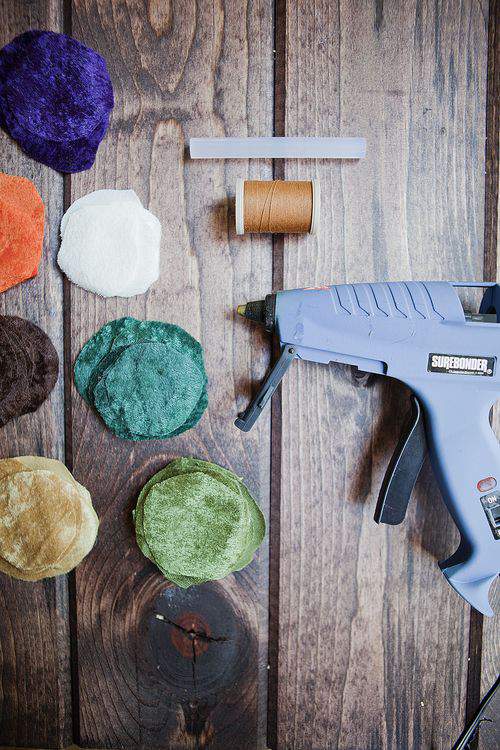 Double thread your needle and put a knot on the end.
Gather the edge of the circle all the way around.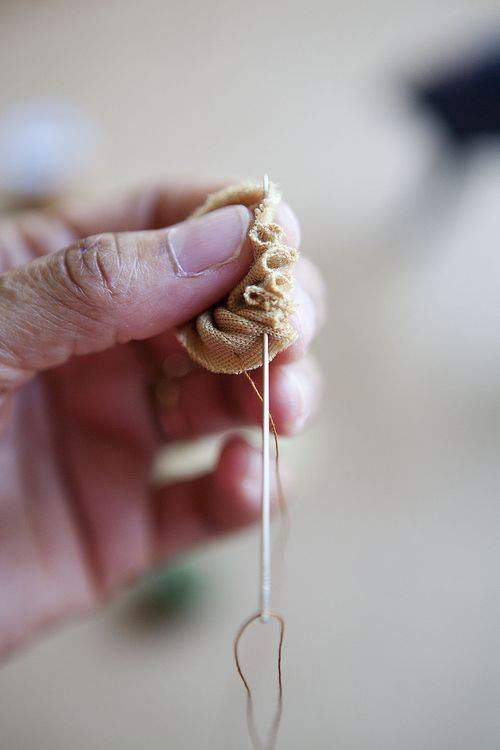 After seeing the above photo Nana Banana e-mailed me to politely suggest I get a manicure.  On my to-do list, Mom.
Once the gathered stitches are in place all the way around the circle, pull the thread through until it stops at the knot on the end.
You'll end up with a little fabric pouch the size of the tip of your finger as you can see in the photo below.
Keep the needle on the end of the thread.   
Take a quarter size amount of stuffing and carefully fill the small fabric pouch.  
Once the cavity is filled with stuffing, pull the thread tightly to close the opening.  
Your needle is still on the end of the thread so you can easily stitch the opening to lock and close the pouch.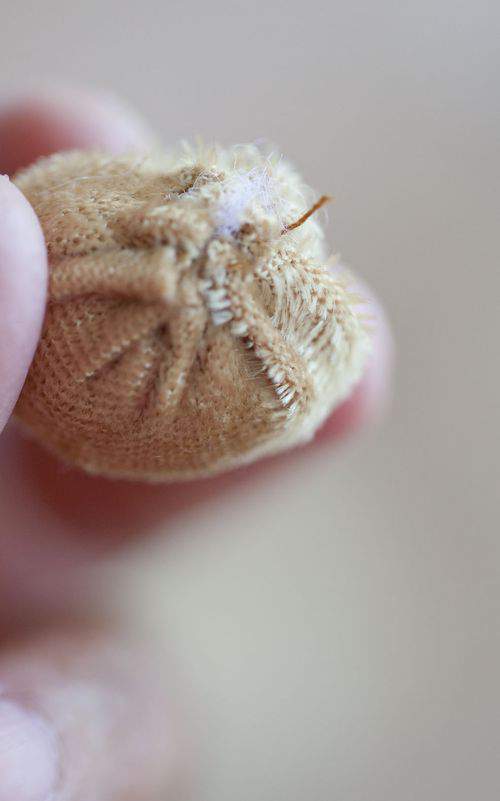 You'll end up with lots of little soft balls like this.  I like to create them in assembly line fashion.  I think it just goes faster that way.  
You can make several dozen soft balls while sitting through your favorite TV show.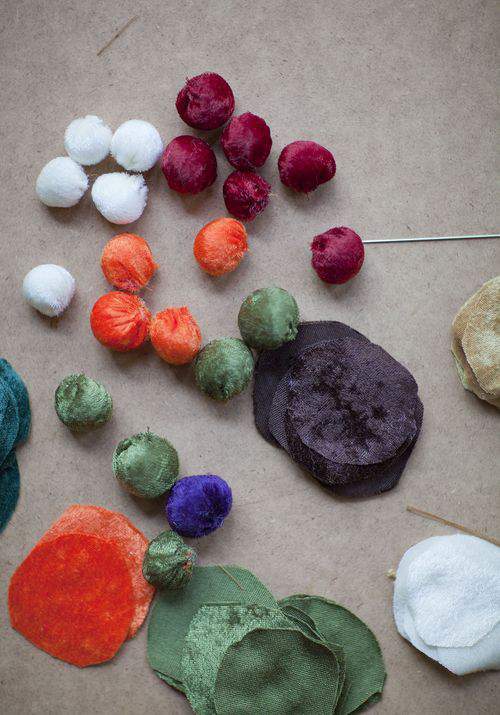 Once you have a good number of soft balls created, you're ready to give them a little topper.
Drop a small amount of hot glue into an acorn cap.
REMINDER: There's a good reason it's called hot glue.  Never leave your heated gun unattended, especially when you have small children in the house.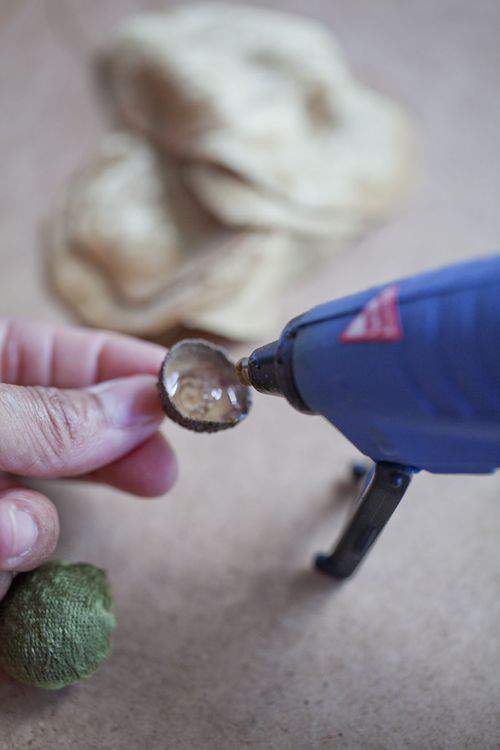 While the glue is still hot, place the stitched side of the soft ball into the acorn cap.  
Hold in place for a few seconds for the glue to fully adhere to the fabric.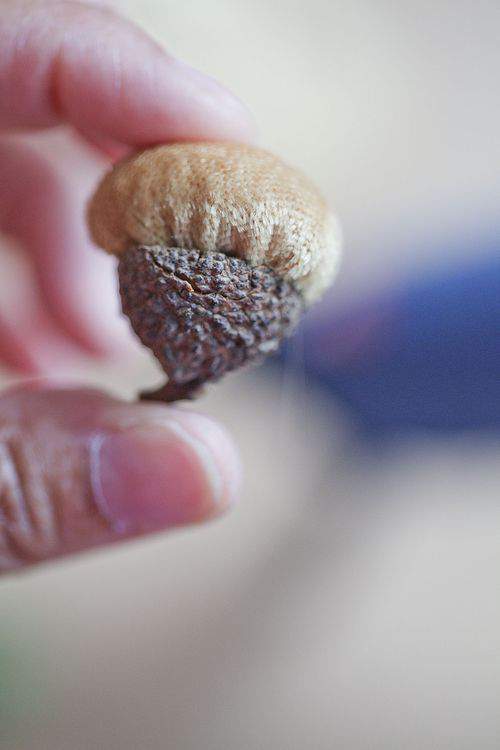 Voila!  Soft acorns that almost look like they just fell from the tree.
OK, how cute are these?  
You can vary the size of soft acorns by changing the size of the fabric circles you cut.
Make little, biddy-buds or full size like the ones in the photo below.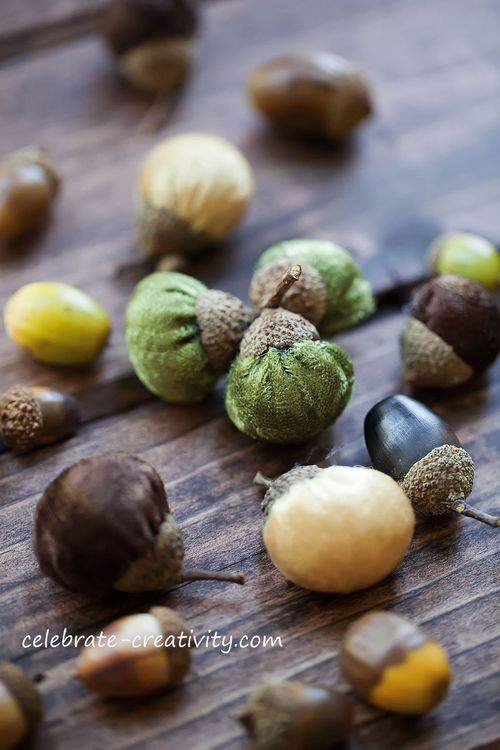 How can you not make some of these yourself?
Ready to make your own?  I thought so.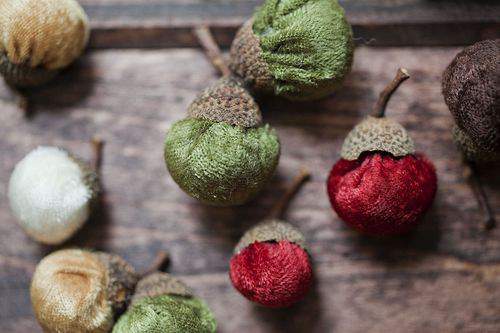 Just grab a couple of baskets and put your young volunteers to work this weekend around the bottom of the nearest Oak tree.  
Your kids won't be the only ones all smiles.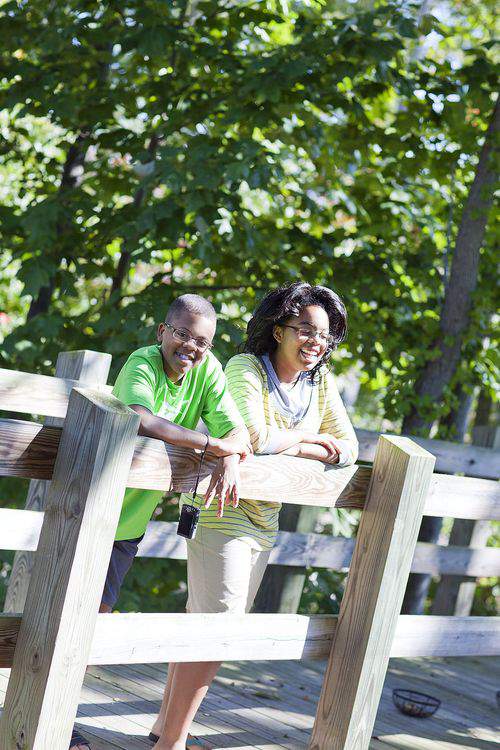 No doubt about it, you'll be grinning ear to ear too, once you've created a big bowl of these pretty little soft acorns.
Have fun. 

Last week, when I teased this upcoming soft acorn tutorial, I mentioned that I would share my soft pumpkin instructions at the same time.  
However, because this acorn step-by-step was longer than I expected, I decided to write two separate blog posts instead.
Not to worry, my tutorial on how to make soft pumpkins is right around the corner.  
 COMING UP ON MONDAY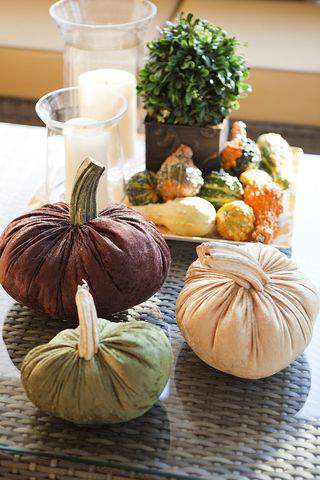 Coming up next week (10/8), I'll have more on creating a velvet harvest with a closer look at how to make beautiful, soft pumpkins.
 With their real pumpkin stems you may have to do a double take to distinguish these pumpkins from the real thing.
 It's another easy tutorial just in time for lots of fun Fall decorating.
 Hope you have time to stop by again next week for Part 2 of my series on how you can create your own beautiful, Fall Velvet Harvest. ♥
WANT EVEN MORE IDEAS FOR FALL? 
If you're looking for more ideas for Autumn, I'm participating in a few Fall Linky Parties.  Stop by the The Inspired Room to see how my blogging friend Melissa and other bloggers are getting ready for the season.  Also, for more colorful home decor and Fall DIY projects pop by Sarah's linky party at Thrifty Decor Chick  or Jen's party over at Jennifer Rizzo as well as Lucy's linky soiree at Craftberry Bush and Kim's Today's Creative Blog for a ton of great links to seasonal inspiration galore. 
ALSO, COMING UP ON FRIDAY
When it comes to Fall, I think Pecan pie just goes hand in hand with the Autumn season.
 Coming up on Friday (10/5), I'll share a recipe for this popular treat that is not only delicious but will also take mere minutes to prepare for the oven.
 Hope you stop by again later this week for a slice of Pecan Pie along with a taste of my regular bi-weekly column, THE FRIDAY FOODIE.
 See you then. ♥