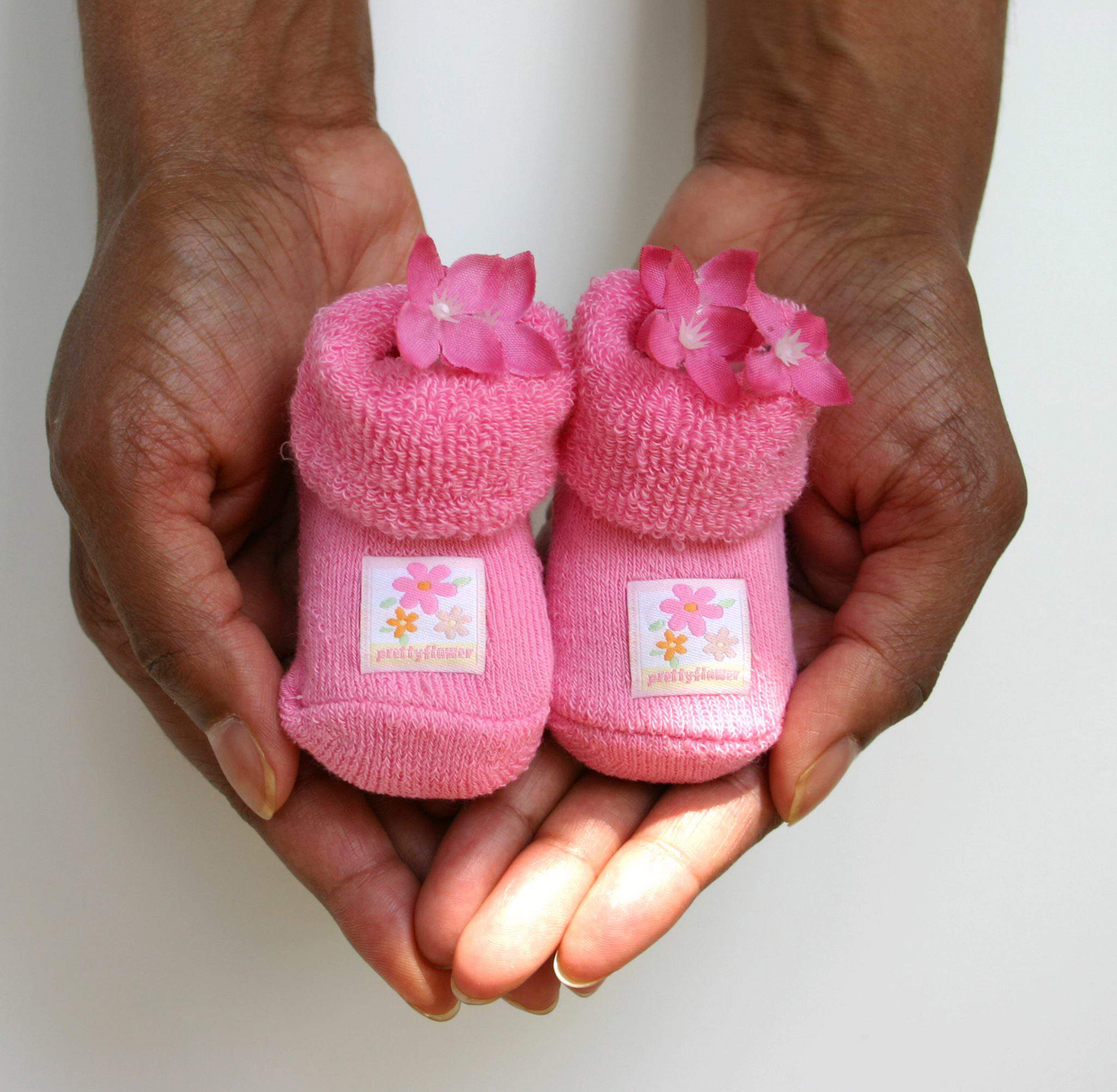 Before you jump to conclusions, No-I'm not having a baby.  Now, having made that perfectly clear, I think this is the most adorable photograph.  Don't you?
No matter how long you've been scrapbooking, I would venture to say you never really catch up on all the photos you'd like to document and that especially goes for baby pictures like this one.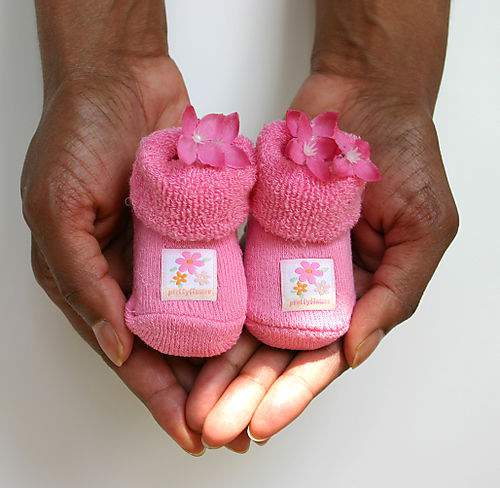 The hands and cute pink baby booties in the photo above belong to my friend Beena, who is also an avid scrapbooker.  
I've always thought this picture was so precious and this shot as well as the photo below are two of hundreds I photographed for her one day, not long before her baby girl was born.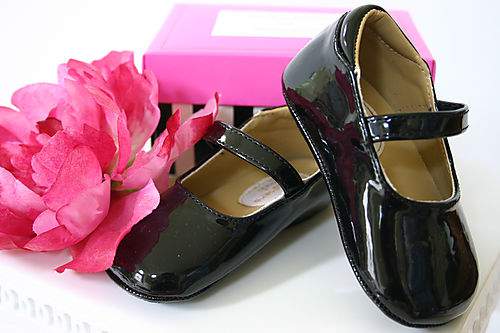 I think these photos are great examples of "faceless" photographs that can still be used to create very meaningful scrapbook pages.  I'll show you how I used these particular photos a bit later in this post.  
In the meantime, while I'm on the subject of baby photos and scrapbooking, allow me to share a great new idea book called Oh, Baby.
This book is published by Memory Makers books, and it's loaded with wonderful ideas on creating pages and projects about the little loved ones in your life.
There are so many wonderful ideas in this book by artists from all over the country including a few of mine that I'd like to share in greater detail.
Here's one example and I love the contrast that I created by combining a black & white photo with a color photo on the same page.  Of course the flexibility of digital photography makes this technique a cinch.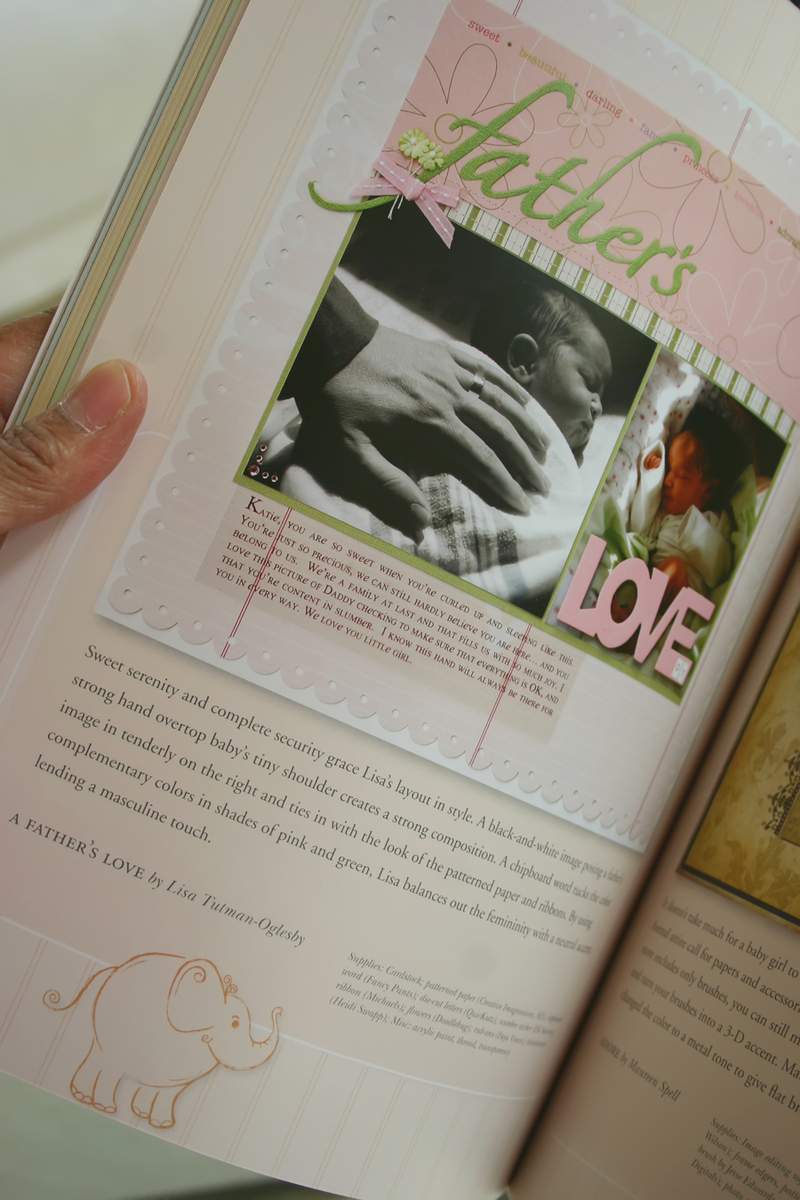 There are four chapters in this book including Anticipation, Getting to Know You, Tricks and Quirks and finally A Family Affair.  
The layout below is featured in the tricks and quirks chapter.  My son was only a few weeks old in these photos and even at that age he was already demonstrating his various sleep positions during a single nap. 
As you can see, even nap time can provide some creative inspiration.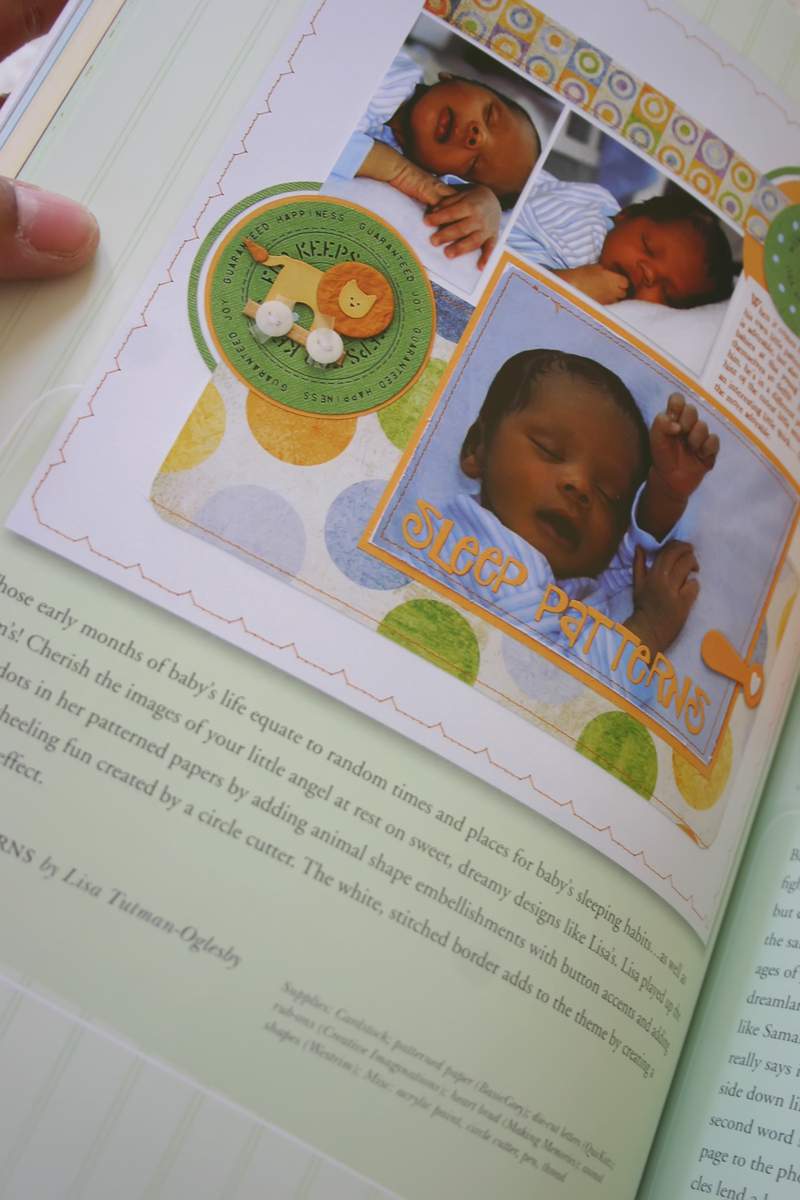 I didn't actually construct this page until last year-which was more than 7-years after these pictures were taken. 
So you can see how far behind I am on baby pages.  I think that also illustrates that it's never too late to scrapbook even your oldest photos.
I've been making a concerted effort to try to use more of the supplies I already have so I was able to use some embellishments that were buried deep in my stash. 
These adorable little elephant and lion die cuts had been tucked away for years and years and I'm glad to finally get them onto a project.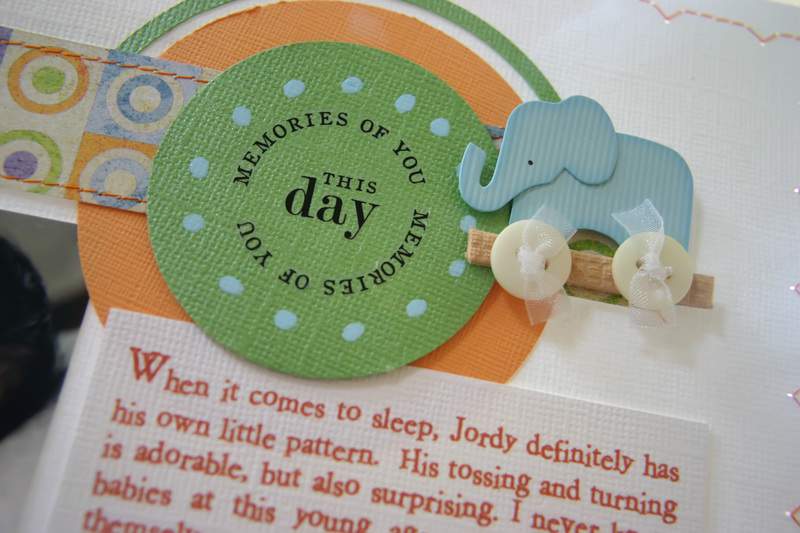 The layout below is another one of my new layouts that I created using a very old picture.  This photograph at the the heart of the page is more than 9-years old. 
See what I mean about catching up on my scrapbook pages?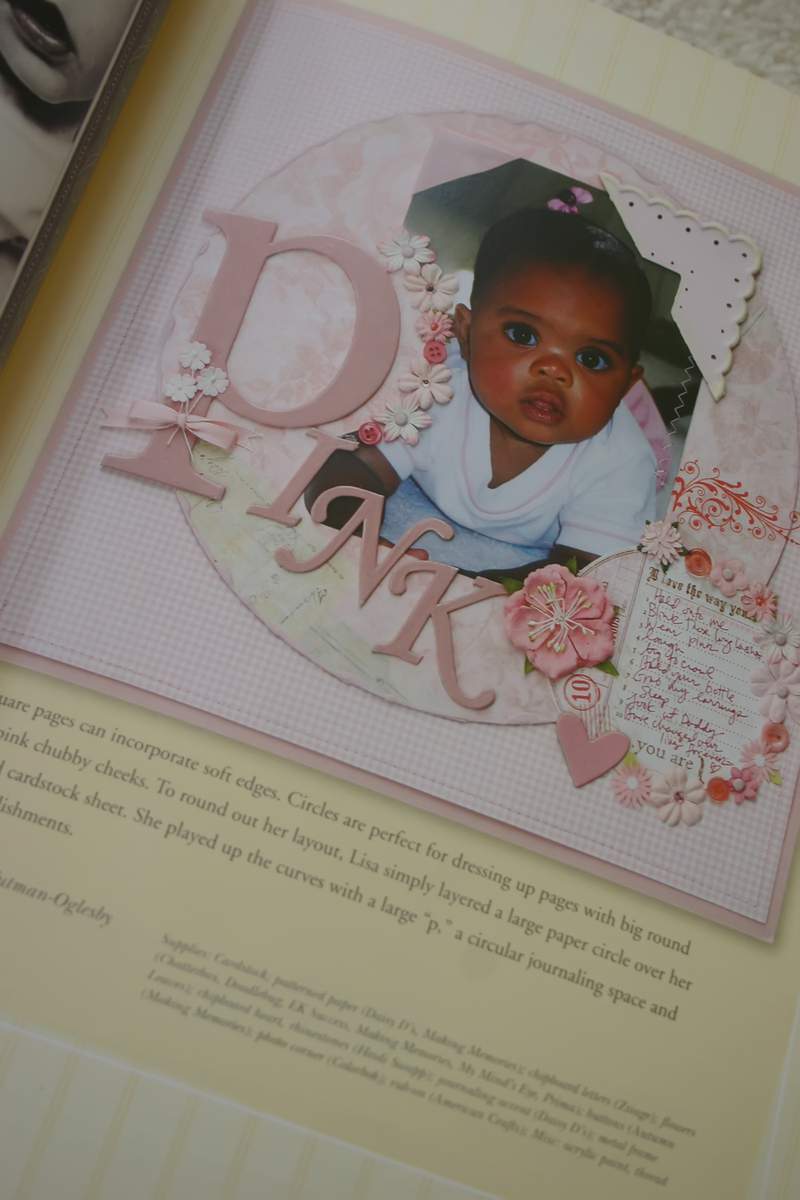 I'm a better photographer today than I was when my kids were babies.  Looking back, I sometimes wish I had used a more creative photographic eye when my kids were younger. 
Still I was lucky to get a few shots like this one of my daughter when she was about 7-months old.
I generally do my journaling on the computer but every once in a while I use my own handwriting.  I've heard from other scrappers that down the road your loved ones will enjoy seeing your thoughts in your own pen. 
For this project I wrote my journaling on a circle die cut and then surrounded it with assorted pink flowers and matching buttons.  I love this look-it's so"girly".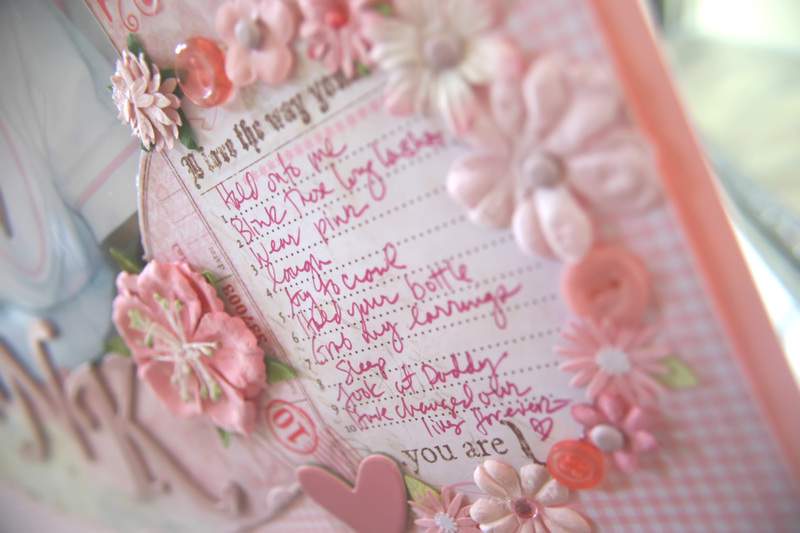 If you're just starting to scrapbook you may want to jot down a few notes about favorite photos as you shoot them, and stash the notes with the picture.  That way you'll still have info about the photo regardless of when you actually incorporate it into a scrapbook page.
Meanwhile, here's a look at how I arranged the photos that I showed you at the beginning of this post.
As you can see there are no faces-just objects of sentimental value, which still make great subjects for scrapbooking. 
Chipboard is one of my all-time favorite scrapbooking supplies.  It looks like grey cardboard and is so versatile because it comes in all sizes, shapes, designs and in this case-alphabets. 
For this layout, I painted the chipboard letters brown for a fun title which coordinates nicely with the colors in the patterned paper.
Also, a little bit of "bling" goes a long way.  I think little rhinestone crown above the "B" adds a nice touch.  You can really punch up a layout with small, subtle details and additions like this.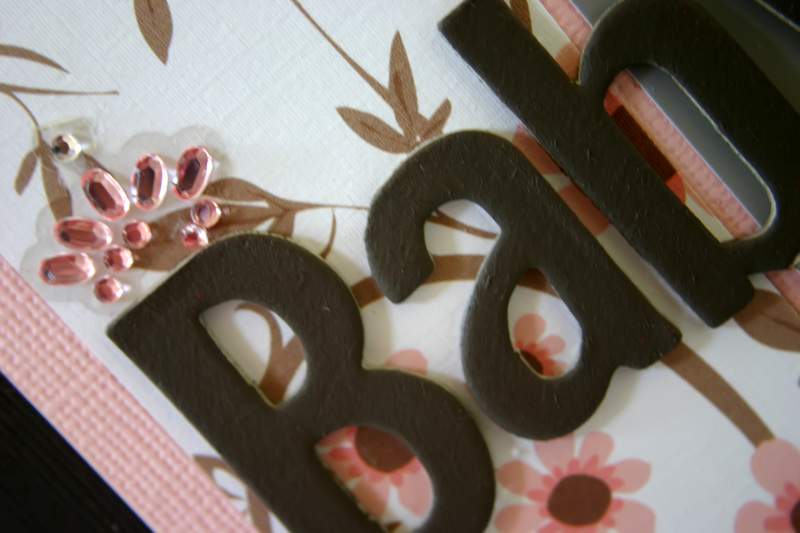 This Oh Baby! idea book is a great way to jumpstart your creative juices when it comes to using baby photos.  The ideas can also be easily applied to photos of any kind and subjects of any age.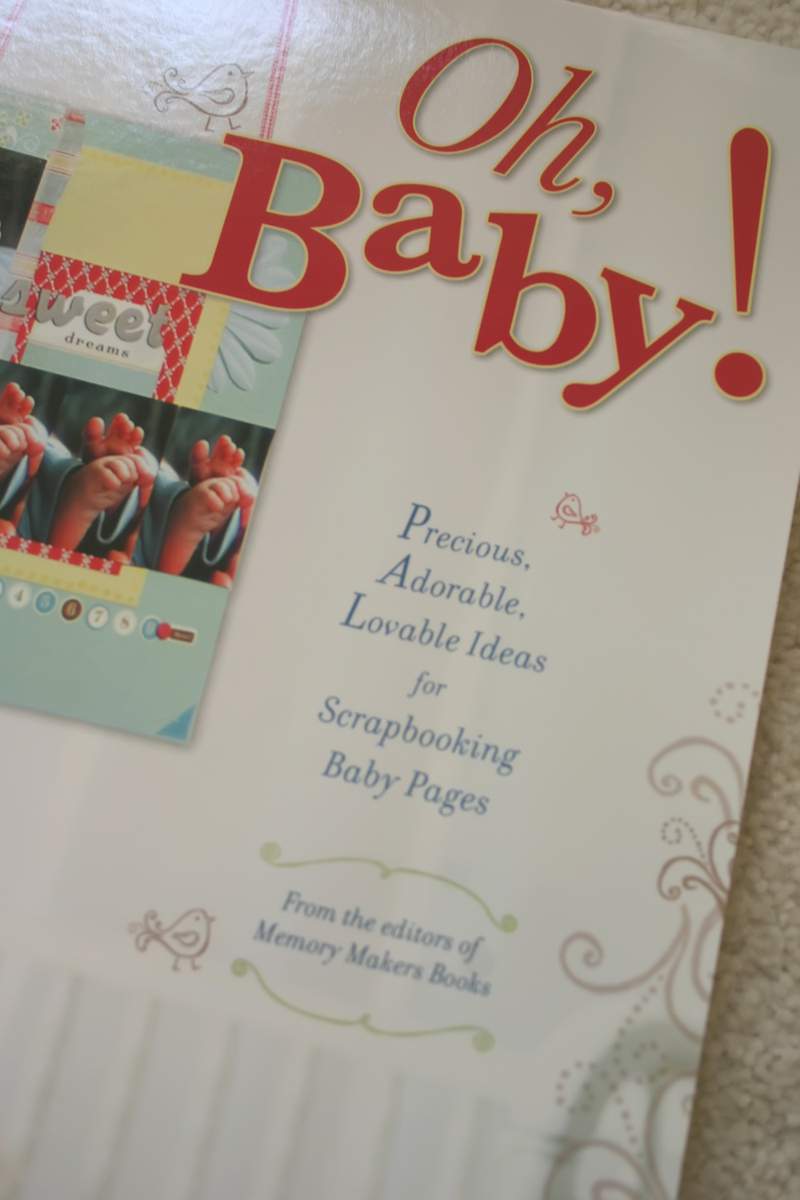 I think you can see it's never too early to start scrapping pictures about your little ones. 
By the same token, it's also never too late to document the baby photos you love-even when your babies are no longer babies (like mine).