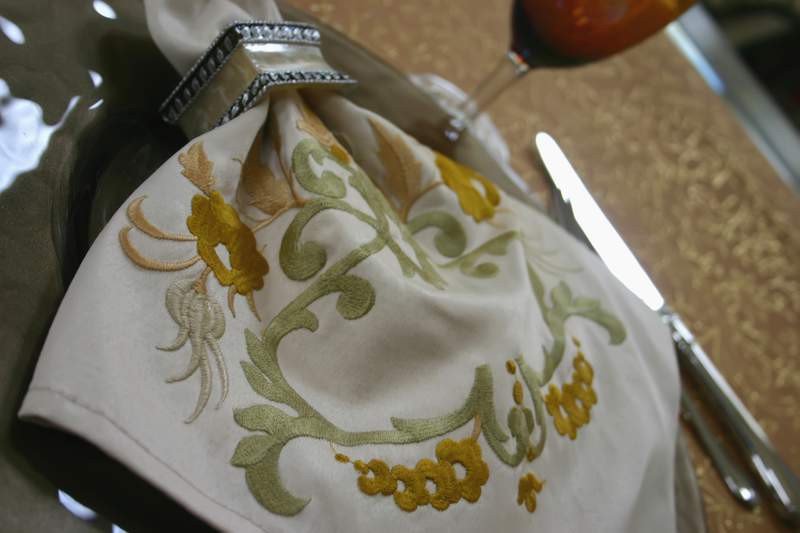 When it comes to embroidered napkins, the possibilities are endless.  You can go casual, like I did with my lemon napkins (remember those?) or you can choose a more elegant look, like the ones in this project. 
I love this design.  This beautiful pattern is from an embroidery collection called Grand Treasures.  I think as you scroll through the pictures you'll agree that the name is not only a perfect fit, but a perfect stitch as well.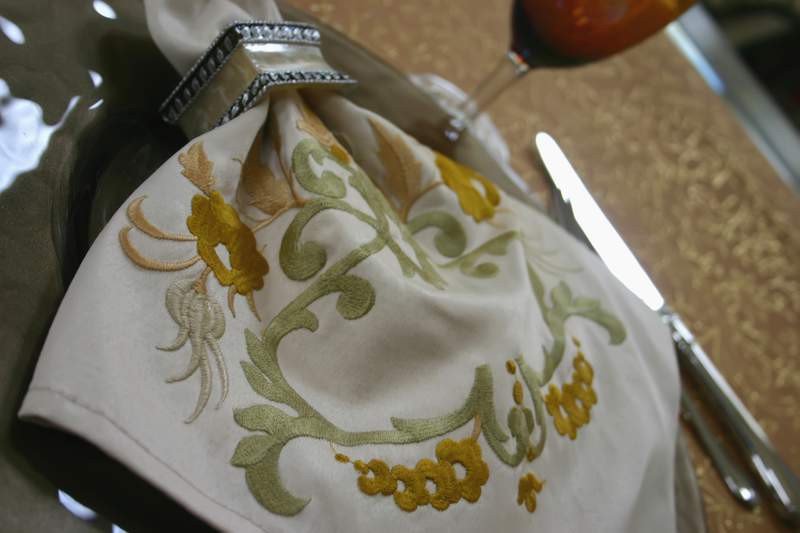 This design can be stitched out in as many colors as you select. Sometimes, it's just fun to stitch out the same pattern multiple times in different colors, to get a sense of what threads will look the best with a particular fabric. 
I settled on four threads including light taupe, medium copper, gold and a medium olive color. 
It's always fun to watch the embroidery process in progress.  What starts out as just a few stitches on a plain piece of fabric is eventually transformed into a beautiful and elegant design.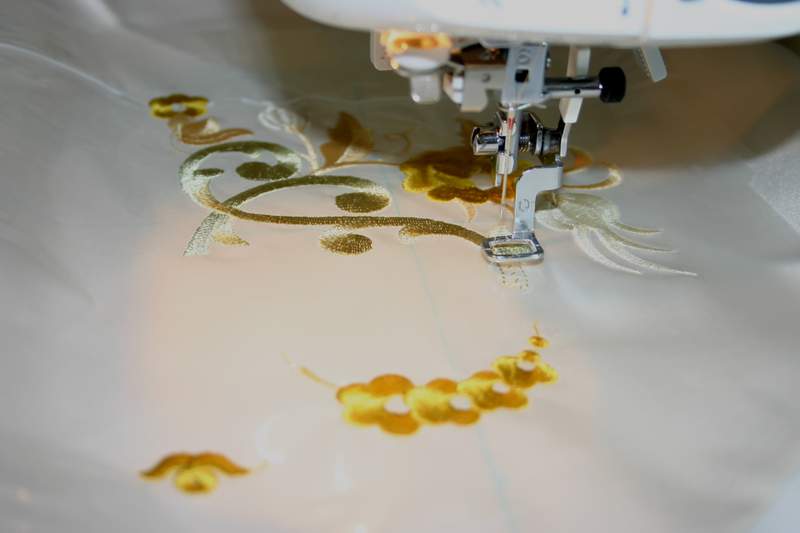 See what I mean about the "grand" in Grand Treasures.  I think the detail is so intricate with such a delicate and pretty presentation. 
This could also be stitched out all in one color for a completely different look that would be just as beautiful.  Imagine how lovely this would look with ivory thread on an ivory-colored pillowcase.
You probably notice the shiny material underneath the embroidery.  This thick clear material may look a little like plastic, but it's actually water soluble stabilizer.  This is placed on top of the napkin before any stitching begins.  The stabilizer helps hold the fabric firm and in place while the embroidery needle is moving up and down. 
Your design will generally look much better if a surface stabilizer is also used because it prevents the embroidery from shifting.  Even a slight shift due to the repeated motion of the needle can cause a design to stitch out slightly distorted. 
Once the project is finished, just run the napkin under warm water and the stabilizer washes out completely, leaving only the beautiful embroidery visible.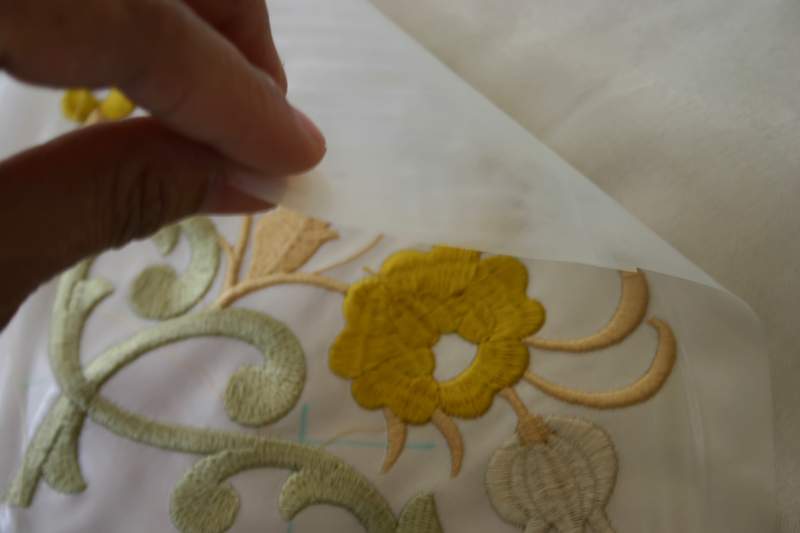 Whenever you are doing machine embroidery, it's a good idea to stay within close range of the hoop in operation. When you walk away from a project in progress you can end up with disastrous results.
Because the embroidery attachment is constantly moving, sometimes the loose end of a project can slip under the hoop and get sewn into the project. 
The photo below is a classic example of what an embroidery machine disaster looks like.
I just shudder when I look at this photo above.  I'll admit I was working on something else and not paying close enough attention to the project as it was being stitched out.  One end of the napkin worked it's way under the project and got caught up under the embroidery needle.  I had to literally cut the end of the napkin off, in order to get the project off the embroidery hoop.  Of course, that ruined this napkin. 
This is also why it's always a good idea to buy at least one extra napkin for any gift set you're making. 
The photo below shows take two and what the back of the project should look like before it's removed from the embroidery hoop.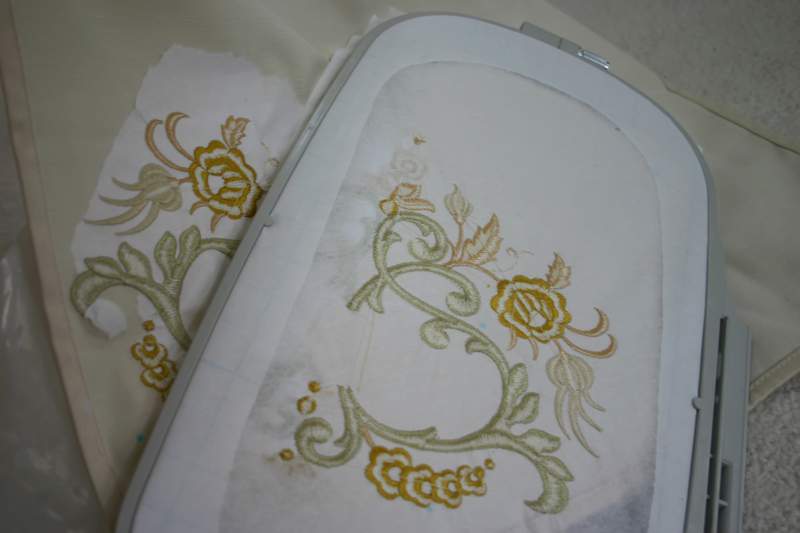 The white paper you see surrounding the embroidery threads is actually a sticky-surfaced paper that is placed inside the embroidery hoop and holds the napkin in place from underneath.  Once the project is finished stitching out, the paper easily peels away from the back of the embroidery project as in the photo below. 
Perhaps you've even seen tiny pieces of this material before, on the back of embroidery items you may have purchased.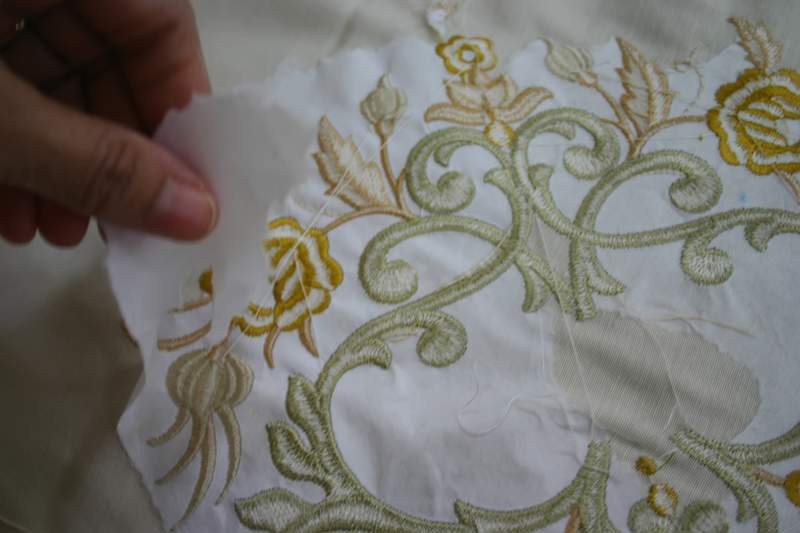 It may seem like a lot of extra "paperwork" to deal with between sticky paper and stabilizers, but all these materials help ensure your project turns out exactly the way it's supposed to.  It's worth it because once all papers and stabilizers are removed, you're left with a beautiful end result.
For this project, I used a Pfaff embroidery design, collection which includes several other really elaborate patterns.  As I mentioned, this collection is called Grand Treasures and you can see some of the other fancy designs that come with this embroidery disc in the scan below.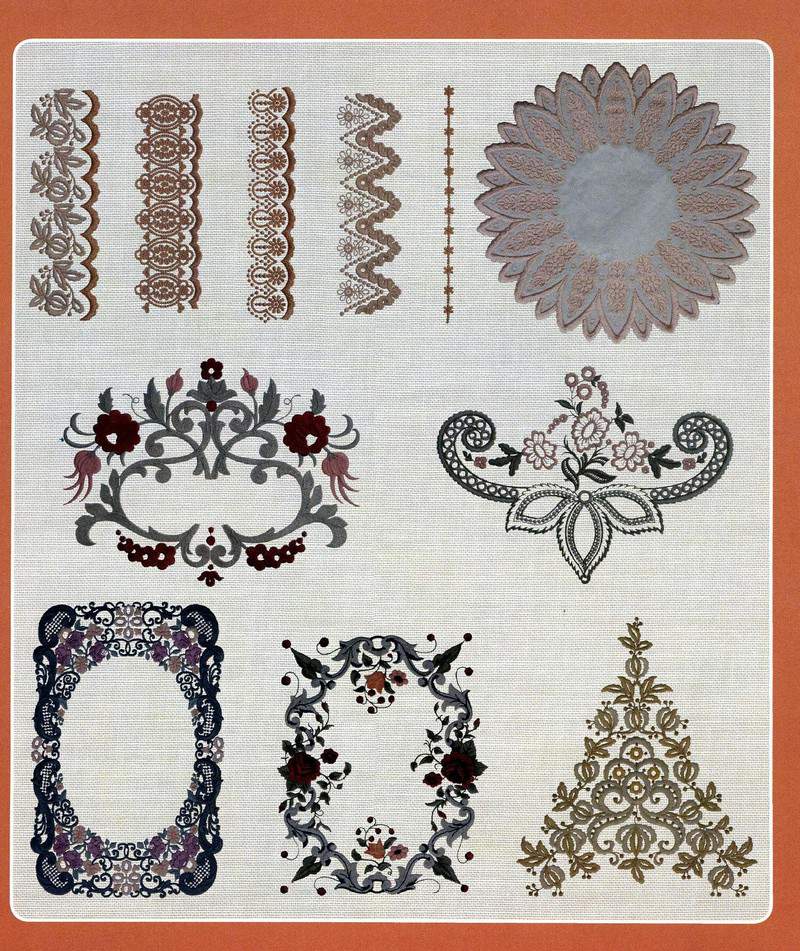 The patterns come on a multi-formatted disc and all the standard embroidery formats are included.
I use my computer to transfer the desired pattern onto a floppy disc which can then be inserted directly into my embroidery machine to be read.  Embroidery machines really are computers that sew.
My Brother ULTD embroidery machine is about 7-years old and it's quite user friendly.  I remember when I first bought it, I was almost too intimidated to use it because I thought it was too complex.  I think that's how a lot of people first perceive embroidery machines.  However, once you dive right in, the features will quickly become second nature.
You can see some of this project as it was being stitched out in the photo below.  The screen on the right hand side of the machine displays the thread change prompts as well as lots of other useful information about the design at hand.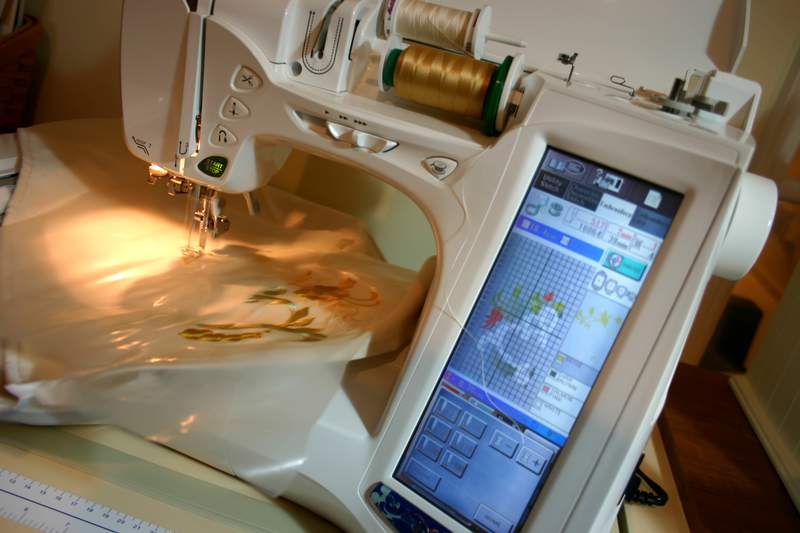 While this machine has a built-in floppy drive to load the designs, the newer embroidery machine models all have disc slots.  I'd love to upgrade one day. 
If you decide to invest in an embroidery machine, do shop around.  There are so many wonderful machines now on the market and they include even more advanced features that are not only innovative but time-saving additions as well. 
Getting back to this project, there's another good reason this collection is called Grand Treasures.  All of the designs on this disc are pretty grand in size.  This design is approximately 9-1/2 inch width X 8-inch height. 
That's too large to stitch out all at once even on my largest embroidery hoop.  So this pattern is actually divided into two reverse-image sections that have to be stitched out separately.   
This can get kind of tricky because the design must be marked precisely on the fabric in order to line up the second half with the first half of the design, for a seamless embroidered result.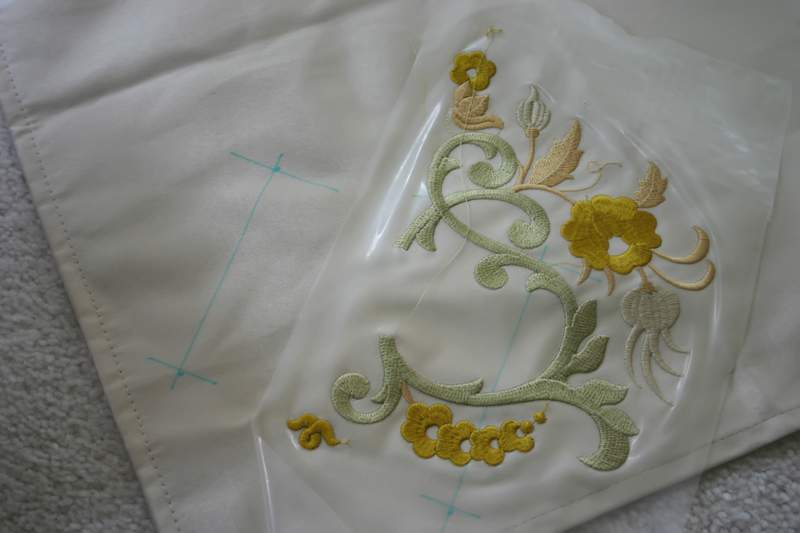 Each design also comes with a corresponding vellum template so that you can determine exactly where you want the pattern to be placed on your fabric. 
The template is very important because it allows you to line up these two design halves.  This way the reverse-embroidered images will connect perfectly when stitched out.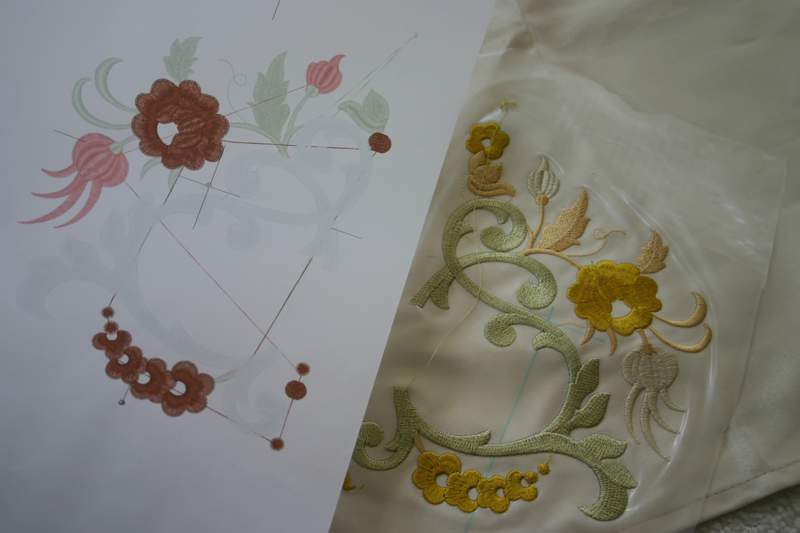 Note: When marking your fabric, do not use a permanent marker.  Make sure you use a water soluble marker, so the markings can be washed out after the design is completely stitched out. 
Also, I've found that water soluble markers don't always retain their effectiveness over a long period of time. If you're starting a new project with an old marker, you may just want to buy a brand new marker to be on the safe side.
Sometimes it's hard to visualize how embroidery patterns can ultimately be used and this is one embroidery collection that I probably would not have purchased without some visual prompting.   
I first spotted this design in the September 2007 issue of Martha Stewart Living magazine, and fell in love with the it right away.
The picture below is from the magazine and totally sold me on the Grand Treasures embroidery collection.  I decided not to include the decorative border around my napkins, but I do think that detail adds alot to the finished project.   I may try that on my next napkin set.
Notice how different the napkins in the photo look, with the use of two thread colors instead of four?  (You can click any photo for a larger view)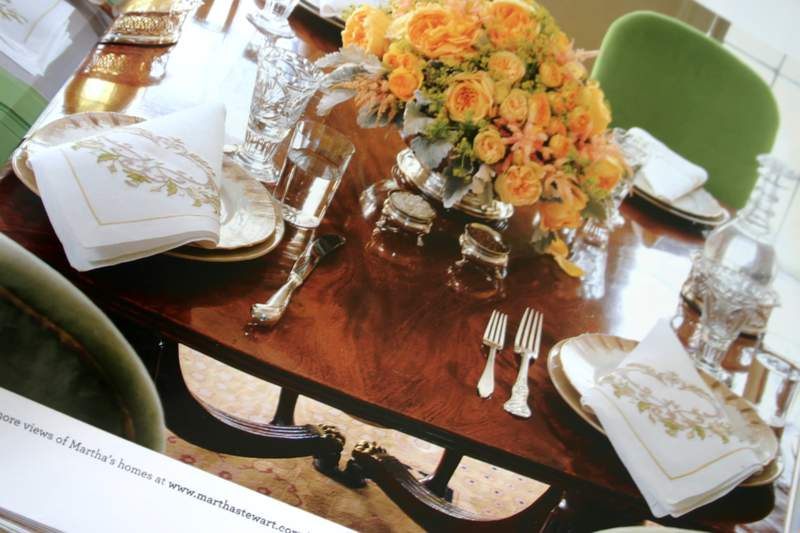 By the way, this Martha Stewart Living issue is loaded with her usual great photos, but I especially loved the picture of her new craft room in Bedford. 
I think the craft space photo featured in this issue is beautiful and a great use of attic space.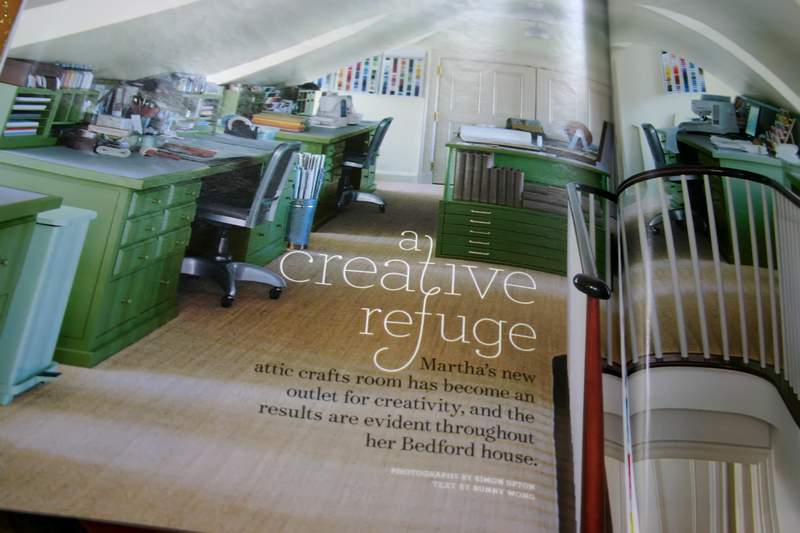 I love gleaning ideas from all the wonderful magazines that are available. 
It's so much fun to try new projects and add my own personal twist, flavor and flair to a new endeavor.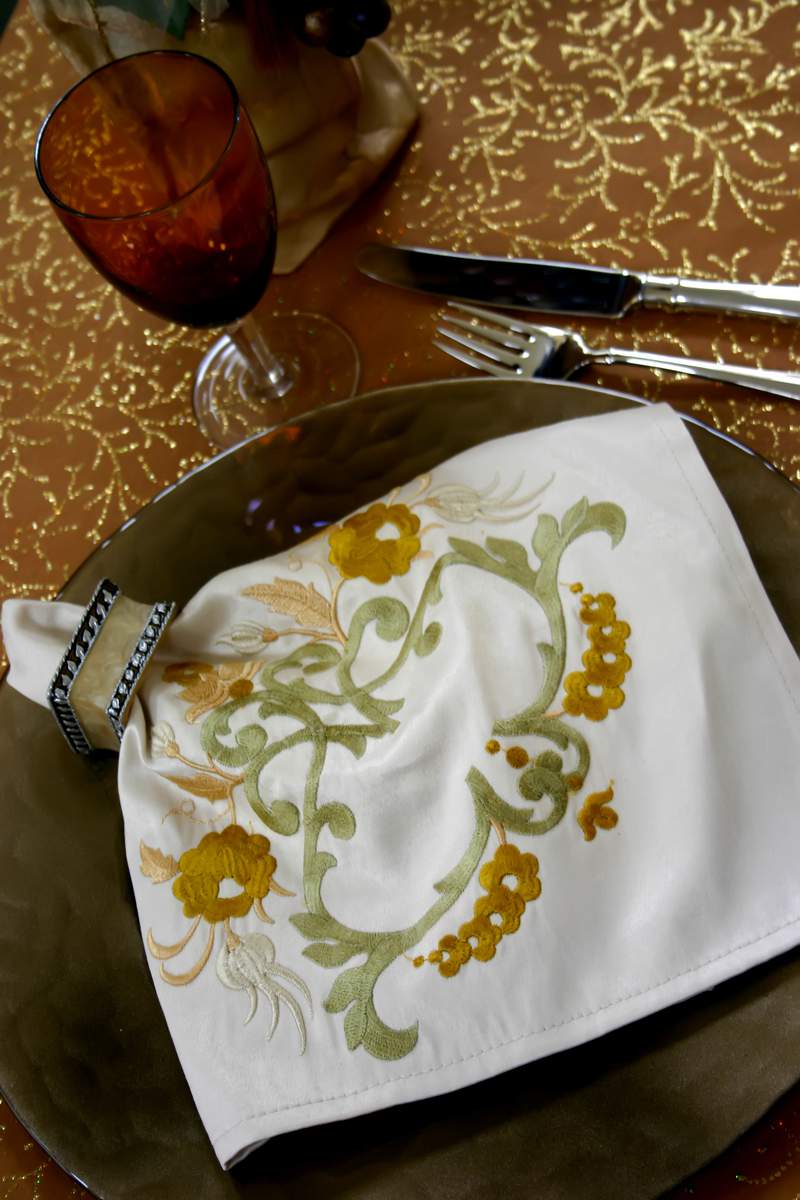 As I mentioned earlier, embroidered napkins are among my all time favorite projects.  They're so simple to make because the embroidery machine does so much of the work for you. 
Embroidered or personalized napkins are always a great gift and they work for just about any occasion.  You just can't go wrong with a project like this. 
Now, isn't that just grand?