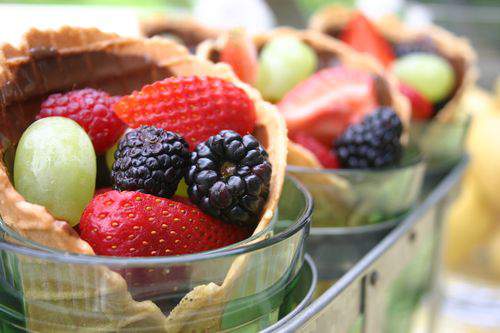 Can you believe it's September already?  While the Summer season is clearly winding down, it's still a little toasty on some days in my neck of the woods.
If you're in the same boat and looking for ways to cool off, I have just the treat that will do the trick.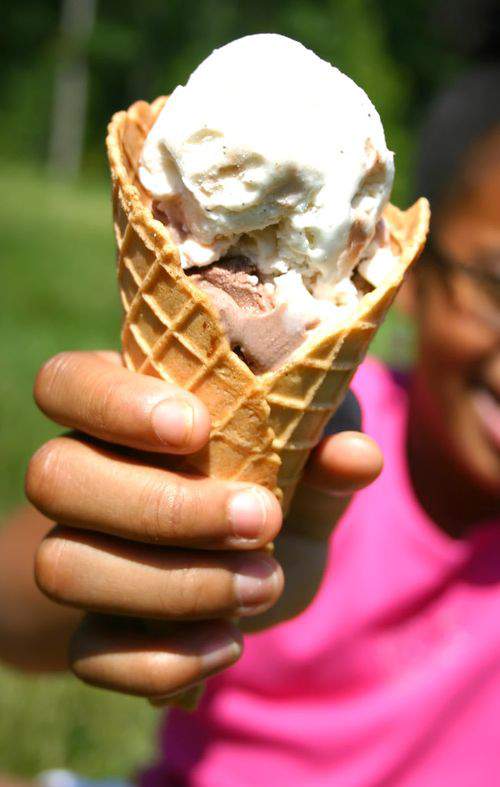 Today's tastiness is a little about ice cream, a bit about fruit and a whole lot about waffles-but not necessarily the kind of waffles you eat for breakfast.
I'm talking waffle cones here.  Did you know you can make your own?  I discovered this marvelous home-based ability earlier this year and I've been whipping up waffle cones ever since.
I'm a bit of a gadget gal anyway so I'm always game and on the lookout for new fun tools and appliances for crafting and kitchen projects.  This waffle cone maker is my latest, greatest toy.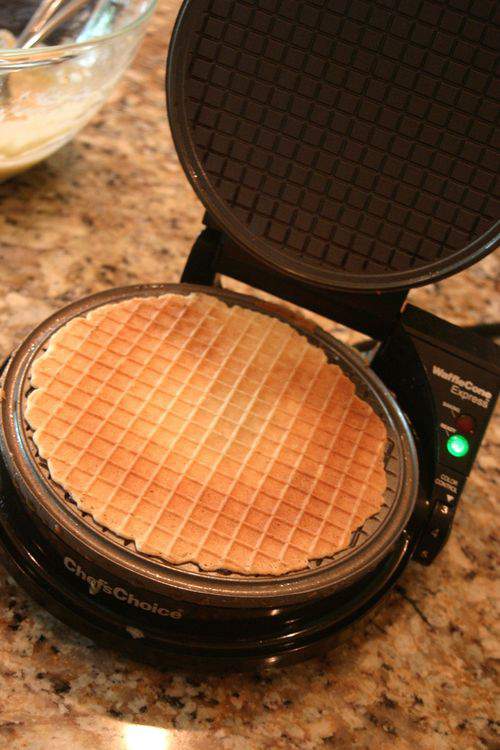 Recipes to make gourmet waffle cones, elegant wafer cones and chocolate waffle cones come with the waffle maker.
To make the waffle just drop a few tablespoons of batter onto the hot iron.  It only takes a few seconds to cook.  Lift the iron top, remove the flat waffle and place onto a paper towel.
The waffle is really hot at this point, so use the paper towel to help fold one end of the waffle over a special cone-shaper.  Roll the waffle and hold in place for the few seconds it takes to cool down and harden.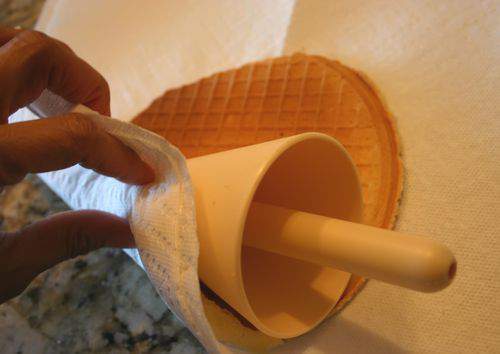 At first, it may be difficult to avoid having a small opening in the bottom of the cone, but with a bit of cone-rolling practice you can get the bottom portion air tight.
I think that any opening in the bottom of the cone just means your tasters will have to eat their ice cream that much faster.
Tip: if the cone opening is a concern, you can always drop a miniature marshmallow in the bottom to create a seal and keep the ice cream from dripping through.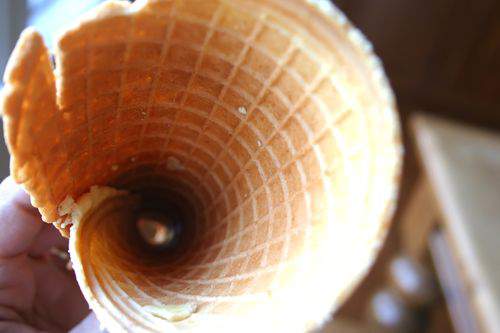 This is such an easy creation.  The waffle cone maker does all the work and there's also very little cleanup.
I think these cones look pretty good and they taste great as well, with a sweet wafer, cookie taste and the right amount of crisp.
There is something about the taste of homemade, with its use of natural ingredients that almost makes me want to turn my back on store-bought.
These waffle cones also stack up quite nicely for easy storage.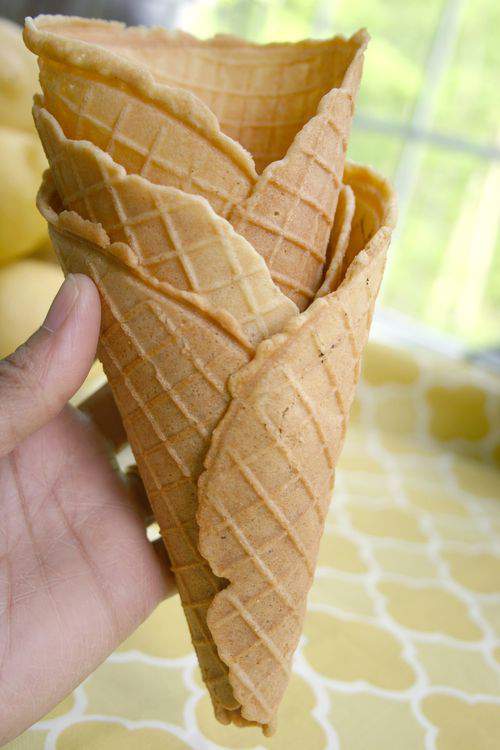 Another fun thing about these waffles is that when they're warm, they can be molded into just about any shape.
If you want a dessert that's less casual and bit more "grownup" try molding the waffle using the inside (or upside-down outside) of a small bowl.
You can also use a pastry brush to apply a coat of chocolate Magic Shell to the sides of the cones or bowls.
If you do this, you must freeze the waffle cones/bowls first, because the Magic Shell only activates when it's applied to a cold surface.  After applying the chocolate keep the cones/bowls frozen until right before filling and serving.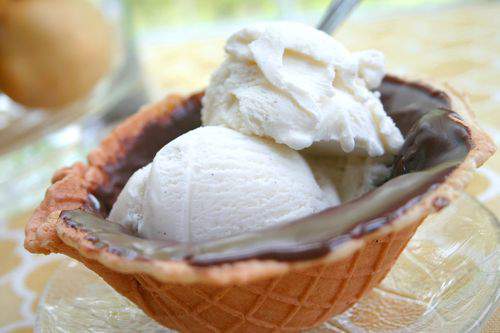 It's important to do all molding while the waffle is still warm.  Once the waffle cools down it hardens and can't be shaped without breaking into multiple pieces.
However, if your waffle breaks apart up during forming, don't fret.  Just save the broken pieces in another bowl as waffle bits.  Young tasters in your house will love these too.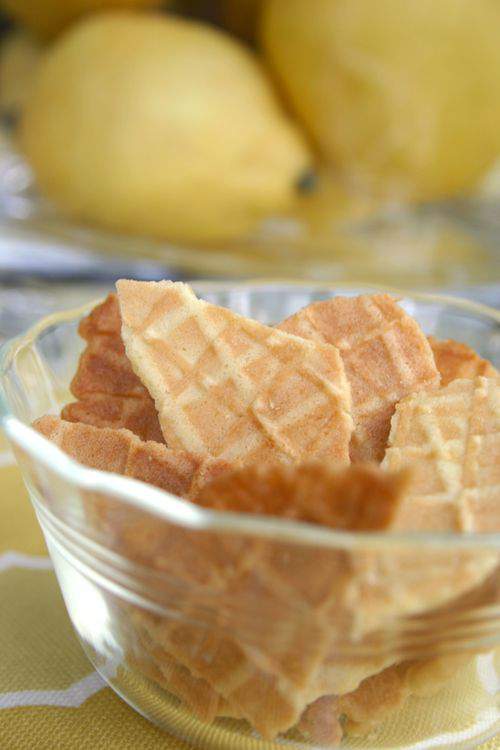 Another way to enjoy these waffles is to cut them and use them as toppers.
While the waffle is still warm, use a large knife to slice it into four equal pieces.  This creates adorable little waffle triangles.
These triangles are perfect on top of servings of creamy lemon and pistachio pudding.
The triangles can also adorn a dessert tray or tea party platter.  You could also simply stack them and serve them as mini wafers for a light and easy after dinner treat.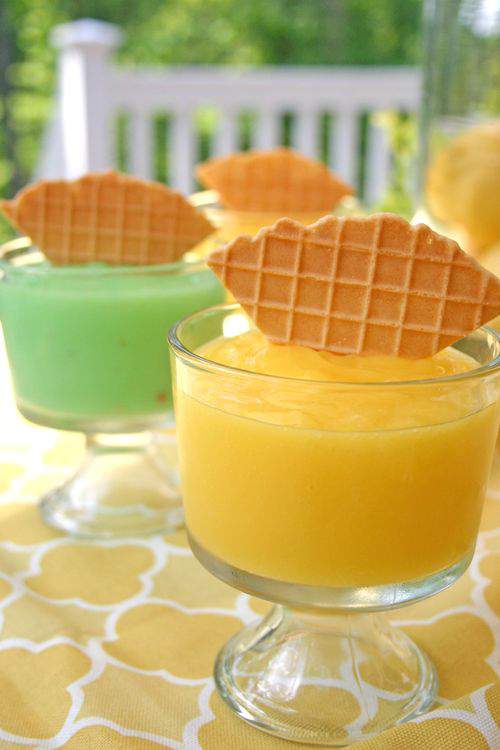 Looking for a sweet-tasting house warming gift?   Imagine several of these cones, delicately wrapped in pretty tissue and presented in a nice bakery box.
Include a container of homemade ice-cream and your gift recipient will be blown away by your efforts.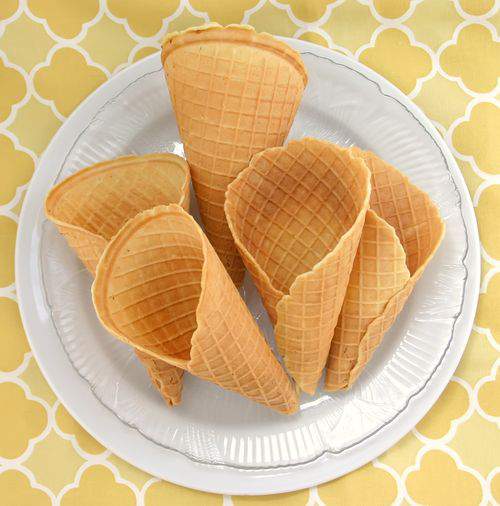 For another beautiful and refreshing dessert, consider filling the cones with fresh, assorted fruit.  Drop them into a few tumblers for upright support and easier serving.
For more of a wow factor, offer them in an old fashioned drink caddy.  I think this has really nice presentation value.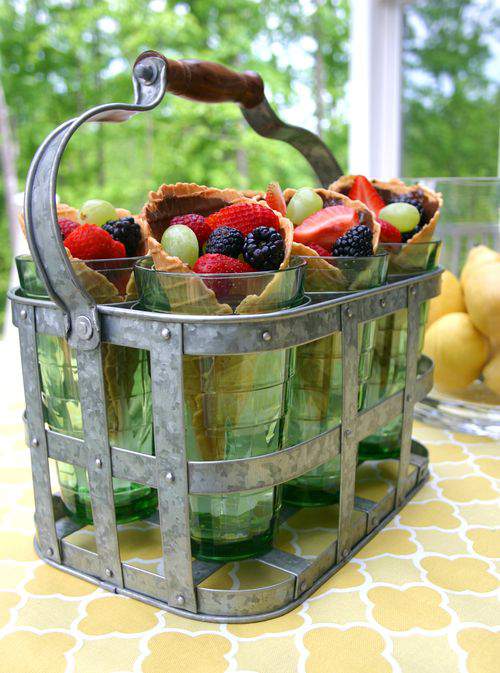 What do you think your guests would say if they saw this coming their way?
My parents were visiting me the day I snapped these fruit-filled pictures and Mom and Dad really enjoyed eating my photo shoot props.
By the way, you can decide decide how light or dark you want the waffle cones or bowls as well. These shades in the photo below represent what you can achieve from the first 3 of 7 temperature settings on the cone maker.
The smaller the setting, the lighter the cone color.
Of course friends and family will devour this dessert regardless of the color of the waffle, as long as the cone is filled to the brim with something delicious.
Just ask Cameron and Jordy about that.  Oh, wait-their mouths are full right now.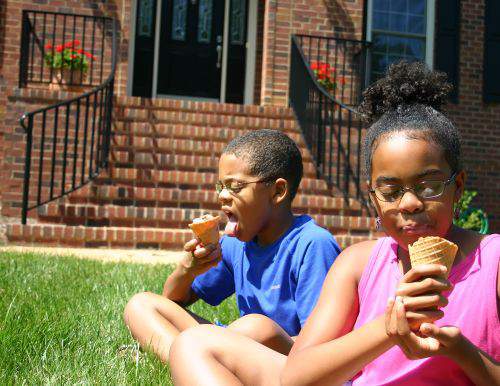 As you can see there are loads of great ways to put these waffle cones to good use.  They're not only fun to make but even more fun to eat.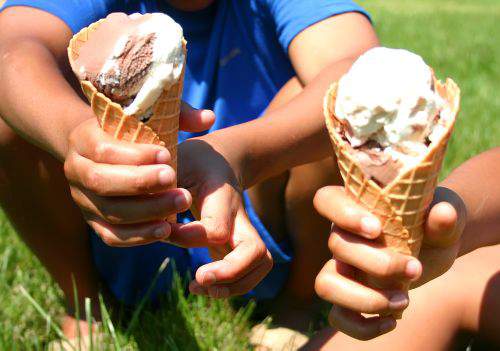 Yes, I definitely think this is one dessert that's guaranteed to ensure a Sweet September.