E
ven though the original, animated How the Grinch Stole Christmas  has been airing every year on television for decades it never gets old.  I never miss it either.
Welcome to Day 6 of my 22-day COUNTDOWN TO CHRISTMAS HOLIDAY SERIES that today, offers a festive nod to one of my favorite holiday movies  with these Grinch Santa Bites.
You just can't "outgrow" a Christmas classic like the Grinch.
How many times have you seen the animated feature?
Never gets old, does it?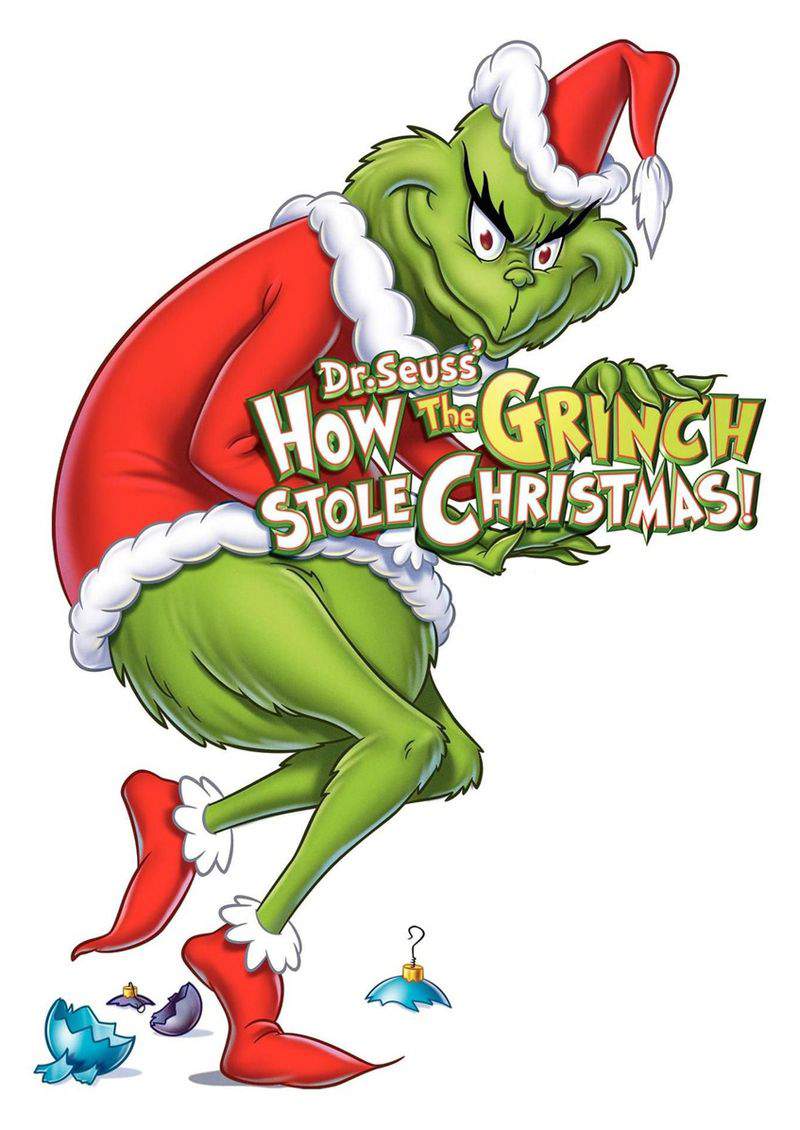 Here's a little clip from the original animated movie to get you thinking about the Grinch and his mean ways.
I think my Grinch hat cake bites could actually put a smile on this guy's face.
Start with fresh strawberries.
Remove the leaves and then carefully dig out the hull.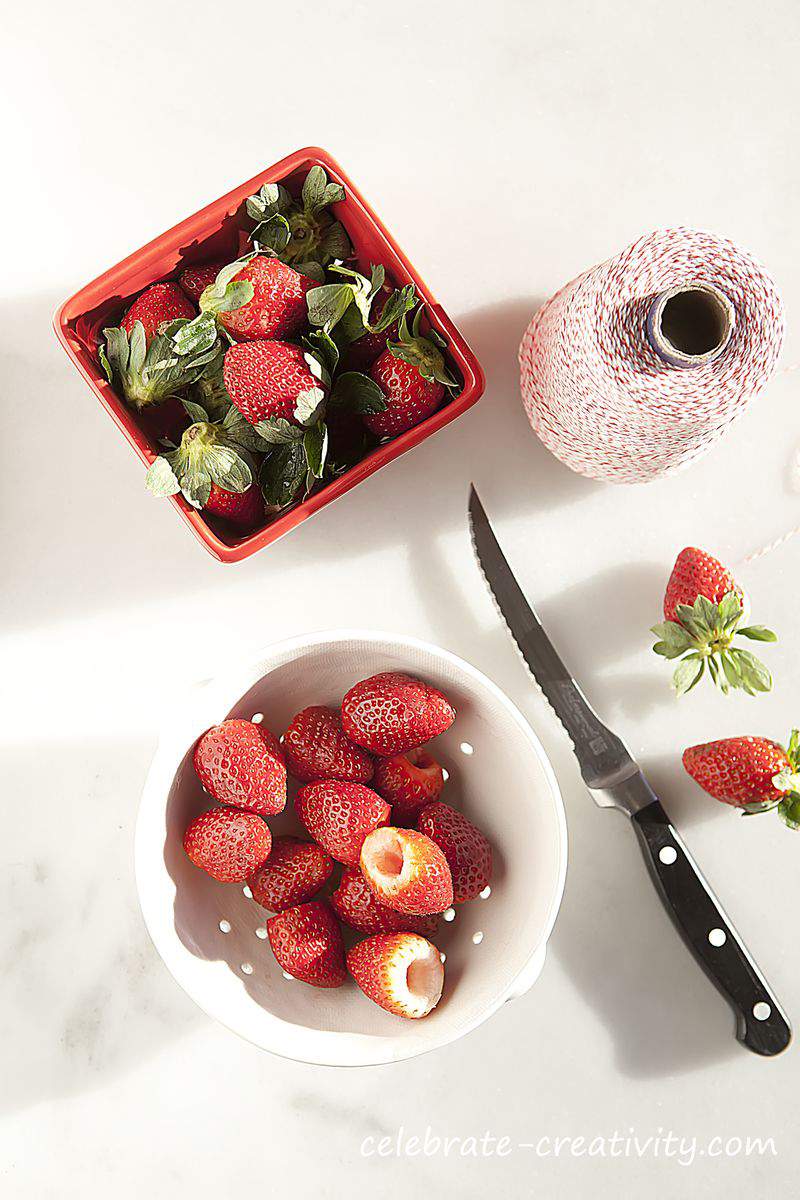 I made similar strawberry Santa Hat Brownie Bites last year and used brownie mix but for these Grinch hats, I needed an option that could be colored easily.
Pick up a store-bought box of pound cake mix which is thick enough to cut into a mold and light enough to absorb food gel coloring.
Mix the ingredients according to the box instructions and then add the green gel coloring.
Bake the cake and all it to cool completely after removing it from the oven.
Use a biscuit cutter to create the Grinch portion of the hats.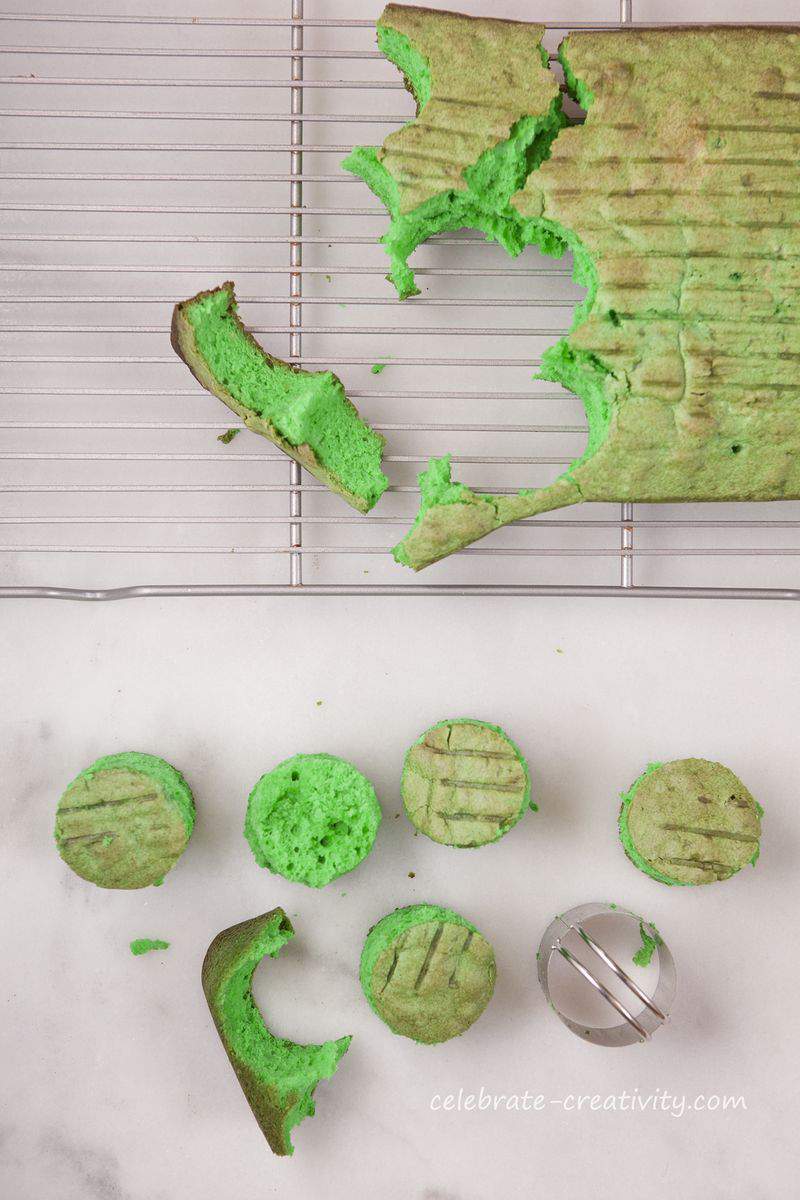 The Grinch may still look a bit skeptical about this dessert but just wait to see how how quickly it comes together for a fresh and tasty treat.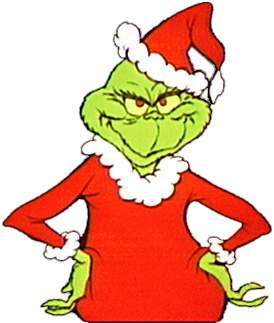 The butter-cream frosting is also very simple to make and only require a handful of ingredients including 3-cups of confectioner's sugar, 2-3 tablespoons of whipping cream, 1-cup butter and 1-2-teaspoons of vanilla.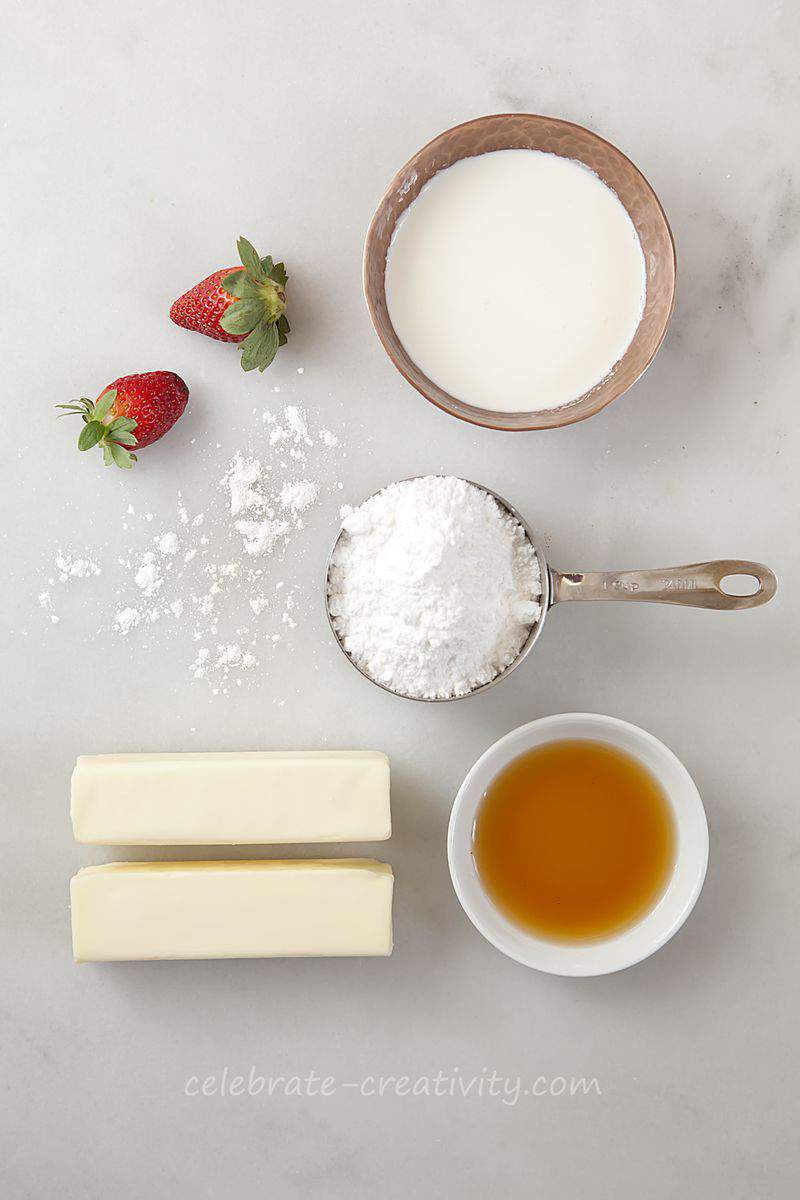 Mix thoroughly until all ingredients are smooth and fluffy.
Spoon into a baking bag (or Ziploc bag) and fit with a decorating tip.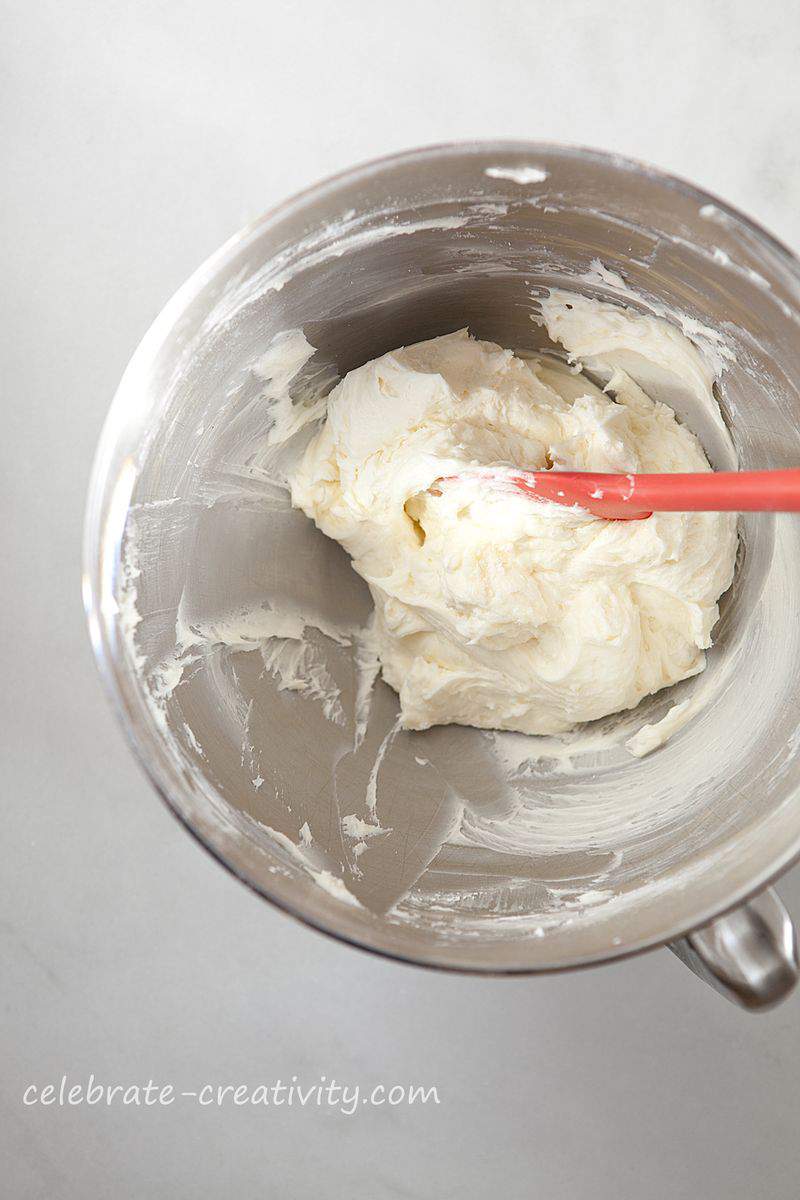 When using a small amount of butter-cream like this, I find it easier just to use a small Ziploc bag instead of the larger, cone-shaped icing bags.
Squeeze a generouse amount of the butter-cream around the edge of each cake piece.
Place the strawberry on top of the butter-cream. Top off the strawberry with a small ball of butter-cream to finish off the hat.
Chill The Grinch hats for about 20-minutes before serving.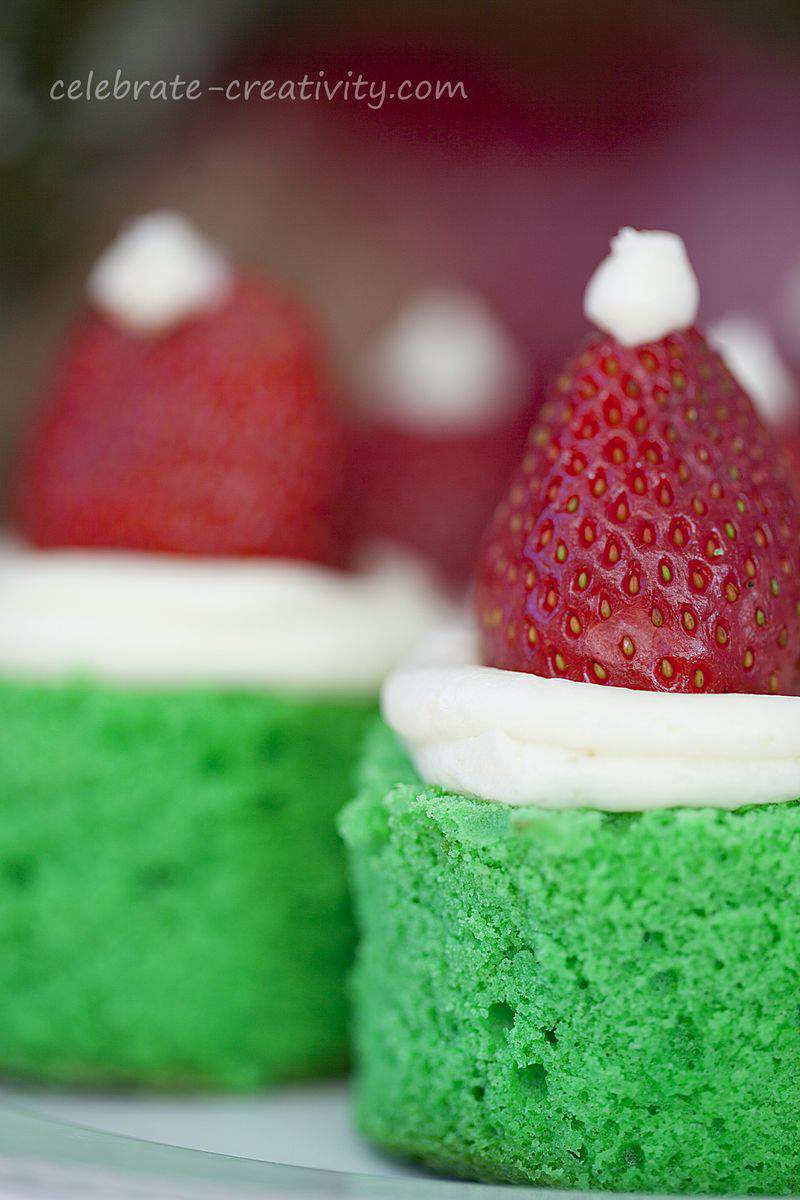 This dessert will not only make everyone in the room smile…. it will also warm the heart of any Grinch in the room too.  
See you right back here tomorrow for Day 7  of my
COUNTDOWN TO CHRISTMAS HOLIDAY SERIES. ♥
In case you missed any ideas in my series, here's a look at: