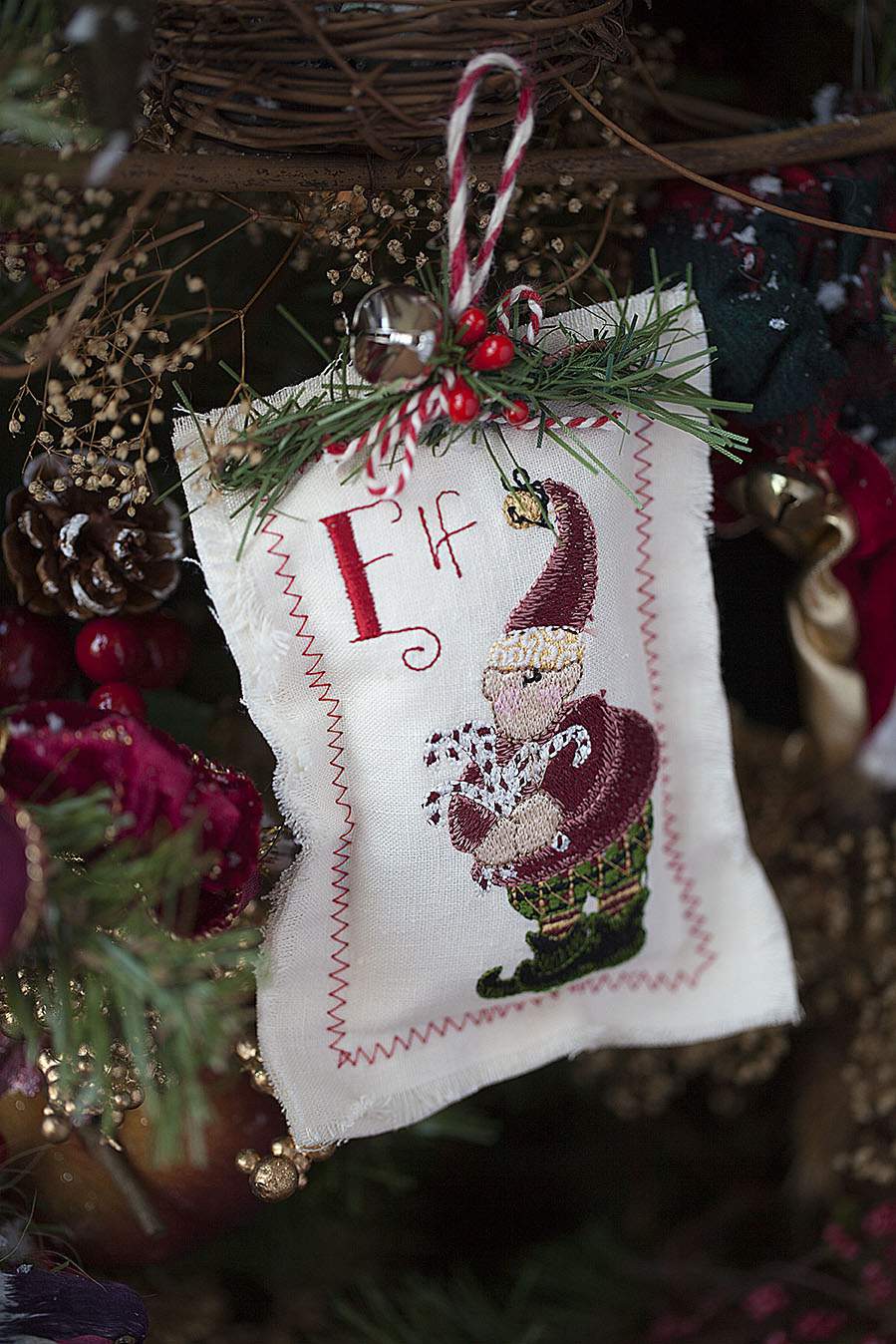 Christmas is more than two and a half months away, I know.
But it's not too early to think about how to decorate your holiday tree especially if you're making them by hand.
Well, you're in the right place for holiday ornament inspiration.
I'm participating in a super exciting and creative blog hop which includes handmade holiday ornaments galore.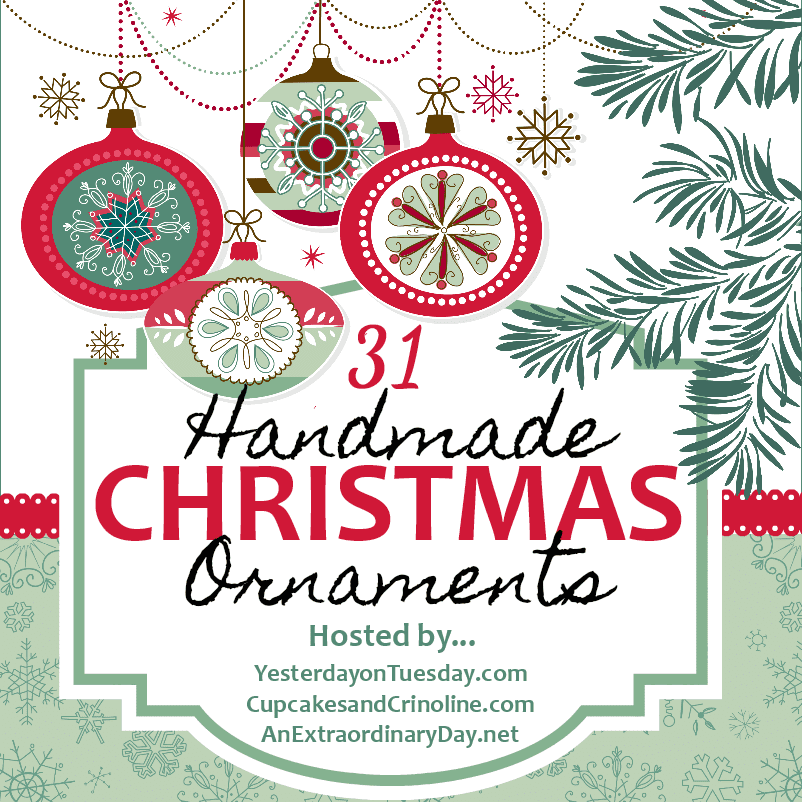 Welcome to 31 days of Handmade Christmas Ornaments which features a brand new ornament each day from a talented group of fellow bloggers from all over the country.
My little, soft elf ornament represents Day #8 in this holiday series.
Take a look at some of the simple supplies you'll need.
Now, I used a home embroidery machine but you don't need a machine to create a similar ornament.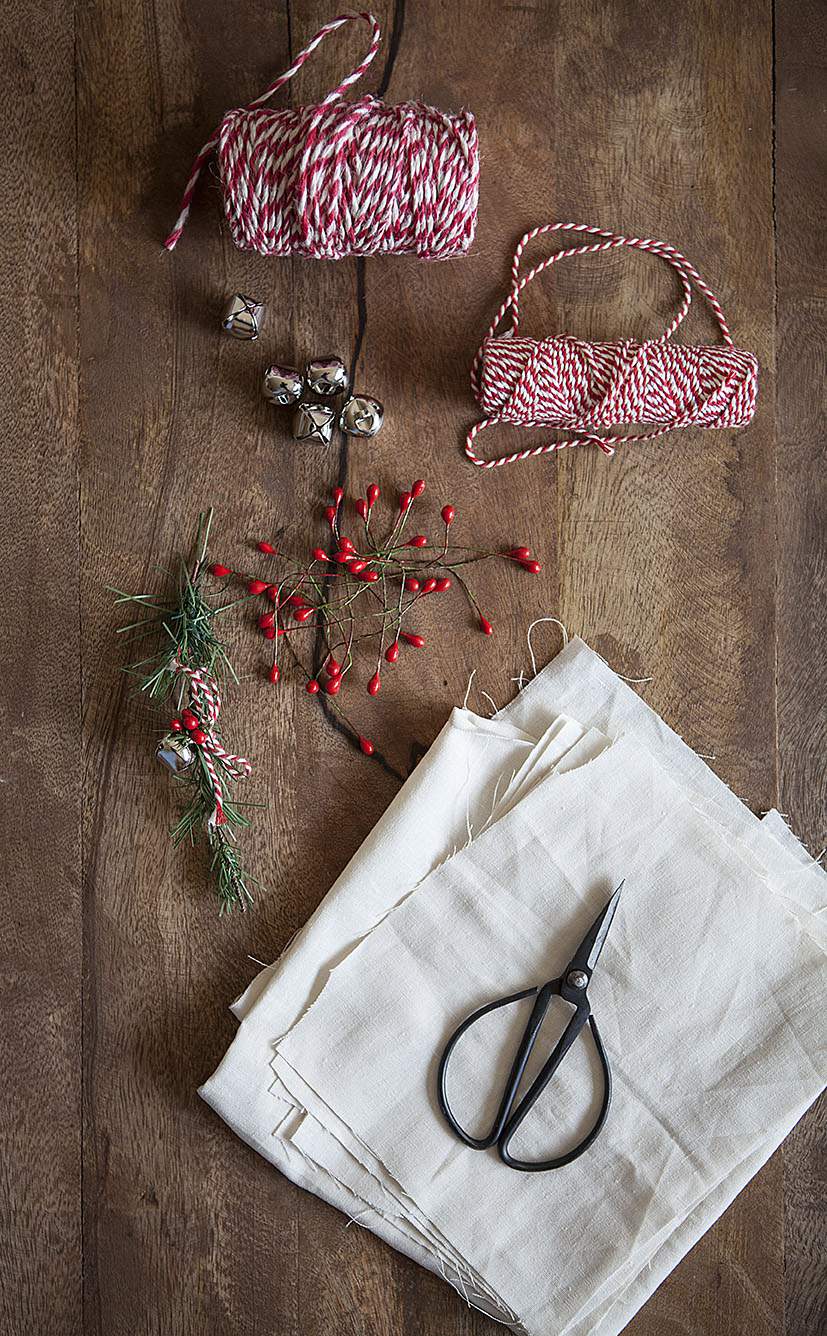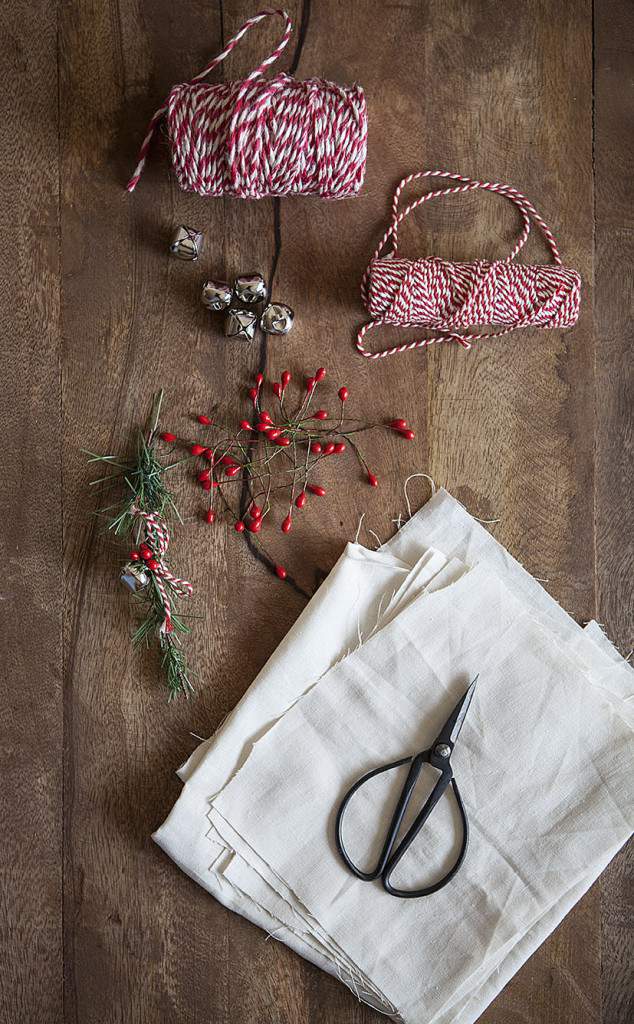 I realize that many of you reading this may not have an embroidery machine but I still want you to see how wonderful these "computers that sew" can be.
After you see this, you may be inspired to add an embroidery machine to your Christmas wish list. Wink, wink.
If you don't have a machine, you can hand embroider an image onto the cloth or you can rubber stamp an image onto the fabric.
OK, let's start stitching.
As you can see from the photos above, you can transform a plain piece of fabric into something very special and unique.
Watching the design appear is my favorite part of home embroidery.
I've often commented here how having a home embroidery machine has really revolutionized my gifting giving me the ability to personalize and monogram practically anything.
You can see more of my embroidery projects HERE.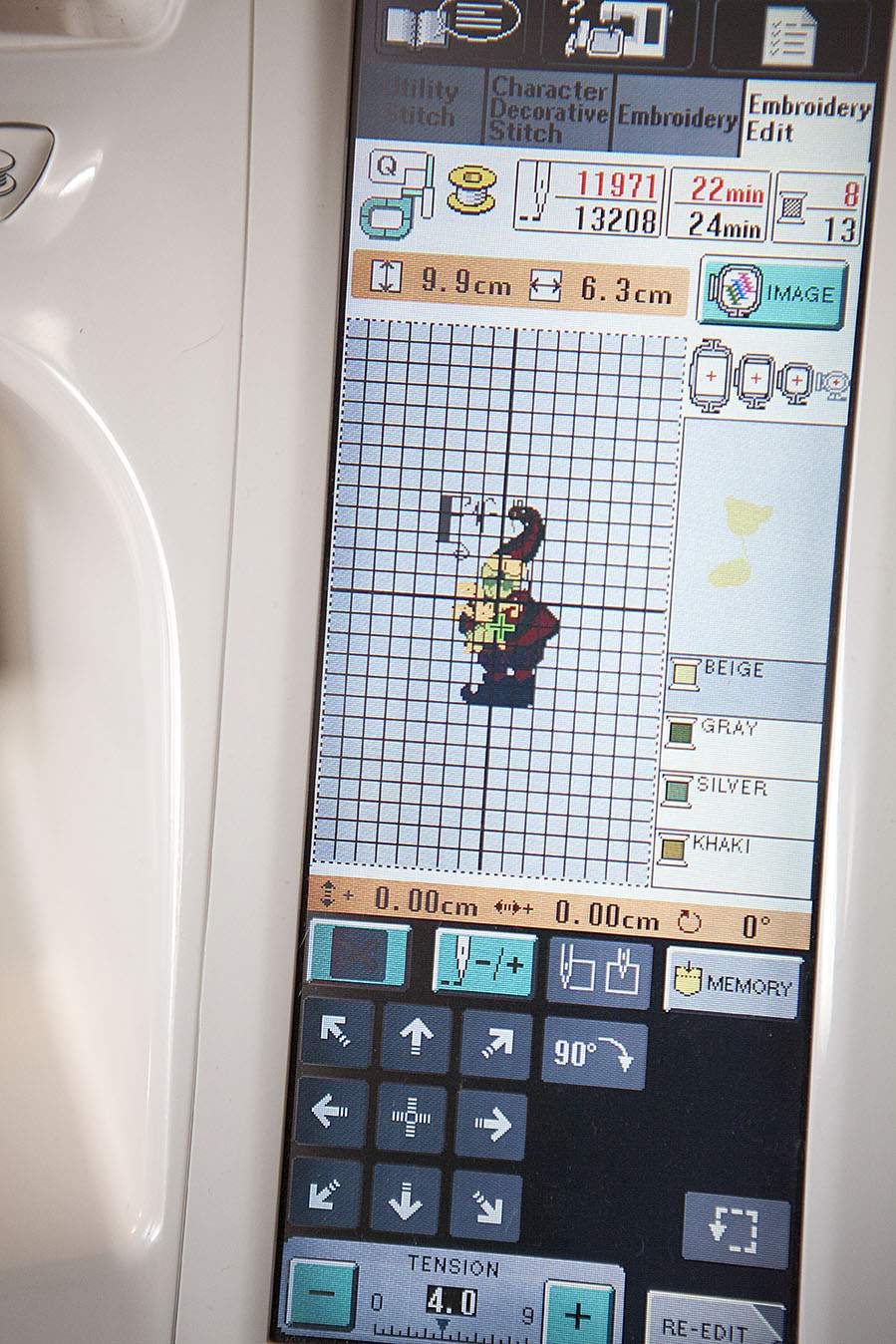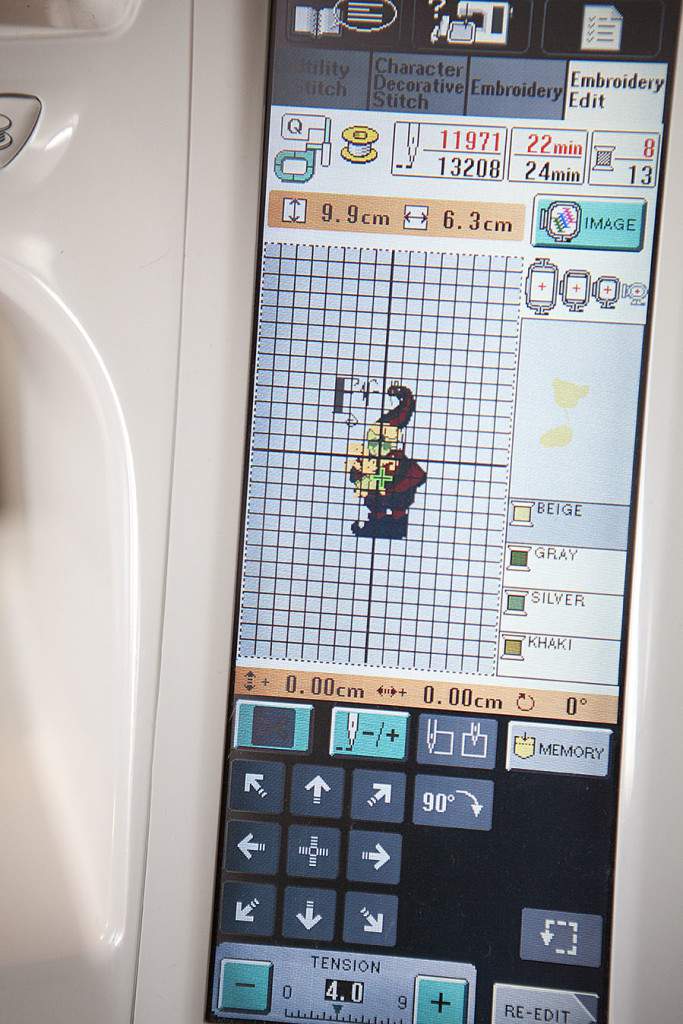 When stitching out a design, the embroidery machine monitor provides a wealth of information about your project including the total number of stitches, thread color changes and the dimensions of your project among other things.
See the little cross-hairs in the center of the design?
That represents exactly what part of the image the needle is currently stitching.
Pretty cool, huh?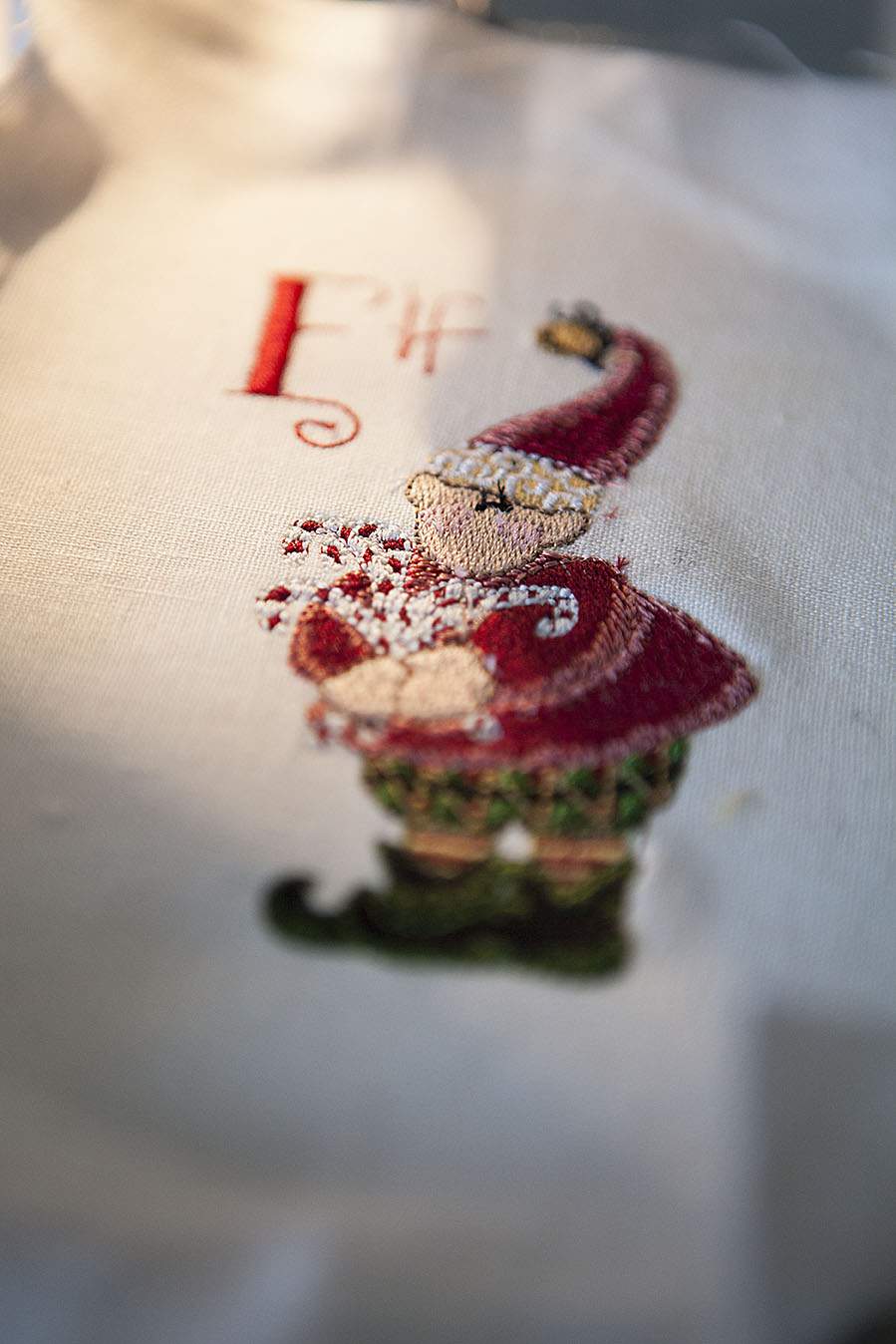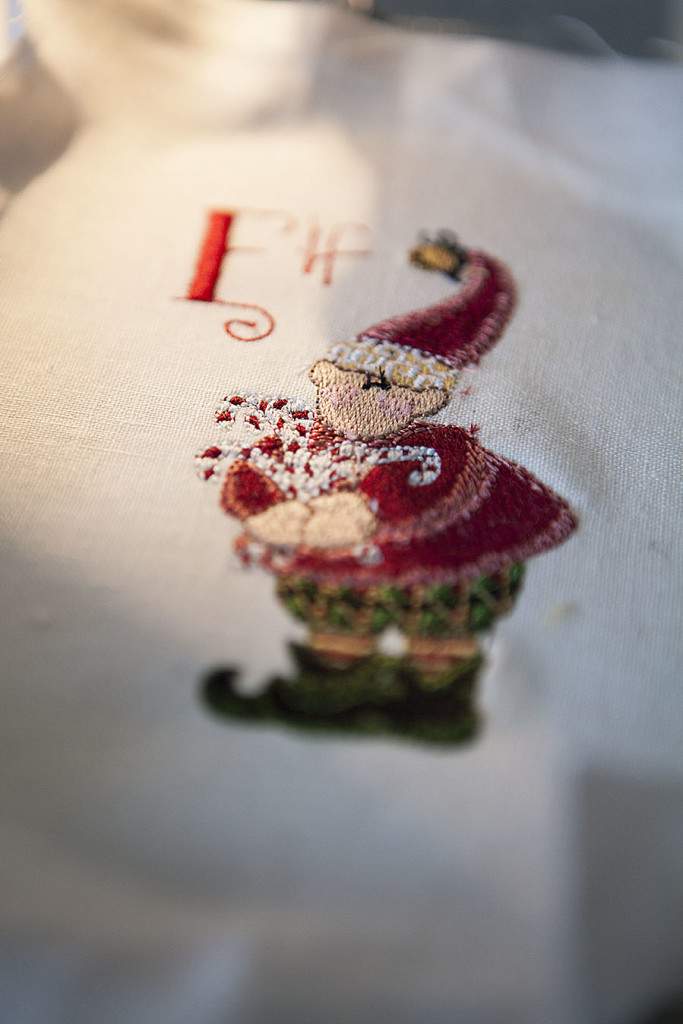 Here's a look at the finished elf design.
How cute is that?
Don't forget, in addition to using a home embroidery machine, you can also hand embroider your fabric or use a holiday-themed rubber stamp and ink to add an image to cloth.
Now, lets take a closer look at turning this into an adorable holiday elf into an equally adorable Christmas tree ornament.
Whether your image is embroidered, hand stitched or rubber stamped, use a water soluble marker to draw a guideline around the design.
Add about a 1/4-inch allowance beyond the marked line and then cut the fabric accordingly.
You'll also need to cut a second piece of fabric the match for the back of the ornament.
Place the two pieces of fabric together with back sides facing each other.
NOTE: You may want to double your fabric pieces (as I did here) if your fabric is very thin or sheer.
Machine stitch (or hand stitch) the two pieces of fabric together following the guidelines from the water soluble marker.
I decided to use a zig-zag decorative stitch for a more interesting presentation.
Leave a small opening in the top of the two pieces of fabric so, you'll have room to stuff a little cotton inside it.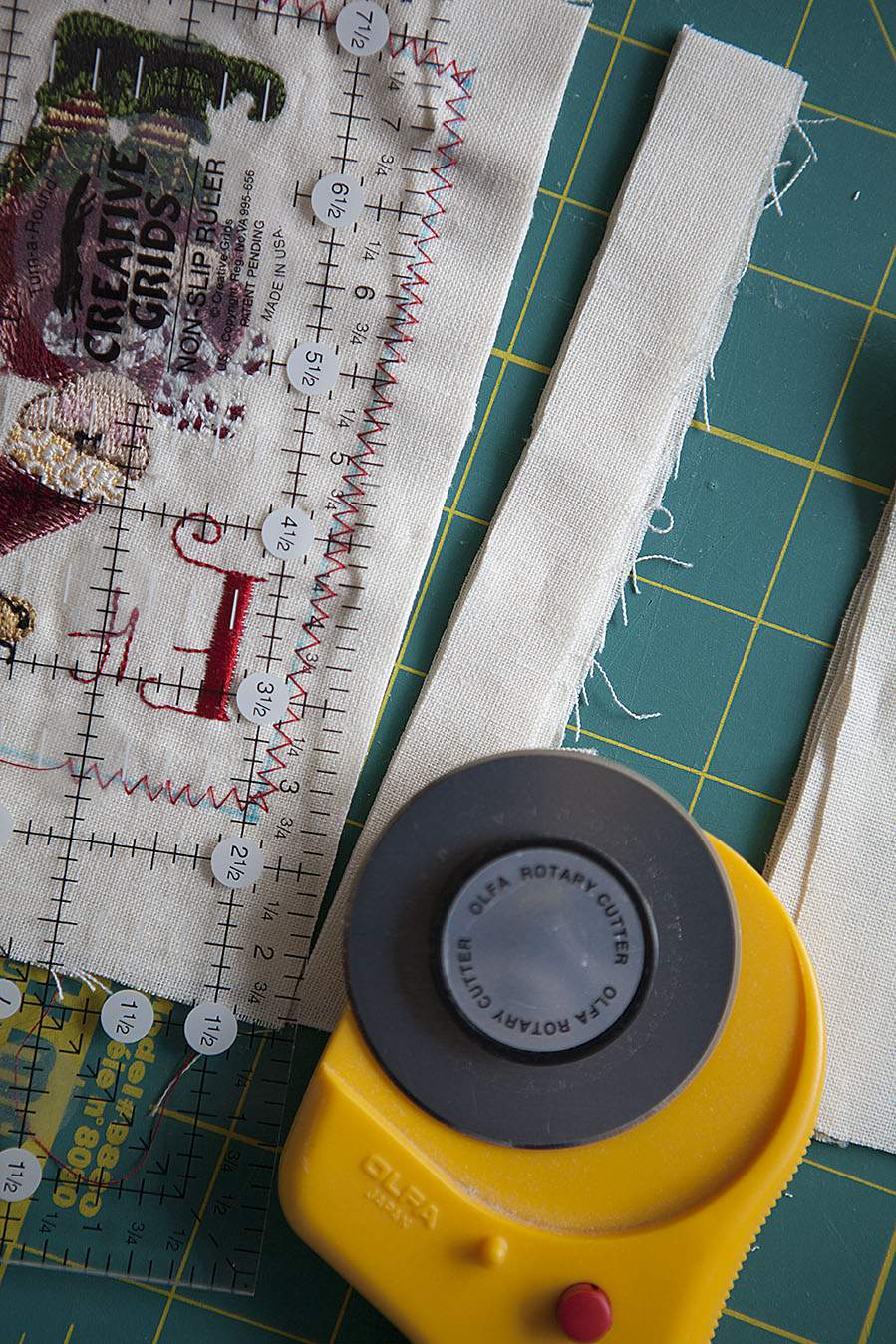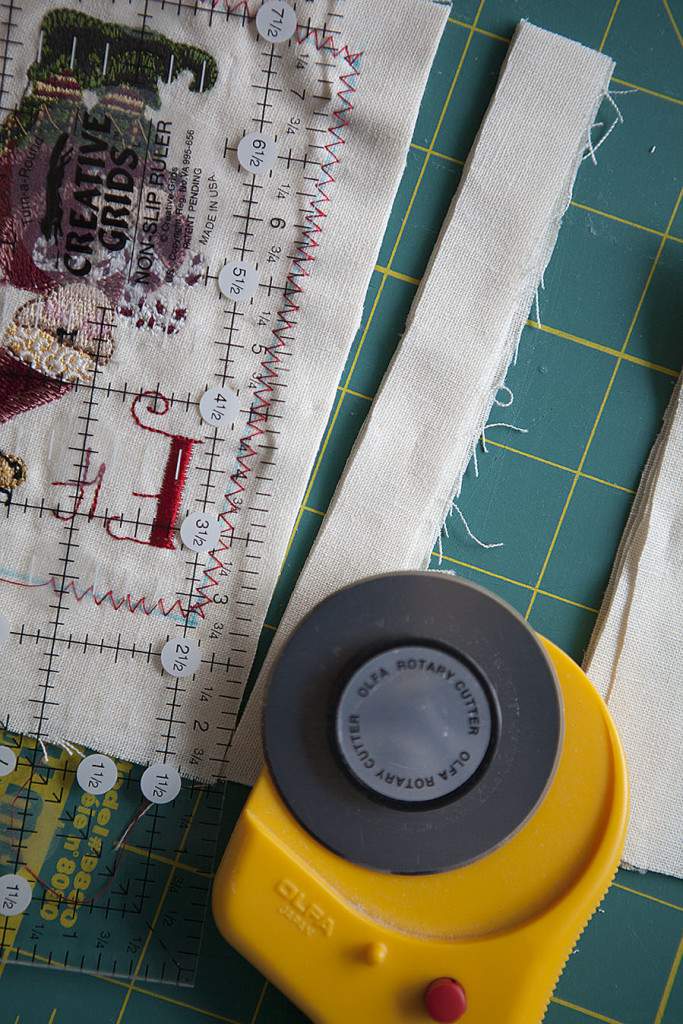 Once the two pieces of fabric are stitched together, trim the excess fabric away from the ornament.
I like to use a rotary cutter for this because it gives the edge a clean, sharp cut.
Please, keep rotary cutters out of the reach of children and always ways keep them closed when not in use.
Even a gentle, accidental brush against an open rotary cutter can cause a nasty cut. I know.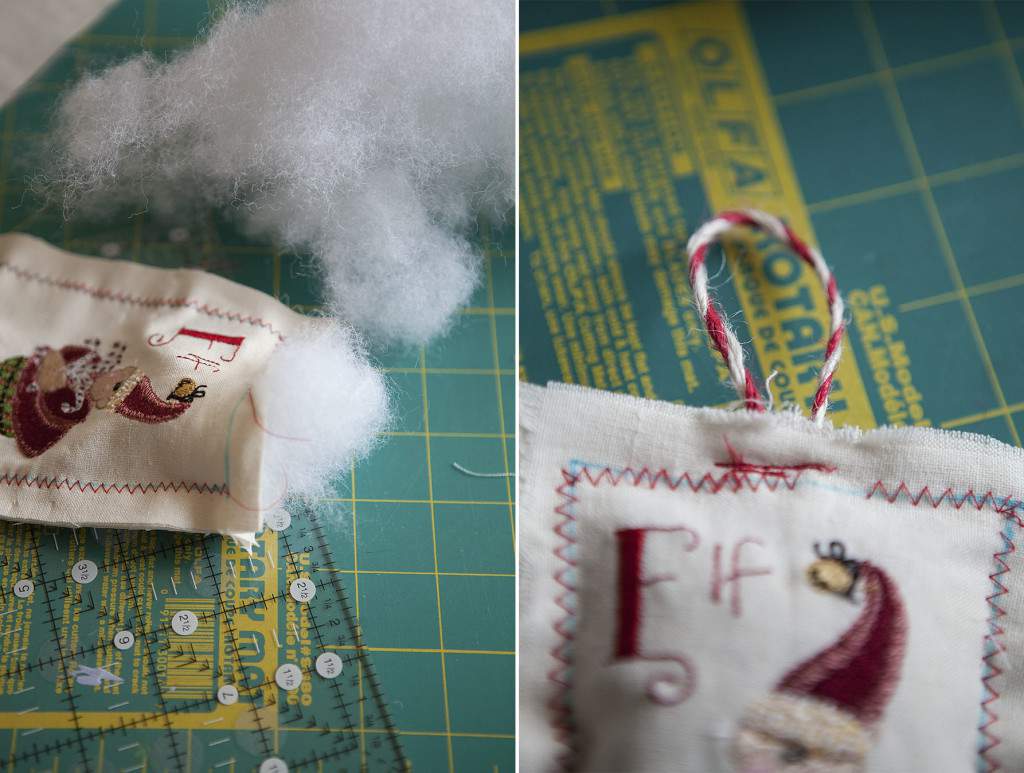 Take a small amount of cotton and stuff it inside the top of the ornament.
Don't over stuff it.
After you added enough stuffing, place a small loop of baker's twine inside the opening and then stitch across the opening several times to close it and secure the loop.
Use a damp cloth to remove the water soluble marker lines.
Pull multiple threads around the edge to give the ornament a fringed look.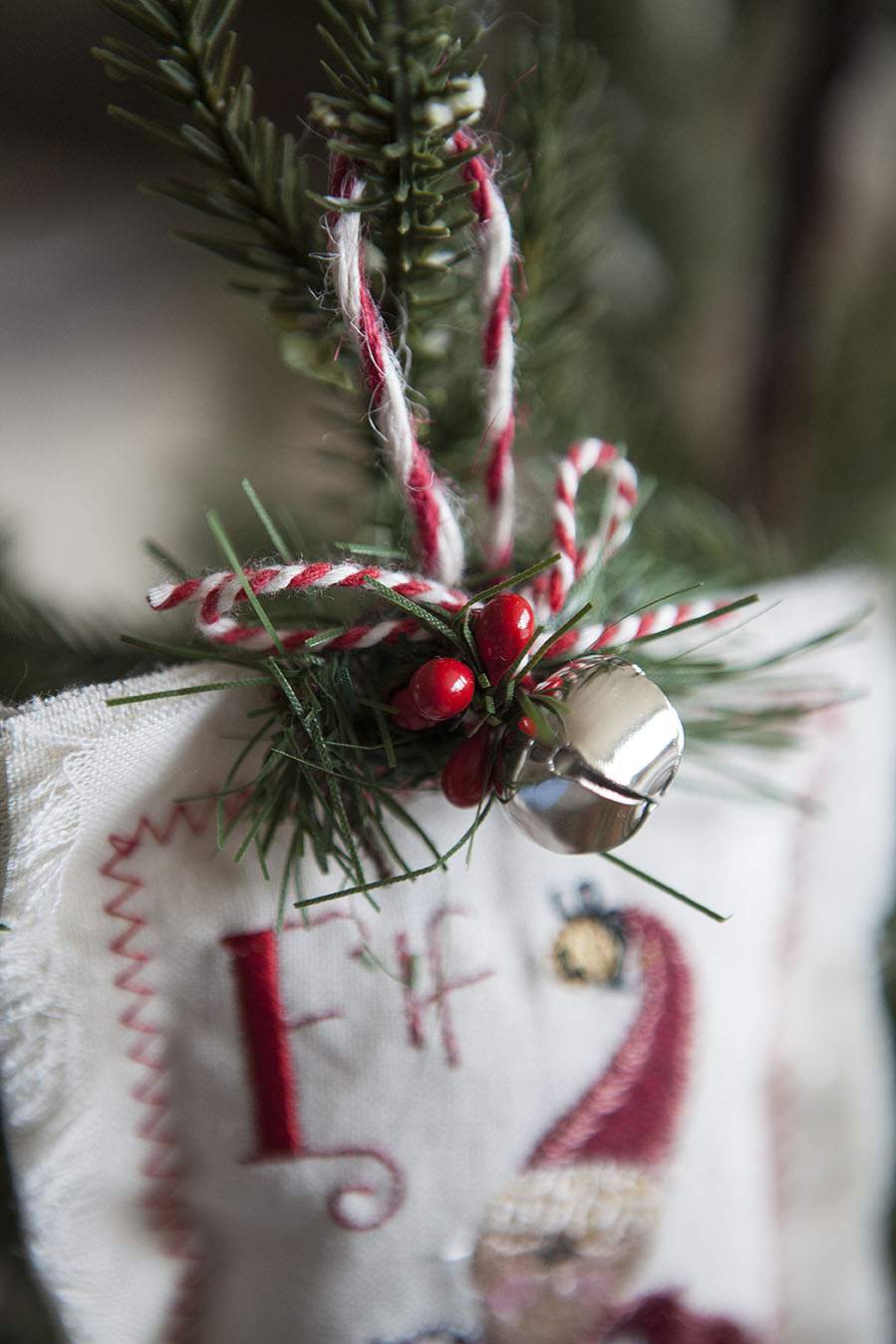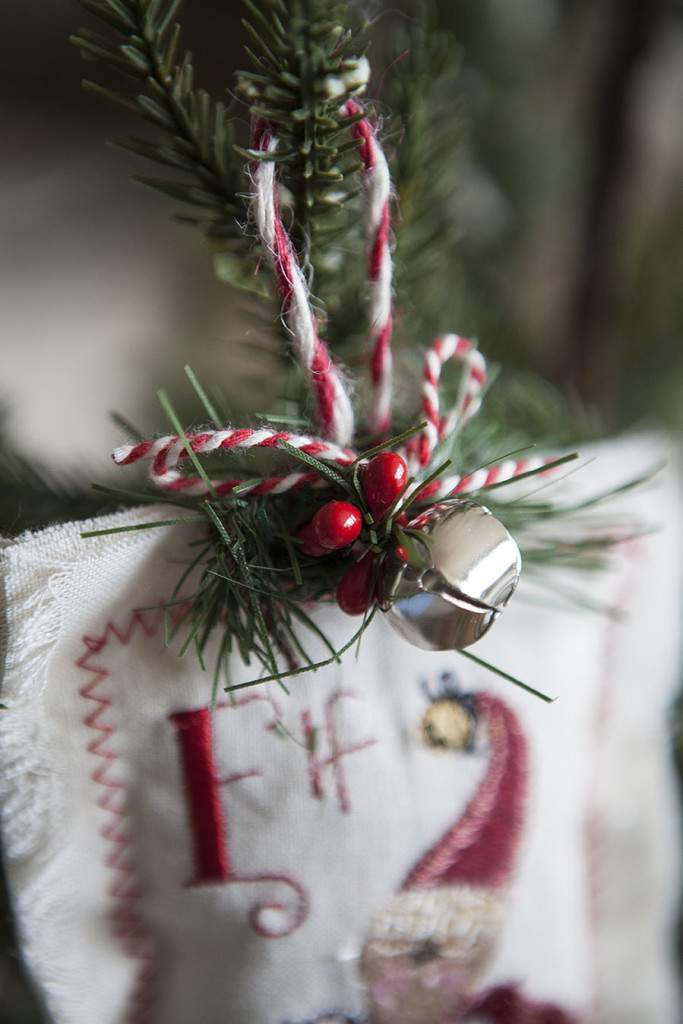 Hide the stitching with a few twigs of pine, a bell and holly berries.
Add a bow from the twine.
Then, super glue the embellishments in place.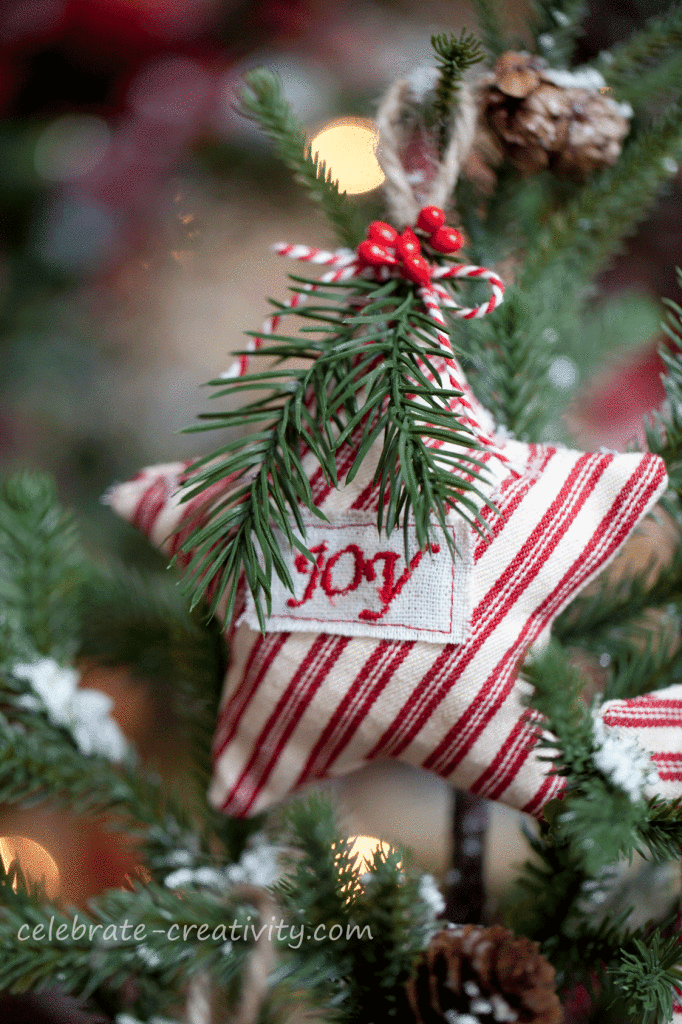 Here's a similar soft ornament I made a few years ago using the same technique.
My star-shaped (and heart-shaped) soft ornaments are among my favorite.
You can see my step by step photos for this ornament HERE.
Meanwhile, be sure to check out the fabulous other bloggers who are taking part in this 31 Days of Handmade Ornaments blog hop extravaganza.
The full list and links are at the end of this post.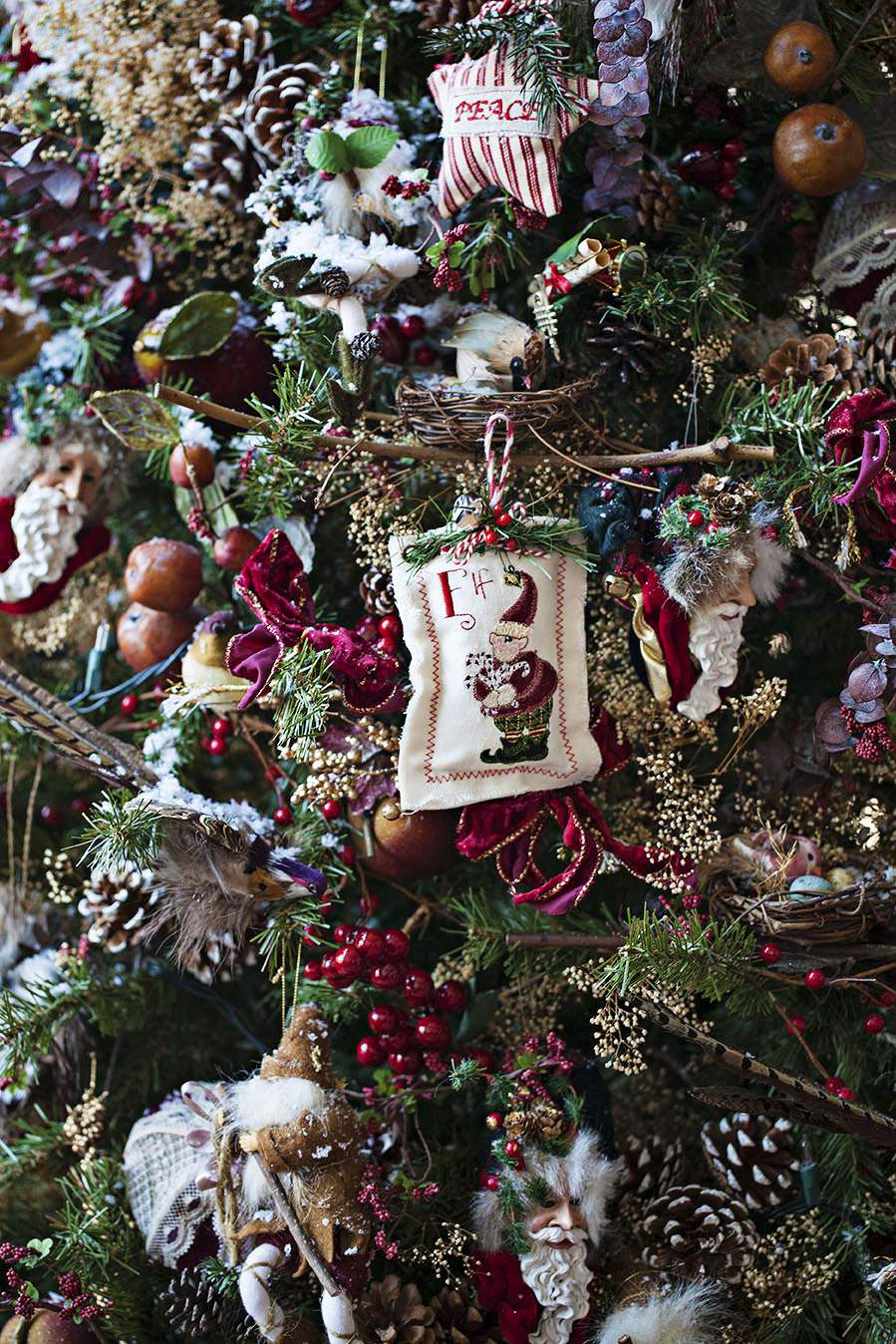 Here are all 31 Bloggers in order of their appearance:
Day 1 – Pet Scribbles | Day 2 – Yesterday on Tuesday
Day 3 – Cupcakes and Crinoline | Day 4 – An Extraordinary Day
Day 5 – Celebrating Everyday Life | Day 6 – Hunt and Host
Day 7 – Love of Home | Day 8 – Celebrate Creativity (You are Here Now)
Day 9 – Petticoat Junktion | Day 10 – What Meegan Makes
Day 11 – Atta Girl Says | Day 12 – Sweet Pea
Day 13 – Exquisitely Unremarkable | Day 14 – Imparting Grace
Day 15 – In My Own Style | Day 16 – 504 Main by Holly Lefevre
Day 17 – Inspiration for Moms | Day 18 – The Chelsea Project
Day 19 – I Should Be Mopping the Floor
Day 20 – My Uncommon Slice of Suburbia | Day 21 – Hearth and Vine
Day 22 – Shabby Art Boutique | Day 23 – Remodelando la Casa
Day 24 – Domestically Speaking | Day 24 – The Everyday Home
Day 26 – Stone Gable | Day 27 – My Creative Days
Day 28 – Swoodson Says | Day 29 – Knick of Time
Day 30 – Lovely Etc. | Day 31 – Live Laugh Rowe
                  Stop by every day to see all the ornaments in this 31 Days of Homemade Ornaments blog hop. 
See them all via the linky list below which is updated daily.