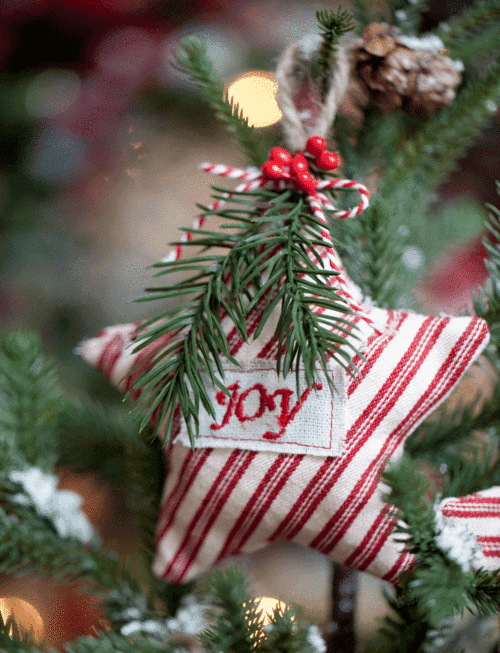 Christmas is around the corner and I'm still finding ways to add to my holiday decor.  I think you can  never really have too many decorations, especially if they're handcrafted.
Welcome to Day 18 of my 25 Days of Christmas holiday series, where today I'm sharing a simple soft star ornament that you can whip up in a jiffy, personalize and even gift if you like.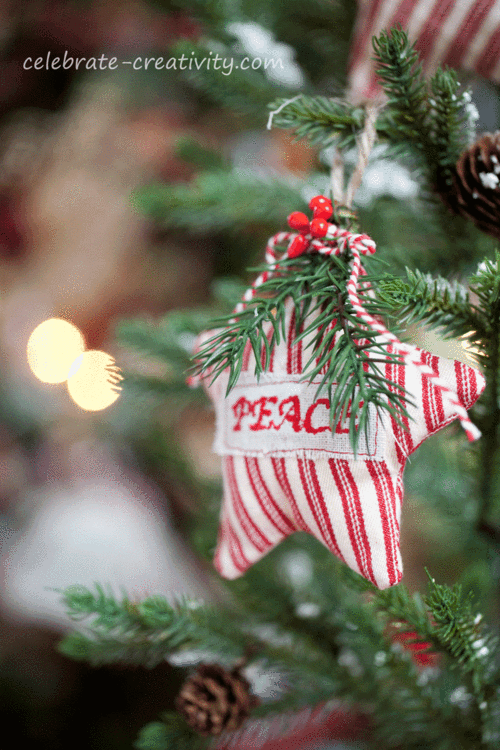 These soft star ornaments are super cute hanging on a tree but they could also be used to decorate the top of a special gift-wrapped box.
They're also so easy to make you still have time to  make a trio of them and gift them to a friend or loved one.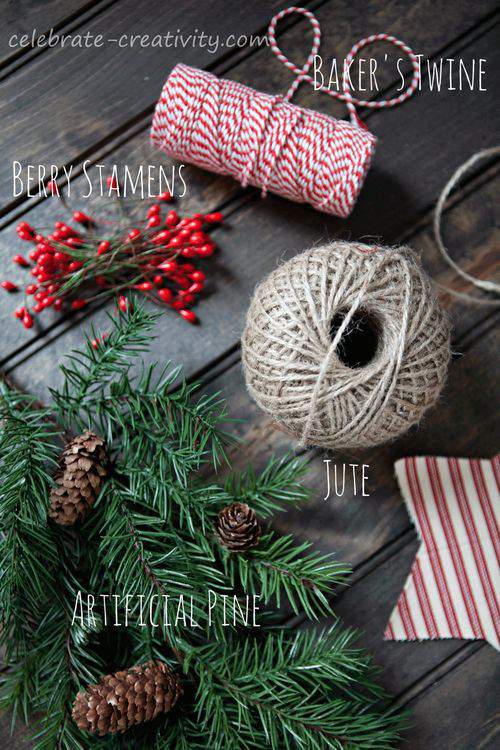 Here are a few embellishment supplies.
If you've made any other projects from my holiday series, you probably already have these supplies on hand.
You'll also need your choice of striped fabric (plus a small amount of muslin) and a very small amount of cotton filling.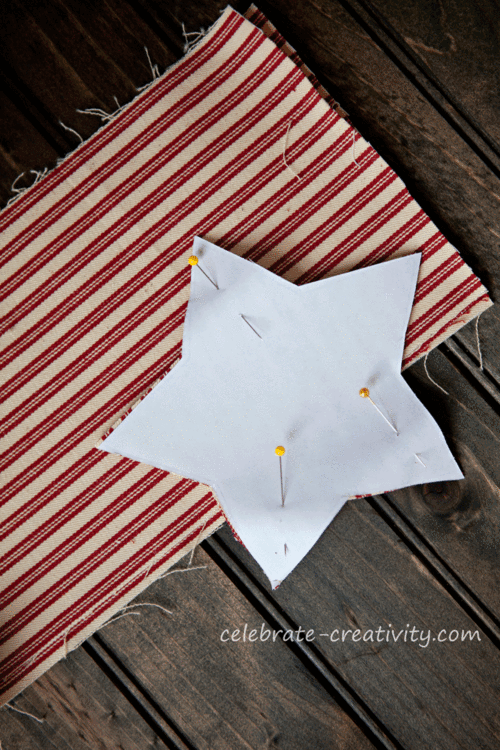 If this fabric looks familiar, that's because it's the same fabric I used to make my Handcrafted Cookie Mix Gift Sack that I featured  here earlier this week.
I had a few pieces of fabric left over from that project and rather than toss it, I made these little ornaments from the scraps.
You can download a star shape (or heart shape) from the Internet and use it as a template to cut the fabric shape.
Each shape will need to pieces.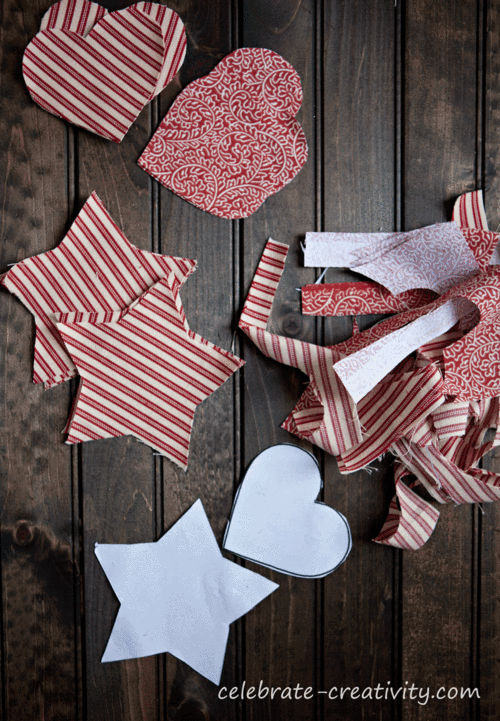 I used my embroidery machine to create a few traditional words on a piece of muslin.
If you don't have an embroidery machine, you can embroidery by hand, stencil or use a fabric marker to add words (or names) to the muslin.
TIP: Most craft stores sell mini alphabet stencils for just a few dollars that you could use to add words or names to your fabric.  You can see how I used the mini alphabet stencils to label my Decorative Wool Acorns and Gift bags featured here earlier this year.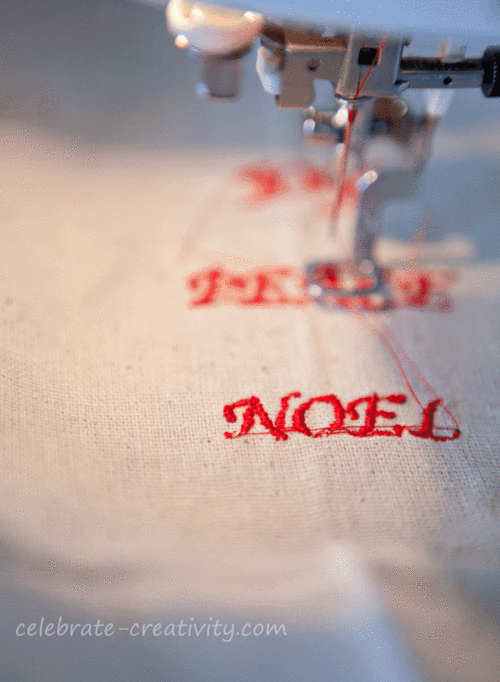 After you've embroidered, stenciled or written your words or names on the muslin, cut the words into small strips.
I suggest leaving about a 1/4-inch clearance around the word.
 Pin the small personalized fabric strip to the center of the star shape.
Carefully, stitch around the inner edge of the fabric strip.
Then, gently pull a few strings from the edge outside the stitchng line so that the weave is slightly frayed for a rustic edge.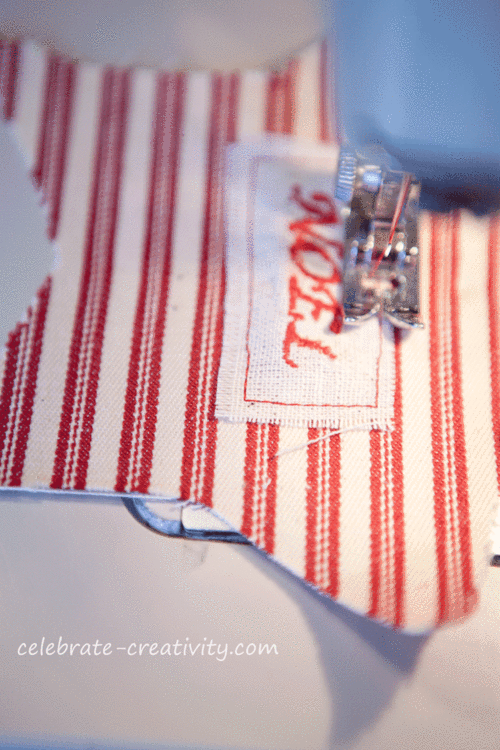 Grab some juste (or ribbon) and create a loop.
Pin the loose ends of the jute together so they extend just a bit beyond the tip of the ornament.
Place the second piece of fabric shape to the star with right sides together and pin in place.
Stitch all the way around the ornament making sure you leave a small opening to turn inside out.
Turn ornament inside out and slip a small amount of stuffing into the opening.  You just want to give the ornament a little shape so don't over stuff or it will look to puffy.
Hand-stitch or machine stitch the opening closed.
Wrap a few pieces of artificial pine, holly stamens and peppermint colored twine around the jute and you're done.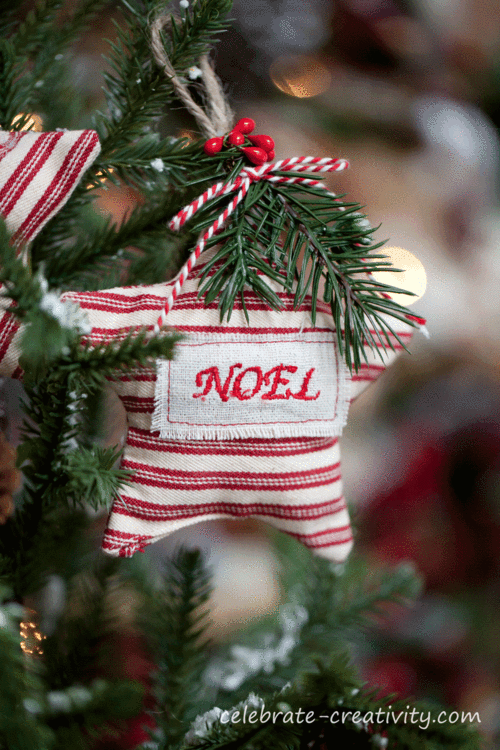 Make a set of ornaments and add the names of everyone in your family.  I promise, you still have time for this quick and easy star ornament project.
I just love how these little ornaments look on my tree… and you'll love how they look on yours.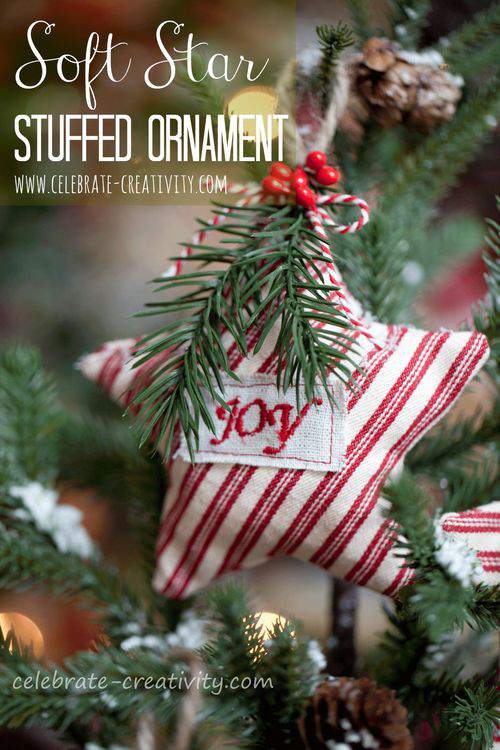 Day 18 down, 7 more days to go.
We're getting close to the end of this holiday series but I still have much more to share.  Stay tuned for more inspiration ahead.
If you missed any days in this series so far, here's a look at:
Day 1|Day 2|Day 3|Day 4 |Day 5|Day 6|Day 7|Day 8 |Day 9|Day 10 |Day 11 |Day 12 |Day13 |Day 14 |Day 15 | Day 16 |Day 17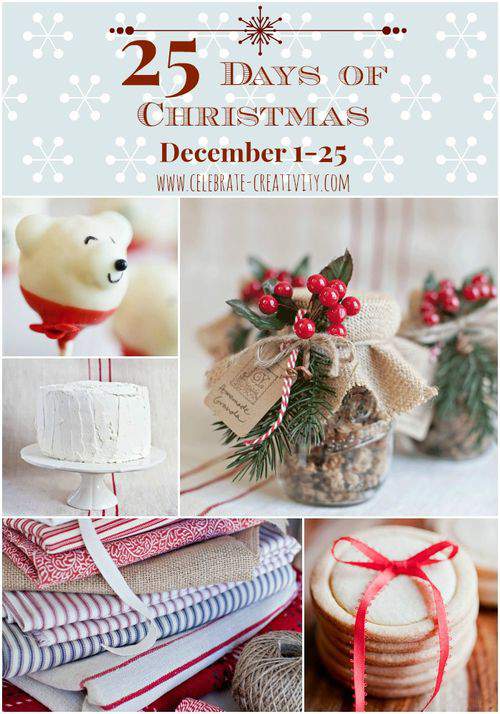 Hope you stop by again tomorrow (12/19) for Day 19 of my 25 Days of Christmas series.
See you then. ♥
I'm linking this soft star ornament project to the following:
Pop over to Beth's link party over at Home Stories A to Z for lots of great recipes and holiday projects.