I just love the incorporation of sheet music into holiday crafts.  There's just something about the easy flow of musical notes that can add a touch of elegance and sophistication to any project.
Welcome to Day 10 of my 25 Days of Christmas holiday series where you'll see how easy it is to add sheet music (or any printed image for that matter) to create a music note candle.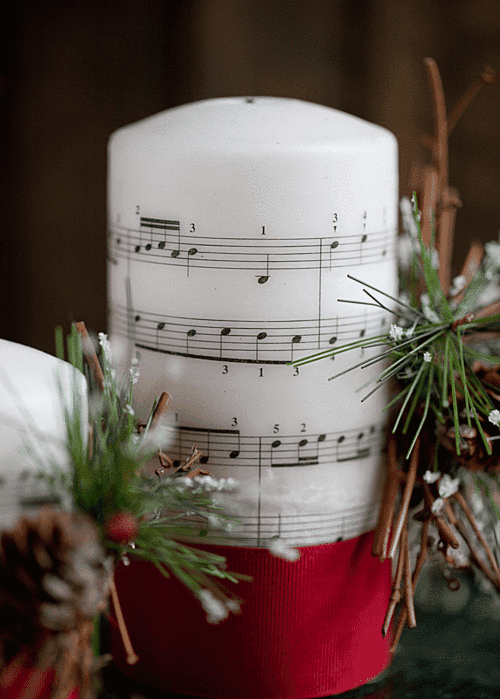 Look closely, this sheet music is actually seamlessly embedded into the candle wax.
It's a simple process that only requires a few supplies.
NOTE: Once an image is embedded, these candles become decorative ONLY and should NOT be lit.
You'll need a few candles, copies of sheet music (hard sheet music or you can print Internet images directly from your computer), a hot air gun, some double-sided tape and several sheets of white tissue paper.
A hot glue gun will also come in handy if you want to add embellishments.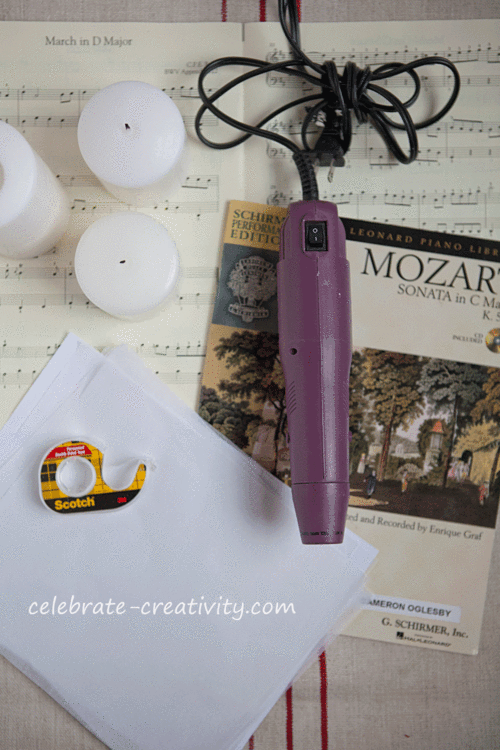 Use a dry iron to press the wrinkles out of white tissue paper.
Then, cut the wrinkle-free tissue paper down to dimensions slightly smaller than a piece of 8-1/2 x 11″ heavy cardstock.
Place a few thin pieces of double-sided tape across the top of the cardstock.
Adhere the cut tissue paper to the cardstock making sure there are no loose edges of tissue paper across the top.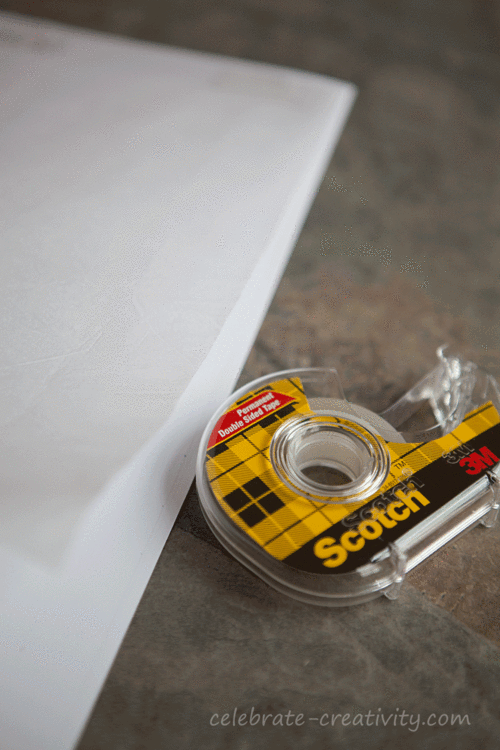 Place tissue paper-clad card stock into printer.  The heavy card stock will guide the tissue paper through the printer.
Make sure you load the paper so the copied image will appear on the tissue paper side.
Print and the sheet music image will transfer directly onto the tissue paper.
You can also search for an image of sheet music on the Internet and print the image directly from your computer.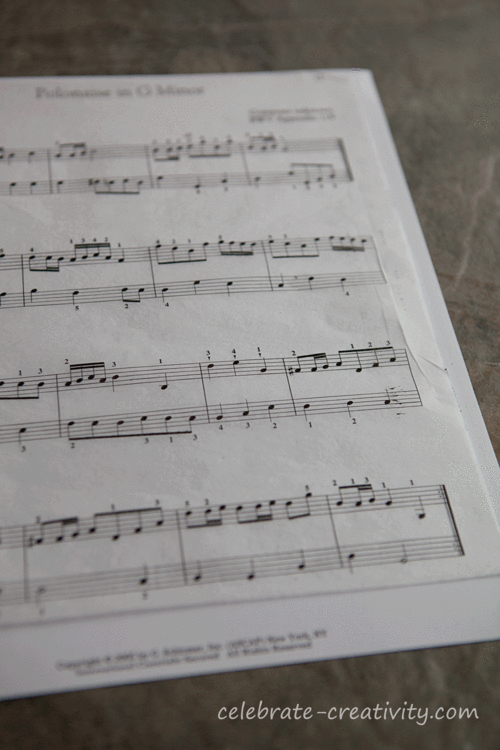 Here's another look at what the transferred sheet music image looks like still attached to the heavy card stock.
Gently remove tissue paper from double side tape and card stock.
This technique can be used to transfer ANY image to tissue paper including family photos, vacation shots, baby photos or wedding photos for decorating candles for home, holiday decor or personalized gifts.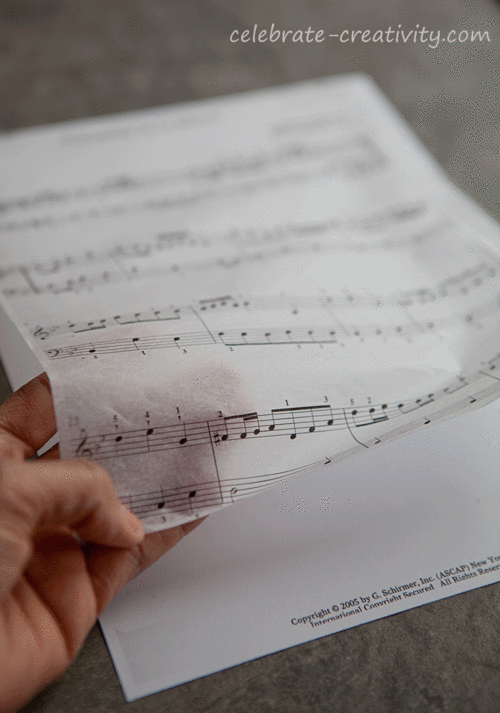 Depending on the size and shape of the candle, you may need to cut some of the transferred tissue image into strips to apply it.
If you come up short on the back end of the tissue paper wrap, just add a small piece of the image to fill-in the gap.
You can also fussy-cut various tissue paper images and arrange them as you please on the candles.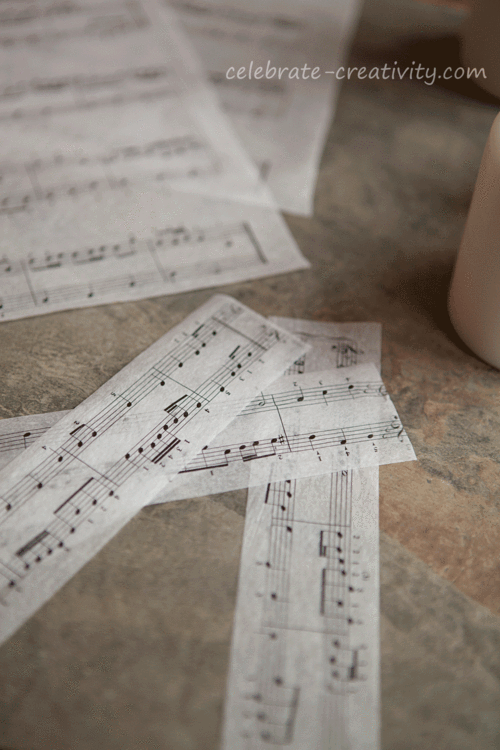 Use a thin and tiny piece of double-sided tape to adhere the tissue strip to the candle.
Then, hold the hot-air gun in front of the candle.  You'll begin to see the wax melt slightly.
As the wax melts, continue to move the hot-air gun across the entire tissue paper image.
IMPORTANT NOTE: Do not hold the hot-air gun too closely as you're melting the wax or you will risk scorching the tissue paper.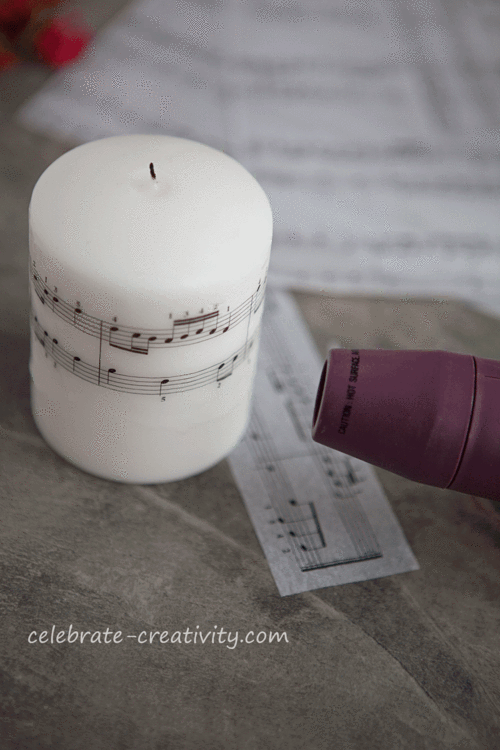 As the wax melts, the tissue paper becomes coated in the hot wax.
As the wax dries, the tissue paper image will become permanently embedded into the candle and will be smooth and sealed into the dried wax as if it's always been there.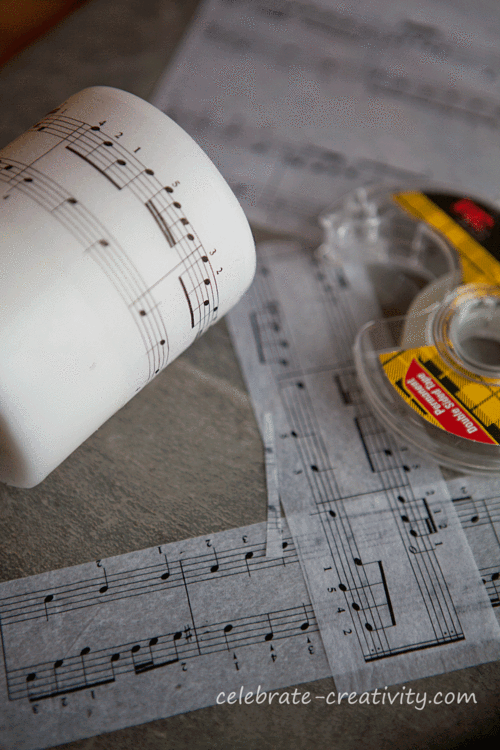 You can leave the new image as-is on the candle, or your can add a few embellishments to dress it up.
I used a hot-glue gun to adhere a few strips of satin ribbon and pine-cone garland pieces to my candles to give them a more colorful and festive treatment.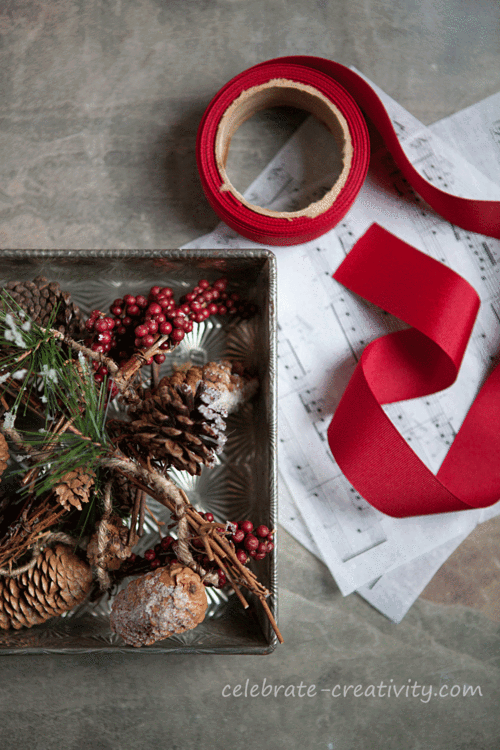 Here's another look at the finished candle.  I used candles I already had on hand for this project meaning they had been previously lit.  Now that I've added the tissue paper image, I can no longer light them.
WARNING:  If tissue paper comes in contact with a flame it WILL catch fire as the candle burns down.  It's important that these tissue-embedded candles be used for DECORATIVE PURPOSES ONLY.  Do not light these candles due to risk of possible fire.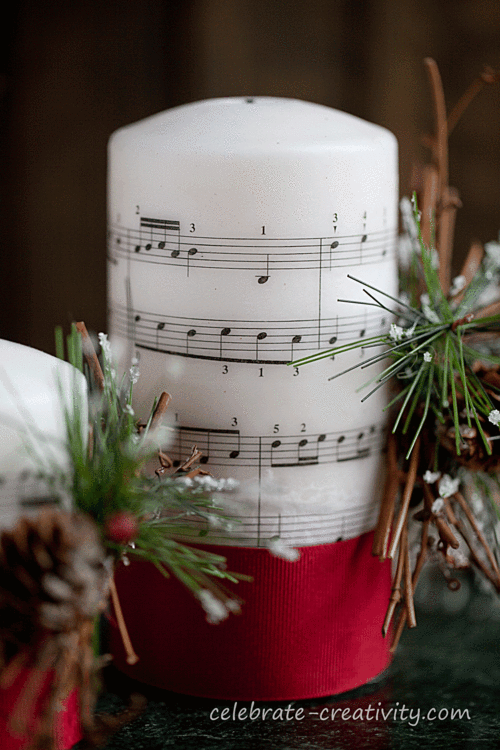 How cute would these look on your holiday mantle?
Consider making a set of these and gifting them to the candle lover in your life.
PLEASE REMEMBER: Admire these candles but do NOT light them.  If gifting tissue paper-embedded candles, make sure the recipient clearly understands that these are for DECORATIVE PURPOSES ONLY and must not be lit due to risk of possible fire.
So, my holiday series is flying by, isn't it?
Day 10 down, 15 more days to go.  Stay tuned, there is a lot more fun and inspiration ahead.
In cased you missed it, here's a look at:
Day 1|Day 2|Day 3|Day 4 |Day 5|Day 6|Day 7|Day 8 |Day 9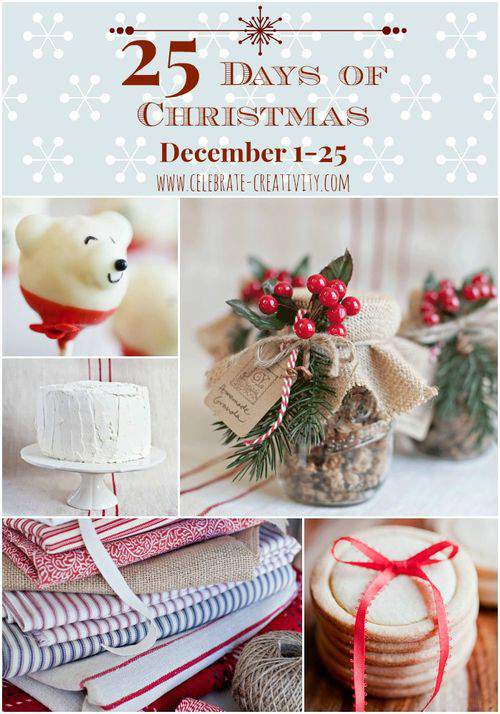 Hope you stop by again tomorrow (12/11) for Day 11 of my 25 Days of Christmas series.
See you then. ♥
I'm linking this Music Note Candle tutorial to the following: