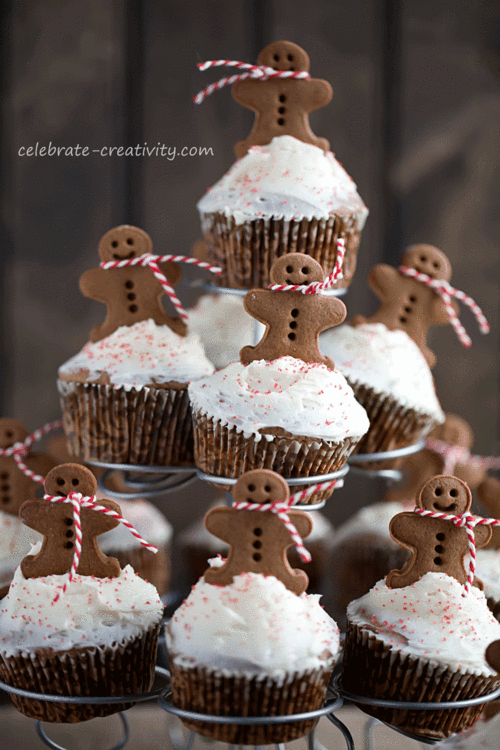 Who doesn't love gingerbread, right?  These cute gingerbread cupcakes take the dessert to a new holiday level of cuteness with adorable cookie toppers.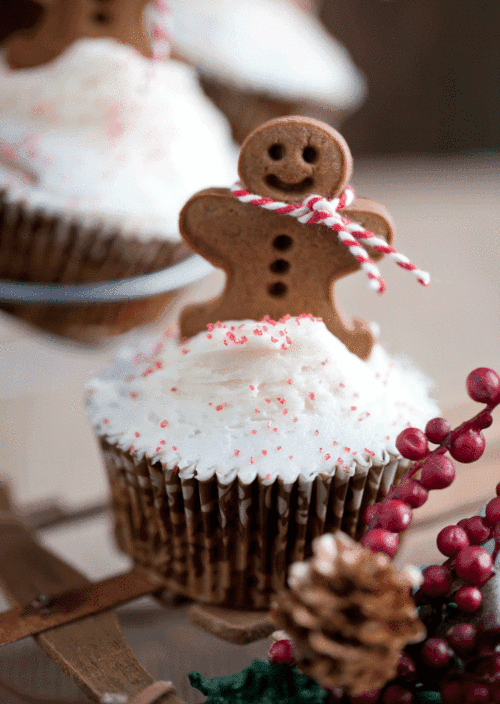 Welcome to Day 3 of my 25 Days of Christmas series where these cute cupcakes are guaranteed to put a holiday smile on everyone's face.  I think this little gingerbread man is oh-so cute sitting on top of the muffin, I almost want to kiss him before I bite his head off.
I used two recipes for this dessert.  One was a gingerbread muffin recipe and the second one was a plain gingerbread recipe used for the cookie toppers.
Here are the recipes that I used.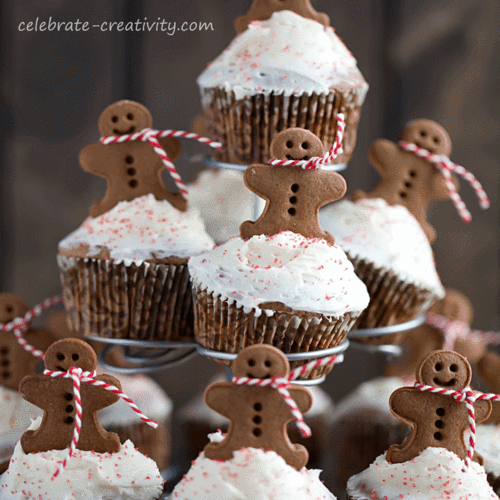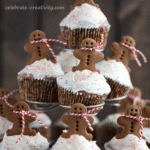 Gingerbread Cupcakes
Ingredients
3 eggs
1 cup molasses
1 cup brown sugar
3 1/2- cups flour
1 teaspoon baking soda
1 teaspoon ground cloves
1 teaspoon ground ginger
2 sticks butter melted
1 cup hot water.
Instructions
Mix all ingredients in a large bowl and bake in paper lined muffin tins at 350 degrees.

Bake about 20-minutes until center is done.

Makes about 1 1/2 dozen regular size muffins.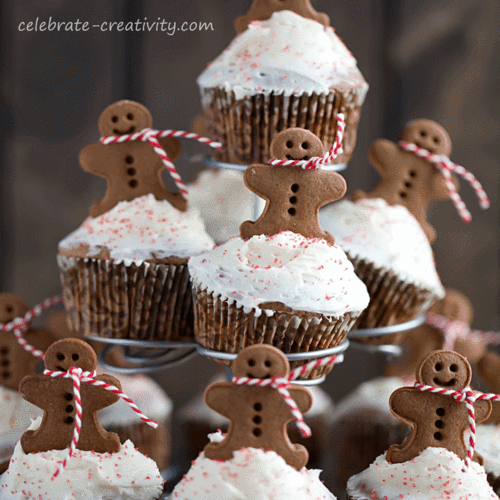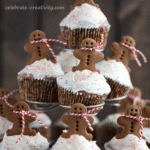 Gingerbread Cookies
Ingredients
3 cups flour
3/4 teaspoon baking soda
1/2 teaspoon cinnamon
1/6 teaspoon ground cloves
1/2 cup of butter
1/2 cup sugar
1 egg
1/2 cup molasses
1 teaspoon vanilla
1/4 grated ginger
Instructions
Mix flour, baking soda, cinnamon and cloves and set aside.

In another bowl, beat butter, add sugar and beat, add egg, molasses and vanilla and beat until well combined. Slowly add flour.

Divide dough in half, wrap and chill for at least 3 hours.

Bake on parchment paper lined sheet at 350-degrees for about 5-6 minutes until edges are firm.

Roll dough out about 1/4-inch thick and use a small gingerbread man cookie cutter to create the cookie toppers.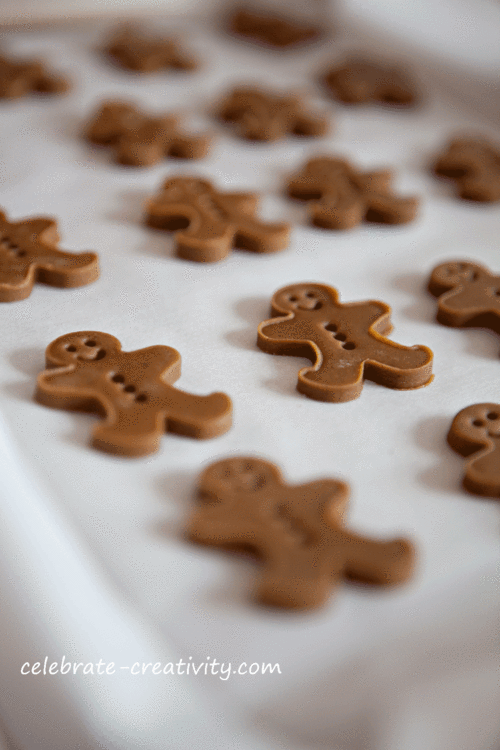 For the buttercream frosting, I used the same buttercream recipe for this muffin icing that I used for the Santa Hat Brownie Bites seen here earlier this week.
Combine 1-cup soften butter with 3-cups confectioner's sugar and mix well in an electric mixer.  Add 1-teaspoon of vanilla and 2-3 tablespoons of heavy whipping cream.
Mix until ingredients are well combined and fluffy (and delicious).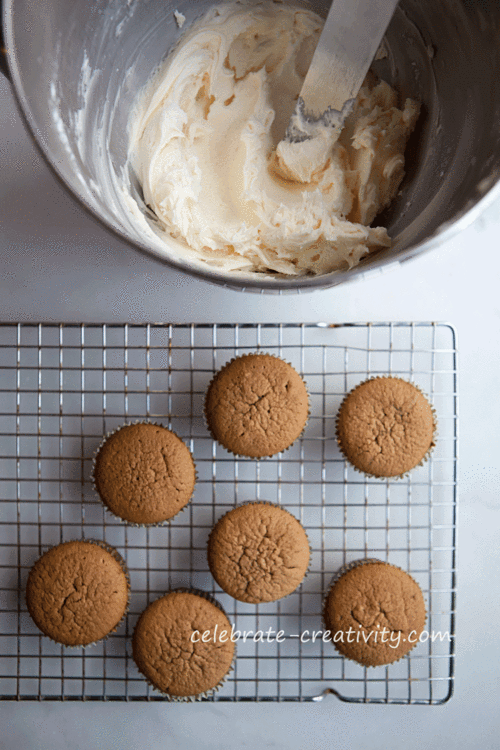 When I first put the gingerbread men on all the cupcakes, I left them plain without the addition of any Baker's twine.
After looking at the first few photos snapped, I realized they need just a little something more.
So, I removed them all, added the Baker's twine scarves and stuck them back on the cupcake.
I think they're much cuter with a little winter wear, don't you?
Here are a few more gingerbread cookie cupcake toppers.
I have Dasher, Dancer, Prancer, Vixen.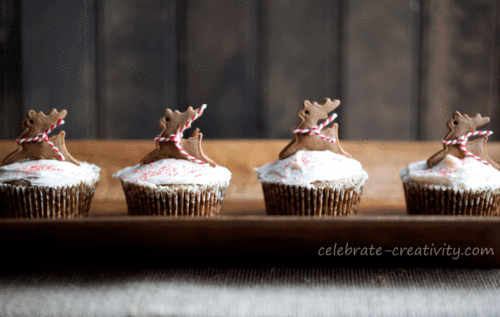 Comet, Cupid, Donner, Blitzen and Rudolph are hanging around too.
Safety warning: If serving cupcakes to young children, don't forget to remove the (inedible) string first.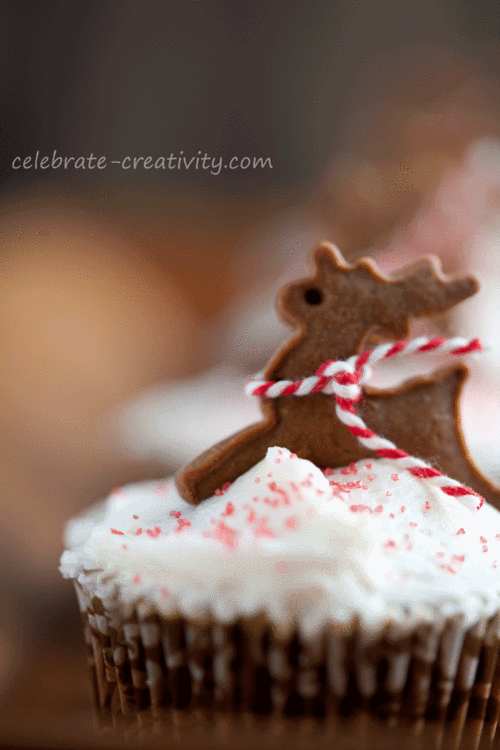 Sprinkle a pinch of red sugar crystals on each cupcake to make them even more dashing.
Wouldn't these look great on your holiday dessert table?
FUN TIP: You can make these cuties any time of year.  Simply switch the cookie topper and cupcake to correspond with whatever holiday or seasonal occassion and you'll always have a hit on your hands.  Bunnies for Easter, Bees and Butterflies for Summer or Star-shapes for 4th of July.  The possibilities are endless.
Day 3 down, 22 more days to go. Stay tuned, there is a lot more fun and inspiration ahead.
In cased you missed it, here's a look at: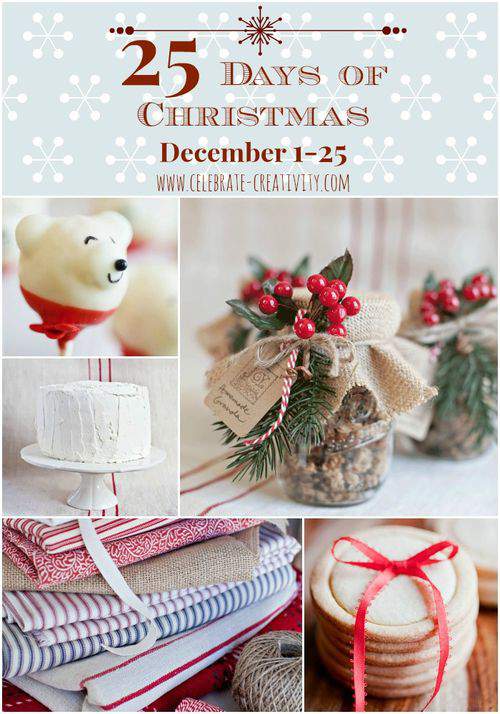 Hope you stop by again tomorrow (12/4) for Day 4 of my 25 Days of Christmas series.
See you then. ♥
I'm linking this Gingerbread Cupcake post to the following: