When you set out your holiday candy dishes filled with goodies this year, consider an edible twist on the traditional crystal bowl.
Welcome to Day 14 of my 25 Days of Christmas holiday series where I'll walk you through how to make your own gingerbread box to store festive and tasty treats.
Gingerbread boxes are a fun alternative to glass candy bowls and just think, you can fill it and when it's empty…. you can eat it.
These are super simple to make too.
Start with your favorite gingerbread cookie recipe.
Most gingerbread cookie recipes call for the dough to be shaped into at least two equal oval shapes, then wrap in plastic plastic and refrigerate for about two hours before rolling out the dough.
This makes the dough much easier (and firmer) to handle.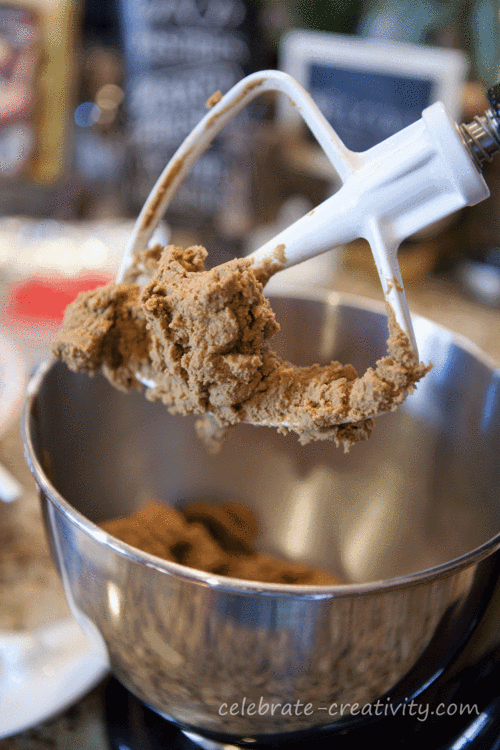 Roll the gingerbread dough out to about 1/4-inch thickness.
Use a ruler to measure and cut the size of the gingerbread walls.
For my box, I cut a base and four walls that measured roughly 5″ x 5″ in width and length.
TIP: You could also cut a fifth gingerbread piece to use as a box top, fill the box with goodies, put the top on it and wrap a ribbon around the box and gift it.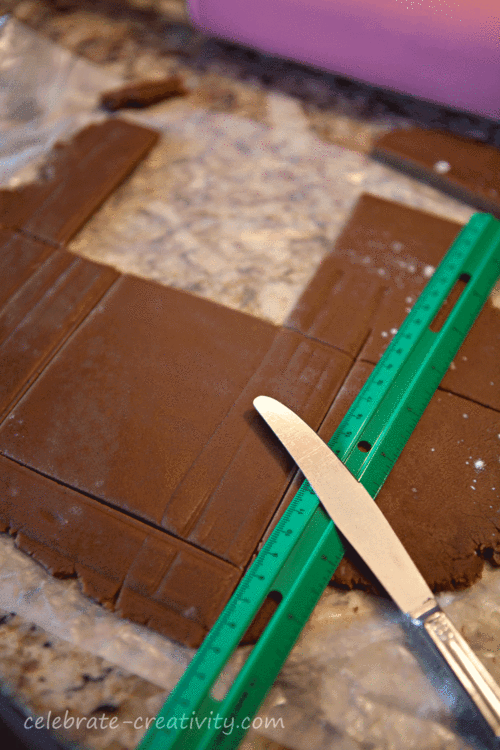 I decided to add a few stained glass (actually, candy) windows to the box to add a bit of color and interest to the gingerbread box.
Use a heart-shaped cookie cutter to cut the shape into each wall.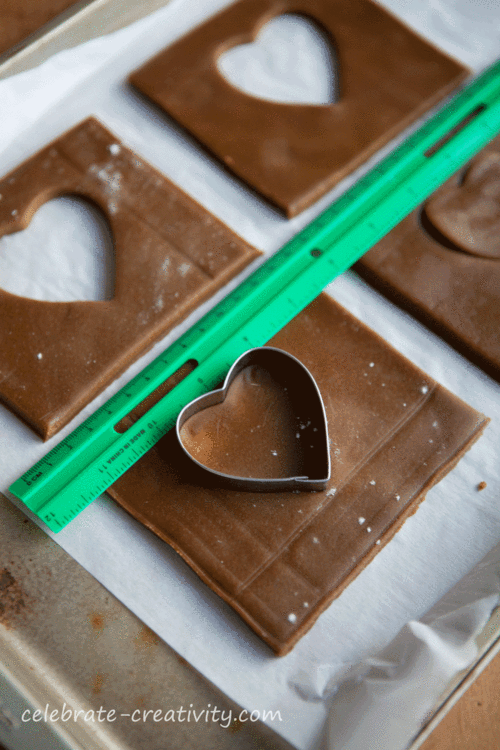 To create the stained glass effect, unwrap about 30-jolly rancher candies.
Place on a foil-lined baking sheet and bake in 350-degrees oven until you see the individual candy pieces start to melt and become one large sheet of candy.
Don't over-bake.
Once you see the candy melting, remove it from the oven and wait a few mintues for the candy to slightly set but not harden.
Use a knife to score the candy in sizes large enough to cover the heart-shaped opening in the gingerbread walls.
Set candy aside for about an hour to completely dry and harden.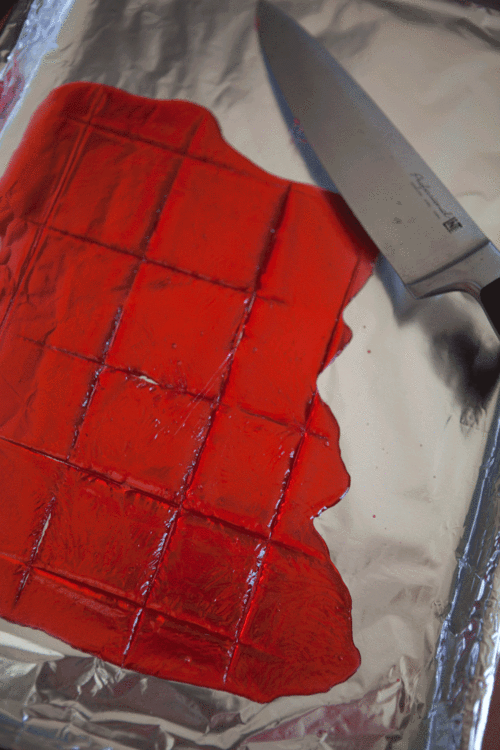 Once candy has hardened, carefully break the pieces along the scored edges.
As you can see, I didn't break perfect pieces because I think my scoring was too light but the candy was still large enough to cover the heart-shaped cut-out and that's the most important thing.
Place the candy pieces on the inside of the gingerbread walls making sure to cover the heart-shaped opening.
Adhere candy in place using royal icing (green, white or whatever you have on hand).
Use royal icing again to connect the four walls of the gingerbread box to each other.
Then, add royal icing to the bottom of the box and adhere it to the gingerbread base to complete the construction.
Set aside overnight to allow royal icing to harden thoroughly before using the box.
TIP: If you have no plans to actually eat this box at some point, you could also use hot glue to adhere all the elements in place.  If using hot glue make sure you use very thin strips of glue and apply it in a way that it won't come in direct contact with unwrapped edibles.
Rember these little gingerbread people?
I featured these in yesterday's blog post on how to make gingerbread cookie garland.
IMPORTANT NOTE: Don't forget, if serving these cookies to youngsters be sure to remove the decorative string first.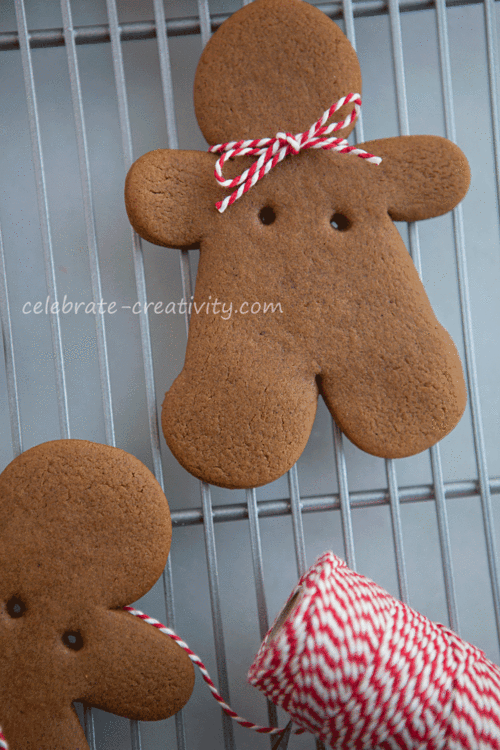 There were so many extra cookies left over from my garland project, it just made sense to use these little gingerbread people to fill my gingerbread box.
Nothing wrong with pulling double ginger-duty, right?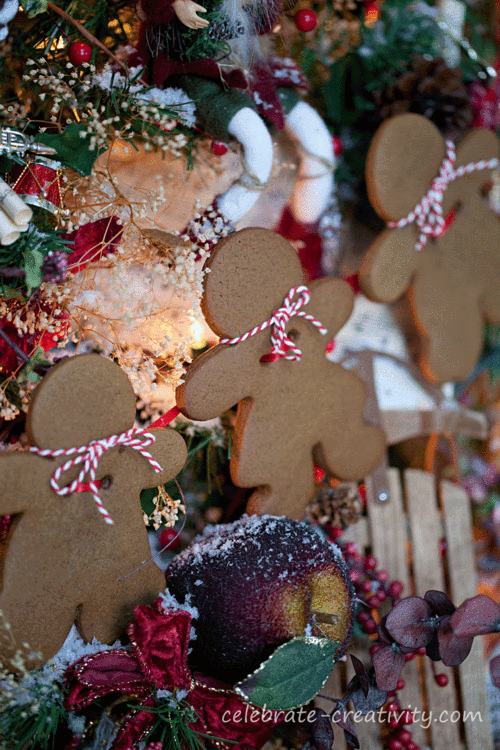 Wouldn't this look adorable on the end of a holiday dessert table.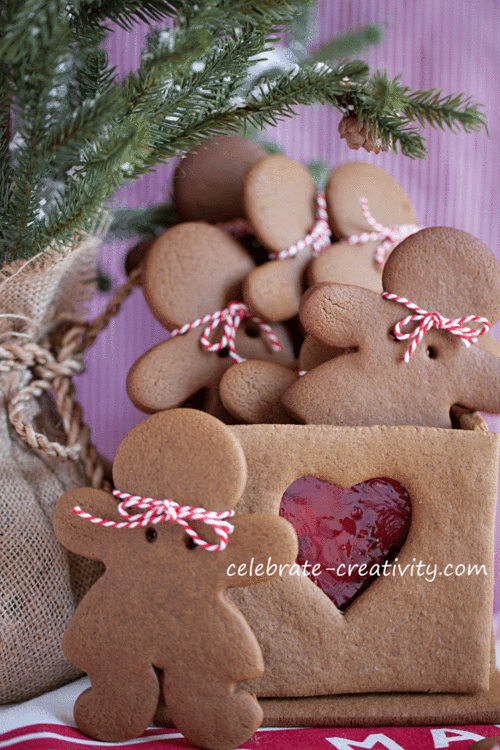 Of course, you could fill your gingerbread box with just about any sweet treats that will fit.
Consider filling your gingerbread box to the brim with peppermint candies, chocolate bon-bons, after dinner mints or assorted holiday cookies just to name a few possible goodies.
You could also make a trio of gingerbread boxes and fill them with different goodies just to mix things up.
Change the color of the stained glass and the shape of each cut-out to present even more variety.
My holiday blog series is flying by, isn't it?
Day 14 down, 11 more days to go.  Stay tuned, I have a lot more fun and inspiration ahead.
In cased you missed it, here's a look at:
Day 1|Day 2|Day 3|Day 4 |Day 5|Day 6|Day 7|Day 8 |Day 9|Day 10 |Day 11 |Day 12 |Day13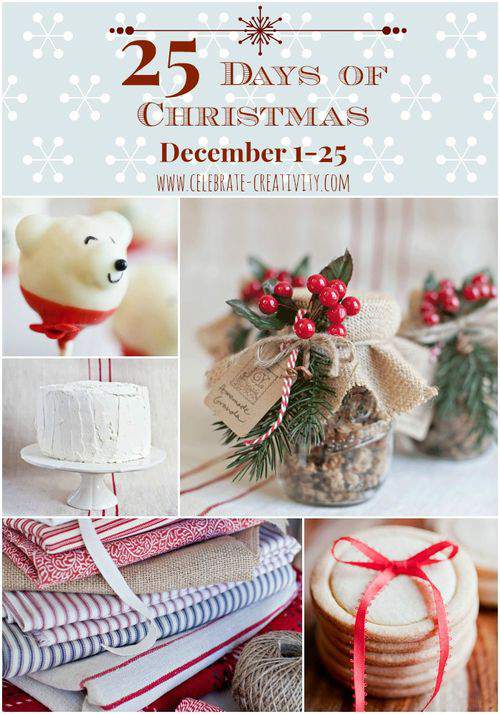 Hope you stop by again tomorrow (12/15) for Day 15 of my 25 Days of Christmas series.
See you then. ♥
I'm linking this Gingerbread Box project to the following: