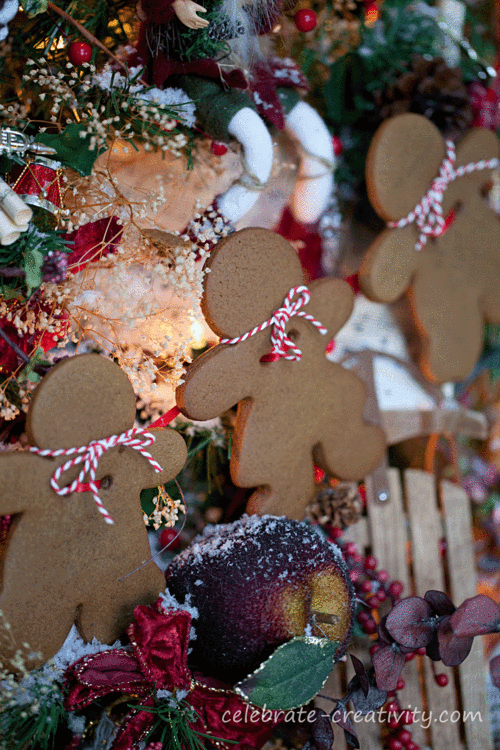 When you think of holiday garland, most people probably think of holly berries, shiny gold or silver tin foil or artificial pine needles, right?
In this, Day 13 of my 25 Days of Christmas  holiday series, I'm putting an unexpected twist on traditional garland with a fun and edible version.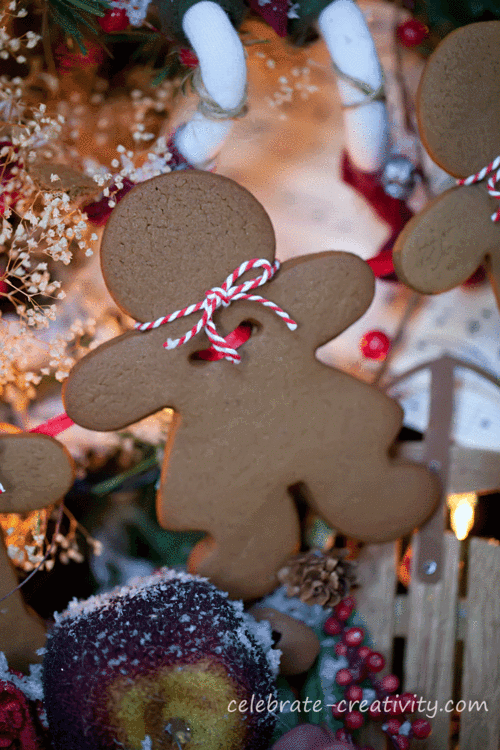 Yes, this is one garland that you can actually eat.
Gingerbread cookie garland is easy to make and can be used as a delightful decoration to any holiday tree or indoor decor.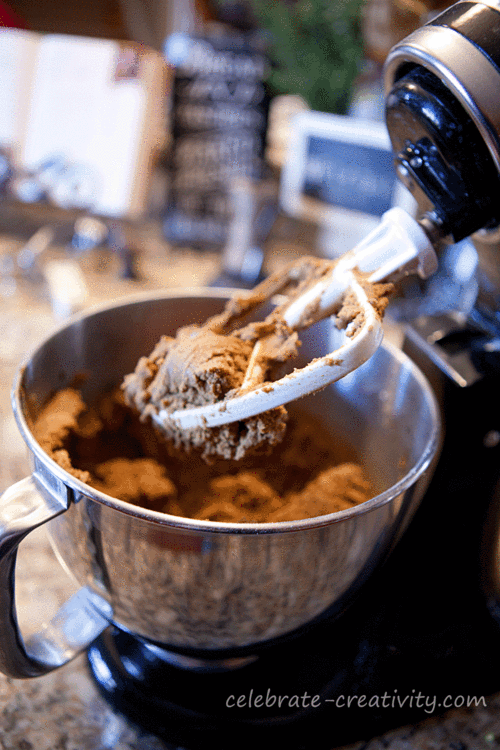 Start with your favorite gingerbread cookie recipe.
If you don't already have a favorite, there are a ton of tasty gingerbread recipes online.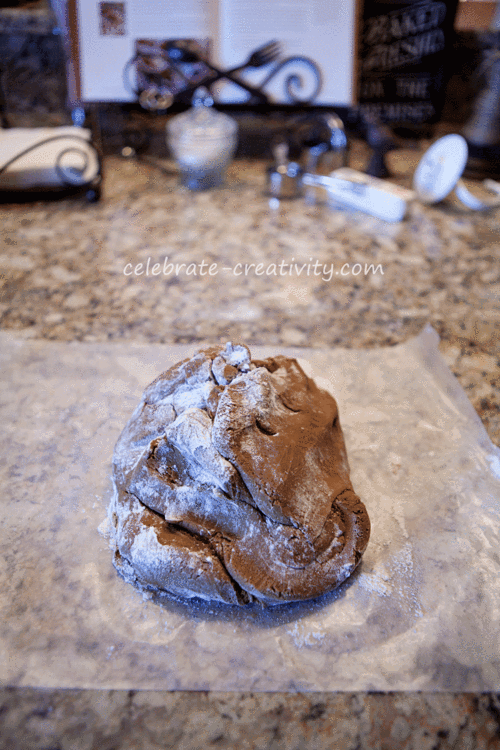 After refrigerating gingerbread dough for a few hours, roll it out onto a floured surface and use gingerbread man-shaped cookie cutters to create the cookie shapes.
Of course, you could also create a gingerbread garland using any cookie cutter shape you like.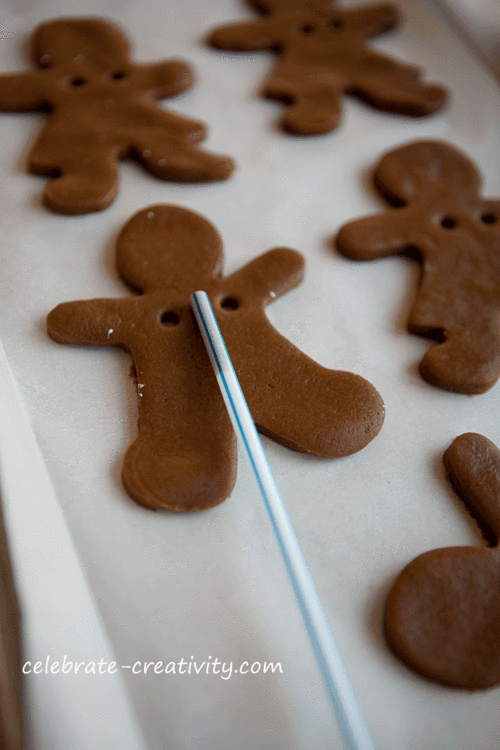 After the dough has been cut with the gingerbread man-shaped cookie cutters, use a straw to create two small holes in the front of each gingerbread shape.
You could decorate each cookie with an outline of royal icing but I decided to just give each cookie a bow tie instead.
See how handy this peppermint-colored baker's twine can be?
Perhaps you've noticed, I've used this baker's twine on almost every project so far in my 25 Days of Christmas holiday series.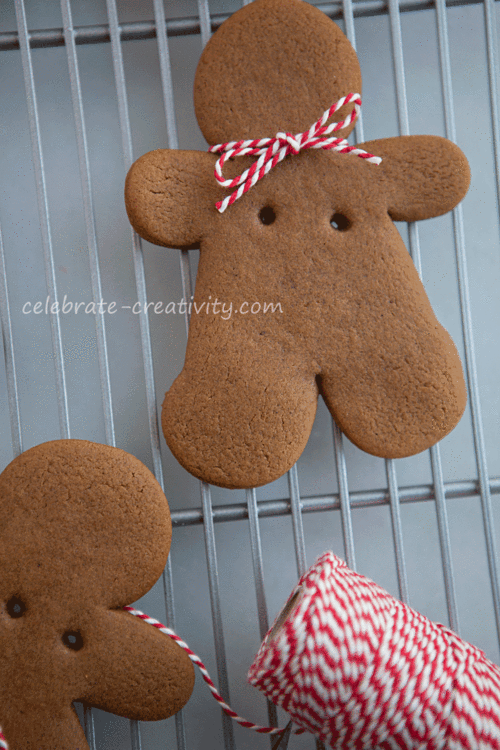 Gently thread a small ribbon through the holes in each cookie, alternating between gingerbread men and gingerbread women.
Be careful not to pull the ribbon too tightly or you risk breaking the gingerbread bridge between the two holes.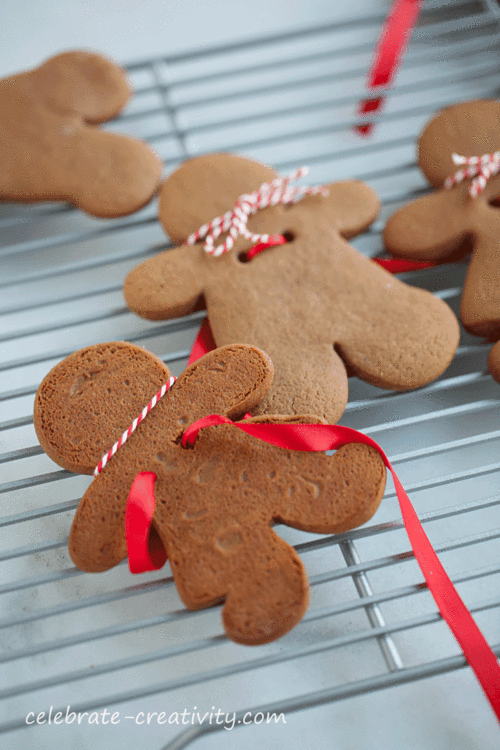 See how easily these are to string?
In addition to using this gingerbread cookie garland on a Christmas tree, this could also be a unique way to create an edible wreath if you attach these on a wreath form.
You could also create a gingerbread cookie garland to use as a table runner on a holiday dessert table.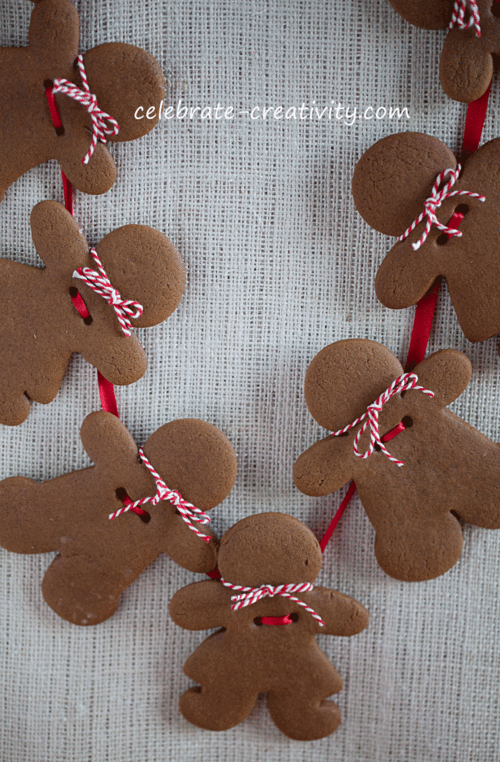 Of course, you can't go wrong with making tasty gingerbread men and women as yummy gifts.
I had quite a few cookies left over from my garland-making efforts so I just bagged several of them to give away.
Slip a few cookies into small baggies, use the twist tie to keep them fresh and add a pretty ribbon tied in a bow to top it all off.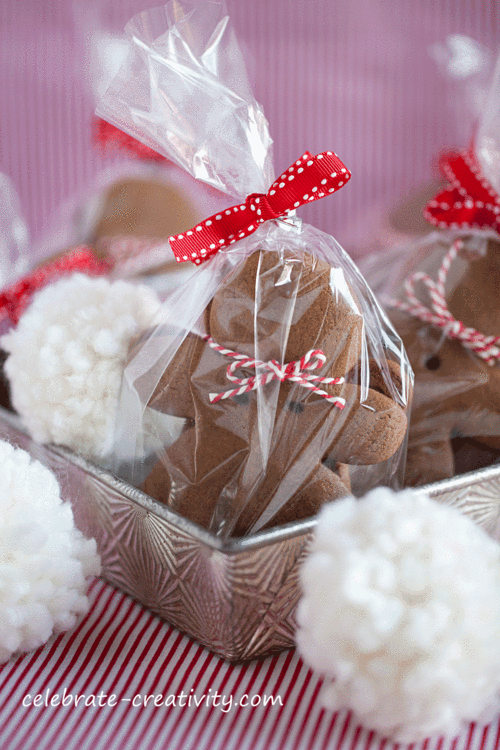 How adorable are these little guys holding hands across the front of my tree?
Add a few strands across your Douglas Fir or fragrant Pine and then have your guests help themselves to a cookie right from the tree.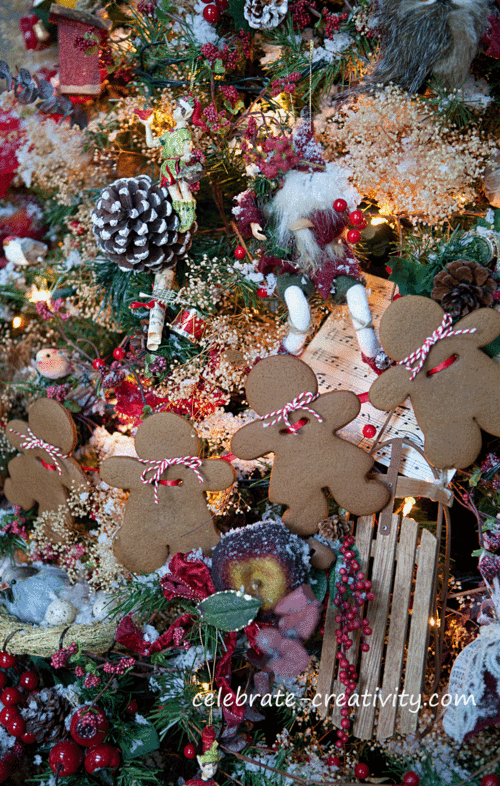 Special thanks to my happy holiday helper, Jordy who's always willing to pitch in with my creative efforts… as long as he gets to taste the projects.
That's a fair exchange and I always oblige.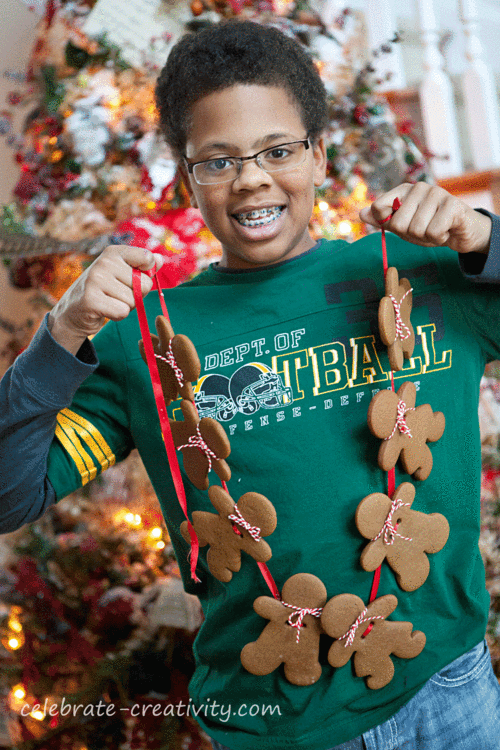 As you can see, gingerbread cookie garland is a fun way to use this traditional cookie.
I'll bet you could also think of a few other ways to use gingerbread garland in your holiday entertaining and decorating.
My holiday series is really flying now.
Day 13 down, 12 more days to go.  Stay tuned, I have a lot more fun and inspiration ahead.
In cased you missed it, here's a look at:
Day 1|Day 2|Day 3|Day 4 |Day 5|Day 6|Day 7|Day 8 |Day 9|Day 10 |Day 11 |Day 12
Hope you stop by again tomorrow (12/14) for Day 14 of my 25 Days of Christmas series.
See you then. ♥
I'm linking this Gingerbread Man Garland to the following: