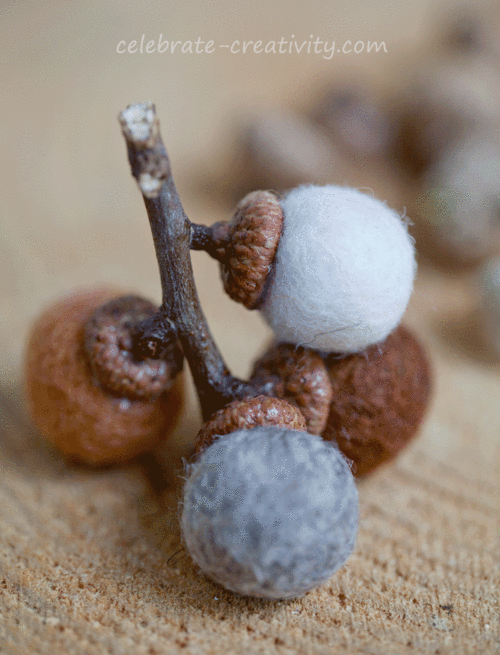 There's just something about being able to bring the outdoor beauty of Fall… inside.
That's what these felted acorns bring to the table.
With that in mind, I think you'll love these decorative felted-wool acorns which are fun to make and also offer up a whimsical, delightful nod to Mother Nature and the Autumn season.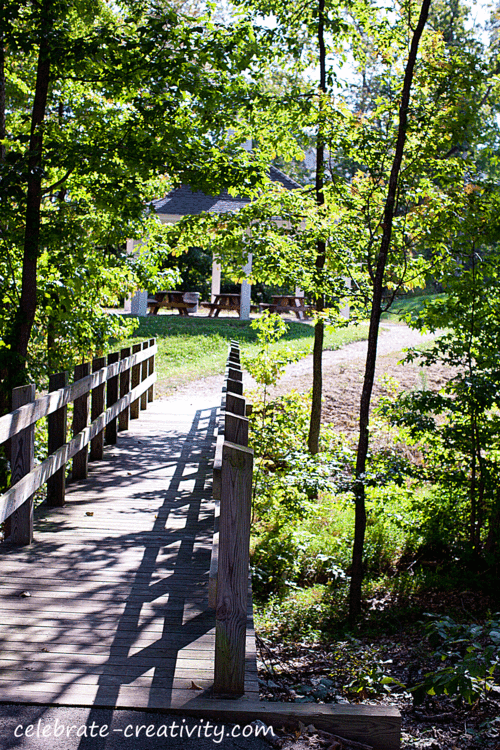 There is a really pretty park in my neighborhood that not only makes for a great photo shoot location, it's also adorned with tall, hearty Oak trees.
Every year around this time, I scour the base of these wonderful Oaks to collect the bounty of acorn caps that have fallen from the above.
The use of real acorn caps is not only a nice contrast with the textured wool, it also adds a touch of realism to the project.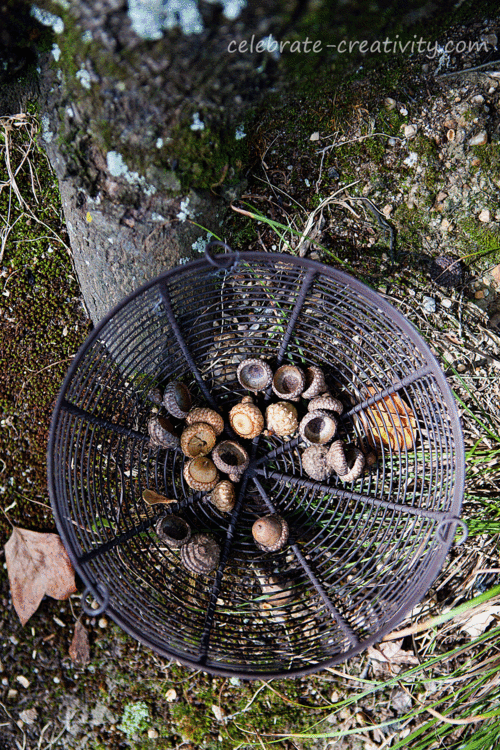 If you can find a branch or two with the acorn caps still attached, collect those too.
It's nice to mix up the presentation.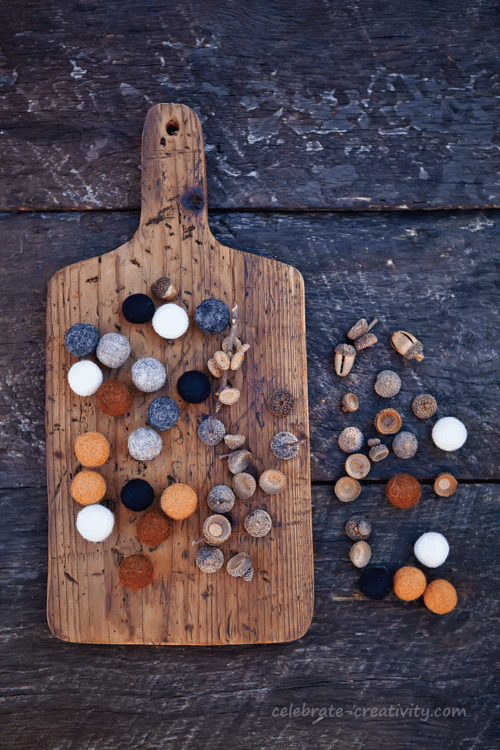 These pre-shaped, felted wool balls are really convenient for this acorn project.
I've only worked with felted wool a few times but I love the look and texture of it.
You can find felted, wool ball at most crafts stores.
I picked these up at Michael's in the knitting supply section.
You'll also need a hot glue gun.
You can make these decorative wool acorns acorns in a handful of quick steps.
It doesn't get any easier than this.

Depending on the color of the acorn cap, you may want to stain it lightly.
I used a pecan colored stain on these.
Another advantage to staining the acorn cap is that it gives the caps a nice shine as well as a permanent seal.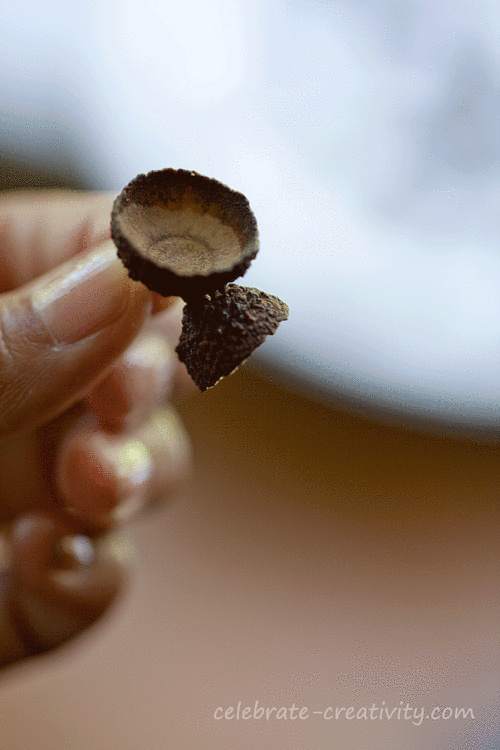 Add a few drops of hot glue into the acorn cap.
Be careful not to fill the cap to the rim with glue because it will may run over once the wool ball and you don't want any dried glue visible on the finished acorn.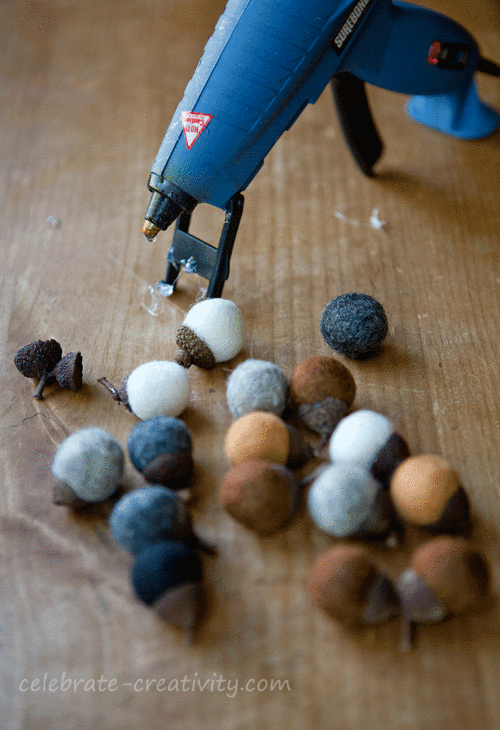 Position the felted wool ball into the cap and press gently.
The hot glue sets very quickly, so you'll only need to hold the cap and wood ball in place for about 20-30 seconds to secure.
I'm always open to gifting the projects that I make and these decorative acorns would make a nice offering with the right packaging.
Pick up a few mini burlap bags, grab some paint and lettered stencils and label the bag for a rustic, customized gift sack.

Now how cute is this?
Fill the min bag with a few dozen decorative acorns and you have a sweet, handcrafted Autumn gift to offer to friends or family.
If you know someone moving into a new home, I think these would make a cute housewarming gift.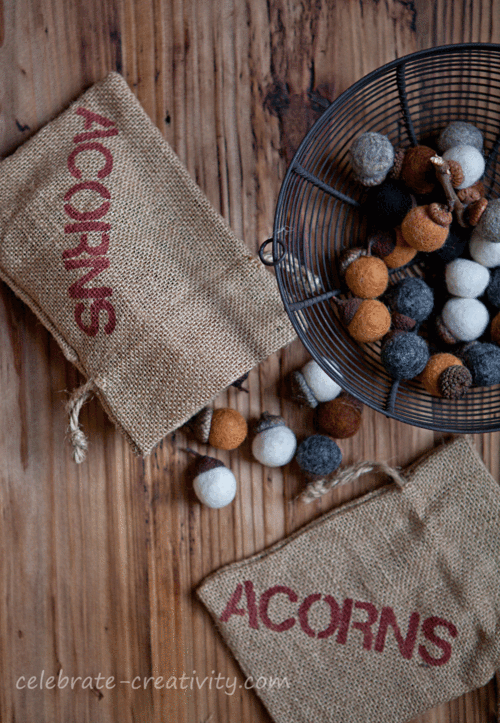 These felted wool acorns are among my favorite Fall projects to make.
However, you aren't just limited to using felted wool to create them.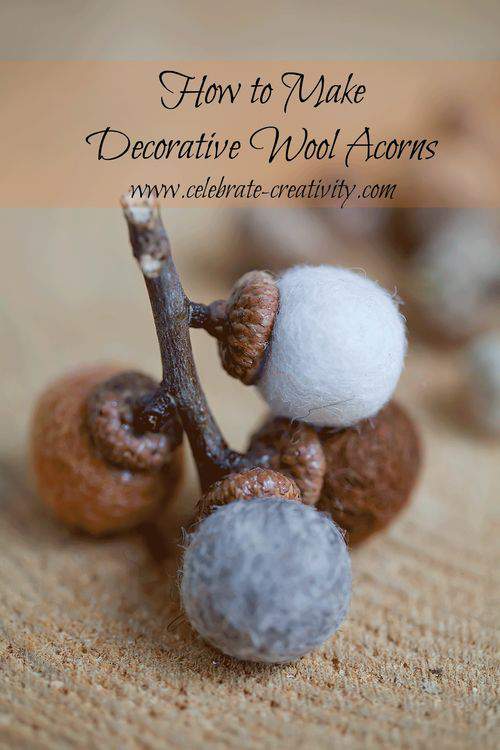 You can also make these out of fabric.
I made these soft acorns in the photo below using a velvet-like fabric called "panne".
You can revisit my step-by-step tutorial on how to make soft fabric acorns if you click here.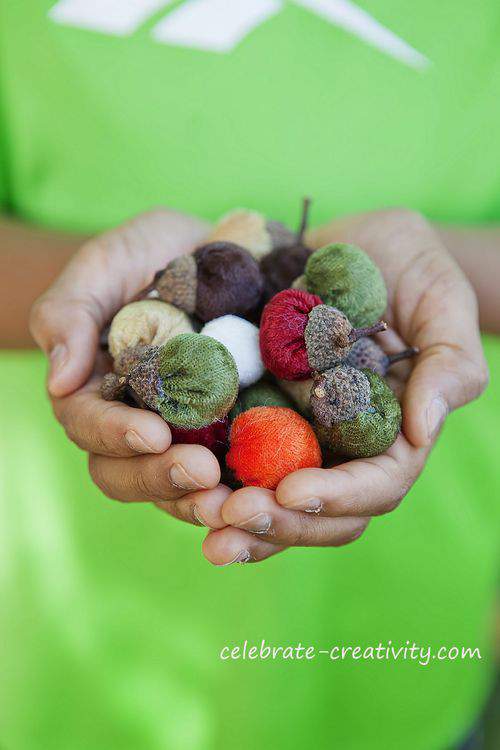 Above photo:  My soft, decorative acorns using panne fabric
Whether you use fabric or felted, wool balls, these decorative acorns are a cinch to make, display and gift.
Admirers of your handcrafted soft acorns may even think these are the real thing, recently fallen from a mighty Oak.
Thanks to my son and hand model, Jordy for helping with both photos.
So, are you all ready to head outdoors to the nearest Oak tree… to hunt for acorn caps and hand craft your own soft harvest. Thanks for stopping by.
See you back here next time.
I'm linking this Felted Wool Acorn project to the following:
Uncommon Designs' Monday Funday