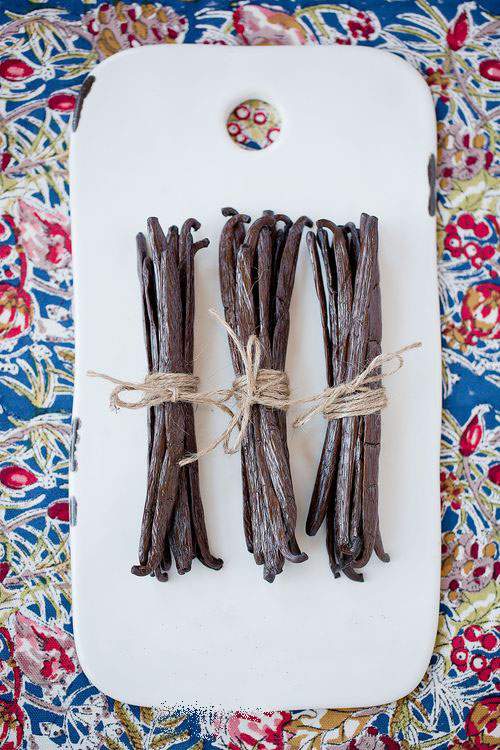 Do you have a favorite flavor enhancer?  I do.  Hands down it's VANILLA.  I love it in ice-cream, cookies, french toast and just about anything else.  You name it.
Well, did you know you don't have to buy vanilla? can actually make your own VANILLA EXTRACT?
Throughout this post, I'll show you how easy it is to make homemade vanilla extract.
You'll only need 2 ingredients to make your own vanilla extract, vanilla beans and vodka. Now, I've always been a bit disappointed with the vanilla beans found in my local grocery store because they're so dried out and skimpy.
However, big fat, juicy vanilla beans can be purchased in bulk through various on-line outlets.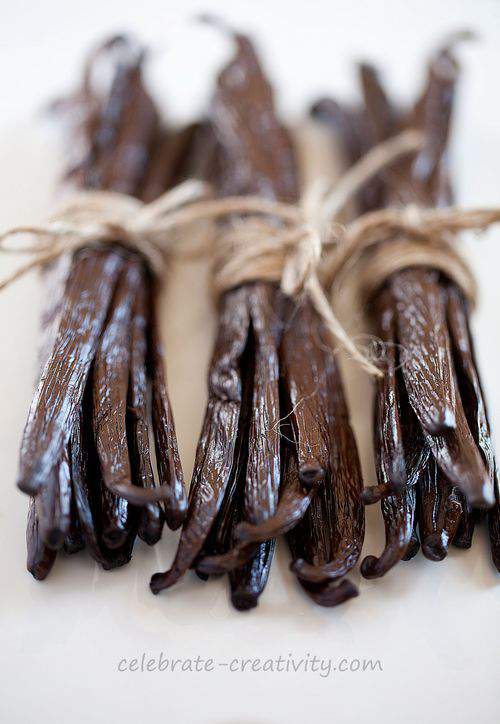 I wrapped these beans in jute just for this photo but they arrived in my mailbox in vacuum-sealed packaging.
There are multiple sources for bulk vanilla beans and I found premium grade, beans here and here and here.
The vodka for homemade vanilla extract does not need to necessarily be the most expensive top shelf variety.  It's really your choice.  I don't suggest the best nor do I recommend the lowest shelf either.
I used a medium grade.
First, cut the vanilla bean length-wise and scrape the vanilla "caviar" out with a flat-edge knife or spoon.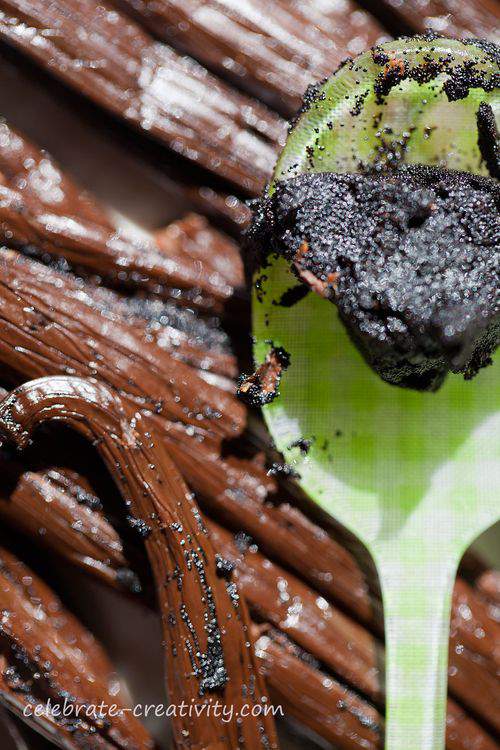 Oh-la-la.
Look at all that vanilla goodness.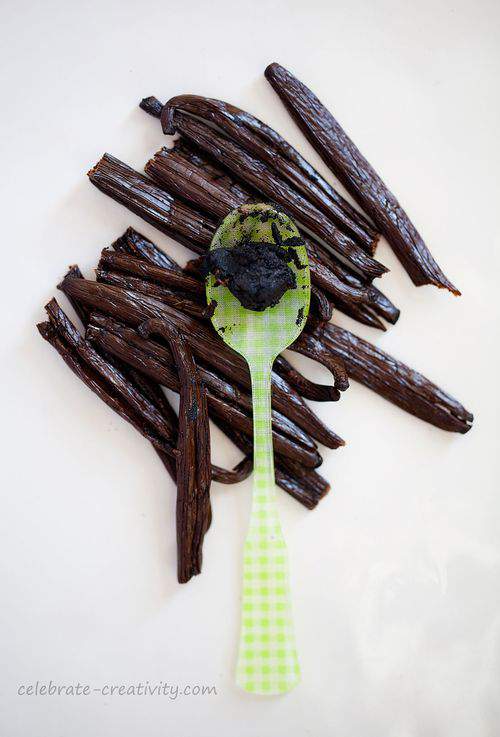 The ratio of vanilla beans to vodka varies depending on where you find the recipe.
I've found that at least three vanilla beans for every one cup of vodka is a pretty good recipe rule to follow.

After scraping all the "caviar" from the beans, slice the pods in half and drop in a mason jar (or other tight seal container) along with the caviar.
Over time, the vanilla bean seeds along with the pods will flavor the vodka and produce the vanilla extract.
While the prep work only takes minutes, the mixture should soak for at least 8 weeks to develop the flavor.
Shake the jar vigorously at least once a week to shake all the flavor loose from the pods and blend with the vodka and vanilla bean seeds.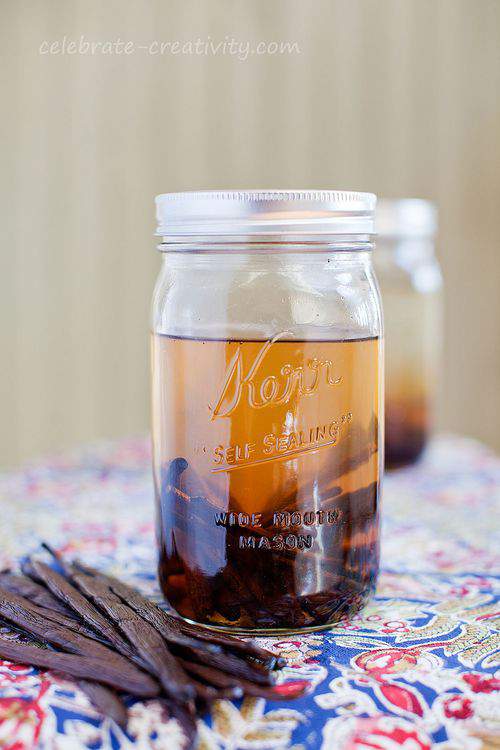 Keep the jar stored in a dry, dark area like a pantry shelf.
I keep mine in the back of my pantry on the floor and out of the way of high traffic.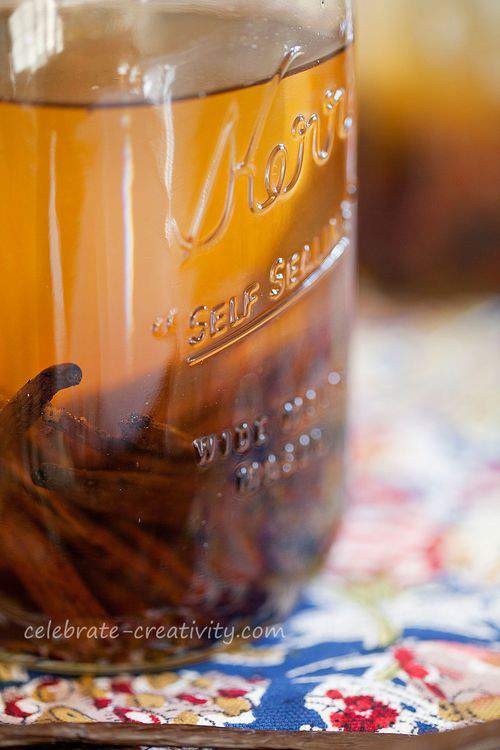 If you plan to make multiple batches, I think it's a good idea to label your jars so you can keep up with the vanilla bean to vodka ratio as well as when the batch started soaking.
Don't forget, the longer you allow your vanilla beans to soak, the more potent the flavor.  These jars have actually been soaking for nearly six months.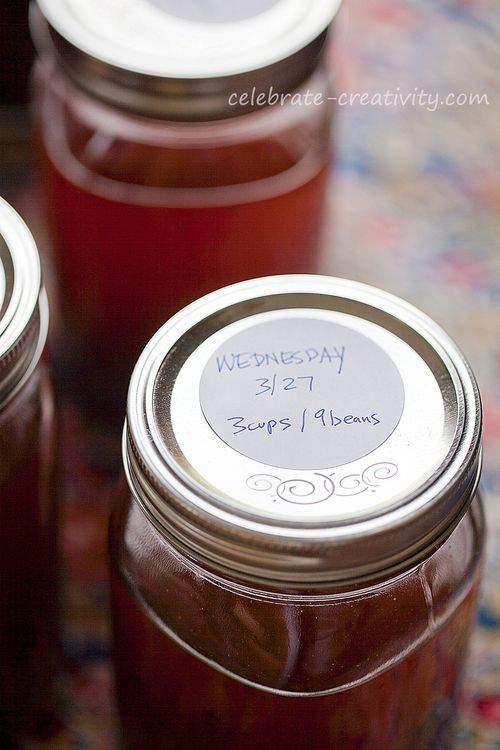 Whenever I open a jar, the vanilla aroma practically fills the room. I can't wait to use this is my recipes.
When you're ready to use the vanilla extract, simply strain the liquid through a cheesecloth or a coffee filter to catch any pods or vanilla bean grains.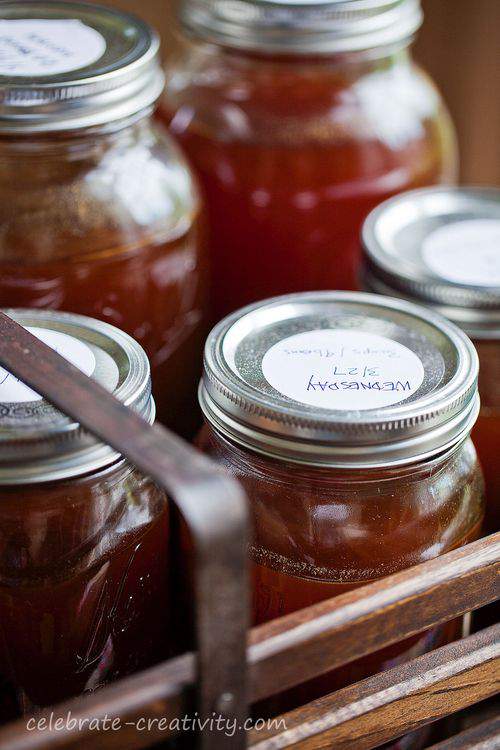 My plan is to fill these bottles with my homemade vanilla extract and package them up for friends and family as holiday gifts.
I have some cute labeling in mind too and I'll be sure to share the finished presentation with you later in an upcoming blog post.
If you're also considering making vanilla extract for holiday gifting, you may want to get started on those batches right away.
The longer the vanilla beans soak in the vodka,  the more potent the extract flavor.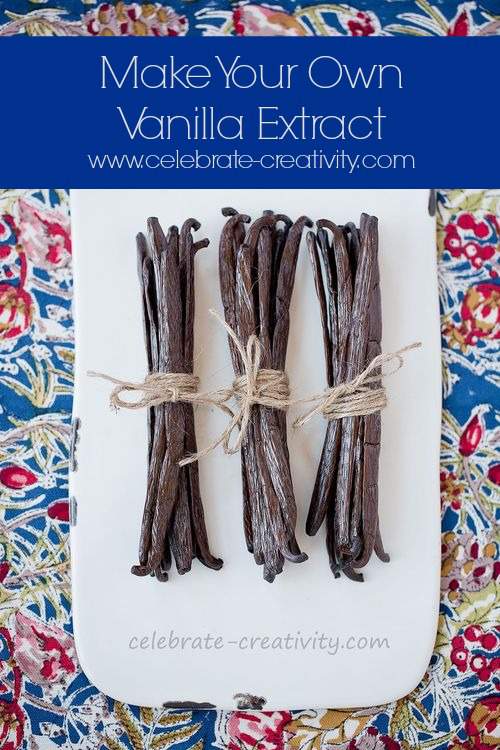 So, are you excited about trying to make your own vanilla extract?
Ready to order some bulk beans?  I hope you're inspired to give it a shot.
Thanks for stopping by.
See you back here next time. ♥
I'm linking this Homemade Vanilla Extract post to the following:
Ella Claire's Inspiration Exchange