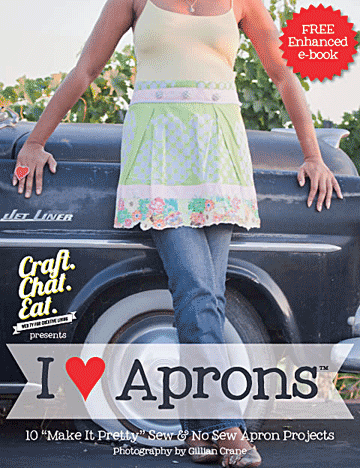 I s there anyone out there who doesn't own at least one apron?  In fact, I'd venture to say that many of you reading this may have far more than just one apron in their closet. 
If you're a fan of aprons, you'll be a fan of a new (free) e-book… aptly called, I ♥ Aprons™.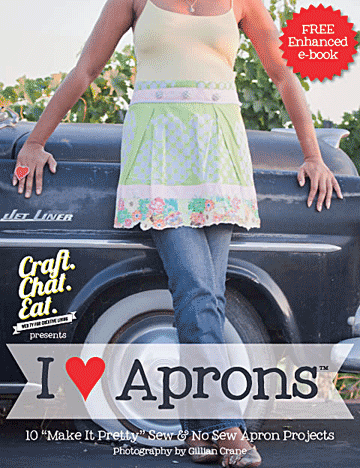 The e-book was developed by my blogging friend, Judith Norman-a longtime crafter who has had a penchant for beautiful aprons since she was a little girl. This pretty, floral apron is one of the 10 creative and easy projects in the e-book.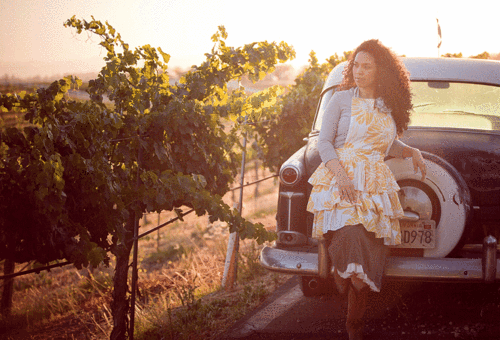 Of course, aprons aren't just for grown-ups and you'll find designs for little ones too.
How cute are these lemon-picking kiddos?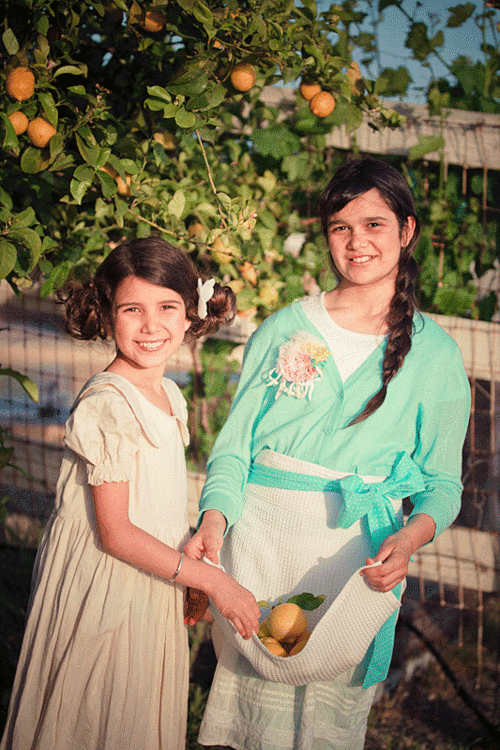 Here's another pretty offering found in I ♥ Aprons™.
I really like the combination of lettered fabric, butterfly print along with the gentle stitching and soft crocheted edge.  
Judith asked me to contribute an apron to I ♥ Aprons™  and this is what I came up with.
I named this apron "The Duchess" and it features multiple tiers of sheer fabric gently folded and topped off with a beaded waistband and trimmed with dangling fringe.
The supply list and full instructions for all the apron patterns are fully downloadable.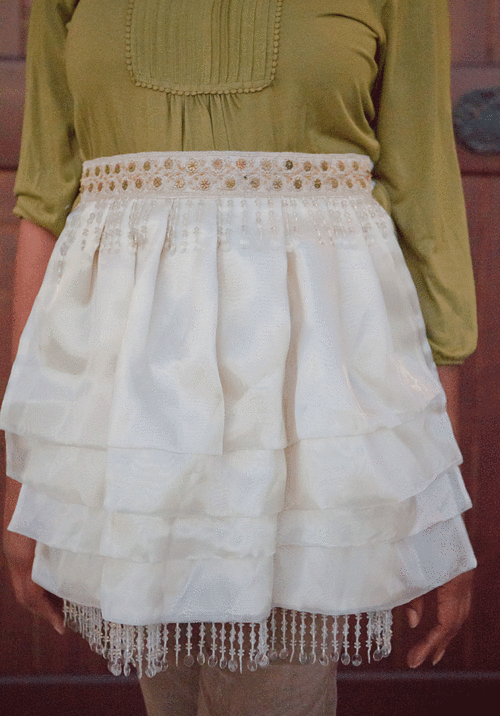 The e-book is the first of much more to come from Judith's Craft Chat Eat Web TV for Creative Living Series which will debut later this year.
Craft Chat Eat is an online video series designed to be a go-to source for DIY projects, crafts, recipes and inspiration.
Pop over to Craft Chat Eat and sign up for the CCE newsletter to get your free e-book download for I ♥ Aprons™.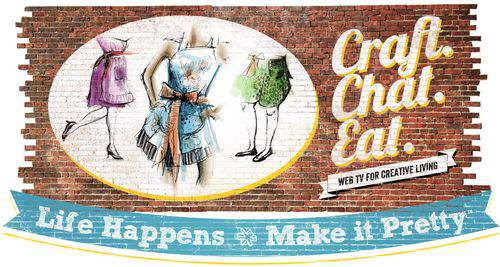 Meanwhile, I conducted a little Q&A with Judith to give you even more details about the e-book and her Craft Chat Eat launch.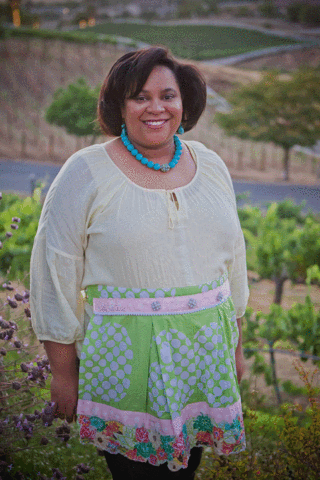 LISA-Q: You've loved aprons since you were a little girl.  Why do you think aprons have such long-lasting, generational appeal?
JUDITH-A: "Aprons – OMGoodness!  There's a feeling of comfort and security that you get when you either put one on or see someone else wearing one.  I have strong memories of my grandmothers in their kitchens wearing aprons while preparing meals, hemming school uniforms, or giving "man" advice.  It was their uniform.  When those phenomenal women tied those apron strings around their necks and waist, it meant it was time to release the creativity and love within themselves and share it with their families". 
LISA-Q: What was the inspiration behind the I heart Aprons project?
JUDITH-A: "The inspiration behind I ♥ Aprons™ was my desire to introduce myself and Craft Chat Eat – Web TV for Creative Living to the online community and show them the quality of content they can expect from the site when it launches later this year. 
Someone asked me why I chose to have aprons featured in Craft Chat Eat's logo.  My response was that I feel aprons represent the very best qualities in a woman: nurturer, creator, and giver.  It was important to me that the aprons and the photography featured in I ♥ Aprons™ showcased these qualities and captured the beauty of the women wearing them. 
I was fortunate to find nine creative bloggers willing to contribute their talent.  I also had a phenomenal creative team consisting of: an illustrator, video production crew, and a graphic designer, who helped execute my vision.  Also, several companies – Aurifil, Coats & Clark, Red
Heart Yarns, and WoolFeltCentral.com – provided much needed financial support."
I ♥ Aprons™ is the first of three pre-launch enhanced e-books to be produced by Craft Chat Eat.  Just to tease your readers, our next book will focus on food.  And, that's all I have to say about that.   
 LISA-Q: Modern day aprons definitely are not your grandmother's aprons anymore.  They're as fashionable as they are functional these days.  How do you think aprons and the wearing of them have evolved over the years.
JUDITH-A: "I think there has been an apron renaissance in last few years.  And, I love it. 
For a while, women were pressured to downplay their femininity.  I think the Internet and the abundance of creative blogs where women unapologetically share their homemaking talents with an enthusiastic audience has given us permission to come out of hiding and wear our aprons proudly". 
LISA-Q: Full apron or half waist.  Do you have a personal preference?
JUDITH-A: "My personal preference would be whichever apron is the prettiest.  Full or half waist, really doesn't matter.  I like "pretty."  And, "pretty" to me means flowers, pleats, and ruffles".
LISA-Q: What are you hoping readers take away from this enhanced e-book?
JUDITH-A: "The take away from I ♥ Aprons™ would be:  "I did it!" 
As a former craft teacher, I've witnessed the fear some women have of trying new things.  Of course, by the end of the class, the cocoon has busted opened and the emboldened butterfly has emerged. 
I made sure that the aprons included in I ♥ Aprons™ were not only beautiful, but were also easy-to-make.  Each pattern was tested three times.  Plus, we've included helpful illustrations and three video tutorials.  So, no matter what your level of sewing or creative skill, there's at least one apron in the book, you'll be able to do".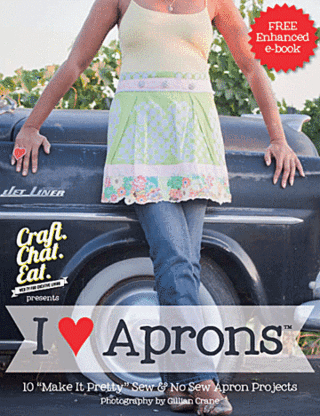 LISA-Q: The I ♥ Aprons™ e-book is a great springboard for your Craft Chat Eat venture.  What can readers expect from that new network?
JUDITH-A:  "Craft. Chat. Eat. – Web TV for Creative Living will launch in late 2013 with five (5) original, long-form crafts, DIY, and cooking lifestyle online video series.  You'll meet people who dare to live a creative life.  Some will be entrepreneurs.  Some will be passionate about food.  Some will build (or rebuild) things.  We're going beyond the basic how-to videos and highlighting the people and process.  It won't be your grandma's craft TV".

  Big thanks to Judith for a great interview and for giving us a closer look at her I ♥ Aprons™ e-book.
I'm wishing her all the best for a successful launch of Craft Eat Chat. 
 
COMING UP ON FRIDAY 

 
It's that time of year when thoughts and plans turn toward the holiday season ahead.
With that in mind,  coming up later this week (9/19), I'll have special details on an e-course that will inspire you to get busy preparing your own home for the holidays.
 Pop back here on Thursday for a closer look at Creatively Made Home featuring ideas for gifts, decorating, baking and so much more.
See you back here on Thursday.

 HERE'S WHAT YOU'LL SEE NEXT MONDAY

The impending holiday season means there will be plenty of holiday baking and most likely many of those recipes will include vanilla extract.
 Did you know you can make your own VANILLA EXTRACT ?
Homemade vanilla extract is so super simple to make, you'll wonder why you never made it before.
See you back here on Monday (9/23), for a closer look at how you can make your own VANILLA EXTRACT.