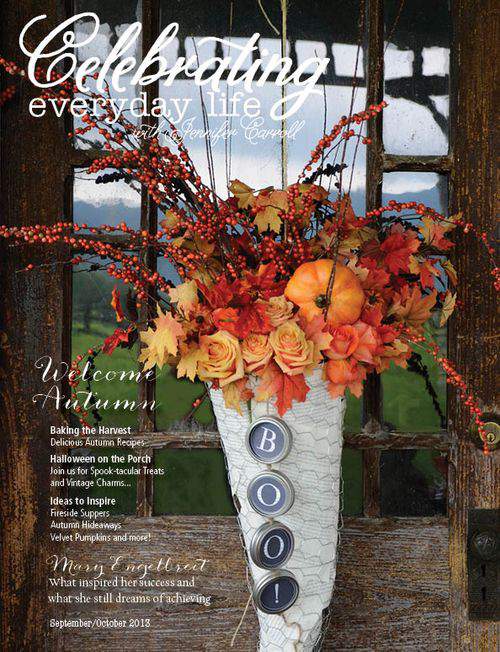 I've gotta tell you, when I first saw the cover of the latest edition of Celebrating Everyday LIfe with Jennifer Carroll I was totally blown away.
I just love this colorful arrangement of oranges and reds along with the rustic door backdrop with its reflection of rolling hills in the glass panes.
Throughout this good reads, I'm previewing the 2013 September-October digital (you can also buy a print copy) issue and I know you're going to love it as much as I do.
This issue is a glorious celebration of all the things we love about the Fall season filled with the colors and traditions that make Autumn so wonderful to behold.
Check out the short roundup in the video below which is narrated by Jennifer.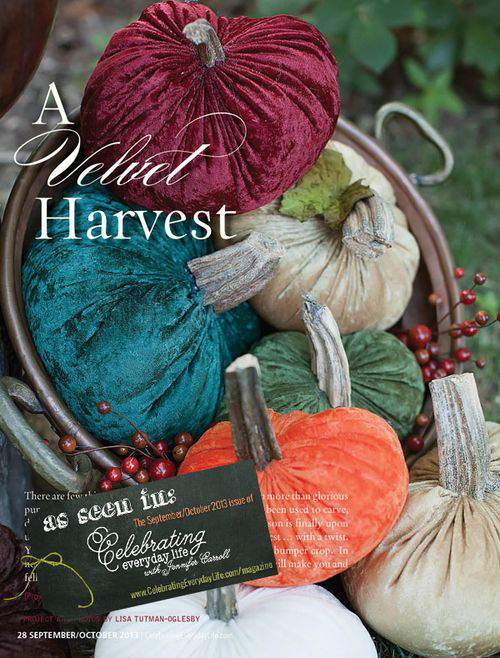 There are a ton of DIY projects, recipes and crafts (just to name a few categories) in this issue which makes turning each page more fun than the last.
I still can't believe I get to contribute to this beautiful publication.
Here's a quick peek at my velvet acorn project which are featured in a multi-page spread which also includes my velvet acorns and instructions.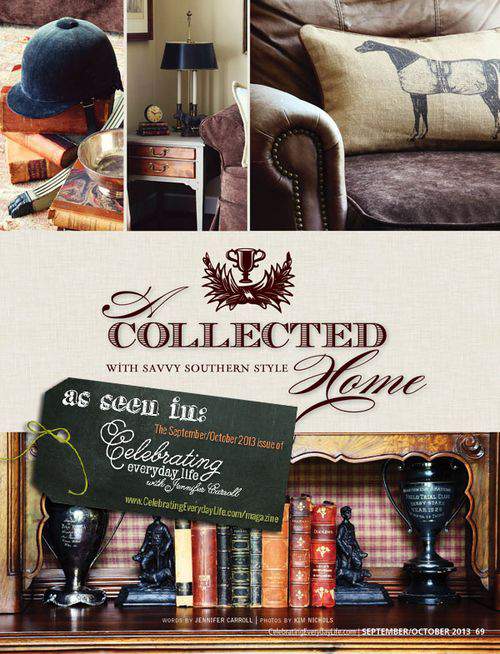 If you're like me, you love peaking into the beautiful homes of fellow bloggers.
You'll definitely get a lovely eyeful with a look at this perfectly appointed room.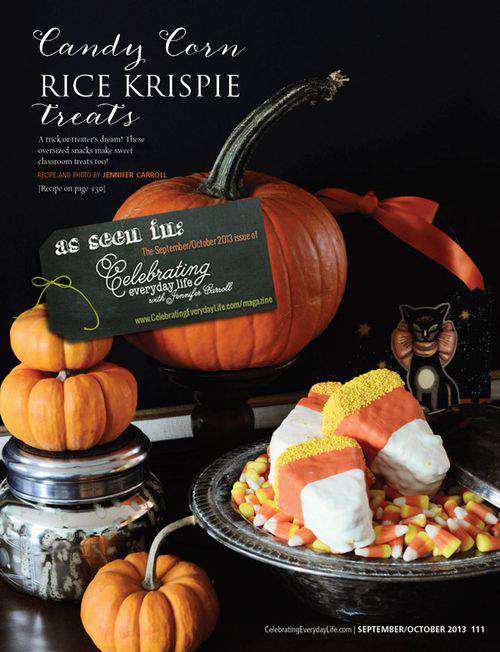 Of course, it's that time of year when Halloween treats are on everyone's mind and you're going to love the goodies Jen put together.
I can't wait to try to make those candy corn rice krispee treats.
Every contribution to this September-October issue is a page-turner that does not disappoint with a collection of inspiration that is so well thought-out and lovingly presented throughout more than 130-pages.
For an even closer look, check out this quick preview below.
Jen told me a while back that Celebrating Everyday Life with Jennifer Carroll has been a long-held dream that she still can't believe is off the ground.
I'm happy to share some of that dream with you via this preview and I hope you support Jen's creative endeavor by grabbing a copy of your own.
As you can see there are multiple viewing options to suit your reading pleasure.
Oh, and if you're reading this post on Monday, September 9th, join me in wishing Jen, a very HAPPY BIRTHDAY! ♥