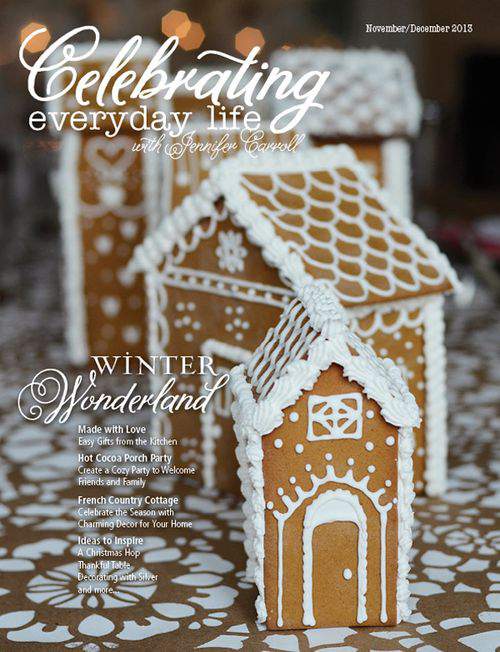 I
f you're not already in the holiday spirit, you will be after you read the latest edition of Celebrating Everyday Life with Jennifer Carroll.
The November/December issue of this fantastic digital magazine is now available and you're going to love all the beautiful features including these intricately piped gingerbread houses on the magazine cover.
NOTE:  Instructions are also included on how you can make the pretty stenciled table runner that these gingerbread houses are sitting on.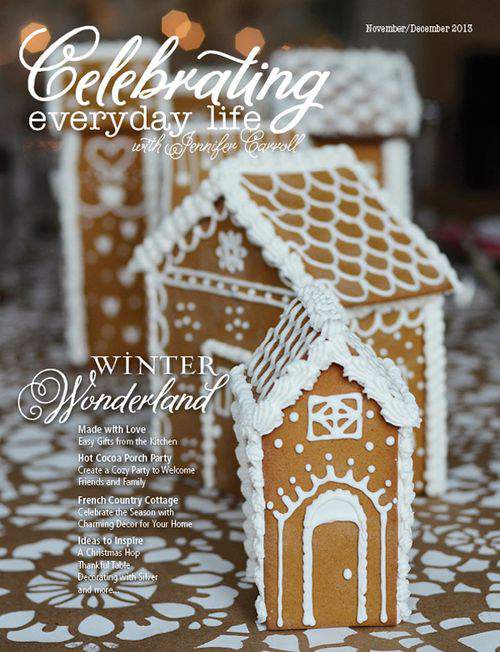 Here's a quick preview of this issue that Editor-in-Chief, Jennifer Carroll put together just for you.
I think you may just want to live inside some of these pages.
This hot cocoa car is one of my favorite layouts in this issue which incorporates elegant style with simple elements and details that you can re-create at home.
When I first saw this photo, I just wanted to grab a cup of hot chocolate, a blanket and curl up on this porch and just sit back and admire all the goodies.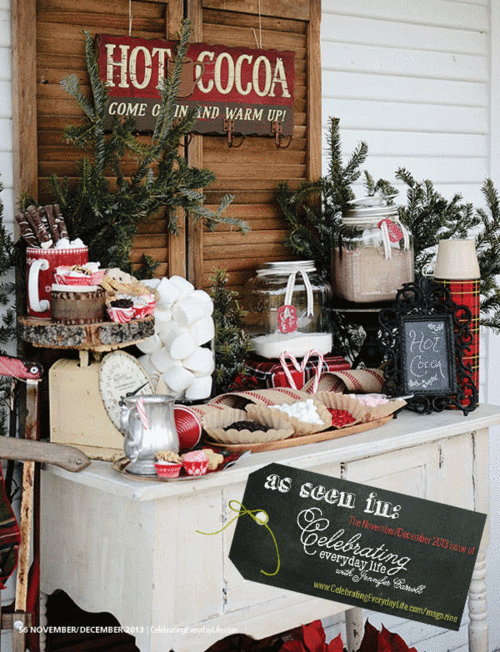 Every page evokes a sense of casual beauty that inspires as much as it puts a smile on your face.
How cute are these grain sack ornaments?  I think I'll make a few of these this year.
Another thing I love this magazine is that the projects are not only inspiring but are also achievable. 
The ideas and projects in this book are designed to help you create the same special look in your own homes with easy step-by-step photos to help guide your way.
Pick up this issue to see how easy it is to make this fantastic scalloped table runner in time for your holiday table.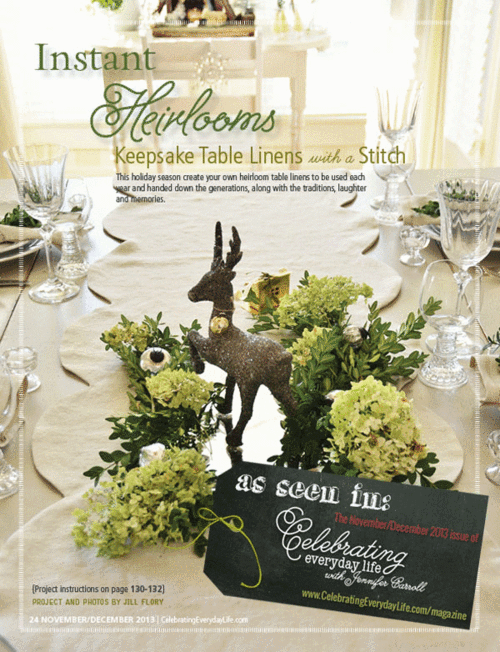 I'm thrilled to be a regular contributor to this gorgeous magazine and here's a sneak peek at my project in this issue.
You'll love making this pomegranate topiary which is not only simple to make but would also be a festive addition to any holiday decor.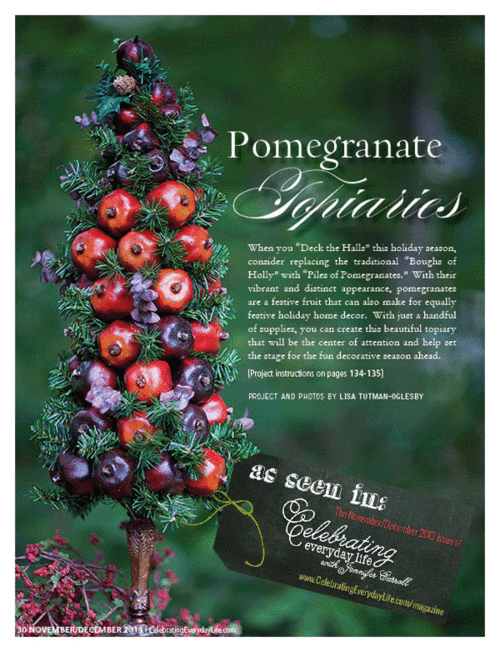 The November/December 2013 issue of Celebrating Everyday Life is a gorgeous read that will help you kick off the season with its inspirational nod to simple beauty, holiday home decor, recipes and the joy of handcrafted giving with love of family and friends in mind.
Click here to get your copy of this issue today.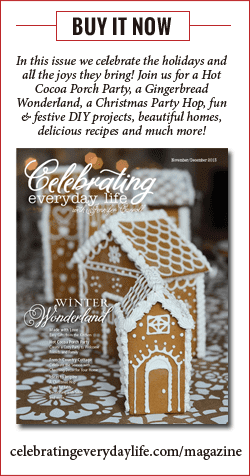 COMING UP ON MONDAY
Thanksgiving is right around the corner and this is one special dessert that will look good on your holiday table.
Coming up on Monday (11/18), I'll share my leaf-shaped apple pie that will almost have you wanting to take a bite out of the computer screen.
This delicious-looking dessert is much easier to make than you may think. 
Be sure to pop by again next week for a look at my 
HOT APPLE/LEAF-SHAPED PIE.
See you then.  ♥