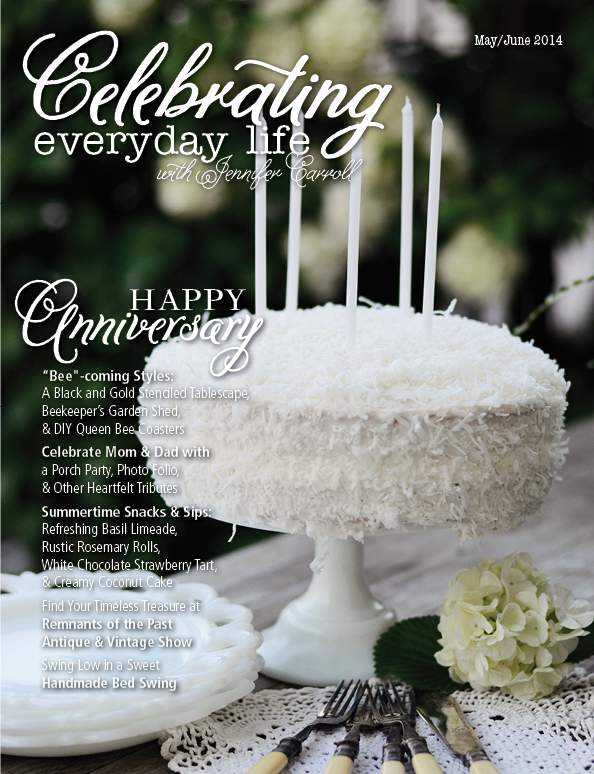 Blow out the candles.  We're celebrating a birthday around here.  This month marks the one-year anniversary of one of the prettiest digital publications out there.
Celebrating Everyday Life with Jennifer Carroll was launched a year ago this month and this milestone issue is as stunning as ever.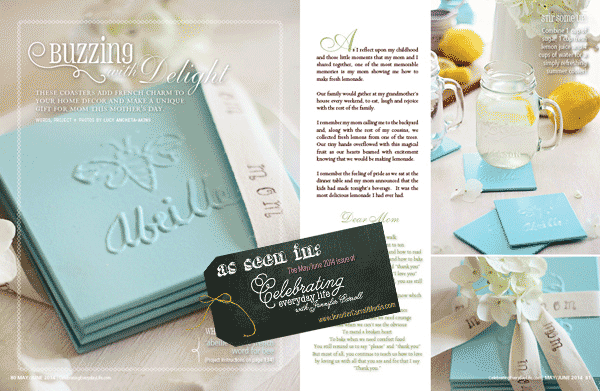 The May/June 2014 issue has a most "Bee-coming" theme with several articles and crafts centering around bees like these wonderful, bee-inspired coasters.
Check out the issue to see how easy these are to make and gift.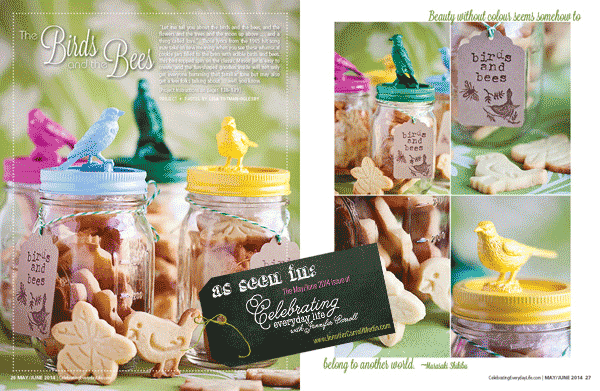 It's been fun for me to be a regular contributor to Celebrating Everyday Life and this anniversary issue includes my Birds and Bees Cookie Jar project.
You'll have a blast making these jars and eating the goodies inside.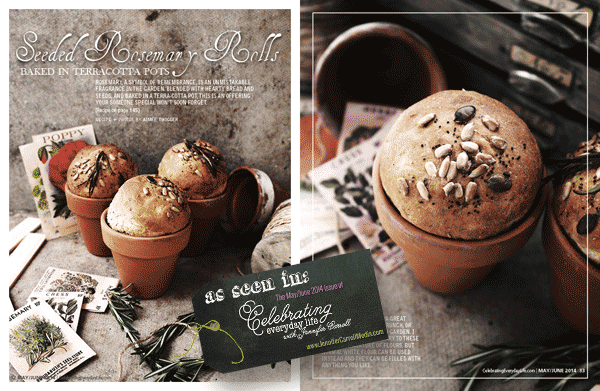 Of course, every issue features wonderful and impressive recipes and this Seeded Rosemary Roll recipe is no exception.
I've never thought of baking bread in terra cotta flower pots, but I'm definitely going to give this a try.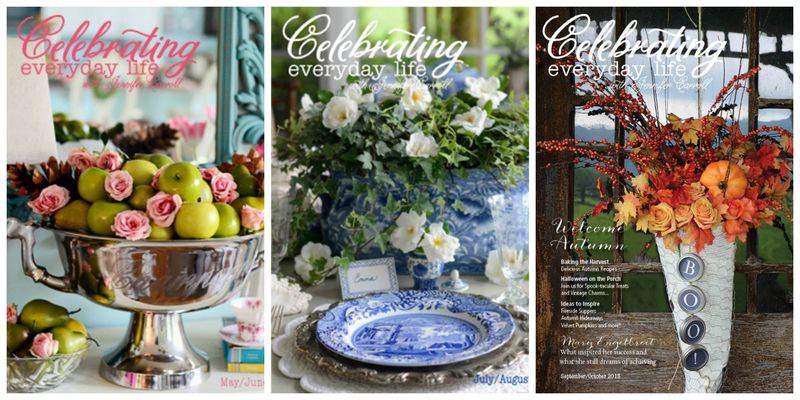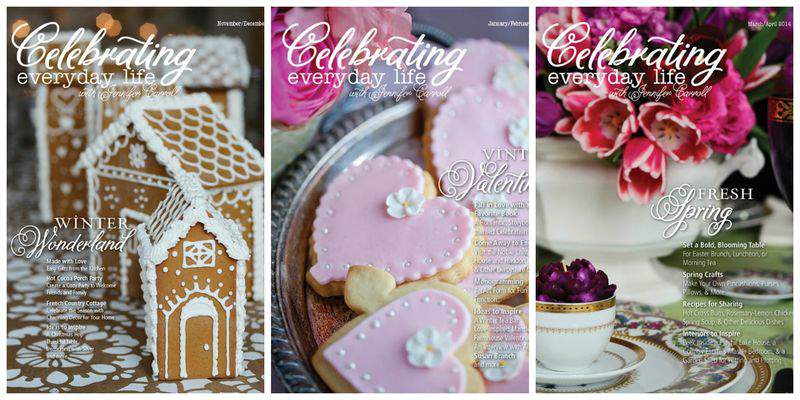 Looking back, this entire first year of publication has been filled with beautiful, glorious page after page of inspiration.
Just take a gander at the CEL magazine covers featured over this last year.
By the way, you can purchase the May/June 2014 current issue along with any back issues here.
Regular readers may recall, I shared an interview with my friend and Editor-in-Chief, Jennifer Carroll right after the first issue was launched 2013.  Well, I thought it would be fun to share a follow-up chat to coincide with this anniversary issue and you can read my interview with her, below.
Jennifer says she's learned a lot about magazine publication and I think you'll find her candor refreshing and heartfelt as she reflects on this first full year as magazine chief.
 Q & A with Jennifer Carroll, Founder/Editor-in-Chief
Lisa: Wow, it's hard to believe it's been a year already since the launch of Celebrating Everyday Life.  How do you feel about this milestone?  Jennifer: "I can hardly believe that it's been a year, the time has really flown. I set out with this idea to create a magazine that empowers and inspires women and I feel incredibly proud and yet very humbled that the magazine is growing." 
Lisa: It's so obvious that a ton of work goes into every issue fine tuning and tweaking every little detail.  How would you describe a typical work day for you as an editor-in-chief?  Jennifer: "Yes, the level of detail is quite high but in this day and age, I feel that I have to keep it high for the magazine to be worthy of earning my readers hearts. My days are very busy and constantly changing – which fortunately suits my personality. I am always in some stage in the process of coordinating contributors, planning shoots, sourcing materials, setting up and photographing stories, editing photos, working on layouts, and more for the current issue and future issues simultaneously. My almost 25 years of event planning experience definitely prepared me to juggle so many different tasks at one time, that's for sure!"   
Lisa: What do you know today about publishing a magazine that you didn't know one year ago?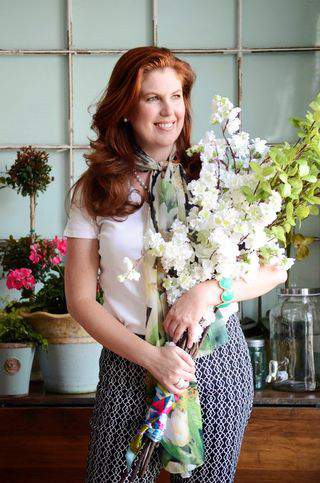 Jennifer: "That it takes a lot more time, money and help than you might ever imagine to launch something like this. Had I known then, what I know now, I probably would have run and hid… well, knowing me I would have done it anyway, but it's been much harder than I thought it would be. Marketing has been a particularly challenging area for me as I'm not a natural self-promoter and I do not have a budget for traditional marketing. I am praying that God will send someone to help with marketing as well as distribution."   
Lisa:  I would love to see CEL in a major retail bookstore right next to my other favorite magazines.  Any plans along those lines? Jennifer: "Financial capital is the biggest roadblock for seeing the magazine on store shelves. We've actually already been approved by stores like Barnes & Noble and JoAnn's but printing is both expensive and an area that I'm not nearly as experienced in as I'd like to be. It's definitely an arena that I'm anxious to move in to – and our readers are as well. A week doesn't go by that I don't get emails about the magazine being in print, so I'm very hopeful that this will be one of the next milestones we achieve." Lisa:  What is the most important thing you want readers to know about CEL and what they can expect throughout year number Two?  Jennifer: "Hmmm… I think I want readers to know that this magazine comes from my heart, and that I truly hope it will encourage them – whether it's to pursue a life-long dream, try a new recipe, re-fresh their decor, or simply make them smile when they need it most. I want the magazine to be a BLESSING. I also want folks to know that I'm a single mom pursuing her dream and not some big corporation (with a big budget) and that having readers tell their friends about it is the life-blood of the magazine's future. What can they expect? Hopefully more inspiration that encourages them that everyday life is worth celebrating!"  
Lisa:  I love the photo of you on the Editor's page.  It's a colorful, fun shot and you look wonderful. Jennifer: "Funny story about my photo – my mom helped me with it – she stood in while I set up the camera and then we switched places. That was shot the same day as the cake cover photo, it was a crazy photo shoot day." 
Thanks to Jennifer for an insightful chit-chat and for producing such a lovely magazine.  I know I'm not alone in wishing her all the best for a successful second year and beyond. ♥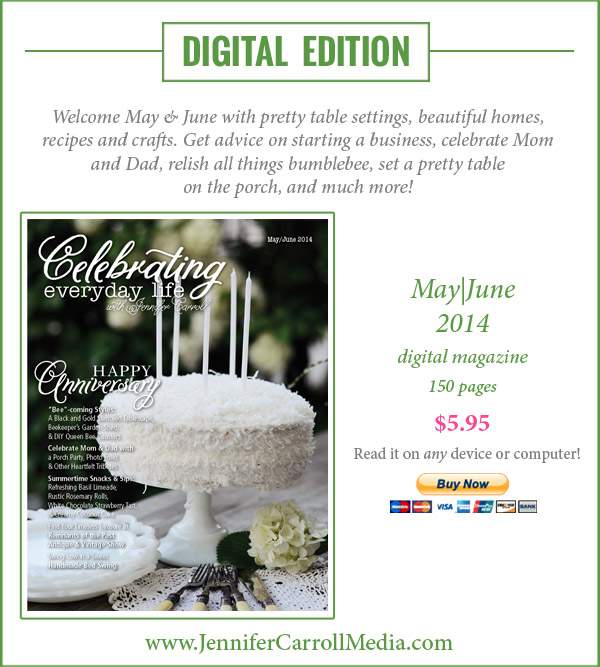 Thanks for stopping by.
See you back here next time.