How many times have you opened up a DVD case at home, only to find the movie disc missing?  Ugh! Happens all the time in my house of silver screen buffs.
To combat the issue (and create some fun storage at the same time), I finally finished putting together a DVD library.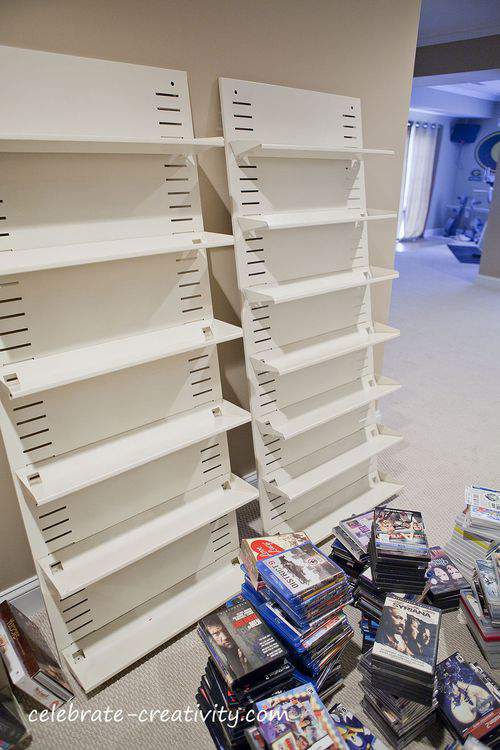 These large metal slats with adjustable shelves turned out to be a good solution to help me create the perfect storage and organization system for movies and (video games).
Guess where I picked them up?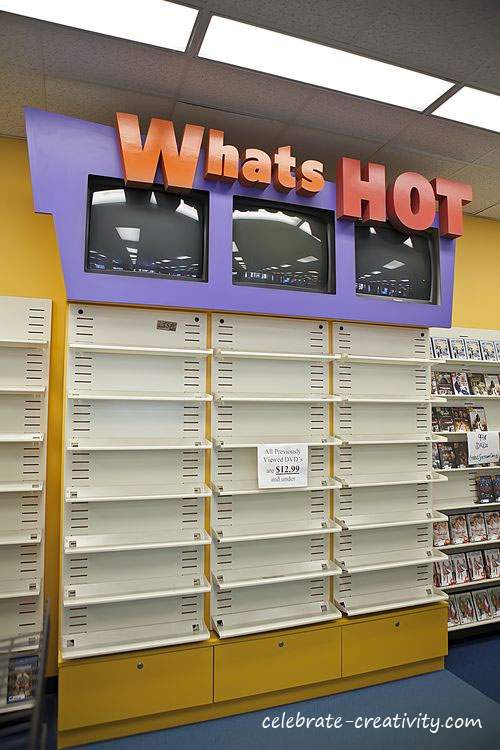 Here's a look at the same shelves on display at my local Blockbuster Video store just before the store closed a while back.
Now, when a neighborhood store closes, it's definitely a loss to the entire community.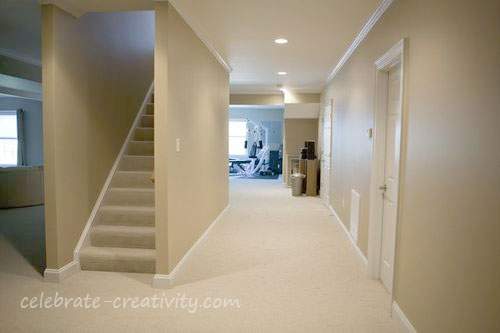 However, store closings can also present unique home storage opportunities when the fixtures are put up for sale (as these DVD shelving units were).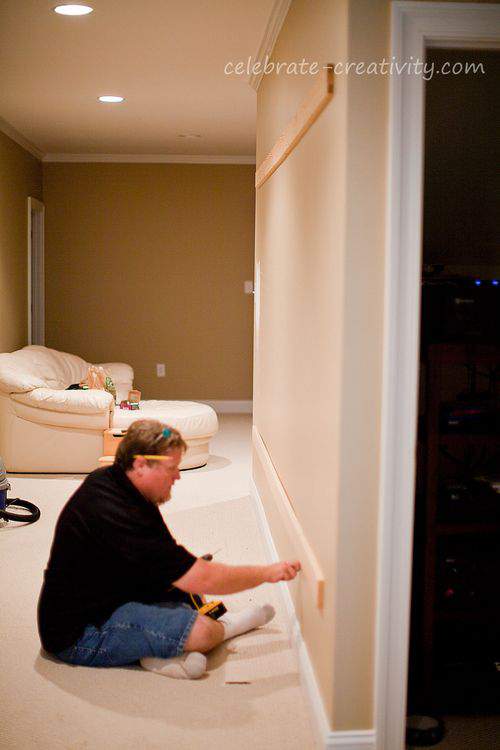 Back at home, I targeted this basement aisle on the right side of the stairs for the new DVD library.
This is one of those weird spaces (ie: poor design) that was always too small for any realistic seating options but too large to just ignore and not use somehow.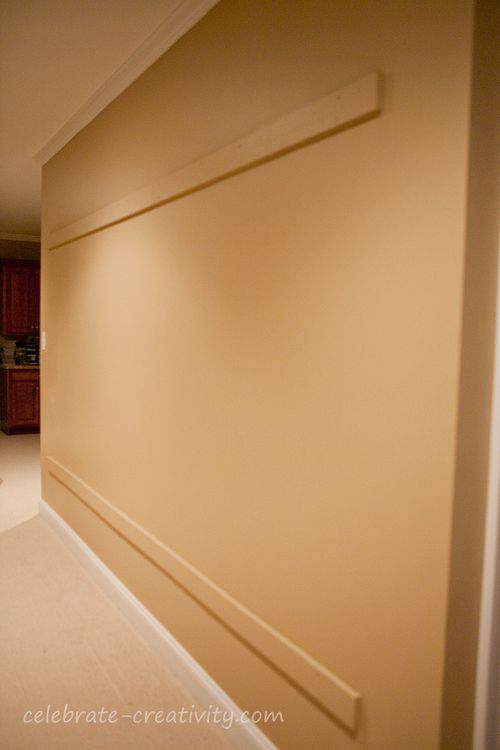 The Blockbuster video shelves are quite heavy, so my new storage system needed some serious support.
Ben, my neighborhood uber-handyman, helped me pull my vision together.
First, long strips of lumber (which measured the width of the shelves when placed side-by-side) were attached to the studs in the wall in upper and lower positions.
Even though these pieces of lumber will be concealed behind the shelving units, it's a good idea to paint them the same color as the wall just in case some portion of the boards peek through.
This color is Lenox Tan (HC-44) by Benjamin Moore.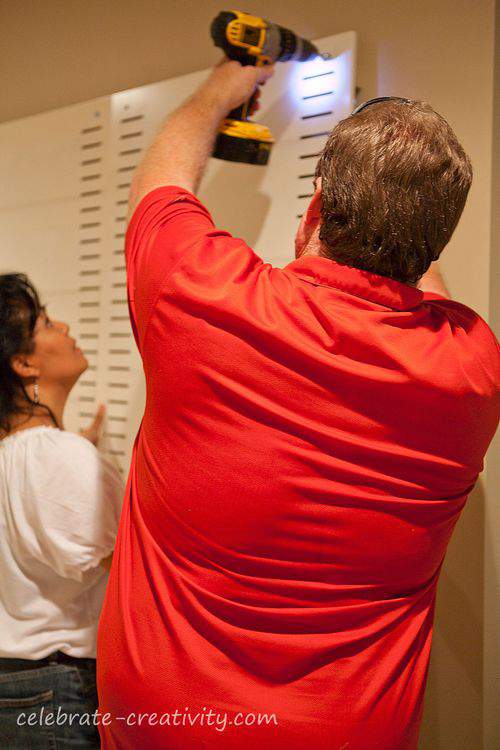 Next step, each shelving unit was secured to the lumber through existing holes in the upper and lower areas of the shelving units.
My original plan was to paint all the shelving units the same color as the wall but in the end opted to just leave them as-is.
My trusty, volunteer (and gamer), Jordy pitched in with some cleaning help.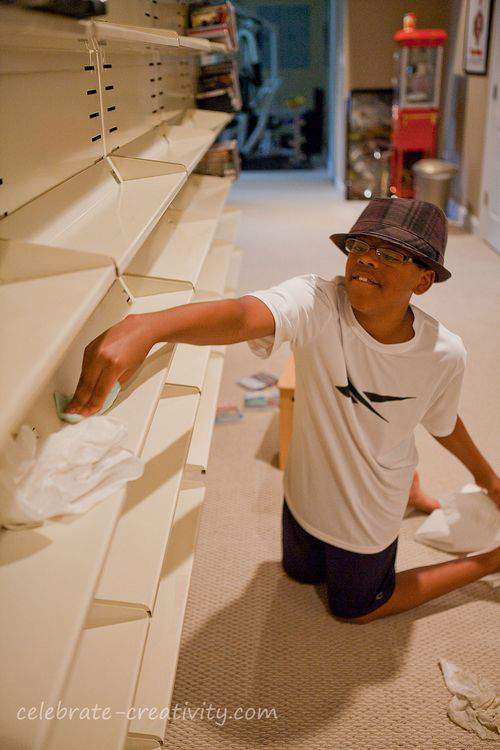 Who knew that Windex and paper towels could produce such a smile?
Thanks Jordy… and I love the hat too.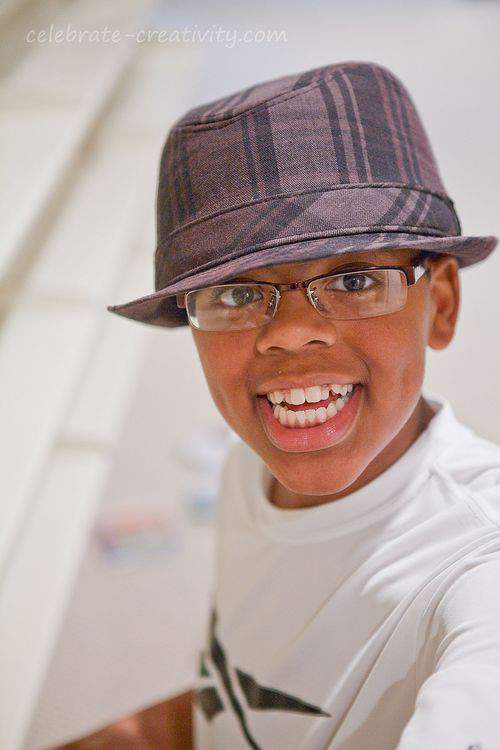 I have been collecting movie paraphanalia for a long while and it was great to finally get all these fun pieces up on the walls to help carry out the movie theme vision.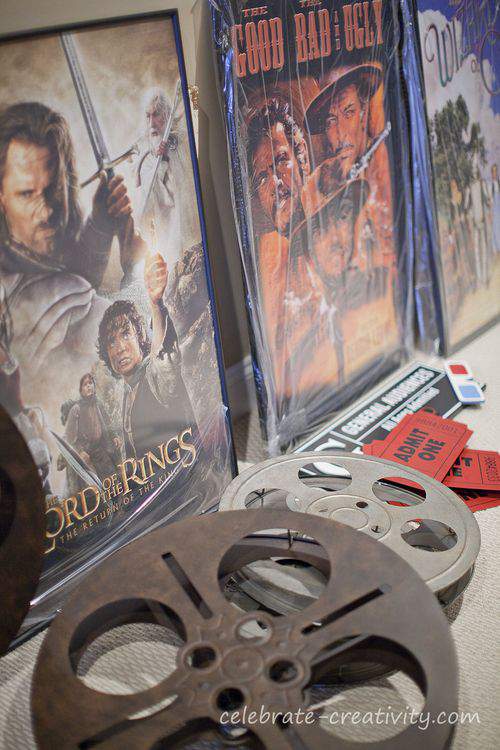 Some items now decorate the wall directly opposite the DVD libary wall…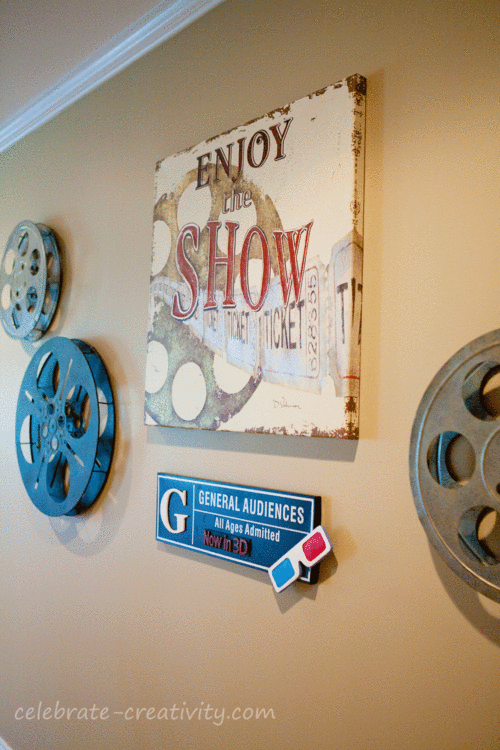 … while the posters now adorn the walls in the home theater which is just a few steps from the movie wall.
Did you know that you can get movie posters from many commercial theaters for free or for a small donation?
Check with your local movie theater manager for available poster giveaways.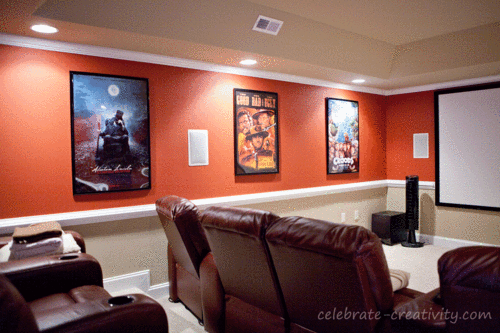 Meanwhile, a final touch to the DVD wall involved these 12″ cardboard letters which I picked up on sale at my local crafts store.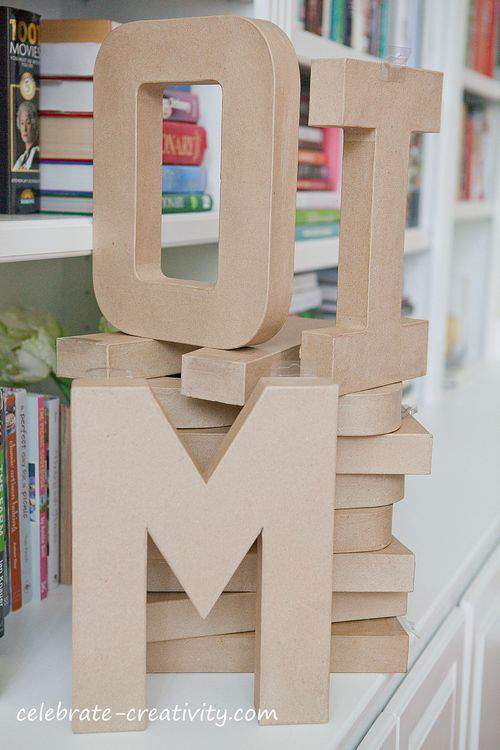 Once again, I wanted to paint these letters the same Lenox Tan color as the wall (I obviously lean toward more muted, monochromatic tones), but the kids hated that idea and begged for bold, vibrant red.
I relented.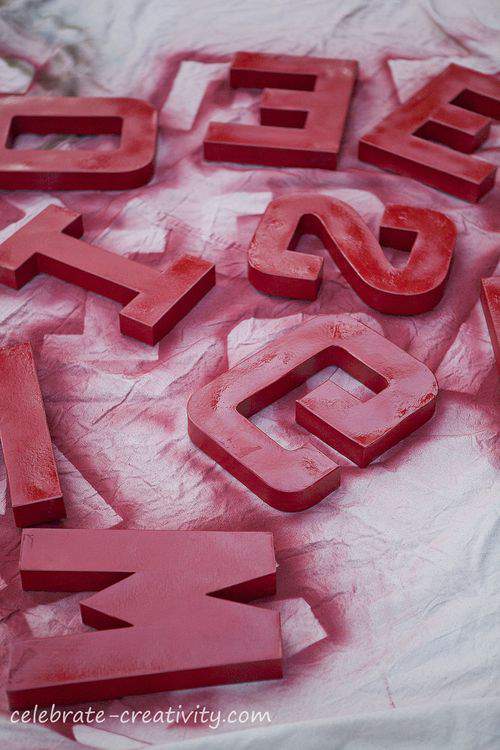 Since we're talking movies, be sure to check out my previous post featuring reviews of some of my favorite movies here as well as my delicious step-by-step recipe for movie night caramel corn here.
Ok, let's get back to my DVD library wall.
Take one more look at what this boring, wasted basement aisle looked like before.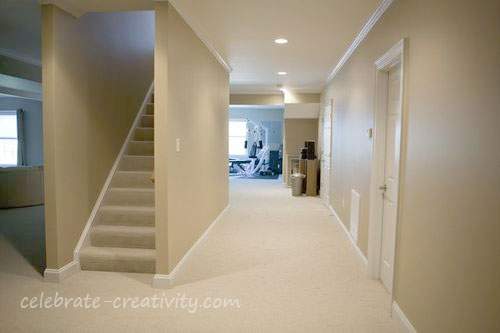 Ta-da!  Here's what the aisle looks like today.
No more wasted space and now this area finally has a purpose and reason to use it.
NOTE: I used damage-free picture hanging strips to attach the cardboard letters to the wall.  No need for hooks, nails or drywall damage and they're also repositionable.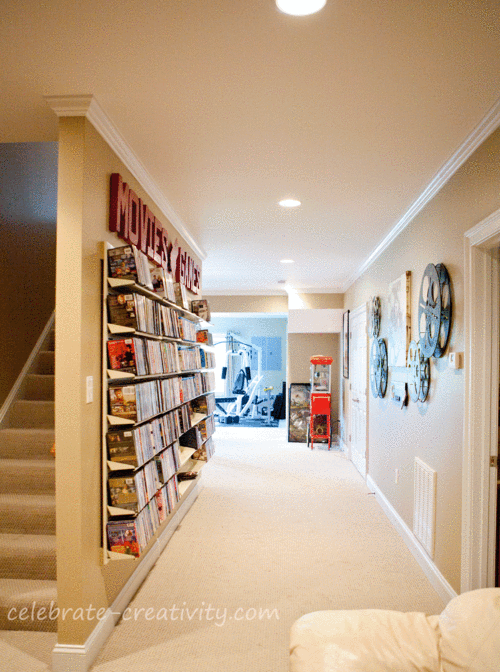 Jordy grabbed one full unit for games and that's just fine with me.
While we are still organizing most of the movies according to genre and subject matter, the transformation of this space has already made finding our favorite flicks fun and so much easier.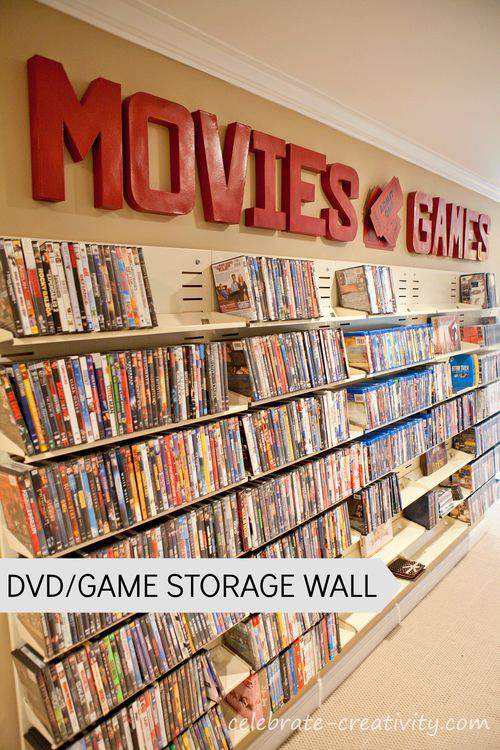 Finally a place for everything and everything in its place.
Of course, I'm also keeping my fingers crossed that the movie watchers (and gamers) in the house will now be inspired to put the discs back in the box too.
We'll see how that goes. ♥ 
 I'm linking this DVD Library to the following:
Confessions of a Plate Addict.