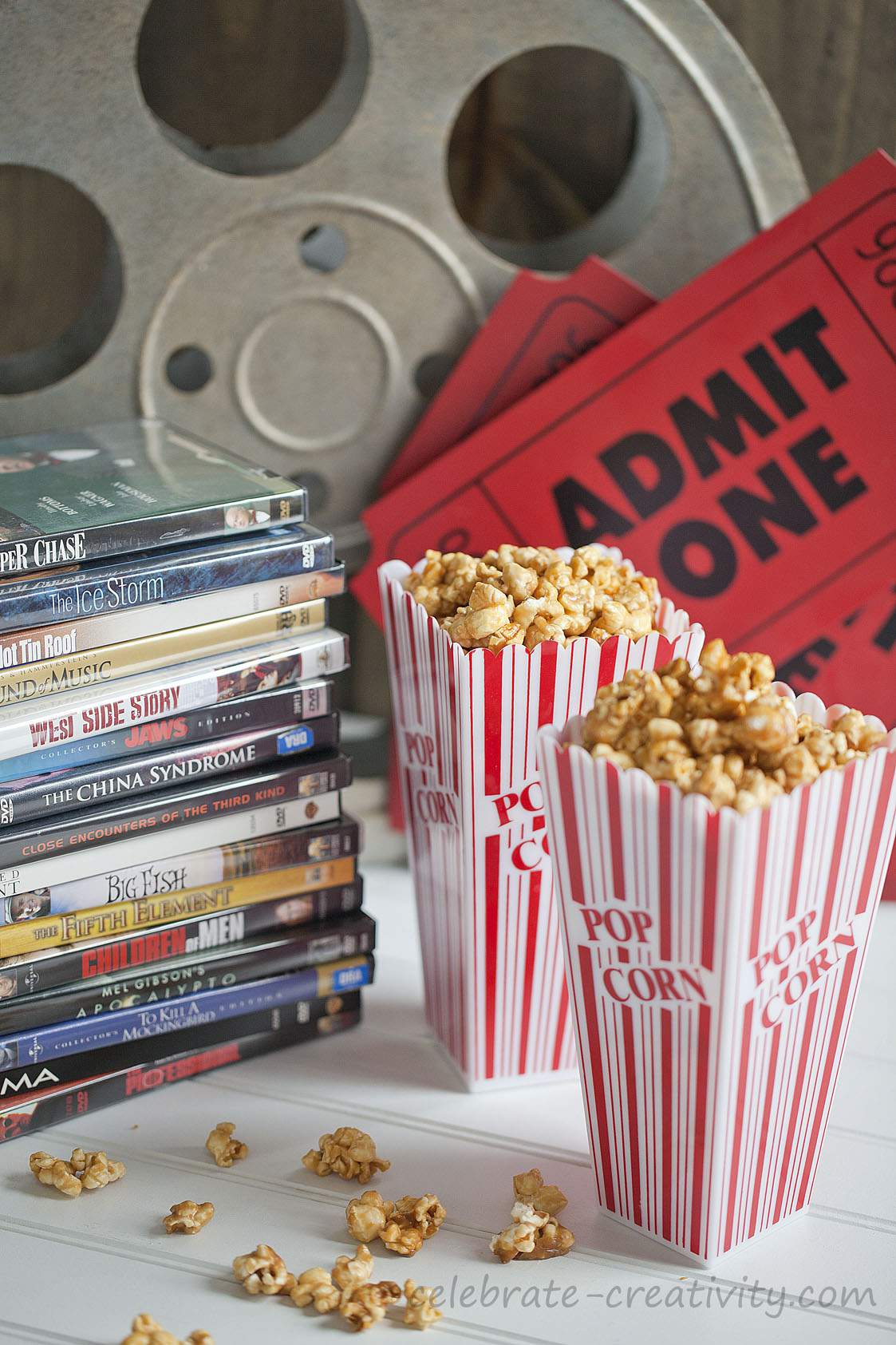 There may not be any greater movie-munchable than popcorn…. but when's it's caramel, it's even better.
As we get closer to the annual Academy Awards ceremony (Sunday, February 24th),  I'm continuing with my movie theme with a closer look at this sweet, homemade treat.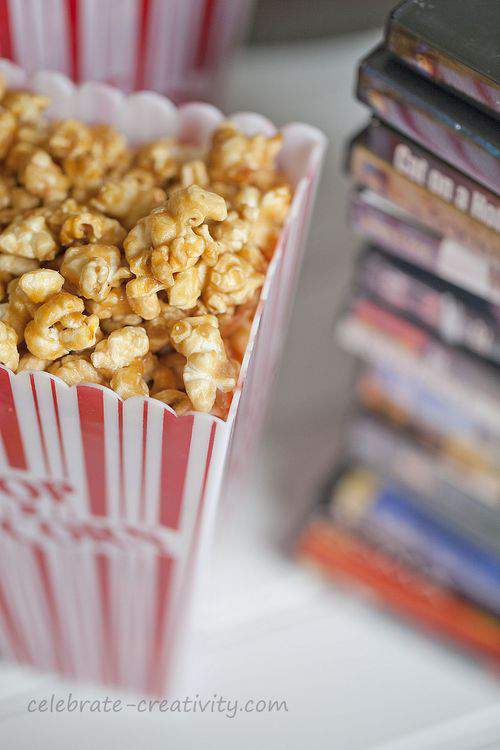 In this edition of my FRIDAY FOODIE column, I'll walk you through the few simple steps in making this treat yourself. I think you'll be surprised to see just how easy this is to make with just a handful of ingredients.
You may wonder why you never made it before.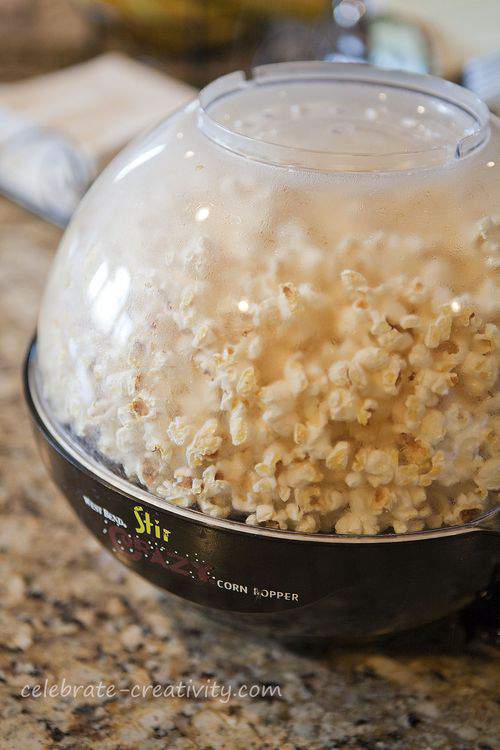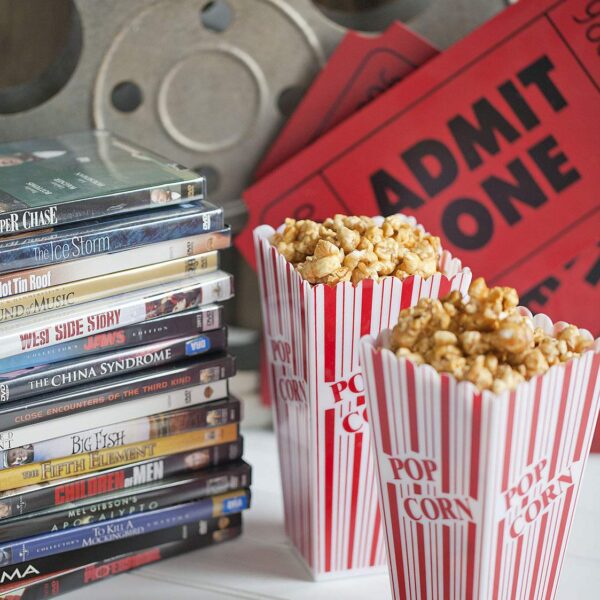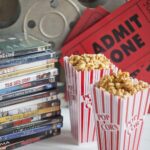 Caramel Corn
Ingredients
½ cup of popcorn kernels
2 cups of brown sugar
1 cup butter
½ cup light corn syrup
1 teaspoon salt
1-1/2 teaspoons vanilla
½ teaspoon baking soda
1-2 cups nuts optional
Instructions
Pop popcorn and place into a shallow, greased pan.

Preheat oven to 250-degrees.

Combine brown sugar, corn syrup, butter and salt in saucepan. Bring to a boil, stirring to blend. Stir for an additional 4-5 minutes after boil. Remove from heat and add baking soda and vanilla.

The mixture will be foamy so make sure your saucepan is large enough to accommodate the extra volume. Pour mixture over popcorn.

Bake for 1-hour.

At 15-minute intervals remove from oven and stir to further combine the

melted caramel. Return to oven.

When fully baked, dump the caramel corn onto wax paper and break apart.

Once cooled, the caramel will harden and you can continue to separate the pieces as desired.

Serve to the delight of caramel corn lovers or bag caramel corn to gift.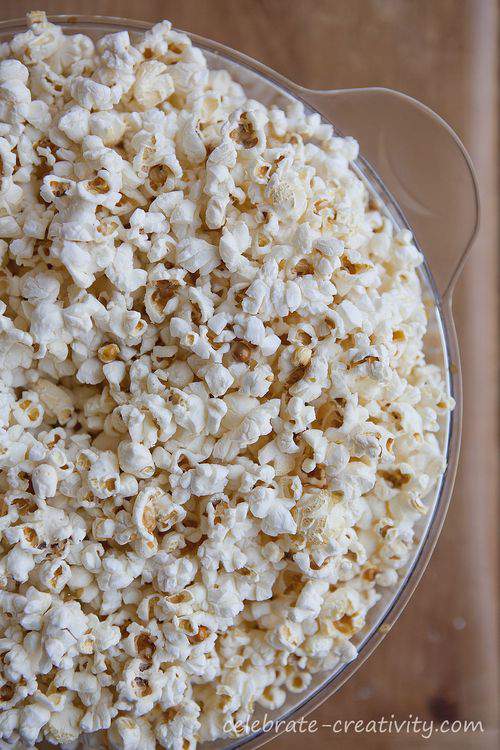 You'll only need about 1/2-cup of popcorn kernels for this recipe.
I like a thick coating of caramel on my caramel corn and I think the popcorn just corn looks better too, when it's completely covered.
However, if you prefer a lighter caramel coating, just increase the amount of popcorn you use in this recipe.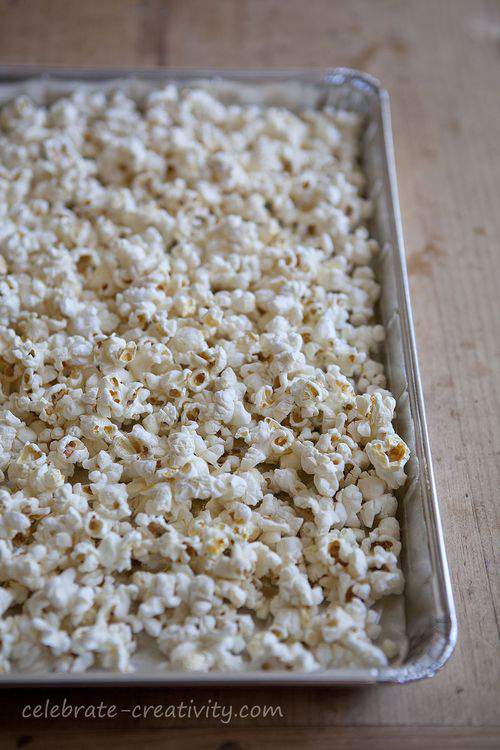 You'll also need a shallow, well-greased dish or pan.
I used plain cooking spray to thoroughly coat this tin roasting tray which you can find at the grocery store.
Spread the popped popcorn evenly across the tray.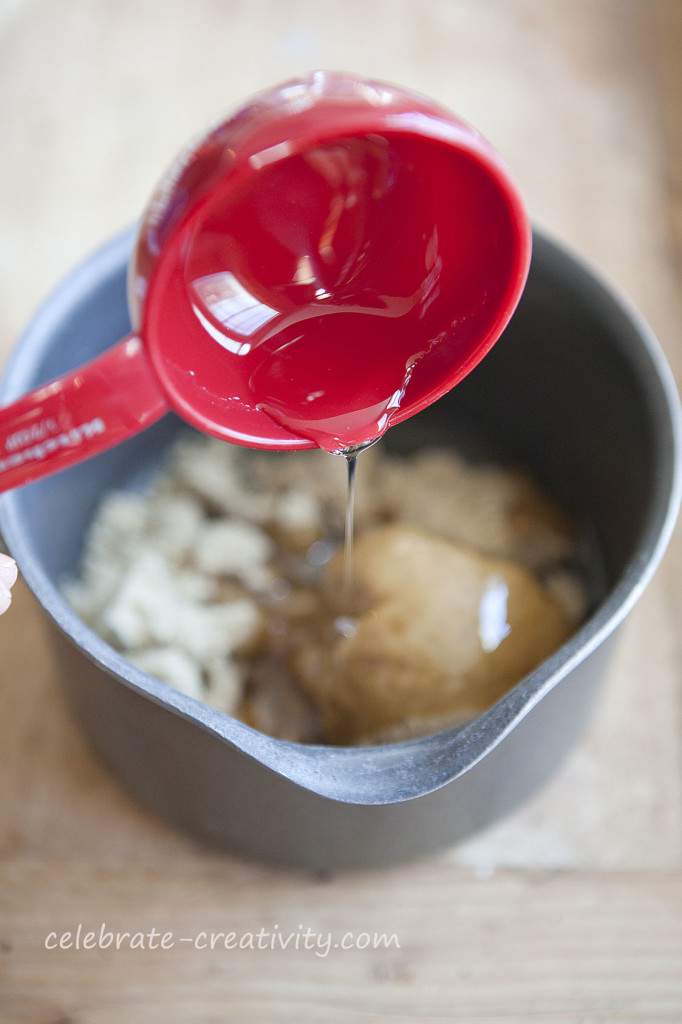 In addition to @1/2-cup of popcorn kernals, you'll also need a few other ingredients including: 1/2-cup of light corn syrup, 1-cup of butter, 2-cups of brown sugar, 1-teaspoon of salt, 1/2-teaspoon of baking soda and 1-1/2-teaspoons of vanilla.
Nuts are optional but if you use them, you'll need 1-2-cups (added as desired).
By the way, I used cashews for one batch of caramel corn and it turned out beautifully.
Preheat oven to 250-degrees.
Add the corn syrup, brown sugar, butter and salt in a saucepan and heat to a boil, stirring occasionally.
You can use a candy thermometer to help gauge the temperature.
At 250-degrees, you'll have a good boil and then you can remove the thermometer but continue to stir the mixture for another 4-5 minutes or so.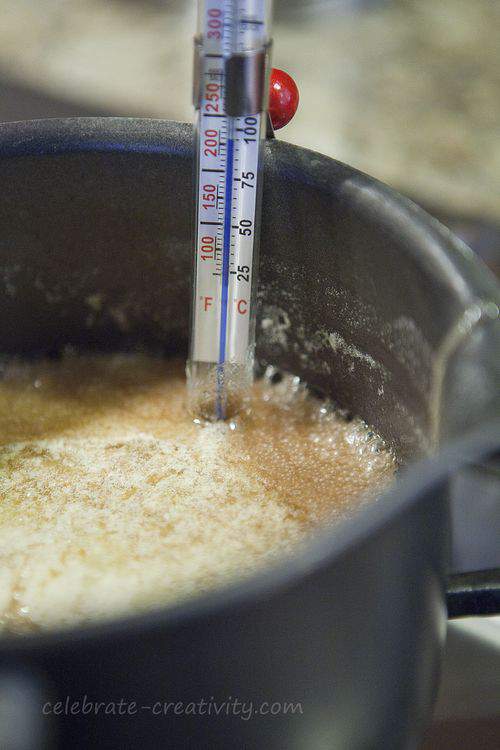 After stirring, remove from heat and add 1/2-teaspoon of baking soda and 1-1/2 teaspoons of vanilla.
The mixture will start to rise and get a bit foamy so make sure your pan is large enough to accommodate the additional volume.
Immediately pour the hot caramel over the popcorn as evenly as possible.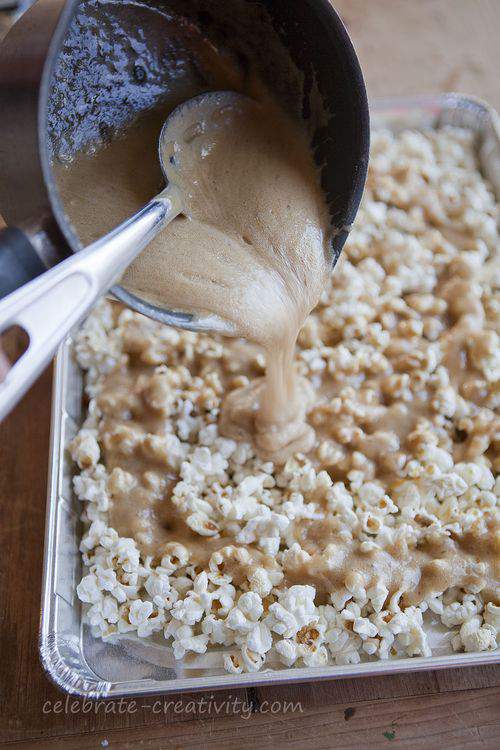 Mix the caramel and popcorn as best you can but don't worry if you aren't able to cover every piece of popcorn at this stage.
You'll have another opportunity to cover all the popcorn with the caramel during the baking process.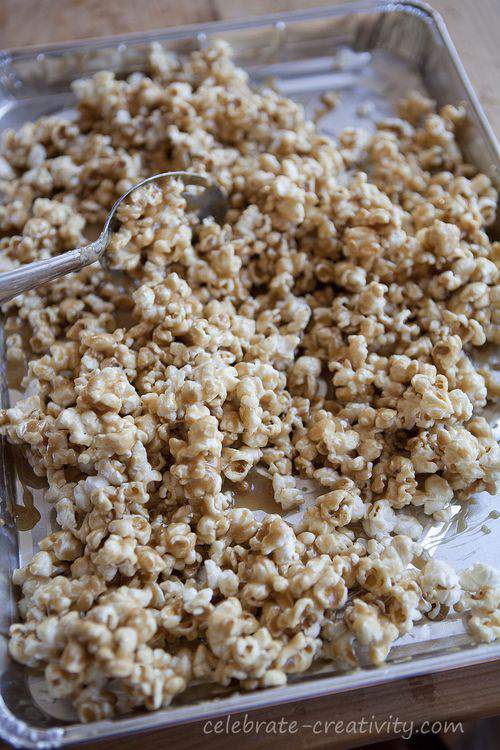 Bake the popcorn for one hour making sure you mix the combo every 15 minutes or so.
The caramel will continue to melt during this baking process and these quarterly mixing breaks give you more opportunity to cover every piece of popcorn with yummy caramel.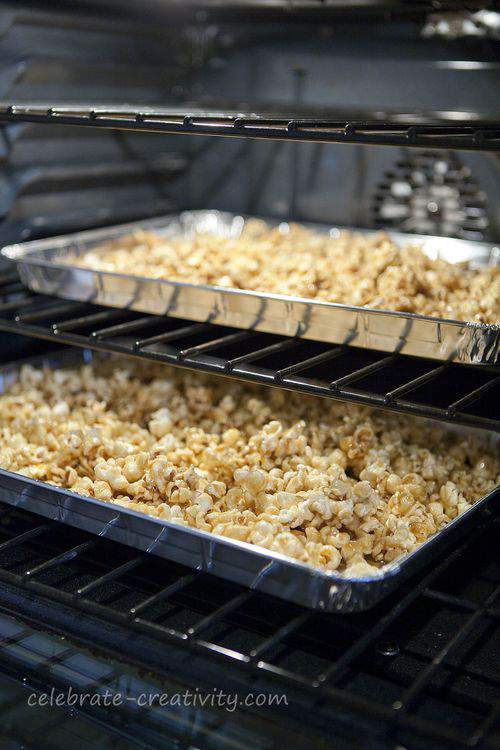 While the popcorn is still hot, you can use a spoon to help break the pieces apart.
As the popcorn cools, the caramel will further harden and then you can continue to separate the pieces by hand.
Serve with a smile to your movie-loving family members and friends.
I found these old fashioned popcorn containers in the dollar section at Target.
Of course, you don't have to wait for a good flick to serve this caramel corn.
It's great anytime.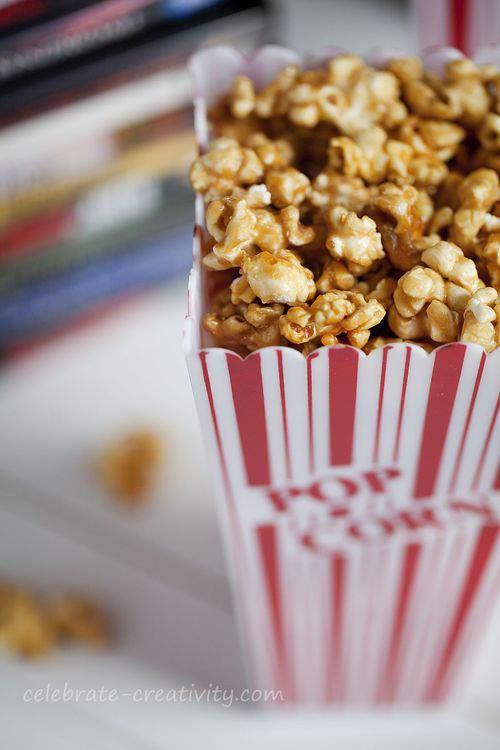 Still, caramel corn and a good movie do go hand in hand.  Earlier this week, I featured reviews of several of my favorite movies which you can read in my previous post.
Here's a stack of a few other screen gems. If you want to know more information about these films, I've linked each one to the Internet Movie Data Base (IMBD) which provides loads of info including summaries, bios on casts, goofs, trivia and more.
(1)The Paper Chase, 1973 (2)The Ice Storm, 1997 (3)Cat on A Hot Tin Roof,1958 (4)The Sound of Music, 1965 (5)West Side Story, 1961 (6)Jaws, 1975 (7)The China Syndrome, 1979 (8)Close Encounters of the Third Kind, 1977 (9)Presumed Innocent, 1990 (10)Big Fish, 2003 (11)The Fifth Element,1997 (12)Children of Men, 2006 (13)Apocalypto, 2006 (14)To Kill a Mockingbird, 1962 (15)Coma,1978      (16)The Professional,1994.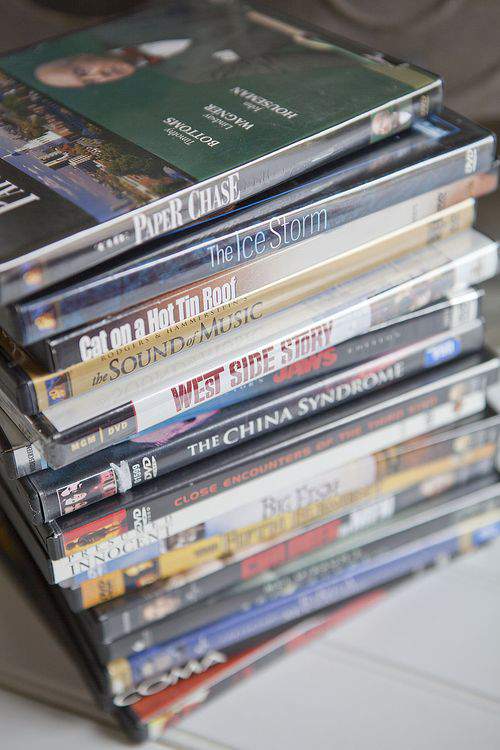 Meanwhile, regular readers of this blog already know that I have a penchant for handcrafted packaging. 
I think anytime you can dress up a gift with packaging you made yourself, it's a great idea and well worth the extra effort.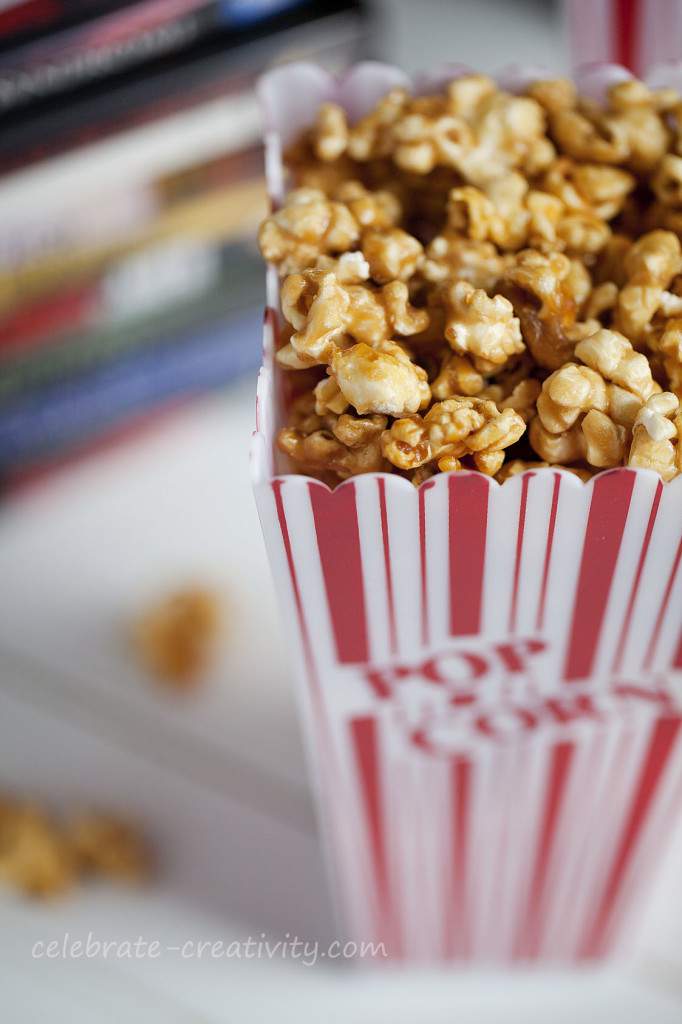 To make the caramel corn gift tags, simply google an image of popcorn and select a picture you like.
In this case, I added a text box so the words "caramel corn" could be dropped into the vacant space in the image. 
Then, simply print multiple copies.
NOTE: The font used for the words "caramel corn" is called Broadway in Microsoft Word.
Cut out the image adding scallops across the top to simulate the shape of popcorn in a container.
Use a fine-tip marker to write in the word homemade for a final touch on each tag.
You'll also need some baker's twine for the tags as well as some ribbon for the bags.
I love this black and white ribbon because the side stitching resembles an old film strip.
UPDATE AS OF 12-17-18
I've attached a PDF with similar caramel corn card labels. Just print and cut, thread and attach to your gift bags.
CLICK HERE: HOMEMADE CARAMEL CORN LABEL
Use a small hole punch to put a hole in the top of the tag and then loop a strand of baker's twine through the top.
Voila!  Clever handmade tags to go with the homemade caramel corn.
IMPORTANT NOTE: If you add nuts to any batch, make sure you also add that information to the tag.  With so many nut allergies out there, you'll want recipients to know exactly what's in the bag.
Also, because this recipe is so short (and if you're feeling particularly ambitious), you could write out this recipe on the back of each tag so recipients can also make the recipe at home if they like.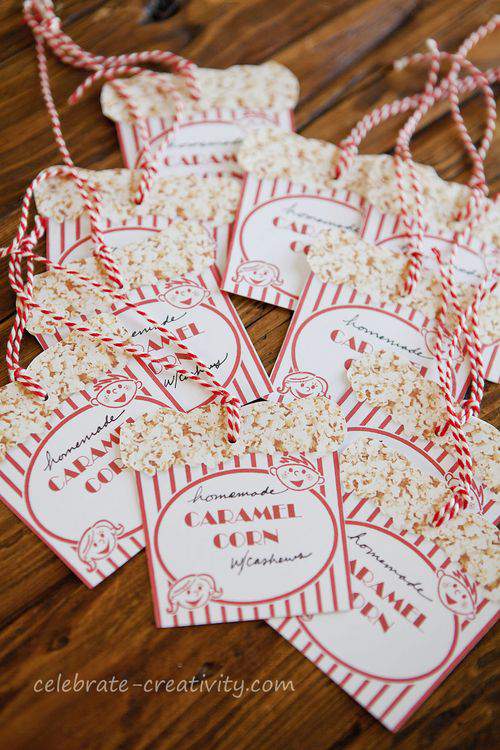 Pick up some baggies from your local craft store and stuff them with the delicious caramel corn.
Tie each baggie with a twist tie to keep the caramel corn fresh and then tie each bag with a ribbon.
Use the baker's twine to hang the tags from the baggies and your goodies are ready to gift.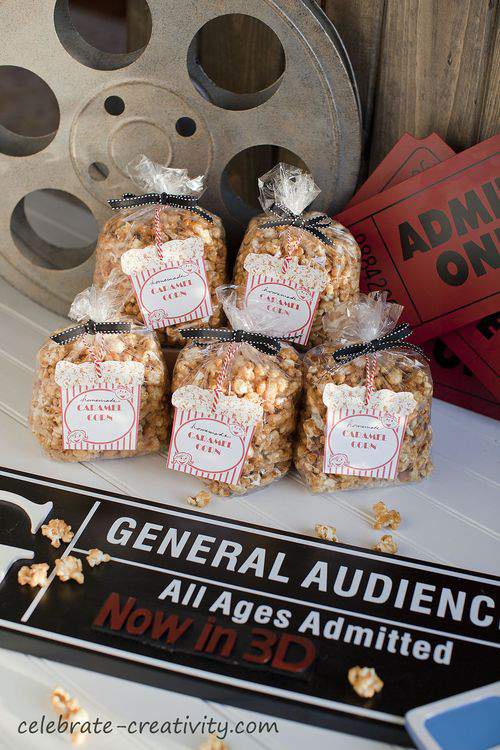 You can't go wrong with this easy caramel corn recipe that should only take you about 90-minutes to make from start to finish.
I hope you're inspired to give this recipe a try for all the movie lovers in your life.
So, what is your favorite movie-time treat? ♥
I'm linking this Caramel Popcorn recipe to the following: