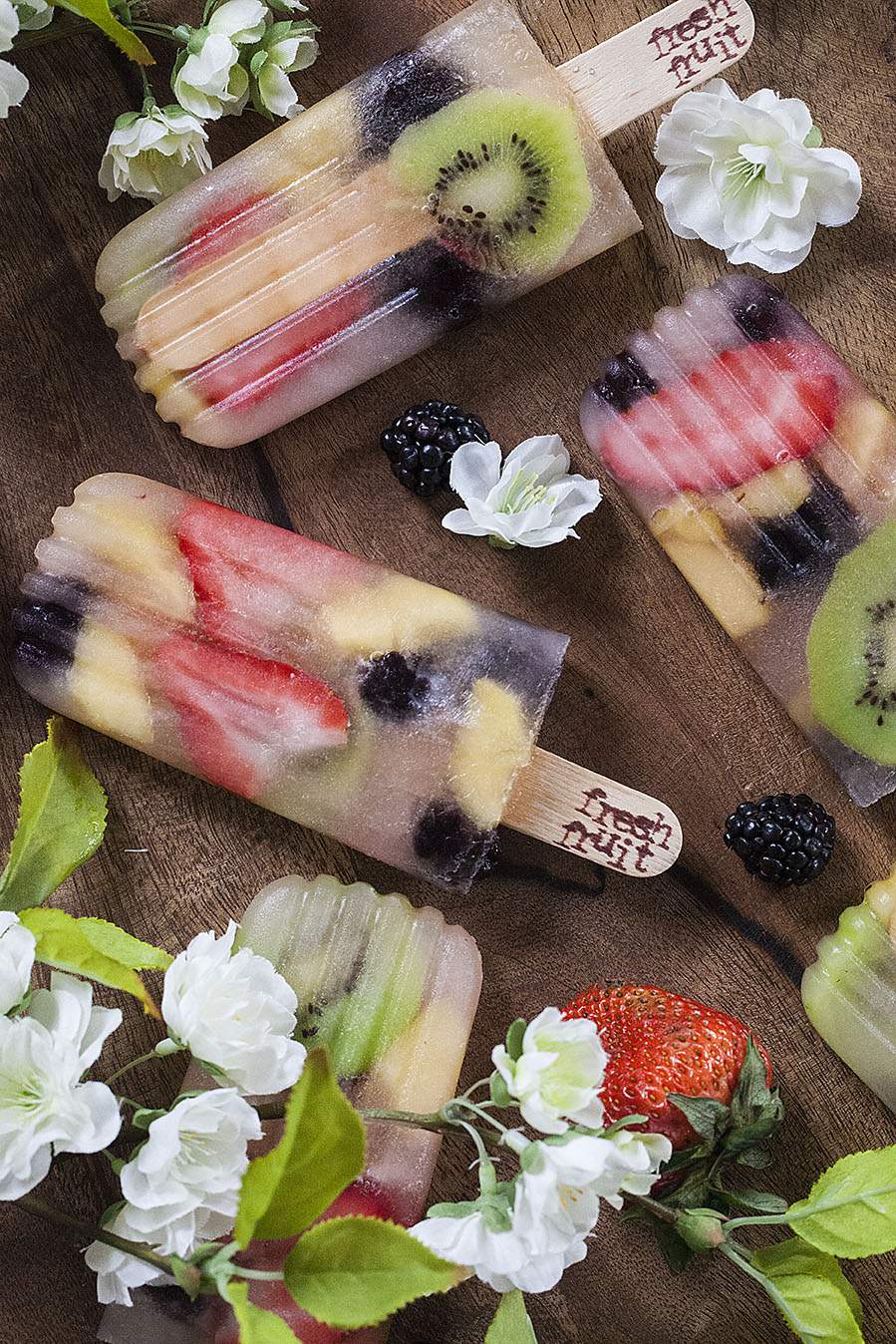 This time of year, it's never the heat that really bugs me.  It's the humidity.
Now, I'm not even going to mention what humidity does to my hair.
I will say on those days when the humidity is particularly brutal, these fruit Popsicles are the just kind of thing that can help beat the heat… and cool everything down.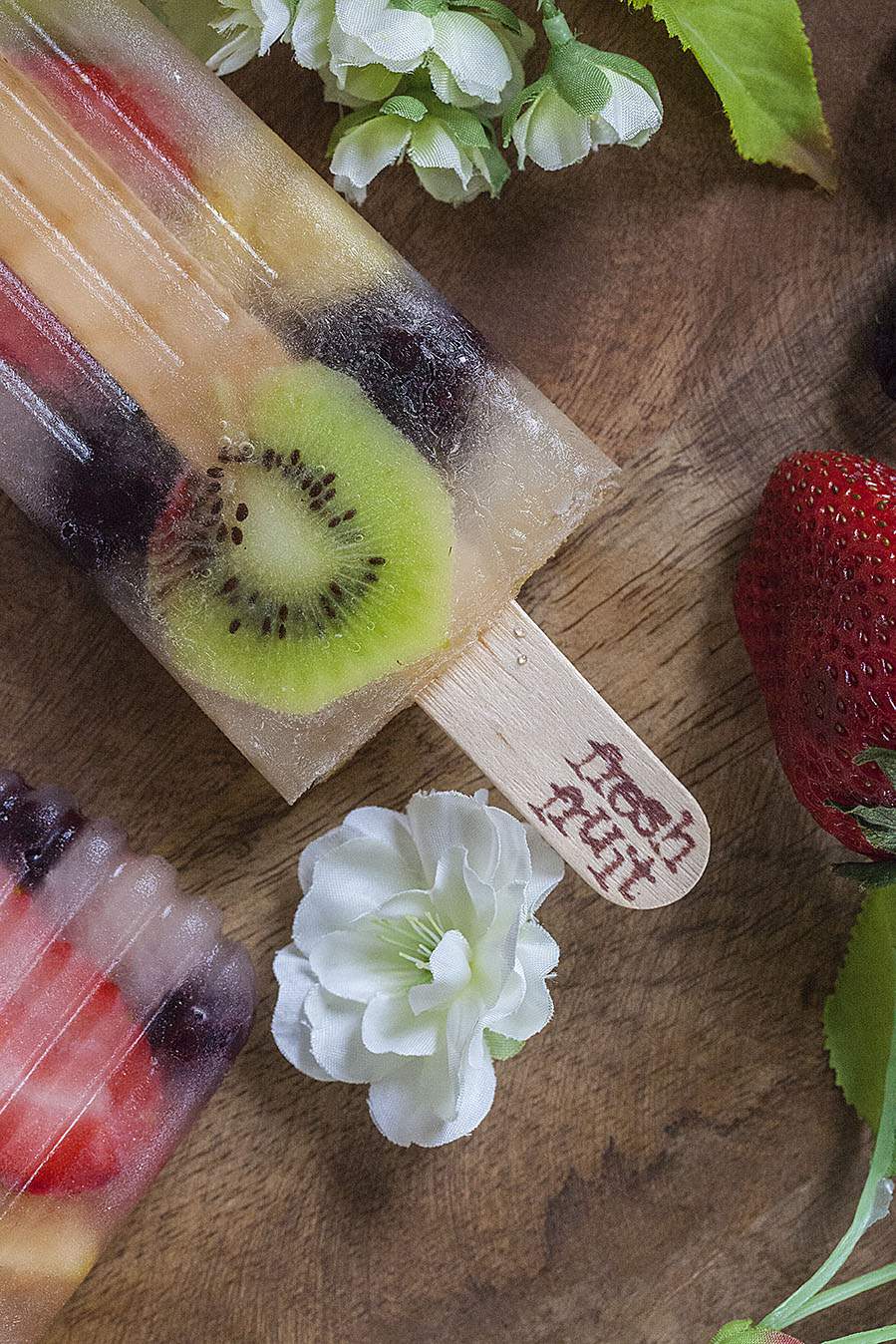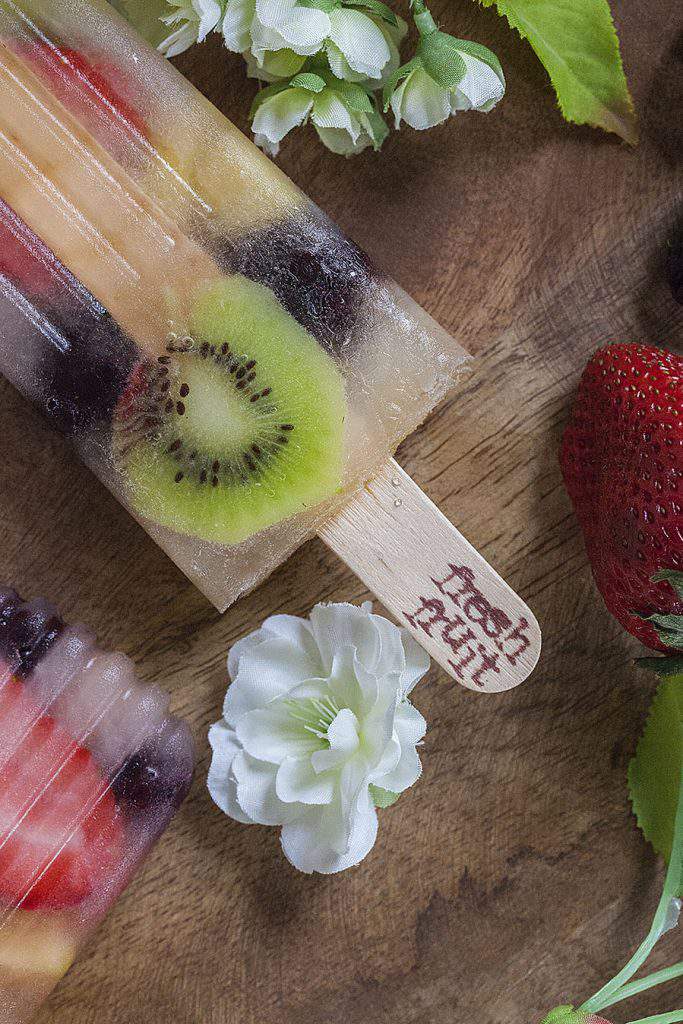 Filled with fresh fruit, these pops are especially simple to make.
I love the way the bright, colorful kiwi takes center stage… almost begging you to take a bite.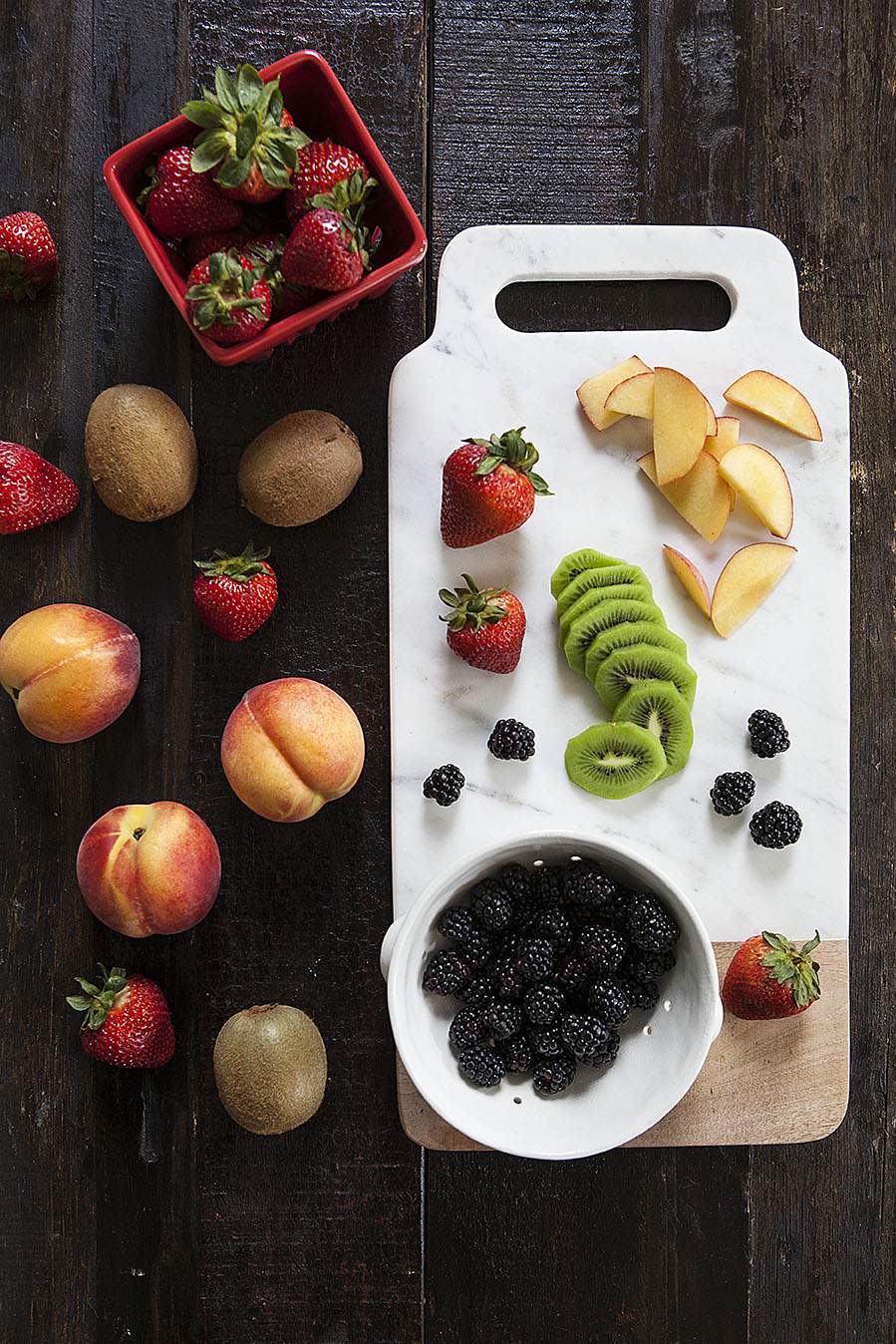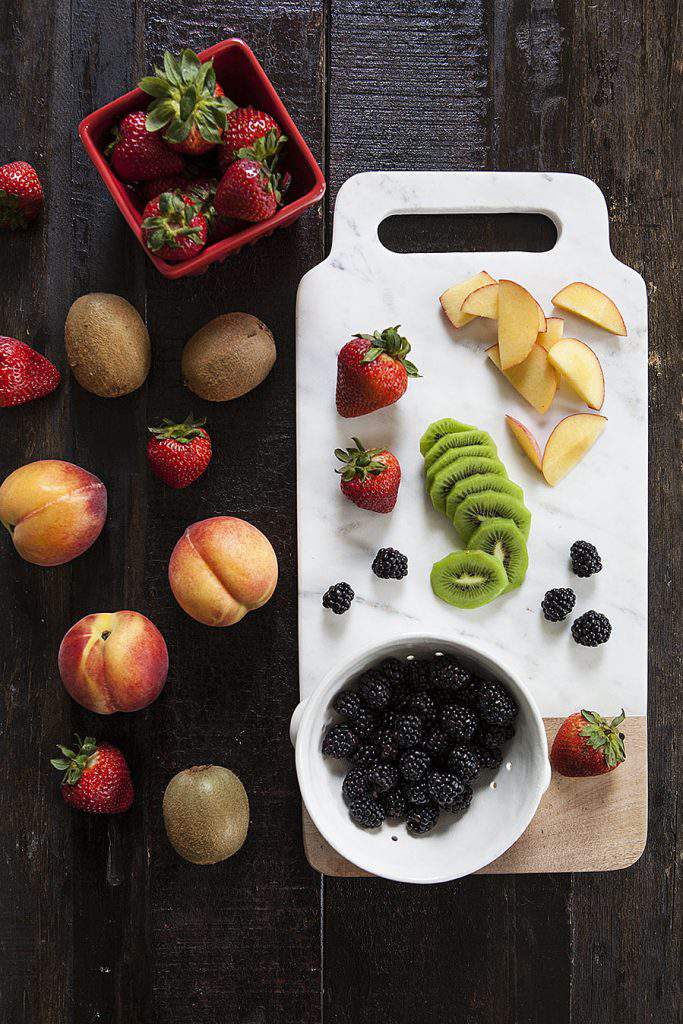 Actually, you can use just about any favorite fruit for these Popsicles.
Peaches, strawberries, blackberries and kiwi looked like a fun, colorful combination so that's what I went with.
Wash fruit thoroughly and slice and chop it into smaller pieces or chunks.
By the way, my kids gave me the white marble and wood cheese board for Mother's Day this year.
I love pretty props, and they know it.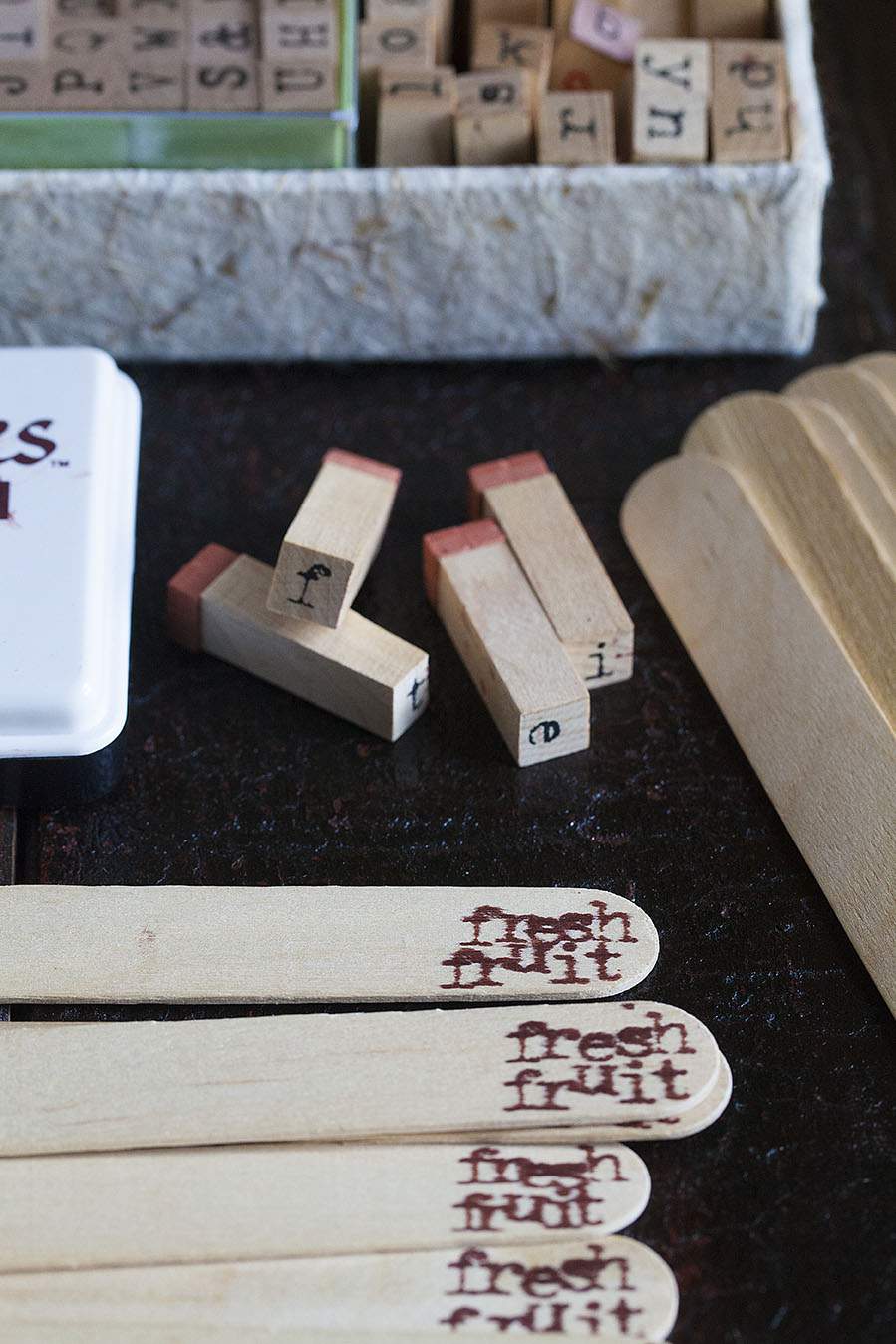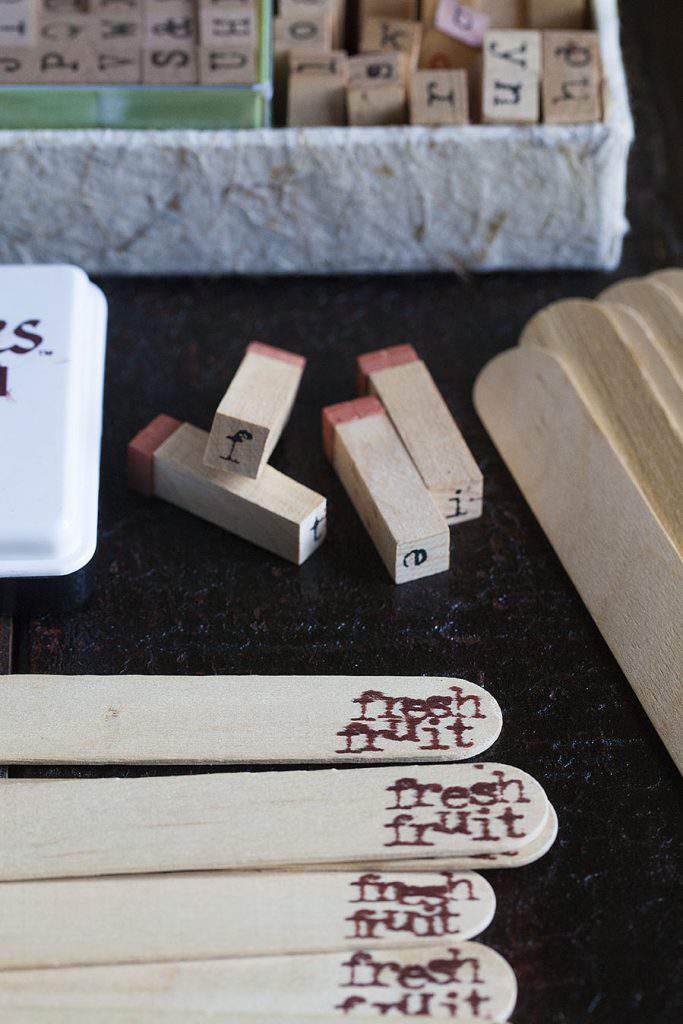 I think it's always fun to add a handcrafted element in the packaging or presentation of homemade food.
Consider adding stamped messages, names or titles to your pop sticks to add an unexpected feature to your Popsicles.
If you're making these for a group of kids, personalize the sticks with everyone's names. Wouldn't they love that?
NOTE: Take one Popsicle stick and measure its length against the length of one of the plastic molds. Draw a pencil line across the stick at the point where the stick extends beyond the mold.  Use this as your guide and stamp all alphabets or images ABOVE this line. This will help ensure that no ink will come in contact with any of the edible contents of the Popsicle.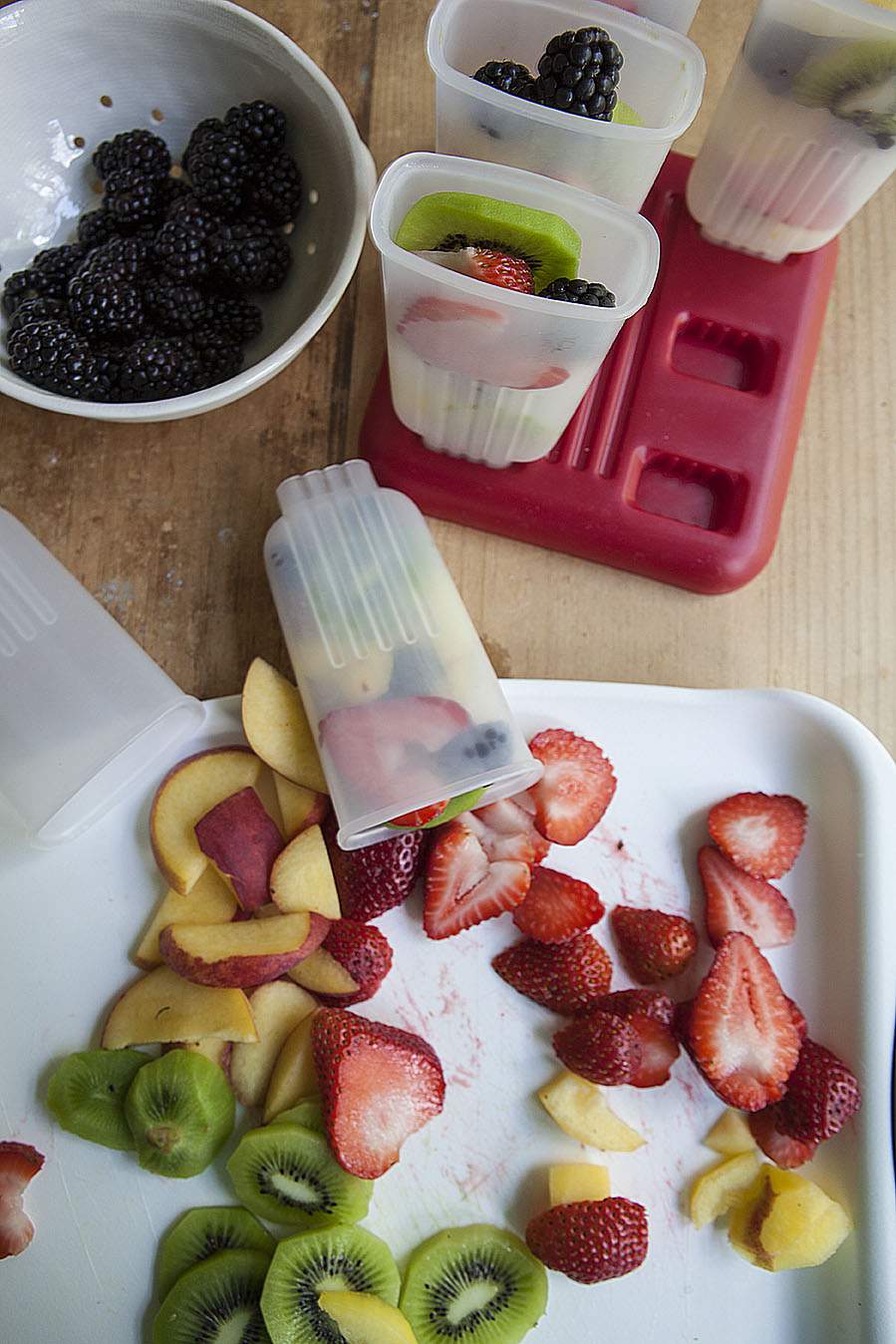 You can find Popsicles molds just about anywhere… online and in many retail shops. I have a link at the end of this post where you can find the molds I used.
Gently stuff the chopped and sliced fruit into the plastic molds.
Make sure the mold is filled but that the fruit is not crushed.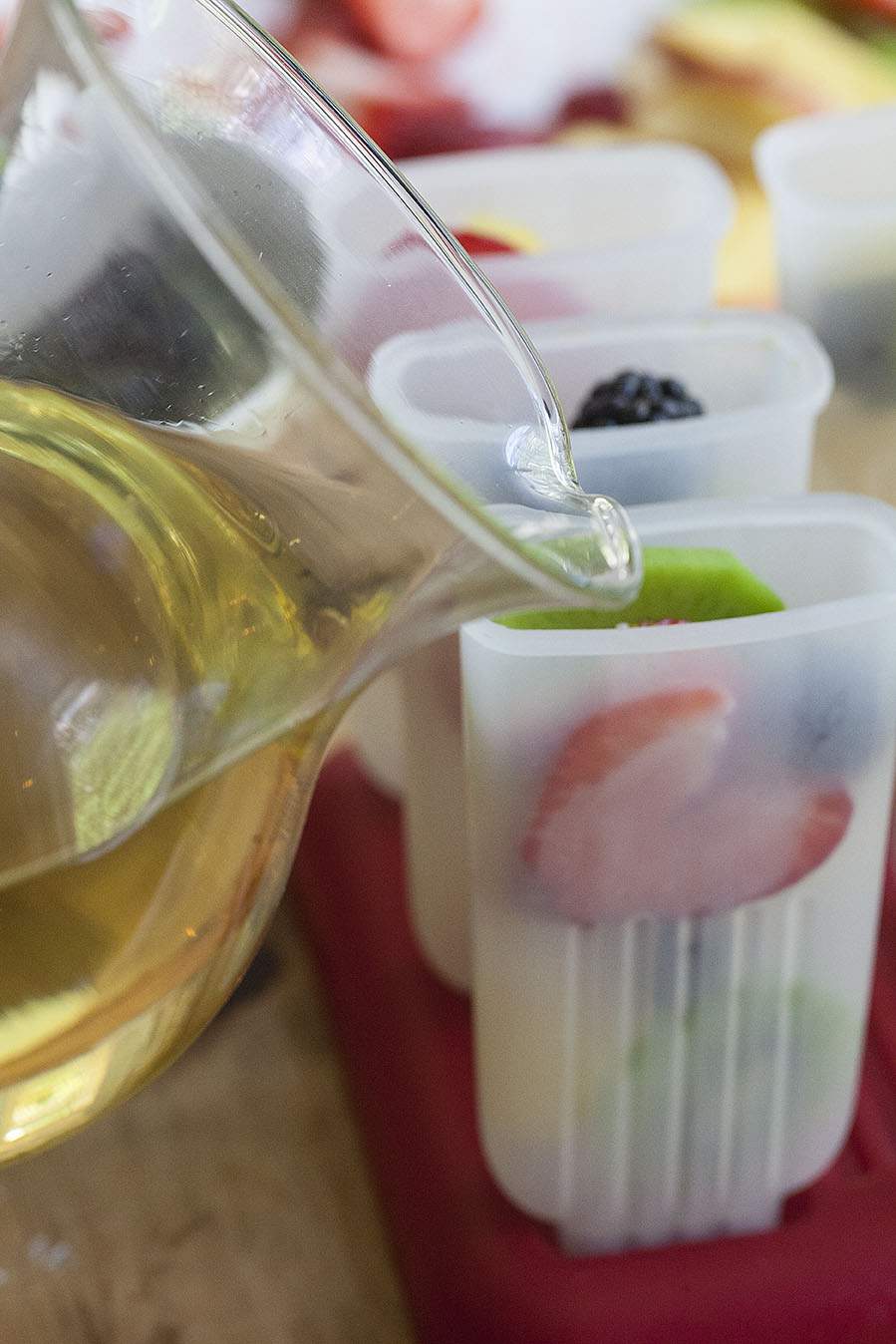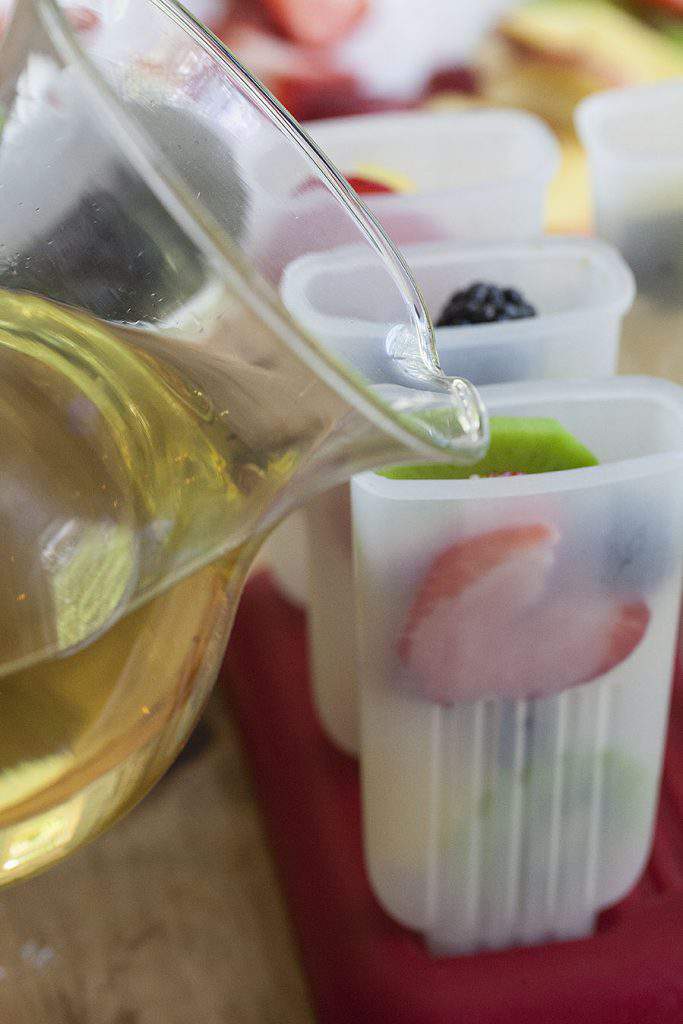 Once the fruit is in place inside the molds, carefully (and slowly) pour in a favorite juice.
I used white grape juice after being inspired by a similar Martha Stewart recipe.  I also really wanted the chopped fruit to clearly show through the frozen juice and white grape juice freezes clear.
If you use a darker juice, it may end up concealing the fruit a little more but I think whatever you use, it will still taste good.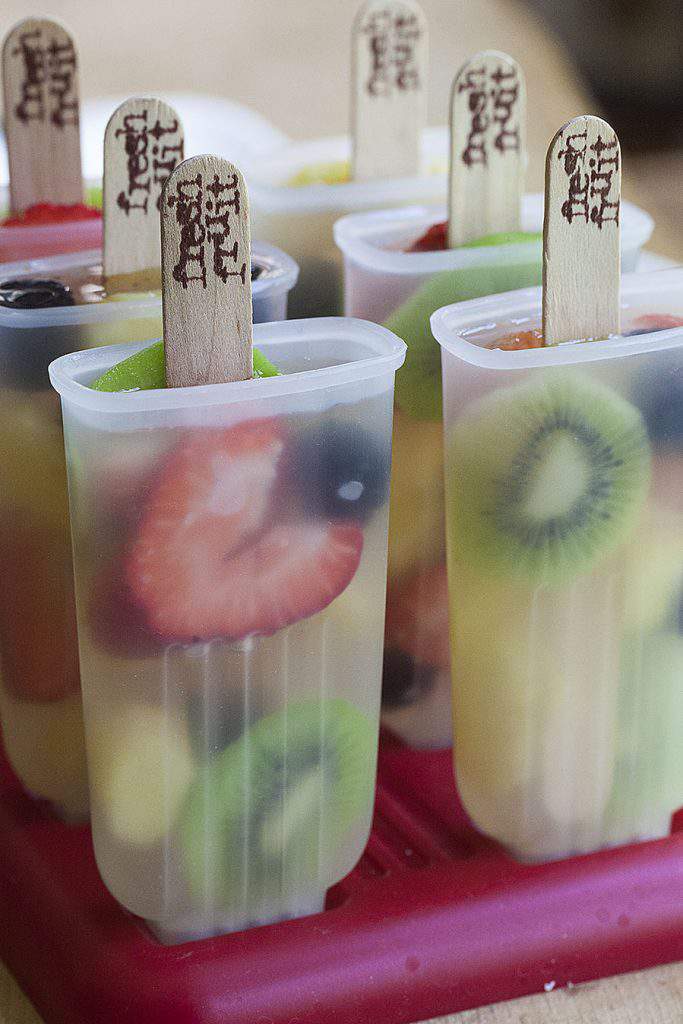 Once the juice has been poured, gently slide the hand-stamped sticks into the mold and down the middle of the fruit assortment.
Notice that the rubber stamped letters are safely far enough away from the contents of the mold?
It's important that the ink lettering be positioned in such a way that it does not come in contact with anything edible.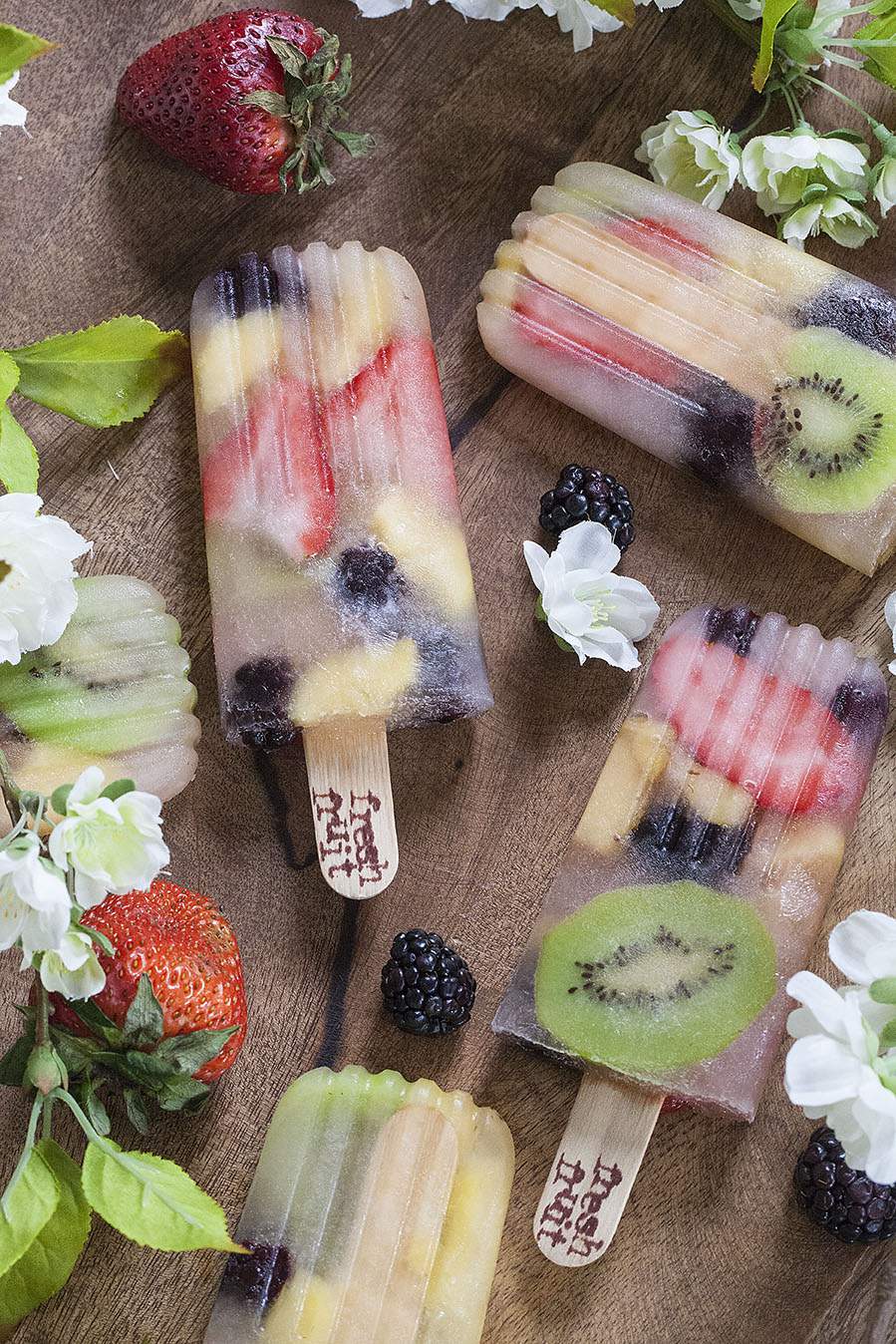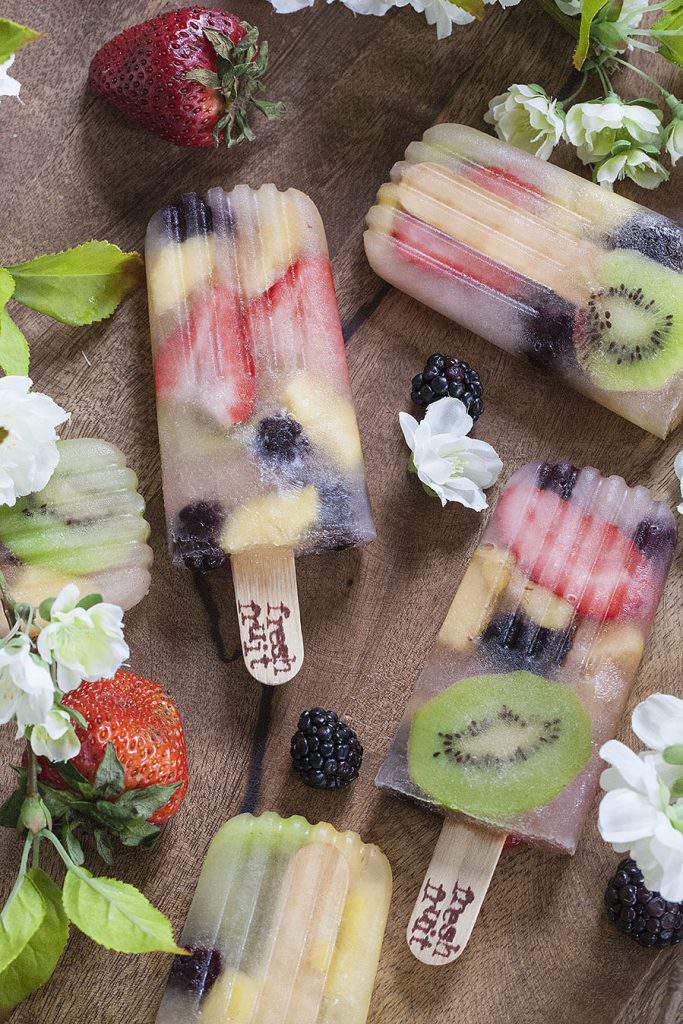 How refreshing do these look?
I will say, as I was photographing these… they were melting pretty fast. I think there must be a trick to shooting these.  Maybe next time, I'll place them on a bed of ice while shooting.
Anyway, once you pull the frozen fruit from the molds… serve them fast.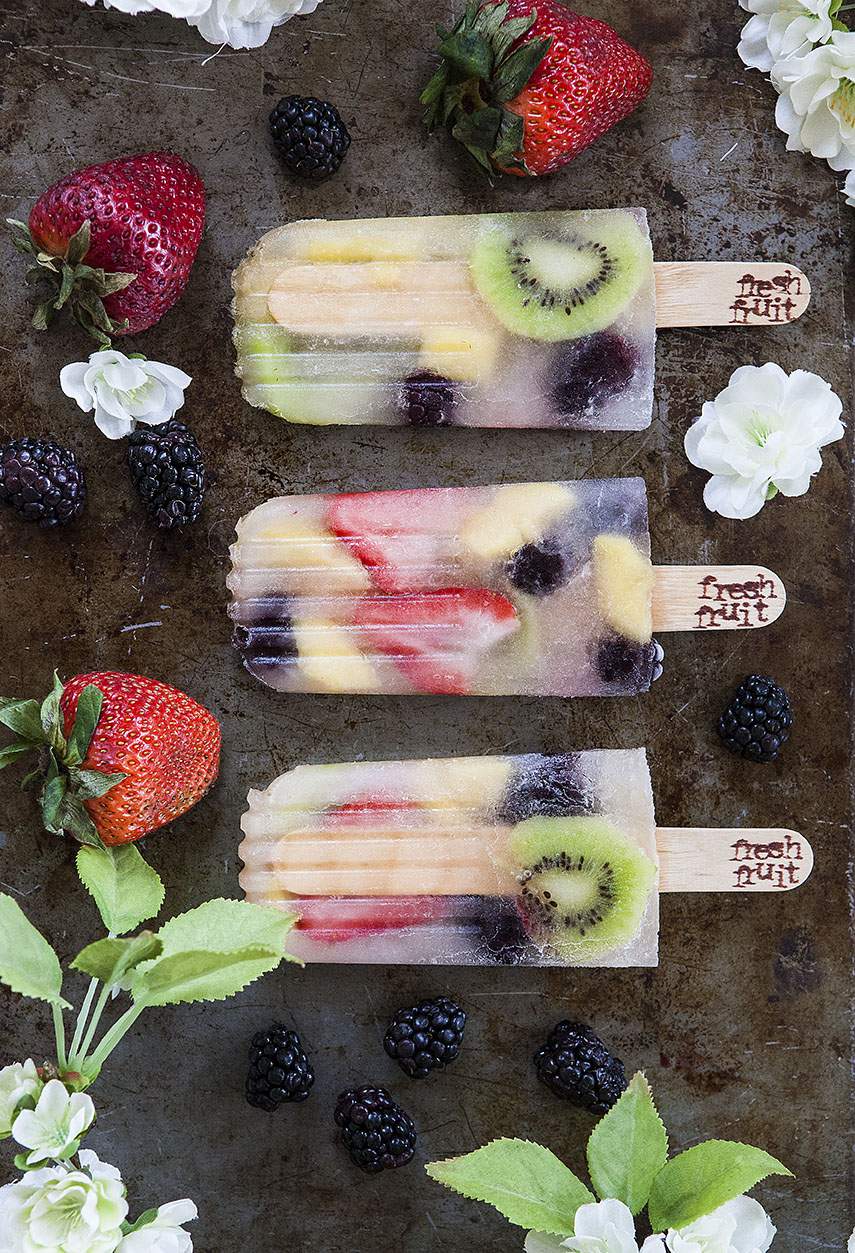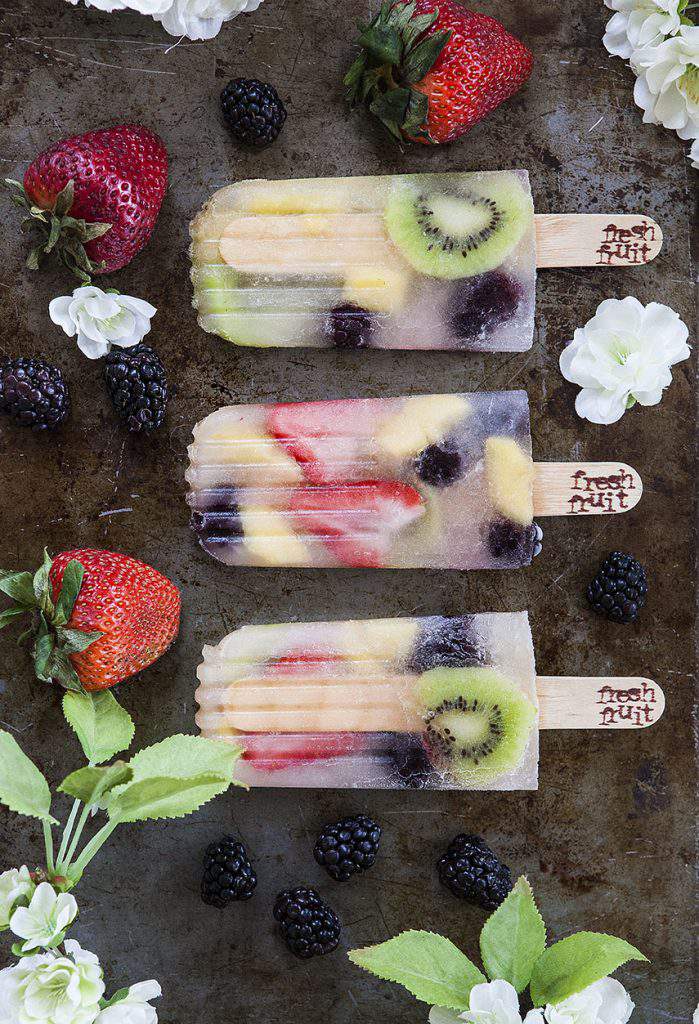 Enjoy and stay cool… if you can.
I think these fruit Popsicles will definitely help.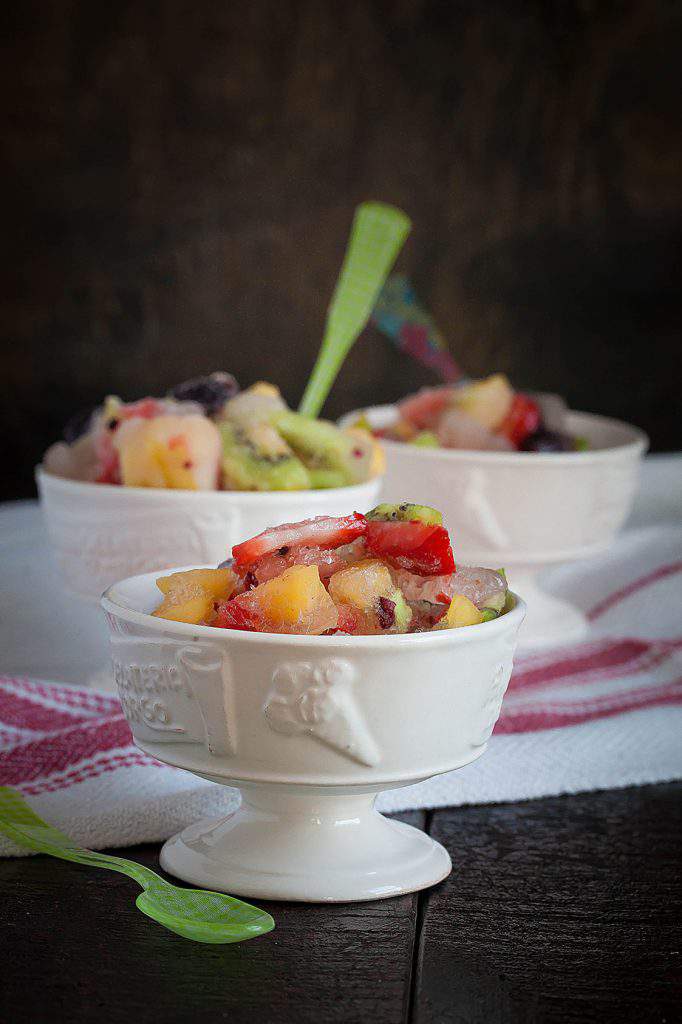 Oh, here's one more way you can serve these fresh fruit Popsicles.
Consider chopping up the frozen treats and offering the fruit chunks up in a bowl for a more sophisticated offering.
How delicious would this be as an after-dinner refresher?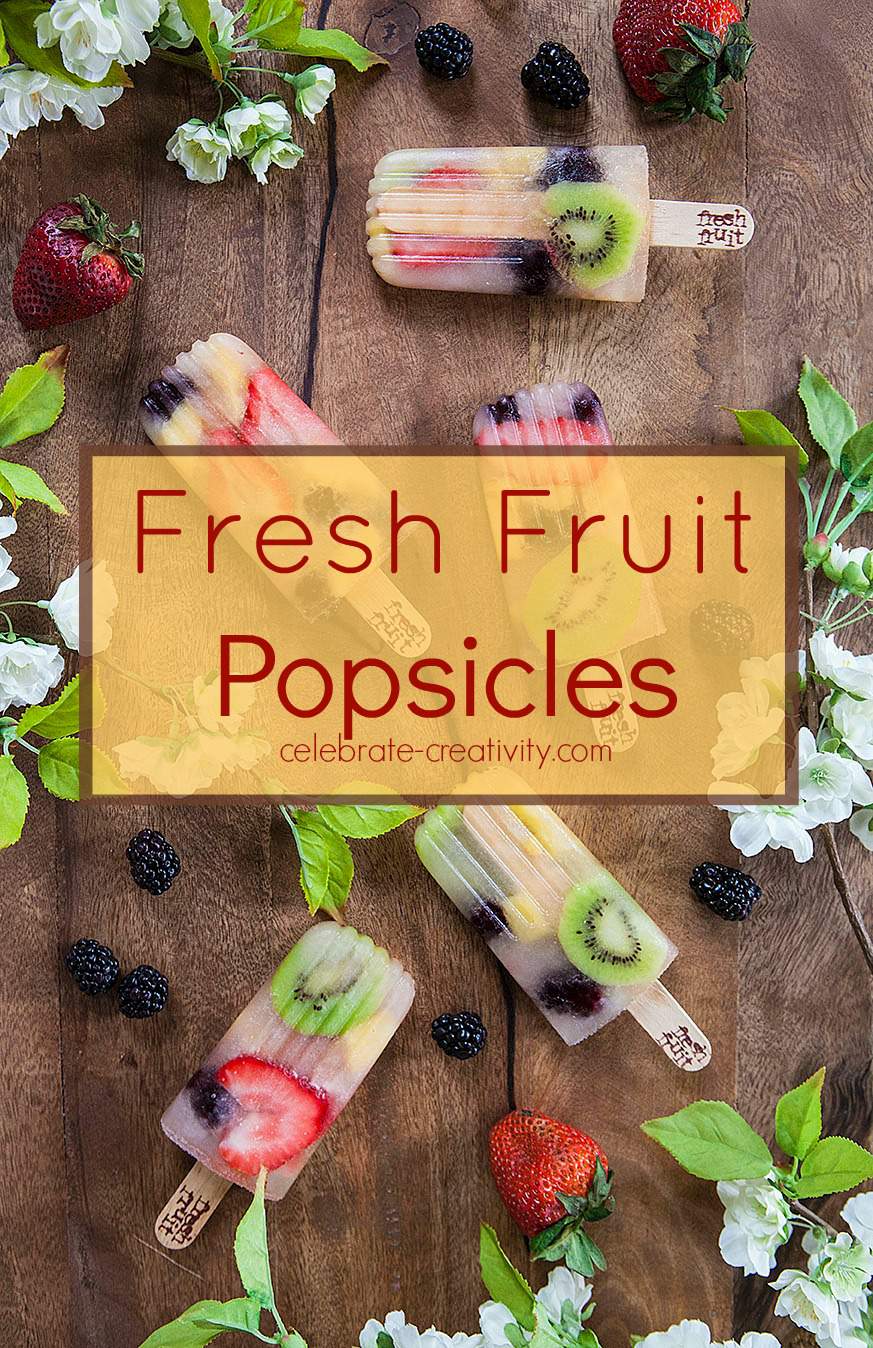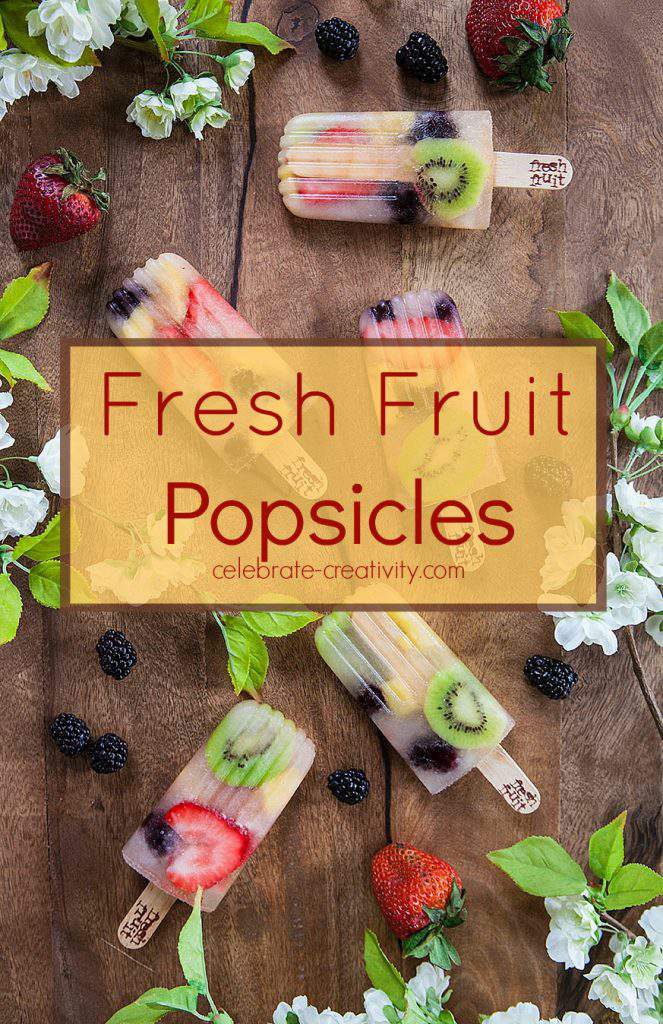 Thanks for stopping by.
See  you back here next time. ♥