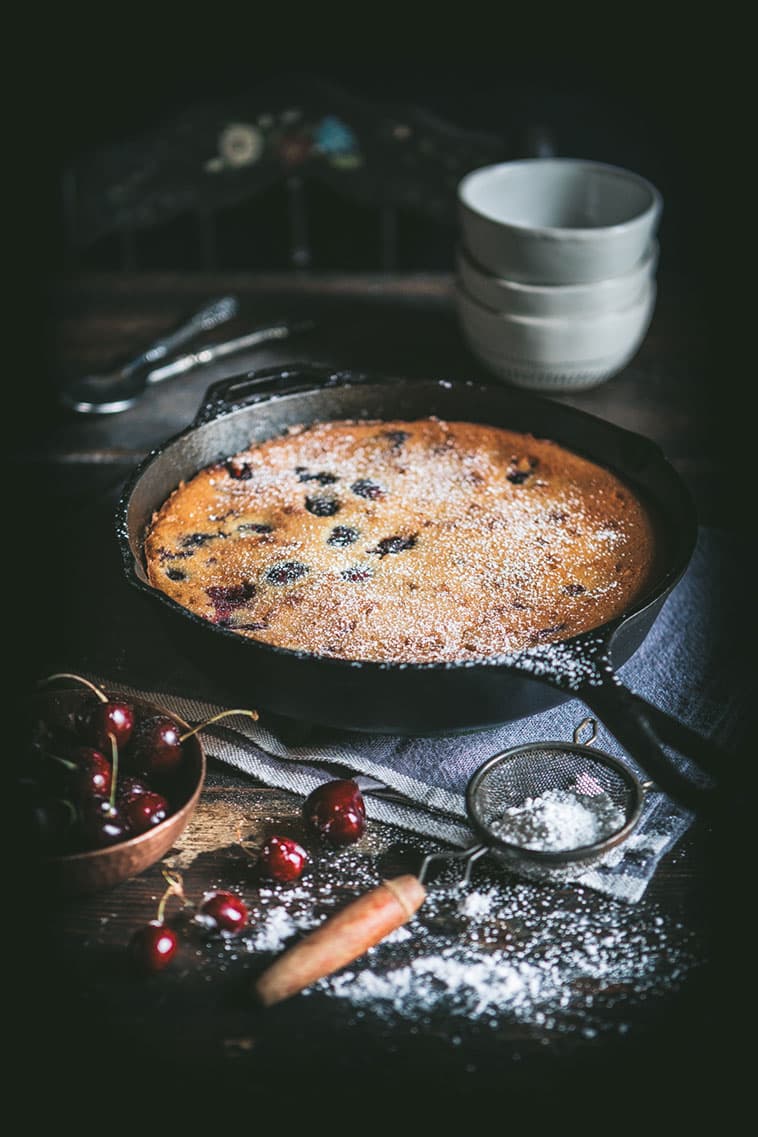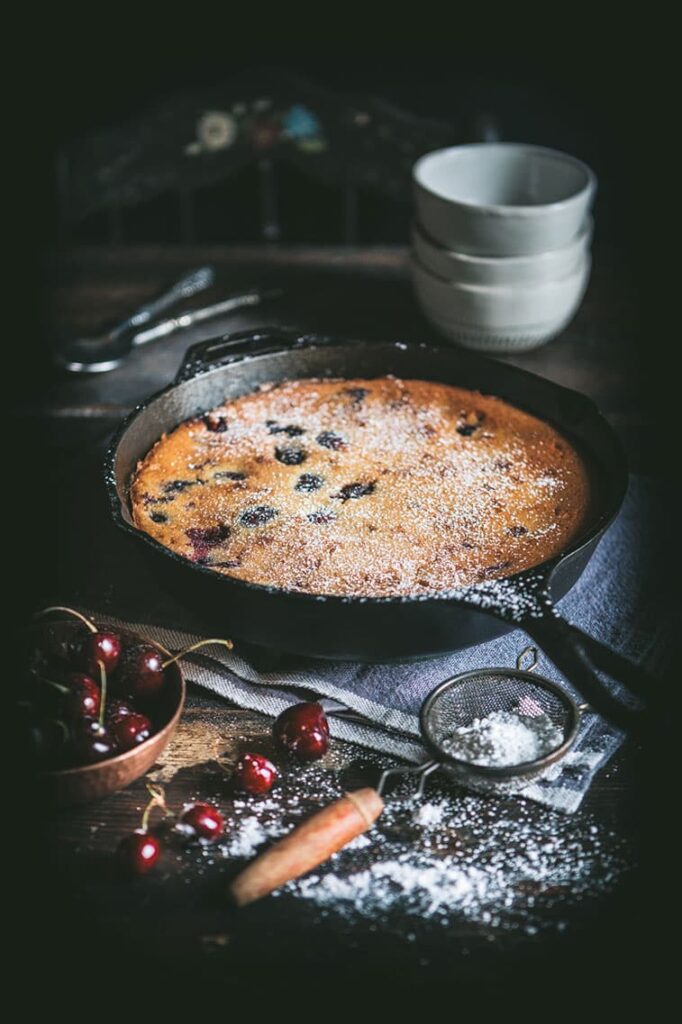 Don't let the name Clafoutis throw you off.
I've seen this rustic dessert around the internet before, but I never knew what it was called.
Let me say it again…. Clafoutis.
Weird name, I know.
But don't let the name discourage you from trying your hand (and taste buds) at this simple, delicious treat.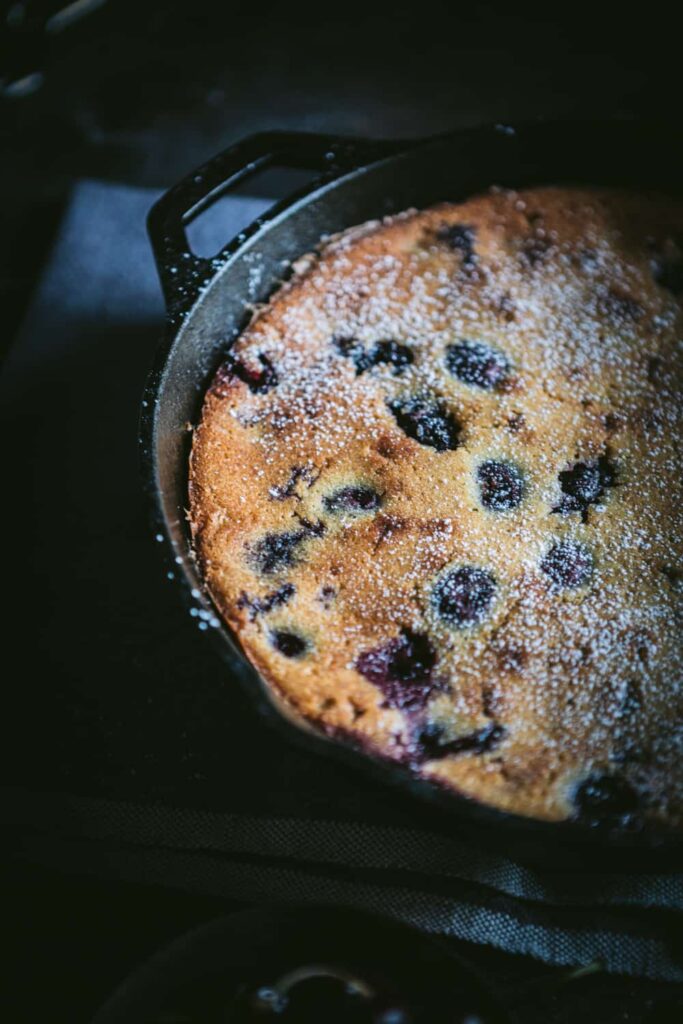 If you're stumped on the pronunciation of Clafoutis (like I was), I've heard it pronounced a several different ways including "Kluh-foww-tuhs" and Klah-foo-tee.
It has its origins in France and one of my readers from that country says it's "Klah-foo-tee. I'll go with her.
Either way, it's a tasty way to put fresh cherries and summer blackberries to good use.
Cherries (and a wee bit of cognac) are at the heart of this dessert and I've seen some recipes that call for using cherries with their pits.
Ahem, your choice…. but I prefer mine pitted.
I love the vibrant red color of the cherries which is tempered by the dark blackberries.
Plus the color combo makes for a nice photo combination too.
Clafoutis reminds me very much like a fancy pancake.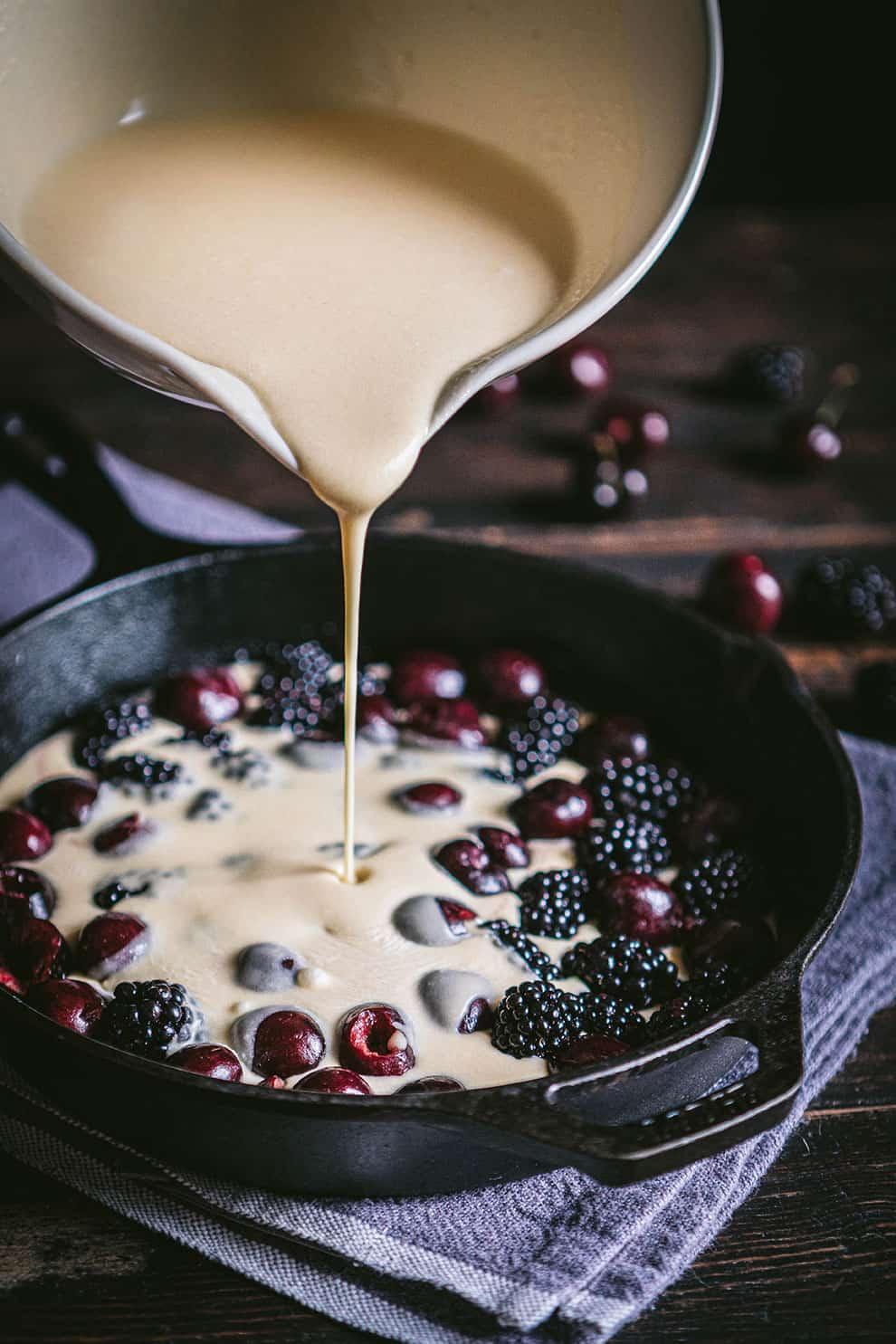 Now, while you soak in the pretty batter-pour, let me take the time to say I hope all is well in your neck of the woods.
What strange and scary times we live in, right?
In my household, we're still debating and discussing the risks of sending both kids back to their respective college campuses this fall.
There's still so much we don't know.
It's stressful for everyone.
I hope everyone reading this is finding some level of comfort and enjoyment in the little things that make us happy around our homes and family.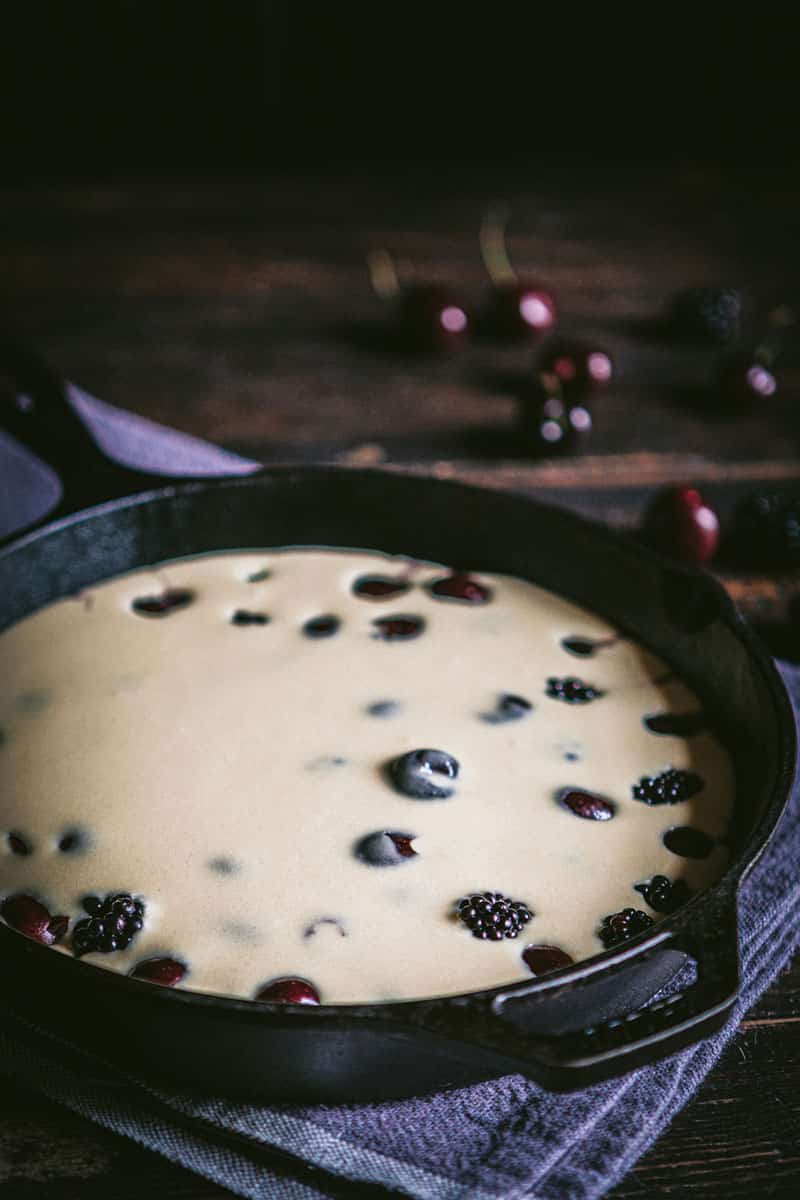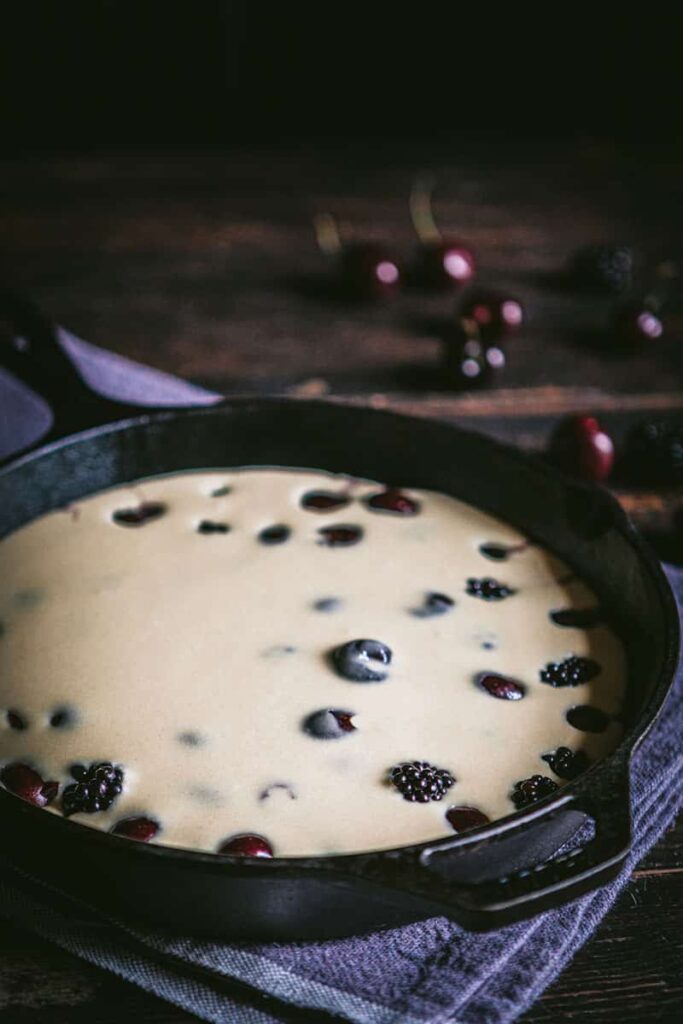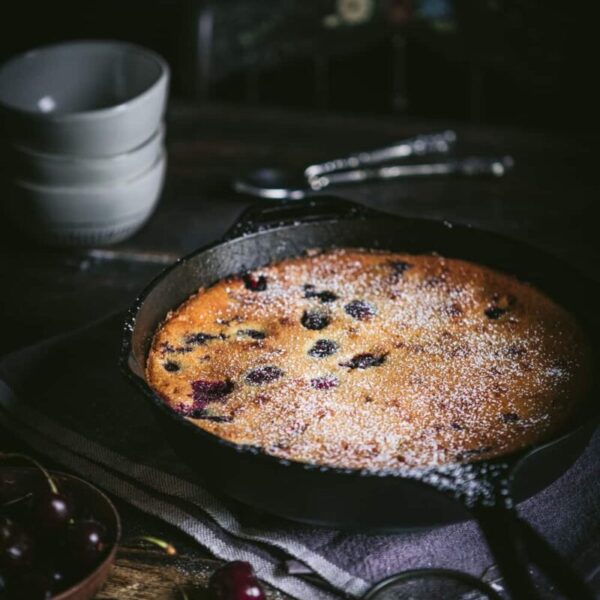 Ingredients
3 Eggs
3/4 cup granulated sugar
6 tbsp unsalted butter, melted and cooled
1 teaspoon butter, for greasing the skillet
1 cup all-purpose flour
1/2 teaspoon kosher salt
1 cup milk (you can also use almond milk)
1/2 teaspoon vanilla extract
2 tbsp cognac
1-1/2 cups cherries, pitted
1/2 cup blackberries
1/4 cup powdered sugar, for dusting
Vanilla bean ice cream or whipped cream for topping
Instructions
Preheat oven to 400-degrees

Whisk together eggs and granulated sugar.

Add the melted butter and mix well.

Add the milk and whisk until smooth.

Add extract and cognac and mix until combined.

Grease skillet with butter.

Add fresh fruit to skillet and pour the batter evenly over the fruit.

Bake for 30-35 minutes or until lightly browned.

Let Clafoutis cool slightly before dusting lightly with powdered sugar.

Slice and serve with whipped cream or vanilla bean ice cream.
OK, getting back to this Clafoutis, this dessert has a firm center that is very Crème brûlée-like in it's texture.
I will say that Clafoutis is not super sweet but the fruit adds a really fresh flavor twist embedded in the baked batter.
The cherries and blackberries are wonderfully distributed too and every bite will yield several pieces of fruit.
The fruit suspended in the batter in the photo below is pretty representative of what you'll get with each slice.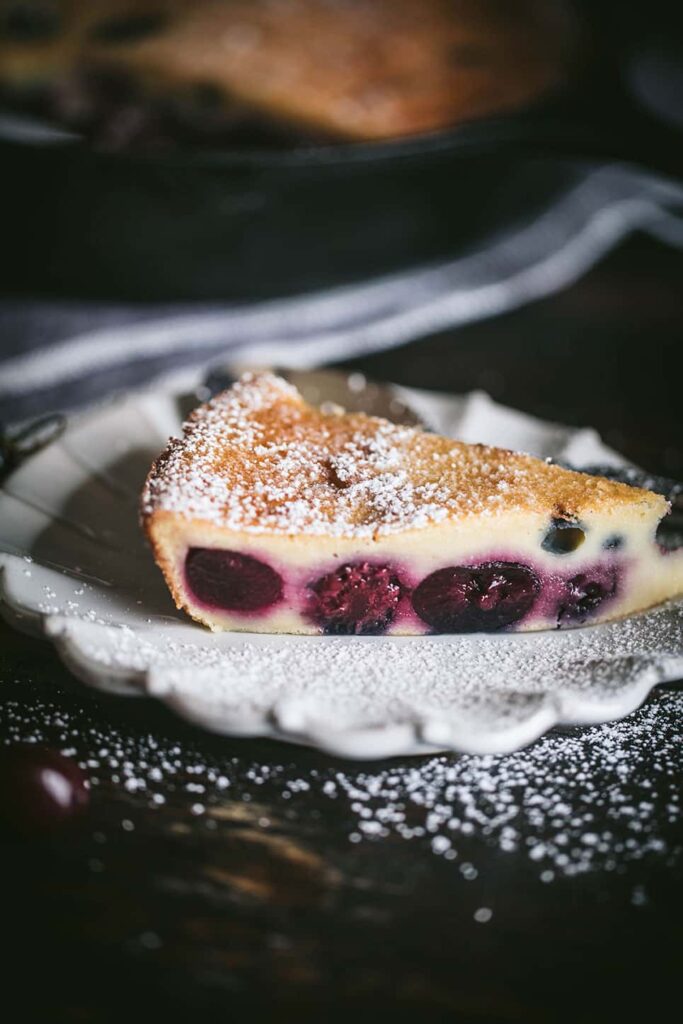 A final topper (in addition to a light dusting of powdered sugar) can come in the form of a scoop of your favorite ice cream.
I have a penchant for vanilla bean ice cream and it's my go-to add on to just about any dessert.
Of course, you could also opt to add a few dollops of homemade whipped cream to your slice.
I think your dessert-loving guests will love this offering.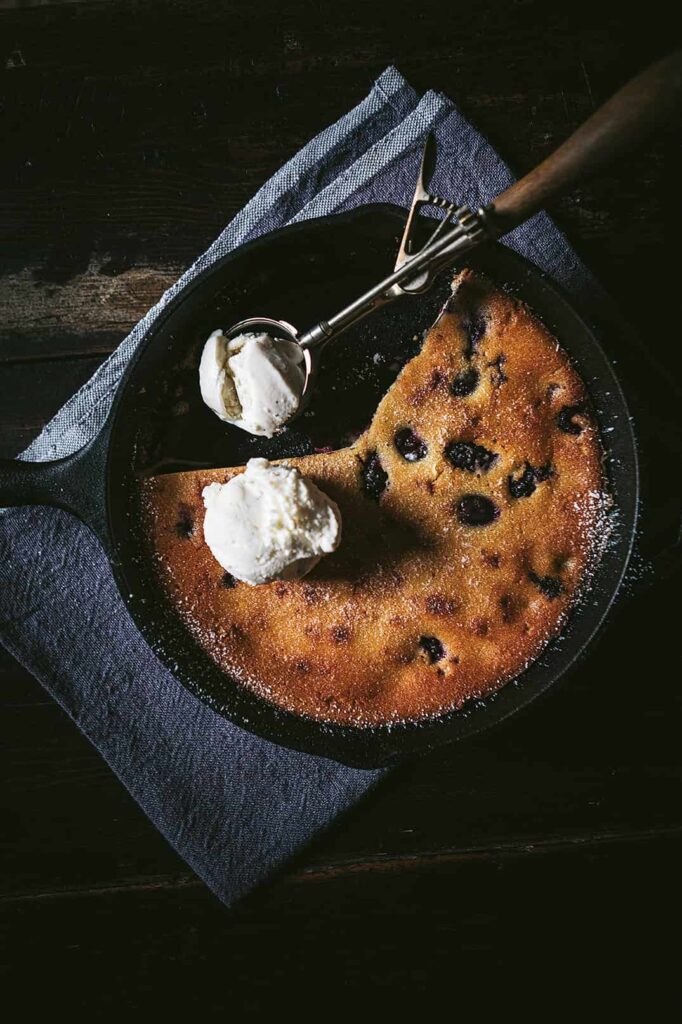 Thanks for popping by.
I hope you give this Fresh Fruit Clafoutis a try and let me know how it works out for you.
See you back here next time.
Stay safe and be well.♥
Shop similar stuff