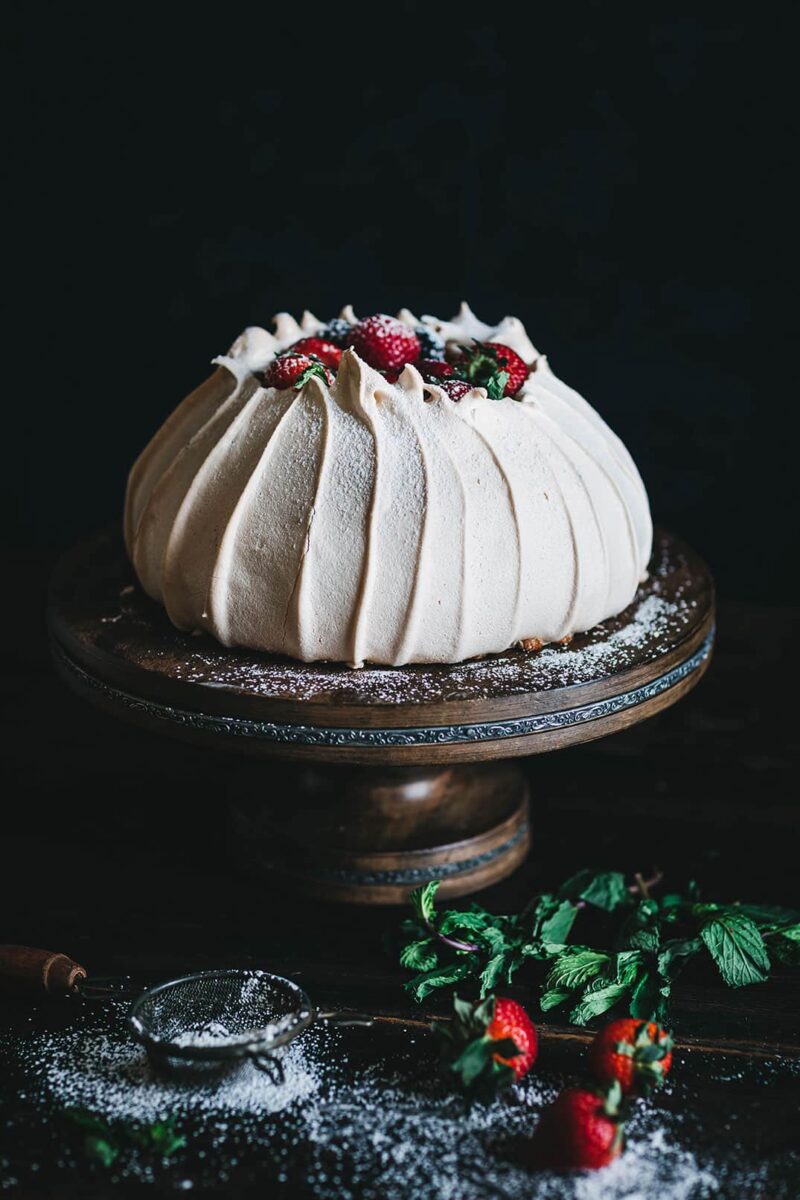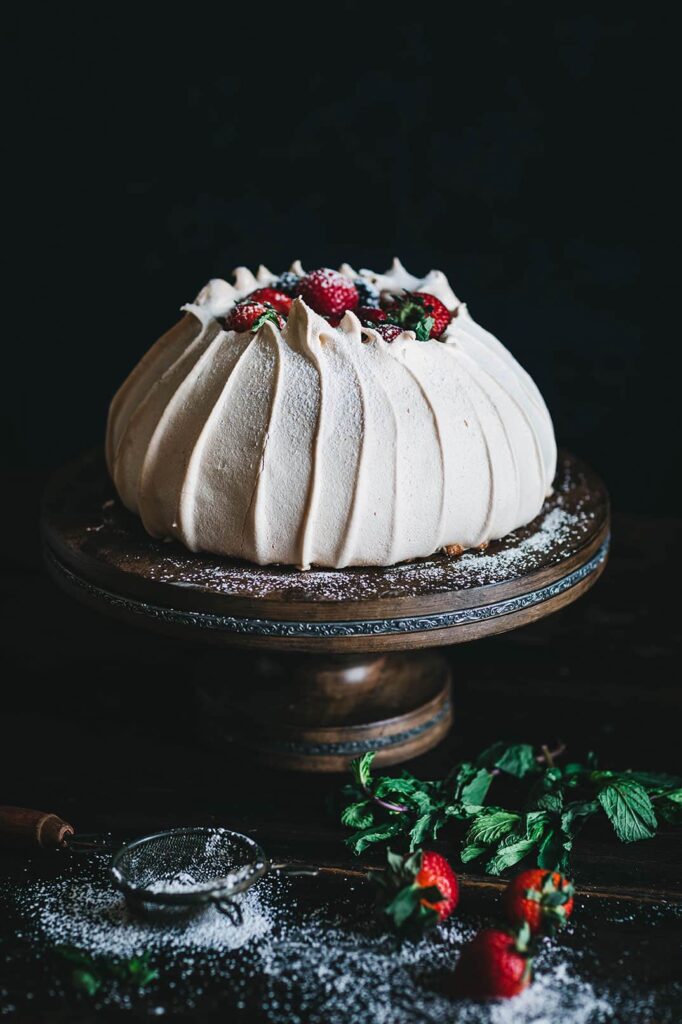 I've made Pavlova a number of times, but I've never made Pavlova like this.
In all modesty, I think this is the prettiest dessert I've ever made.
And you know what?
This Regal Fruit Pavlova (fit for a queen) is as delicious as it is lovely.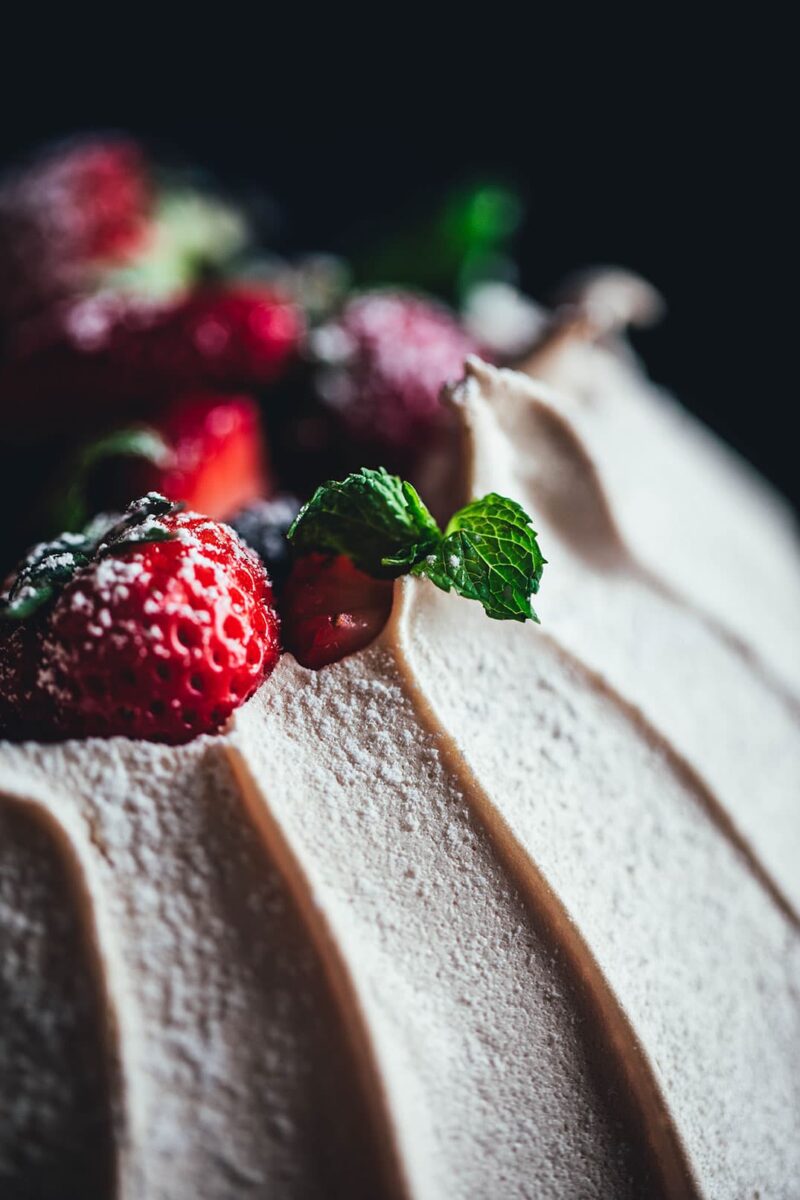 The soft swirls in the baked meringue are like delicate creases.
This has the kind of elegance that may look like it's difficult to reproduce but throughout this post, I'm going to show you just how easy this Pavlova is to shape.
It all starts with transforming the meringue.
Use your own recipe or the one further down in this post.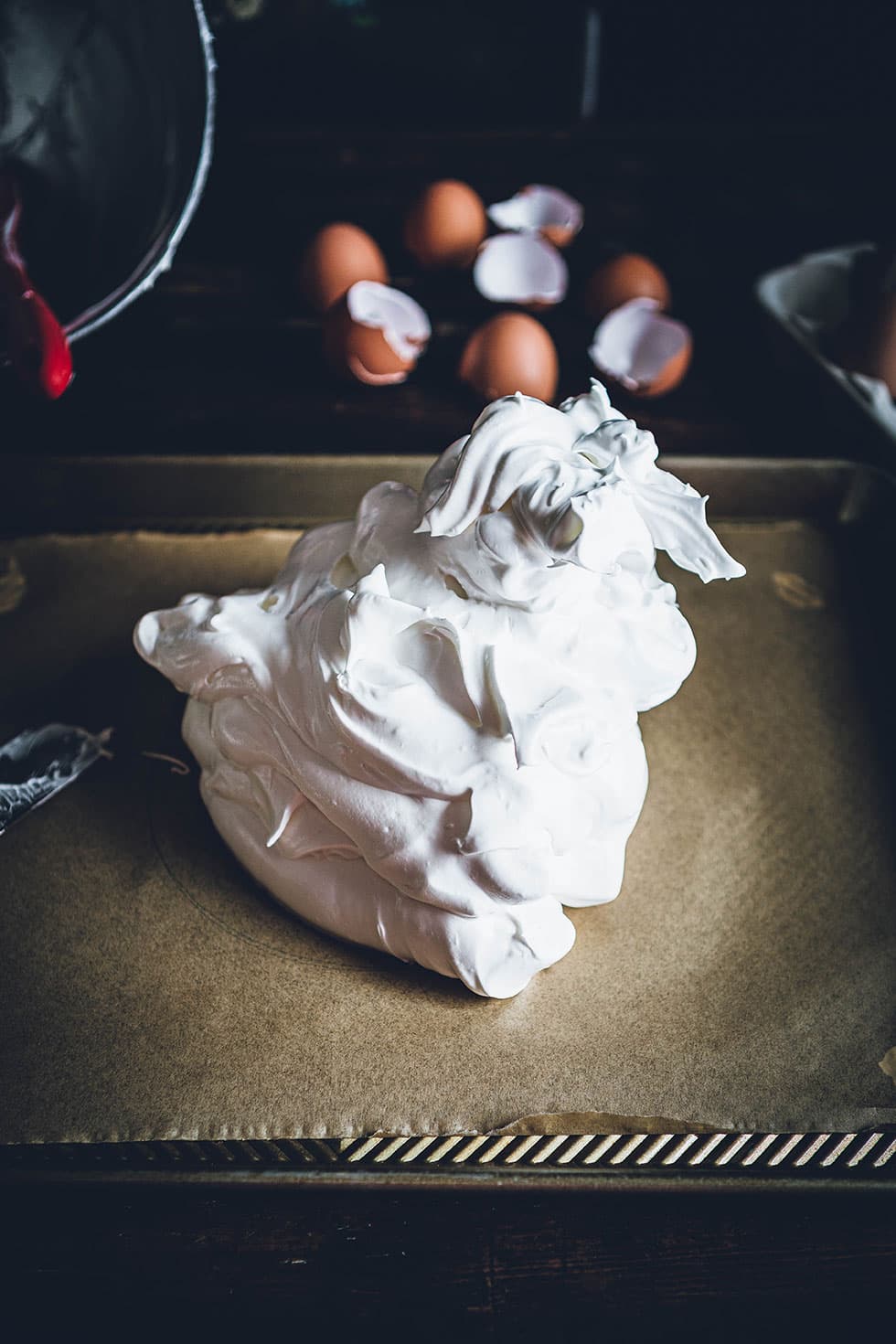 Once you've created the meringue and it's nice and smooth and fluffy, spoon it onto a piece of parchment paper .
Try to pile it high into one big mound.
Proper smoothing will come in the next step.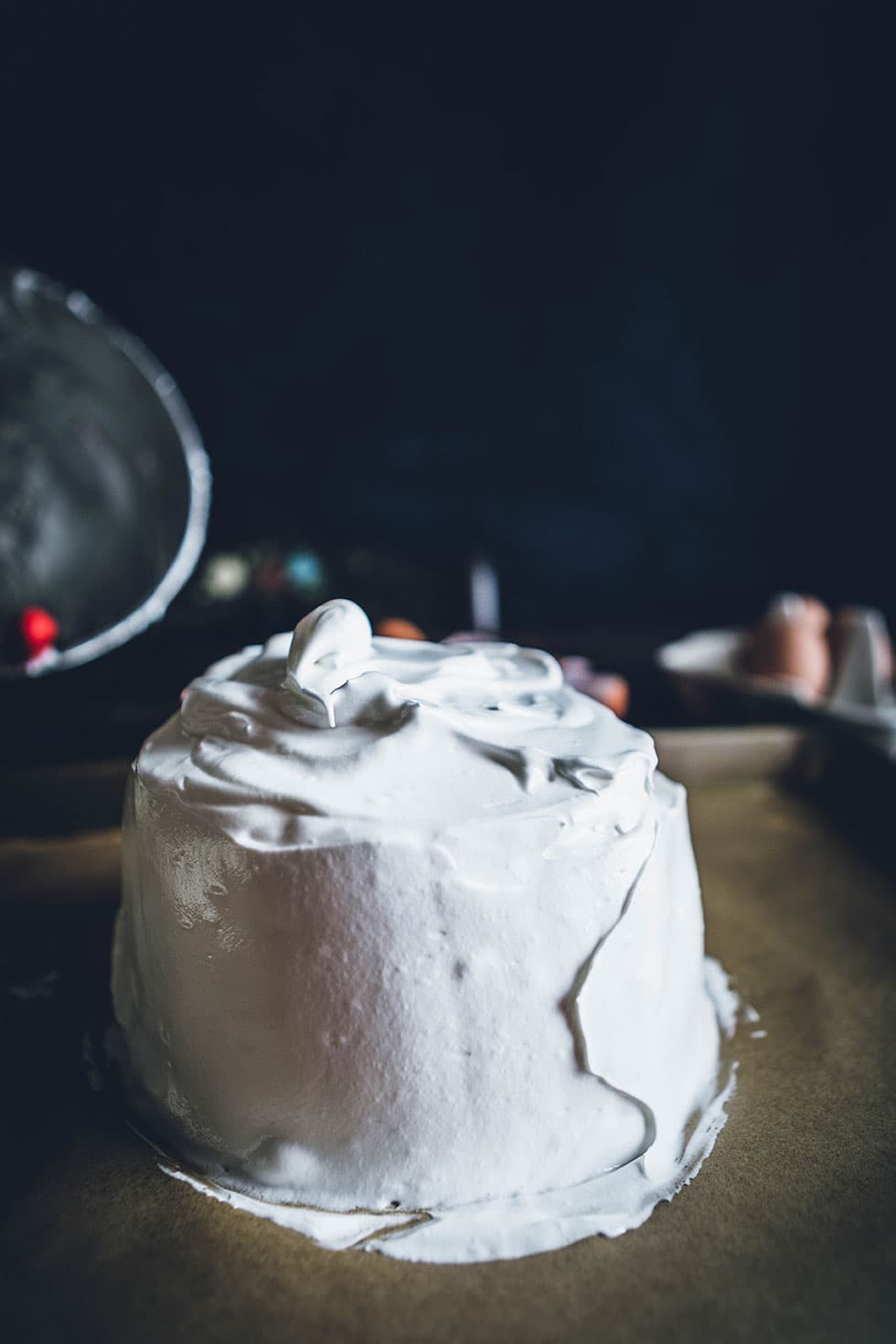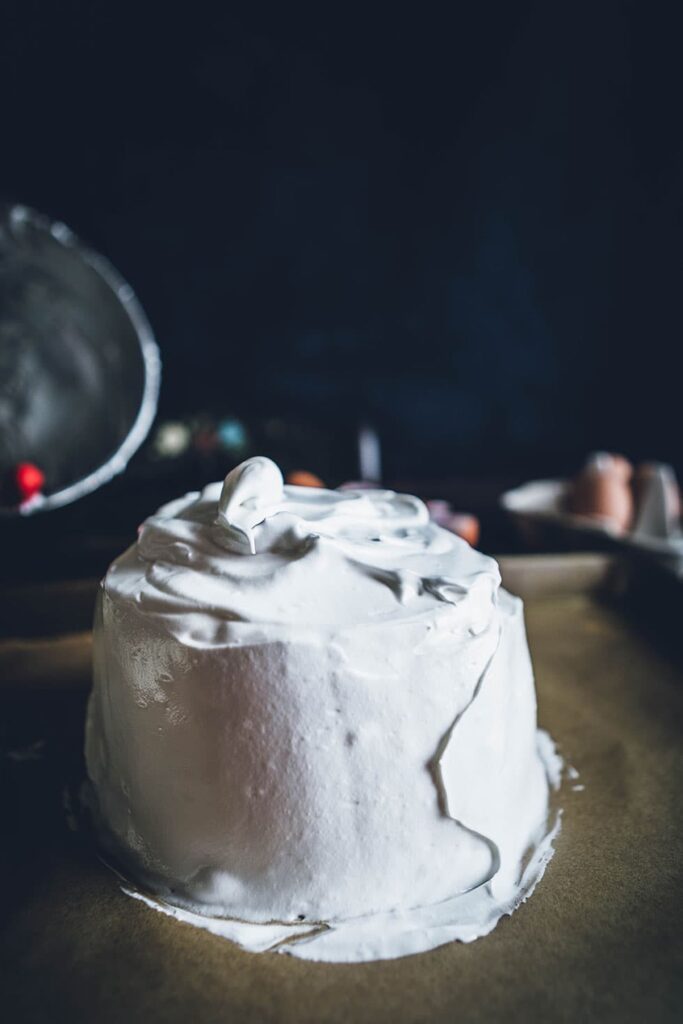 Use an offset spatula to smooth out the meringue.
I liken this to smoothing the icing on a cake. Use the same technique as if you were frosting a cake.
The goal is to get the meringue smooth and as upright as possible.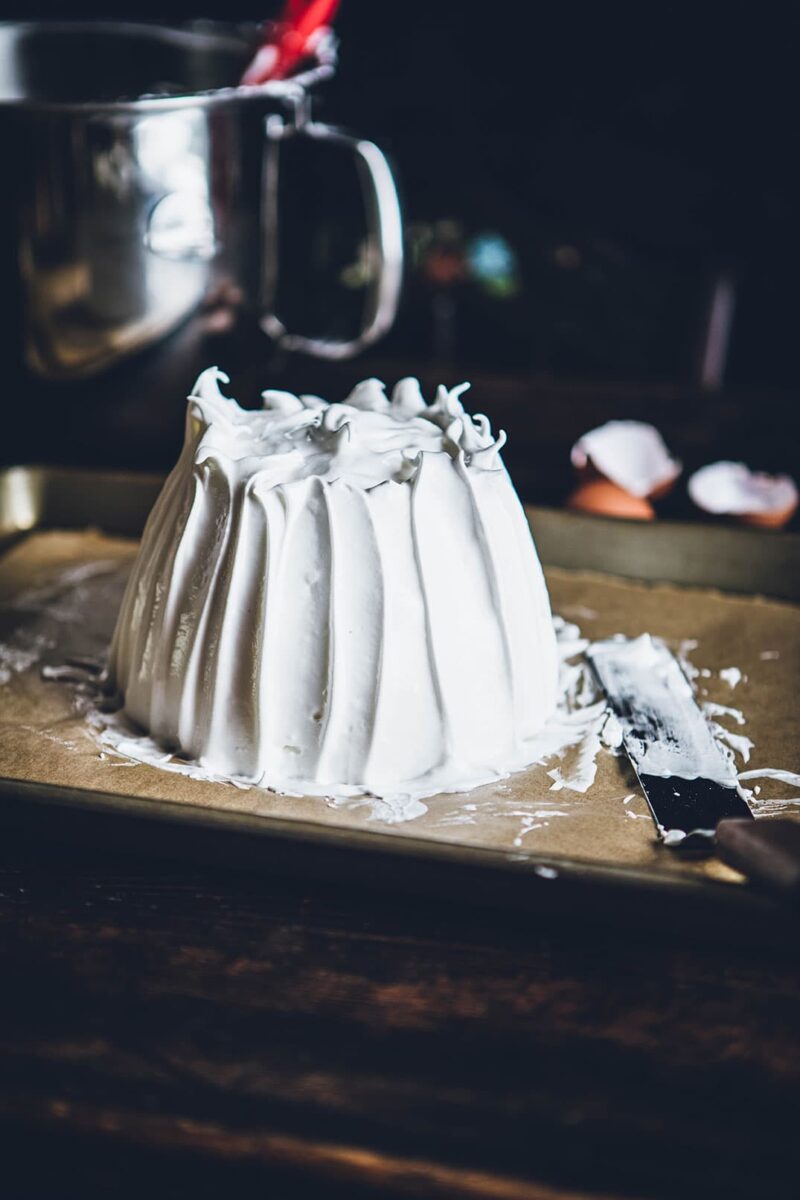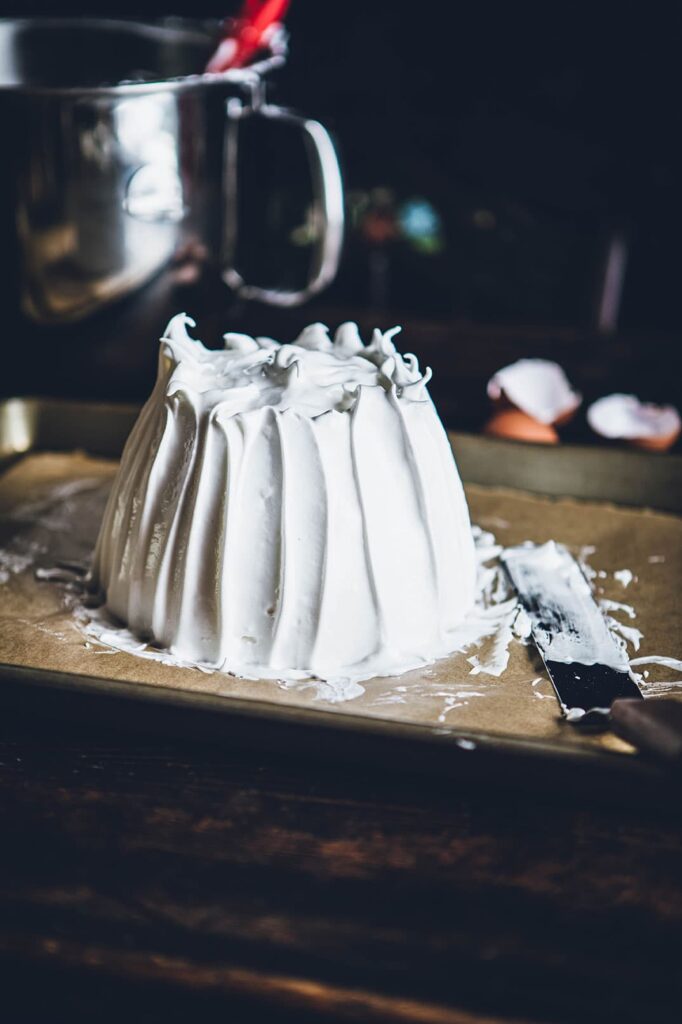 Once the meringue is smooth and sitting tall, use the spatula to create the swirls.
Then, scrape the side of the meringue starting from the bottom and moving upward.
Only scrape about a 1-inch section and a time and repeat all the way around the meringue.
If you angle the scraping just a get, you'll get more distinct swirls.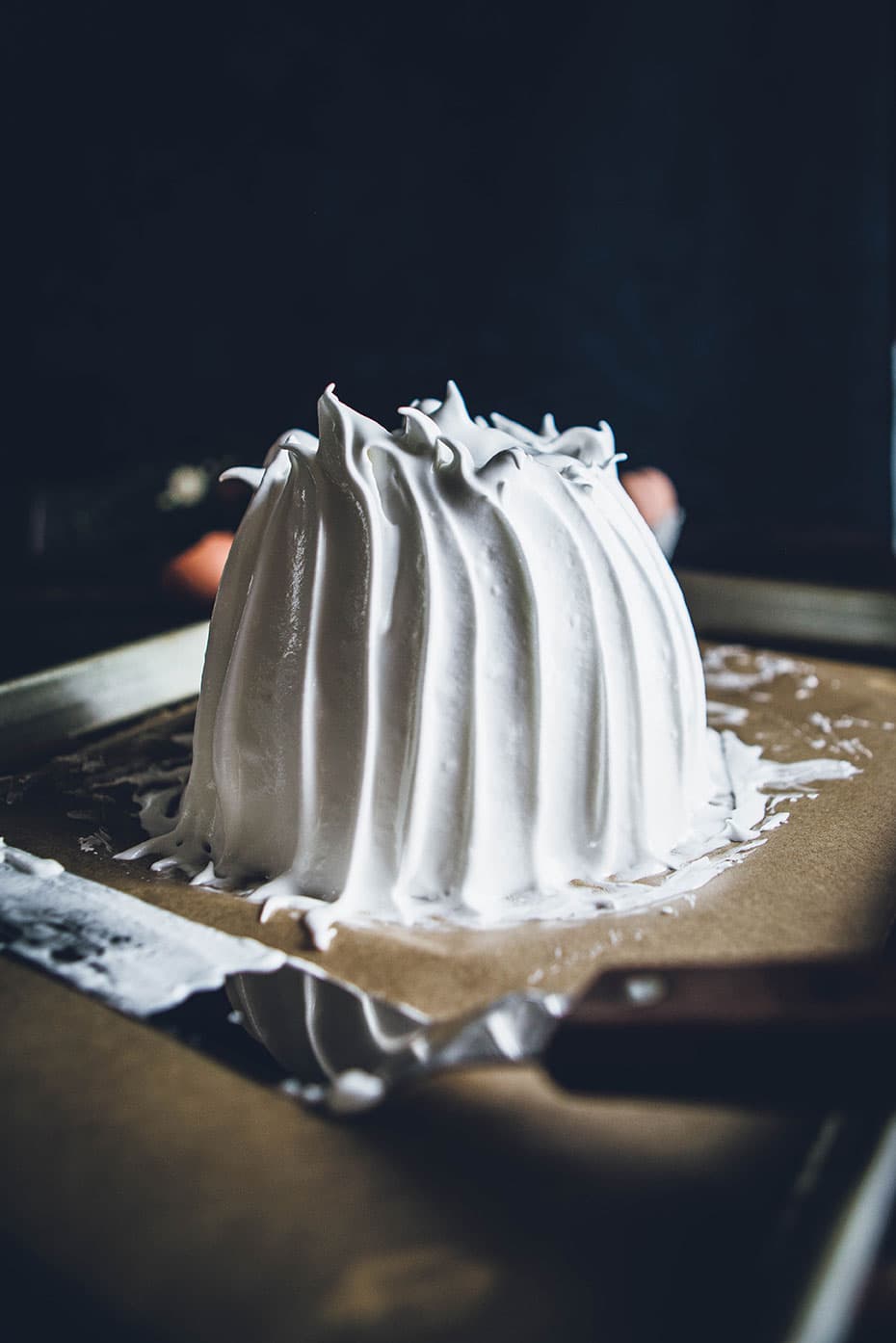 If you're not too happy with your swirls, no need to worry.
Just use the offset spatula to smooth the meringue out and just start all over.
It might take at least a pass or two to get your swirls or creases just right.
Also, I suggest you try to keep your scraped sections kinda close together for a more detailed looking design.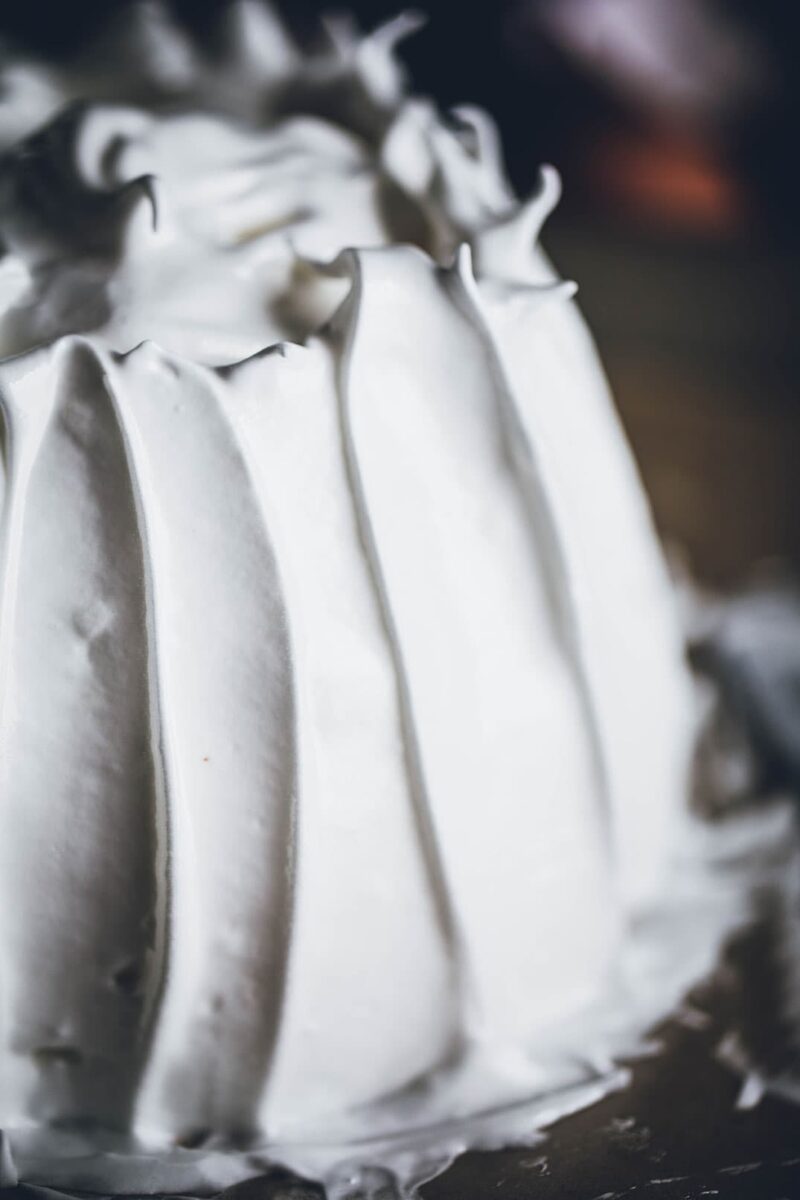 On another note, if you lift your spatula quickly and away from the meringue on the upsweep, you'll get these irregular-shaped edges.
That's actually a good thing and will give the baked Pavlova a little extra interest and character.
Scroll further down to see a closer look at the baked, edgy rim.
OK, before we get to the baked look, here's the recipe.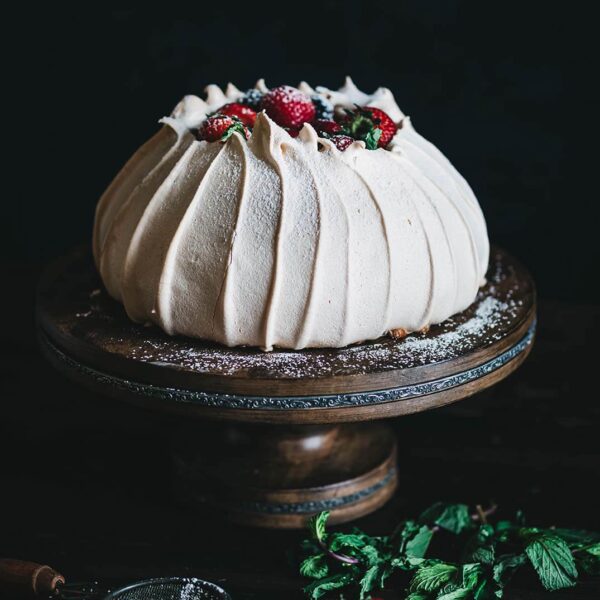 Regal Fruit Pavlova
Light and airy meringue filled with a creamy layer of lemon curd and assorted fresh fruit.
Ingredients
Meringue
4 Egg whites (save the yolks for the lemon curd)
1 Pinch of salt
1/4 Cold water
1-1/4 cups castor (fine) sugar
1 tsp white wine vinegar
1 tsp vanilla extract
1 tbsp cornstarch (plus 1 teaspoon), sifted
2-3 cups Assorted fresh berries
Instructions
Preheat oven to 300 degrees.

Whip the egg whites until medium peaks from.

Slowly add water and continue to whip.

Slowly add fine sugar and continue to whip.

Remove bowl from mixer and fold in the vanilla, cornstarch and vinegar.

Trace a 6-inch circle on a piece of parchment paper as a guide. Place parchment paper (pencil side down) on a baking tray.

Stack meringue on top of parchment paper. Try to stay within the circle guide.

Use a spatula to shape the meringue.

Use spatula to scrape creases into the meringue all the way around the mound. Refer to blog photos.

Bake for about 30 minutes or until meringue is light tan.

Reduce the heat to 275 degrees and bake an additional 35-45 minutes.

Remove from oven and allow cool completely. Handle with care. It's fragile.

Carefully slide empty meringue onto a cake stand or serving tray.

Fill center cavity with a cup of lemon curd. Carefully spread inside the base.

Add about 2 cups of whipped cream.

Finally add assorted berries and dust the top with confectioner's sugar.

Serve. Watch the smiles. Enjoy!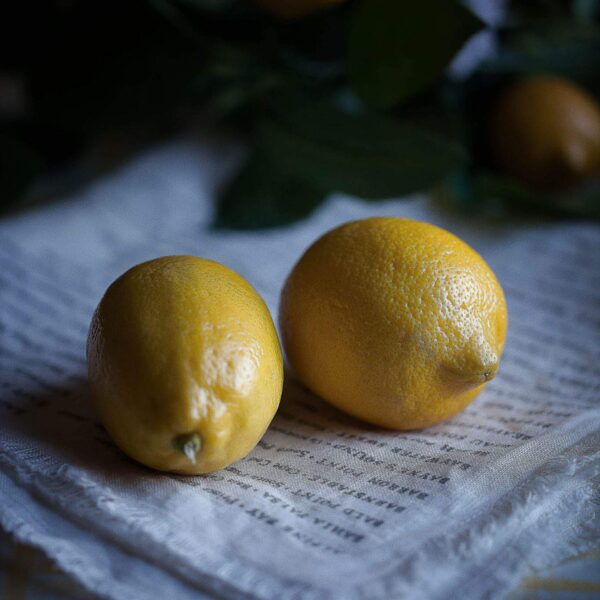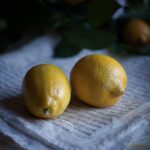 Lemon Curd Filling
Ingredients
1/2 cup salted butter softened
2 cups granulated sugar
4 large eggs
2 large egg yolks
4-5 lemons
4-5 tablespoon lemon zest
1 cup fresh lemon juice
Instructions
Beat butter and sugar in electric mixer until blended. Add eggs and egg yolks, 1 at a time, beating just until blended after each addition.

Gradually add lemon juice to butter mixture and beat until blended.

Stir in zest.

Transfer mixture to a heavy 4-quart saucepan and cook, whisking constantly over medium heat until mixture thickens and easily coats the back of a spoon, about 14-16 minutes.

Transfer curd to a bowl, place plastic wrap directly on to of warm curd to prevent a film from forming.

Chill until firm, about 4 hours. refrigerate in an airtight container up to 2 weeks.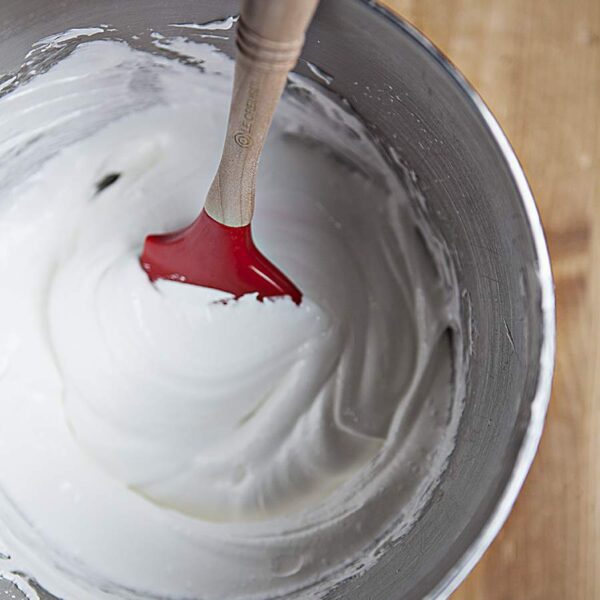 Whipped Cream Filling
Ingredients
1-1/2 cups heavy whipping cream
1/4 cup confectioner's sugar
1 tsp vanilla extract
Instructions
Use a whisk attachment on mixer to whip whipping cream.

After peaks start to form, slowly add sugar while continuing to whisk.

Whisk until firm peaks have formed.

Set aside to refrigerate until ready to use in the Pavlova. Make this the same day.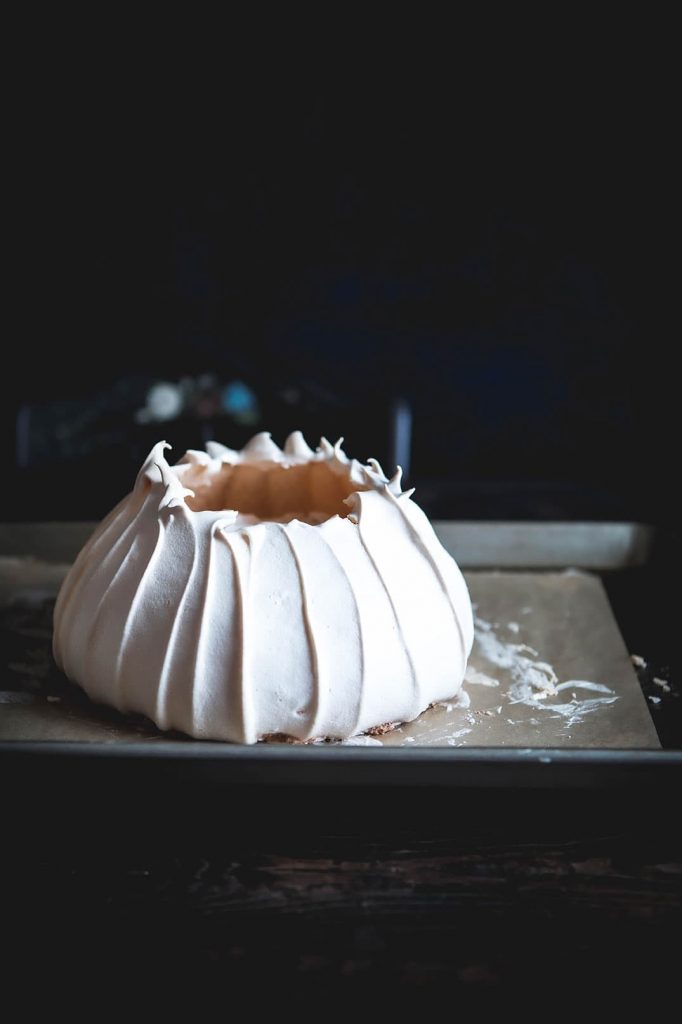 When you take this Pavlova out of the oven, it's going to have developed a more rounded, plump tummy.
The shell is super fragile at this point and you really need to handle it with care.
Now, you may also see a few small hairline cracks here and there in the meringue crust. I don't think that can be avoided.
During this baking, the top of my Pavlova sunk and dropped down inside the cavity a bit. That was no big deal. Sometimes the top will stay put and you'll have to carefully and very gently saw it out with a sharp knife.
Carefully, fill the cavity with lemon curd and a thick layer of whipped cream. If the cavity is too narrow, add the fillings (lemon curd first) to a piping bag and pipe the fillings into the opening.
Finally, gently drop the assorted fresh fruit and dust the top with powdered sugar to finish off the look.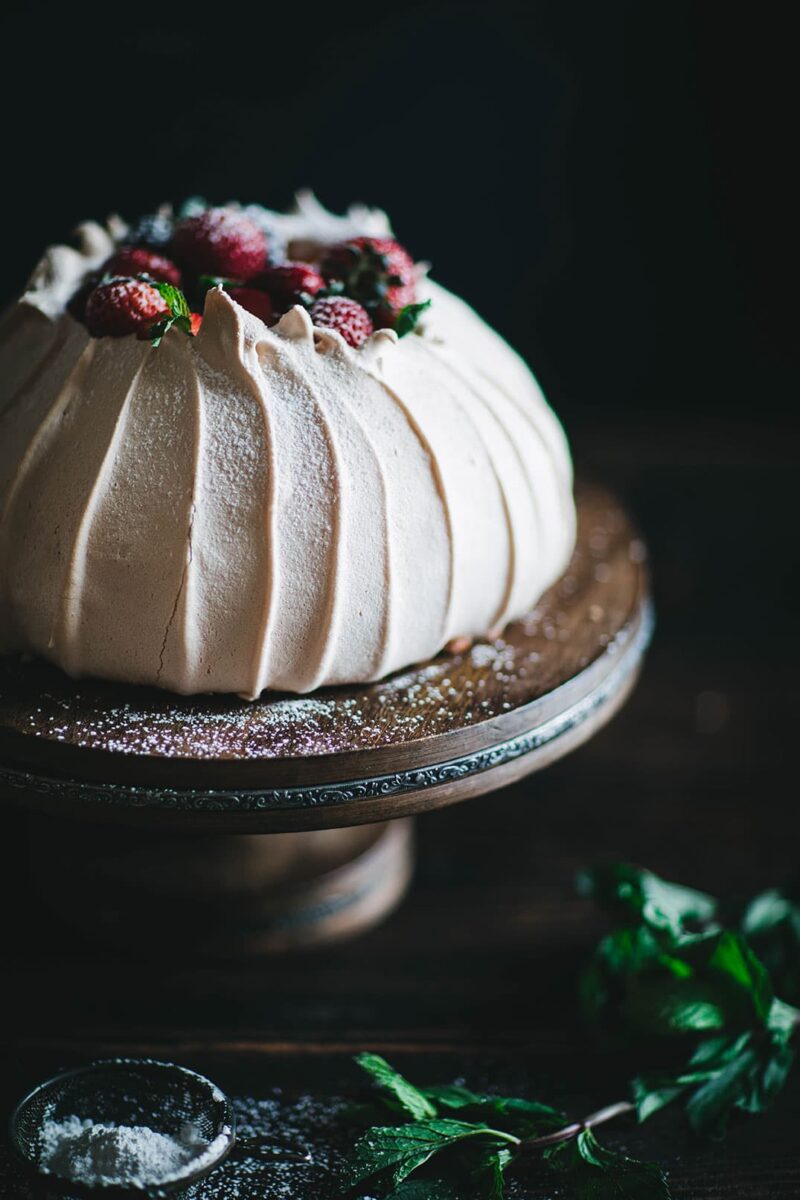 Carefully, slide the Pavlova onto a pretty cake dish and serve to the delight of your friends and family.
Imagine how everyone will feel when you bring this out after dinner.
Or, next time you have to bring dessert to a dinner party…. show up with this.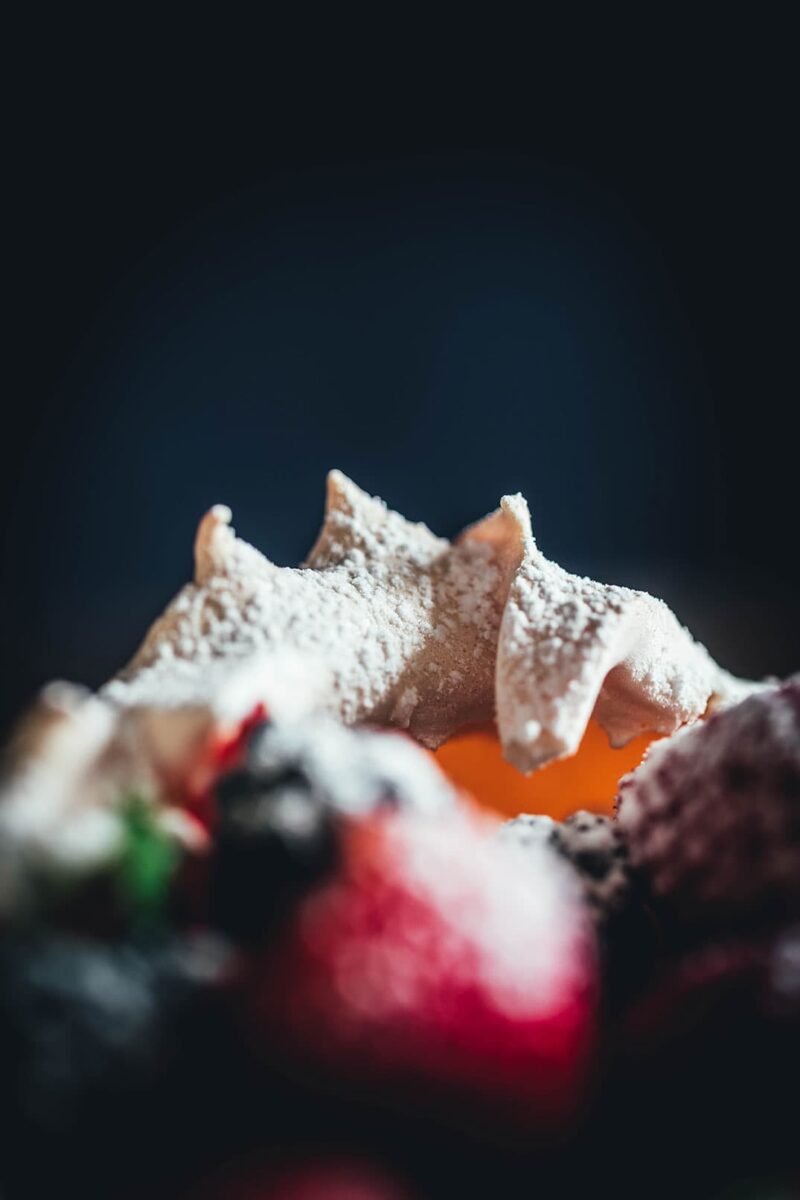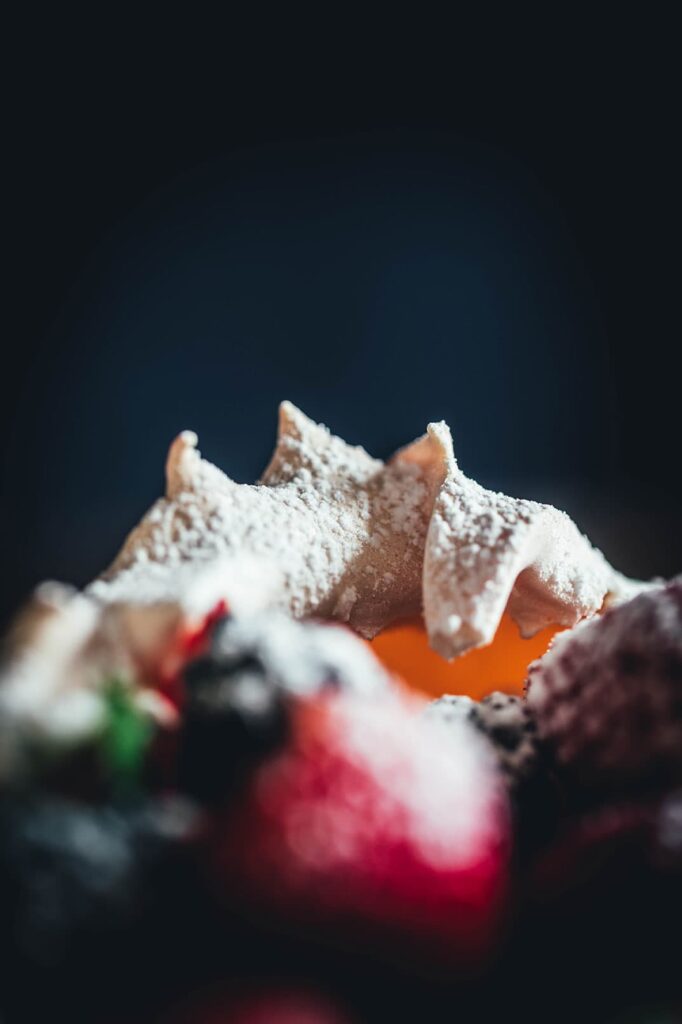 Oh, before I forget, remember remember when I mentioned the rim of the meringue?
Here's a closer look at the crown that is created.
I suppose there are a number of ways you can shape the rim before baking, but I love how irregular the points turned out here.
It just adds a wee bit more character.
Each slice has a ton of texture from the light, exterior crisp of the baked meringue… to the fluffy, marshmallow-like interior with it's layer of sweet lemon curd.
The assortment of fresh fruit delivers another tasty element that blends beautifully with tall the other flavors.
It's all very light and airy and a perfect summertime dessert.
By the way, if you want something smaller, be sure to check out my mini-pavlova dessert HERE.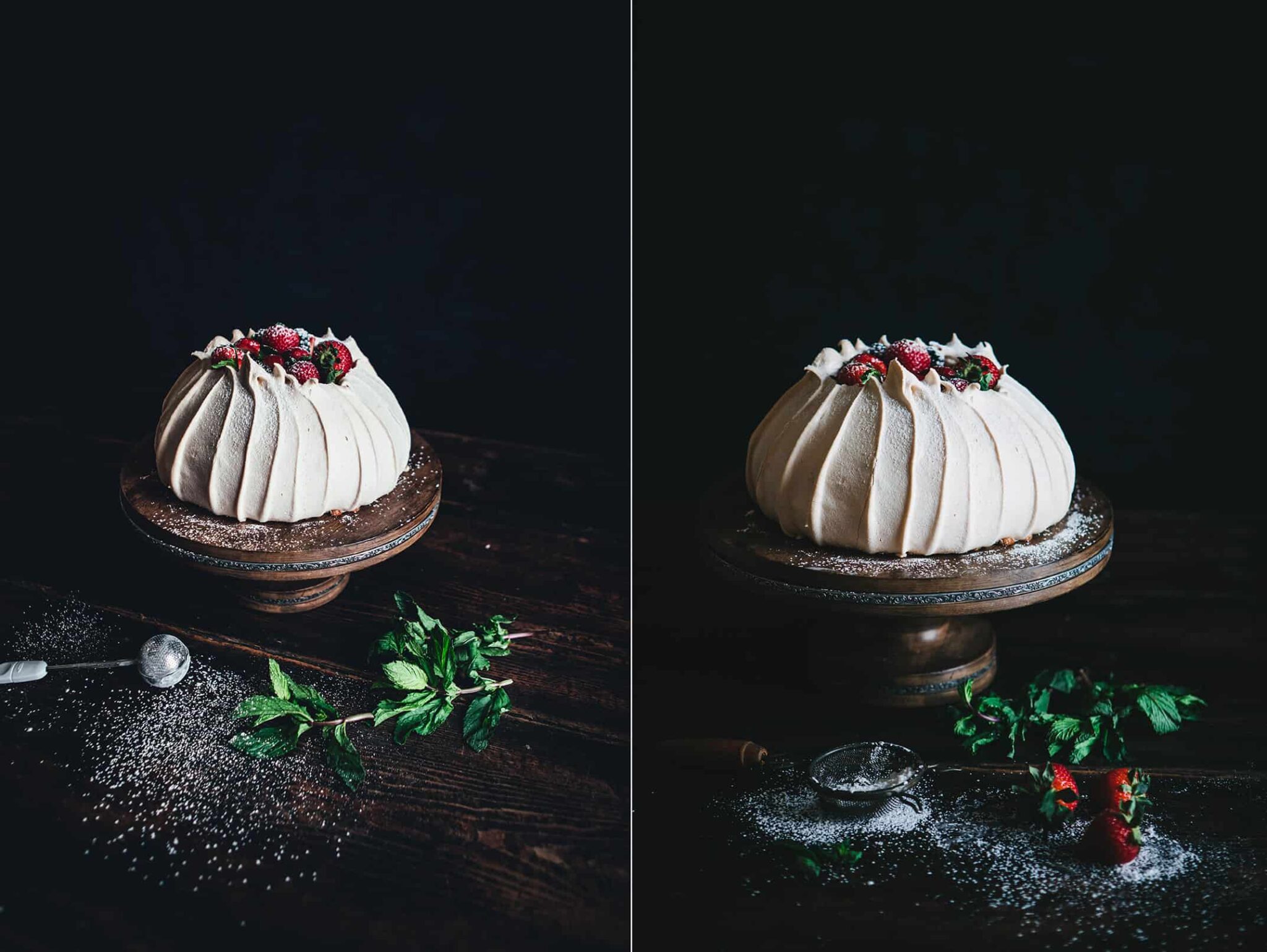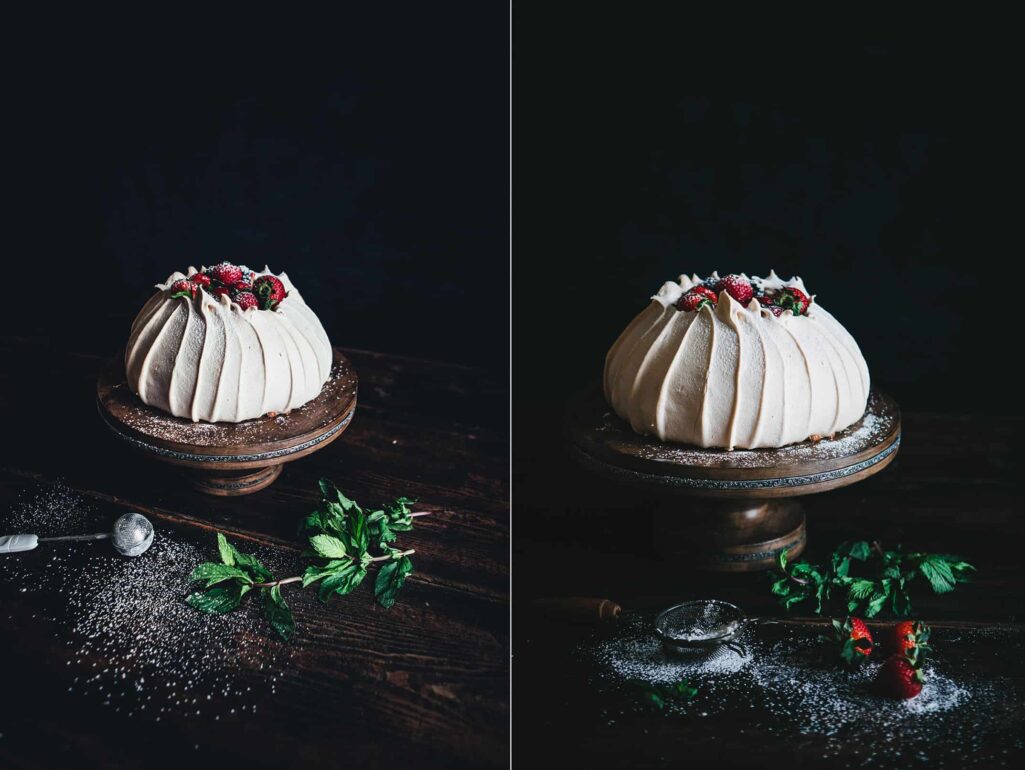 Before I wrap, I want to quickly point out a styling decision.
When I initially set up this Pavlova for shooting, I included a few sprigs of mint and a silver sugar duster in the shot (left photo).
As I was putting everything back into the kitchen, I walked passed a container with a few leftover strawberries and it occurred to me that adding a few berries to the shot might look nice.
I dragged the Pavlova back into my shooting area and reshot it with the added berries. I also switched out the silver duster with a rustic strainer I had in my stash (right photo).
Both shots work, but the added pop of red and the new/old strainer, gives the image a little more personality in my eyes.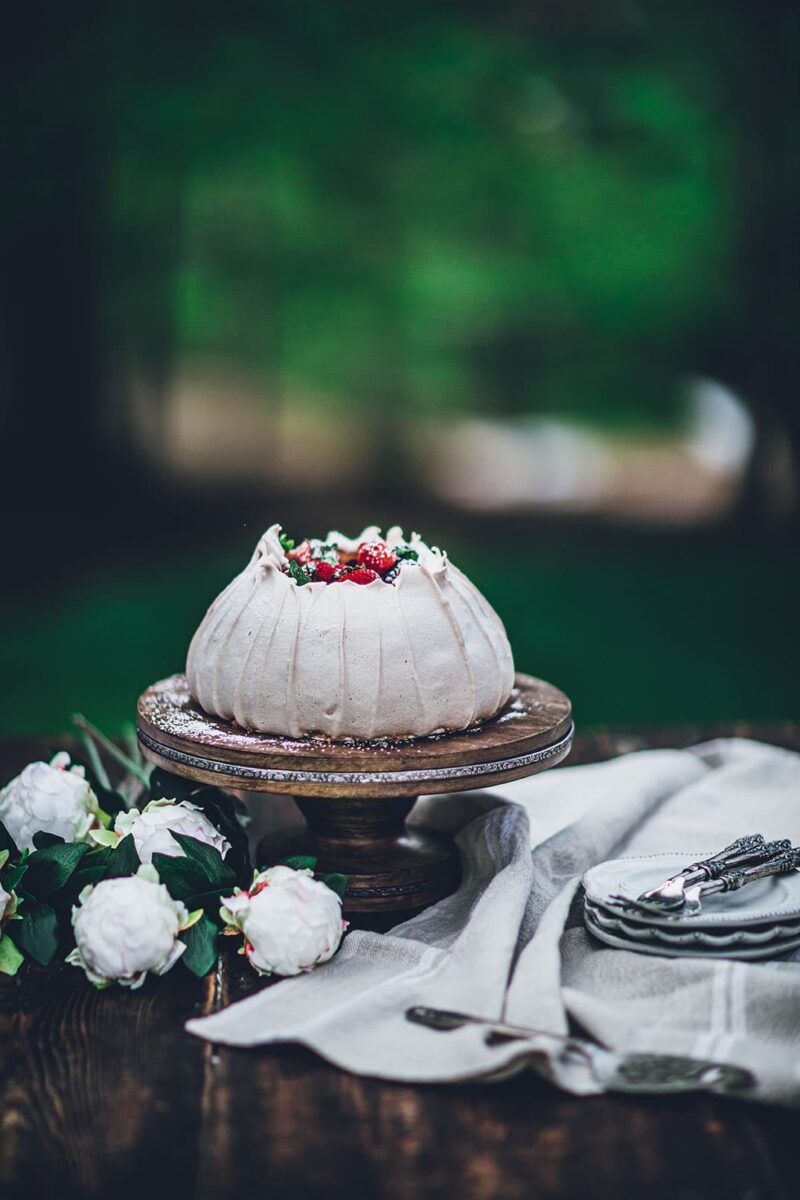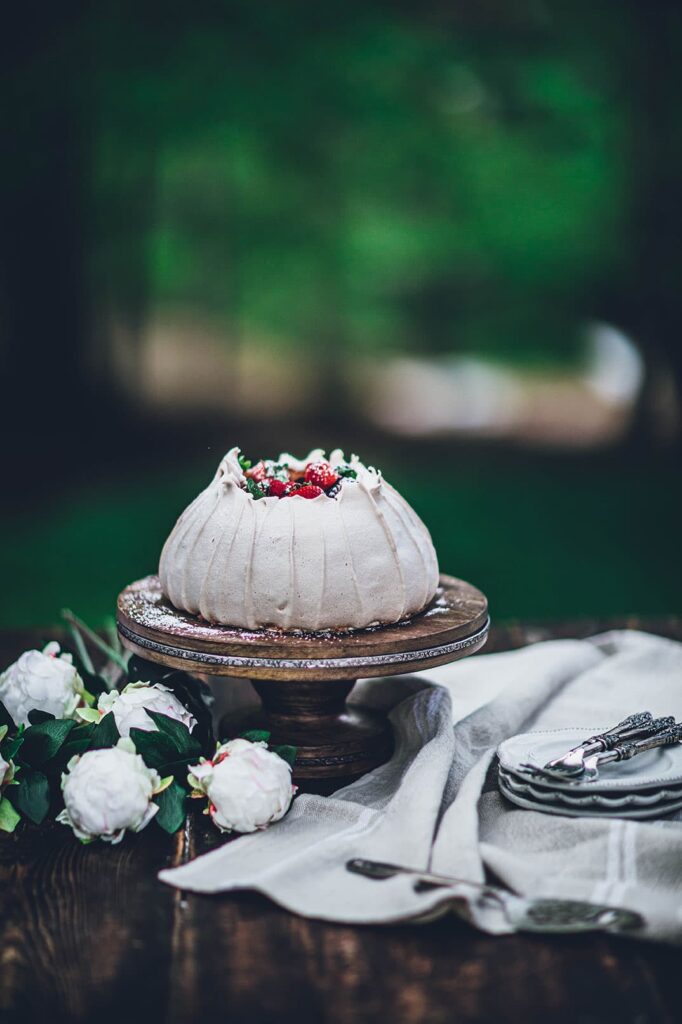 Thanks for popping by.
I hope you give this Regal Fruit Pavlova a try.
See you back here next time.
Stay safe and be well. safe and well.♥