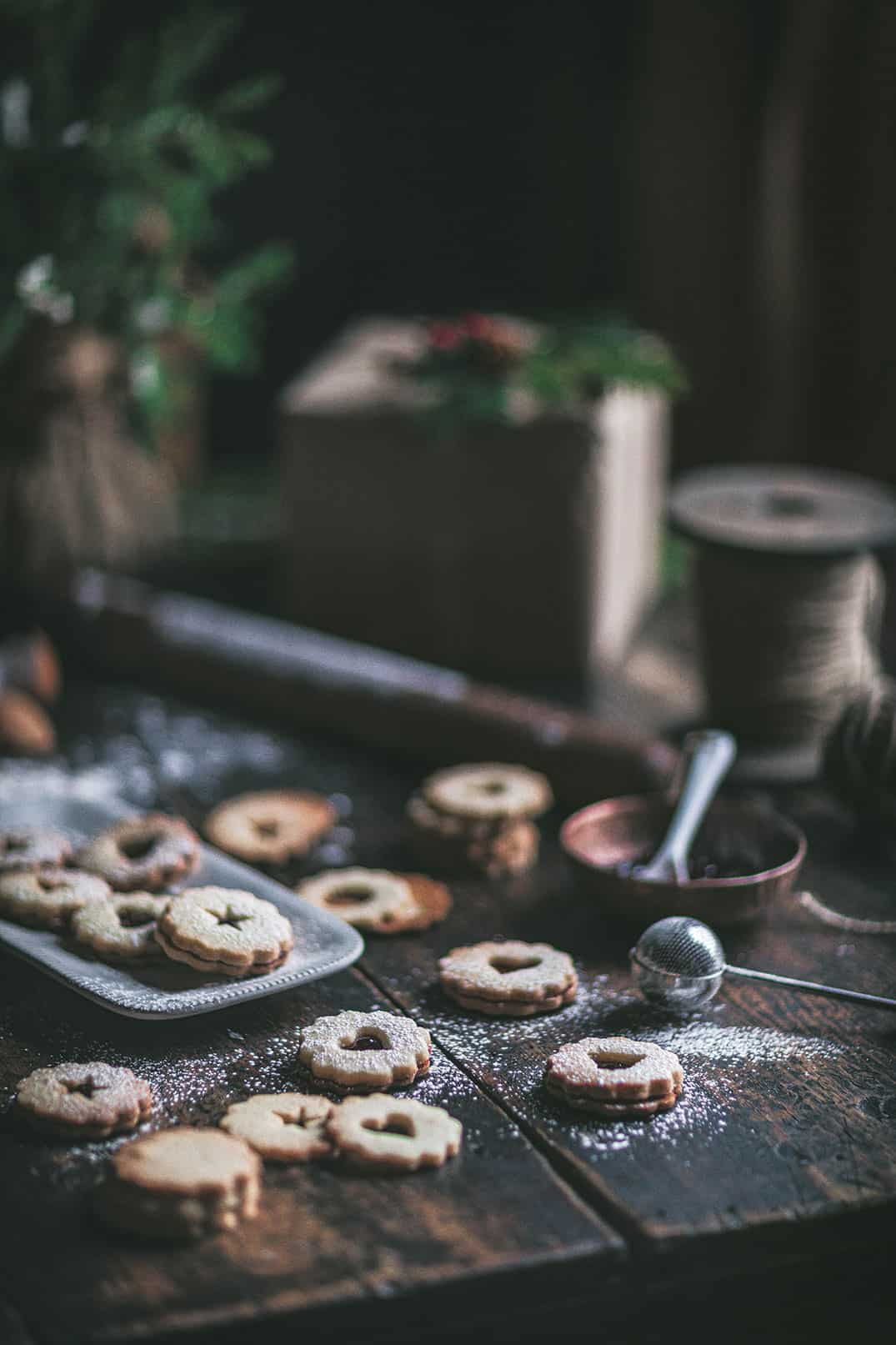 Is there any cookie that suggests the holiday season more than Linzer cookies?
Oh, I know that Linzers can be made all year long but they just seem like such a Christmas cookie to me.
Of course, that could be since this is the only time of year that I make them.
Scroll down to see my favorite recipe for these holiday Linzer cookies.
Scroll even further for a fun little chat about my food styling approach for this cookie shoot.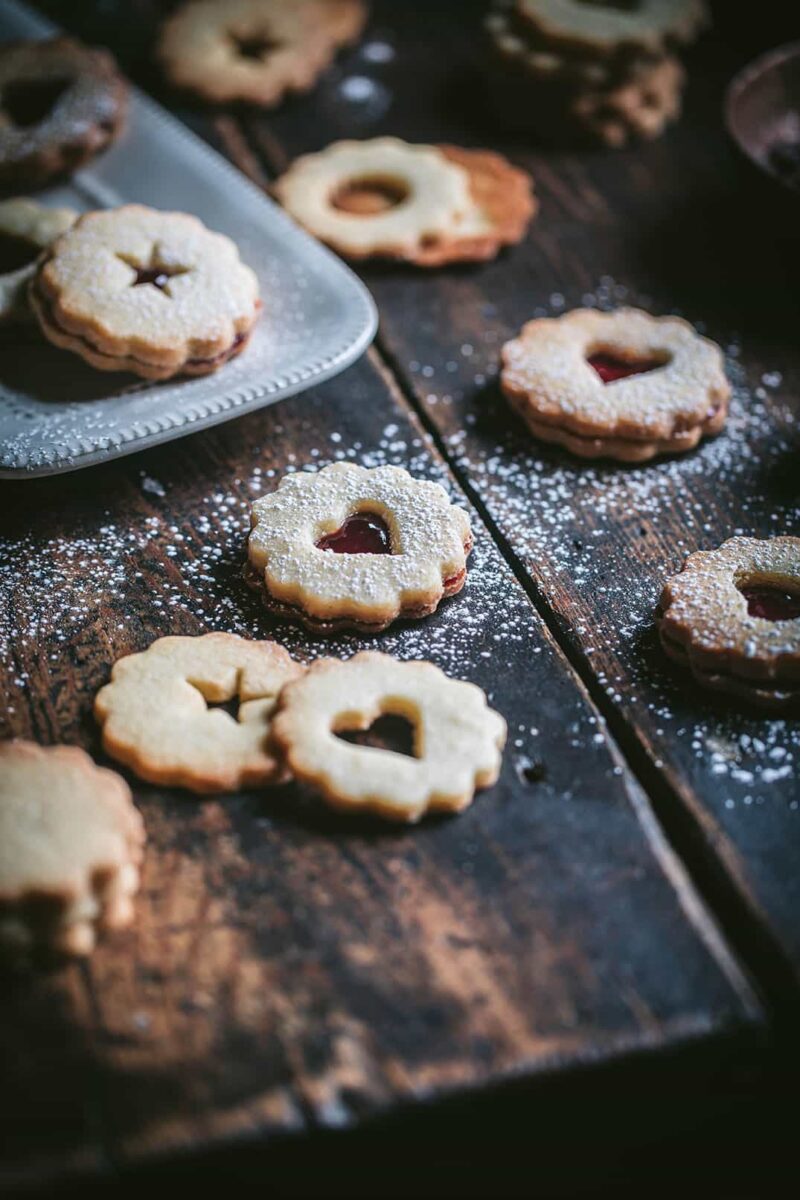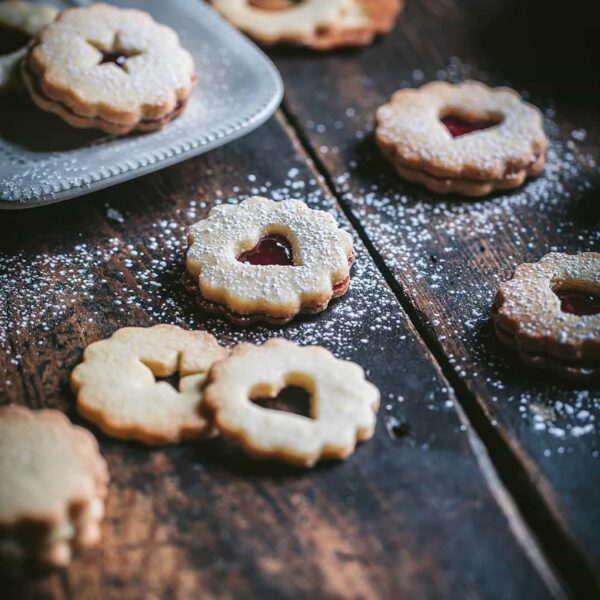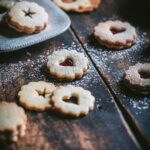 Holiday Linzer Cookies
Course: Dessert
Servings: 30 cookies (set)
Ingredients
2-2/3 cups all-purpose flour
1/2 tsp Kosher salt
1-1/2 cups granulated sugar
1 cup butter, softened
2 eggs
1 cup cup confectioner's sugar, for dusting
1-1/2 cup raspberry jam
Instructions
Whisk flour and salt in a small bowl and set aside.

Mix sugar and softened butter. Do not over mix.

Add eggs one at a time and mix.

Combine until dough ball forms in mixer.

Divide dough in half and wrap in plastic wrap.

Refrigerate for two hours.

Roll dough between two sheets of parchment paper.

Place in freezer for 10 minutes. This will firm up the rolled dough.

Dip cookie cutters in flour and cut out cookie shapes.

You'll need two cookies to complete each cookie.

Cut smaller shape in the center of a cookie mate.

Bake for 8 minutes until edges are lightly browned.

Allow cookies to cool completely.

Spread jam across one cookie.

Place the cookie with the cutout center on top of the jam-spread cookie and press gently.

Dust completed cookie with confectioner's sugar.
Recipe Notes
I have found that these cookies are their most flavorful when refrigerated overnight. There's just something about getting that overnight nap that really infuses Linzer cookies with more sweet and fruity taste.
OK, you've seen the easy recipe, now let's talk a bit about food styling and a few of the tools I used for this photoshoot.
Since Linzer cookies are typically associated with Christmas, I wanted to make sure I included elements in the photo that suggested that.
The small, table tree and twig-topped, gift-wrapped box are nods to the holiday season but they also include important green color pops to the shot.
I didn't want to draw much attention away from the cookies, so I kept the wrapping paper neutral and rustic (using craft paper and strands of jute instead of ribbon).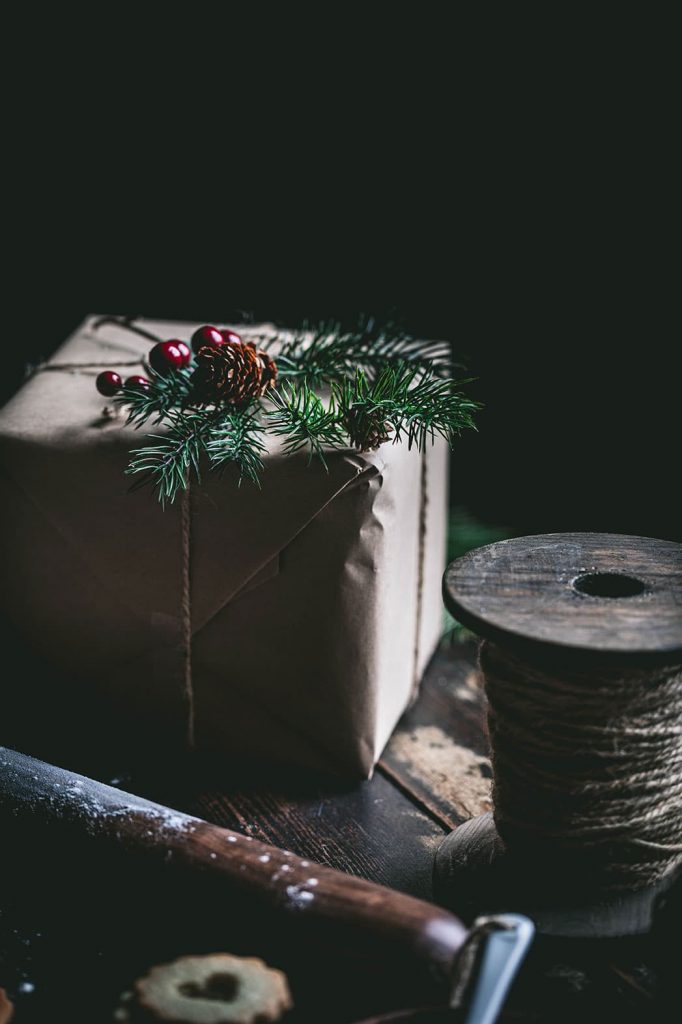 If you love the overhead shot below, I have to credit my C-stand.
A C-stand is a large, collapsable stand, equipped with a horizontal bar that I attach my camera to, in order to get really high overhead shots.I can raise my camera as high as 10 feet with the C-stand.
You can see an example of my C-stand setup in a previous post HERE.
If you've ever admired those wide, overhead shots of long tables filled with food and guests, the photographer more than likely used a C-stand.
It's worth having in your tool kit.
When the camera is at a height that is much higher than eye-level, you definitely need a way to see what the camera sees.
If you tether your camera to a laptop, that is one way to see the shot.
However, I recently discovered another neat tool that allows me to see the camera view via my smartphone.
I've been using Canon Connect , which is a free, application that transfers images shot with compatible Canon cameras directly to your smartphone or tablet via Wi-Fi.
I can dial up the camera view on my smartphone, adjust the camera settings and even snap the photo… all on the smartphone.
While on the subject of tools, here's one more.
It's called Photo Summary and it's an app that allows you to import a photo which then, also reads and displays the meta data that is attached to the photo.
This is pretty cool way to share camera and lens information along with any other relevant data you want to share.
You can add the display to your blog as I've done here, or add it to an Instagram post following the original photo.
I'm going to start using this on some of my Instagram posts to share camera settings and interesting notes regarding the photo.
In the meantime, here's a look at the photo setup I used for these Linzer cookies.
If this little corner looks familiar, it's because it's my favorite spot in my house for food shots.
I get a ton of natural light from this window and it really helps my photos shine.
Personally, I love a behind the scenes peek and I appreciate it when other photographer's pull the camera back and share their setups.
This rustic table has become one of my favorite props because it really gives the shot a rustic vibe that appeals to me.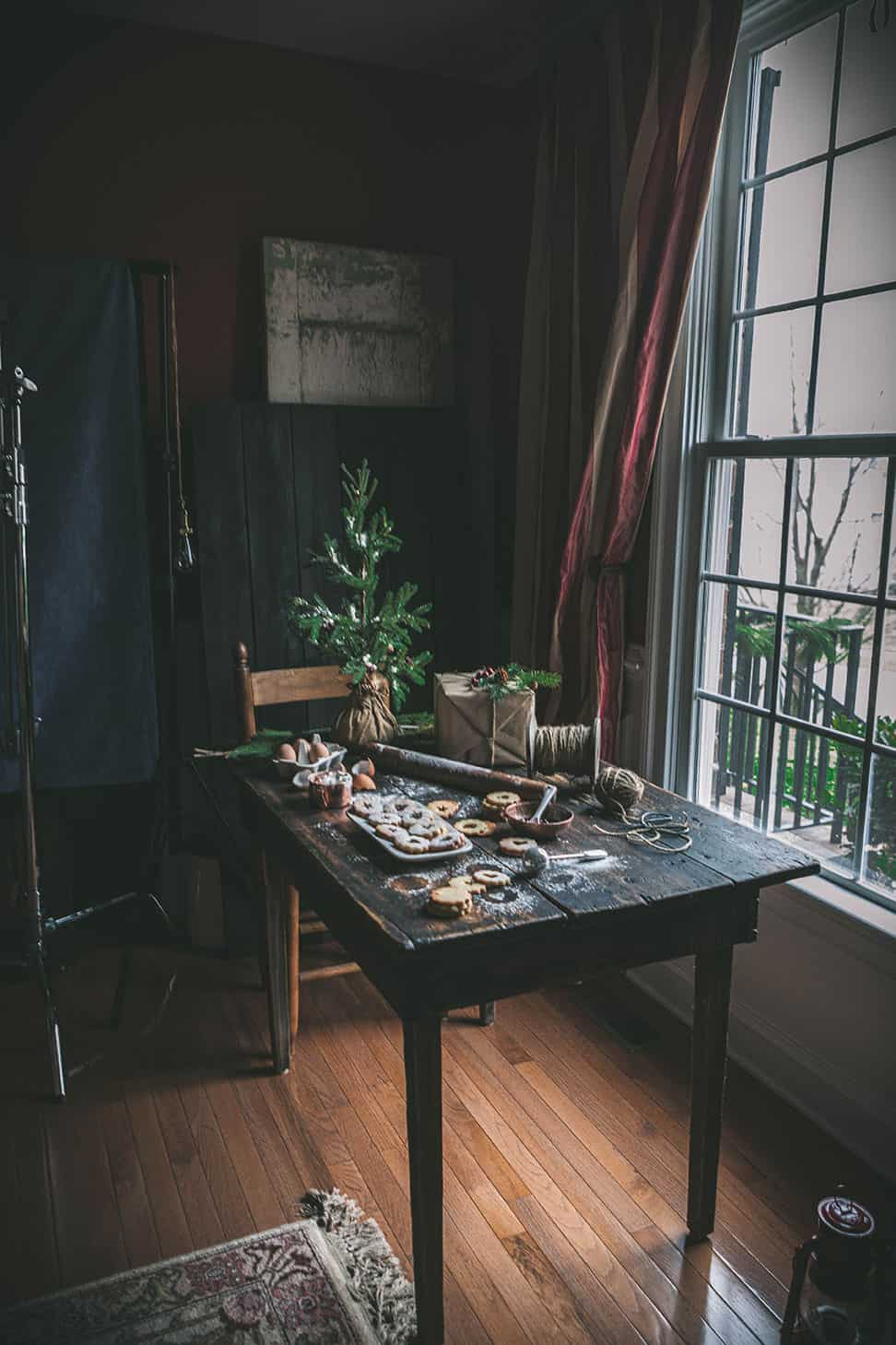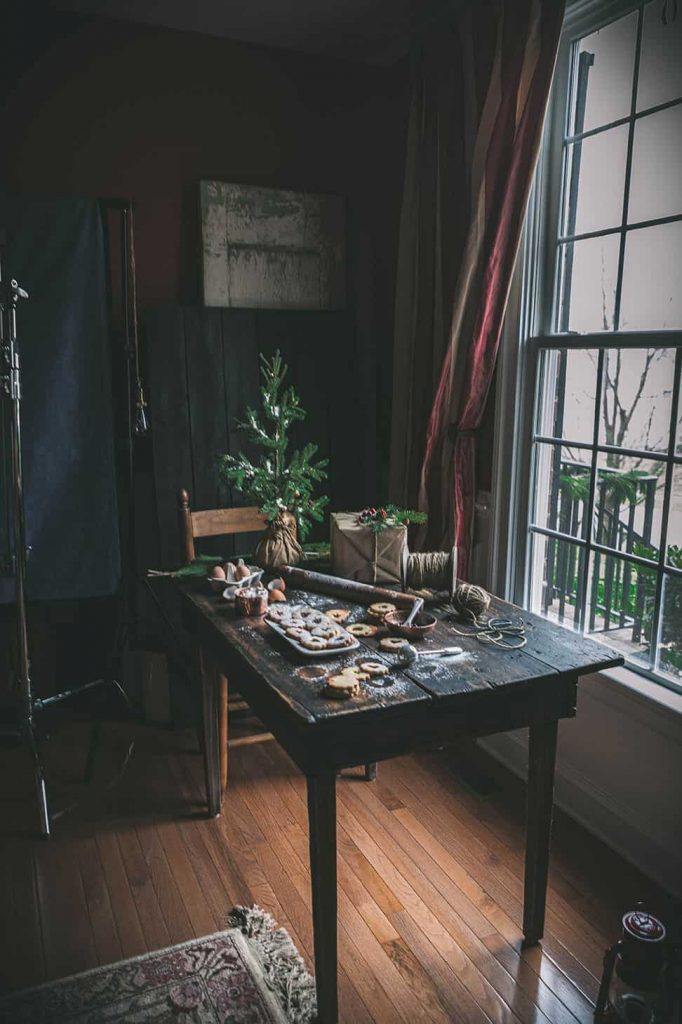 One of the things that I do when working through my food styling, is to find ways to incorporate the ingredients and tools used to bake/cook the dish.
When these elements are included, I think it helps to create immediacy and movement, making the shot look as if the cookies are still being whipped up exactly where you see them.
I'll let you in on another little styling secret.
I keep a Tupperware container filled with cleaned, empty egg shells (white and brown) that I can pull out and use for my styling whenever I need them.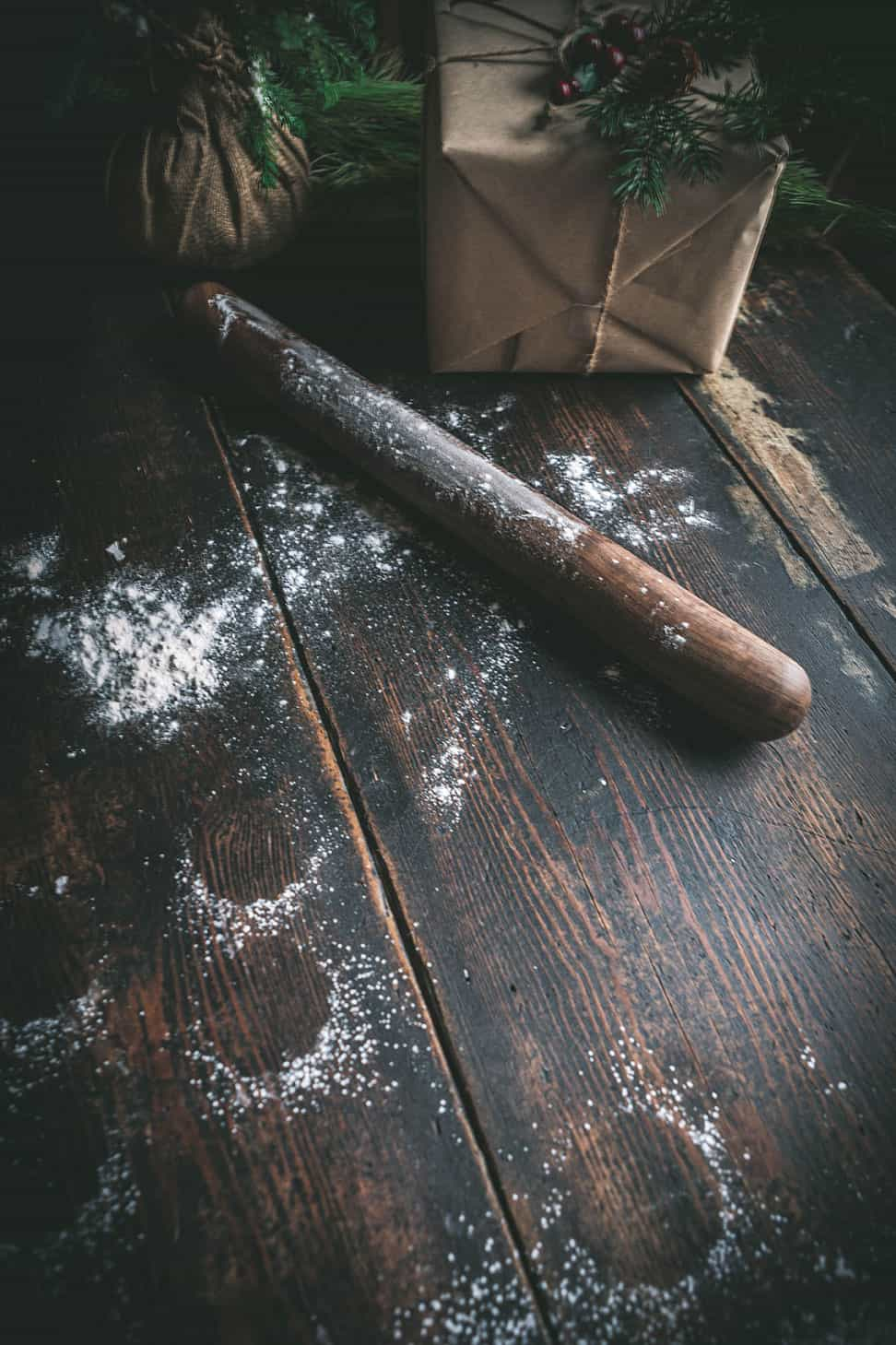 Even tossing flour directly onto the surface adds visual interest and immediacy.
If you add a rolling pin to your styling, be sure to rub a bit of flour onto it instead of leaving it bare.
Now, when you look at the rolling pin in this shot, it looks like I just used it, right?
Yeah, you'll have a wee bit of a cleanup afterwards but capturing that sense of immediacy is worth it.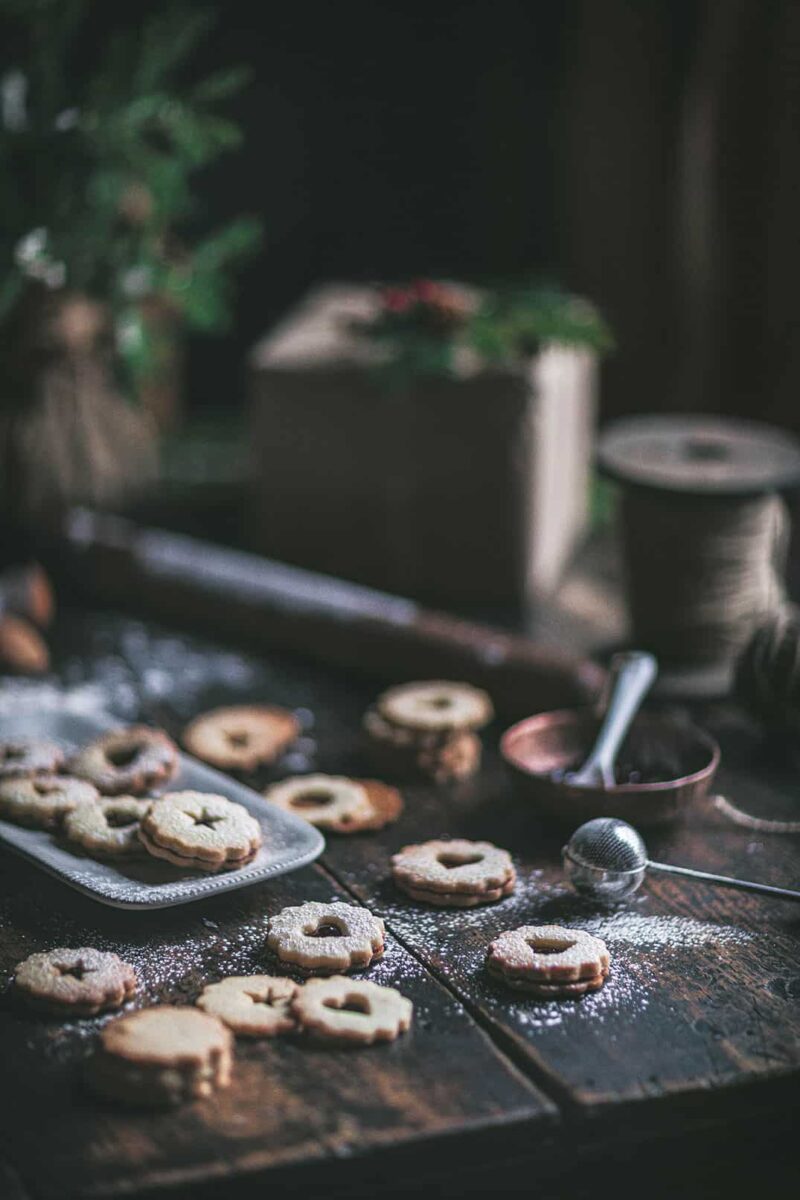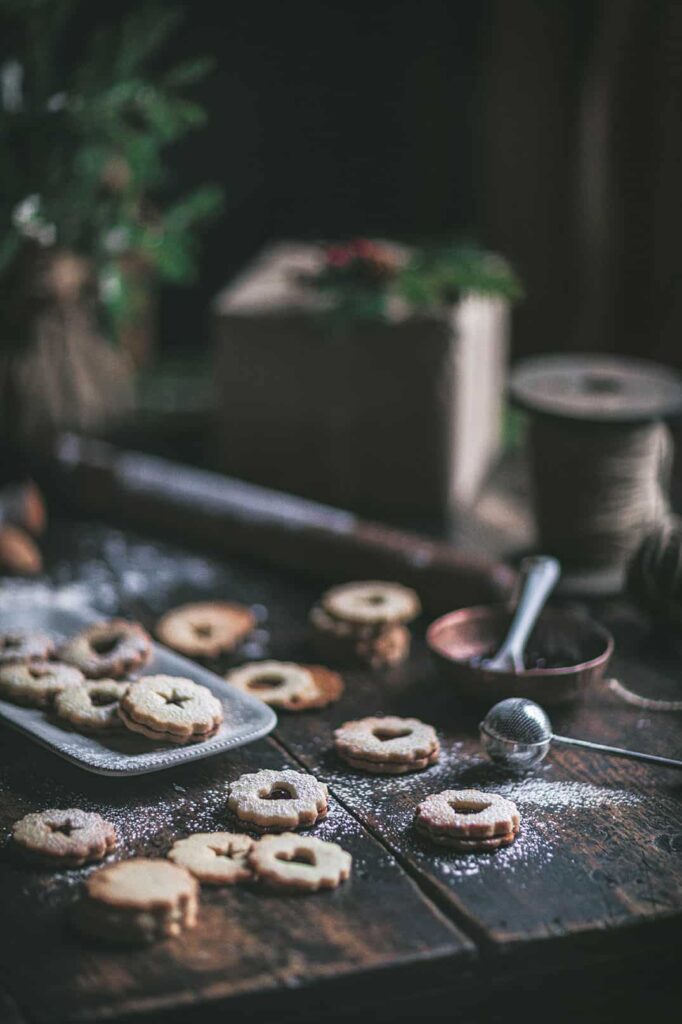 Thanks for popping by.
Happy holiday baking.
See you back here next time. ♥