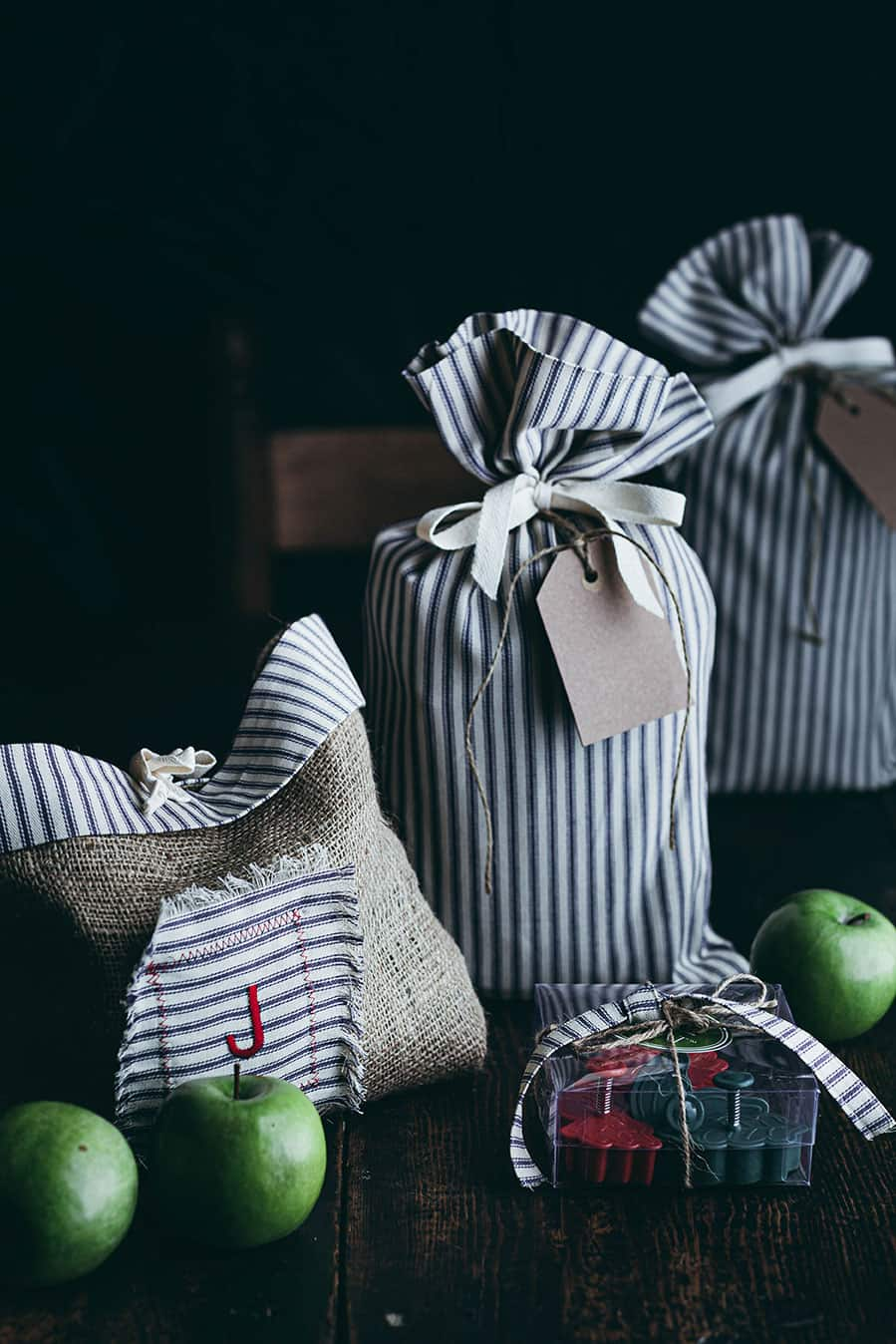 It's certainly not too early to start thinking about holiday gift giving.
That's especially true when it comes to creating something handmade or handcrafted.
I've been making homemade gift for years and I firmly believe, it doesn't take much to add a sweet, handcrafted touch to a gift.
I think these striped sacks are a great example of that.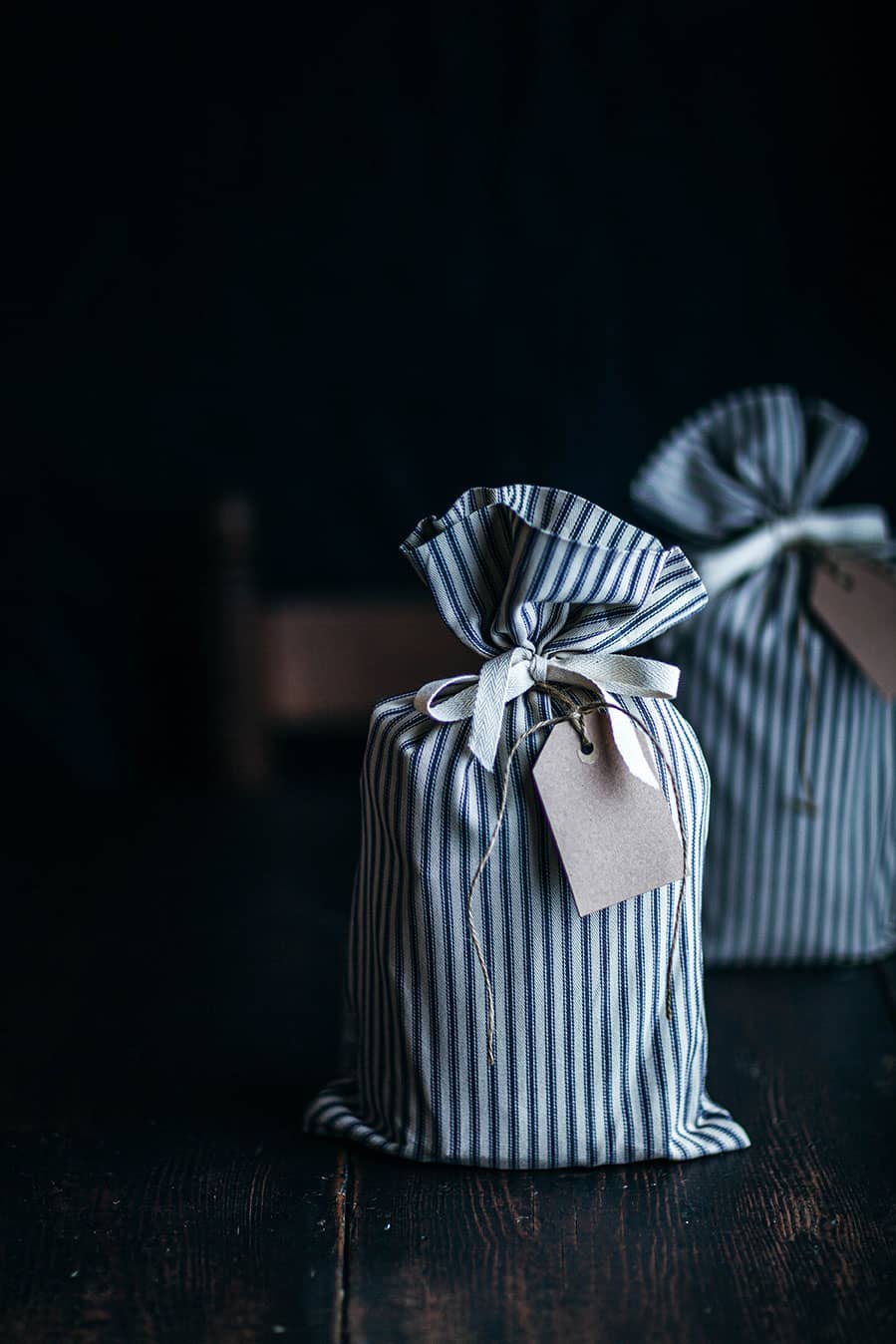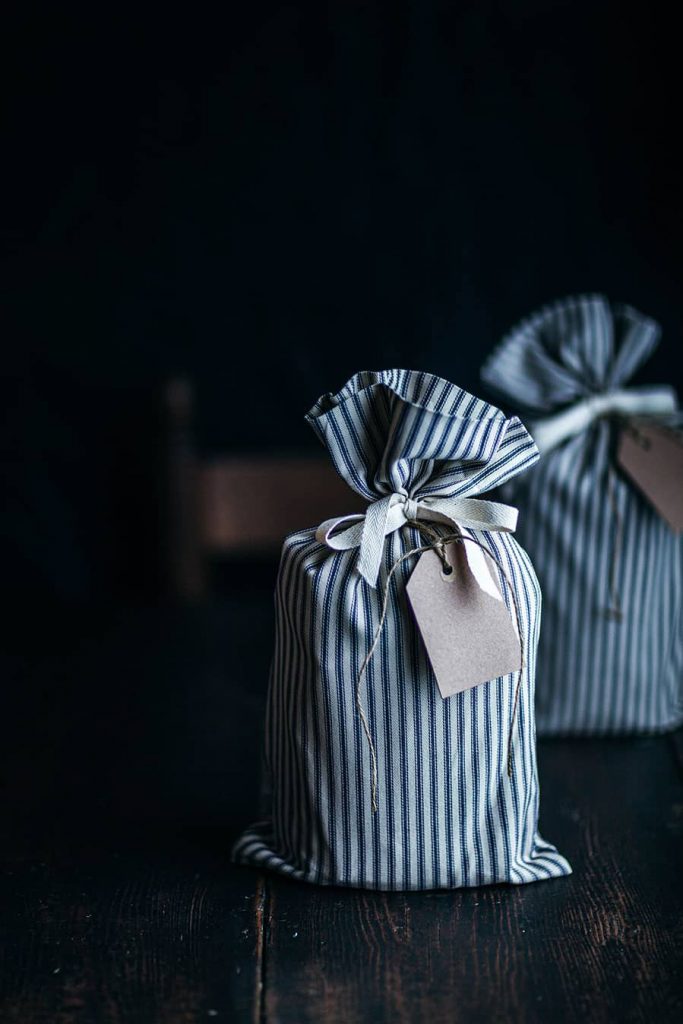 These sacks are filled with a store-bought pastry flour blend.
You can make these simple sacks in whatever size you need to fit whatever contents you want to place inside.
While these particular blue and white striped sacks were made as birthday gifts, this idea can be easily adapted for the holidays.
In fact, you can take a look at my similar holiday sacks from previous posts, HERE and HERE.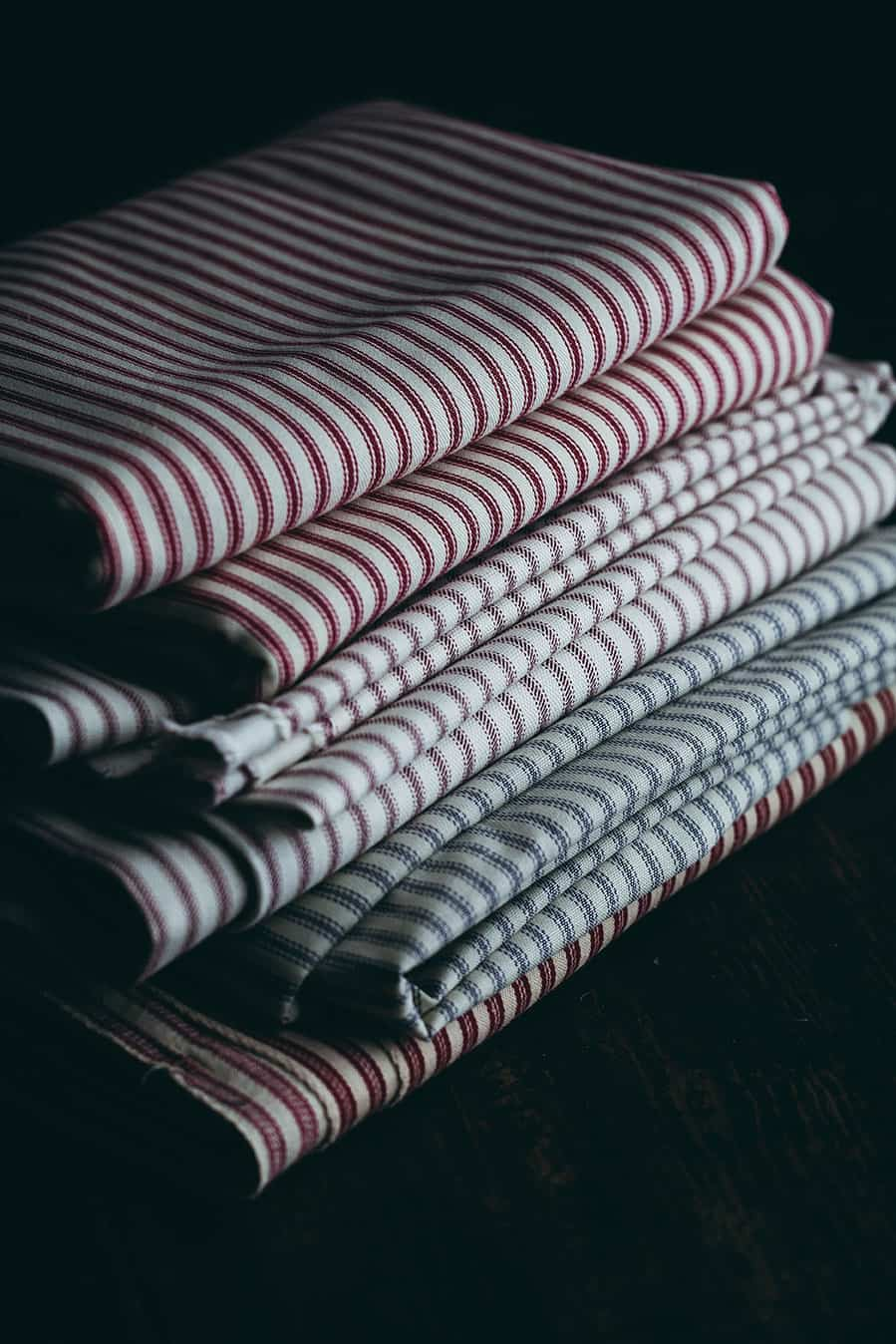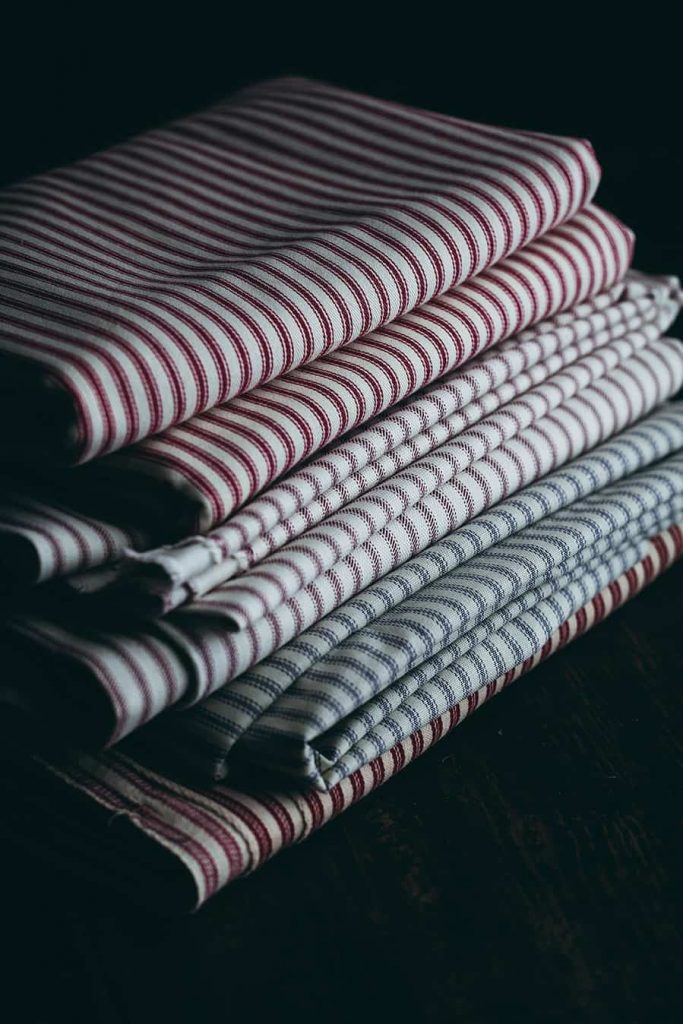 Of course, you can use any type of fabric you want to, for this project.
The stack in the photo above is a cotton fabric called "ticking" and I think it evokes a vintage and old-fashioned sensibility.
You can find ticking at most fabric stores including Joanne's.
Be sure to click over to my previously mentioned links to get the full directions on making these sacks.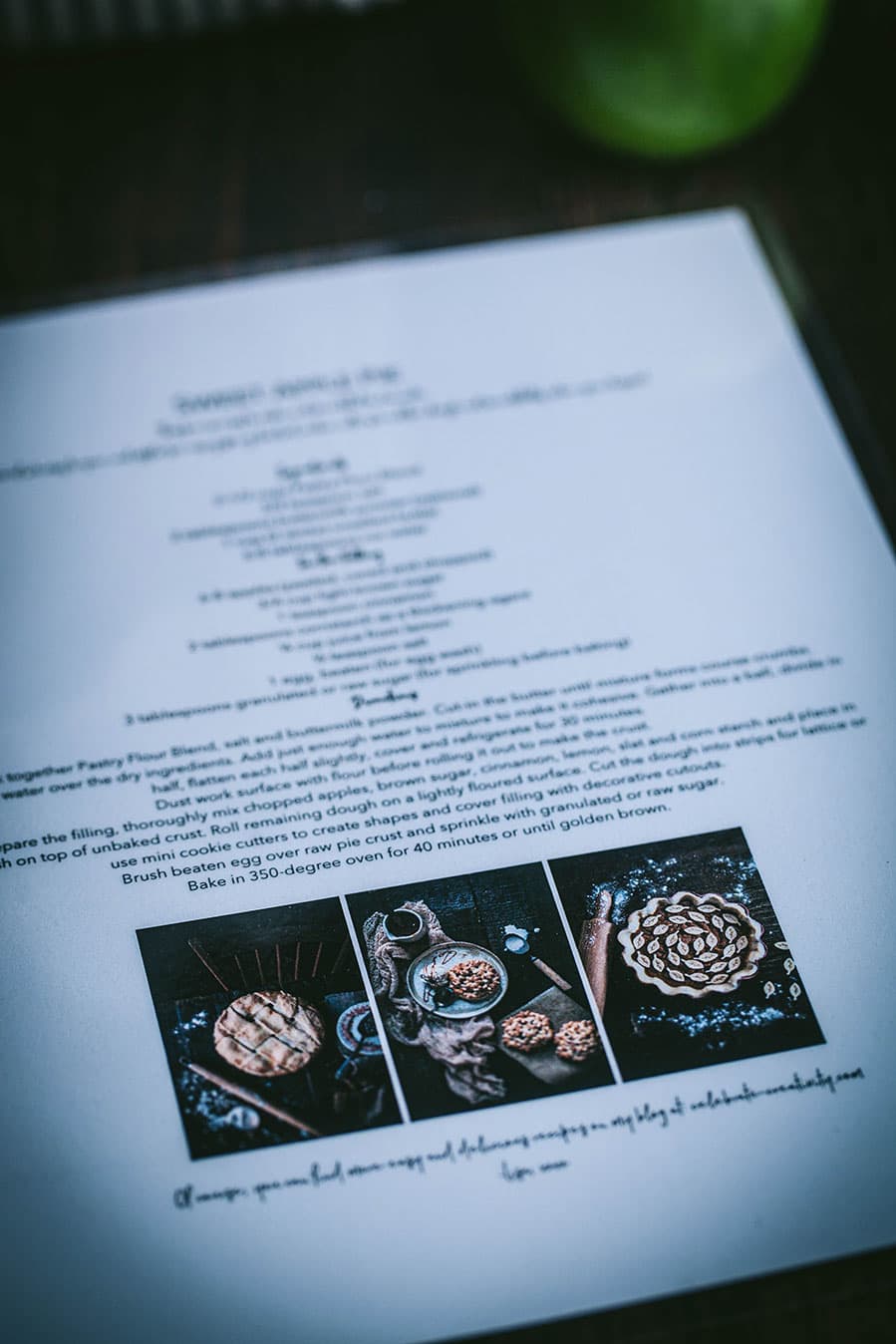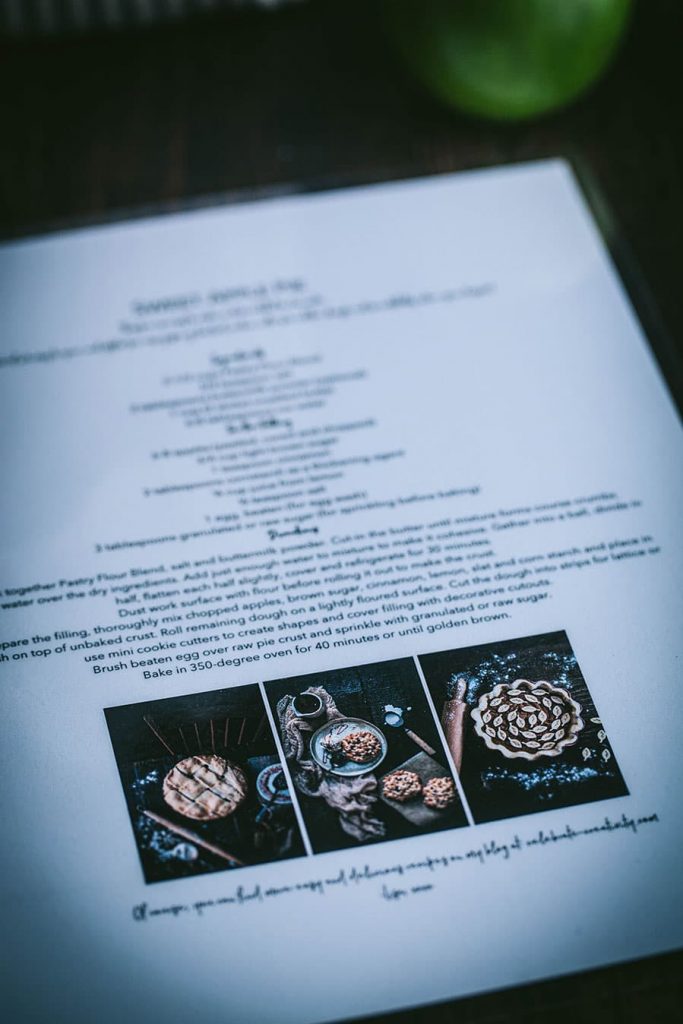 I really wanted to elevate this particular (birthday) gift so, I decided to add a laminated copy of a favorite apple pie recipe along with a handcrafted burlap bag, filled with 1/2 dozen Granny Smith Apples.
Providing the gift recipients with all the main ingredients needed for the recipe, makes the offering that much more unexpected and quickly usable.
Just print out the recipe and take it to your local office supply store to get laminated.
By the way, if you like the trio of photos at the bottom of this laminated recipe card, you can find my lattice-feathered pie HERE, and the recipe for the hand pies can be found HERE and my leaf-covered pumpkin pie is HERE.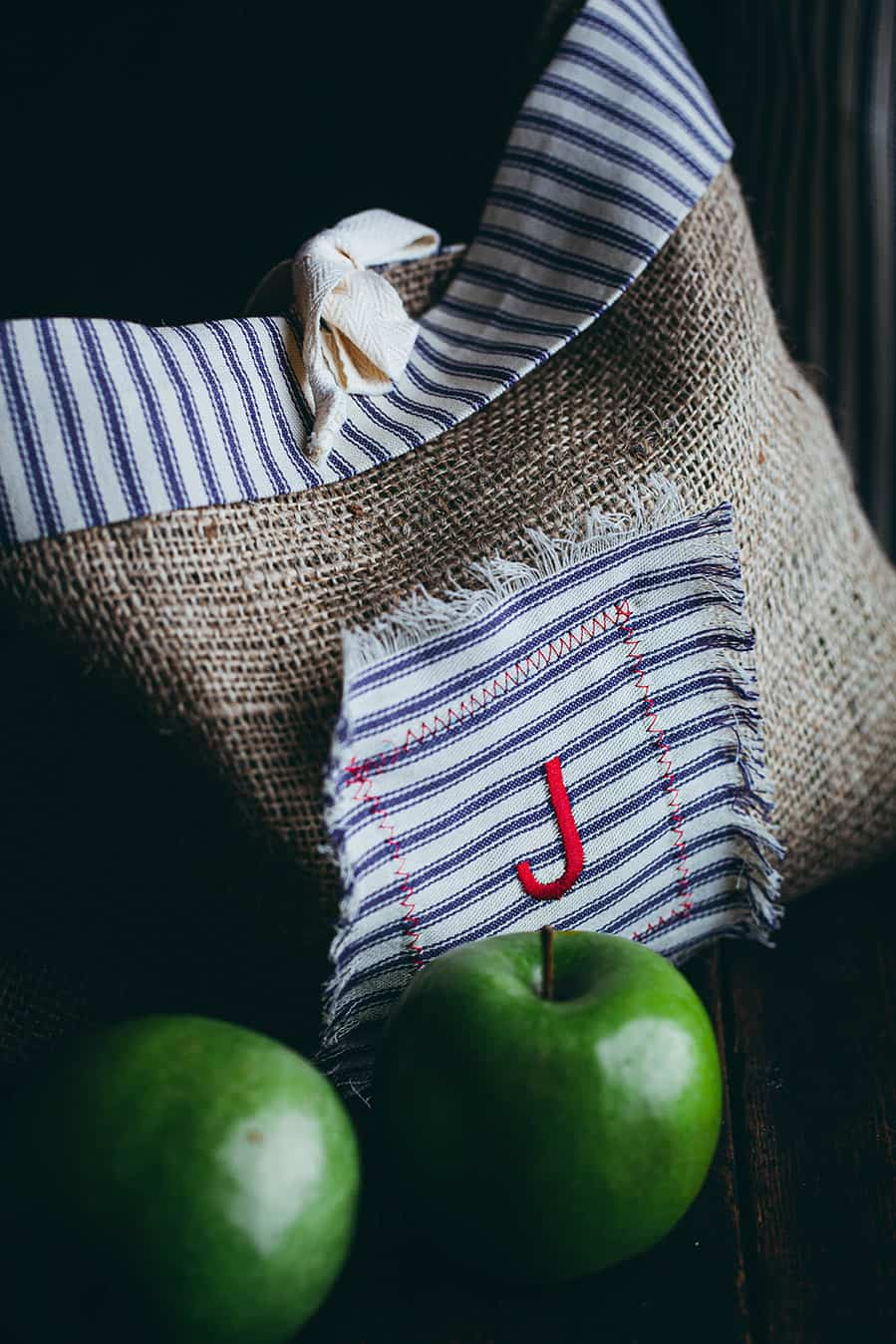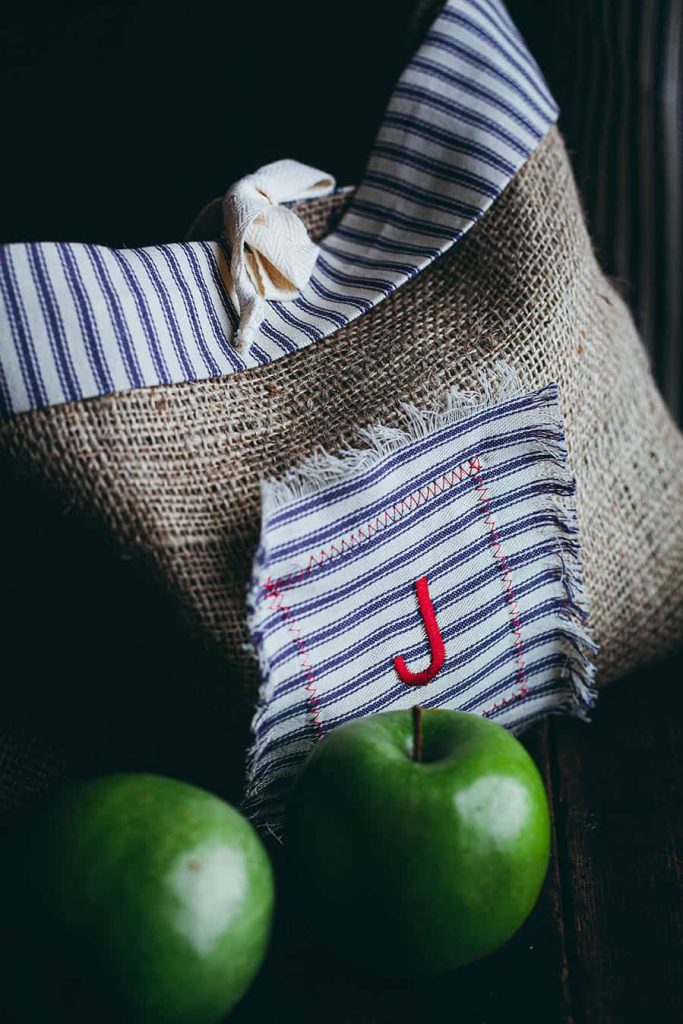 Meanwhile, I also attached an embroidered piece of the ticking fabric to the burlap apple sack with ticking trim, just to tie all the homemade elements together.
If you're you're considering buying a home embroidery machine this holiday season, I've written a great post to help you settle on just the right one.
You can read that previous post on buying a home embroidery machine HERE.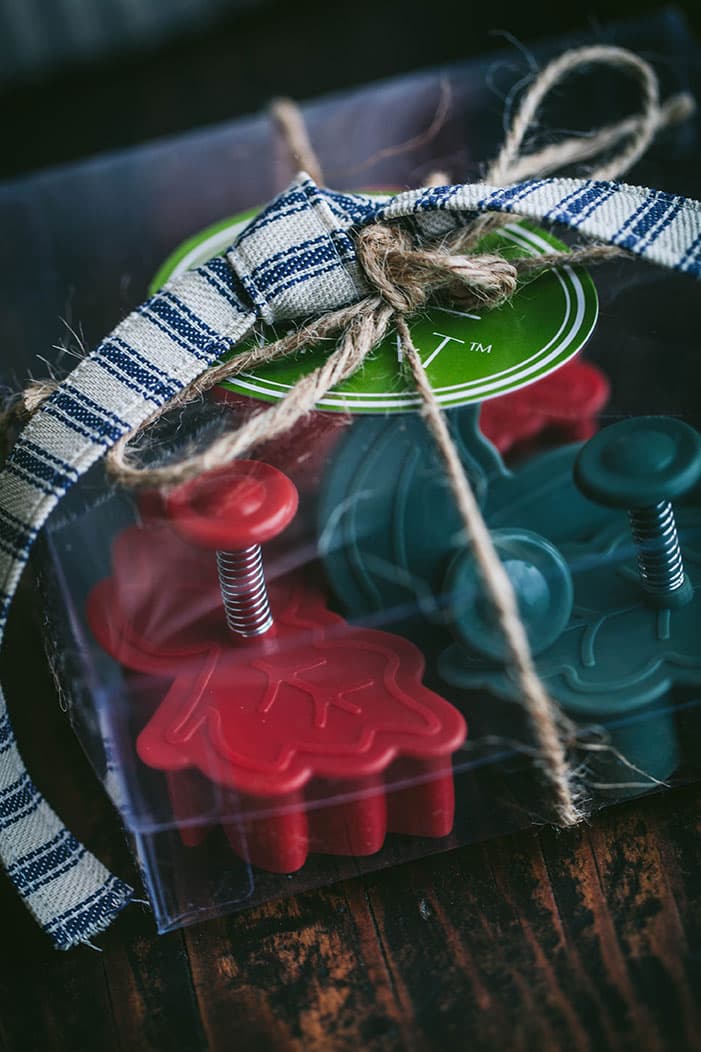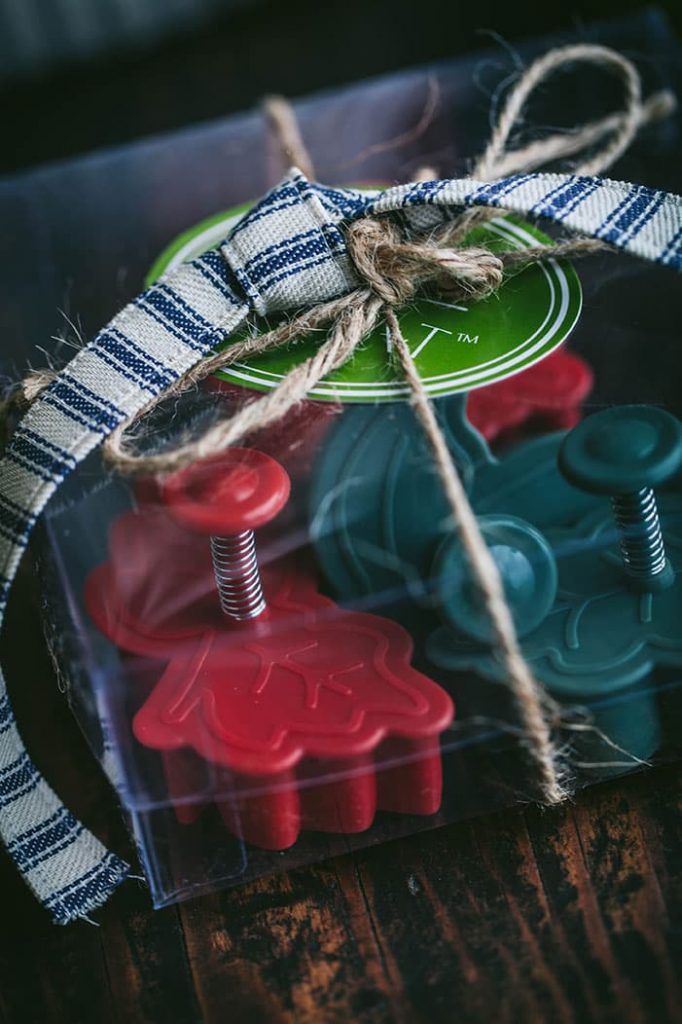 Consider one final inclusion to the gift in the form of a little box of leaf cookie cutters (with a matching ticking fabric ribbon).
These cutters can be used to cut out pie dough and and adorn the center or crust with little leaves.
If you buy a set as a gift… be sure to buy yourself a set too, to dress up your Thanksgiving or Christmas pie.
Top off your handcrafted gift with an easy gift tag.
These alphabet rubber stamps are good to have in your crafting toolbox.
I enjoy making gift tags and several years ago, I made the cutest, vintage-inspired holiday tags.
You can check them out in my previous holiday post, HERE.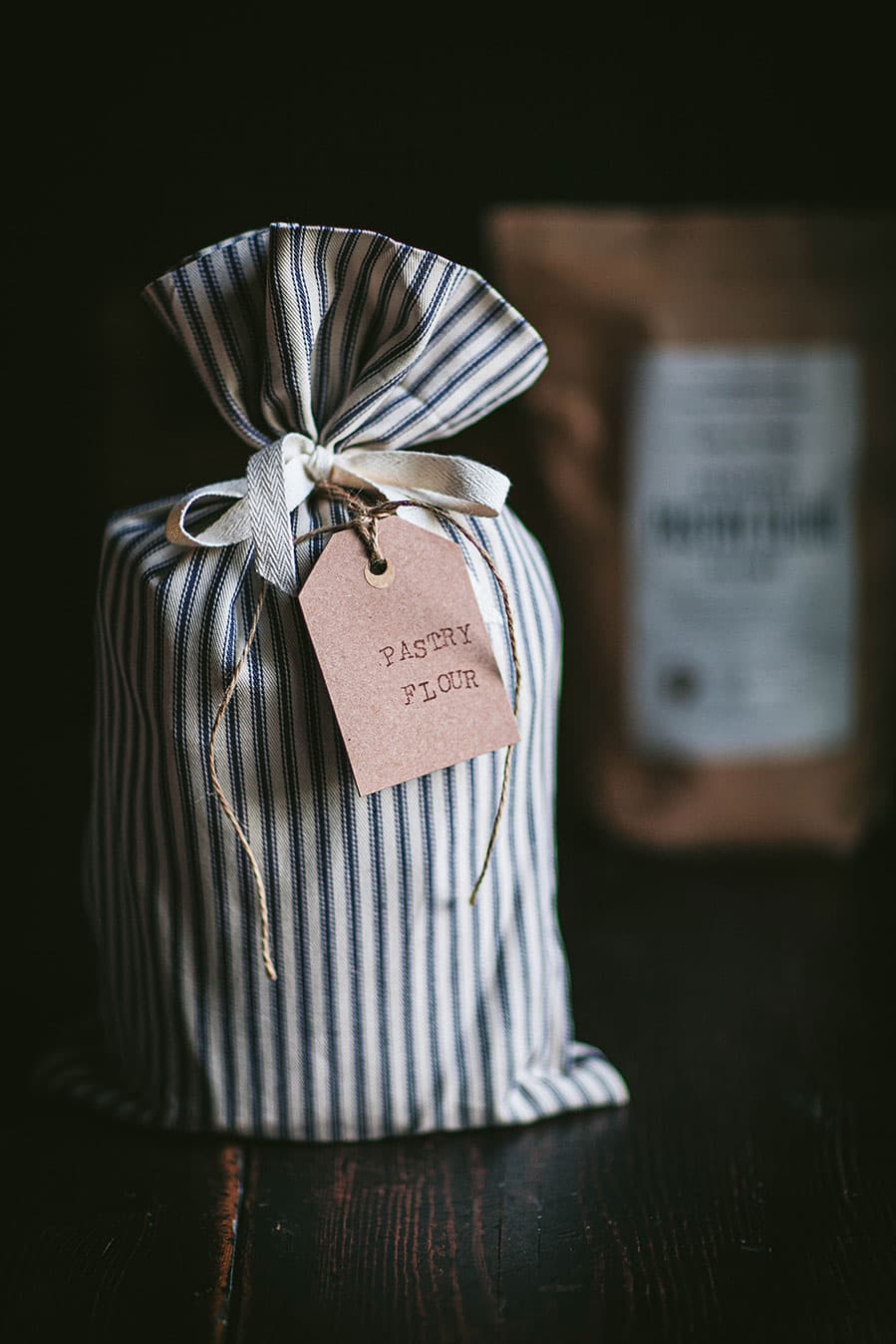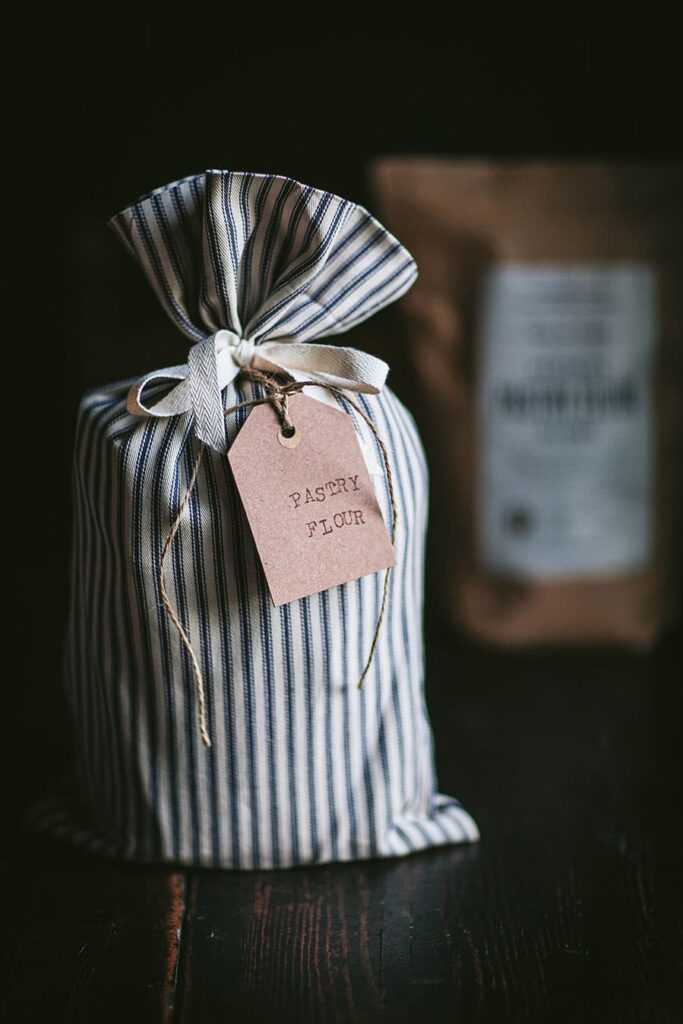 I hope you're inspired to give this gift sack a try.
Thanks for popping by.
See you back here next time.
Happy holidays.♥