The only thing I love more than making handcrafted projects…. is gifting handcrafted projects.  This easy cookie sack project is one of my favorites and I think when you see how simple it is to make, you're going to love it too.
In this, Day 16 of my 25 Days of Christmas holiday series I'll not only walk you through the construction process but I'll also share a few of my earlier versions of this adorable gift cookie sack.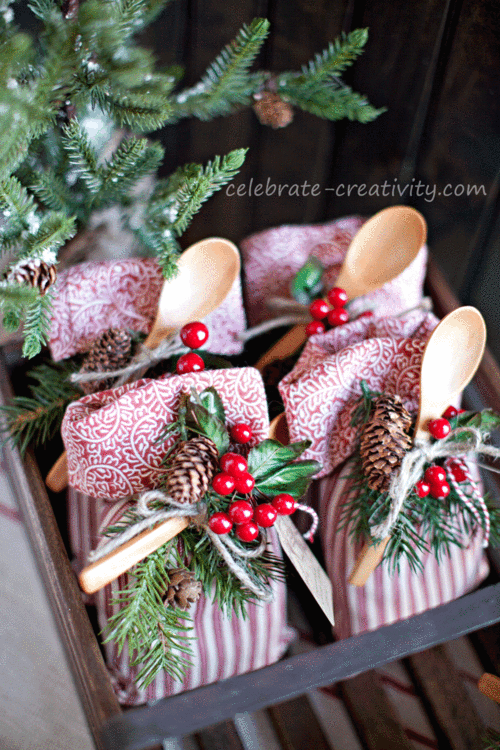 Look how pretty these sacks look lined up all ready to be handed out to friends and loved ones.
I think you'll find yourself making these cookie sacks over and over again.
MY HANDCRAFTED COOKIE GIFT SACKS FROM SEASONS PAST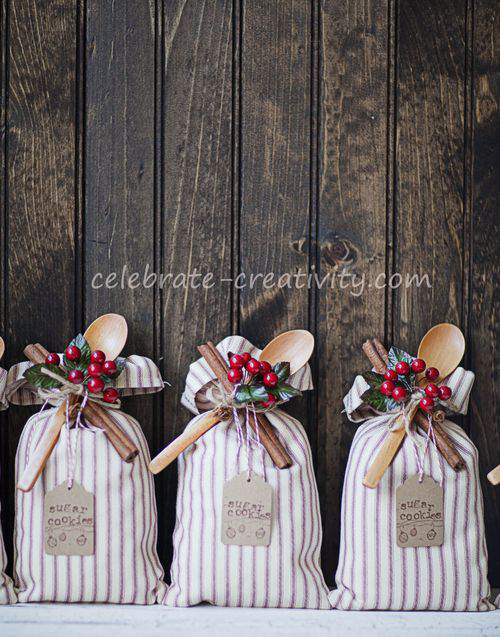 Allow me to share a few of my earlier incarnations of this cookie sack which can be tailored to suit any season or occasion.
Here's a look at the cookie sacks I made last year.
Several years ago, I made these cookie sacks and embroidered a Hummel image on the front of some of the sacks and hot-glued fabric ornaments on others.
These made for wonderful teacher gifts that year.
TIP:  You could also just make plain cookie sacks without any embroidery and very little embellishment for a very simple but elegant presentation.
That same year, I also made personalized aprons with matching embroidered image to gift along with the cookie sack for several elementary school teachers.
They adored the gift set and really appreciated the handcrafted effort.
Here is one more version of my fun cookie sack that I made earlier this year as a contributor project for the digital magazine, Celebrating Everyday Life with Jennifer Carroll.
As you can see, you can change the tone of the cookie sack to suit any time of year depending on the fabric and embellishments used.
NOTE:  I'll share more photos of these burlap cookie gift sacks later in an upcoming post.
OK, getting back to the holiday cookie sacks this year, I've changed the sacks up just a bit this year by using contrasting fabrics so that the top of the cookie sack is different from the lower portion.
Start by cutting two strips from each fabric that measures @6-inches wide by 25-1/2 inches long.
With right sides together, sew two contrasting fabrics together along the 6-inch edge.
Use a 1/4-inch seam allowance.
Repeat with second set of contrasting fabrics.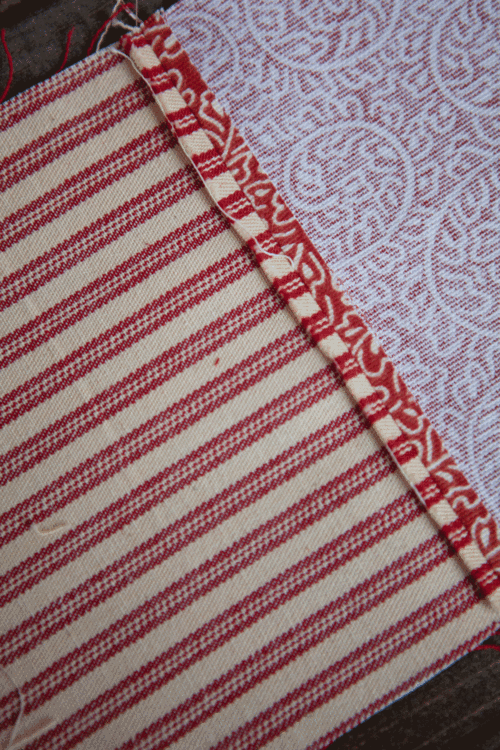 This is what the two sets of contrasting fabrics should look like.
Pin right sides of these two fabrics together and stitch 1/4-inch seam all the way around the fabric leaving one 6-inch wide edge open.
The 6-inch edge that remains open is the fabric that will be seen at the top of the finished cookie sack.
Turn the sack inside out (like a sock) which will give you one long tube.
Turn the open edge of the sack over about 1/4-inch and top stitch across the top… closing the opening.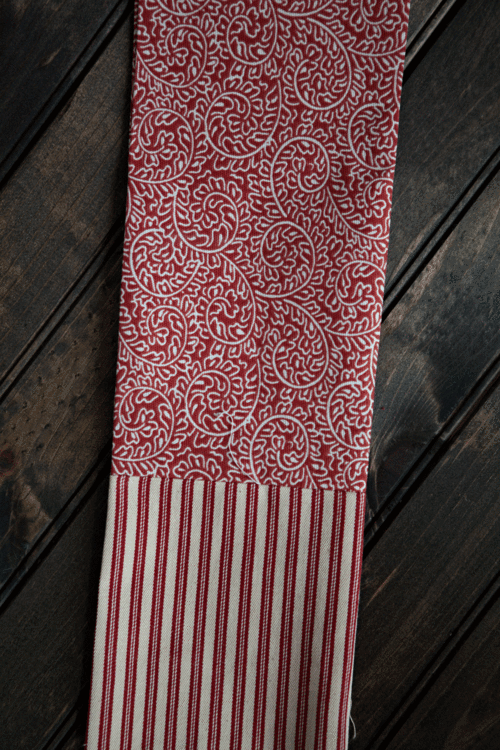 Push the edge you just top-stitched down inside the tube which creates the sack.
Fold the top edge over about 5-6-inches and iron.
You have now created a lined, cookie gift sack which you can fill with pre-packaged, store-bought cookie mix.
I think the thing that really makes these cookie sacks sing, is the variety of embellishments used to decorate them.
Jute, baker's twine, artificial pine needles, holly berries and mini wooden spoons are just a few holiday-themed additions I incorporated.
NOTE: I found these woodens spoons years ago at Joanne fabrics and crafts.  However, you can also find the spoons on line if you google mini-wooden spoons.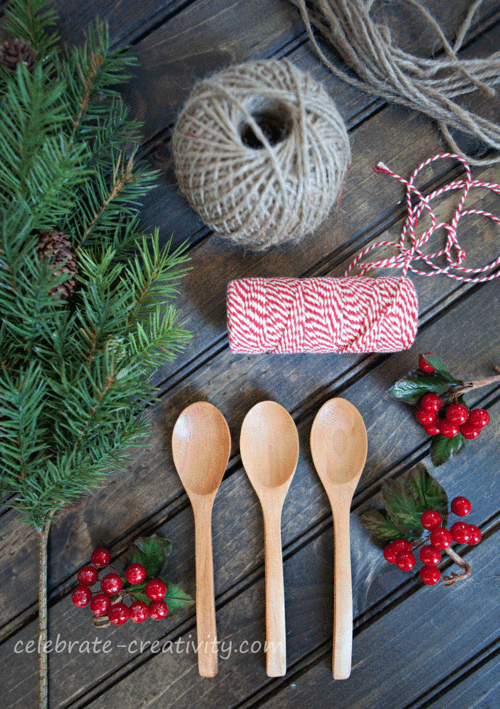 Use a punch to cut out tags from khaki-colored cardstock.
Add a rubber stamp image and hand letter a description of the cookie sack contents.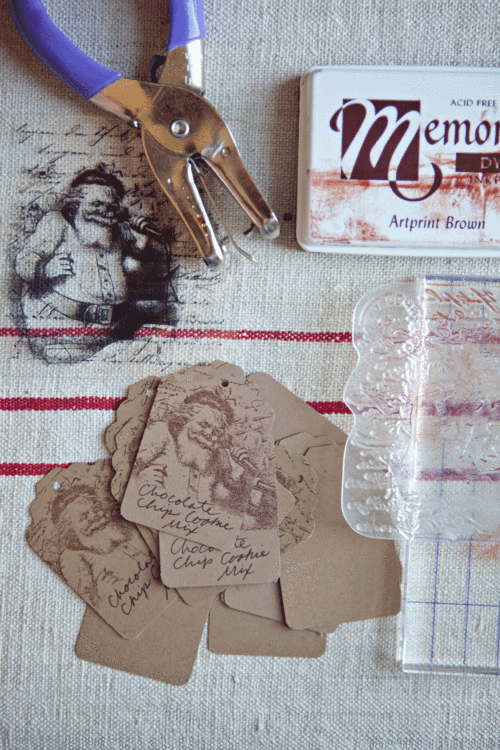 I always fill my cookie sacks with store-bought cookie mix because it's just easier since the boxed mixes are already packaged and sealed.
Make sure you make multiple copies of the cookie mix instructions from the back of the box.
Slide a copy of the instructions down into the back of the cookie sack so gift recipients will know what to do with it.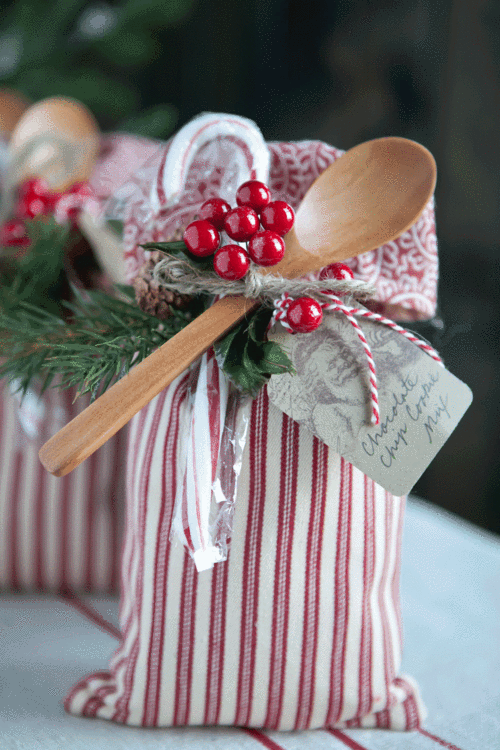 Use jute to attach all the festive embellishments to the cookie sack.
Tie the tag in place using a small piece of peppermint-colored baker's twine.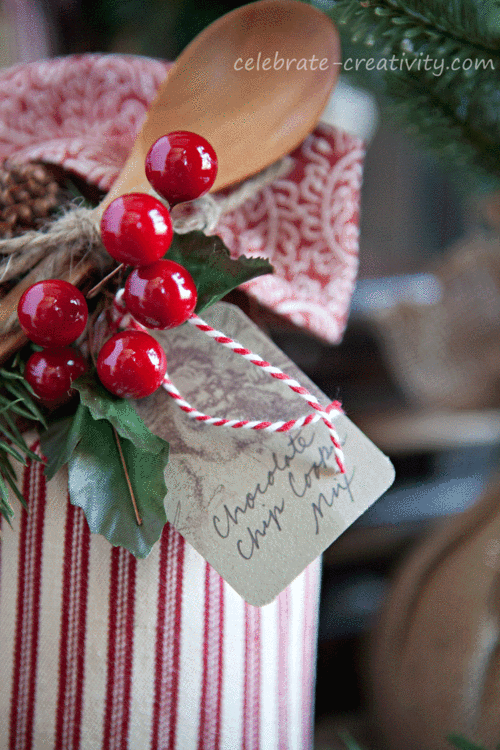 I think this is the kind of handcrafted gift item you will find yourself making over and over again.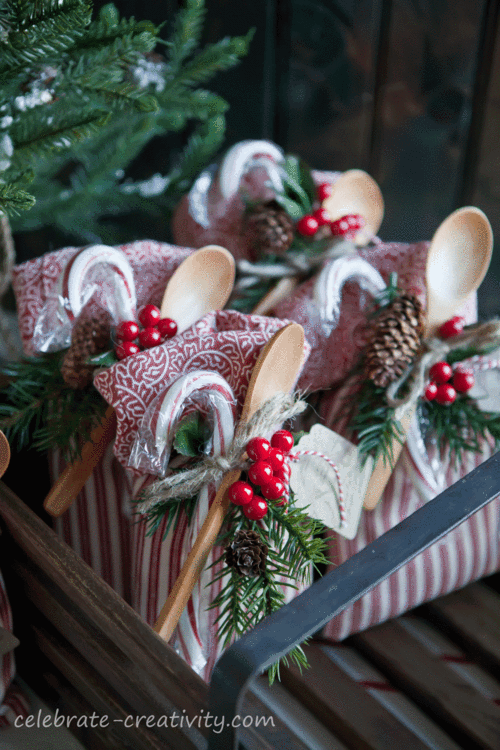 It's so simple and it makes for such an original and unexpected gift.

Day 16 down, 9 more days to go.
We're getting close to the end of this holiday series but I still have more to share.  Stay tuned for more inspiration ahead.
If you missed any days in this series so far, here's a look at:
Day 1|Day 2|Day 3|Day 4 |Day 5|Day 6|Day 7|Day 8 |Day 9|Day 10 |Day 11 |Day 12 |Day13 |Day 14 |Day 15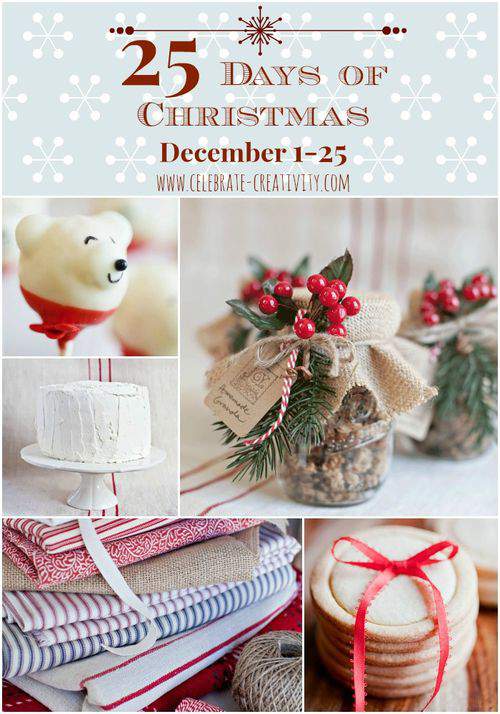 Hope you stop by again tomorrow (12/17) for Day 17 of my 25 Days of Christmas series.
See you then. ♥
I'm linking this gift cookie sack project to the following: