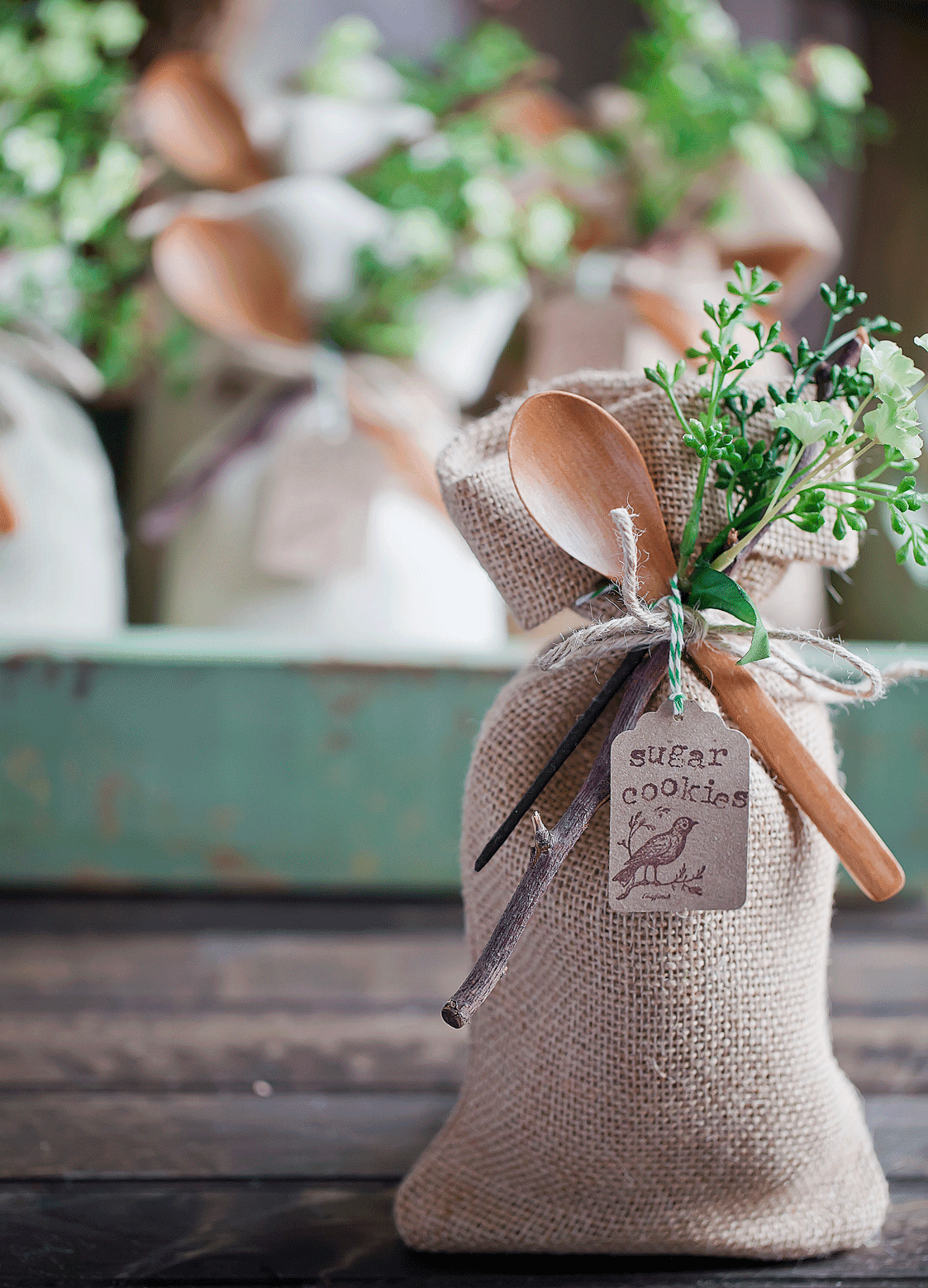 In my neck of the woods fresh layers of sleet and freezing rain greeted me this morning. Enough already, right?
I think it's safe to say, we're all probably ready for Spring.
While we keep our fingers crossed warmer temps to arrive sooner rather than later, perhaps these pretty spring cookie mix sacks will warm you up a bit.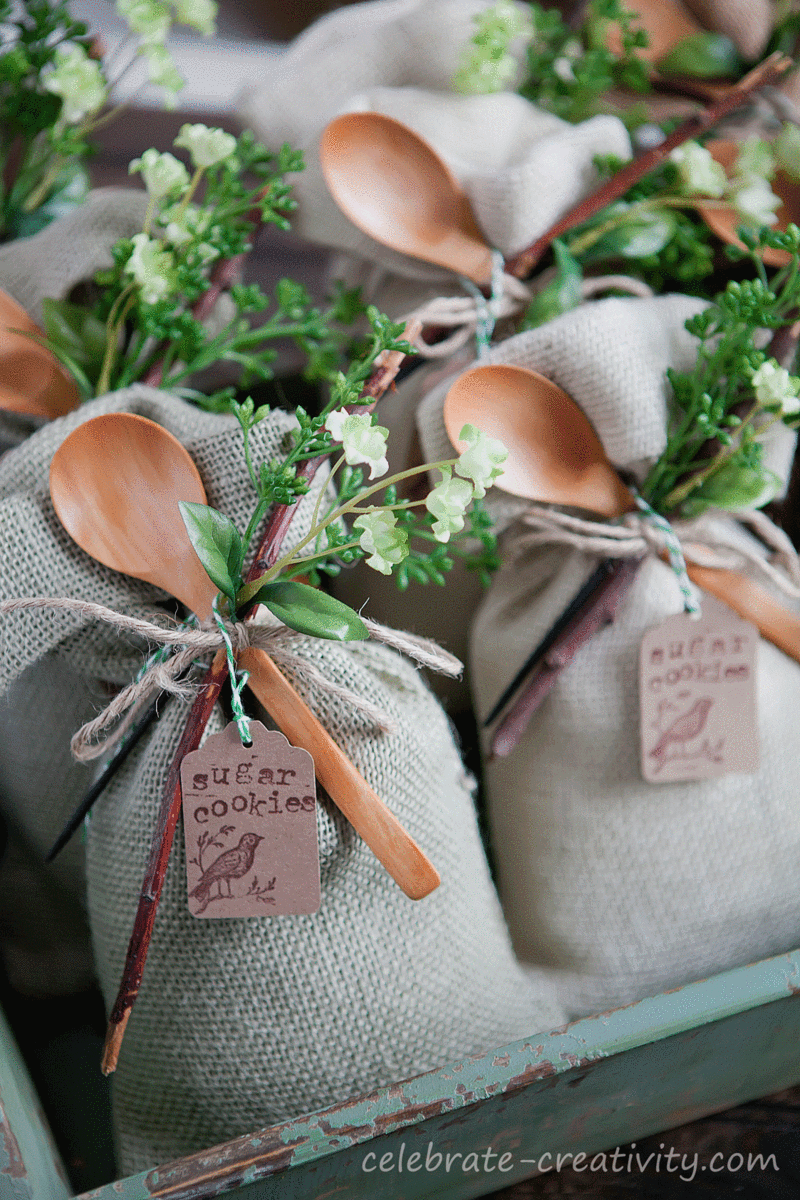 I've made several of my signature, cookie mix gift sacks over the years and they all look different.
Depending on the fabric and embellishments used, these easy-to-make gift sacks take on a whole new persona.
I love these cookie mix sacks because they're not only super simple to make but they can also be tailored to fit any theme you like with just a few tweaks.
You can see what I mean with a look at a few other variations of my cookie mix sacks if you click here.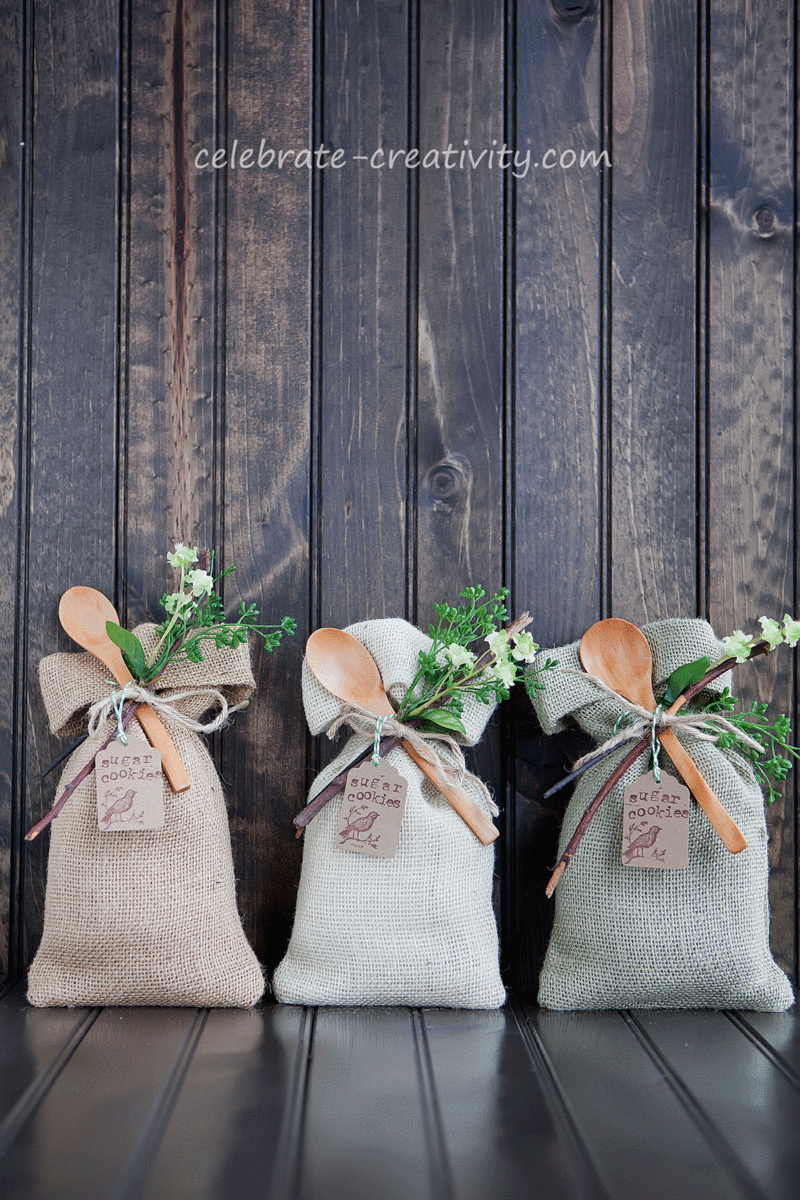 Of course, you can use any type of fabric but for these Spring-Inspired sacks, I opted for the wonderful, rustic texture of burlap.
I love that burlap comes in so many different shades now and these light hues provide just enough soft color to remind me of the warm temps of an impending Spring season.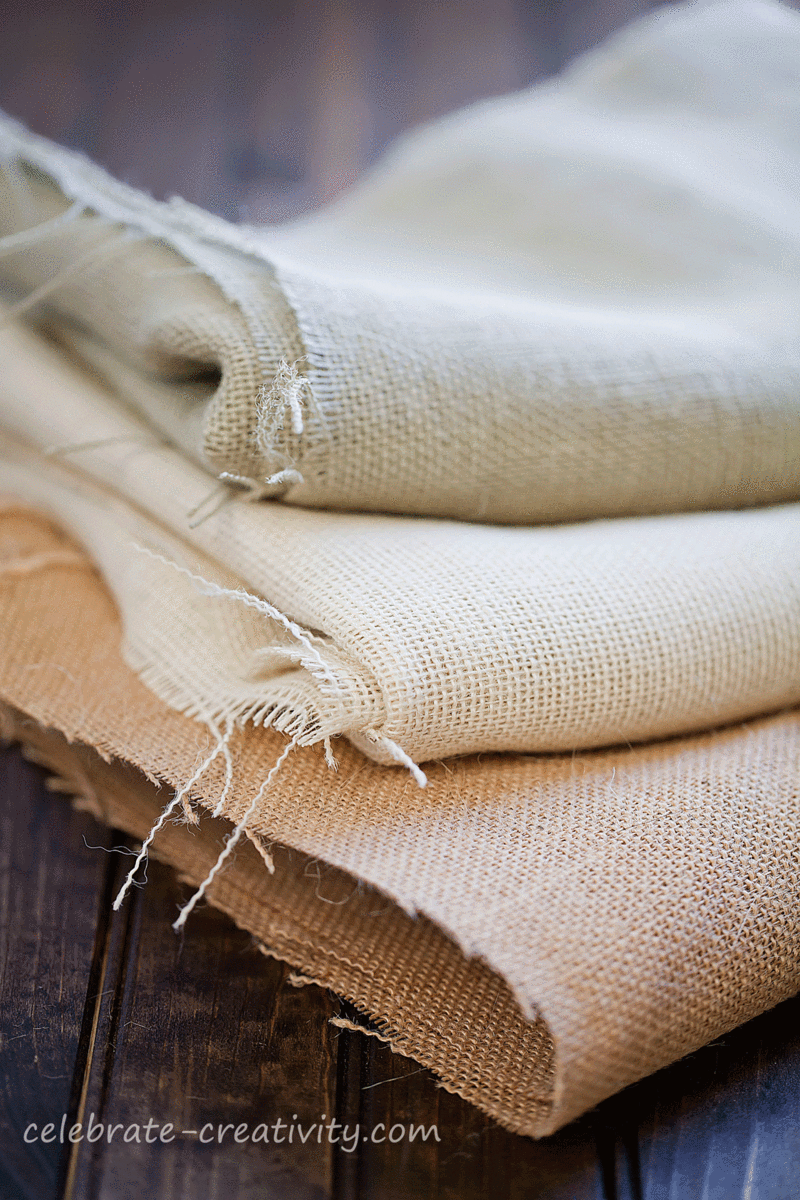 For each cookie mix sack, cut TWO strips of burlap measuring 6″ wide X 25″ long.
Put the two strips together and stitch a 1/4″ seam allowance along three sides leaving the fourth (one of the shorter edges) open.
This will create a closed, sock-like tube with an open end.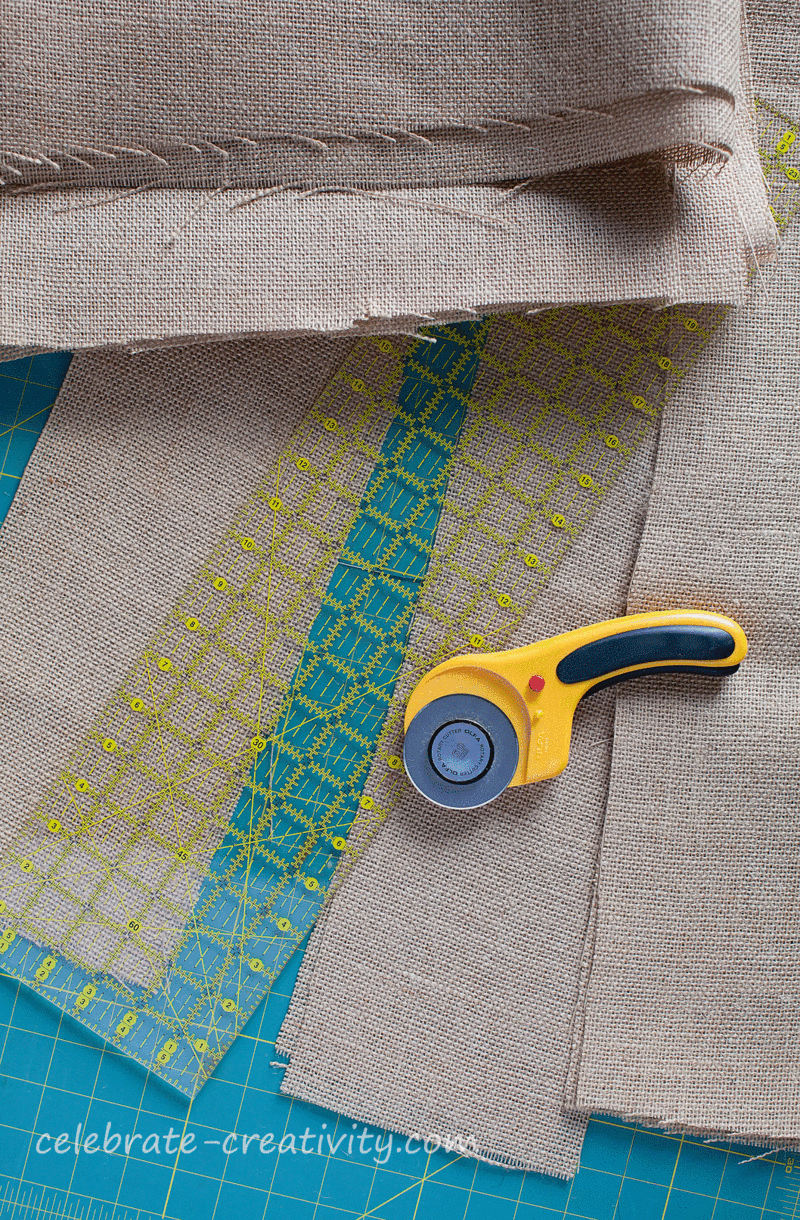 Turn the tube inside out, almost like you were turning a sock inside out.
Then turn the open edge over about 1/4-inch and stitch closed. This creates one long, sealed tube.
Push the shorter width edge that you just stitched closed, down inside the tube.
This creates a fully-lined tube that is roughly half the size of what you started out with.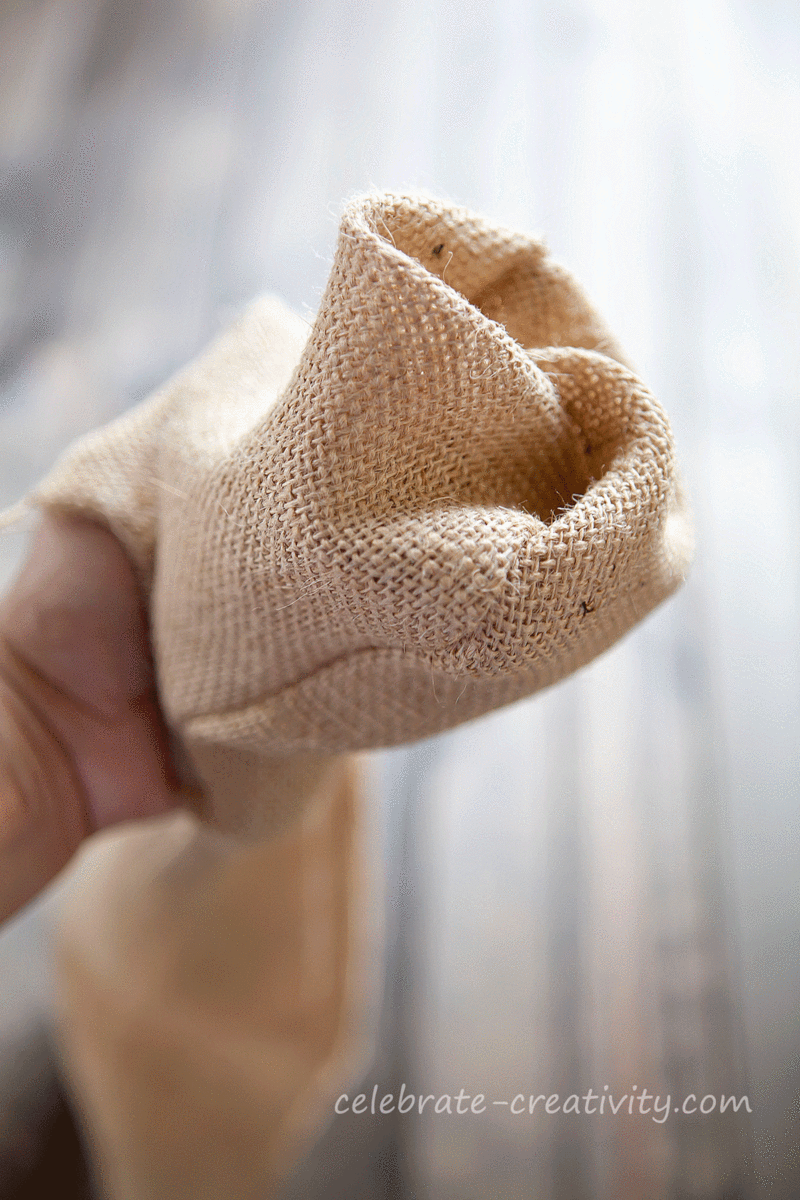 Fold the top of the tube over about 2-3 inches to create a cuff and iron with a good steam iron.
Because this burlap fabric is already pretty stiff, no need to top-stitch along the top of the cookie sack.
I always fill my sacks with store-bought, boxed cookie mix because it's just easier since the mix is already safely packaged.
NOTE: If using store bought mix, don't forget to type out the baking directions from the back of the box and insert a copy of the directions into the back of the sack so gift recipients will have that important information.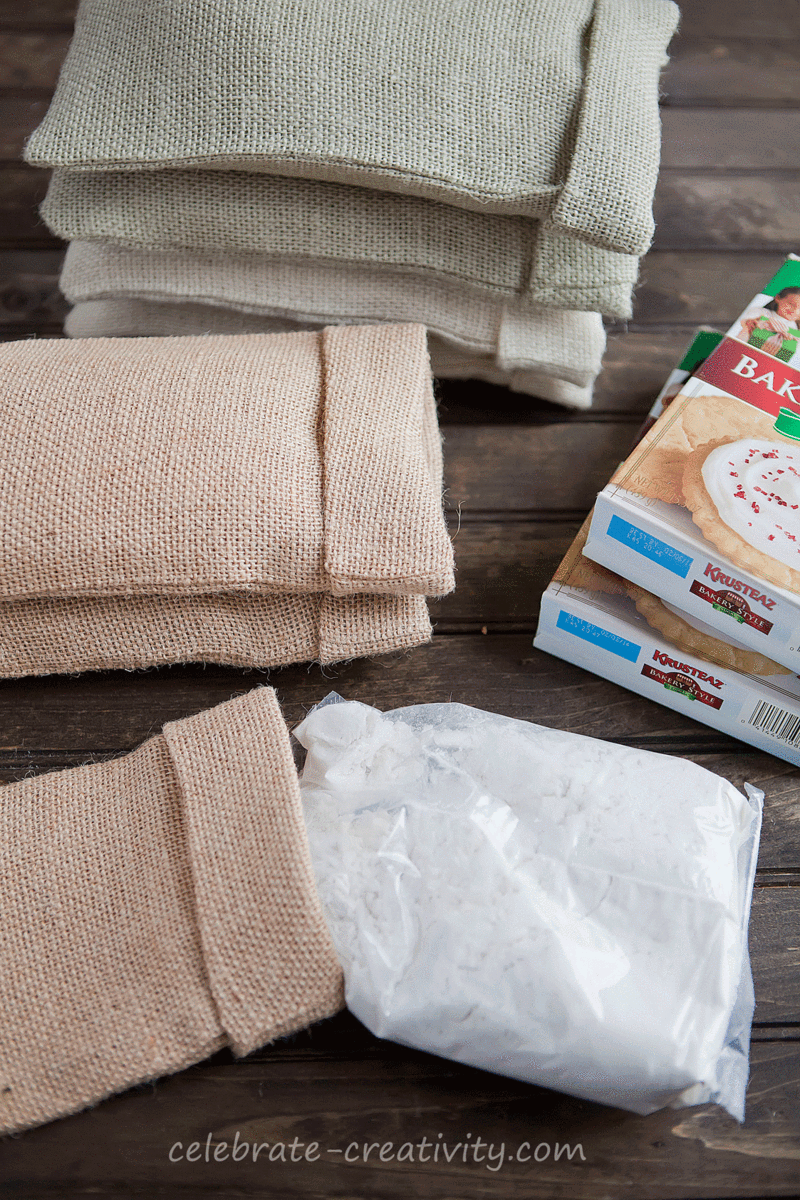 Now comes another fun part and easy step.
Embellish the gift sacks to suit whatever theme you're trying to achieve.
I used jute, small twigs found in the great outdoors and mini wooden spoons.
NOTE: I originally found my wooden spoons at JoAnne's Fabric and Crafts store but these spoons are also available from a number of on-line sources. Just google "mini wooden spoons" and a ton of options will come up.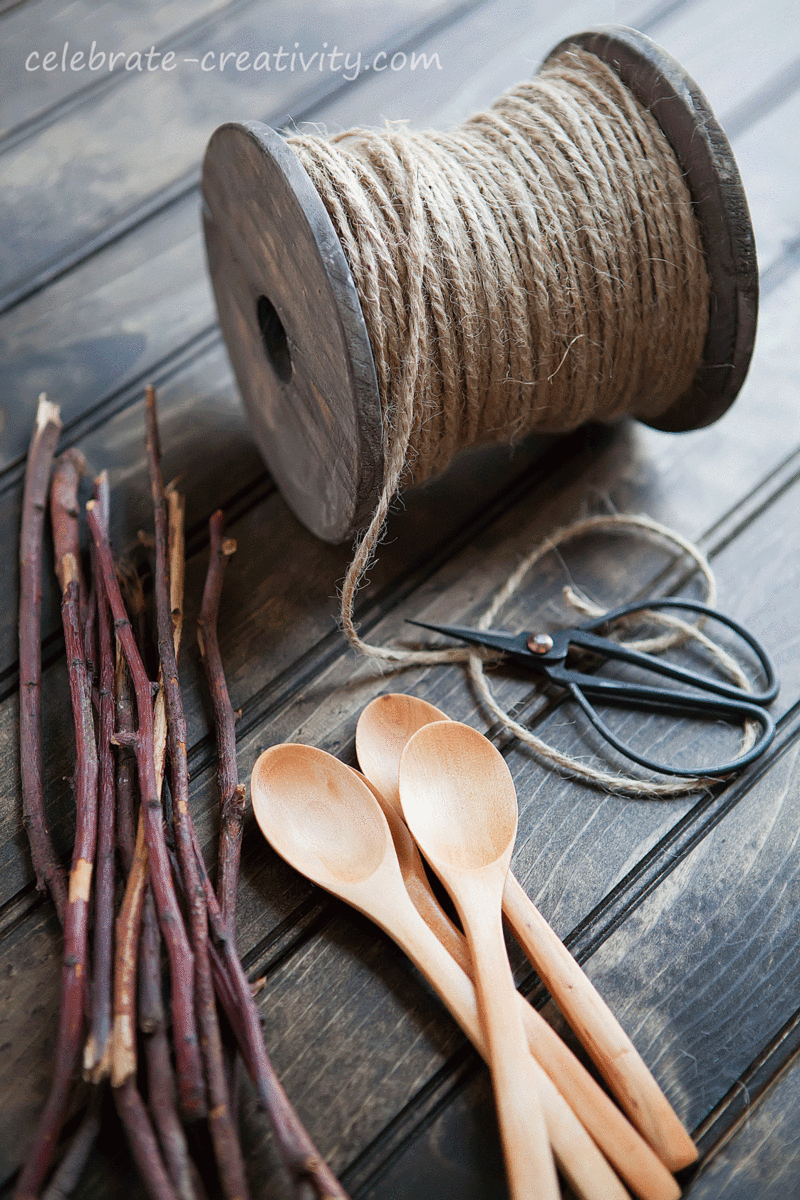 I also used small, artificial florals.
You can wrap them in brown floral tape to help conceal the not-so-pretty plastic stems.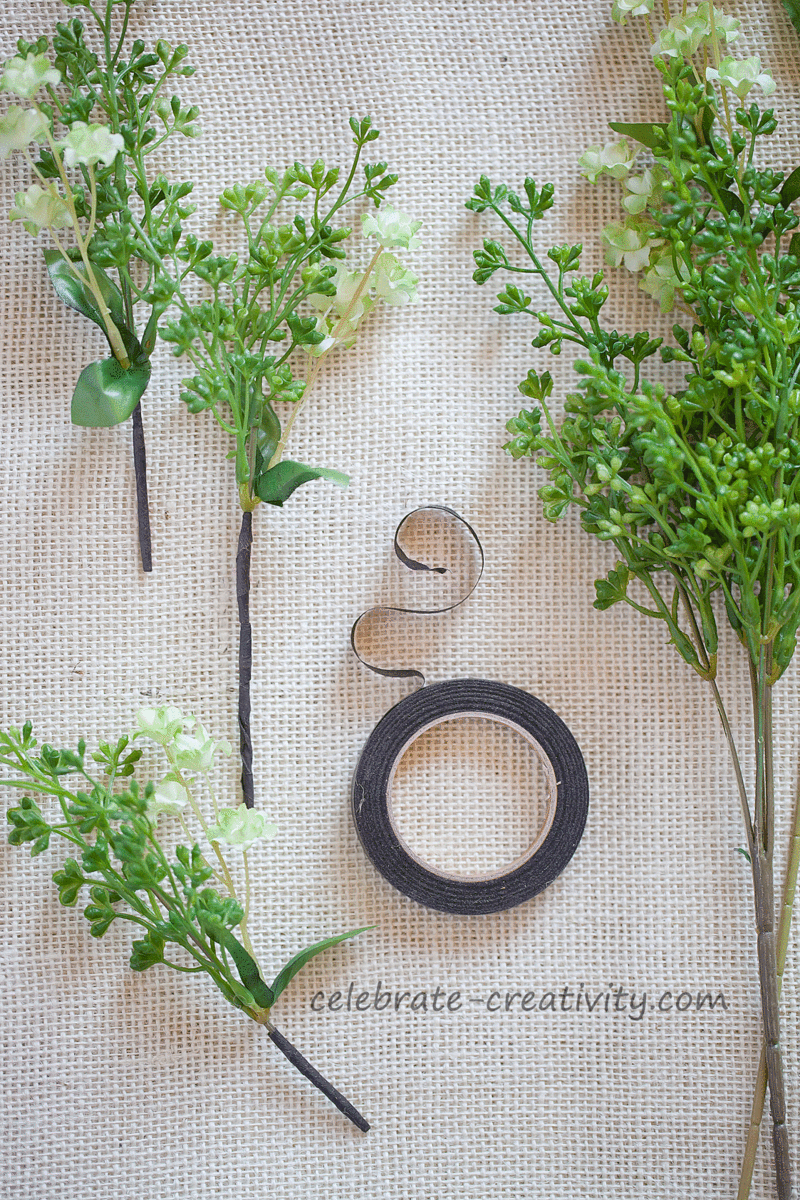 Grab a tag punch and rubber stamp image and rubber stamp alphabet to create the specialty labels.
This particular bird stamp is one that I've used many times before and I love it.
It's part of a collection that includes several other beautiful images of birds and nests and you can find the boxed collection here.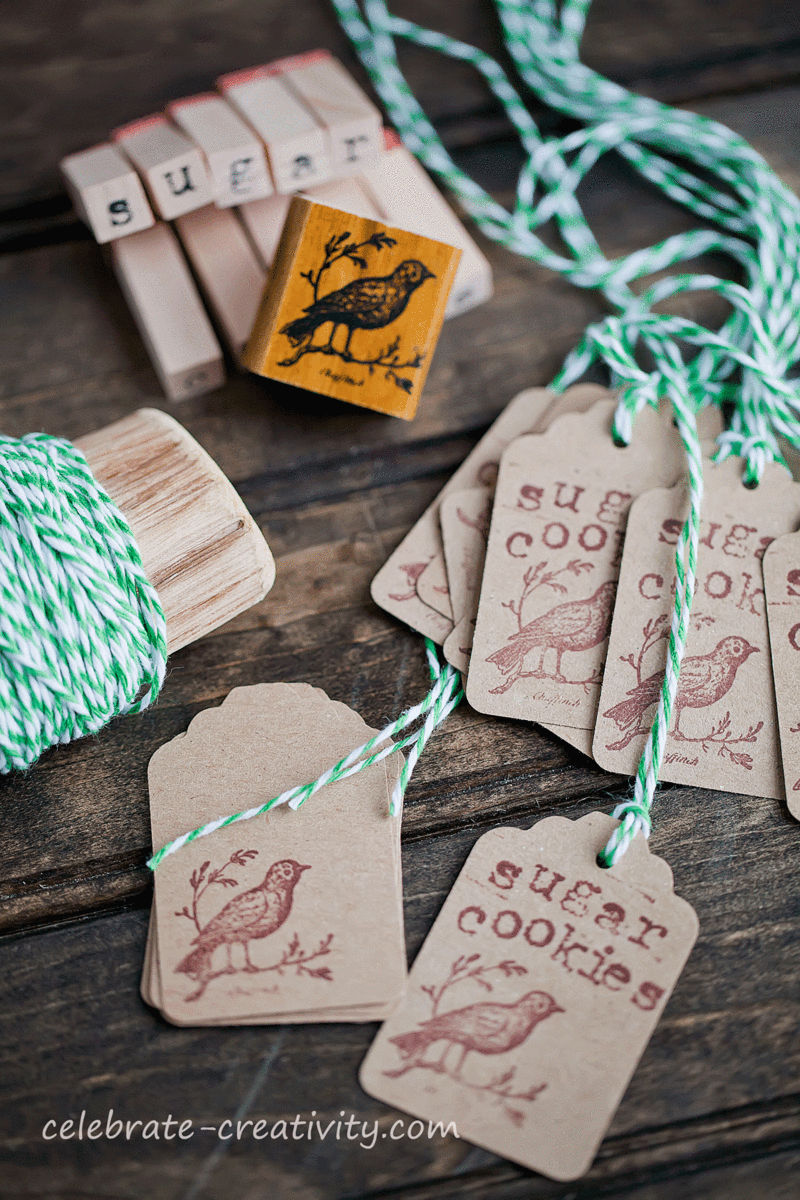 Now, all you have to do is put all your elements together for a finished look.
Tie the juste around the sack and then criss-cross the other elements in the center of the jute knot and tie another know to secure everything.
Add the handcrafted tag label and you have a beautiful gift with a Spring twist.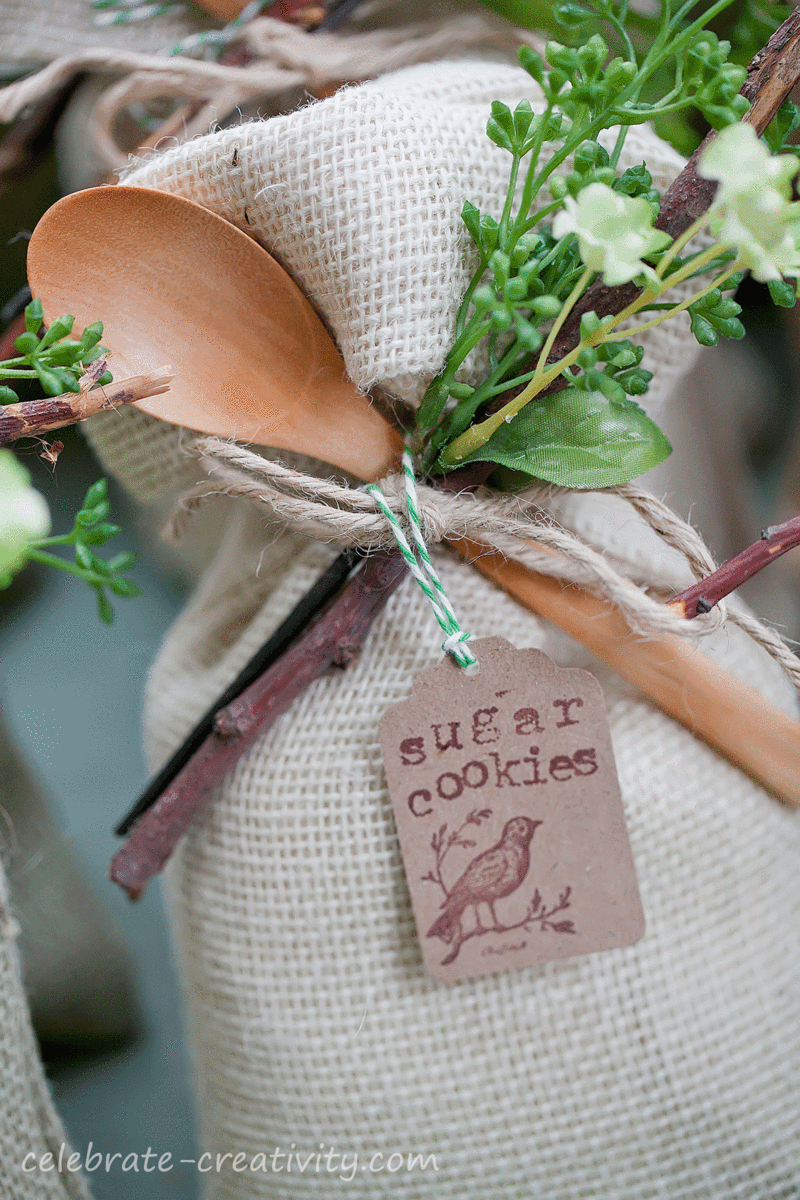 Need a quick gift or easy handcrafted housewarming offering? Consider crafting a few cookie mix sacks.
I think these would definitely fit the bill and I promise, these take no time at all to whip up.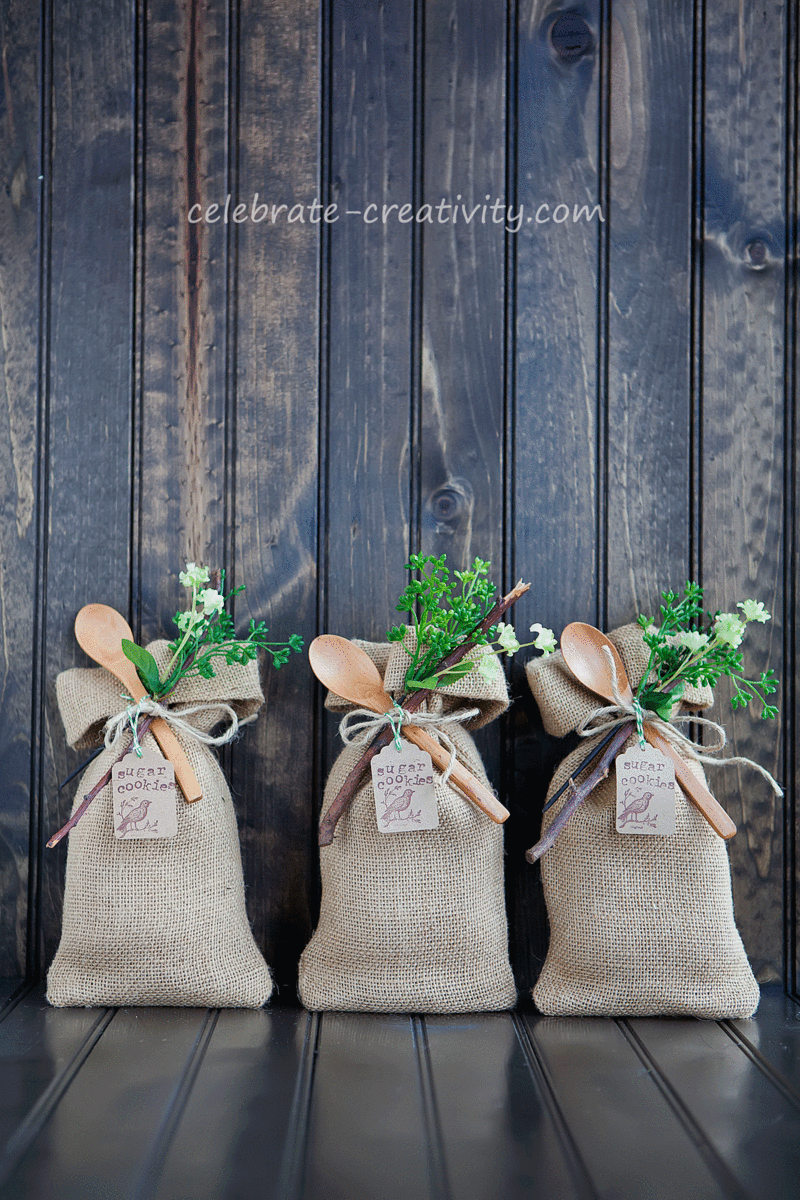 Be sure to check out the other cookie mix gift sacks I've made and featured on this blog to see how easy it is to change the look of these sacks.
You can see more of my signature, handcrafted cookie mix gift sacks here and here.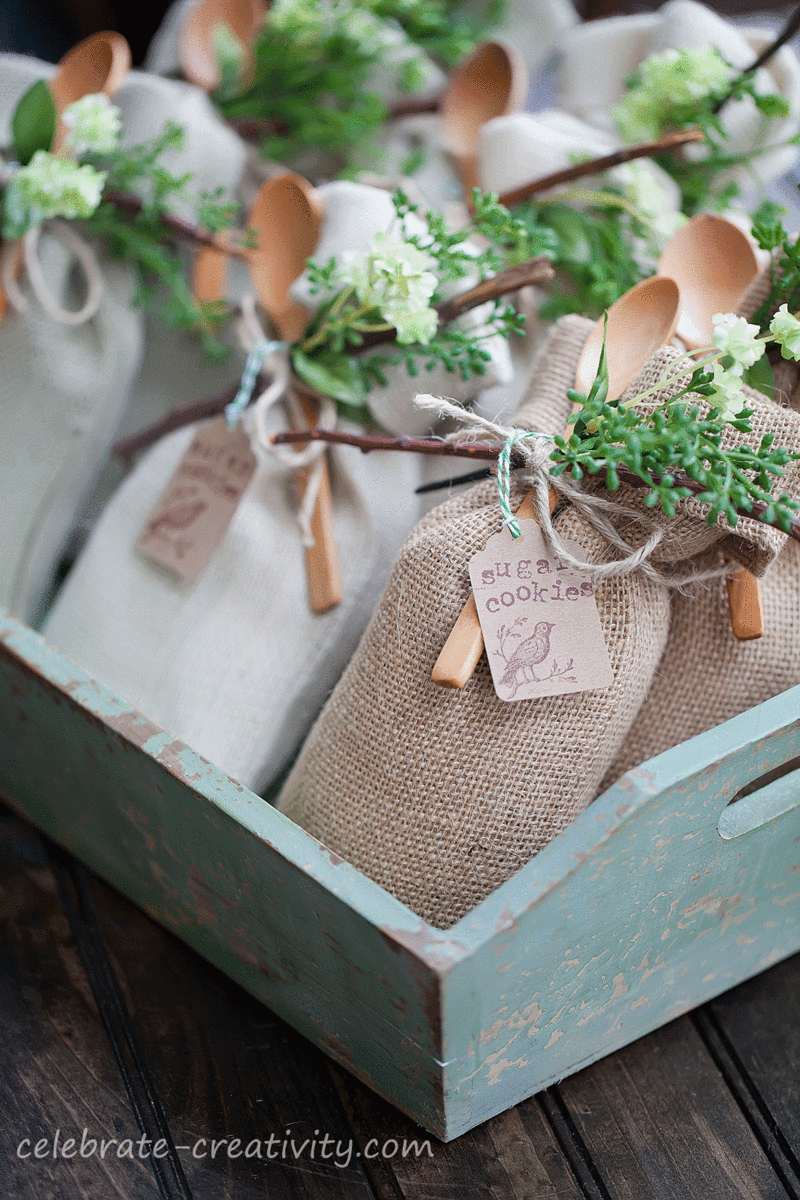 Good luck making your own cookie mix gift sacks
Be sure to let me know how yours turn out. ♥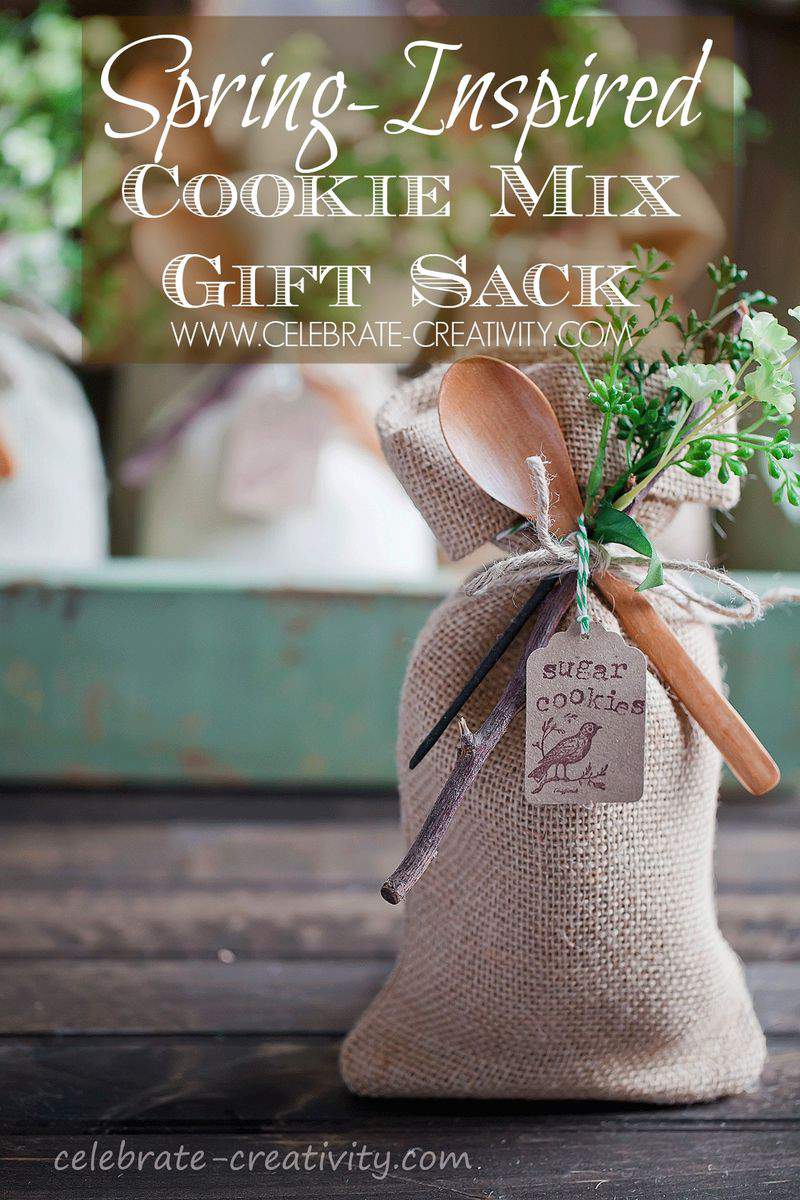 Thanks for stopping by.
See you back here next time.
I'm linking this Spring-inspired cookie mix gift sack to the following: