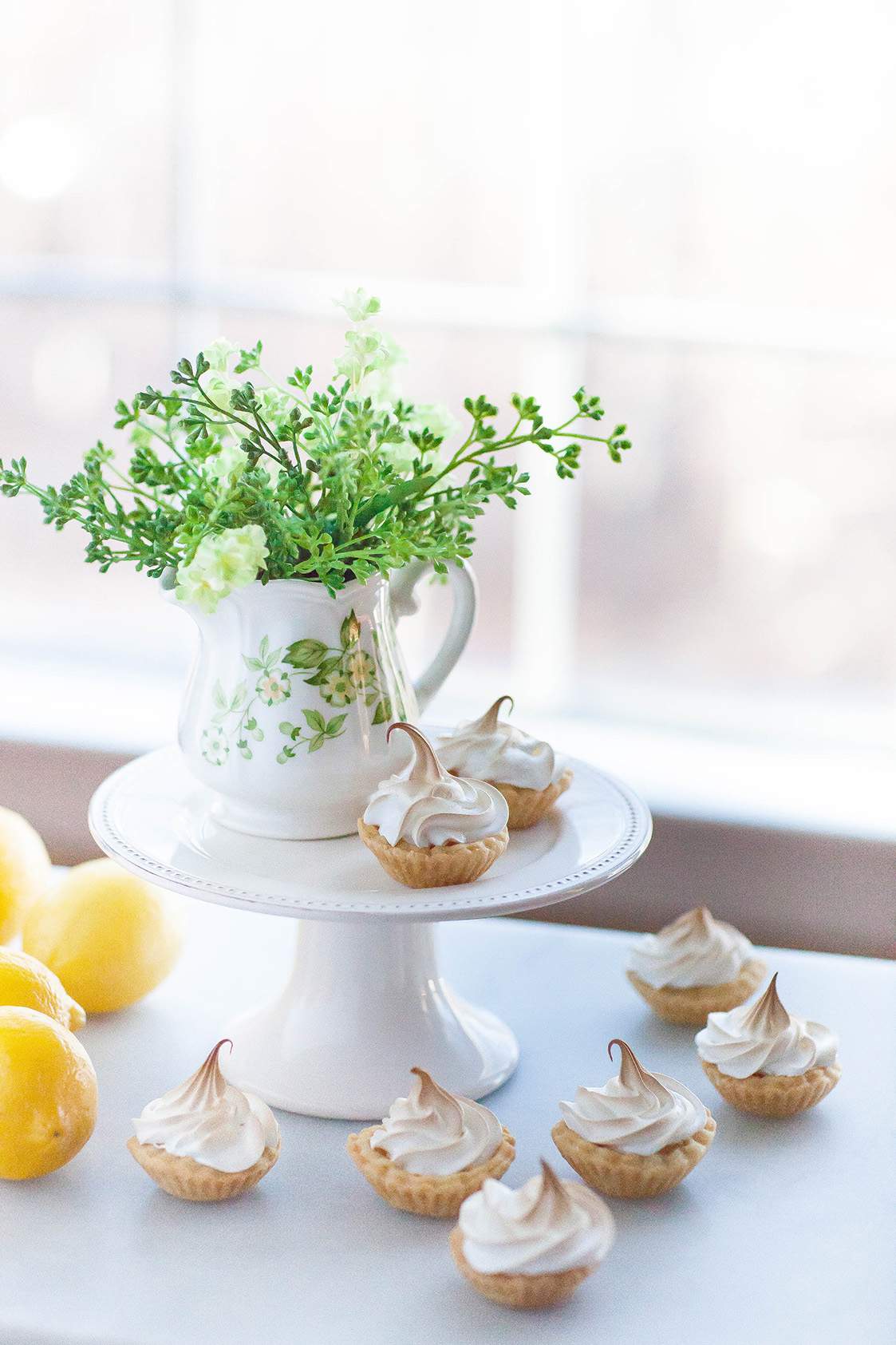 Have you ever seen a picture of a dessert that made you stop and want to make it right away?
That's how I feel about these Lemon Meringue mini-tarts.
Aside from being delicious, the other best thing about these treats are just how easy they are to make.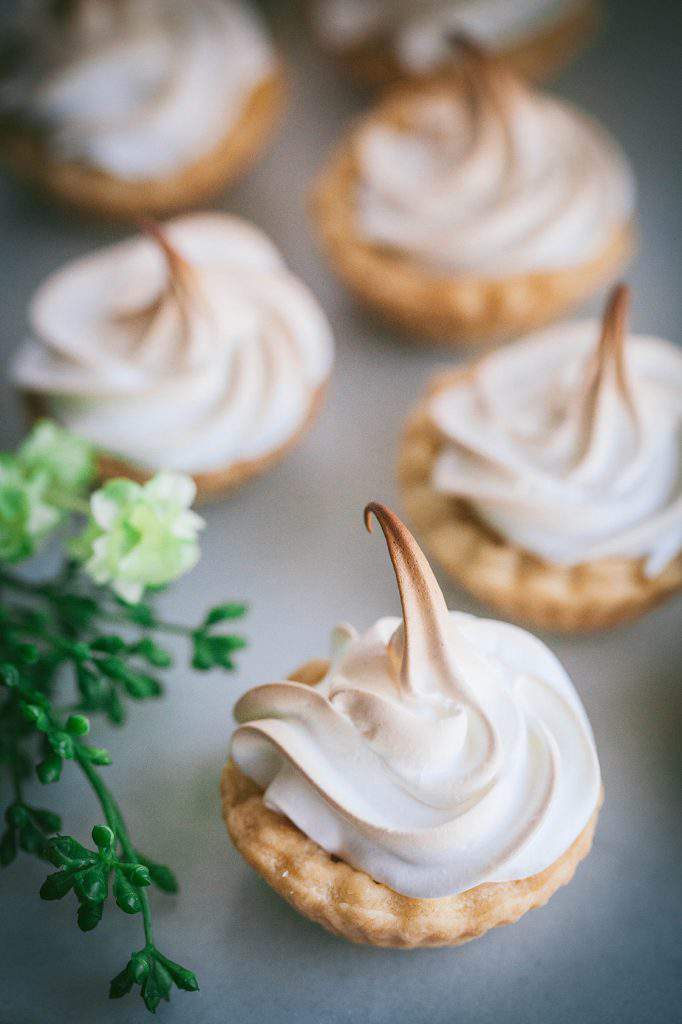 The lemon curd brings the tart while the meringue provides the sweet in this delicious combo of flavors nestled in a flaky crust.
If you're in a hurry, you can pick up store-bought lemon curd but if you're feeling especially ambitious, you can make your own.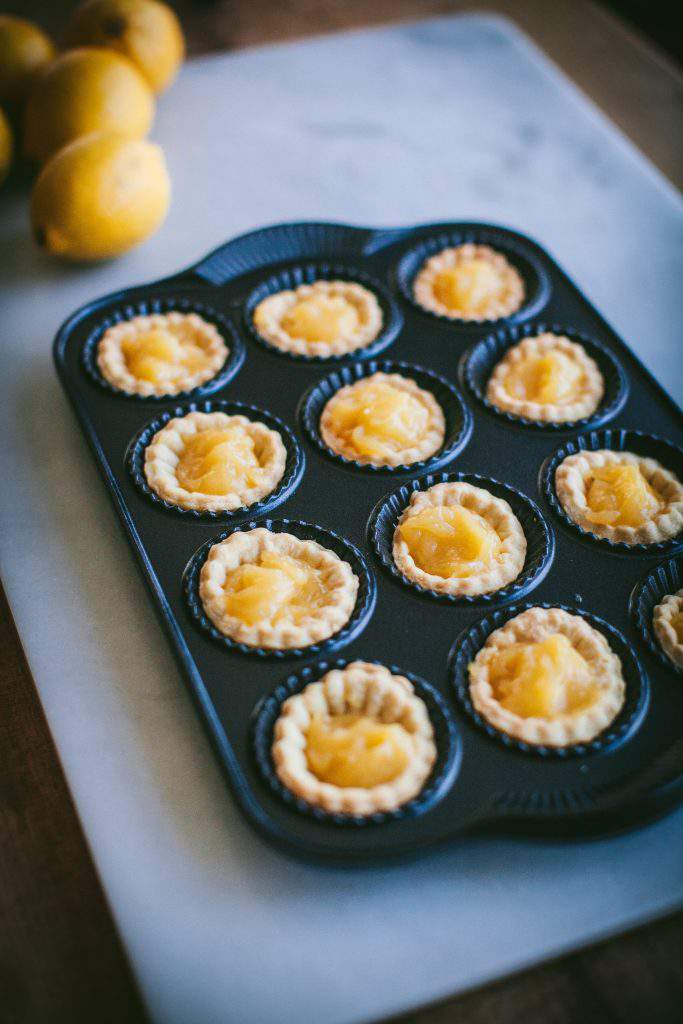 I'm including the lemon curd recipe below that I used for that lovely lemon cheesecake I made last year.
Homemade lemon curd does take a bit of time to make but it's oh-so delicious.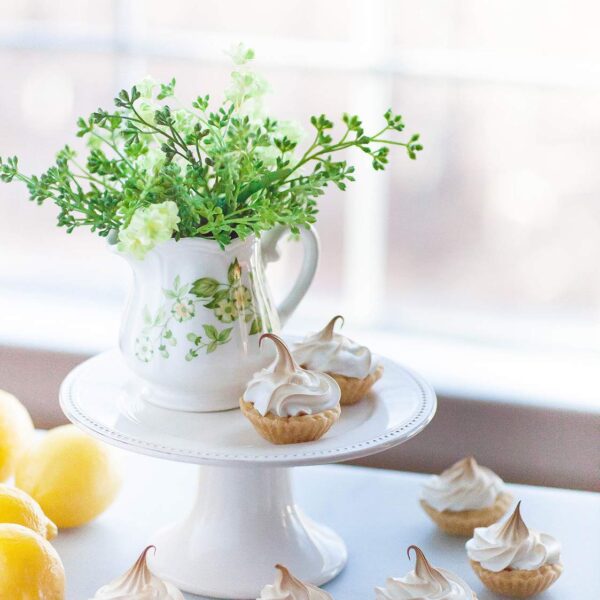 Lemon Curd
Ingredients
1/2 cup salted butter softened
2 cups granulated sugar
4 large eggs
2 large egg yolks
1 tablespoon lemon zest
1 cup fresh lemon juice 4 lemons for juice and zest
Instructions
Beat butter and sugar in stand mixer until blended. Add eggs and egg yolks, 1 at a time, beating just until blended after each addition.

Gradually add lemon juice to butter mixture and beat until blended.

Stir in zest

Transfer mixture to a heavy 4-quart saucepan and cook, whisking constantly over medium heat until mixture thickens and easily coats the back of a spoon, about 14 minutes.

Chill untli firm (about 4 hours).Refrigerate in an airtight container up to 2 weeks.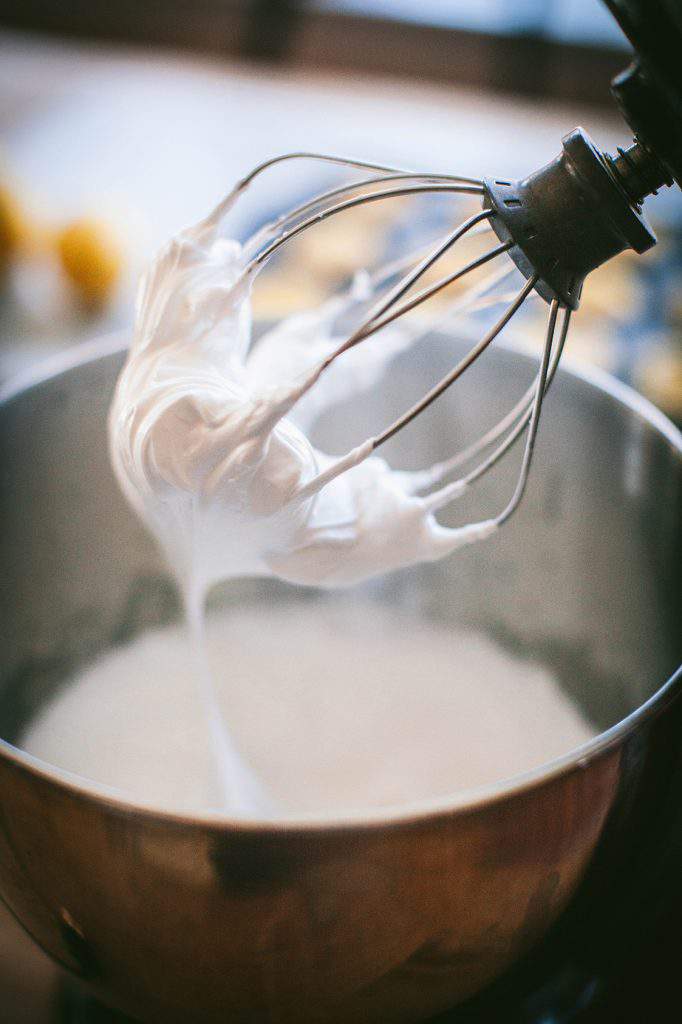 How gorgeous is this meringue?
It's so creamy, soft and fluffy and it only requires three ingredients including water, granulated sugar and meringue powder.
All you have to do is dissolve the sugar in the boiling water. Allow to cool and then add the meringue powder and whisk in a stand mixer until soft peaks form.
Keep scrolling for the full instructions and printable recipe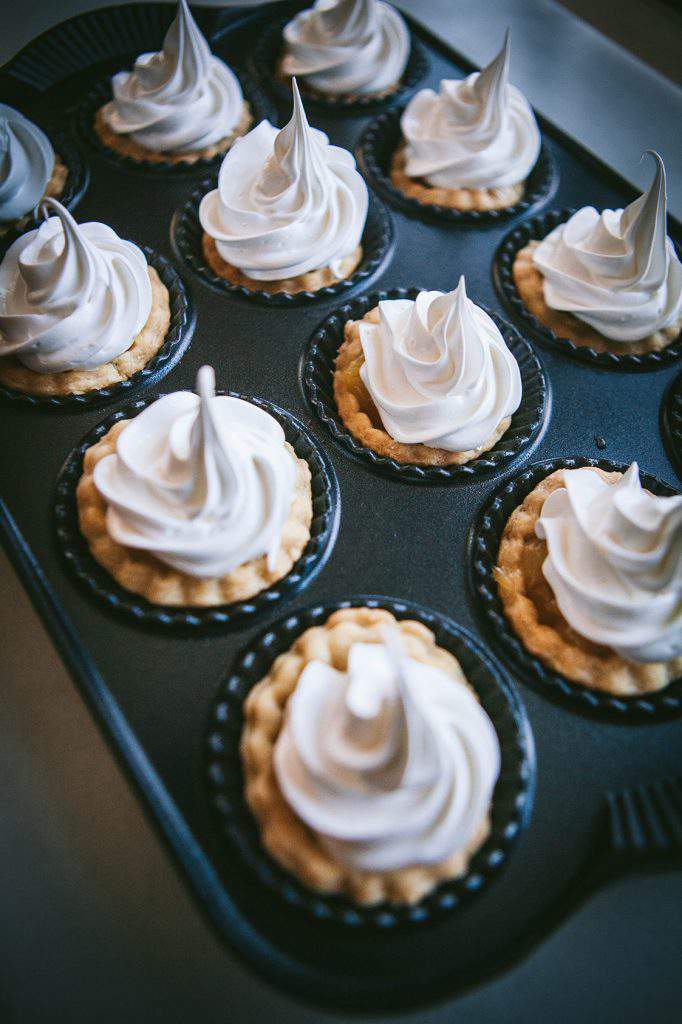 Now, I know you're probably wondering how I got those pretty swirls in the meringue, right?
That effect is created by using a decorative piping tip.
I used a Wilton 1m, which is bigger than a typical metal tip… but is definitely worth having one in your kitchen arsenal.
I put together a short, one minute video to show you how I made this pretty dessert.
I've been practicing using my IPhone to create short videos of my various baking efforts and I wanted you to see what my setup looks like.
My hubby gave me a field monitor for Christmas last year and it's been not only great to use with my DSLR camera, it also helps when using the video feature on my phone.
Because the phone needs to be pretty high to capture my hands and the dessert, the field monitor allows me to see what I'm videotaping without trying to peek over the top of the phone.
NOTE: You'll need an IPhone adapter and an HDMI cable to use a monitor with the phone.
This video was fun to make (and of course, I'm loving my new field monitor).
I'm going to try to include more video demonstrations in upcoming blog posts.
So, stay tuned for more food in motion around here.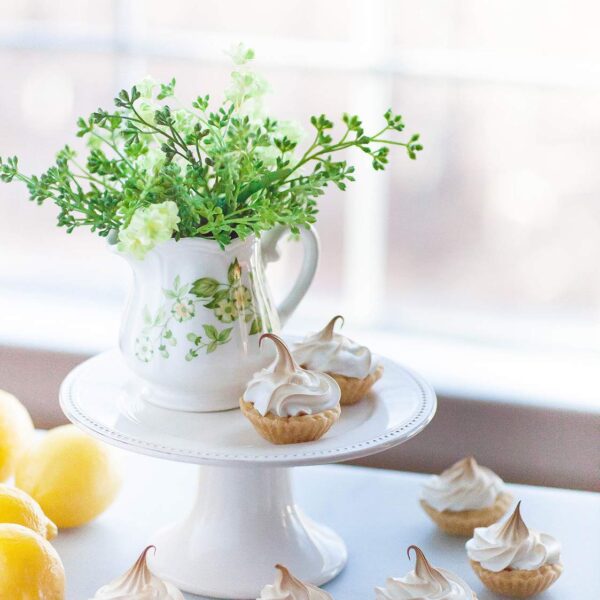 Lemon Meringue Mini-Tarts
Ingredients
PASTRY
2 cups pastry Flour Blend
1/2 teaspoon salt
12 tablespoons cold, unsalted butter
1 large egg yolk
2-6 tablespoons ice water
FILLING
2 cups lemon curd store-bought or homemade
MERINGUE
3/4 cup granulated sugar
1/2 cup boiling water
1/4 cup meringue powder
Instructions
MAKING PASTRY

Whisk together the flour and salt. Work in the butter until pea-sized pieces form.

Add the egg yolk and ice water.

Toss until the dough comes together, adding more water as needed.

Divide the dough in half, wrap and chill for at least 30 minutes.

preheat the oven to 400F. Lightly grease the wells of the mini tart pan.

Roll one disk of dough about 1/8" thick. Cut 3" fluted circles.

Place the circles into the wells of the pan and prick the base of each crust with a fork.

Bake the crusts for about 12 minutes until pastry is golden brown.

They will shrink and puff a bit but that's perfectly fine.

Remove the pan from the oven and leave the crusts int he pan.

MERINGUE MAKING

Dissolve the sugar in the boiling water.

Allow to cool to room temperature, then add the meringue powder and beat until stiff peaks form.

Fill the baked cups with lemon curd, then pipe or dollop the meringue on top.

Bake the filled tarts for 7-10 minutes until the meringue is lightly browned.

Remove the pies from the oven. When they're cool enough to handle, transfer them from the pan to a rack to cool completely.

Enjoy!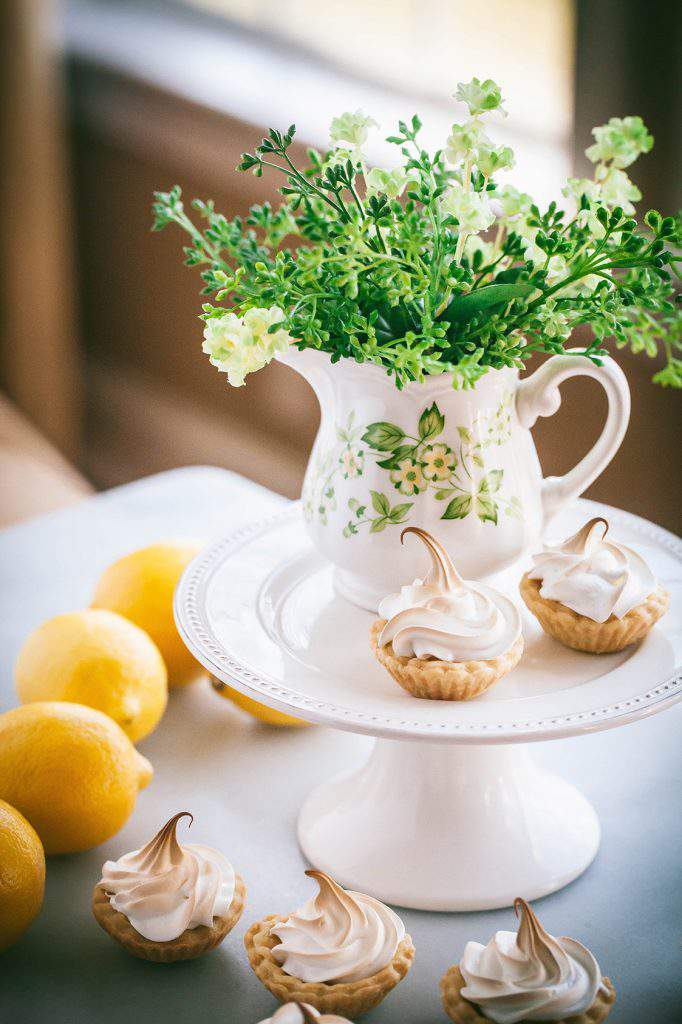 Thanks for stopping by.
See you back here next time. ♥