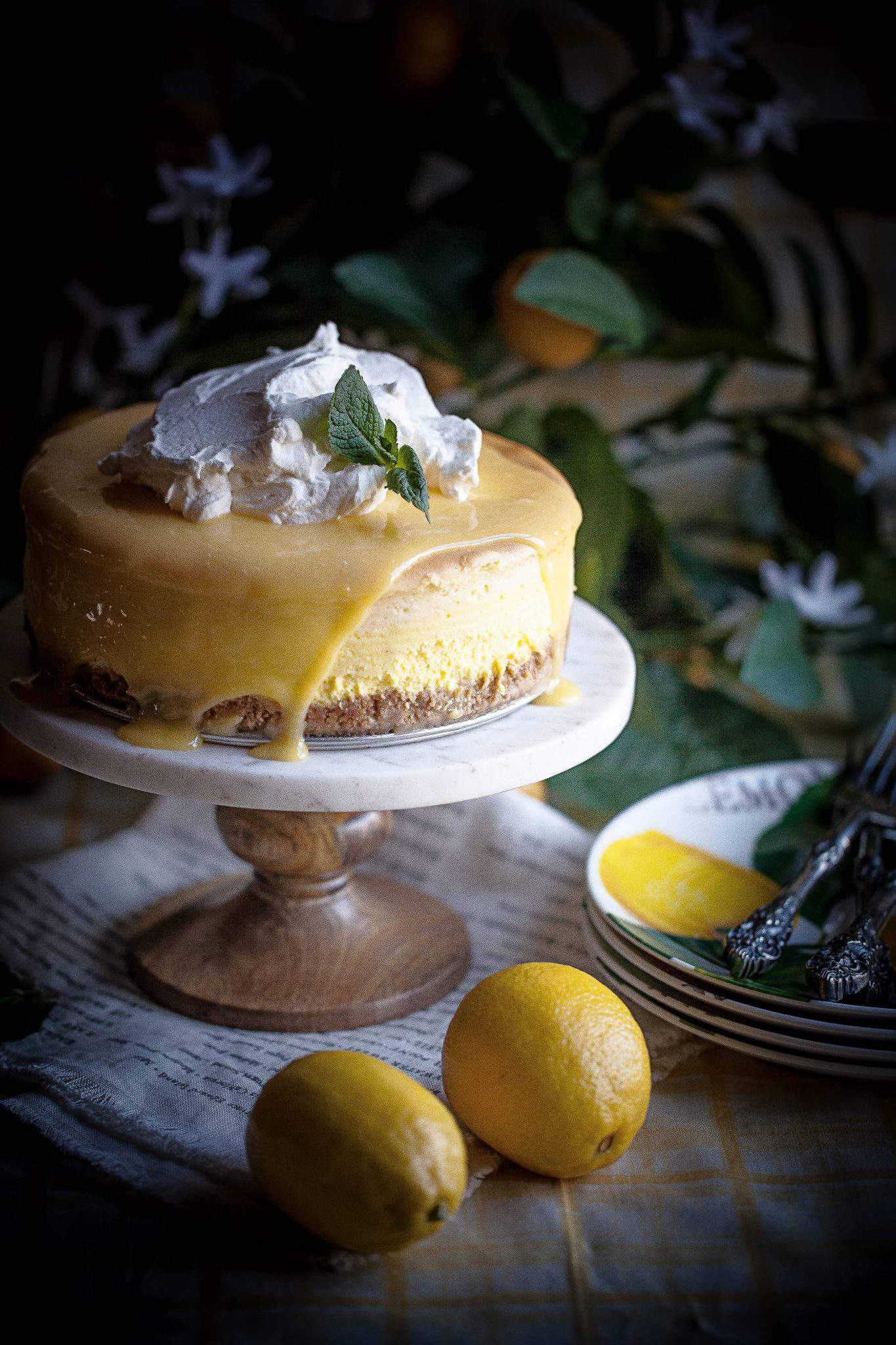 How often have you looked at a food magazine cover and gasped at the beauty?
Have you ever looked a dish on the cover and declared excitedly and immediately… "I must make this"?
Well, that's how I felt about this lovely lemon Cheesecake as soon as I spotted it.
There are quite a few steps to this dessert but it's oh-so worth it.
When I opened my mailbox last week, there it was…. the latest (February) issue of Southern Living magazine.
Whoa. I stopped in my tracks, transfixed on the stunning Dreamy Lemon Cheesecake on the cover.
It was so light and airy looking and pretty coloring of the cheesecake somehow reminded me of a warm spring day.
I just had to make it.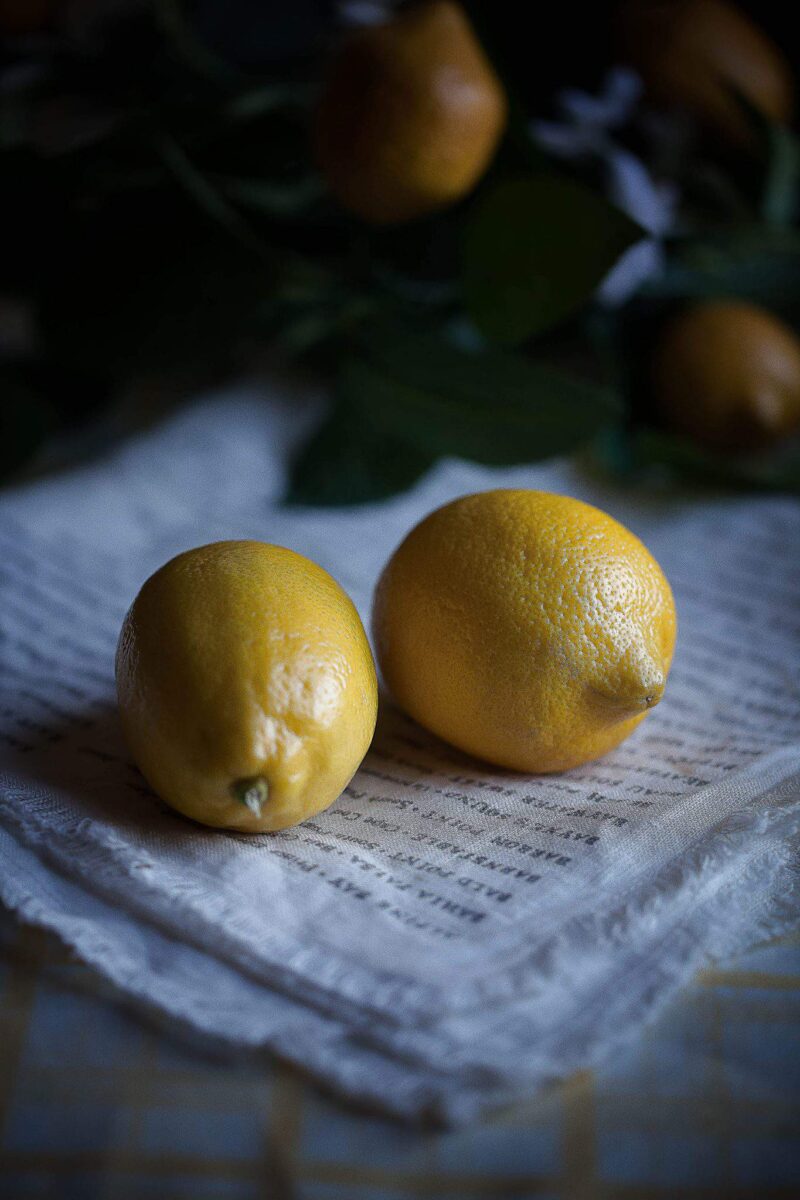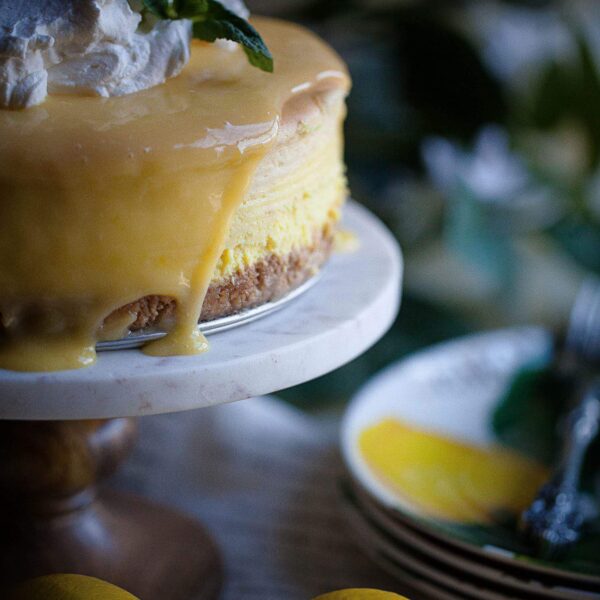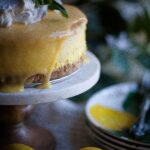 Lovely Lemon Cheesecake
Ingredients
2 1/2 cups crushed cream filled lemon sandwich cookies
2 1/2 tablespoons salted butter melted
5 8 oz. packages cream cheese
1 1/2 cups granulated sugar
2 tablespoons all-purpose flour
4 large eggs
2 large egg yolks
1 tablespoons lemon zest plus
5 tablespoons fresh lemon juice 2 lemons for juice and zest
2 tablespoons of heavy cream
Yellow food coloring gel
1 cup lemon curd optional, recipe below
Instructions
Preheat oven to 350 degrees. Wrap outside of a lightly greased 9-inch springform pan in a double layer of heavy-duty aluminum foil.

Crush cookies, add butter and press into the bottom of the pan. Bake until crust is lightly browned (about 7-8 minutes). Reduce oven temperature to 325 degrees.

Beat cream cheese until cream. Add sugar and flower. Add eggs, 1 at a time. Add egg yolks, 1 at a time, until yellow disappears from each addition.

Stir in lemon zest, lemon juice and heavy cream.

Remove 3 cups of batter and place in a separate bowl. Add food coloring gel to tint the batter into a more vibrant, contrasting yellow.

Spoon half the untinted batter into the prepared crust. Spoon half the contrasting yellow batter onto the untinted batter and use a small knife to swirl the two batters to create a marbled look. Repeat until all batter is used.

Place springform pan (covered in foil) in a roasting pan and add boiling water to reach halfway us the sides of the pan.

Bake at 325 degrees until he center is almost set but still slightly wobbly, about 1 hour and 20 minutes.

Turn off oven and let cheesecake stand in oven with door partially open, 1 hour.

Remove cheesecake from roasting pan and water bath and place on wire rack to cool about 2 hours. Wrap in plastic and chill for 8-24 hours.

Gently remove springform after chilling completely.

Add lemon curd and fresh whipped cream before serving.

Garnish with fresh mint and enjoy.
Hands down, lemon is my favorite citrus.
In fact, I've had an affinity for lemon flavor and all things lemons for some time.
You can see my previous post on how much I love lemon (and how to turn a ficus tree into a lemon tree) in my previous post HERE.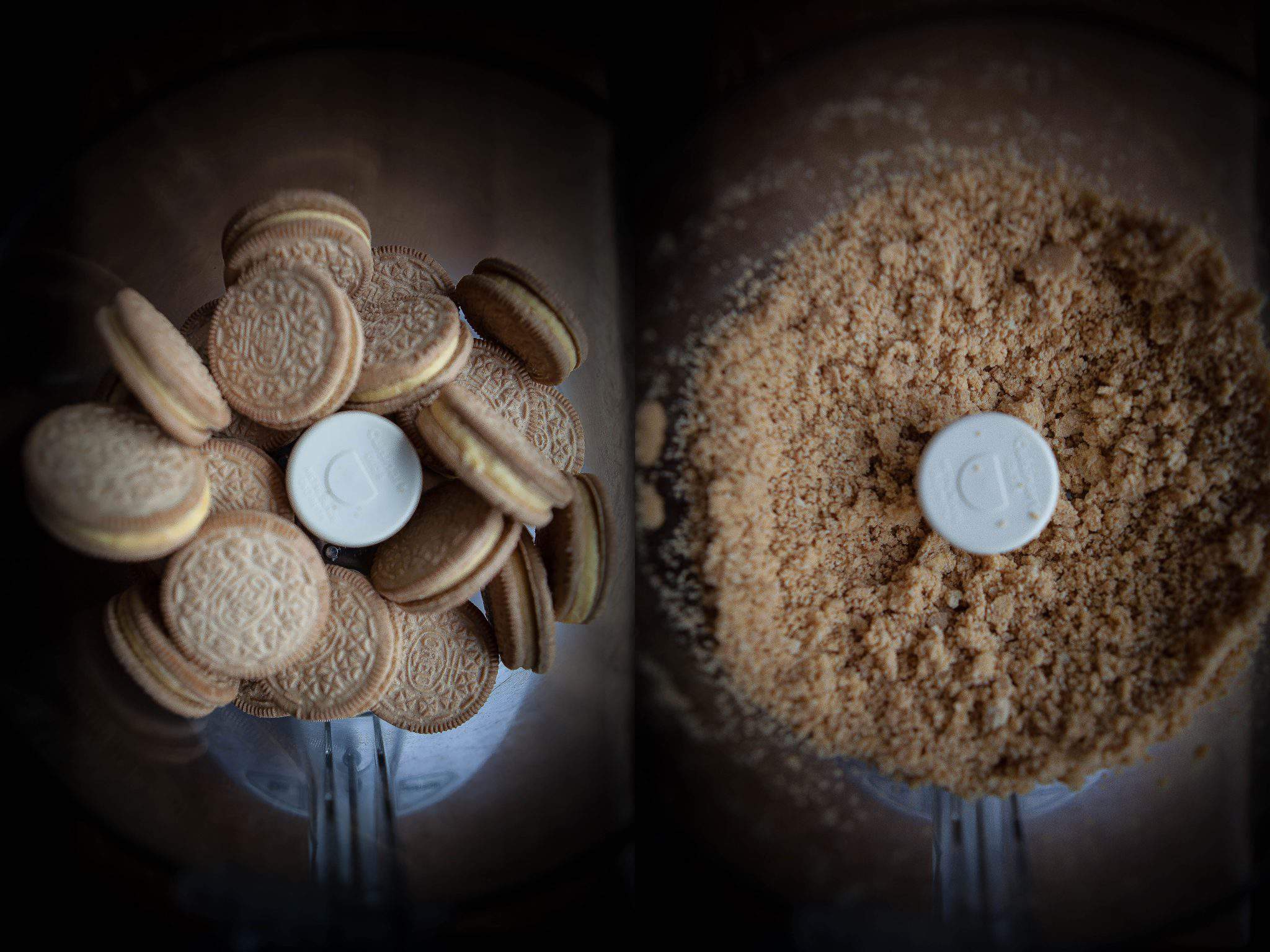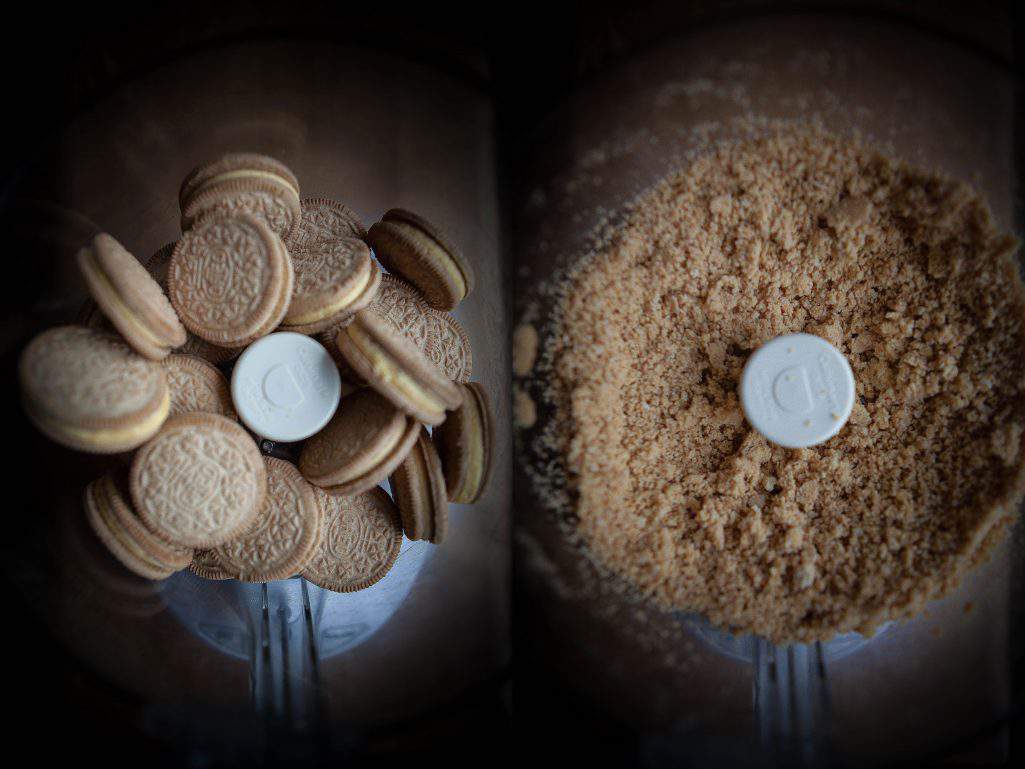 This is such a fun twist on traditional pie crust.
Instead of using smashed graham crackers, this recipe calls for a crust made from crushed lemon-filled Oreo cookies.
Put them in a baggie and beat with a rolling pin or just drop them in a food processor and pulse a few times.
I'm going to keep this in mind for an upcoming cheesecake crust featuring chocolate and cream-filled Oreo cookies for the crust.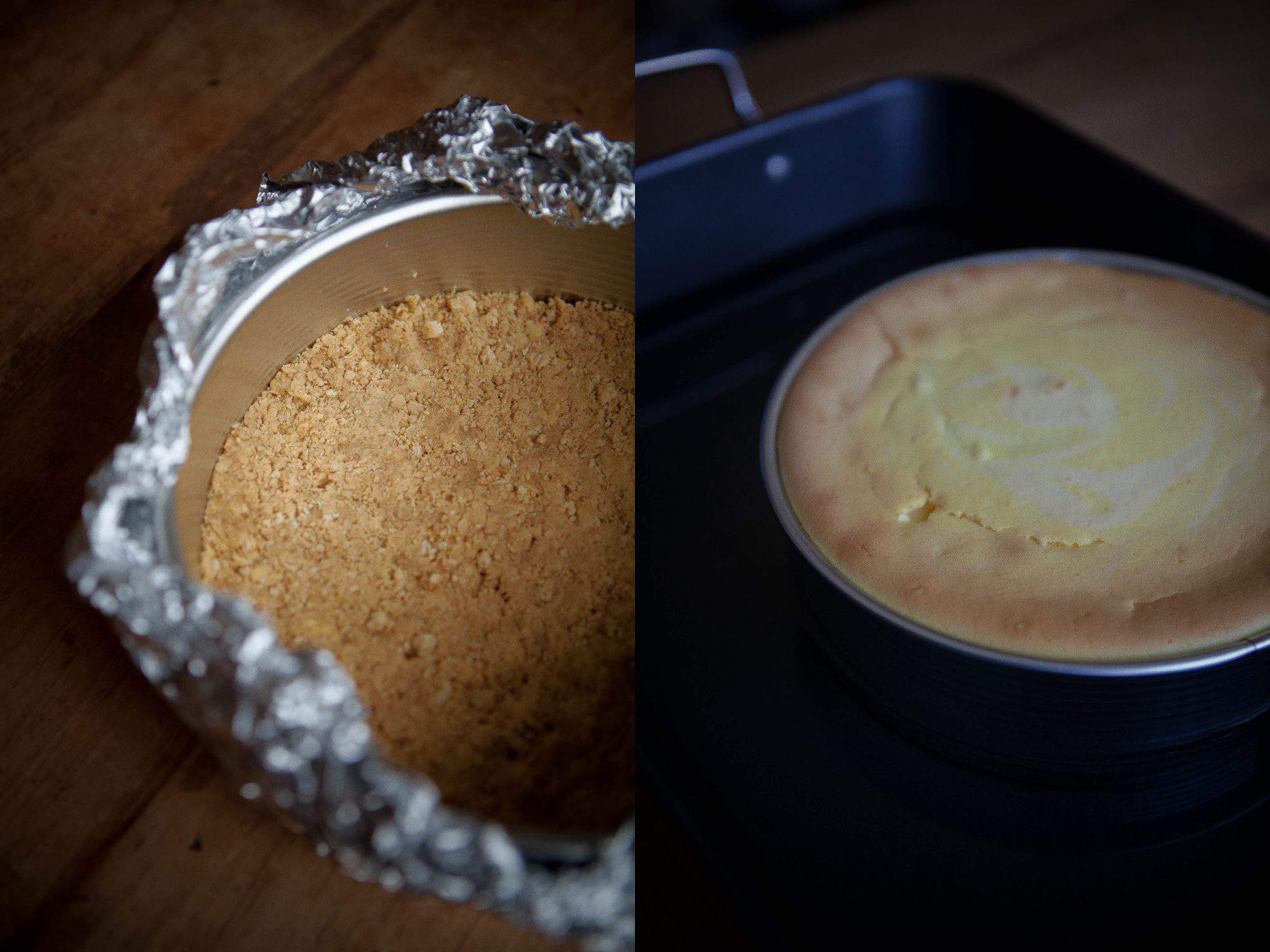 There are a couple of simple baking techniques in this recipe that I think are worth highlighting.
Once the cookie crust is pressed into the bottom of the spring-form pan, wrap the pan with a double layer of aluminum foil and bake the crust for about 7 minutes until golden brown. The foil will help prevent the water bath (step #2) from seeping into the pan. I actually got lucky because I removed the foil before placing in the water before I realized I should have kept it on.
After the cheesecake dough is poured into the pan, place the pan in a roasting pan and fill the pan with boiling water about halfway up the pan. The steam from the water will help bake the cake gently and smoothly and help prevent major cracking in the top.
As soon as you take the curd off the stove, pour into a bowl and place plastic directly on top of the curd to prevent a film from forming while it's refrigerated. The recipe for this lemon curd is below.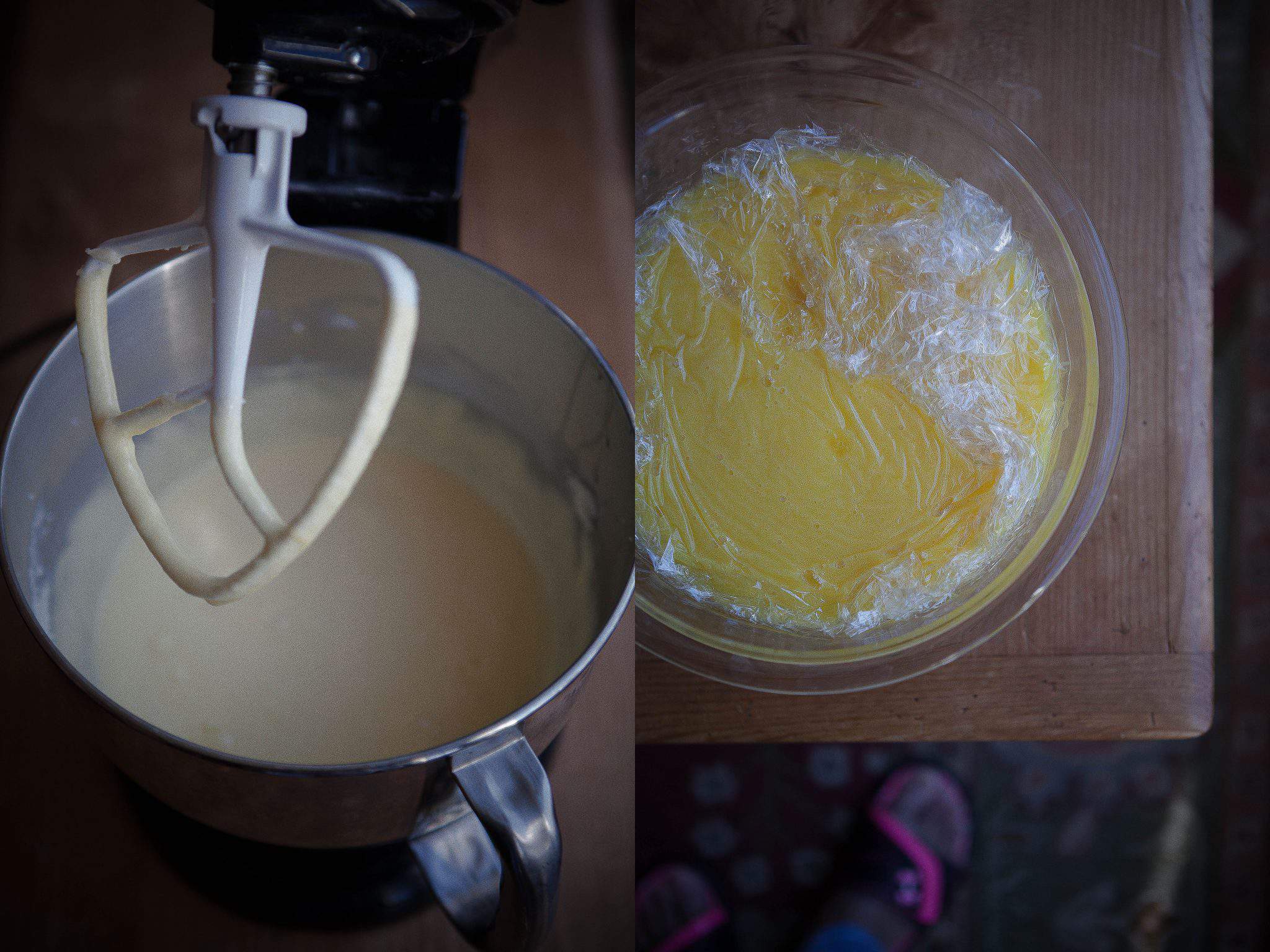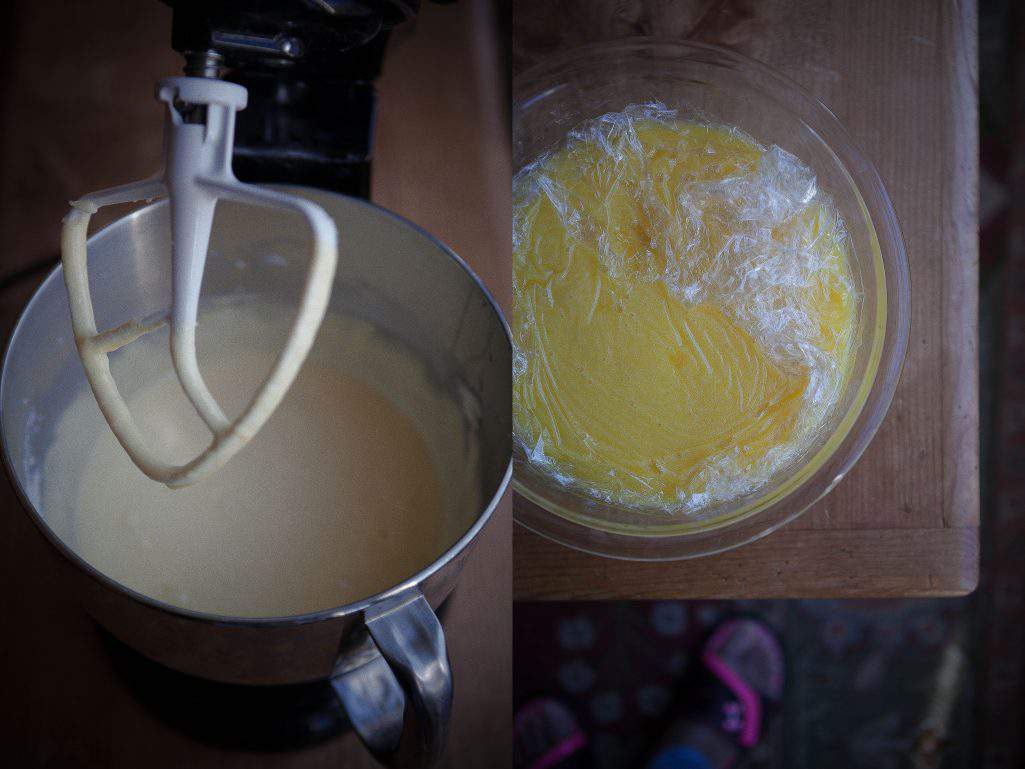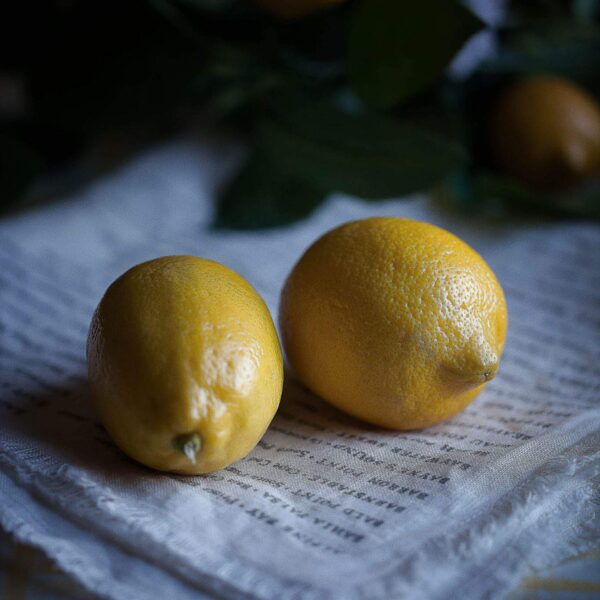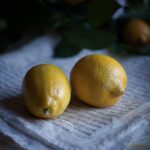 Lemon Curd Filling
Ingredients
1/2 cup salted butter softened
2 cups granulated sugar
4 large eggs
2 large egg yolks
4-5 lemons
4-5 tablespoon lemon zest
1 cup fresh lemon juice
Instructions
Beat butter and sugar in electric mixer until blended. Add eggs and egg yolks, 1 at a time, beating just until blended after each addition.

Gradually add lemon juice to butter mixture and beat until blended.

Stir in zest.

Transfer mixture to a heavy 4-quart saucepan and cook, whisking constantly over medium heat until mixture thickens and easily coats the back of a spoon, about 14-16 minutes.

Transfer curd to a bowl, place plastic wrap directly on to of warm curd to prevent a film from forming.

Chill until firm, about 4 hours. refrigerate in an airtight container up to 2 weeks.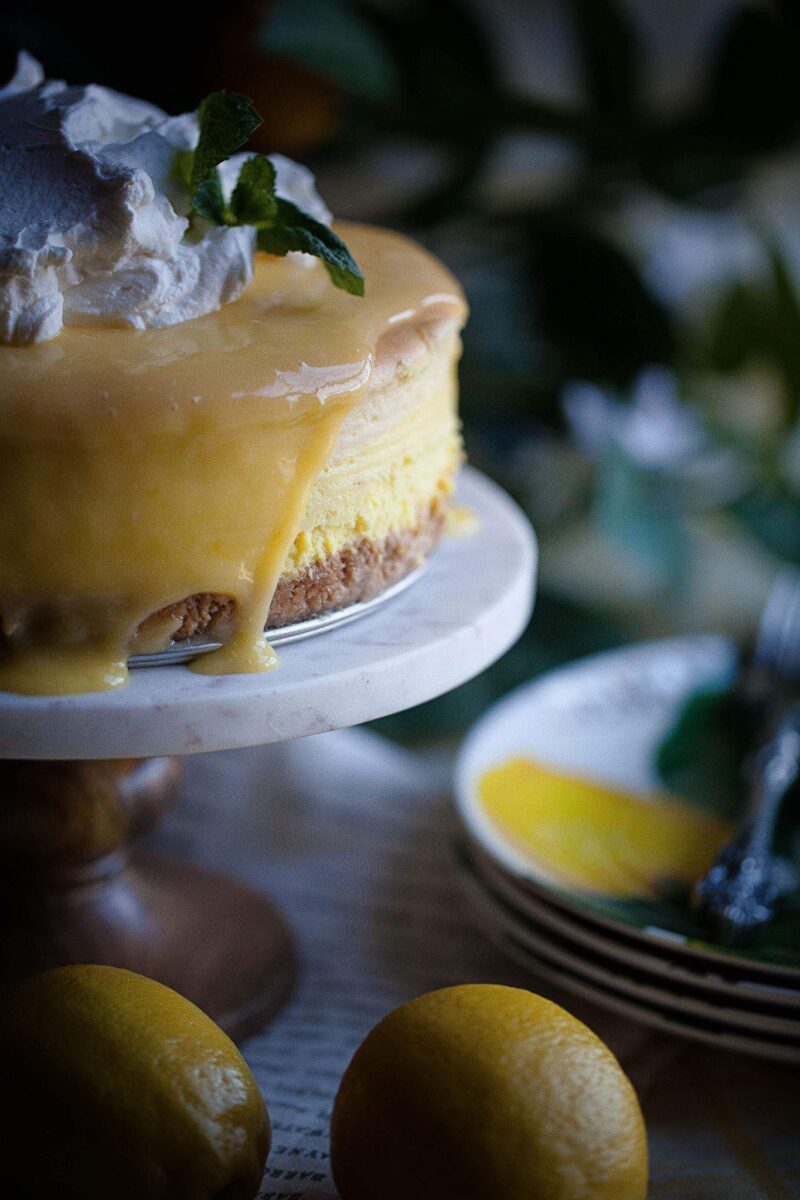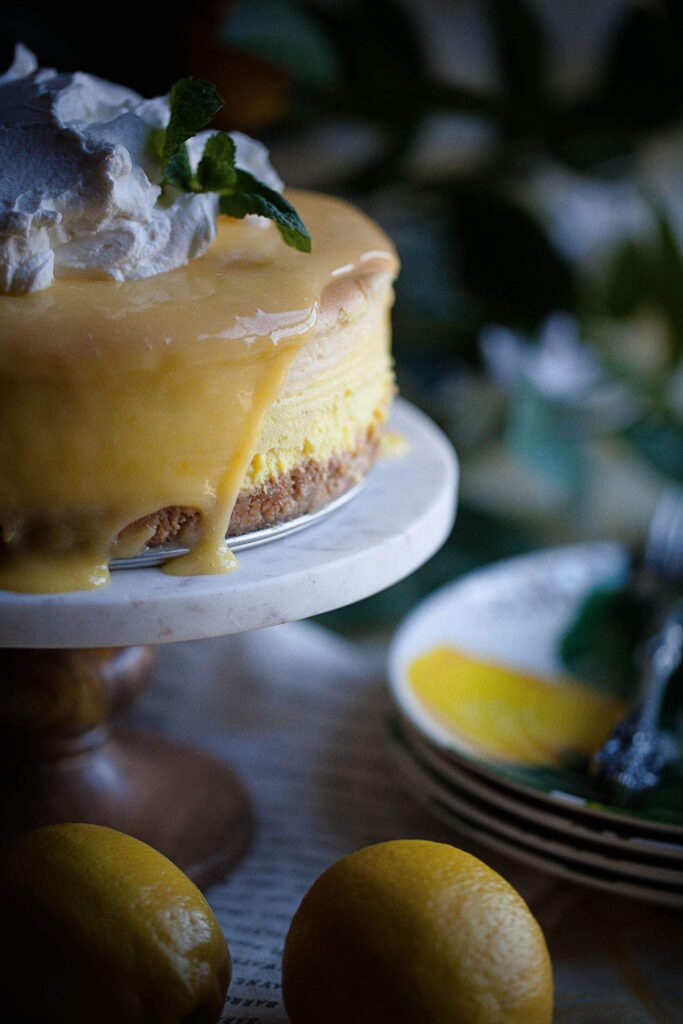 Ooooh-la-la.
This lemon curd just glides right over this cake so effortlessly and the multiple flavors blend wonderfully.
The citrus-tart flavor of the curd provides just the right amount of kick to this dessert.
It combines well and really helps to balance the sweetness of the cheesecake.
This is good folks.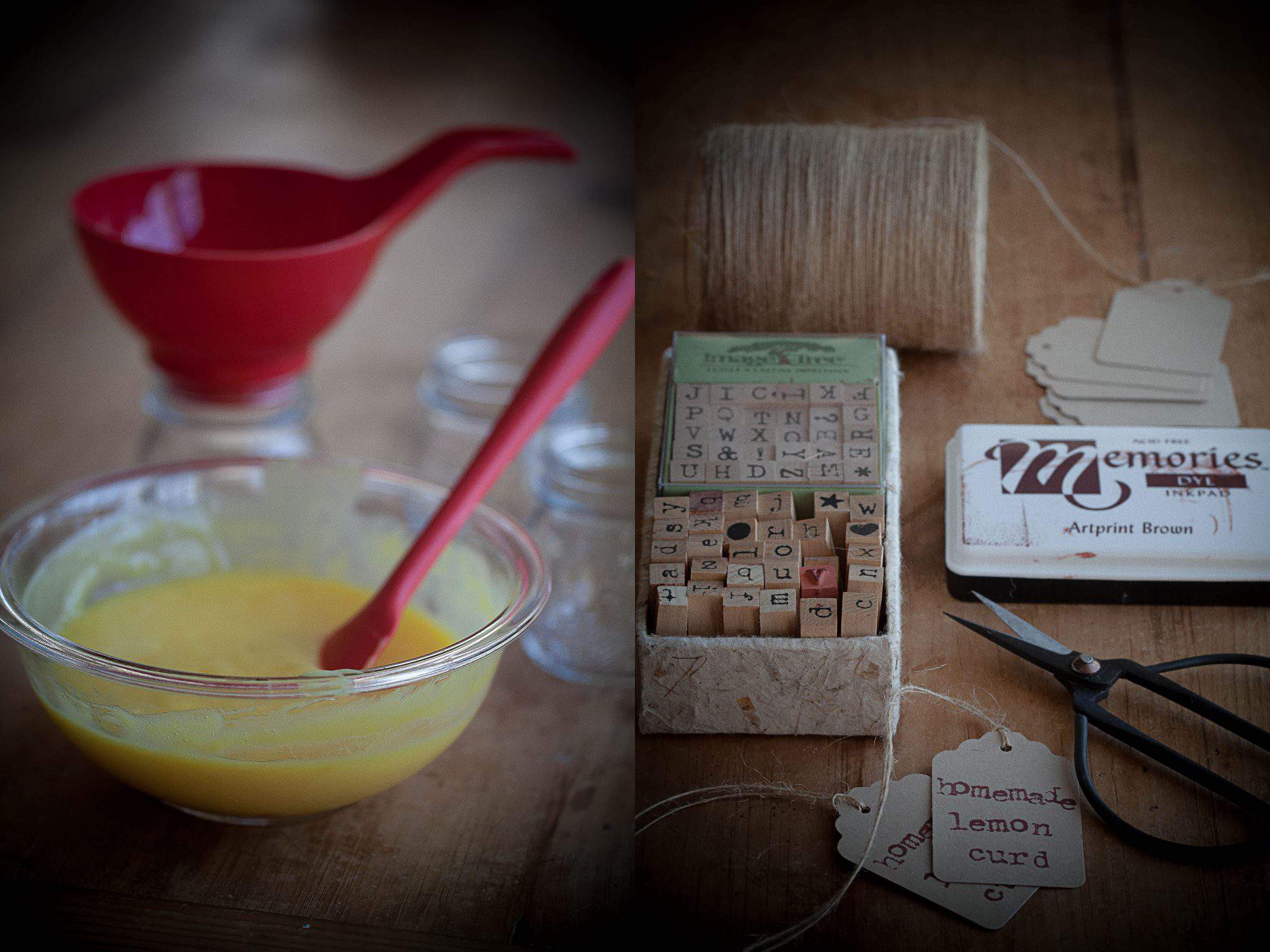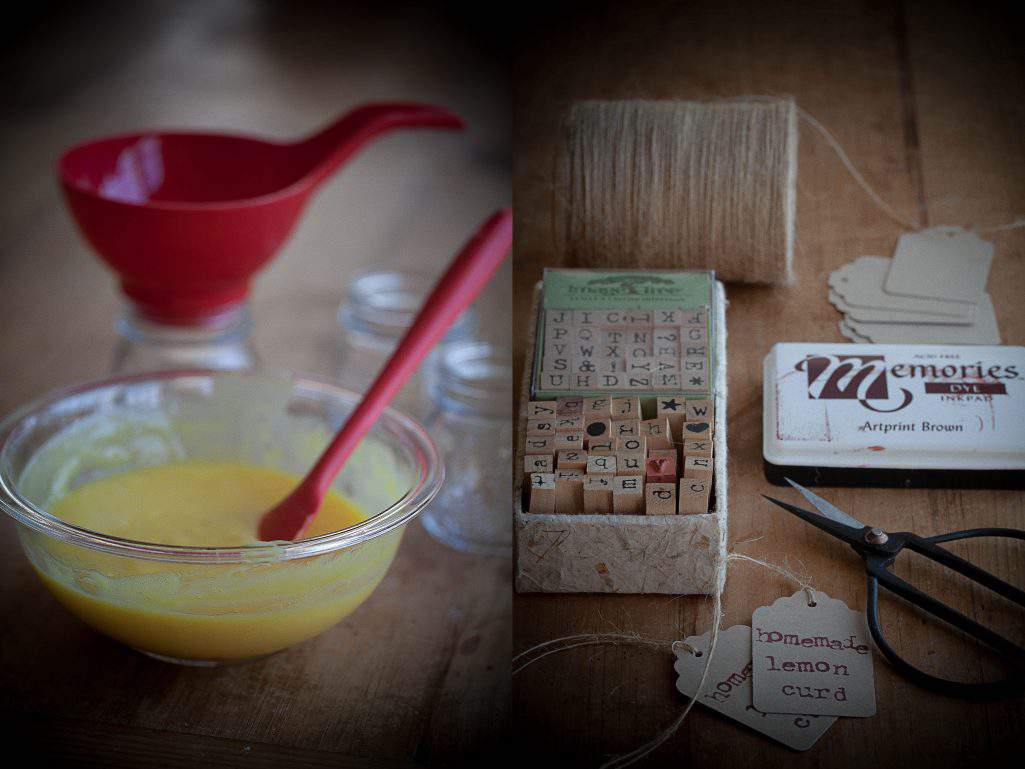 A little of this curd goes a long way.
I ended up with quite a bit of leftover lemon curd because I didn't want to overdue it on the cake.
So, rather than toss it, I poured the curd into a couple of small Mason jars for gifting.
I also whipped up a couple of small tag labels for an added touch of "homemade".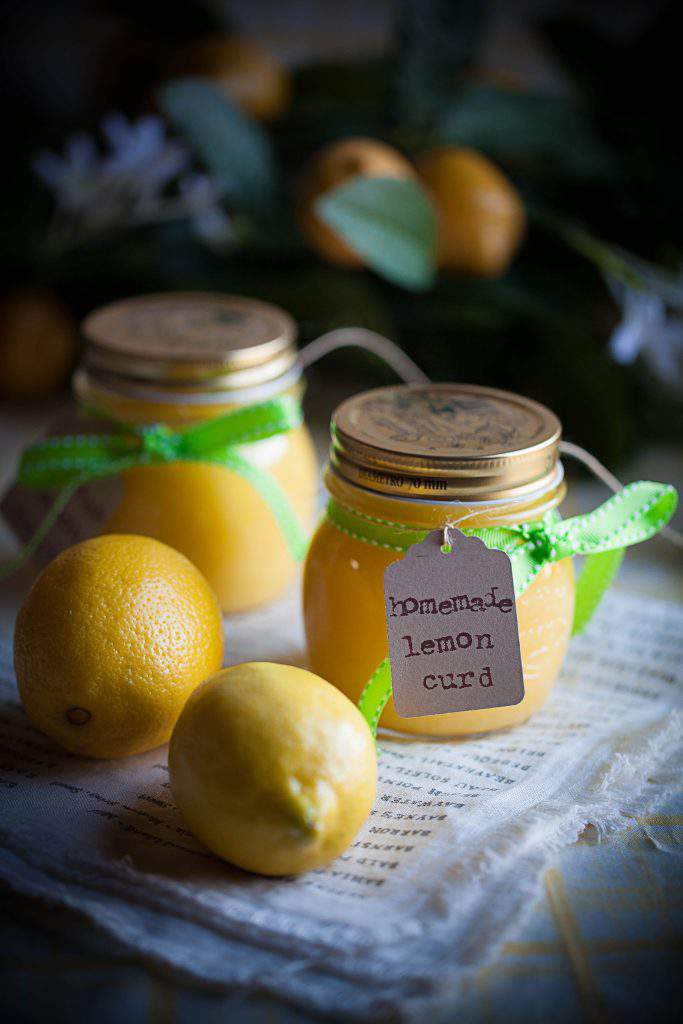 Lemon curd for gifting. I love it and your recipient will too.
How adorable are these little curd-filled jars?
I've gotta say, even if you don't make the cake, you've just got to try making the curd.
Here's a great housewarming gift idea… a small batch of homemade scones along with a jar of homemade lemon curd.
I'm saving one of these jars of homemade curd for my mom who is coming to visit me in a few days.
Hmmm, I'll have to whip up some scones too…. because I'm sure this lovely lemon cheesecake already almost gone.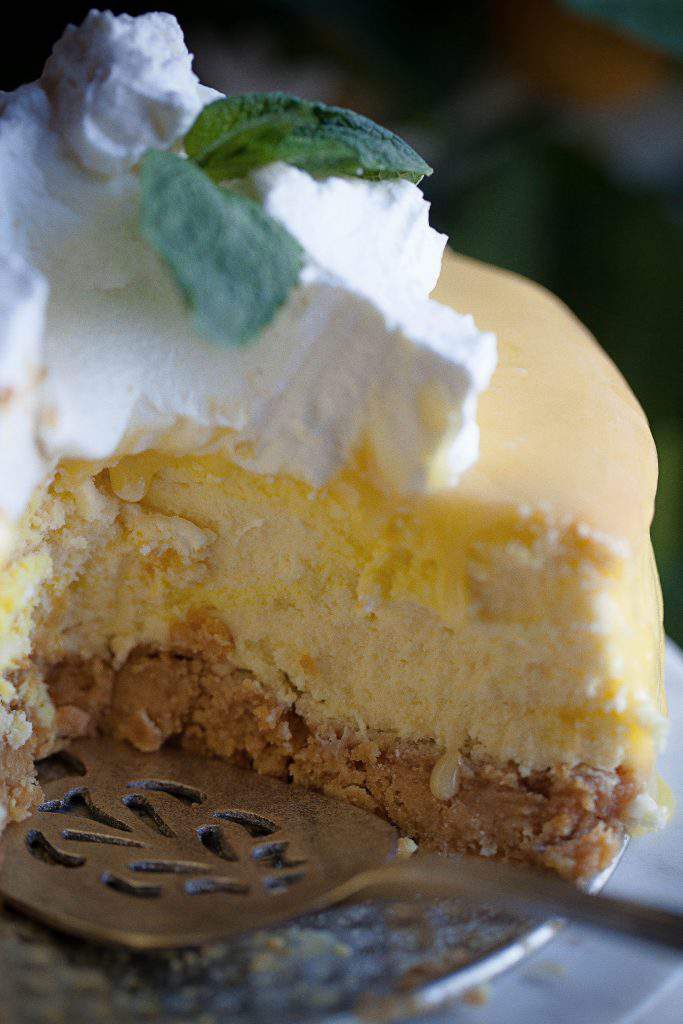 A generous amount of fresh whipped cream is an appropriate topper.
I have an easy homemade whipped cream recipe featuring another fantastic dessert HERE.
Finish the cake off with a sprig of fresh mint for color and added aroma… and you have one lovely lemon cheesecake on your hands.
Your dinner guests are going to love this. Promise.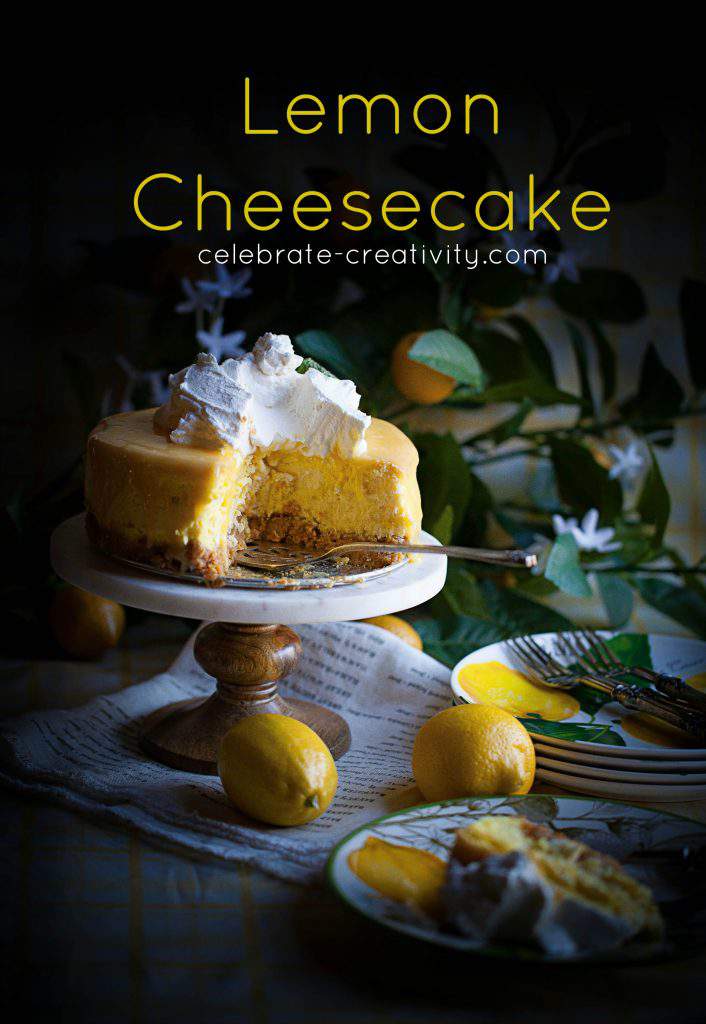 Thanks for stopping by.
See you back here next time. ♥