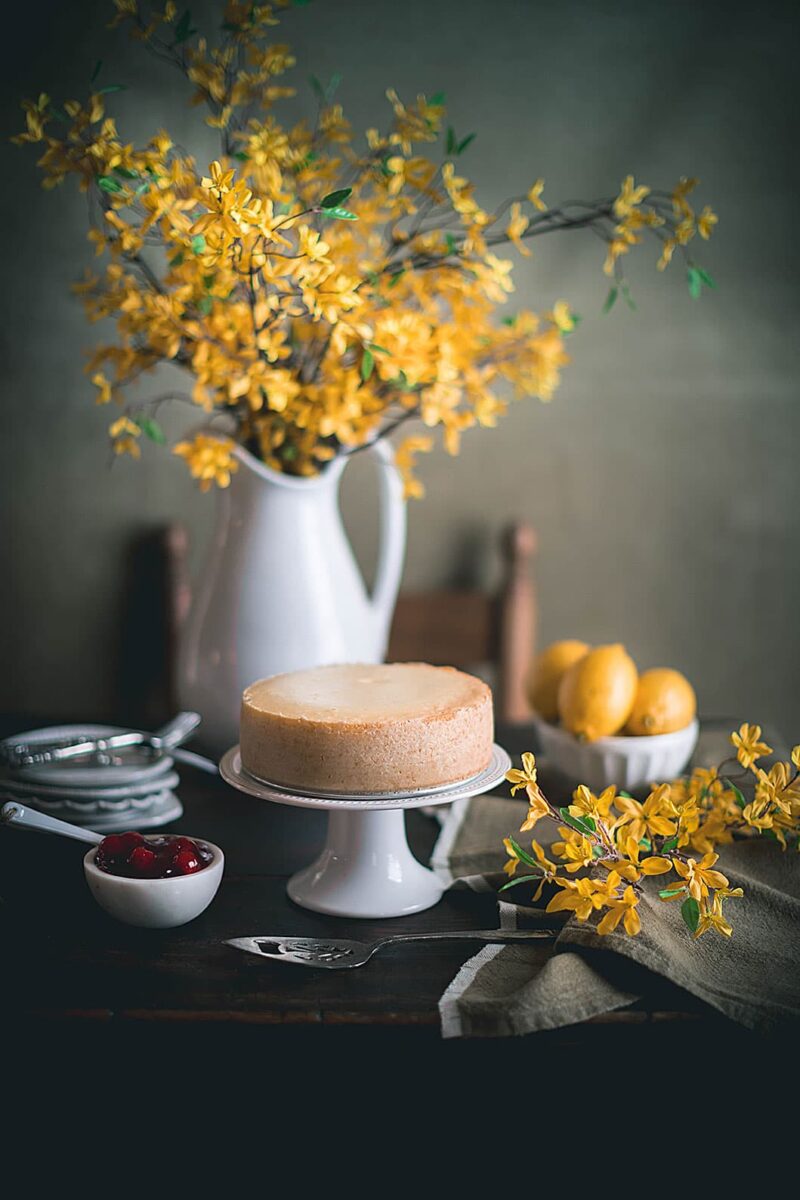 We can all use a little more sunshine in our lives right now.
I think just about everyone would agree with that.
Sunshine has a way of warming the body and the heart, right?
Well, this sweet lemon cheesecake reminds me of how I feel about sunshine.
But this amazing cheesecake goes even further by delighting those all-important taste buds too.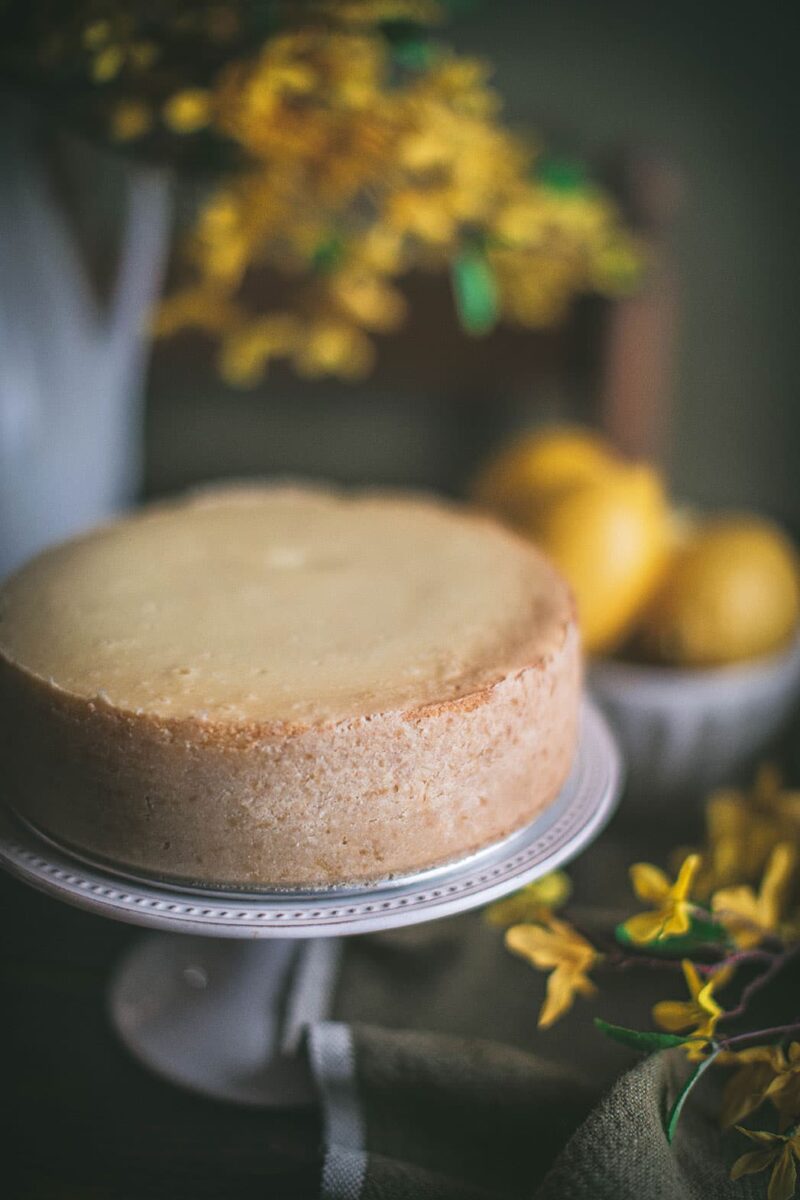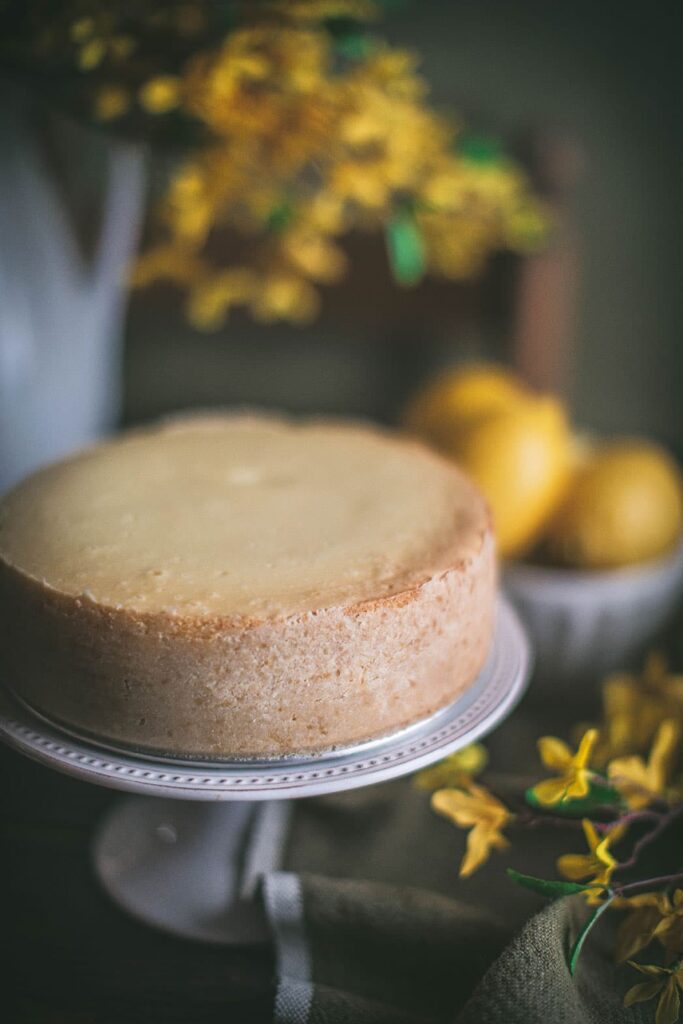 One of the things that I love about this recipe is how light but crispy the crust is.
I've made cheesecakes before that feature a much heavier crust (and that's fine), but this light crust version is much more subtle and not overpowering in any way.
And that really compliments the light and fluffy filling which somehow makes the entire cheesecake a little more elegant.
The full recipe is below.
By the way, I deliberately styled this yellow-shaded cheesecake with artificial forsythias to give the whole setup a feeling of spring and sunshine.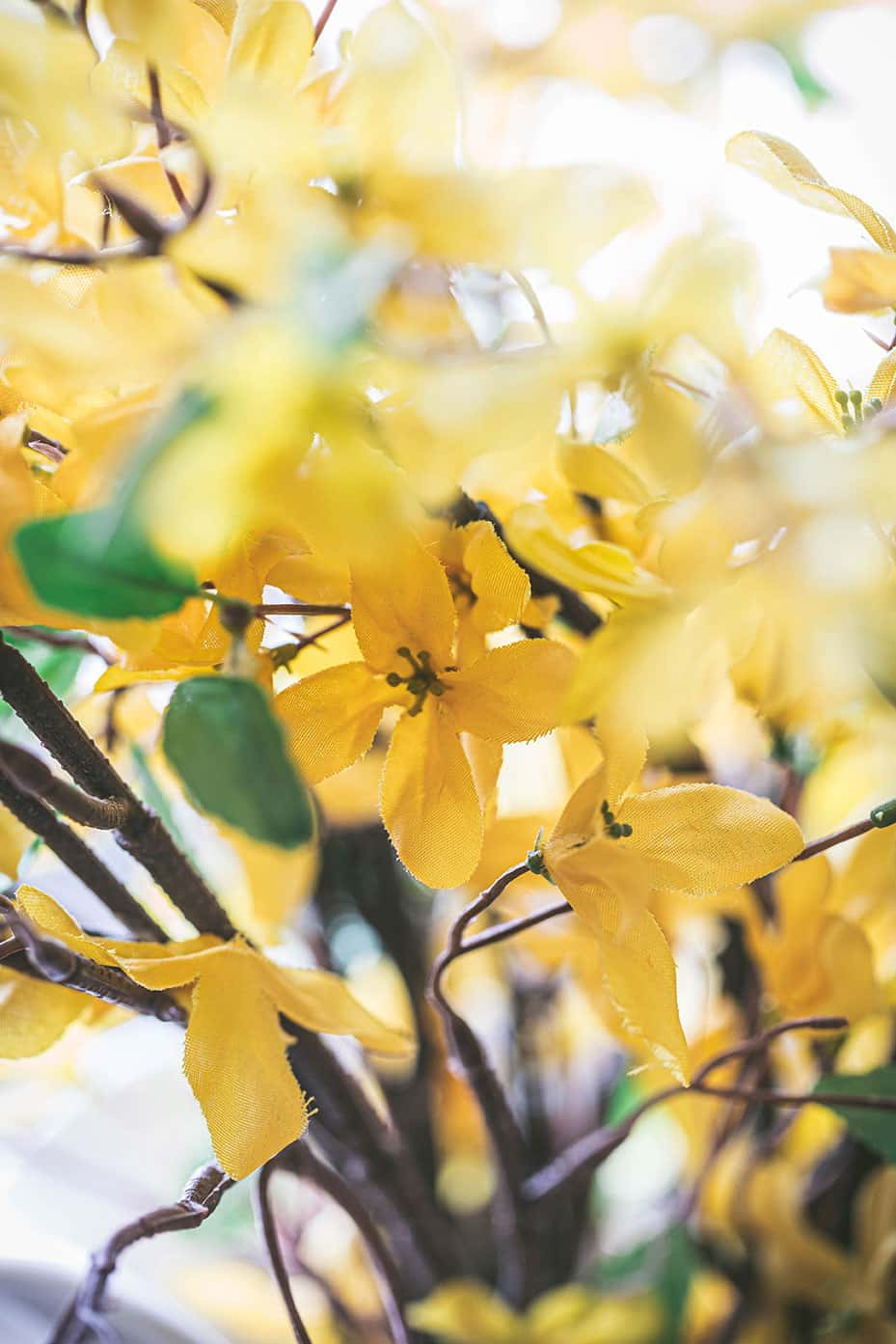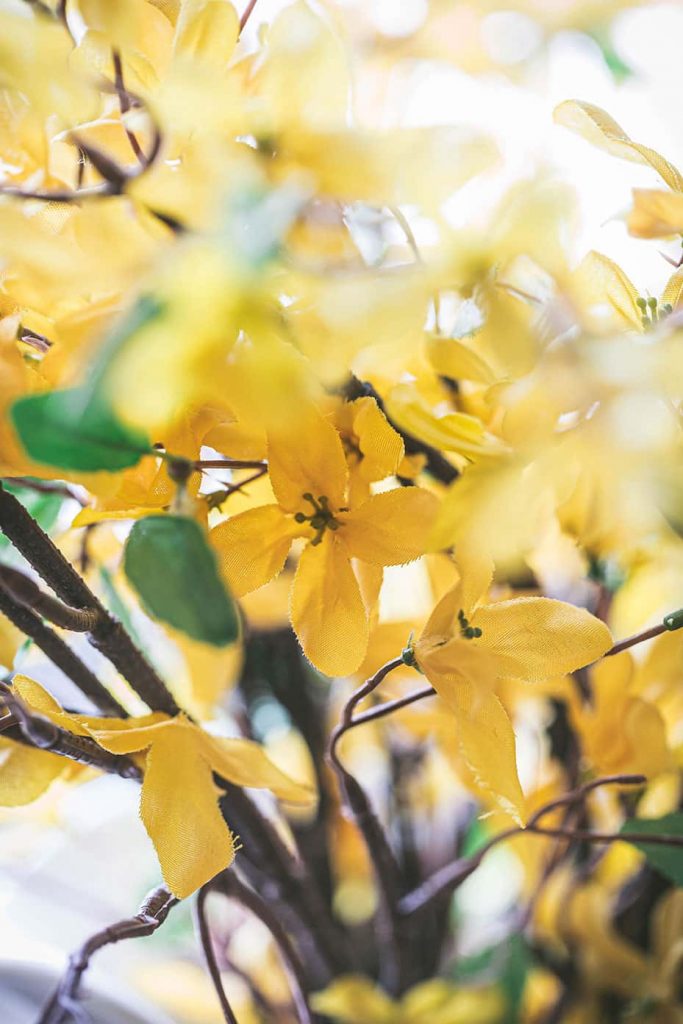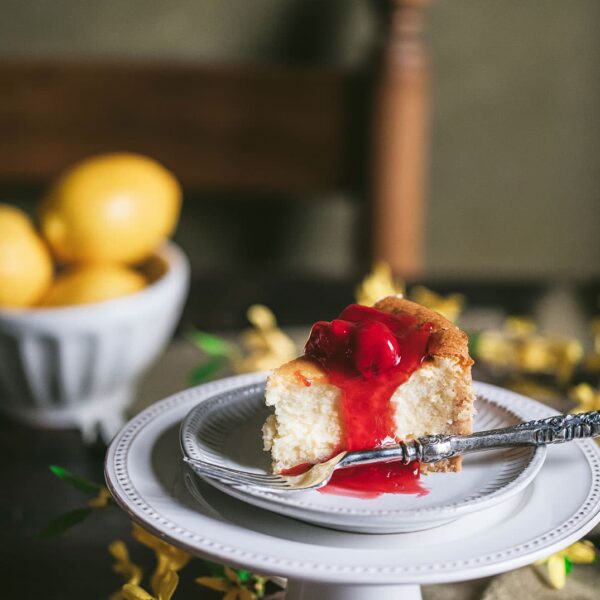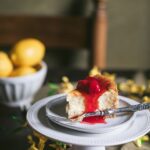 Sweet Lemon Cheesecake
Sweet, creamy and insanely rich... cheesecake lovers will flip over this easy dessert. Adapted from a recipe by King Arthur Flour. Serves 9-10 people.
Ingredients
FOR THE CRUST
3/4 cup all-purpose flour (unbleached)
1 cup almond flour
1/2 cup confectioner's sugar
3/8 teaspoon kosher salt
2 lemons (grated peel)
6 tablespoons unsalted butter, softened
FOR THE FILLING
3 8-ounce packages of cream cheese, room temperature
1-1/2 cups granulated sugar
2 tablespoon all-purpose flour (unbleached)
1 lemon, grated peel
1/4 teaspoon kosher salt
3 teaspoon lemon oil (optional) or 3 tsp lemon juice.
4 eggs
1/4 cup sour cream
2 tablespoon lemon juice powder (optional)
Instructions
LET'S MAKE THE CRUST
Whisk, flour, almond flour and confectioners' sugar, alt and lemon zest.

Cut in the butter and chop until even crumbs form.

Press into a 8-9-inch springform pan. Press the crumbs across the bottom of the pan and then, push the crust evenly up the side of the pan as possible for a taller crust.

Preheat oven to 350 degrees, F.

Prick the bottom of the crust with a fork and chill in the freezer for 15 minutes.

Remove the crust from the freezer and cover the bottom of the pan with a piece of parchment paper.

Pour ceramic pie weights into pan. You can also use raw beans or rice. Bake for about 15 minutes. This is called "Blind Baking".

Blind baking helps to prevent the crust from puffing up during the baking process. Blind baking gives the crust a head start before any wet filling is added. This helps prevent the filling from soaking into the crust and making it soggy.

Remove from oven. Set aside and allow crust to cool completely.

Reduce oven temperature to 325 degrees.
LET'S MAKE THE FILLING
Mix the cream cheese, sugar and flour in a stand mixer (on low speed) until there are no lumps.

Add the lemon zest salt and one egg.

Scrape down the side of the mixing bowl and add the remaining eggs, one at a time. Make sure each egg is fully incorporated into the mix before adding the next.

Pour the filling over the cooled crust and bake for 55 minutes.

Turn off the oven and leave the door propped open. Allow the cheesecake to rest in the oven for an hour.

Remove cake from oven and allow cake to cool. Refrigerate until you want to serve it.

Just before serving, top oven with cherry filling or another favorite fruit topping.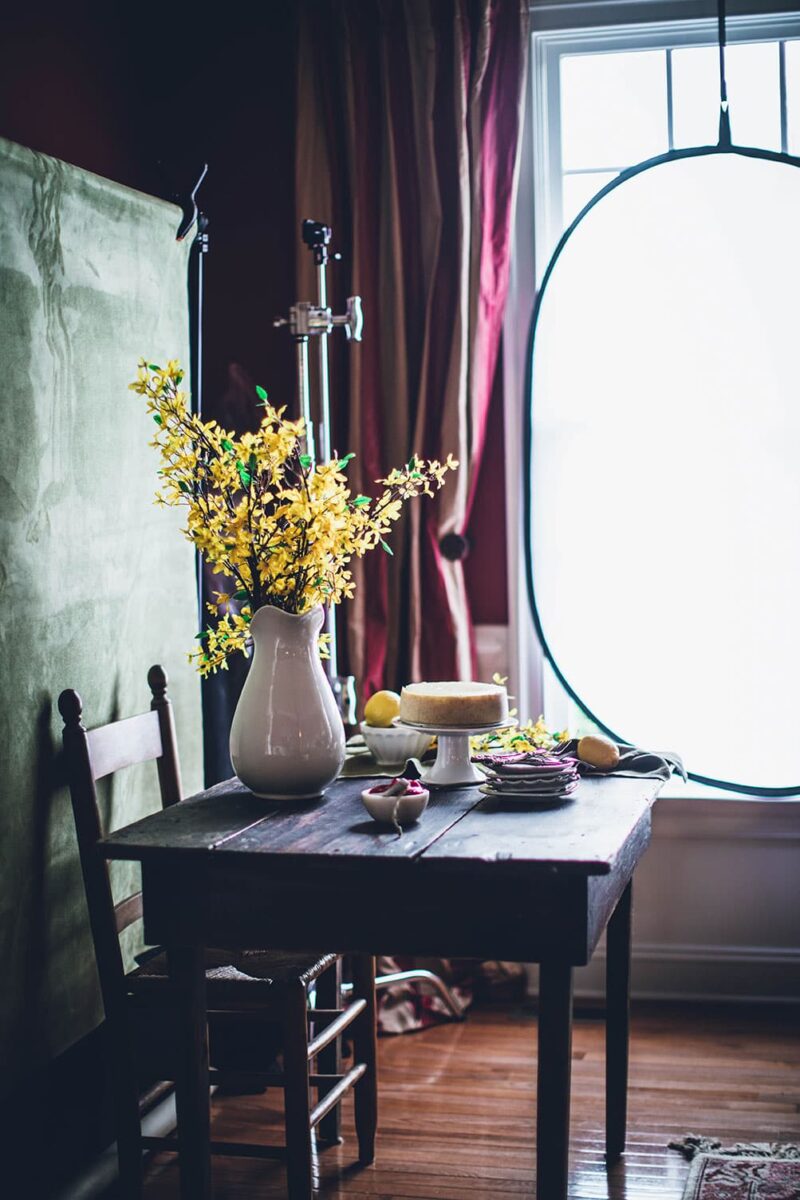 A while back I promised I would share my photography setup whenever I remembered to snap the shot.
Well, here's a closer look behind the scenes of this shoot.
This is my favorite corner of my dining room which always has the most wonderful light streaming in from that south-east facing window.
The diffuser in the window helps to soften the light that much more.
And if you like the backdrop, it's easy to reproduce. It's just three yards of green, faux suede that I found at a home decorator store.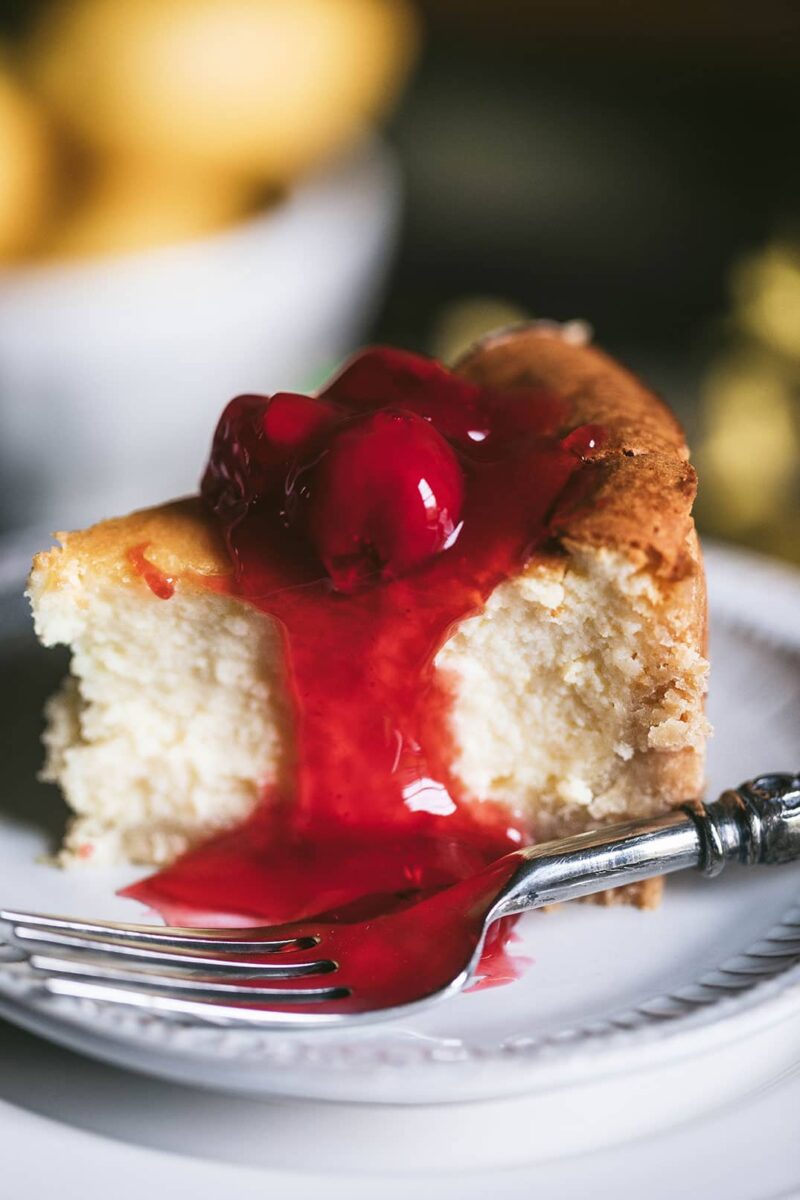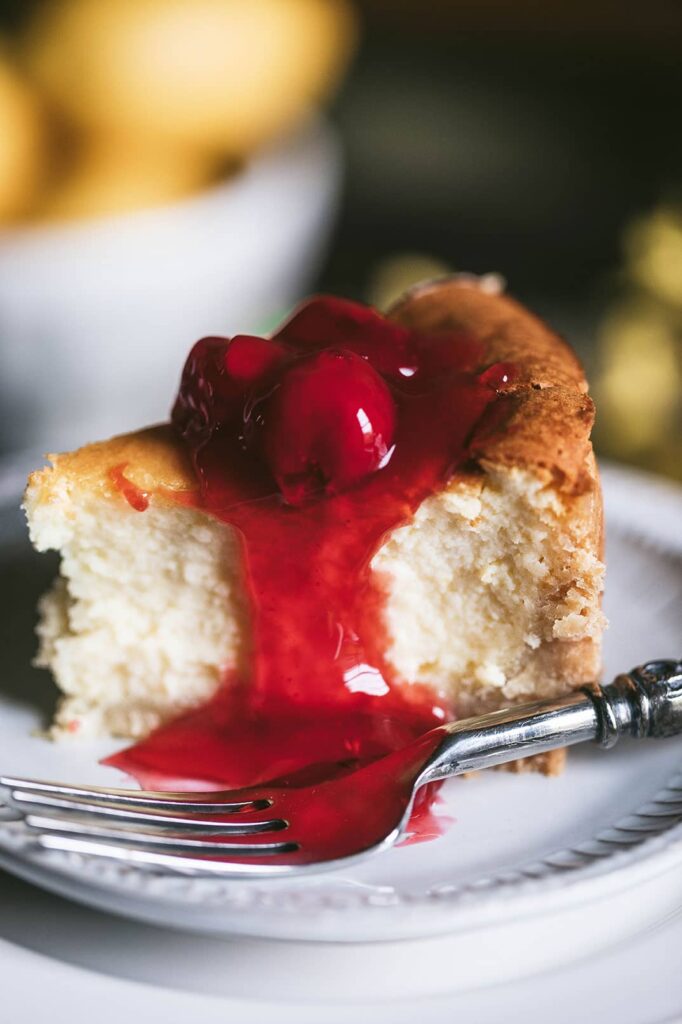 Meanwhile, up the flavor factor of this lemon cheesecake with a favorite fruit topping.
I used canned cherry pie filling because that's what I had on hand at the time.
Assorted fresh fruit would also make a wonderful topping for this light and lovely cheesecake.
If you are interested in a slightly heavier cheesecake that is just as yummy, check out my post featuring a lemon curd cheesecake, HERE.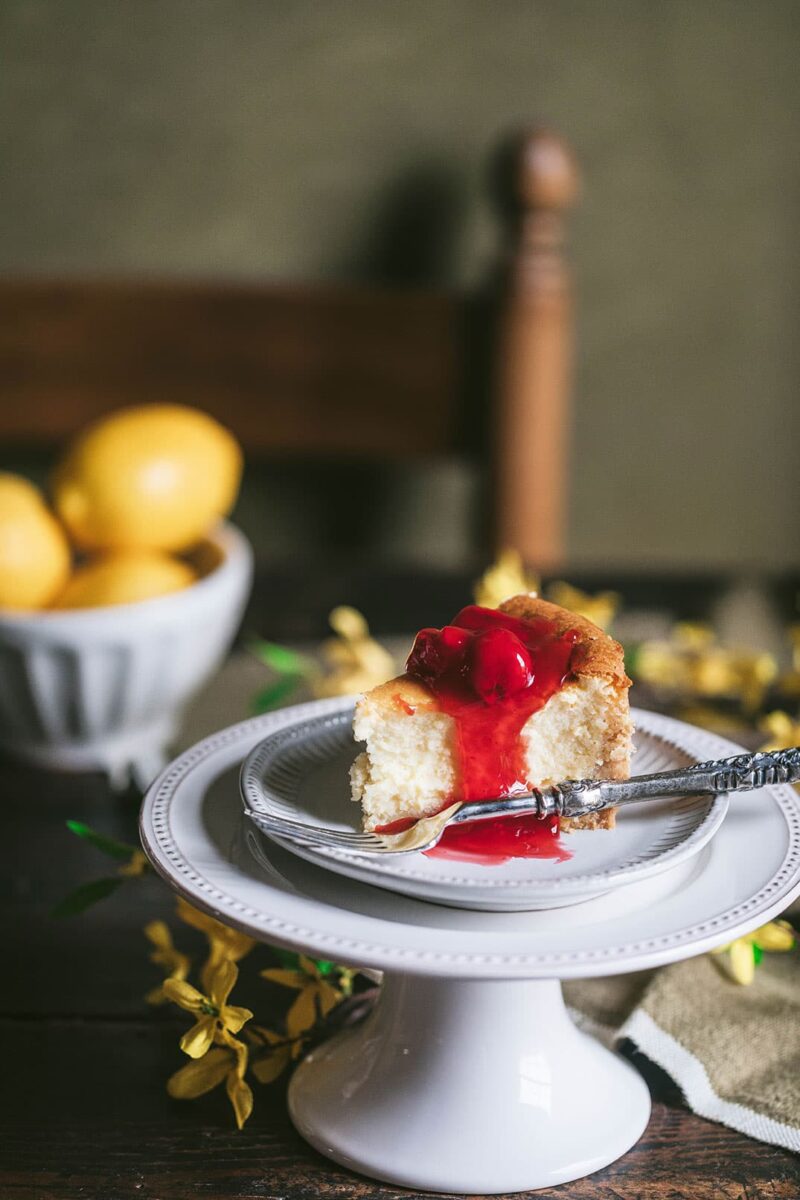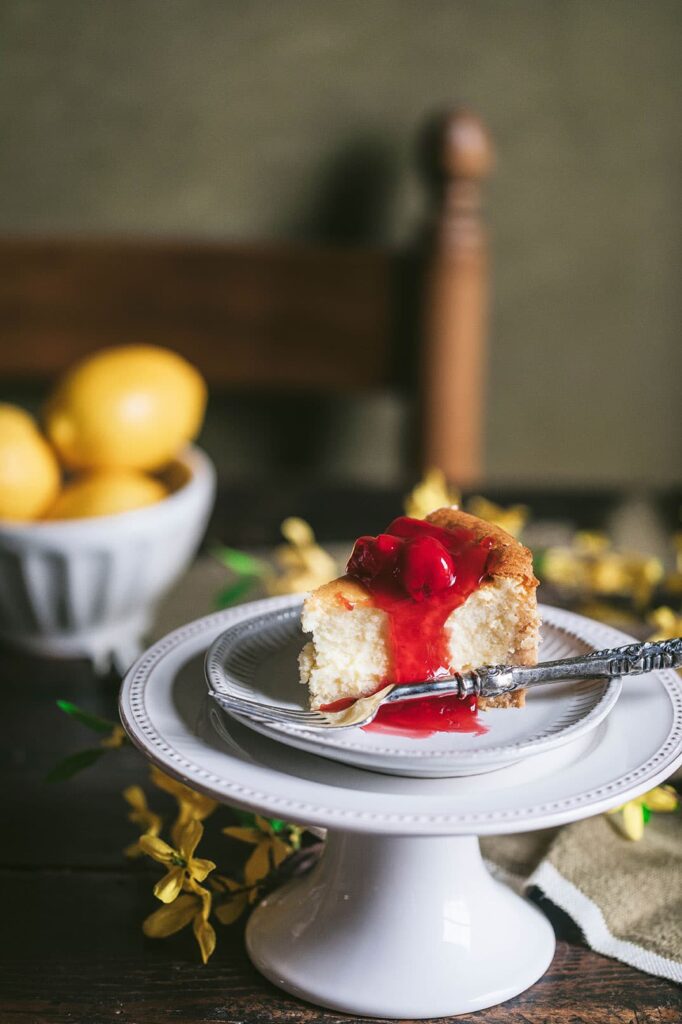 Thanks for popping by.
Stay safe and be well.
See you back here next time.♥