I'm sure I'm not the only one who is a bit stunned that we are already into the month of November.
Wow. It's all flying by oh-so fast.
While my schedule of projects, assignments… and everyday life have kept me pretty busy lately (I'm sure you're ultra-busy too), I love when I'm able to find time to make something that I don't normally make.
These yummy-filled, homemade donuts fit the bill perfectly.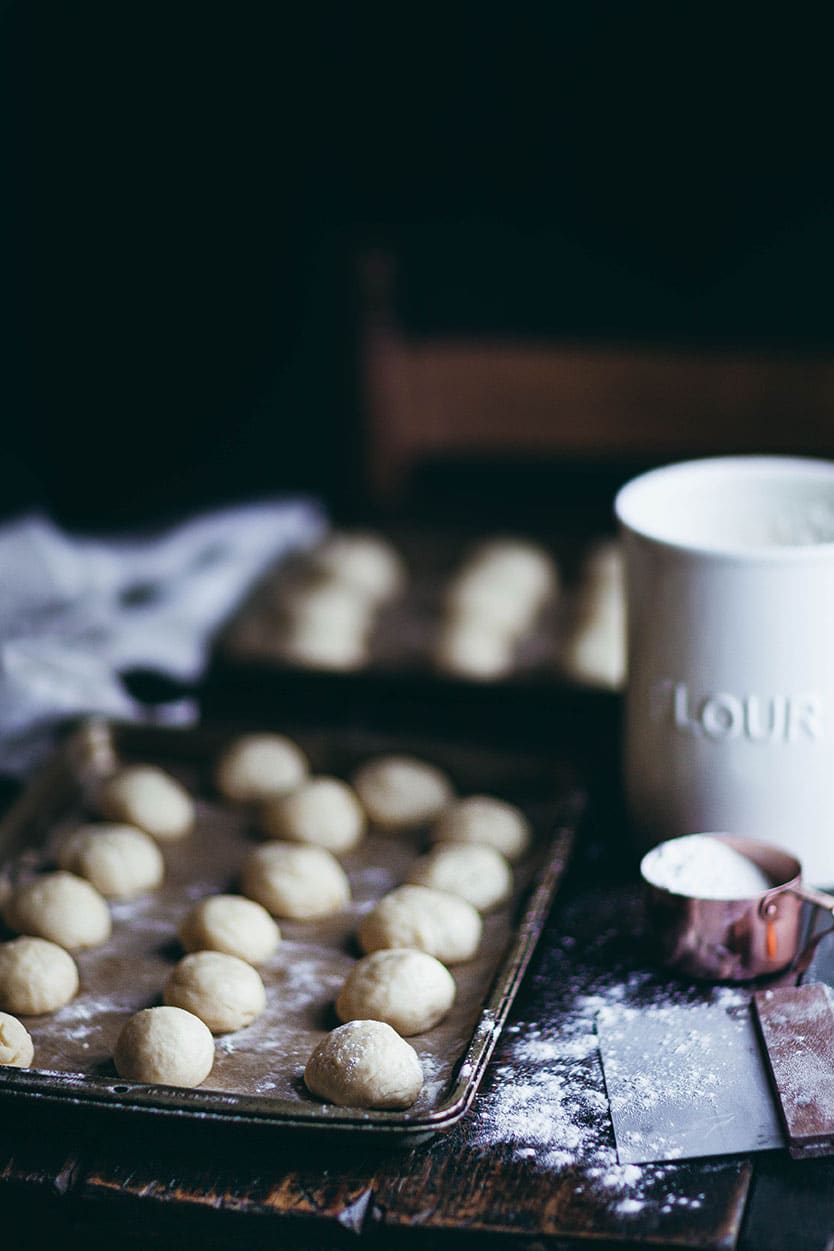 These little dough balls were fun to roll into shapes. Kneading and working with flour-dusted dough is like therapy to me.
While I primarily make food and desserts to share and enjoy with family and friends, I also whip up dishes, just to improve my storytelling through photography.
I'm always looking for ways to present ingredients, prep-work and process in ways that evoke a mood or particular feeling.
For example, I think the simple act of sprinkling flour on a wood table in the above photo, adds personality, a little more interest and a sense of immediacy.
Yes, it's entirely staged but the presentation gives the viewer the sense that they'e right in the middle of the food prep.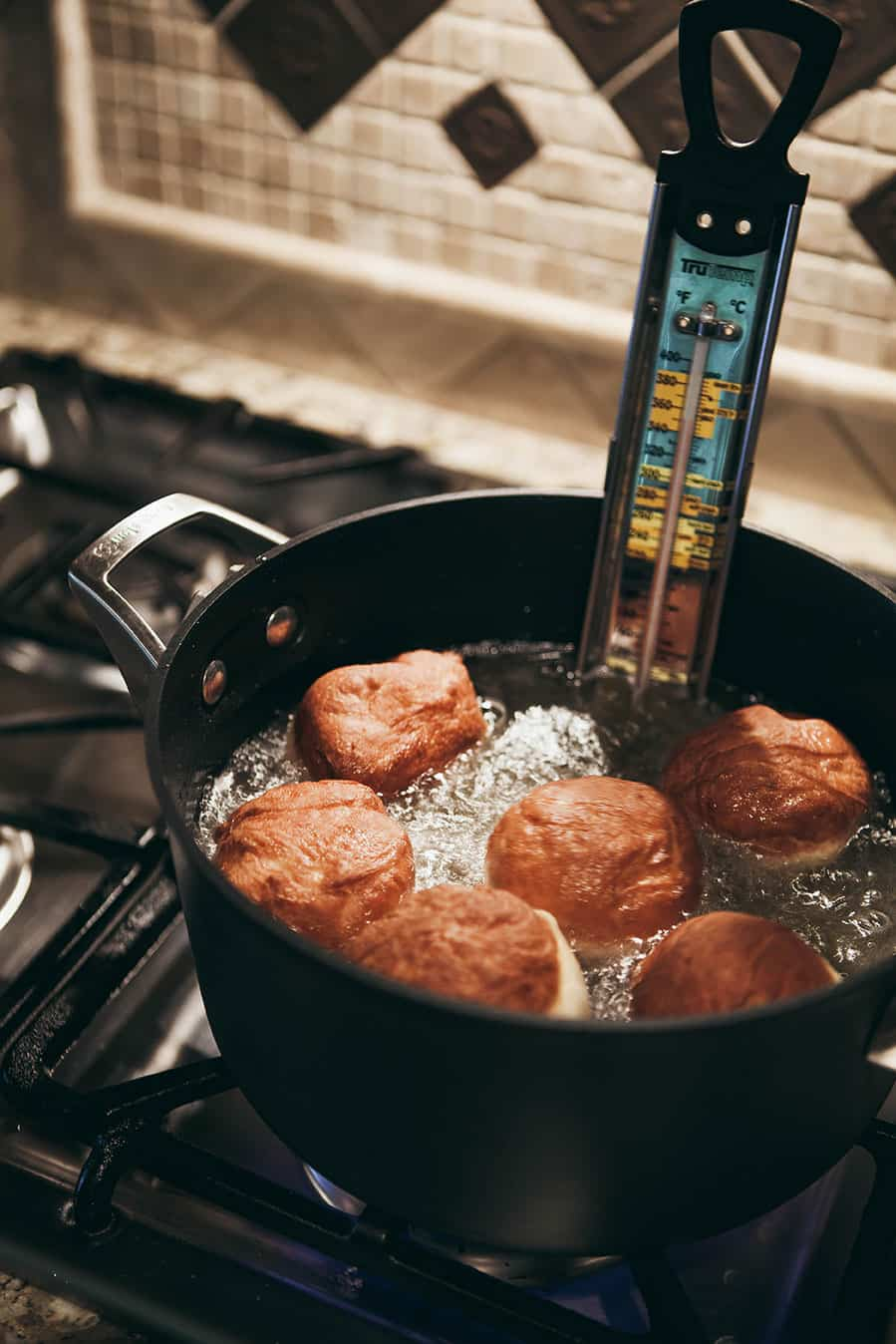 Earlier this summer, I tried my hand at making strawberry-cherry jam and since it turned out fairly well, I was able to use it in these donuts.
In addition to using some of the homemade jelly as filling for these donuts, I also decided to fill half of them with a creamy, homemade lemon curd too.
You can find the lemon curd recipe that I used for these donuts, HERE.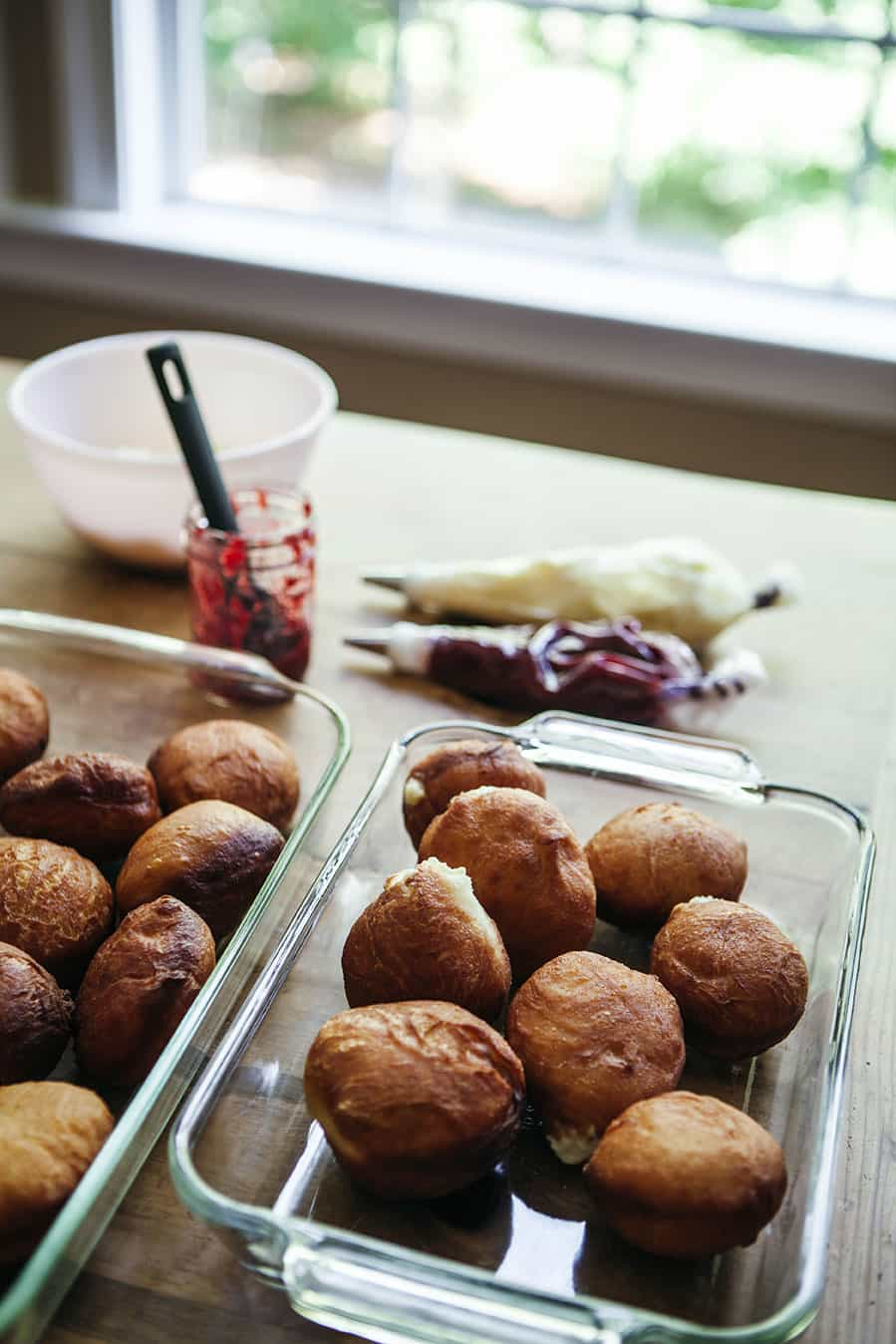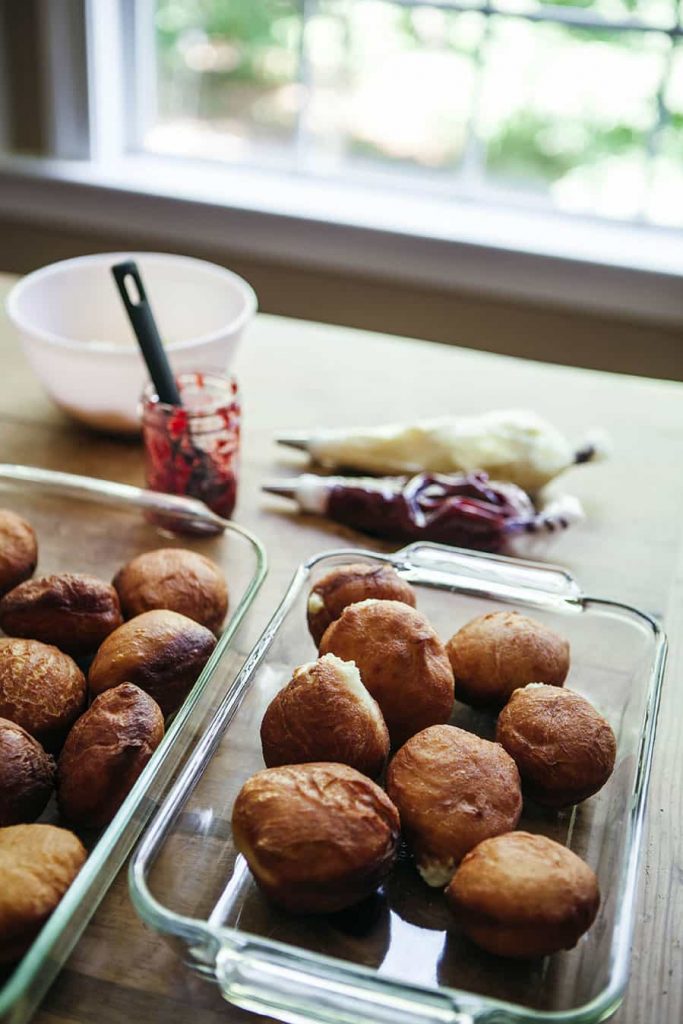 As much as I love how lightly crisp these donuts cooked up, I appreciate how they photographed even more.
If you look closely at the photo below, you can actually see the texture of the donut browned dough.
In case you're wondering, I used a 100mm macro lens for this photo which is a great way to capture tiny details that you might not otherwise see.
Keep scrolling for the full recipe.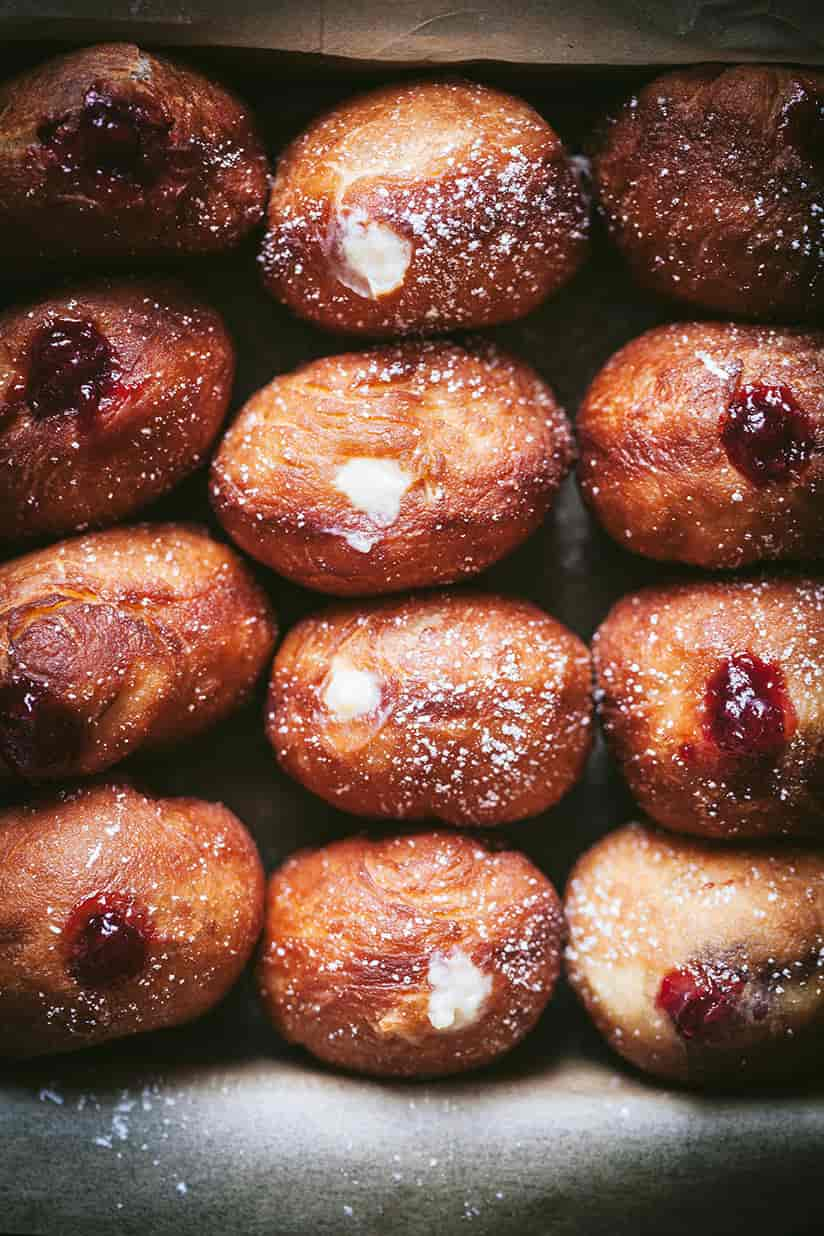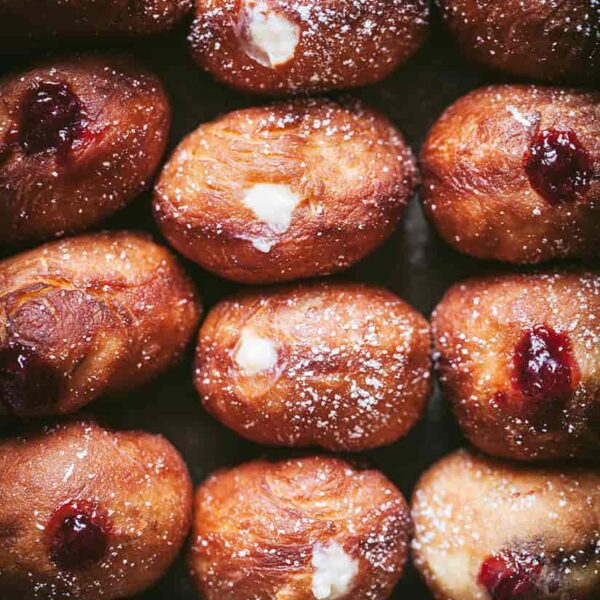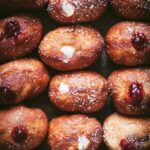 Homemade Donuts
Ingredients
2 envelopes active dry yeast .25 ounce packages
1/4 cup warm water 115 degrees
1-1/2 cups lukewarm milk
1/2 cup granulated sugar
1 teaspoon salt
2 eggs, room temperature
1/2 cup shortening
5 cups all-purpose flour
1-1/2 cups vegetable oil
1/3 cup butter
2-4 cups jam, lemon curd, favorite filling
Instructions
Add dry yeast to warm water and allow to stand for 10 minutes, until foamy

Fit mixer with dough hook. Mix yeast mixture, eggs, milk, salt, shortening, sugar and 2 cups of the flour together.

Add remaining flour slowly and continue to mix until the dough is smooth.

Place dough into a large greased bowl and cover to rest for 1 hour.

Look for dough to double in size.

Gently flour a working surface.

Roll the dough out onto the floured surface.

Fill a 1/4 cup measuring spoon with the dough and roll into a ball.

Place rolled dough ball on a parchment paper-lined baking sheet and continue making 1/4 cup-filled dough balls.

Cover dough ball with a kitchen towel and allow the balls to rest in a warm spot for 1 hour.

Heat vegetable oil to 350-degrees.

Use a long spoon to gently drop several ball into the hot oil.

Watch balls carefully because it won't take long for them to fry.

When you see slight browning around the edge of the ball, use long-handled spoon to flip the ball over to fry on the other side.

Remove from oil and place on a wire rack covered with a paper towel to drain.

Fit pastry bag with a piping tip and fill bag with desired filling.

Pierce both ends of the fried donut with the piping tip and squeeze the filling into each end of the donut.

Set on tray and lightly dust with confectioner's sugar.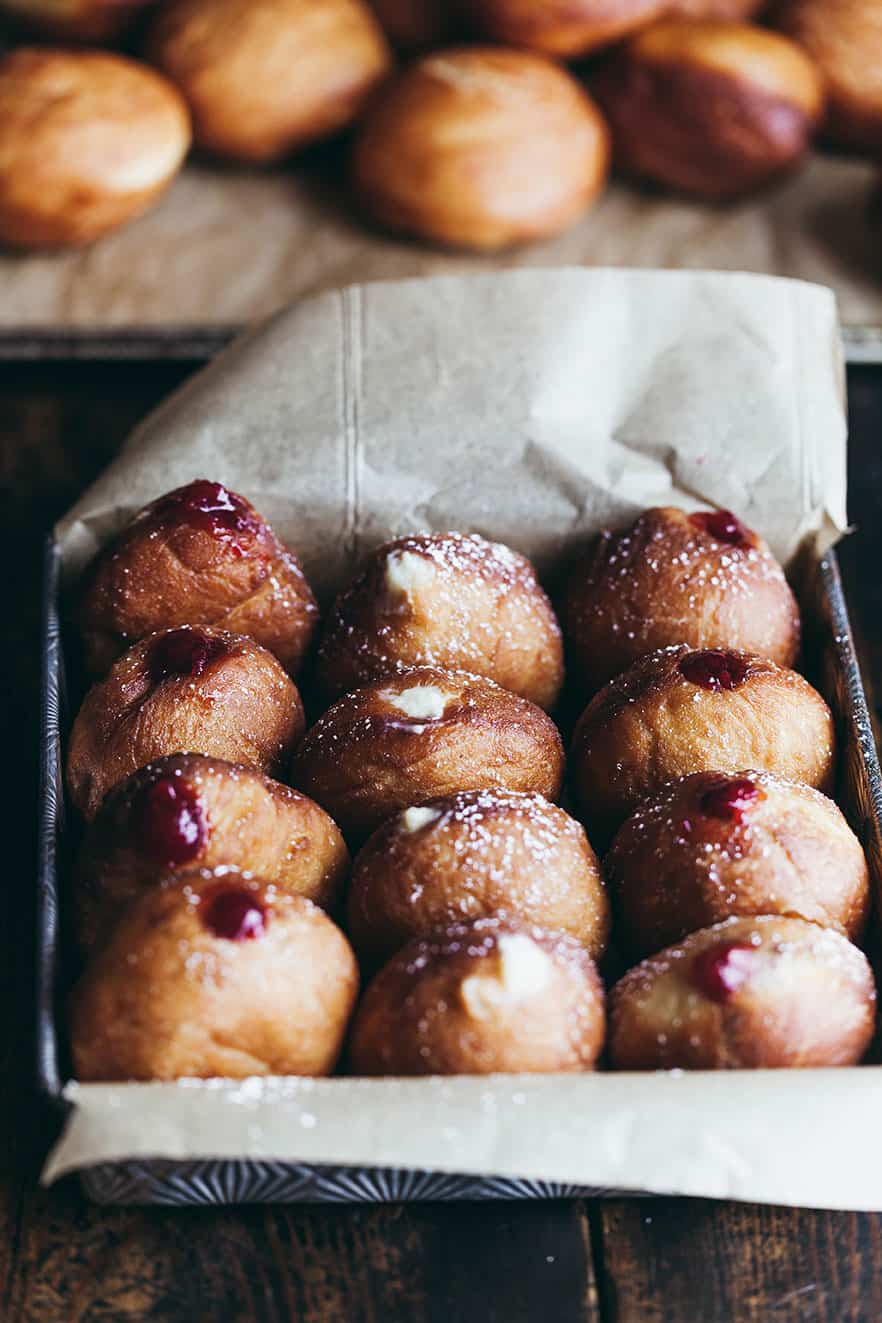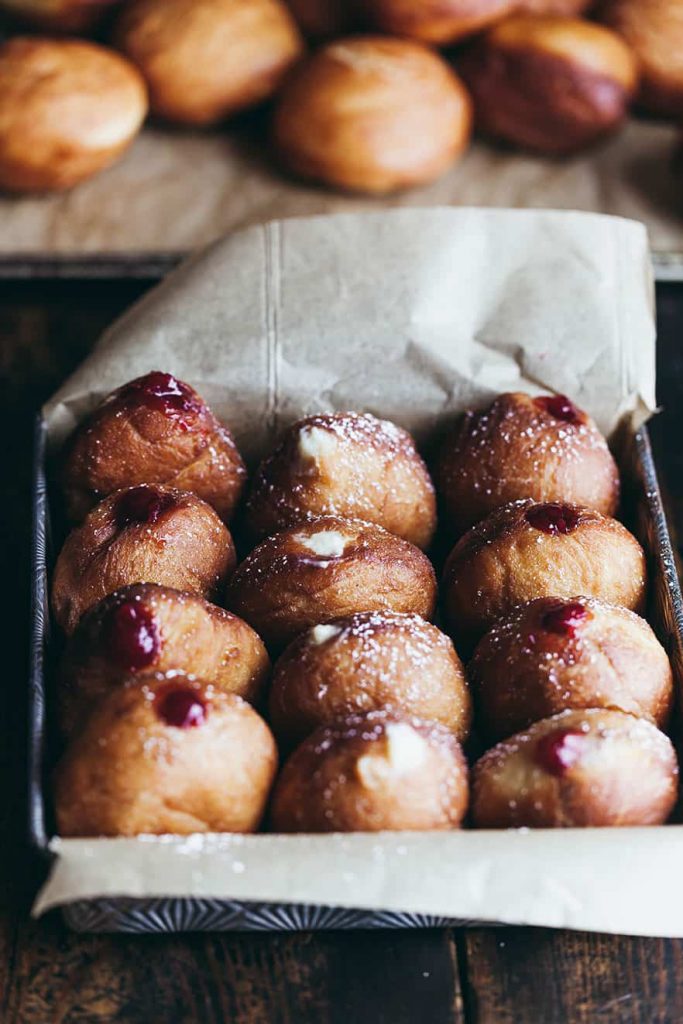 The impending holiday season is a great time for me to practice food photography skills even more because so much of the season revolves around good food.
There are so many new (and a few old) recipes that I want to try this season, I hope I can get to them all.
Of course, as always…. I'll share them with you too.
Happy holiday baking… and homemade donut frying.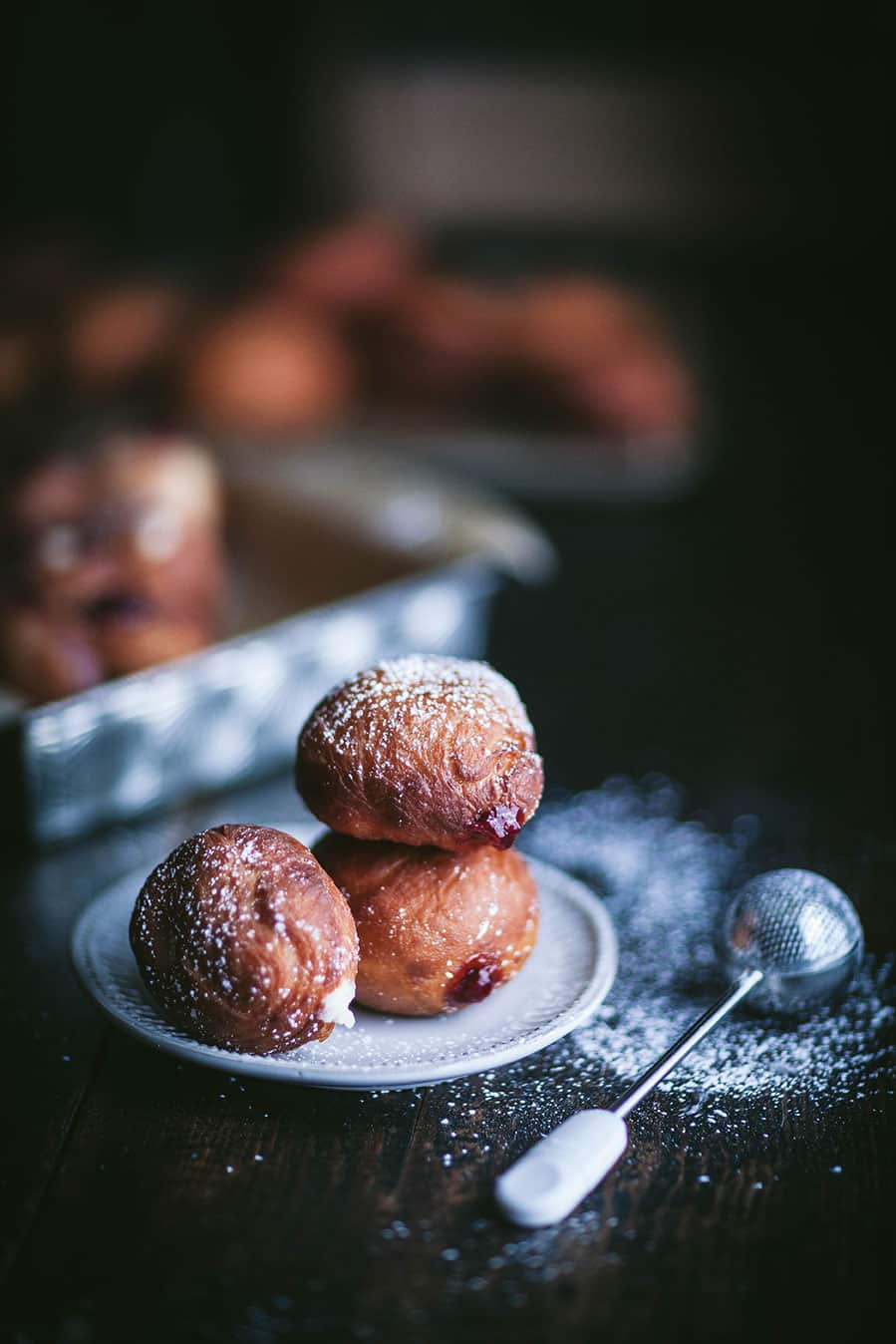 Thanks for stopping by.
I hope you give these yummy-filled, homemade donuts yourself.
Let me know how they turn out for you.
See you back here next time. ♥