Over the recent Memorial Day weekend, my family had a taste for homemade apple pie.
That's one of our favorite desserts and you just can't go wrong that… especially when combined with a scoop of ice cream.
This time, I felt like mixing it up a bit by making apple hand pies.
And as you can see, I added a bit of a floral twist.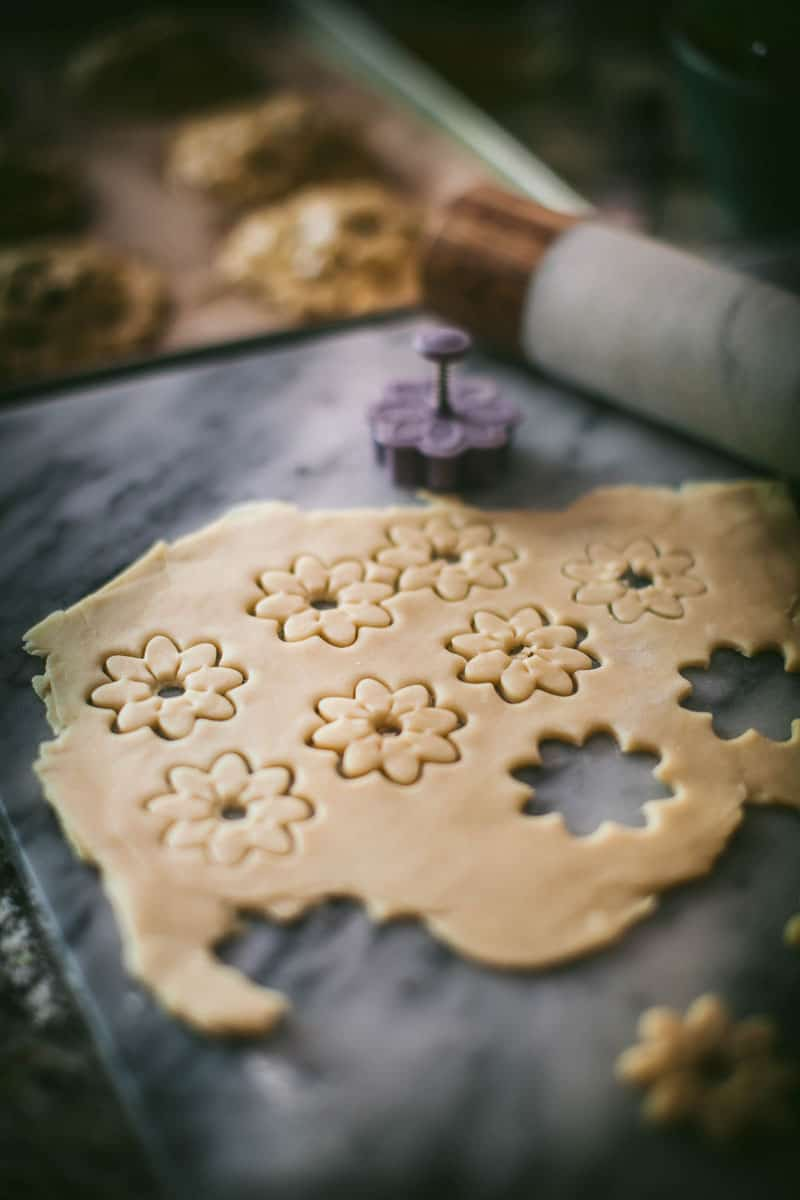 One of the beautiful things about pie crust dough is that you can cut it up or shape it in some pretty creative ways.
There are a ton of beautiful examples of intricate pie cutwork on Instagram and I'm sure you've seen as much as I have.
Over the years, I've tried my hand at a lot of pies and you can see my braided pie crust HERE, or take a look at how I used this same cookie cutter technique on another pie, HERE or you can drool over one of my favorite creative pie crusts HERE.
Getting back to the hand pies in this post, I used a small, spring-loaded cookie cutter to create the flower shapes.
You can find all kinds of small, flower-shaped cookie cutters online.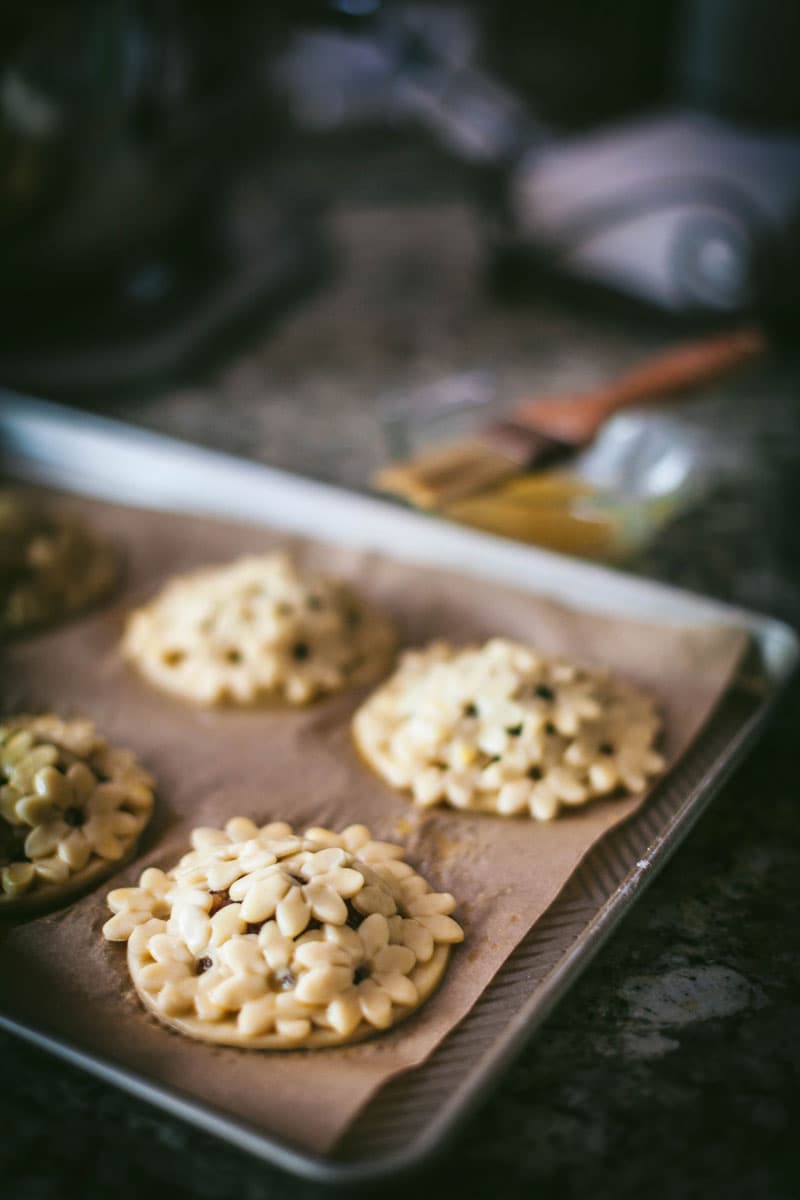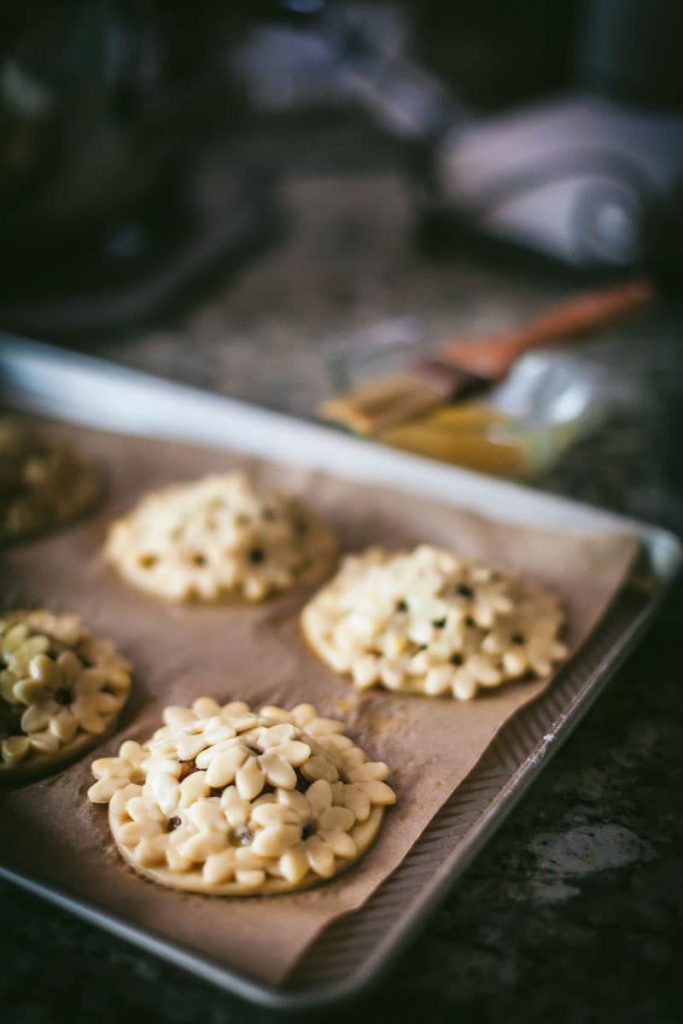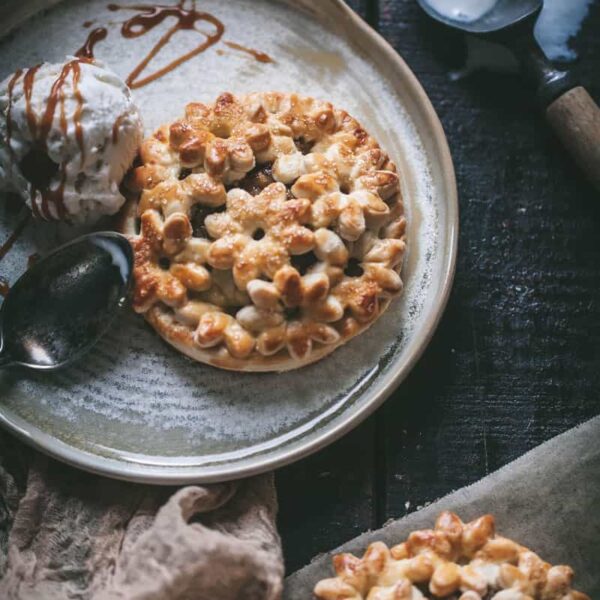 Flower-Shaped Hand Pies
Apple flavored hand pies adorned with dainty and delightful flower shapes.
Course: Dessert
Cuisine: American
Servings: 12
Ingredients
2 prepared pie dough, cut into 4 sections Use your favorite pie dough for 2, 9-inch crusts and double it to make the extra flowers.
4 cups Granny Smith apples, peeled, cored and chopped
2 teaspoons lemon juice
2 tablespoons unsalted butter
1/2 teaspoon salt
1/2 cup granulated sugar
4 tablespoons brown sugar
3 teaspoons ground cinnamon
6 tablespoons shaved or finely cut almond paste, for nutty flavor and to help hold the filling together.
2 egg, for egg wash
4 tablespoons turbinado sugar, for topping
Instructions
PIE CRUST
Make pie crust from favorite recipe. I doubled the crust recipe to give me extra dough to work with for the flowers.
FOR THE FILLING
Peel and core apples. Chop into small, bite size pieces.

Gently coat apple pieces with lemon juice.

Melt butter in a large skillet over medium heat. Stir in apples. Coat apples with butter.

Add salt, brown sugar and white sugar.

Add cinnamon and continue to stir until apples are soft and slightly caramelized.

Remove hot apple mixture from stovetop. Transfer mixture to a bowl and allow it to cool completely.

Use a cheese grater to shave the almond paste so that it's very fine.

Sprinkle the almond paste over the apple mixture and mix gently but thoroughly.
ASSEMBLY
Preheat oven to 350 degrees.

Roll the dough and use a 3-1/2inch circular cookie cutter to cut out 12 shapes for the bottom of the hand pies.

Roll remaining dough onto a lightly floured surface. Use the flower, spring-loaded cookie cutter to cut the flower shapes. If the flower shape does not have a circular opening in the center, use a straw to create one. This will allow the pies to vent adequately.

Spoon 3-4 tablespoons of apple filling into the center of the pie bottom. Press the filling down just a bit to flatten it. Leave @1/2-inch clearance along the outside edge of the pie bottom. This will give you room to affix the flower shapes to the pie bottom.

Use a pastry brush to apply egg wash along the outer edge of the pie bottom.

Gently affix flower shapes to the edge. After each application, brush a light amount of egg wash over the flower shape to allow the next flower shape to adhere to the pie.

Keep adding flowers until the entire hand pie is covered.

Don't overload the pie because this will give you far more crust than is needed after it's baked. You basically want to make sure the filling is covered so that it doesn't spill out of the pie during baking.

After assembly, use pastry brush to apply a thin layer of the egg wash over the entire hand pie. Be sure to get the nooks and crannies for even browning.

Place pies on a parchment paper-lined baking tray and bake for 30-40 minutes or until golden brown.

Baking times may vary depending on the heat output of your oven.

Remove from oven and serve warm with vanilla bean ice cream and optional homemade caramel sauce.

Serve with vanilla bean ice cream and homemade caramel sauce.

Sit back and watch the smiles.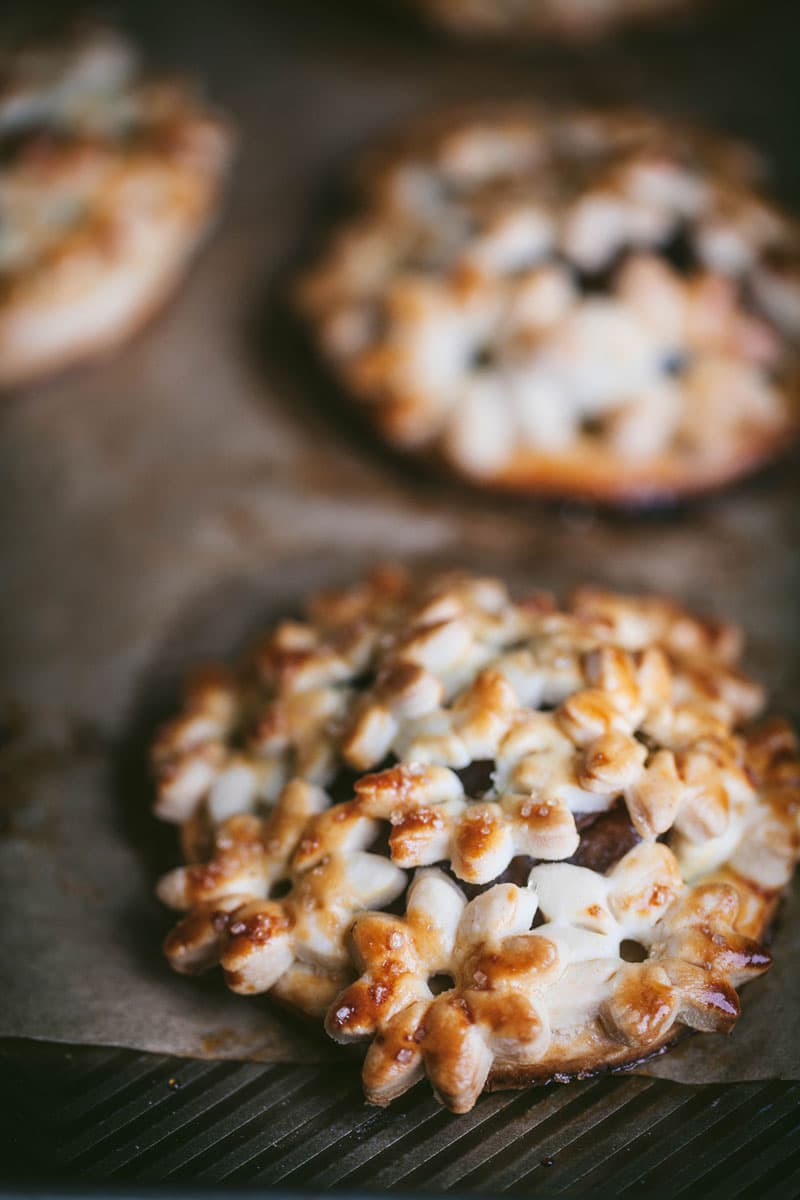 These hand pies bake up beautifully but I do have one tip (that actually applies to any type of apple pie).
You must make sure your egg wash fully coats all areas of the top of the pie.
This is especially important when working with cutouts like this.
If any areas of the dough don't get coated, you may end up with some uneven browning on a few of the flowers.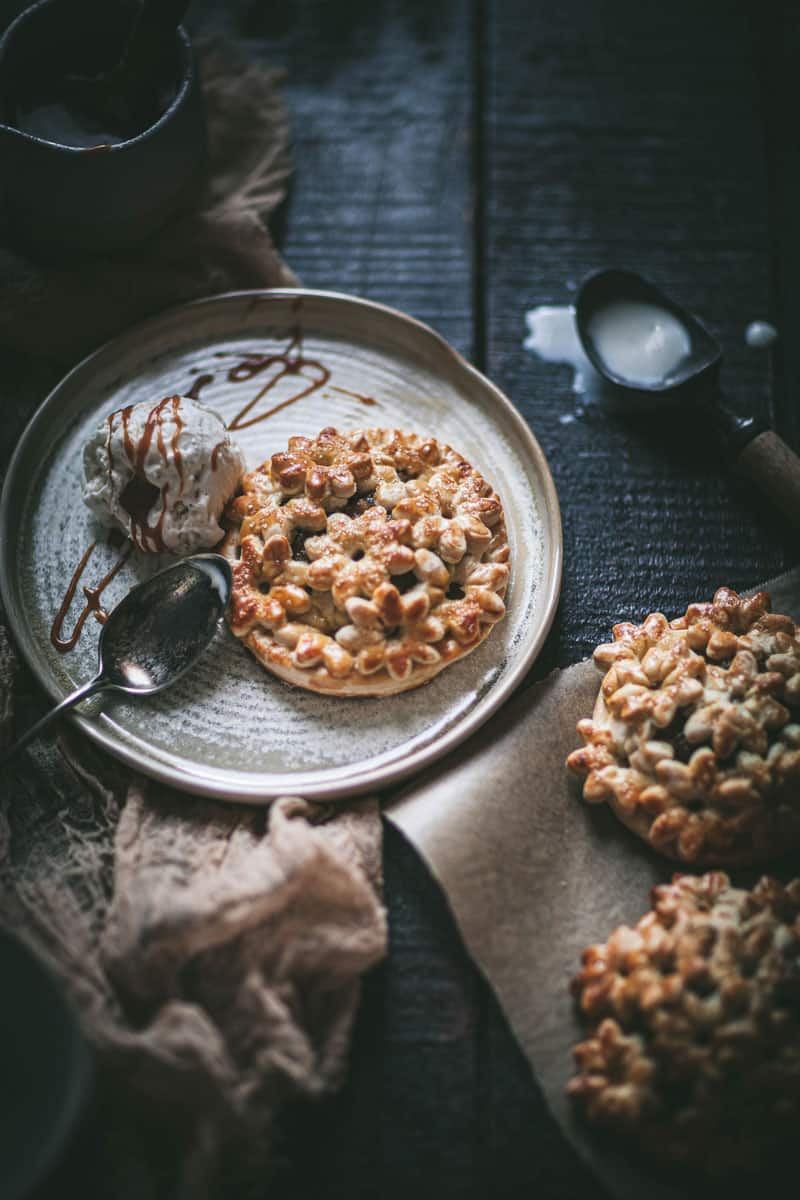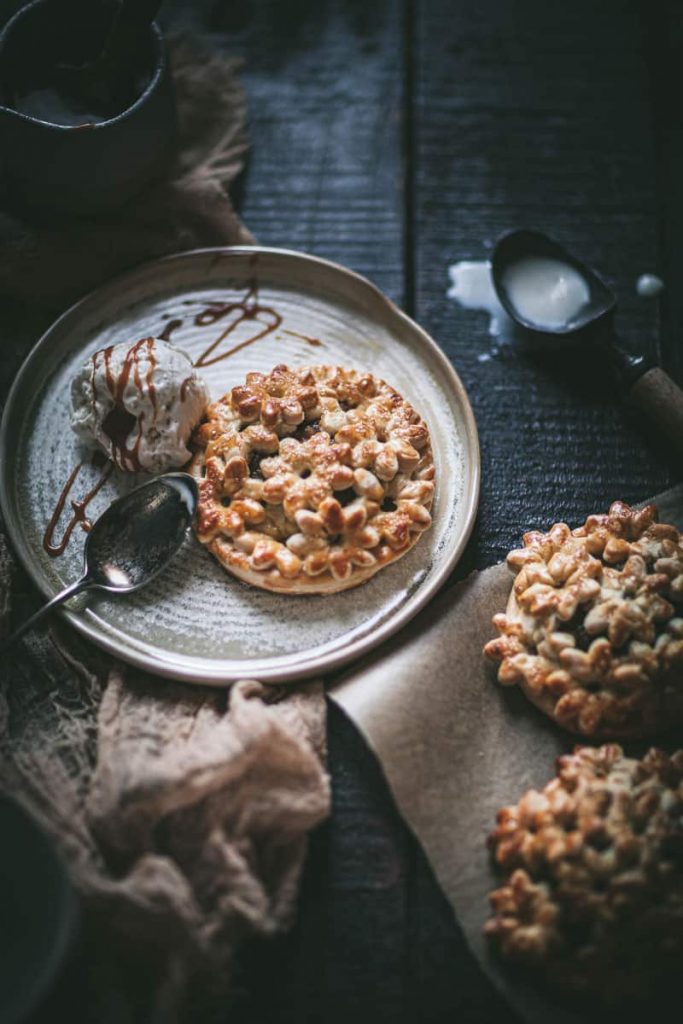 I love individual serving sizes like this.
It certainly can be more fun when pie lovers get their own little dessert that looks like it was made just for them.
How cute are these? Your pie-loving friends and family will love them.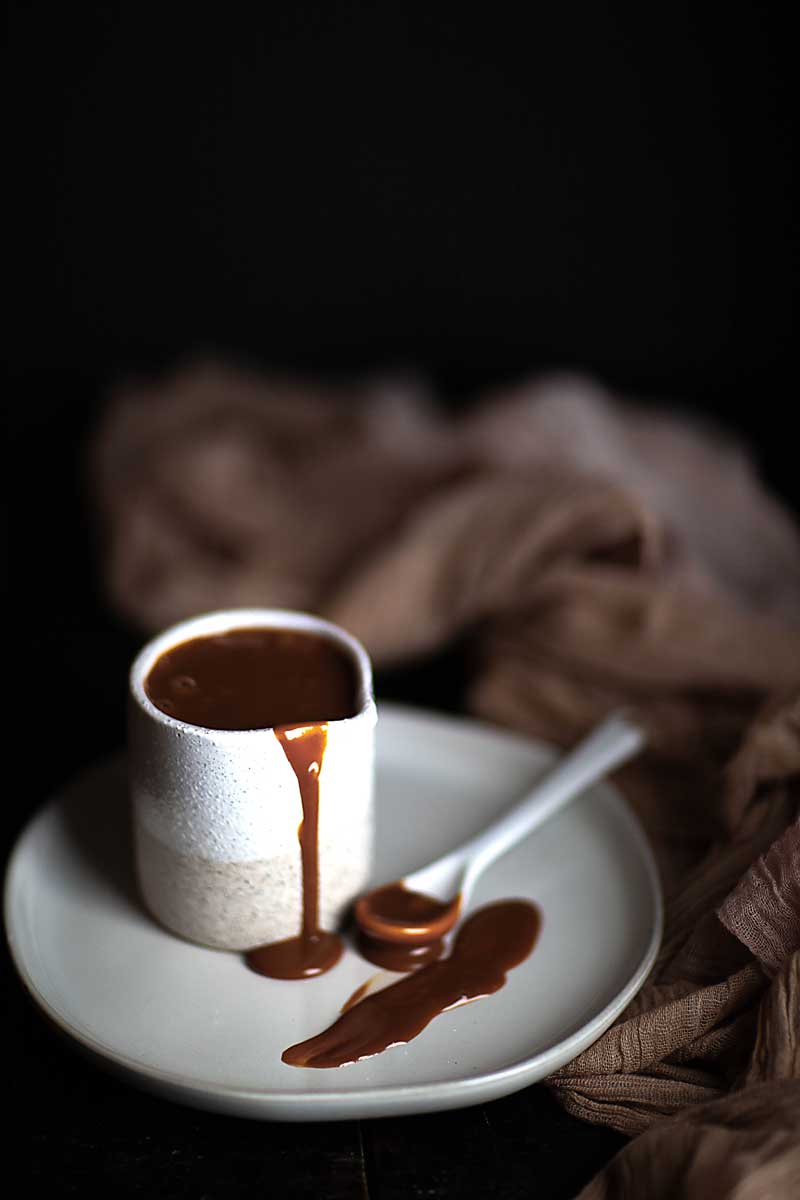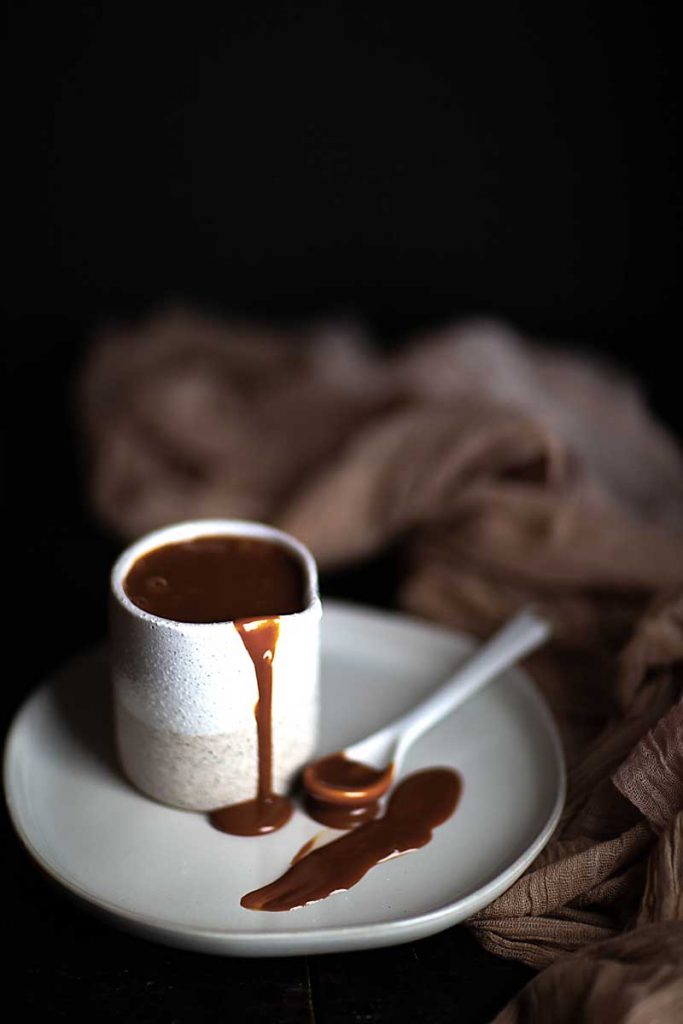 Brace yourself for some added delicious decadence.
As if vanilla bean ice cream isn't enough… you can also kick up the yummy-factor with a few drizzles of homemade caramel sauce.
It's delicious whether drizzled over the ice cream or the hand pie…. or both. No rules on that.
You can see the recipe for this delicious (and easy) salted caramel sauce from a previous post HERE.
Whip-up these sweet, floral hand pies… serve with a heaping helping of yummy goodness… and just sit back and watch the smiles take over.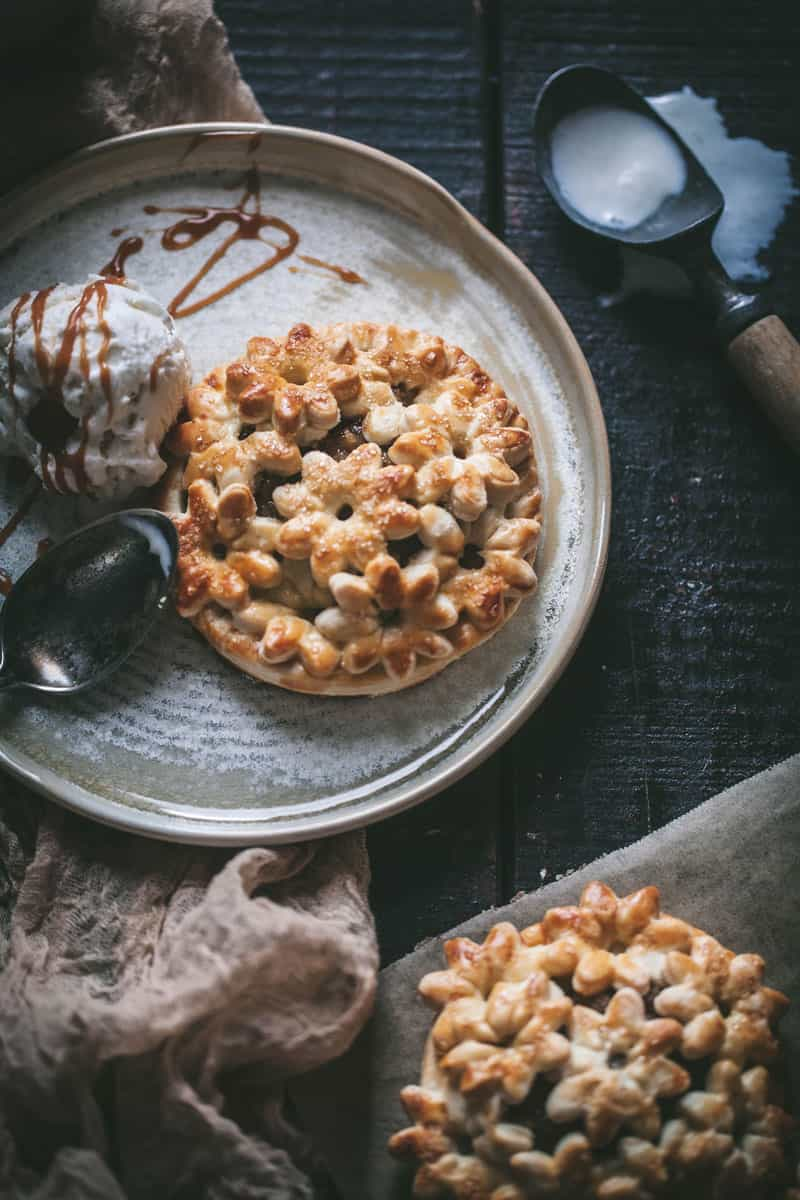 Thanks so much for stopping by.
See you back here next time.♥