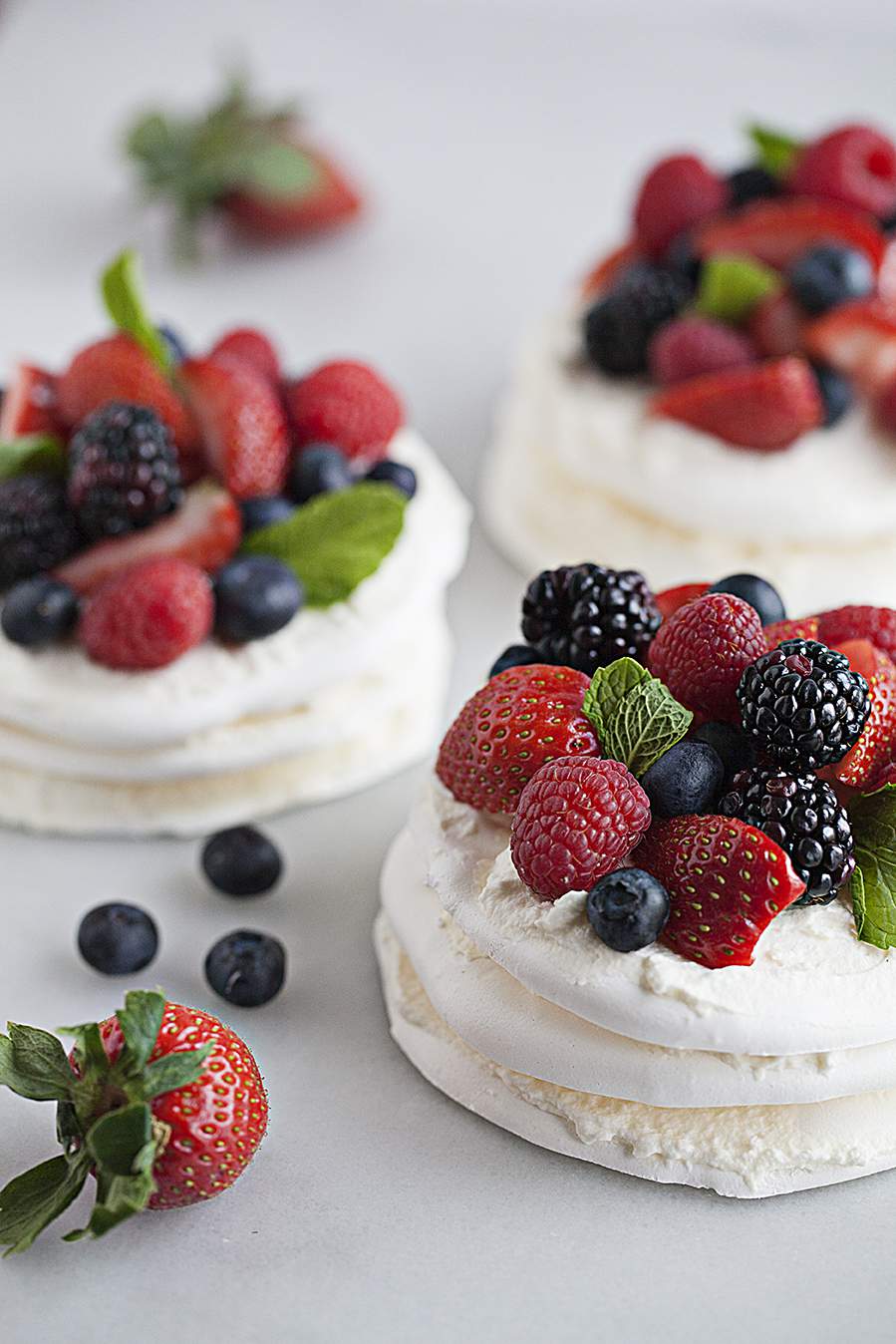 If you are looking for a dessert that hits all the important points (beautiful, easy to make, delicious and makes the guests go wild), then this is it.
This is the first time I've ever made Pavlova.  Now, I've seen it around in magazines and online before but I just never really felt particularly compelled to give it a try… until now.
So glad I did. You're going to love this.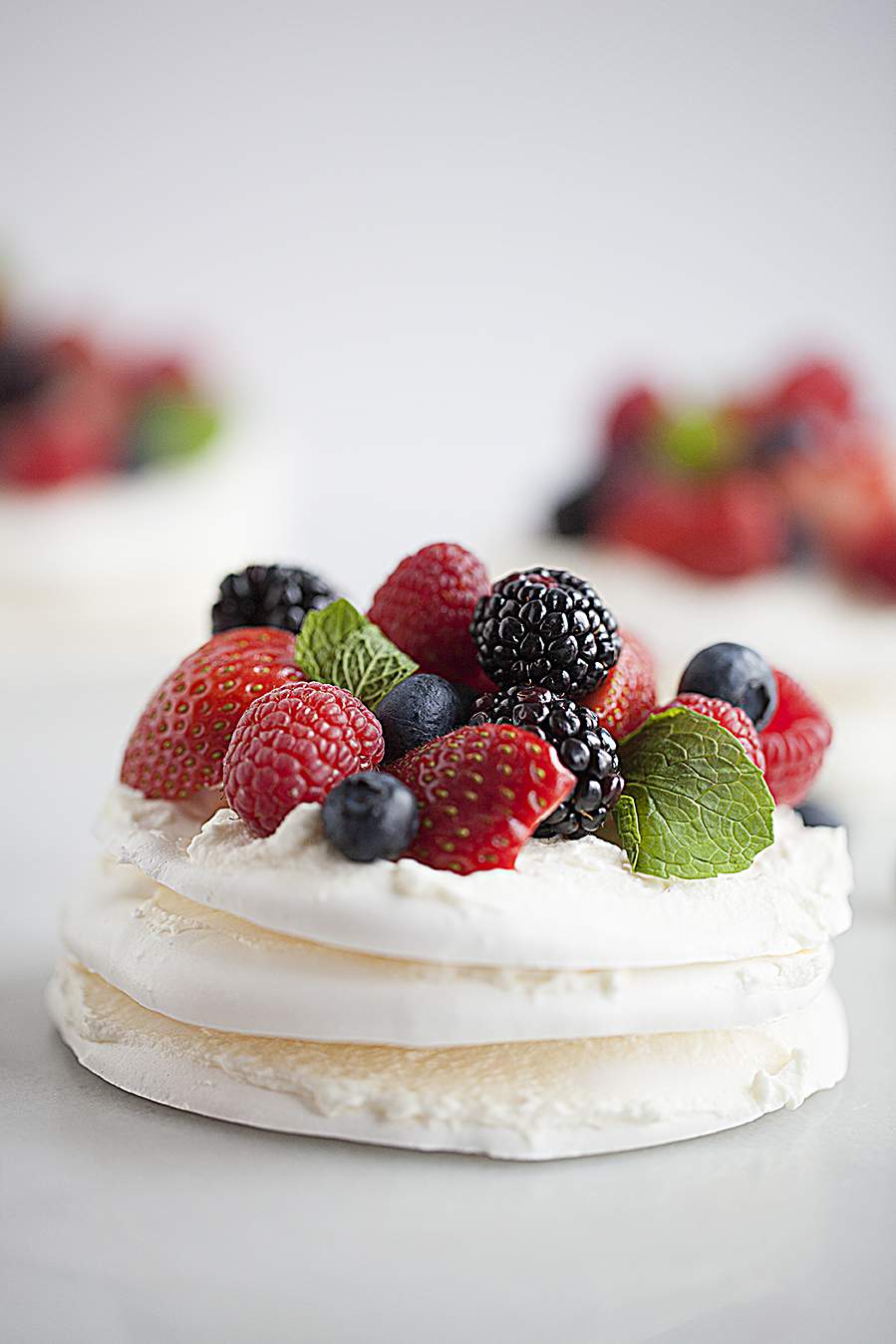 At its heart, Pavlova has a lightly crisp meringue and is surrounded by homemade whipped cream and topped with assorted fresh berries.
It's not only a really beautiful, delicate-looking dessert, it's also delicious with just the right amount of melt-in-your-mouth texture coming from that meringue.
The juicy, fruit topping helps to cut the sweetness of the cream and it's a perfect combination.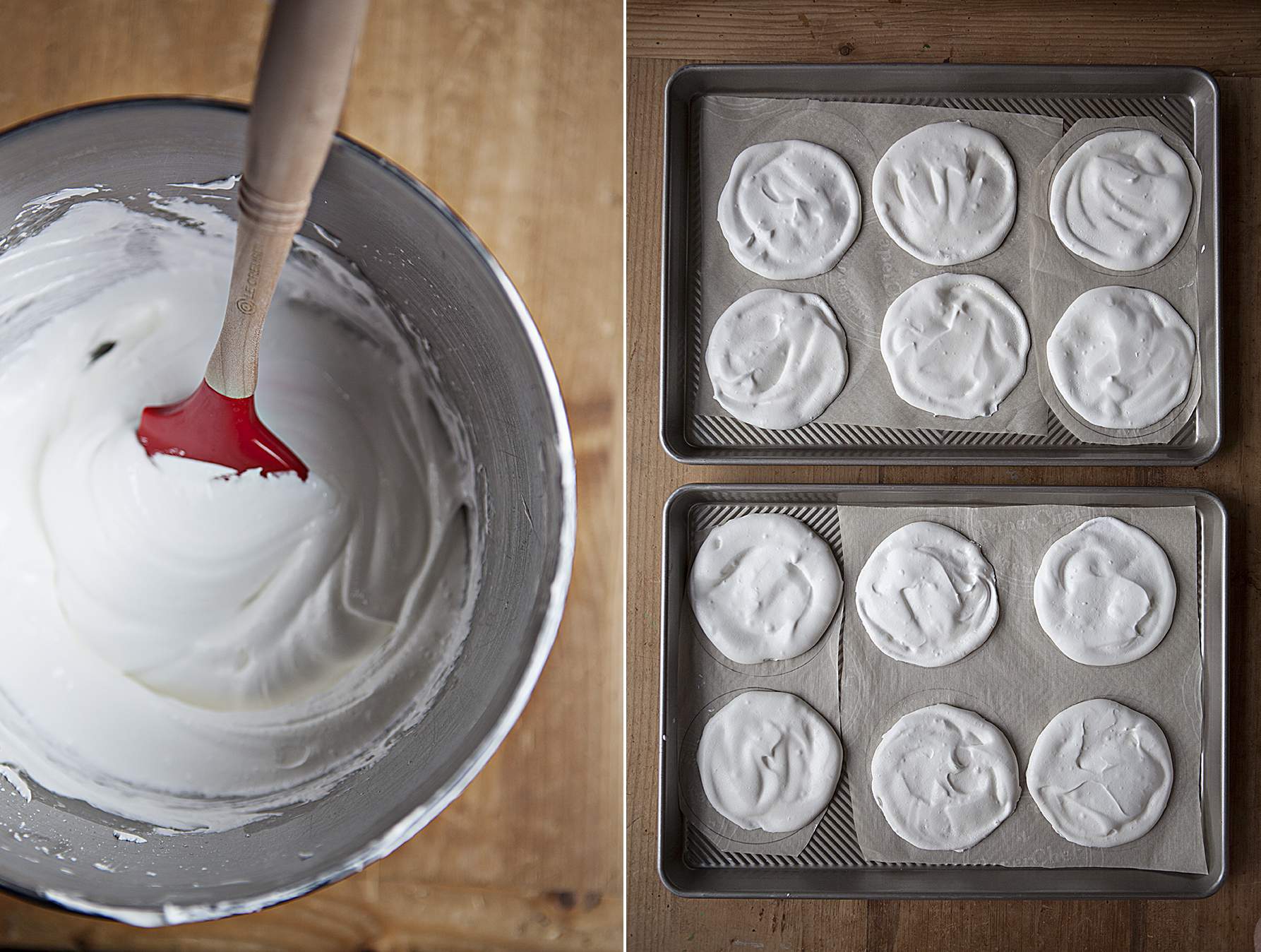 First, use a small bowl to trace several circles onto parchment paper.  Turn the parchment paper over so the pencil markings are facing the baking tray and won't come in contact with the meringue.
After making the meringue, spread spoonfuls evenly inside the circles using the pencil marks as a guide.
Bake the meringue for 90-minutes in a 180-degree oven.
NOTE: If making a larger, single Pavlova use a large plate to trace your guidelines onto the parchment paper.  Also, you can print the full recipe from a screen further down in this post.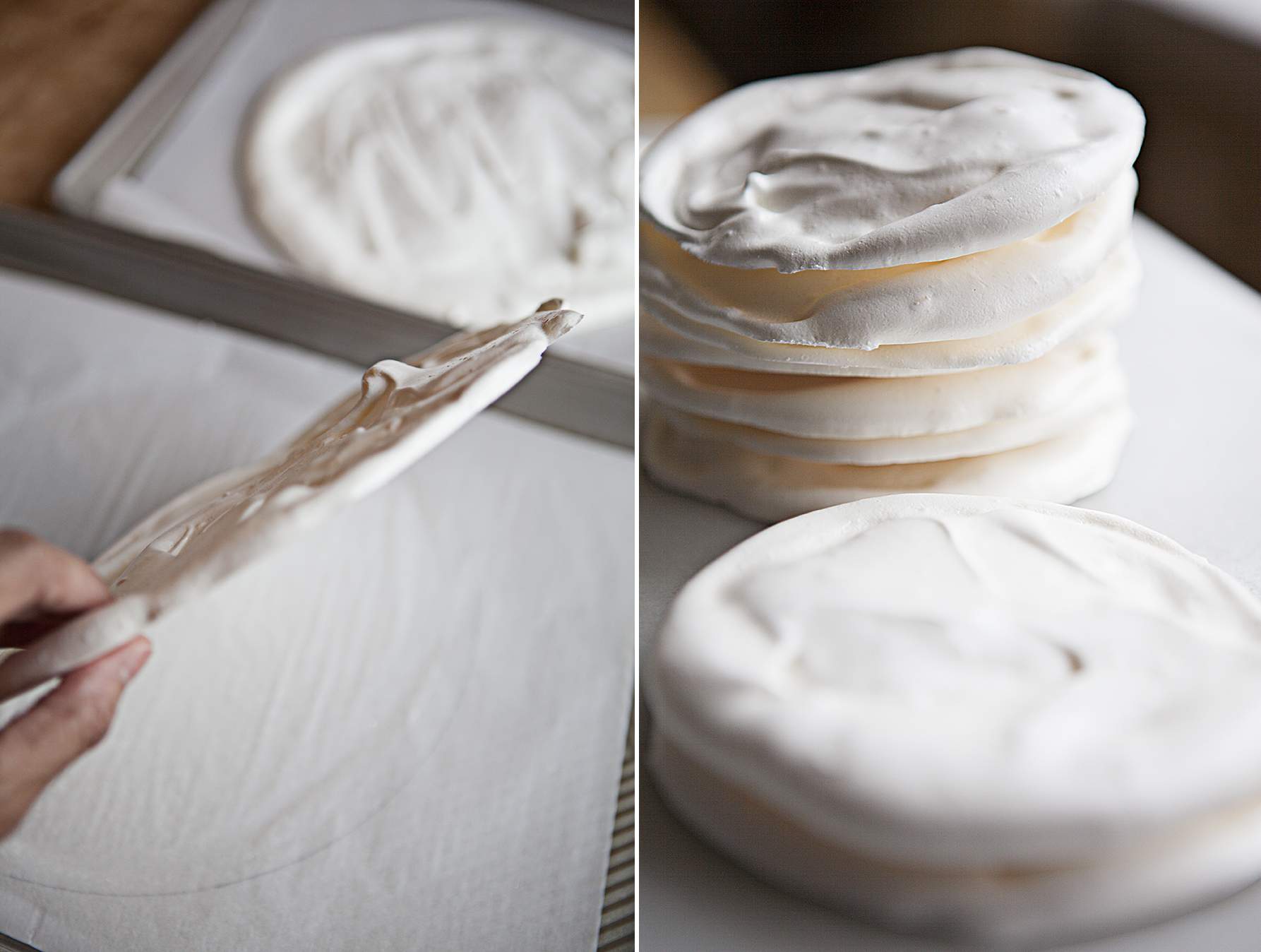 Allow the meringue to cool completely.
Baked meringue is very fragile at this stage… so make sure you handle it gently.
They're like light wafers which also makes them ideal for stacking.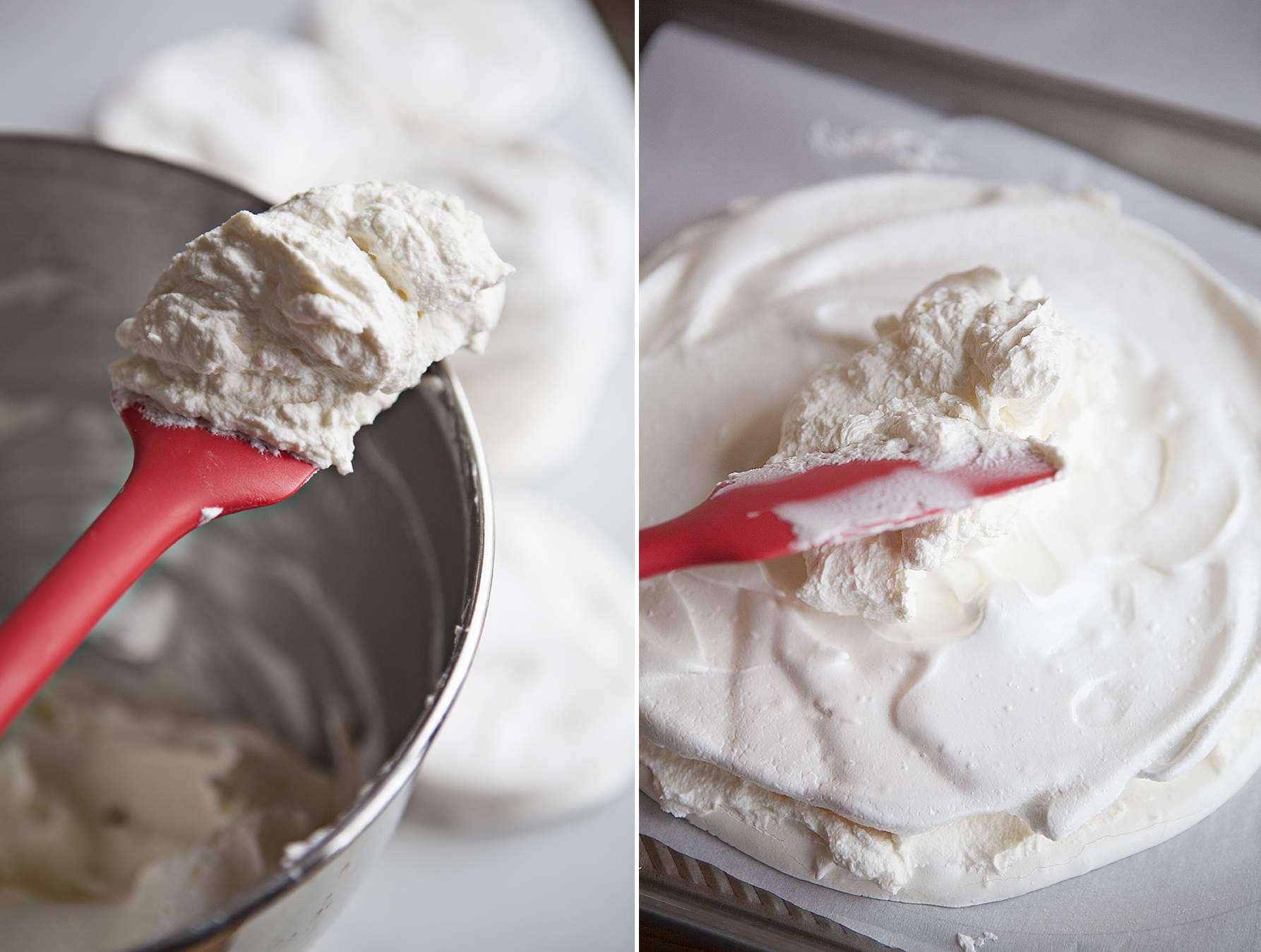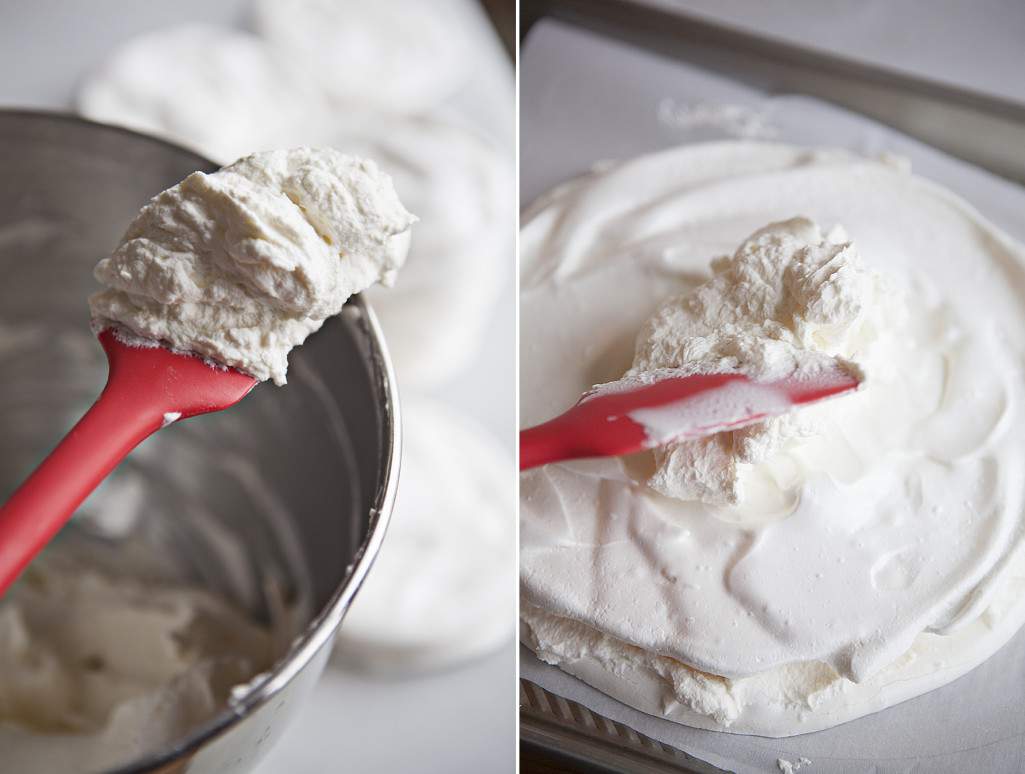 Of course, you can't go wrong with homemade whipped cream as filling for Pavlova.  Whipped cream recipe is further down in this post too.
Scoop a generous amount of whipped cream and spread it on one of the meringue wafers.  Make sure you take the whipped cream right to the edges of the wafer.
Top with another wafer, add another layer of whipped cream and then top with a third mini wafer.
Spread another generous layer of whipped cream on top of the third wafer just like you were layering and frosting a cake.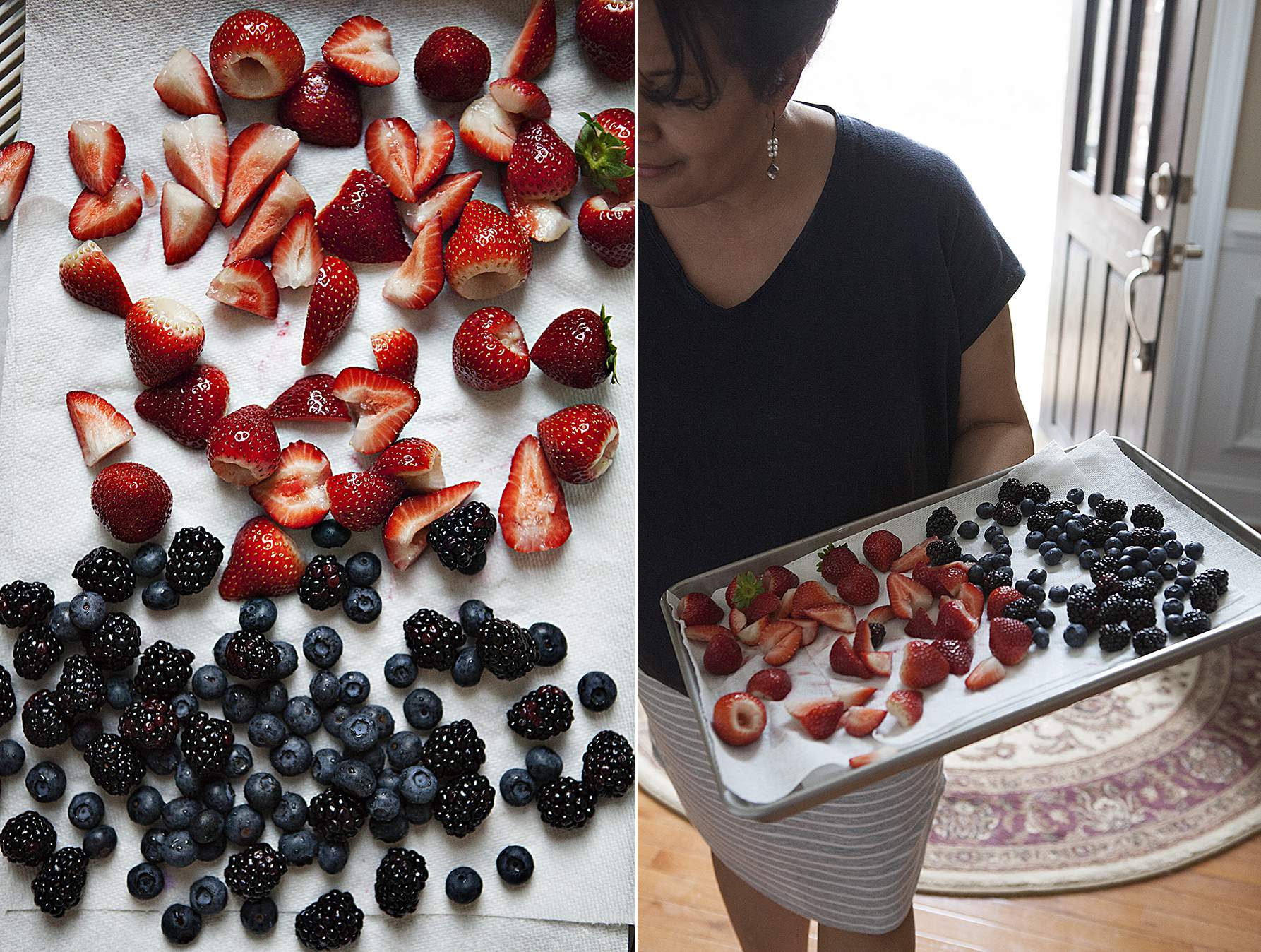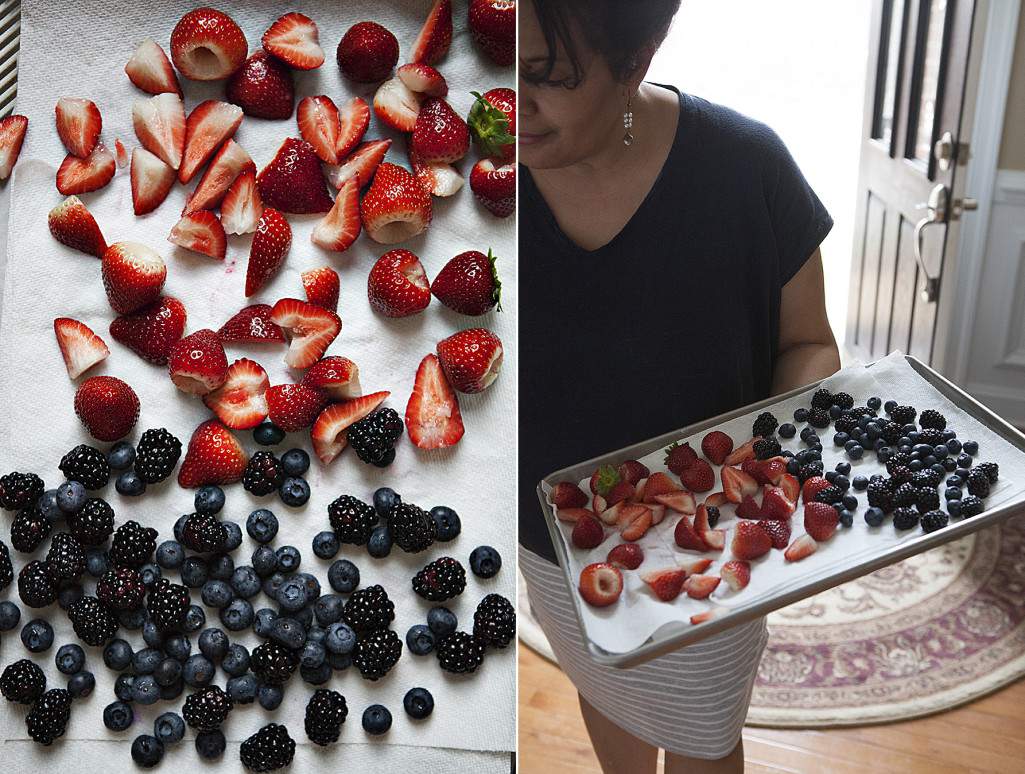 After washing/slicing assorted fruit, drain it on a paper towel and allow it to dry completely before putting on top of the Pavlova.  Add a few leaves of fresh mint for an extra dash of contrasting color.
Oh, if you're wondering why there's a door in this picture… that's because I shot some of the pictures for this post in my foyer because of the wonderful natural light.
NOTE- Next week, my Get the Shot column will feature a look behind the scenes of this Pavlova photo shoot along with some photography and food styling tips.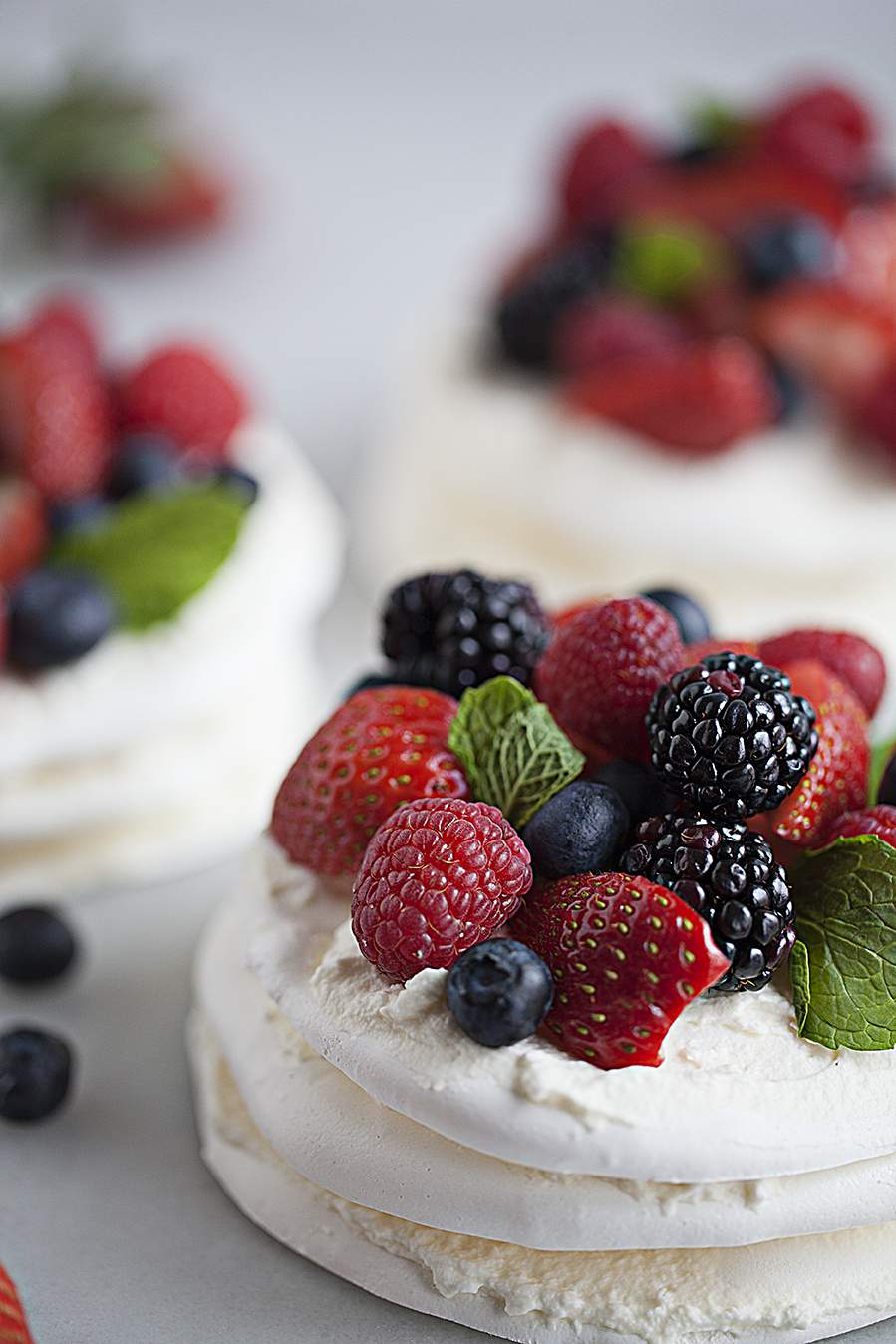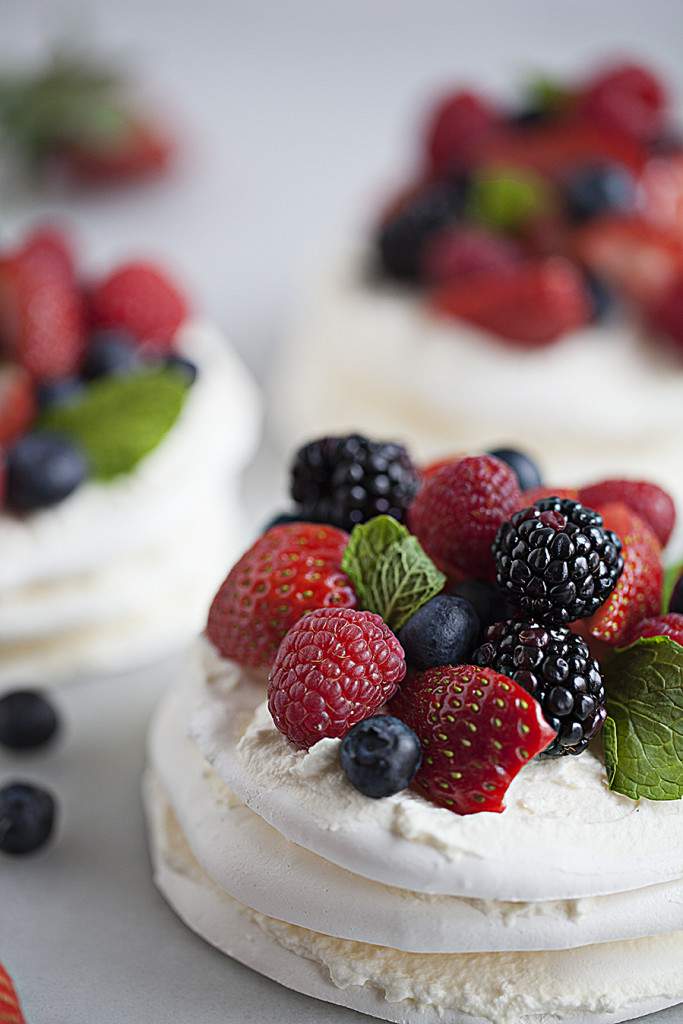 Even though this is a fancy-looking dessert you may envision serving at a ladies' lunch or bridal shower, I think you could actually serve it at any event you like.
I made a large, single Pavlova and took it to my friend's Superbowl party yesterday.
Dessert lovers went wild… and not just for the Bronchos and Panthers.
Gotta say (in all modesty),  my Pavlova was the most devoured dessert of the night.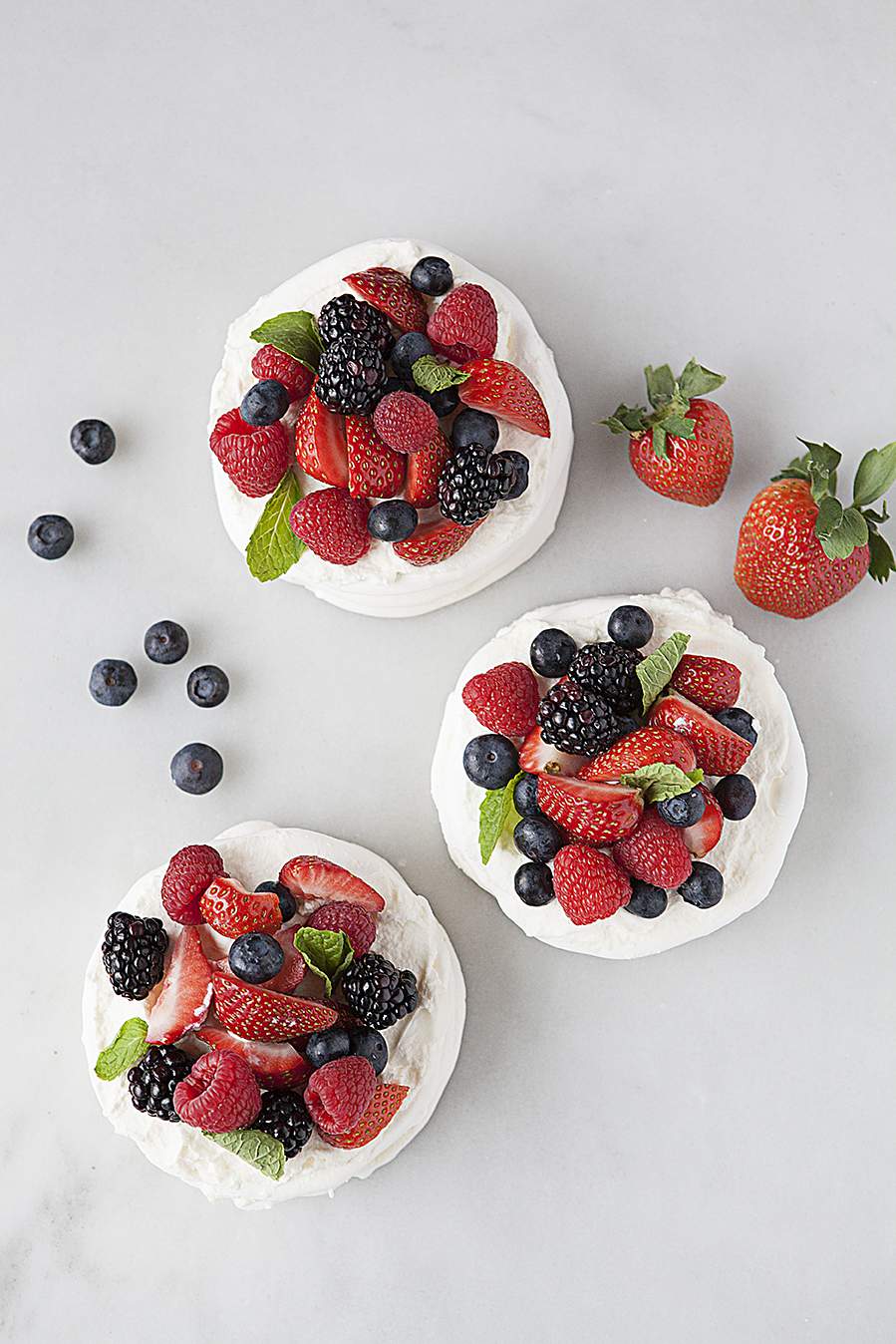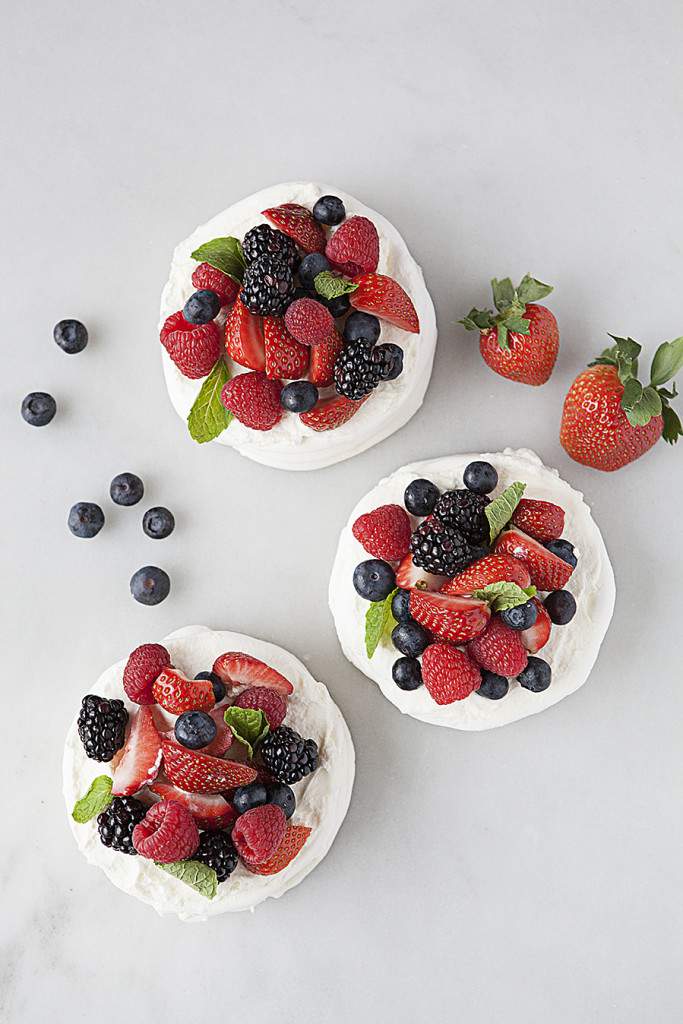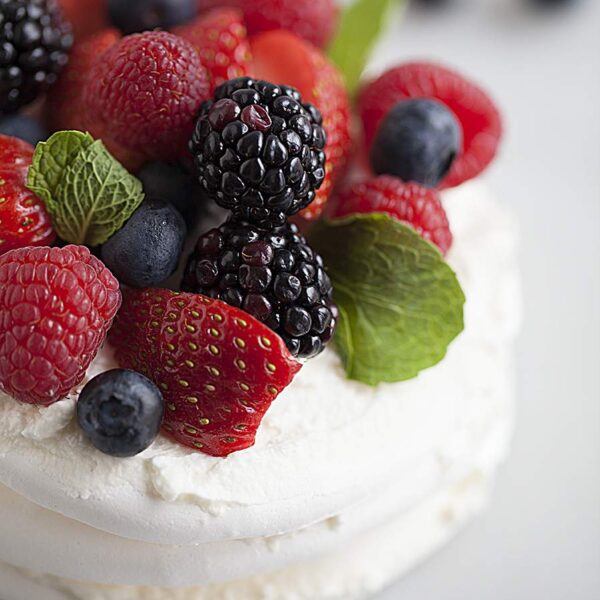 Mini Pavlova
Creamy and crispy, fruit-topped dessert that is so light it melts in your mouth. Amazingly easy to make and gorgeous to plate and serve.
Course: Dessert
Servings: 6
Ingredients
4 egg whites room temperature
1 cup sugar
2 teaspoons of corn starch
1 teaspoon vanilla
1 teaspoon of white wine vinegar
FOR WHIPPED CREAM FILLING
1 cup heavy whipping cream
1/2-1 cup of confectioner's sugar add confectioner's sugar to desired sweetness
1 teaspoon vanilla
Assorted fruit
Instructions
Preheat oven to 180-degrees.

Whip the egg whites in an electric mixer using the whisk attachment. Beat on high speed for about 3 minutes or until soft white peaks begin to form. Add the sugar and beat for another minute.

Remove from stand mixer.

Add the cornstarch, vanilla and white wine vinegar.

Fold these last ingredients into the mix.

Use a small bowl to trace circles onto parchment paper.

Turn paper over so pencil marks are on the bottom.

Spoon the egg white mixture onto the parchment paper using the circles as guides to form the mixture into circular shapes.

Place circles on a baking tray and bake for 90 minutes.

To make the whipped cream filling: Chill stand mixing bowl for at least one hour. Whisk whipping cream in mixer. Slowly add sugar and vanilla. Add smallest measurement of sugar and taste, add more sugar for a sweeter cream.

Whip cream until fluffy.

Spread whipped cream filling on Pavlova wafer, top with second wafer, spread more whipped cream, top with final wafer and add whipped cream.

Top with sliced, assorted fresh fruit.

Best served chilled and on the day you make it.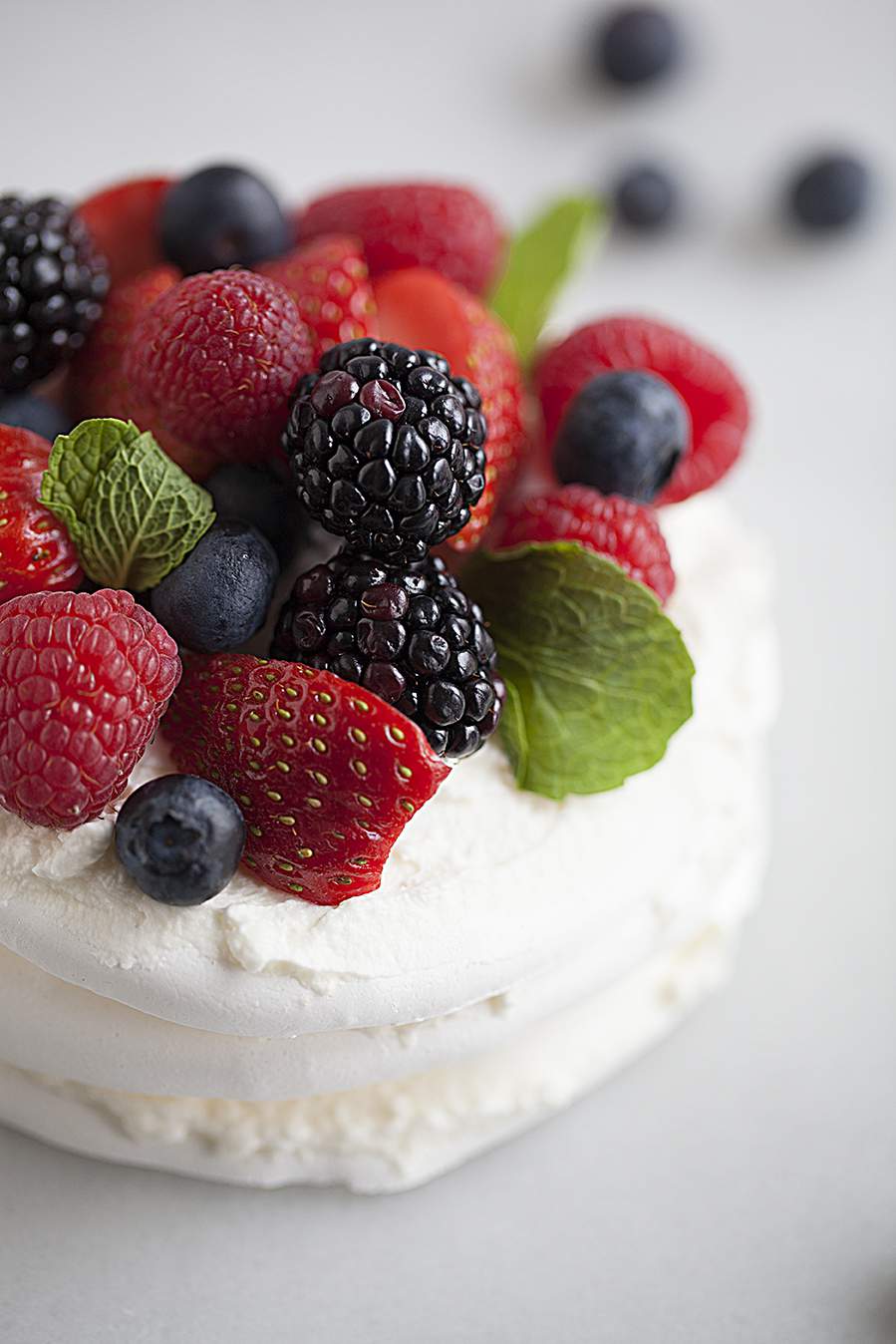 Oh, I did a little research on this lovely dessert.
While there seems to be online consensus that the dessert is named after the Russian ballerina Anna Pavlova,  there is debate about the national origin of the sweet treat (so, I won't even get into that).
Regardless of where this dessert first came from, I think you'll be glad you made it… and your friends and family members will be happy about it too.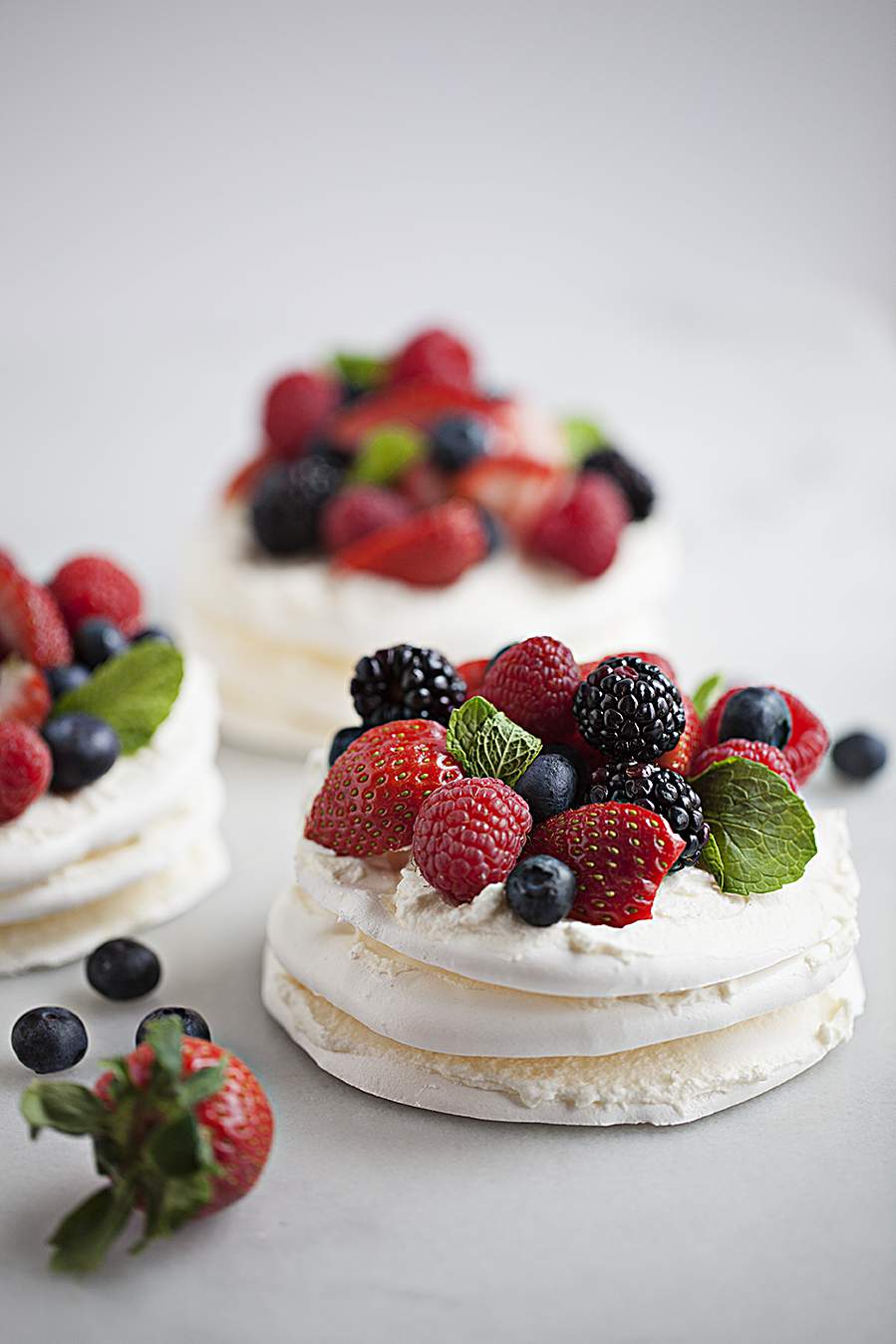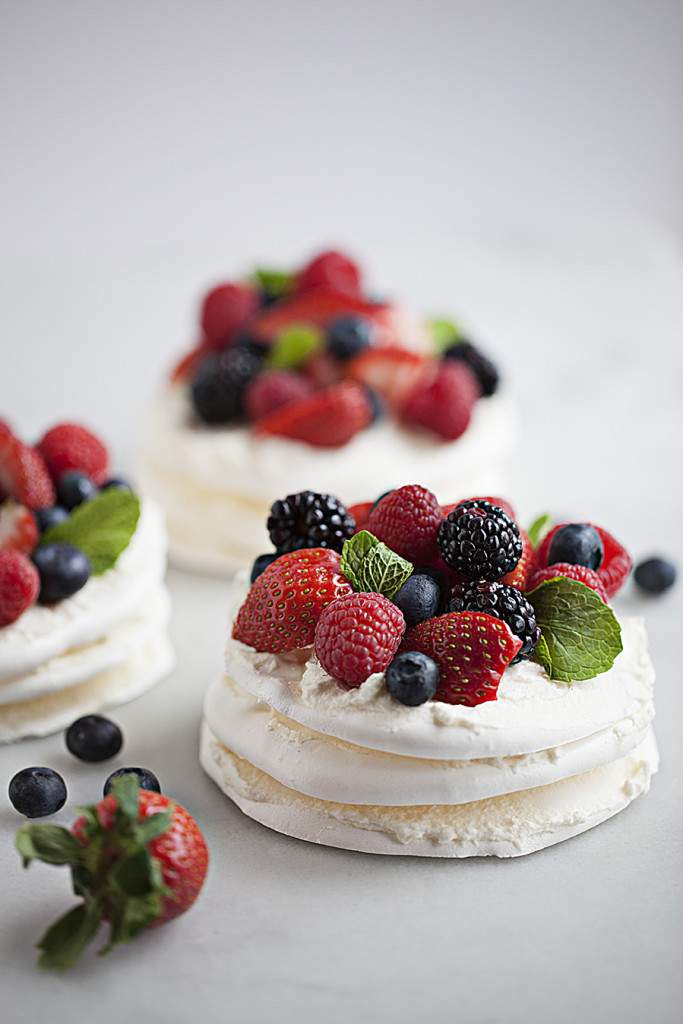 Thanks for stopping by.
See  you back here next time. ♥
I'm linking this Pavlova dessert post to the following: