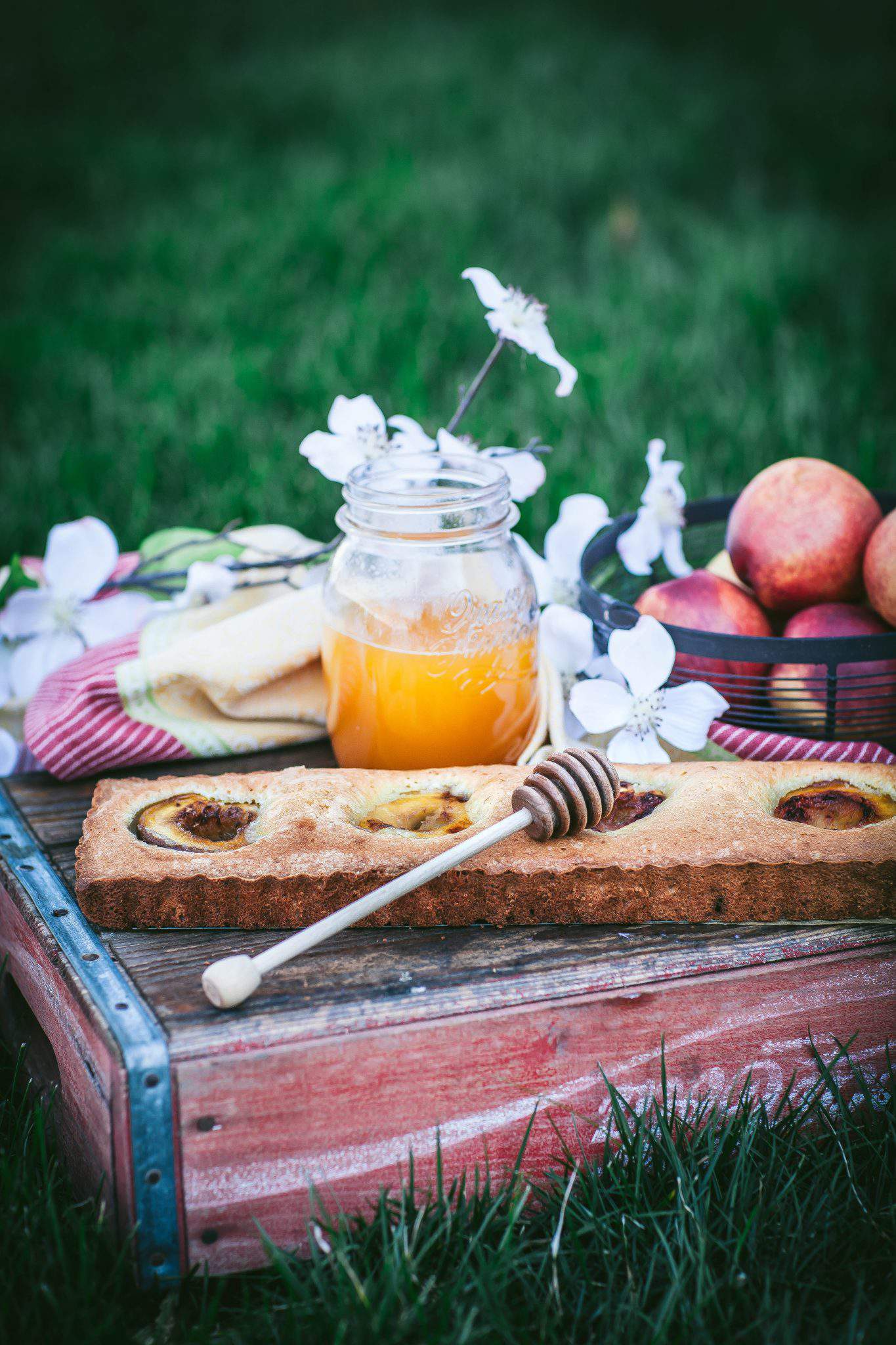 Last week we had snow on the ground in my neck of the woods.
Today is an entirely different scene with sunny skies and temps near 80 degrees.
I think that means that spring has finally arrived… for real.
This Orange Syrup-Drizzled Nectarine Tart has a grownup twist on flavor and is the perfect treat for warmer days and beautiful weather.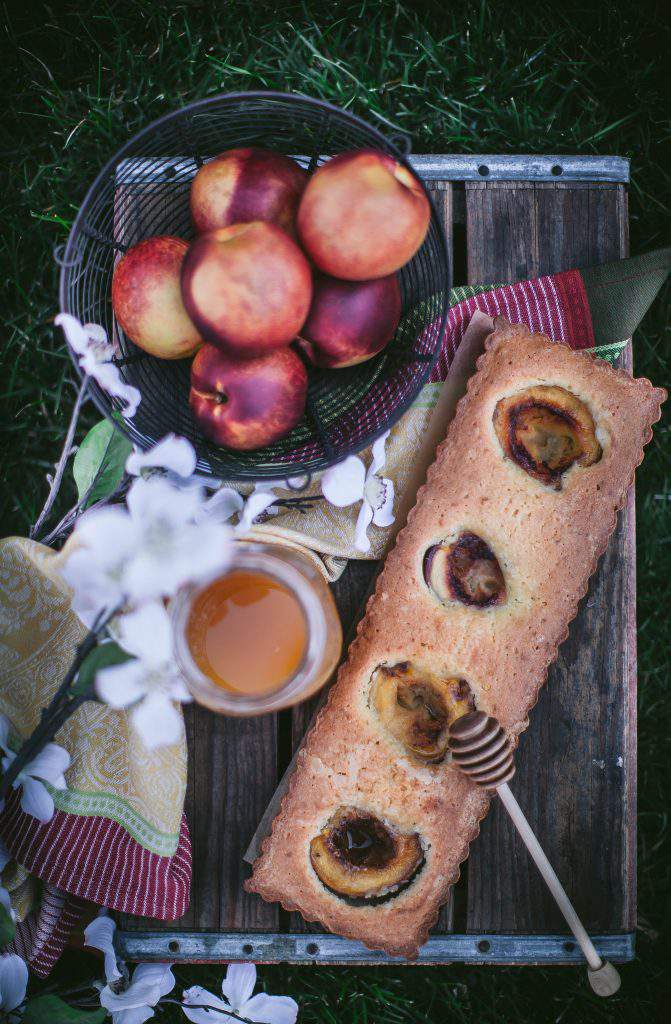 This is the kind of light dessert that could be served after dinner, lunch or how about this…. a picnic.
The cake is deliciously soft and moist and the embedded nectarines provide a fresh bite of flavor that feels unexpected (even though you know it's coming).
I think it's also just a really pretty dessert.
Keep scrolling for the full, downloadable recipe.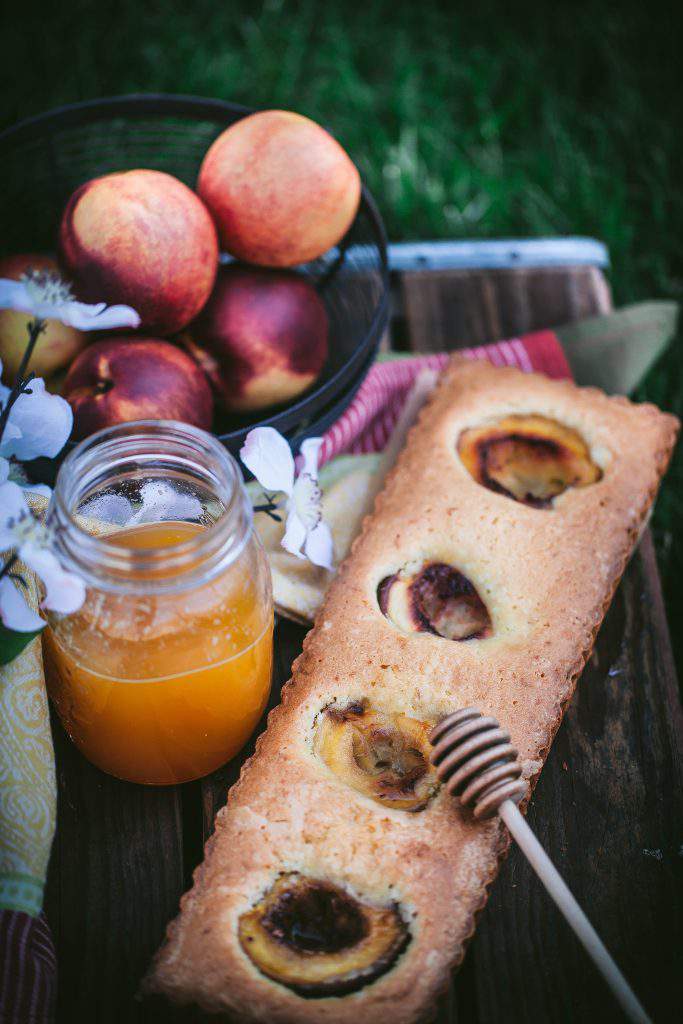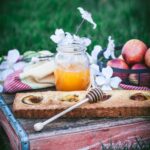 Orange Syrup-Drizzled Nectarine Tart
Delicious cake texture thanks to almond flour. Embedded nectarines add a sweet taste of fresh fruit.
Course: Dessert
Servings: 4 -6
Ingredients
2-1/2 nectarines halved
1/4 cup superfine sugar for saucepan
6-1/2 tablespoons of butter softened
1/2 cup of superfine sugar for batter
2 eggs
1 cup almond flour
1/4 cup all-purpose flour
2 teaspoons finely grated lemon rind 2 large lemons will be enough
1/4 teaspoon baking powder
Instructions
Slice nectarines in half and gently remove the seeds.

Sprinkle 1/4 cup of sugar in saucepan and place cut nectarines (cut side down).

Cook on medium heat until sugar dissolves and cut side of nectarines are golden.

Place butter and 1/2 cup sugar in food processor and pulse until ingredients are combined.

Add eggs, almond flour, all-purpose flour, lemon rind and baking powder.

Pulse until well combined.

Preheat oven to 320 degrees.

Spray tart pan with cooking spray. (I used a 13-1/2" x 4-1/2" fluted tart pan with removable bottom).

Spread batter evenly in tart pan.

Gently push nectarines into the batter with sliced side facing up.

Make sure the nectarines are evenly spaced.

I placed the tart pan on a baking tray just in case any batter seeped out of the removable bottom.

Bake tart for 25-35 minutes until golden brown.

Serve with homemade whipped cream if you want to be really decadent.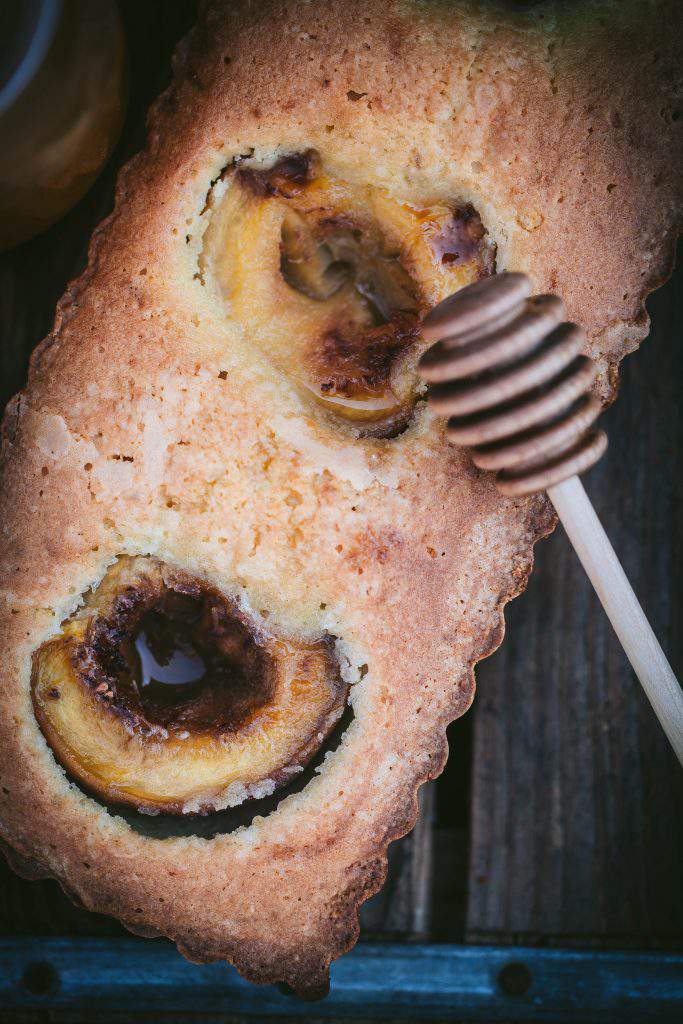 The other thing that makes this a most divine-tasting dessert an orange syrup that is super easy to make and only requires three ingredients (full recipe is below).
The orange drizzle not only gives the tart a nice shiny presentation but it also adds a grownup taste to this already-delicious dessert.
That's because the key ingredient is an orange liqueur.
Don't worry, you can't get drunk on it but with a topping like that, you just may end up eating more than one slice of this orange syrup-drizzled nectarine tart.
Ooh-la-la.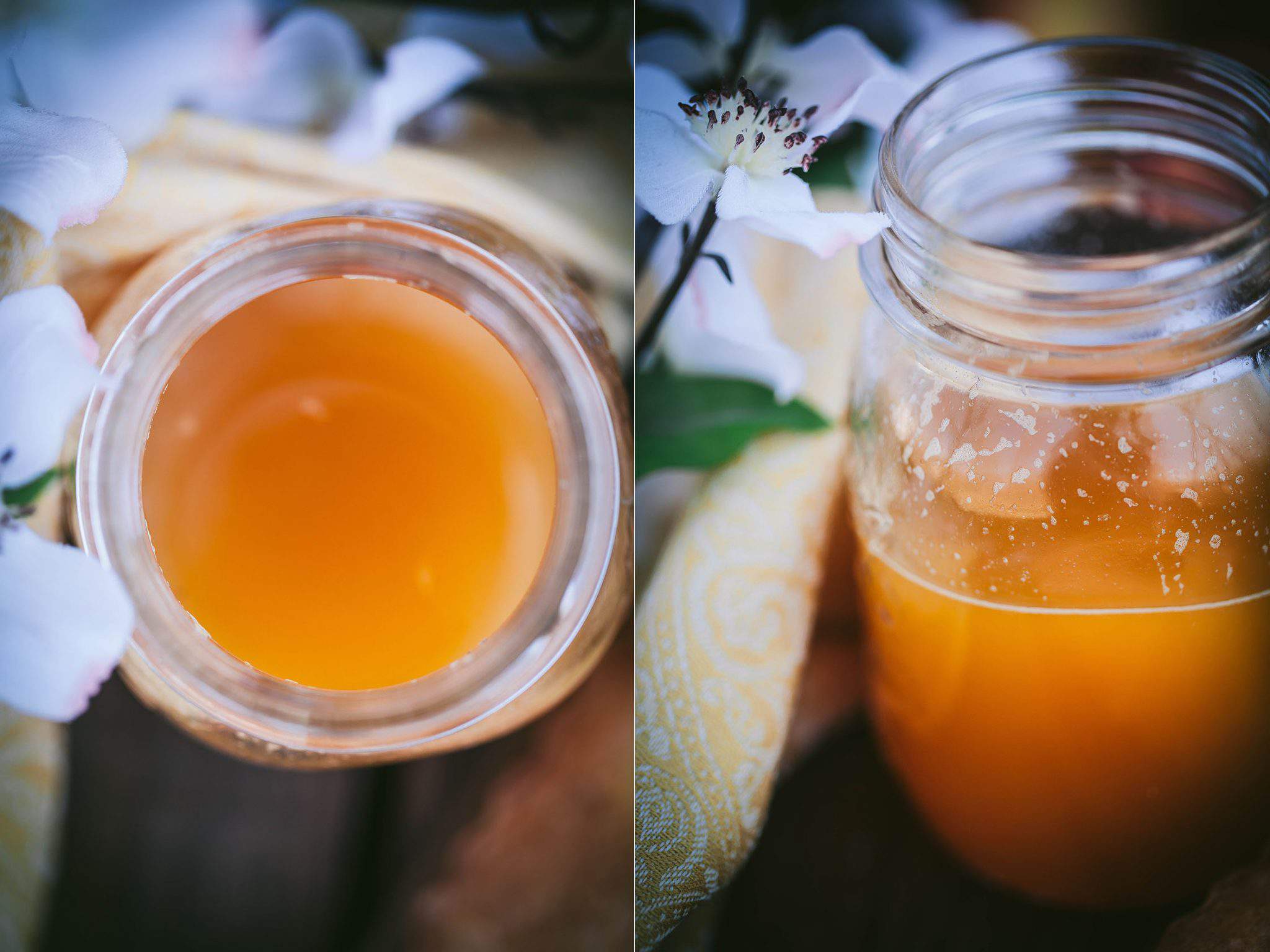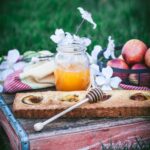 Orange Syrup
Ingredients
1 cup orange juice
1/2 cup sugar
1/4 cup orange liqueur I used Grand Marnier
Instructions
Gently whisk orange juice, sugar and orange liqueur in a small saucepan.

Bring contents of saucepan to a light boil and reduce heat.

Continue to whisk for about 10 minutes.

Remove from heat and set aside and allow to cool completely.

Syrup will thicken a bit as it cools.
OK, how amazing does that drizzle look.
When I served this to my husband, Boris last night, I added a small dollop of homemade whipped cream too.
The whole thing was almost too pretty to eat.
By the way,  if you've been wondering where I've been lately… it's been an extremely busy few months around here and it has nothing to do with this beautiful tart.
We've all been on the road quite a bit participating in admitted-student college visits for my youngest, Jordy.
Regular readers of this blog know Jordy well. He's my invaluable blog helper and right hand man.
Well, he'll soon be college-bound which is so hard to believe. Time flies.
I'll fill you in a lot more about that later in an upcoming post (sniffle, sniffle).
For now, I'll leave you with one more mouth-watering view of my new favorite dessert.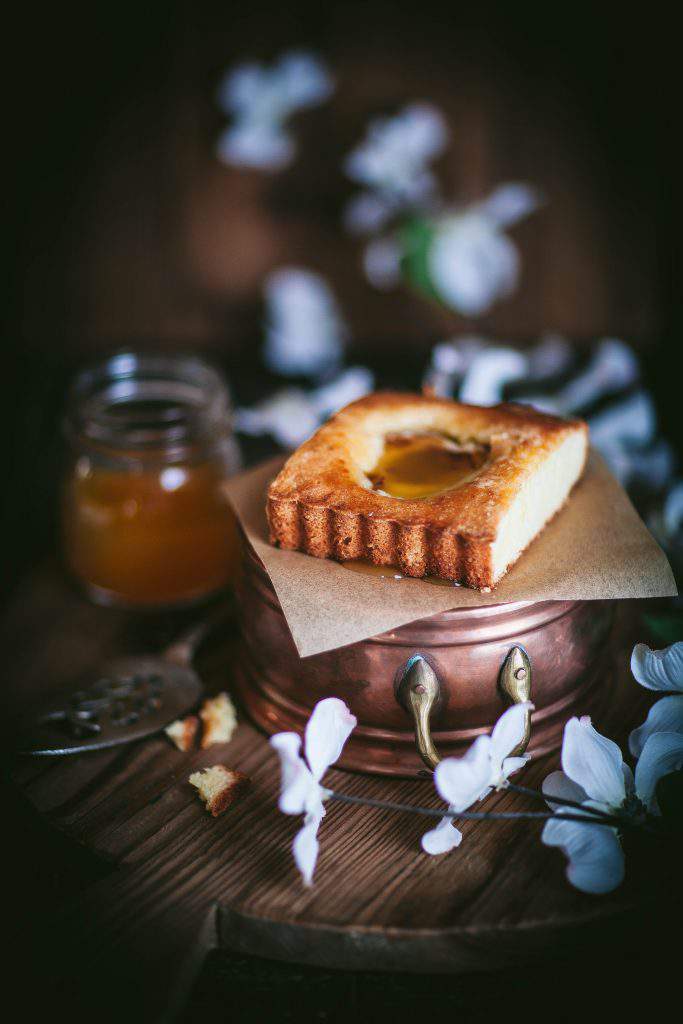 Thanks for stopping by.
Happy day to you.
I'll see you back here next time. ♥